National Hug Day, National Puppy Day, National Smile Day – there are so many holidays that it seems like we're celebrating something new every day. But, the old favorites are still around and going strong. And on June 18th of this year, 76 percent of Americas are planning to celebrate all things "Dad" for Father's Day 2023.
Holidays are great marketing opportunities waiting to happen, and Father's Day is no exception. You'll see a wide range of campaigns across social media, many of them featuring famous, celebrity dads. But, if your budget won't quite stretch to include a cameo by famous dads like Kevin Hart or Chris Pratt, you can always harness the power of the growing army of dad influencers.
There may be more options available to you than you first thought when it comes to running a super-successful Father's Day influencer marketing campaign.
Recognize That Fatherhood Is Changing
We mentioned it in our article on Millennial Parents – fatherhood has changed. With the average age of a new dad in America sitting at around 30 years old, Millenial Men are dad to most of the Gen Alpha babies now being born. And Millennial families are, by and large, two-income families. That means there's a distinct shift in household chores.
Men are home more in general though. Today's fathers are more likely than previous generations to divvy up housework and spend their free time with their kids.
And in the past 20 years, we've experienced a consistent rise in the number of stay-at-home dads. Earlier today, I watched a CBS report on the 7 million or so men of prime working age who are missing from the U.S. labor force. And I would bet dollars to donuts that many of the fathers who fall into this category aren't just out there chilling and gaming as the report said. Many of them are home with their kids.
There's an older stat from Pew Research that I came across time and again while researching this article: it is estimated that in 2012, about 2 million of America's dads were stay-at-home dads. That number's probably gone up.
Last year, one of the more noteworthy back-to-school trends I saw while researching another article (I like data 🤓) was that the percentage of school-age kids whose parents had decided to homeschool them on the heels of the pandemic has doubled. So, there's a good chance more dads are also home to care for kids who aren't venturing into school buildings anymore.
Father's Day marketing to and for Grandpa will be distinctly different from marketing to adult grandson.
Identify the Right Audience for Your Father's Day Marketing
Who are you targeting with your campaign? That's probably the first step here. It's okay to target different audiences with your marketing efforts, as long as your messaging lines up with what each of those audiences wants to see and hear. Father's Day is one of the more popular holidays as far as participation goes. Last year:
84% of 18 to 24-year-olds planned to celebrate and spent an average of $213.24 per person
88% of 25 to 34-YO planned to celebrate and spent an average of $248.98 per person
89% of 35 to 44-YO planned to celebrate and spent an average of $245.16 per person
78% of 45 to 54-YO planned to celebrate and spent an average of $142.89 per person
66% of 55 to 64-YO planned to celebrate and spent an average of $118.17 per person
56% of those 65+ planned to celebrate and spent an average of $91.80 per person
So, if you're targeting people who are shopping for their fathers vs those who are shopping for their husbands, it's also important to know which age group they fall into, how much they intend to spend per person, and where they hang out online.
And then there's knowing what they're most likely to want to give as a gift. For instance, according to 2022 survey data from the National Retail Federation, younger shoppers between the ages of 18 and 34 were the age group most likely to be interested in gifting Dad experiences. But when it comes to a longer-term commitment such as a subscription box, shoppers between the ages of 25 and 44 were more likely than younger shoppers to be interested in gifting Dad a subscription.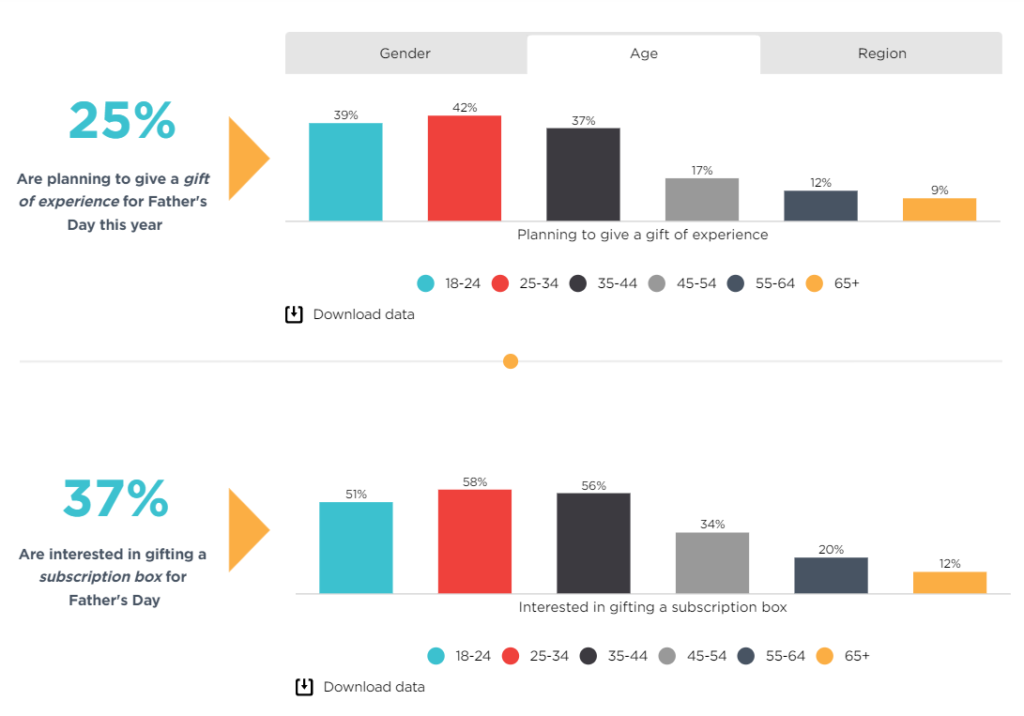 Get Creative with Your Influencer Selection
Like any holiday, Father's Day has a few products we typically associate with the holiday. Brands that happen to sell ties, golf clubs, and gift cards for Lowe's and The Home Depot will probably find it easier to market their wares during this time of year.
But, you don't have to be a father-focused brand to see the benefit of a Father's Day campaign. Nah. A Father's Day influencer marketing campaign can take a variety of different shapes – the gold is in the storytelling. That is, being able to personalize your messages so they align with the desires of your audience.
With any influencer marketing campaign – whether it's your first influencer campaign or your 100th – choosing the right influencers is going to play a huge role in the success of your campaign.
More than follower count, metrics like engagement rates, legitimacy of their followers, post quality, partnership history, products mentioned, product prices, and audience all impact campaign success. Some more than others, but all pretty important.
We published a piece on what to look for in both micro and macro-influencers. But there are all sorts of niches of influencers you can leverage to reach your audience right where they are. There are military influencers, doctors, DIYers, comedians. And these are less of a gimmick and more about being able to reach potential buyers wherever they may be.

RELATED POST.
An 8-Point Checklist to Find Influencers for Your Brand
Working with Daddy Bloggers
Historically, the parenting blog world has been largely made up of women, with an astounding 97 percent of bloggers in this niche being binge-worthy mommy bloggers as well as your not-so-typical mommy bloggers. But, daddy bloggers are out there, and they're growing in influence.
The daddy equivalent of sites mommy blogger like Mumsnet (a popular UK-based parenting website) and Parents.com have been popping up all over the web as a way for dads to give and take advice from one another, and break the traditional mold of the stoic, workaholic dad.
Without getting too deep into the sociological side of things (that's not why we're here, right?), the way we perceive stay-at-home dads, and the roles of men in general, has changed dramatically over the years. This shift has fueled the fire for daddy bloggers to show up in the blogosphere in droves.
YouTube creator Dude Dad has a pretty sizable following with more than 602k subscribers on YouTube. He isn't necessarily a blogger, but he creates amazing dad-centered content that incorporates family, fun, humor, doing stuff, building stuff, hot wife stuff, and lots and lots of cool dad swag. And there's a fair share of sponsored content in his videos.
Partnering with a creator like this provides brands with tons of opportunities to embed their products into some pretty entertaining and creative concepts. Like the time he built his kids a carnival ride. Or the Average Dad MTV Cribs episode
While this kind of content appeals to fathers, it also spurs creative ideas for dad that he's likely to mention. And if he's talking about doing it, Father's Day shoppers can zero in on helping Dad to do the things he plans to do.
Working with Mommy Bloggers
Even though we just sang the praises of daddy bloggers, they're not always as popular as their female counterparts. So, if you're looking for a bigger reach and more options for influencer selection, mommy bloggers may make more sense for your Father's Day campaign, particularly if you're targeting older Millennials and younger Gen X women.
A mommy blogger can be a real powerhouse for your brand, because most mommy blogs focus on more than parenting. They cover a wide range of topics that will interest their readers – making them perfect for a wide range of brands to utilize for Father's Day. Pinterest is packed with pins that link to blog content from mommy bloggers about Father's Day gift ideas.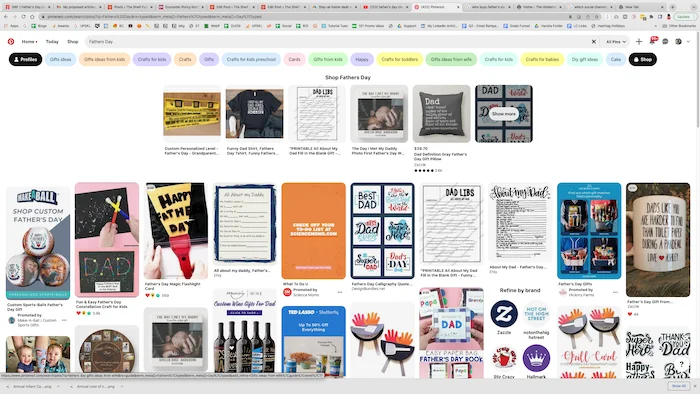 Consider Partnering with Kid Influencers OR Channels that Target Kids
Social media kid influencers and young creators drive much of what is available for kids to watch on streaming platforms. With the average school-age kid under 11 years old spending between 4 and 6 hours a day watching TV, smartphones tablets and other devices, purchases for and by kids are heavily influenced by the influencers they watch.
That said, kid influencers can be instrumental in the ideation process. You may know Ryan Kaji, the YouTuber whose mom began filming him playing with toys when he was just four years old. Today, Ryan is the face of a family-owned media company that creates family-friendly content for YouTube. But the kid also has a toy empire. And… I once racked up like 50 pizza slices play Tag with Ryan. So… there's that part. 🍕🍕🍕🍕
The video below was created a few years ago as a Father's Day prank on Ryan's dad. Ryan essentially taped a balloon inside a cake pan and iced it so that it looked like a cake. When Ryan's dad cut into his Father's Day cake, the iced balloon popped. It was cute. It was funny. And it featured lots of items you don't typically associate with Father's Day such as a balloon, painter's tape, tons of pink Pillsbury cake icing, sprinkles, and Jet Puff Marshmallows.
The mom and son duo eventually made real cupcakes for Dad and presented but don't you wonder how that idea may have sparked other outside-the-box Father's Day ideas for other school-age pranksters?
Creators in Other Niches
Think of it this way: No father is just a father. Most dads have other interests. They are football fans, outdoorsmen, scholars, crafters, community activists, writers, anthropologists (shout out to my buddy, Attorney Rhodes, who is a raving anthropologist) the list goes on. And while fatherhood is honor of many men, sometimes it's just good to remind Dad that before he was "Daddy", he was just a really cool dude.
Enter CjCityTV, a YouTube channel that reviews the latest drops and the hottest products making their way into every guy's man cave. The video below, while it hurt my feelings, did help shape my thinking with regard to Father's Day gifting.
Father's Day celebrates the multi-faceted men on the planet who happen to also have children. So, it's wise to widen your net, so to speak, by thinking beyond fatherhood.
You may want to choose to work with an influencer who is in your brand's niche, rather than in the parenting niche. A lot of people will be shopping for Father's Day gifts, whether that means finding funny photos to share with Dad, or even recalling warming stories that tug at the heartstrings. Partner with influencers who can help you craft Father's Day campaigns that focus on manhood, not necessarily fatherhood.
It's Okay to Pull on the Heart Strings – Give 'em a Compelling Reason to Shop
Marketing directly to fathers can be as simple as finding ways to bolster their confidence, boost them up, and make them feel appreciated because sometimes, flattery will get you everywhere. The line between flattery and love gets sort of blurred around the holidays anyway.
I bawled when I saw this ad,👇🏽 and I watched the whole thing. All it really makes me want to do is buy myself a fishing pole and drive home to go fishing with my dad. For the first time since I was a teenager.
Influencers who are fathers can talk about their own fathers, or about the challenges and the wins of being a father in a branded message. This is a good way to link your campaign to the holiday and tug on those heartstrings to keep your brand top-of-mind without having to figure out a way to place your product in the shot.
Pitching Gifts for Fathers
Probably the easiest route to take for most product-based brands is to target people who want to buy gifts for their fathers.
You'll really need to flex your creative muscles if this is your target audience. Most brands will shoot for this angle, so you need to do something to stand out from the crowd. With people-centric holidays like this, you want to be sure to make your marketing emotional.
You don't have to make people cry (like I cried), but giving personality and feeling to your campaign will help attract the right kind of attention. And, influencer marketing is a great way to do this!
One thing you will need to bear in mind though is that not everyone has a father. Whether they live with a single mom, two moms, grandparents, no parents, or any other kind of family structure – not everyone out there will be celebrating this holiday.
And those who do celebrate may not be celebrating in the traditional manner. If you aim your marketing at this audience, you'll have to be a little more creative. But, it does mean your market will be less saturated.
Related Post
What Makes Them Buy: Millennial Men
A Few Things to Consider for Father's Day Influencer Marketing
Whether your campaign happens before or on that day depends on what you're selling. If you're marketing directly to dads, it's good to note that one-third of dads say they're okay with getting gift cards and buying their own Father's Day gifts after the holiday.
The Timing of It All
If you're targeting your Father's Day influencer marketing campaign at gift-givers, then waiting until the big day will not work in your favor. Many stores and consumer-focused brands will begin to advertise their Father's Day sales a few weeks before the actual holiday. Using this kind of timescale means your campaign has more time to get visitors into your store.
This strategy works extremely well when paired with some solid email marketing. Sending out reminders for the holiday is a great way to keep your brand's name at the forefront of people's minds. This kind of reminder can also be really effective on social media. Get creative with your posts by having staff share memories of their fathers, or talk about what they're getting their dads as presents.
Related Post
How to Get Amazing User Generated Content from Your Campaigns
Generating Content
If you're not offering up the kind of product that would work as a Father's Day gift, launching your campaign closer to the actual holiday. To make the most out of this, we have a few top tips to help.
Use a holiday-specific hashtag. You want to make sure your content gets seen among all the tributes and throwbacks that people post of their own dads. So, you need to make sure you're using the best hashtags possible. Including the popular #FathersDay hashtag will help to boost your reach. Pairing your hashtag with a brand-specific hashtag will help to further refine your audience.
Encourage audience participation. People love sharing their happy memories on social media, and days like Father's Day are the perfect opportunity for them to do so. Ask your followers to share photos, stories and anecdotes using your brand specific hashtag, and keep the conversation flowing throughout the day.
Work with live video. With all the gifts being opened, this is a perfect chance to make the most out of some live video. Give people a peek behind the curtain with some gift unwrapping, or show them what your team is up to and how they're making Father's Day special for all the dads.
Stand out from the crowd. The best way to market your brand on Father's Day successfully is to stand out. The more individual your campaign, the more people are going to remember it. So, use this opportunity to try something new and take some risks. You might just see some amazing payoff.
Creating the Creative
It goes without saying that you should plan to be smart about targeting your audience (and especially segments of your audience), and be creative when it comes to developing campaigns and content for your Father's Day campaigns. Unlike Mother's Day, Father's Day isn't as heavily marketed, which provides a fantastic opportunity for the brands that do invest in marketing to stand out.
No One Loves An Ad
The age of the ad is long gone. We talked a bit in on marketing to Millennial Men about the prevalence of ad blockers among high-income Millennials. Traditional advertising has died a quiet death, and as users get access to better tools to curate and customize the content they want to see, fewer and fewer ads will be shown.
Trust me. You don't want your post to look like an ad. You want to look like an awesome piece of organic content, posted with care and awesomeness to your influencer's feed.
Make sure that your influencer marketing campaign keeps things personal if you want it to succeed. Don't fall into the advertisement trap – keep things original, fun, and individualized.
Personal wins every time
Using an influencer to help bolster your marketing efforts around Father's Day helps to give your Father's Day influencer marketing a personal touch. Consumers prefer knowing that a product has been recommended by an individual – even if it's someone they don't know – over an ad from a brand.  This Father's Day, crafting a highly personal campaign can do wonders for your brand.