The folks who make up the Armed Forces are as diverse as the US itself. They come from all walks of life, and in every shape and color. The qualities that run pervasively through them are bravery, loyalty, passion, curiosity and courage to name a few.
Here at The Shelf, we have compiled a list of ten of our favorite Service Members and some fun facts for you to dig into.
Dr. Corinne Devin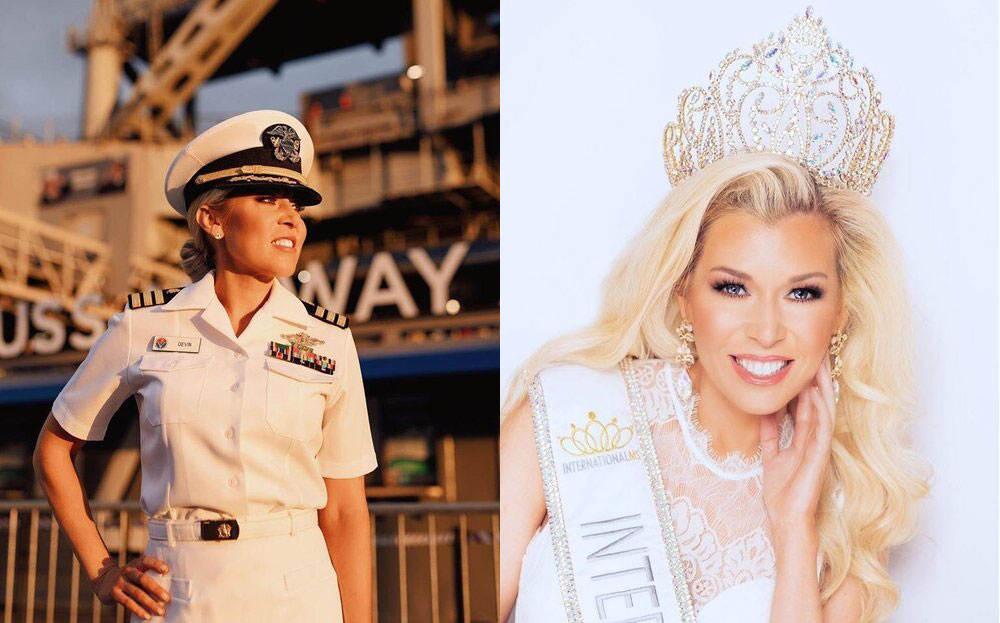 Dr. Corinne Devin is a US Navy Commander (fun fact-only .29 percent of women make that rank in the Navy), an Orthodontist, Motivational Speaker, and served as the International Ms. until August 2020. Can we say MIC DROP?!
Corinne deployed with the United States Navy in support of Operation Iraqi Freedom to Al Asad in 2009, before going on to attend the Tri-Service Orthodontic Residency Program in San Antonio, TX. Since then, she has been based in Japan and currently resides in Sicily, continuing her service with the Navy as Department Head of Dental Specialties, Chairperson of Orthodontics Department at the U.S. Naval Hospital Sigonella.
In her spare time (heavy on the sarcasm here), Corinne has held nine titles ranging from Miss Nevada United States 2007, Ms. United States 2010, Ms. Earth 2018, and is the reigning Ms. International 2020.
She is a passionate motivational speaker, and teaches students virtually about nutrition and dental hygiene. 
LTJG Chelsea Dietlin
Chelsea is a native of Rochester Hills, Michigan. In 2012, she graduated from Michigan State University with a Bachelor of Arts in science, technology and environmental policy.
In August 2016, Chelsea earned her commission as an Ensign in the U.S. Navy through Officer Candidate School in Newport, Rhode Island.
She is an inspiration to every American, but as one of the two female Blue Angels, every time she gets in that plane, she is showing every little girl that the sky is the limit. Yeah, it's super cliché but we couldn't resist.
---
Voices of Service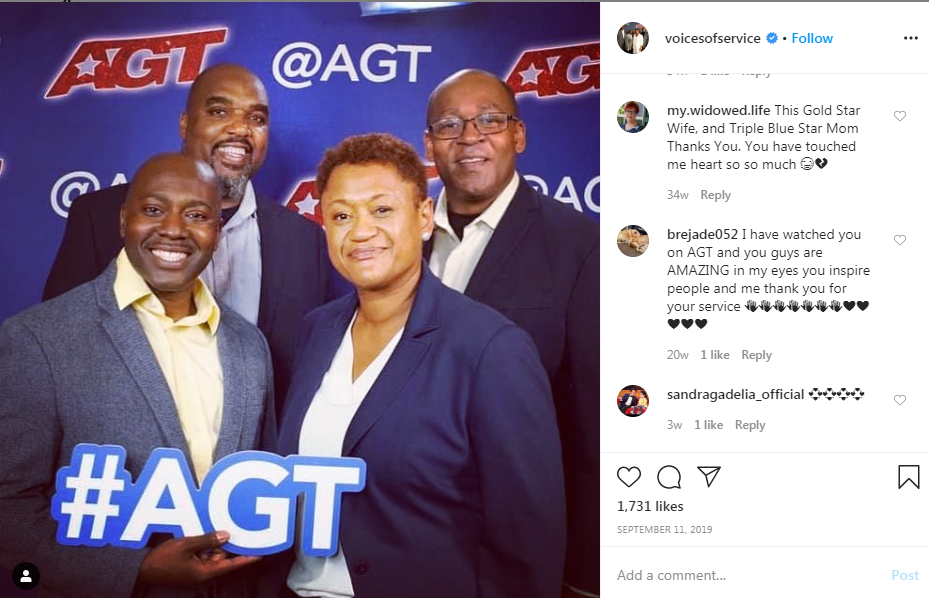 If you watched season 2019 of America's Got Talent, then you have heard of them. If you haven't, then at the very least you need to watch some clips of their awe inspiring performances.
With 25.7k followers on Instagram, plenty of Americans are already big fans of this four member acapela group, and after hearing them sing, you will be too.
The group members are Master Sgt. Caleb Green, Staff Sgt. Ron Henry, Sgt. Maj. Christal Rheams, and Sergeant First Class Jason Hanna. Voices of Service was created by CAMMO, Center for American Military Music Opportunities, a foundation that provides support and opportunities for numerous active and retired military members, kids programs, and provide music therapy services for members and their families suffering with PTSD.
With big voices representing an even bigger mission, Voices of Service represents the immense talent and excellence pervasive in the U.S. military, and they look damn good while doing it.
---
Sarah Maine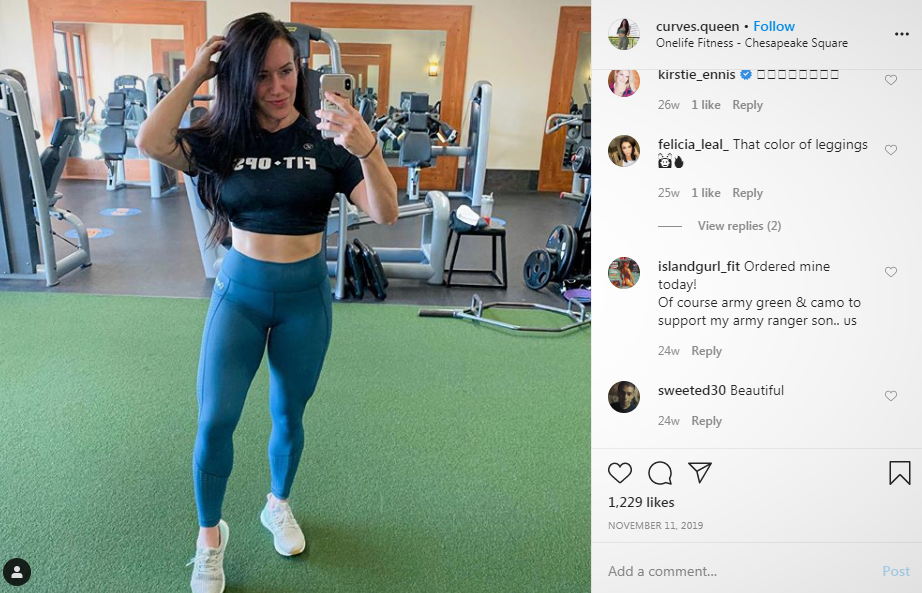 Sarah Maine, known as Curves Queen by her 50.6 k followers on Instagram, is COO of the company Curves n Combat Boots which has a whopping 559 k followers. She and her husband, Elijah, founded the company together.
With a powerful message in its mission statement, the company is proving itself to be one to watch and learn from:
"Women have been held back globally for too long. Every woman should feel empowered to be the best version of themselves. We play our part by helping women feel inspired and beautiful every day."
 Sarah is currently serving in the US Air Force Reserves as an airman and modeling for the brand with other veteran women.
---
Bryan Marshall
Combat veteran, Bryan Marshall is founder of Wishes 4 Warriors, a charity with a commitment to providing incredible experiences and resources in order to further achieve their mission to positively impact veteran lives. 
Since its inception in 2014, the charity, through partnership with a few big name brands, has been supporting combat wounded members in a plethora of ways. 
According to the website, through alliance with Under Armour, W4W was able to give the gift of warmth with over 2,000 packages sent to homeless veterans and veterans in need for the holidays. As of 2018, they are also working with Peak ReFuel Meals who gave the gift of 200 ready to eat meals and Deadeye Outfitters who provided over 200 warm socks to veterans in need across the nation. 
With over 51.3 k followers on Instagram, Wishes 4 Warriors, with the guidance of Bryan Marshall, is doing great things in the lives of mighty people-our veterans and service members.  
---
Mea Williams
As stated on their website, this is done "by connecting her with the resources and the tools she needs to be a productive citizen in her community, her work and her home after transitioning from the military."
Rock on Ms. Williams! We wish you and all those you and Grace After Fire serve, all the success in the  world.
Noah Galloway
Noah Matthew Galloway, with more than 204 k Instagram followers, is an up and coming celeb, and it ain't hard to see why. Aside from sheer brutish strength, and the moves of an oh so talented dancer-literally, he served in this country's Army and made the ultimate sacrifice in doing so. 
He is an inspiration to the differently abled community, and the world at large. This soldier is proof in the flesh, that greatness is a mindset more than anything.
Injured during the Iraq War, Noah lost his left arm above the elbow and left leg above the knee. Despite the challenges that came with such a loss, something that would seem insurmountable to most, Galloway didn't just survive, he is thriving.
Melissa Stockwell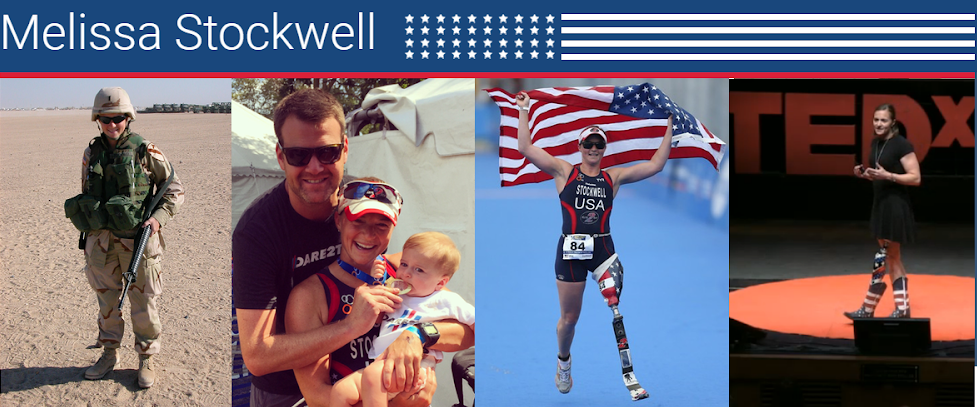 Melissa Stockwell is an American two-time Paralympian and veteran of the US Army. She began her star studded career with competing in the 2008 Summer Paralympics in three swimming events: the 100m butterfly, 100m freestyle, and 400m freestyle, and finished sixth, fifth, and fourth in her heats-yeah girl! But that was just Melissa getting started. She returned to race in the 2016 Paralympic Games and won a Bronze medal in the inaugural Paratriathlon event on September 11, 2016. 
As a first lieutenant in the Iraq War, Melissa lost her left leg when a roadside bomb exploded as she was leading a convoy in Baghdad. She was awarded the Bronze Star and the Purple Heart. She now works as a prosthetist and notably served on the board of directors of the Wounded Warrior Project from 2005–2014.
Following the Beijing Paralympics, next on Melissa's list of mountains to climb, was the triathlon. She represented the US in the 2010 ITU Paratriathlon World Championships in Budapest. She emerged victorious, winning the Women's TRI-2 (above knee amputee) class, then successfully defended her TRI-2 World Champion title in 2011 and 2012. Finally, she won a bronze medal in the PT2 category at the 2016 Paralympics.
With her 14.8 k fans on Instagram, Melissa continues to make a splash-pun intended.
And if you thought that was it, guess again. She is also a Level 1 USAT Triathlon coach and co-founder of Dare2Tri, a Chicago-based triathlon club for differently abled athletes.
---
Airman 1st Class Tamba Benjamin-Pabie
Airman 1st Class Tamba Benjamin-Pabie, is a proud member of the US Air Force, and a Liberian refugee. 
Tamba was born in Monrovia, the capital of Liberia, a small nation in West Africa.
After fleeing the war-torn country to neighboring Sierra Leone, he and his mother found themselves in the midst of yet another civil war. Finally, at age nine, he and his family were reunited with other family members in the US, where they have lived ever since.  
Initially, Tamba had dreams of joining the Army or becoming a Marine, but with the encouragement of his mother ultimately decided to serve with the Air Force.
Service in the Armed Forces runs in the family. Tamba's older brother did so in the Iraq War.
Having lived through war as a small child did not dissuade Tamba from following his dream to fly for the country he now calls home.
---
First Lt. Lizamara Bedolla
First Lt. Lizamara Bedolla is a staff nurse with the Surgical Ward of William Beaumont Army Medical Center at Fort Bliss.
Her early childhood was spent living through the terror of the Nicaraguan Civil War. At the age of four she and her family fled to Mexico where they waited the approval of American visas to permit them entry in the US. As time dragged on, the family made the difficult decision to take a terrifying journey to the border through underground sewer systems, in the hopes that their visas would be waiting for them on the other side.
Despite her incredibly young age, the experience was traumatic enough to seer itself into her memory. She clearly recalls helicopters flying overhead and border agents yelling at her and her family as they made their way. Detained upon their arrival, Lizmara and her family were granted their visas less than two weeks later, finally settling in Houston, TX. 
Lizmara wears her 16 year career proudly, which includes deployment with the 10th Combat Support Hospital during the initial invasion of Iraq in 2003.
Living in Houston at the ripe old age of six, Lizmara saw an Army recruitment commercial on T.V. and informed her mother that the Army was her future.
 "I felt such a responsibility to the country that had given me, my sisters, and my family so many opportunities to succeed. I had a really strong sense of loyalty and a really deep desire to give back," she said in an interview for The Army Nurse Corps Association Facebook page.
Lizmara began basic training two weeks after her high school graduation, and spent more than a decade serving as an operating room technician, where she worked with the nurses who helped and inspired her to pursue the career she now calls home.
Her journey was arduous, and the path long, but Lizmara is a true warrior and has slayed every challenge the world has dealt her.