HOLIDAYS and PULSE PERIODS…
This year, we thought it would be cool to offer a full year of campaign strategies for all the big pulse periods and holidays brands typically build their campaigns around.
THIS is the holiday marketing book to end ALL holiday marketing books because we're not focused on one winter holiday strategy, but we have tips for all the major retail events. 
We're seeing more and more of our brand clients request year-long, always-on influencer marketing pushes. So, it only makes sense that we'd create a playbook of our own, packed with ground-breakin', career-making strategies that'll put a smile on the face of any CMO.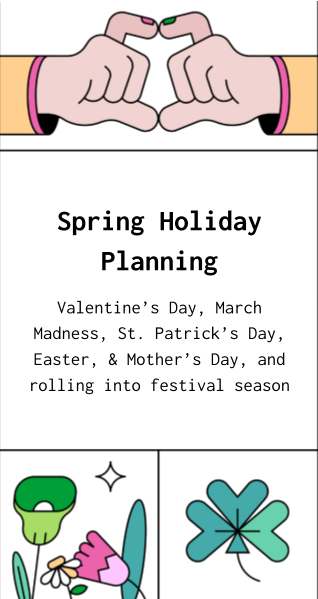 Spring Holiday Planning
Spring campaigns are marked by the need for more specific targeting: 
Valentine's Day targets friends and couples; March Madness targets college basketball fans; St. Patrick's Day targets fun-loving party-goers; Easter targets families with kids, and UK and US Mother's Day both target older children and spouses. 
Building effective spring marketing campaigns requires you to get good at using different types of content -> on different platforms -> for different audience segments.
The key is knowing which platforms to target and identifying the best types of content to use so you can loop the right influencers into the mix to create content that resonates.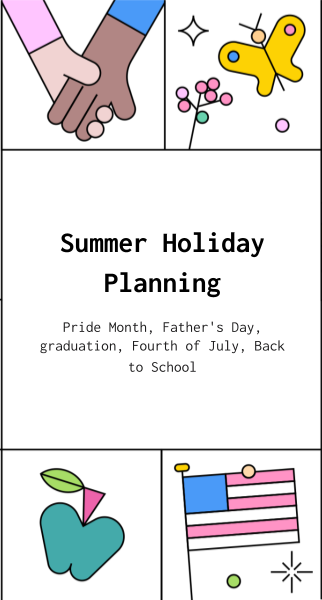 Summer Holiday Planning
Pride Month, Father's Day, graduation, Fourth of July, Back to School
When the calendar says it's springtime, for us, that means summer campaign planning. Admittedly, summer campaigns can be tough. This summer, in addition to the typical summertime lull, we are also staring down the barrel of a steep recession in Q2 2023, according to Fitch Ratings. That means reaching your audience and frontloading value will be the best marketing strategy you can deploy this summer. Here's why:
When people are facing external threats (like a pandemic or a recession), being able to offer them a way to either solve their problems or help them to cope are the most valuable services you could ever provide. Doing so can take many forms – it doesn't have to be product-focused. One way to reach more people is to switch up your media formats.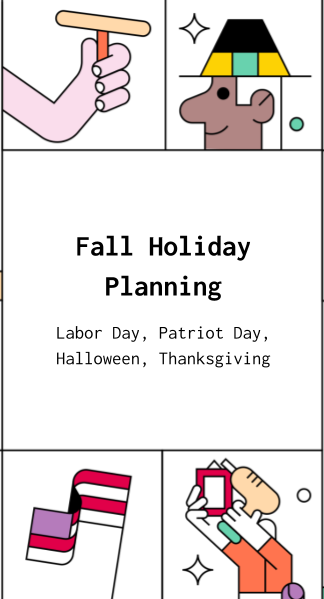 Fall Holiday Planning
Fall is full of opportunities that will work well to get you on people's radars ahead of the holiday season. Sure, we all want to just stick our products in a feed and have people click to buy. But that's not how people shop anymore. So, fall can serve as the perfect runway to build a relationship with your audience ahead of the big spending and travel weeks.
Fall is also the best time to start shoring up those influencer partnerships – once the winter holiday marketing starts (and it seems to start earlier every year, doesn't it?), it'll get harder and more expensive to grab up influencers. We're not saying don't prepare to target specific fall events. That would be cray-cray. What we are saying is that you don't have to wait for those events to happen before you pull the trigger on your fall marketing.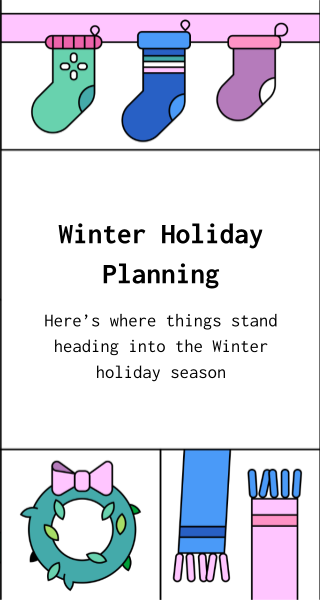 Winter Holiday Planning
The winter holiday spending period between Thanksgiving and Christmas is the second biggest retail event of the year after back-to-school shopping. Per-person spending for the 2022 holiday season was about $830.
In 2023, per-person spending will hinge heavily on the economic environment in the weeks and months leading up to the holiday, it's critical that brands are able to refine their marketing strategies and optimize their messaging to spotlight value.
Always remember: the goal with influencer marketing is to tell a story that resonates with your audience, then through that story, communicate your product's value and utility as a way for audiences to create their own moments. That's the key here: moments.
The Shelf's Holiday Marketing Strategy Will Help You Build an Effective Influencer Campaign from Start to Finish
It's the good, the bad, and the ugly… Yes, we include the fun, exciting creative aspects of building an influencer campaign, but we didn't leave out the ho-hum, potentially headache-inducing insanity that seasoned marketers have learned to successfully manage. We leave nothing out.