It's time for some lovin'! And shoppin'! Some say that Valentine's Day is the most romantic day of the year. Whether or not you agree, there's really no disputing that Valentine's Day spending is a pretty keen indicator that people at least LOVE shopping for Valentine's Day, which makes this holiday a goldmine for marketers.

We'll be the first to admit that for the past few years, spending on traditional Valentine's Day items has been trending downward as more and more people opt to take Valentine's Day off. Only 52 percent of Americans will admit they're celebrating Valentine's Day this year.
Interestingly, of the 48 percent of people who say they ARE NOT celebrating Valentine's Day, 24 percent of them plan to do something. Which means Valentine's Day is just one more thing currently new normaling.
Most people now see Valentine's Day as a time to celebrate with their kids, friends, and even pets….and some even like to refer to it as Single Awareness Day.
But all jokes aside…views on the holiday have significantly shifted, where people now view it as a time to appreciate ALL of their loved ones.
So, no matter what you sell or who your customers are, you can all win their love this Valentine's Day.
---
A Visual Guide to Valentine's Day Trends and Spend
Check out our Valentine's Day Infographic below to get all the sweet deets on:
who's spending the most money in the name of love
what they're spending their money on
why spreading virtual love is key for marketers today
and how you can get your customers to fall in love with you

Want to share this on social media? Feel free to grab the image to your right and share the love!
And if you're a stats junkie and need some fodder for a post, please feel free to refer to any of the sources below.
Valentines Day Marketing Stats and References
"CONSUMERS SPEND A LOT OF MONEY ON LOVE" STATISTICS
Total spend is expected to be down this year, from more than $27B in 2020 (pre-pandemic shifts) to $21.8B this year. Even still, 2021 will be the second largest Valentine's Day in recorded history in terms of sales. – National Retail Federation
52% of Americans will celebrate a more or less traditional Valentine's Day this year.
---
"MEN LEAD THE CHARGE IN VALENTINE'S DAY SPENDING" STATISTICS
Traditionally, men spend double what women spend on Valentine's Day. This year's no exception. Overall spending may be down, but men will still shoot their shots in candy and flowers, spending about $130 more on V-Day than women.
---
"CITIES WHO TAKE VALENTINE'S DAY VERY SERIOUSLY" STATISTICS
Miami, Chicago, Houston, Los Angeles, and New York City are the most romantic cities in the U.S., talking the most about their thoughts and plans on the day on Twitter. – Brandwatch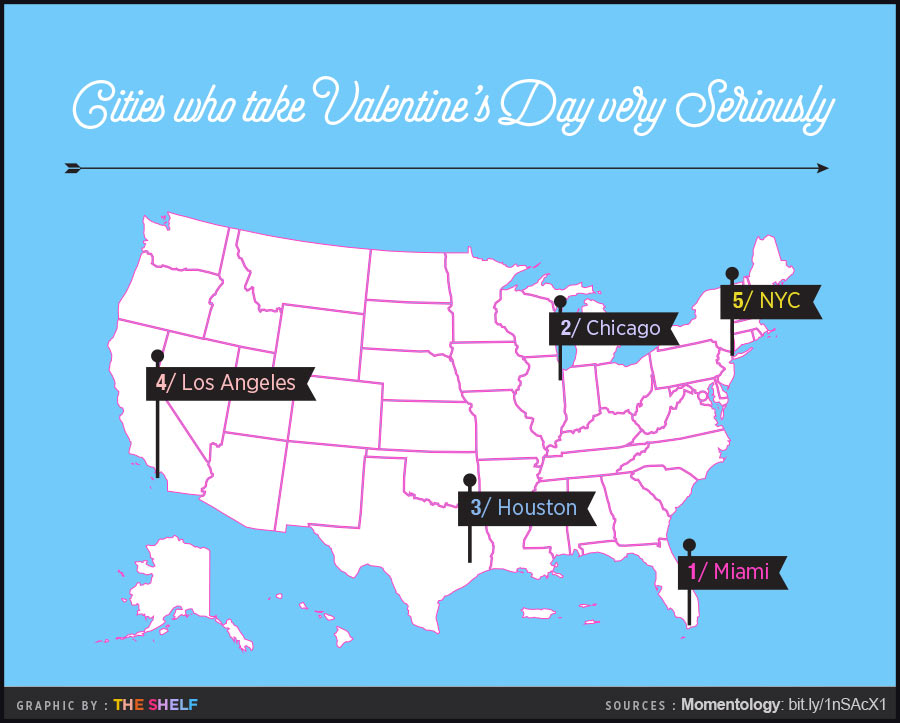 "PETS ALSO GET A BIG PIECE OF THE V-DAY PIE" STATISTICS
27 percent of celebrants are including their pets in their showering of V-Day love. In 2015 when we first gathererd this data, pet parents were spending about $5 a pop on their furry friends. In 2021, pending on pet stuff will be about 3x what it was six years ago. – NRF
In 2015, Americans spent more than $700 million on Valentine's Day gifts for their pets. This year, it'll be about $1.3B.
---
"LOVE AIN'T CHEAP: VALENTINE'S DAY SPENDING" STATISTICS
While most (54 percent) plan to buy candy for the sweet holiday, spending a total of $2B, 18 percent plan to buy jewelry for a total of $4.1B. – NRF
Additionally 36 percent will buy flowers, spending a total of $2B. Only about a quarter of people are planning a night out, including movies and restaurants, totaling $2.8B. Celebrants will also spend nearly $2.7B on clothing and $2.1B on the gift that keeps on giving: gift cards. 
---
"DIGITAL MARKETING BRINGS HOME THE V-DAY BACON" STATISTICS
38 percent of Valentine's presents will be purchased online, compared to 16 percent just five years ago.
72 percent of young shoppers research online before purchasing in a store.
Two thirds of in-store shoppers will check prices on their phone before making a purchase.
Digital interactions influence 36 cents of every dollar spent in a brick & mortar store.
71 percent of shoppers believe they will get a better deal online than in stores.
---
"SOCIAL MEDIA AND INFLUENCERS WILL HELP YOU SPREAD VIRTURAL LOVE" STATISTICS
Almost 200 million people worldwide now regularly use ad-blocking software.
Some 34 percent of US online adults responding to a new Responsys study indicate that they have "broken up" (with a brand due to receiving poor, disruptive or irrelevant marketing messages.
77 percent consult online reviews to make a purchase decision.
71 percent of consumers are likely to purchase an item based on social media referrals.
WOM-inspired marketing produces 37% greater customer retention rate and twice the amount of sales when compared to paid advertising.
81 percent of consumers receive advice from friends and family about a purchase through social networking sites.
2 million people pin product pins daily.
1.1B views of videos last year with the word "Haul" in the title.
2.4x increase in purchase when jewelry is discovered via Instagram.
---
"HOW TO GET YOUR CUSTOMERS TO FALL IN LOVE WITH YOU" STATISTICS
Nearly two-thirds of Americans don't begin planning until a week or less before Valentine's Day.

If you're still reading this post, that basically makes you a badass stats lover. Leave a comment and let me know what you think!
Have a nice day, fellow stat-lovers!