Memorial Day marks the unofficial start of summer, and you know what that means? NBA Finals. And NHL Finals. And Sunday night baseball. And soccer season. In short, summertime means it's time for fans of professional sports to enjoy their favorite pastimes. So, we put together some stats about sports viewership, fan demographics, and sports fan behaviors that will help brands better target their marketing efforts this summer.
Here's Why We're Talking About Engaging Sports Fans
Sport is a tradition that is deeply entrenched in American culture. Long before the first Super Bowl was cobbled together back in 1967 (and it wasn't even called a Super Bowl back then), we were downright fanatical about competitive athleticism. And nothing's changed.
Between 2016 and 2017, Americans spent $56 billion on sporting events (including tickets, travel, food, drinks) and another $33 billion on athletic equipment. Not a huge surprise, right? People have been fascinated by athletic prowess since ancient times… Roman gladiators, Japanese Sumo matches, chariot races, Greek Olympic games, African stick fighting… We love to set up competitions and celebrate the winners.
SPORTS ARE TIED TO EMOTIONS
Sports fans LOVE their teams, and THAT'S often enough for them to do things like brave the cold weather sitting in the bleachers, stand in line in the heat, paint their faces, buy tons of branded gear, and suit-up for a match they already know their team has a pretty good chance of losing.
Many sports fans draw a bit of their identities from their teams; there's a sense of belonging fans get by being part of a team's fan base. Plus, they get the chance to go nuts if their team wins.. or loses.
I read an article in the Washington Post that said team affiliation is more important to fans than social groups, professional affiliations, and even religious affiliations. And because of this sports are inextricably tied to our emotions.
Marketers know that connecting a brand's message to a favorable experience or memory can help a brand create an instant connection with audience members. This actually goes a long way toward explaining why companies invest so much money in advertising during large national sporting events like the Super Bowl or the World Series.
THE SPORTS MARKET IS MASSIVE
Statista estimates the North American professional sports market (which includes segments gate revenues, media rights, sponsorships and merchandising ) to be worth somewhere around $73 billion.
Sports fans represent a SIGNIFICANT portion of the U.S. population. Do you know that 73 percent of American men and 55 percent of American women watch NFL games on television? The NFL drew 17.79 million people to live games in 2016.
According to Statista, home games for the Dallas Cowboys were the MOST attended games in 2016 with a total of 740,318 spectators passing through the gates at an average of 92,539 fans per game.
I believe it. Why? Because my husband drove us from Atlanta to Dallas to attend a Cowboys home game last year.
To be clear, I didn't say we attended a game when the Cowboys played the Falcons in Atlanta two months later, 30 miles from our house. I said we drove 700 miles to attend a Cowboys home game in Arlington, Texas.
We showed up in full Cowboys gear and even shelled out a few hundred bucks on more branded gear (fishing hats, baseball caps, tees, shorts, foam finger) while we were in Dallas. That's in addition to what we spent on travel, food, drinks, and random family fun. No, we are not from Texas. No, we don't have family there. This is Our First Post on Professional Sports Viewership – True
It's not unheard of for us to talk about sports. The Shelf typically publishes an annual stats post on the Super Bowl (like this one on Super Bowl stats and this one on Super Bowl marketing strategy) because by and large NFL games are the MOST watched and MOST attended of all the professional sports. (Plus, the brands marketing to Super Bowl fans are as much a part of the fanfare as the actual game itself.)
But I'm talking about sports fans and sports viewership today because the tens of millions of sports fans who attend professional games and the hundreds of millions of sports fans who watch them are buying experiences that can serve as great opportunities for you to boost your brand's visibility.

Related Post
The Complete Guide to Influencer Marketing 🤯
200 Million Sports Fans: Here's What You Need to Know to Engage Them
I'll be honest, when I started writing this post, I was actually just putting together facts about the Finals for the NFL, NBA, MLB, MLS, and NHL. I looked at each sport's viewership stats, fun facts, ad revenue… that sort of thing. But about halfway in, my attention turned to the fan base because there were some really unexpected differences between the fan bases of different professional sports.
Of course, there are striking similarities. By and large, the people who self-identify as fans of the NFL, NHL, NBA, MLB, and MLS are middle class men and women who have disposable income to spend across multiple verticals (and they do spend).
Another similarity all professional sports share is that are facing the same challenges that symphonies, luxury brands, and broadcast television are facing – their core customer is aging up.
The average Major League Baseball fan is 53 years old; only 29 percent of MLB fans are between the ages of 18 and 34. The NFL is in a similar situation – the average game viewer is 47 years old and fans of professional hockey are also about 50 years old, according to MarketWatch.
I don't think that would be so alarming if the numbers were holding steady, but between 2006 and 2016, the average age of an NFL, MLB, NBA, MLS, and NHL fans increased significantly.
Suffice it to say professional sports leagues and TV networks are scrambling to get games in front of younger audiences who have all but abandoned television in favor of devices.
So, I want to dig down into some numbers because aside from things like age and income, there are some interesting variances between fans of professional football, baseball, soccer, hockey, and basketball that may help marketers drive engagement and sales by crafting more targeted campaigns.
NBA Fans
If you're looking to woo a younger audience, NBA fans fit the bill. The average NBA TV viewer is 37 years old while the average game attendee is about the same age – 36 years old. Like most fans of professional sports, the NBA fans are typically middle income – average household income for an NBA fan is $96k a year. Interestingly, one in four NBA fans are also fans of fantasy sports.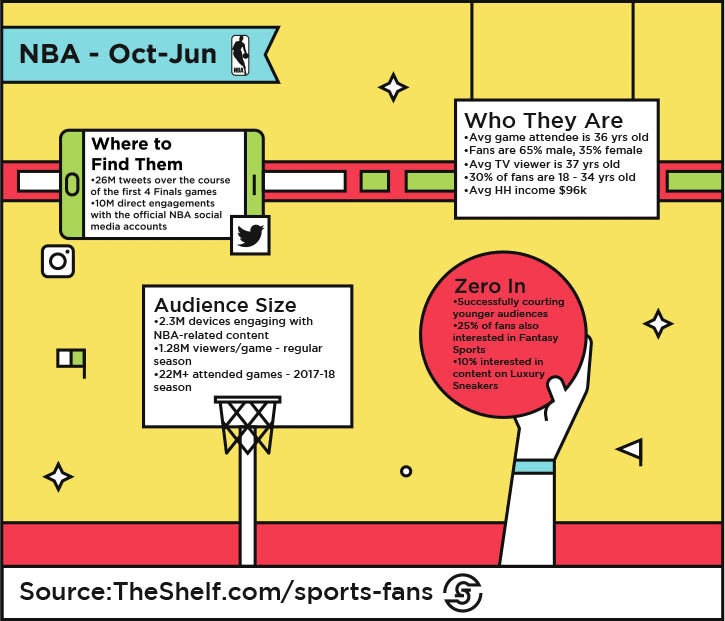 NHL Fans
Of the five major sports I reviewed, professional hockey has the largest distribution of Millennials behind the MLS. One in three hockey fans are between the ages of 18 and 34 years old. Hockey fans also have the highest average household income at $104k a year.  I think the thing that I found most interesting about the hockey crowd is they are described as tribal and even communal during games. The challenge the NHL has been working to overcome is in diversifying both its players and its fan base.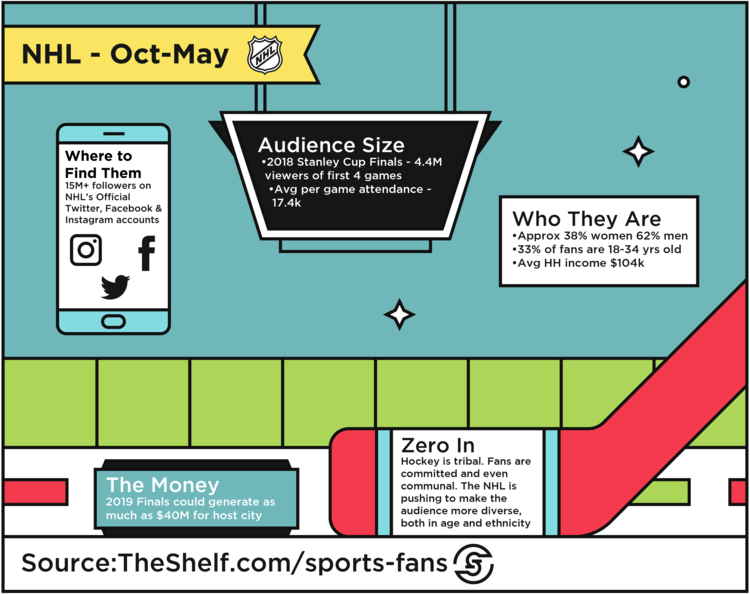 MLB Fans
Fans of Major League Baseball are reportedly the most family-oriented fan group of the five major professional sports in the U.S. The MLB is the second most popular professional sports league after the NFL.  
Some of my earliest memories include eating peanuts and listening to the baseball game with my grandpa… which he did a lot back in the day. Baseball, the evening news, and the 700 Club. So, thinking about him, it totally makes sense to me that baseball fans prefer to watch the games on regional networks.
Despite the fact that the average MLB fan is bumping up against that upper end of Generation X, the MLB has a massive online following of more than 20 million fans across Facebook, Instagram and Twitter.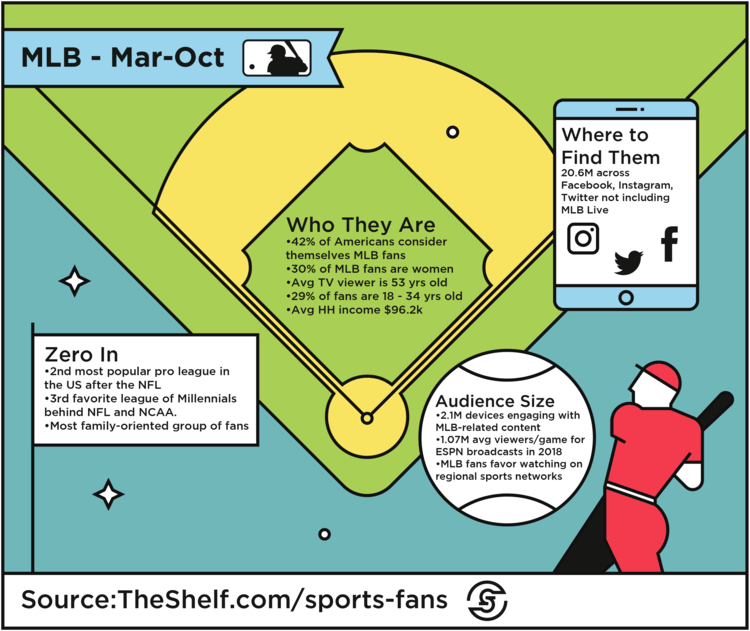 MLS Fans
Think of Major League Soccer fans as the departure from the norm. Forty-three percent of MLS fans are women, and 59 percent of professional soccer fans are under the age of 45.
As a demographic, MLS fans are the youngest professional sports fans and the most likely to stream content. Compared to fans of the other professional sports organizations, MLS fans are twice as likely to engage with MLS-related content online.
While MLS players are paid the least compared to the players of other professional sports, Major League Soccer fans tend to be big spenders. Across verticals, they spend more than your average sports fan.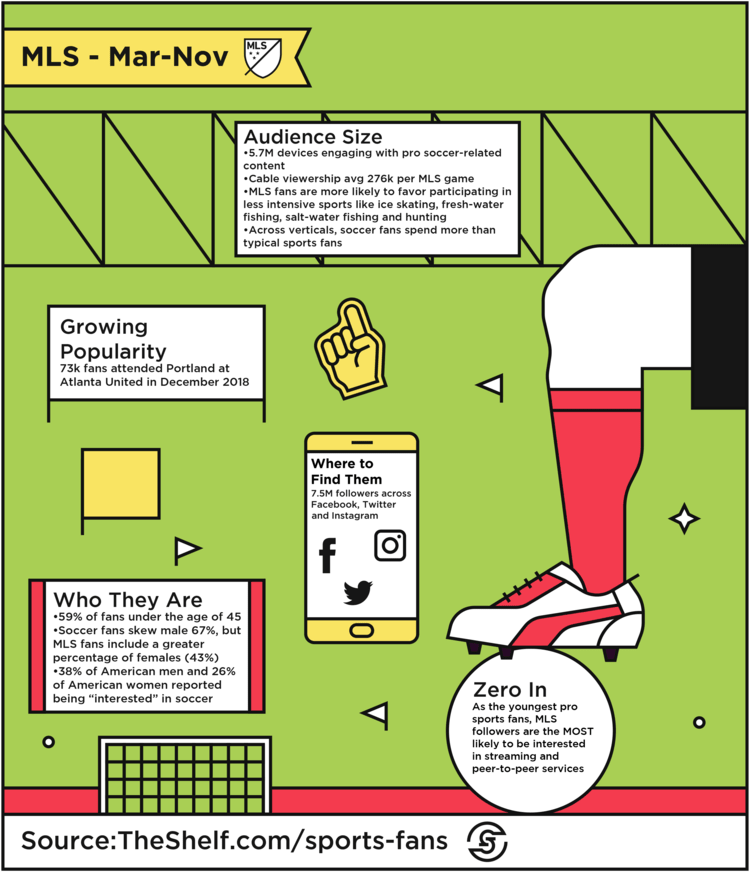 NFL Fans
Statistically, just about three out of every four men in the U.S. are NFL fans. By far, professional football is America's favorite sport. Earlier this year, Super Bowl LIII racked up 98.2 million viewers. Nearly half of all NFL fans are women (47 percent) and almost one in three NFL fans fall between the ages of 18 and 34 years of age.
But overall viewership is down. NOT because fewer people are watching the games. The problem is actually one of attention (for all you Gary Vee fans out there). Younger fans ARE tuning in to football games, but they are watching for a shorter period of time than older fans.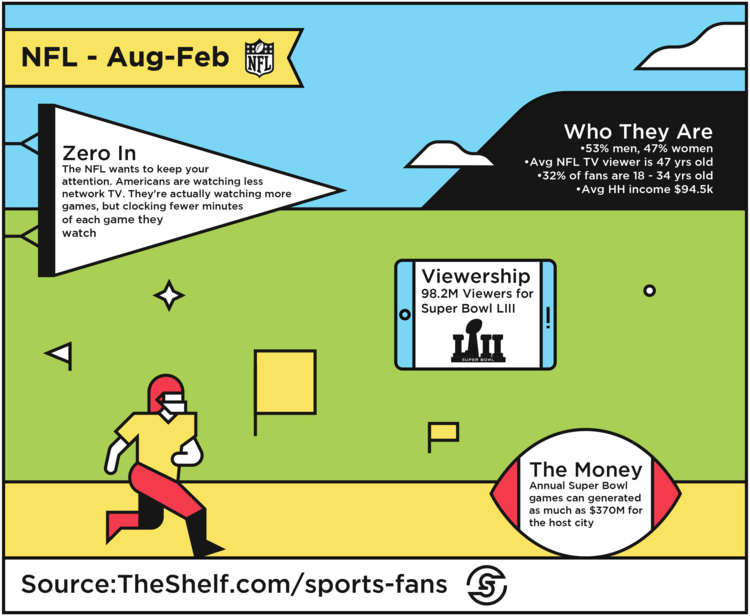 Here's a little snippet of code for you to use when embedding this infographic on your own blog (if you feel so inclined)… which we hope you do
Conclusion
I don't think anyone would disagree that sports viewership is strong, even with people changing how they watch sports. Even still, I think the most interesting aspect of any professional sport is the actual fan base of that sport. Something to take into consideration for your summertime marketing strategy.