How to Rock Your Back-to-School 2019 Sales and Marketing
It is officially back-to-school time. Every year, parents (and especially students) must face the inevitable: The arrival of midsummer means it is time for students to head back to school.
The bright spot for kids is that going back to school often comes with a healthy shopping allowance. The bright spot for marketers is that school shopping often starts early, climaxes with AMAZING sales in mid-July, and glides right into the holiday shopping season.
And parents, well, they (and their wallets) get sort of jammed in between kids and brands, working out the logistics of it all.
This month, we are releasing our annual Back-to-School sales and marketing post, and with it this epic infographic (below) loaded with facts and stats about America's second largest retail event.
Let's take a look at some of the more meaningful, interesting, and even surprising numbers that tell the story of this year's major back-to-school trends.
Spending Per Household
In 2018, k-12 back-to-school shoppers spent an average of $685 per household on school-related items. This year, expect that amount to increase to $696.70. For homes with college students (including degree-earning moms and dads) back-to-college spending added another $280 to that number for a total of $976.78 in college-related spending. And of course, that number doesn't include tuition or housing expenses.
This year, the NRF estimates back-to-college spending alone will account for an astounding $54.5 billion. Together with k-12 spending, back-to-school shopping totals about $80.7 billion, down from $82.8 billion last year.
Courtesy of: The Shelf
COPY AND PASTE THIS 👇 CODE TO EMBED THIS ☝️GRAPHIC.
You May Be Interested in Who's Doing the Spending
Most marketers target moms in their back-to-school ads campaigns. So, you may be surprised to learn that dads are doing back-to-school shopping, and spending $115 more on school shopping than moms.
Gen Z is also chipping in. Both teens and pre-teens are spending more this year on their own school supplies than they did last year. Pre-teens will spend on average $26.40 of their own money on school supplies (compared to $25.06 last year) while teenagers will spend about $36.71 of their own money on B2S shopping (up from $35.60 last year).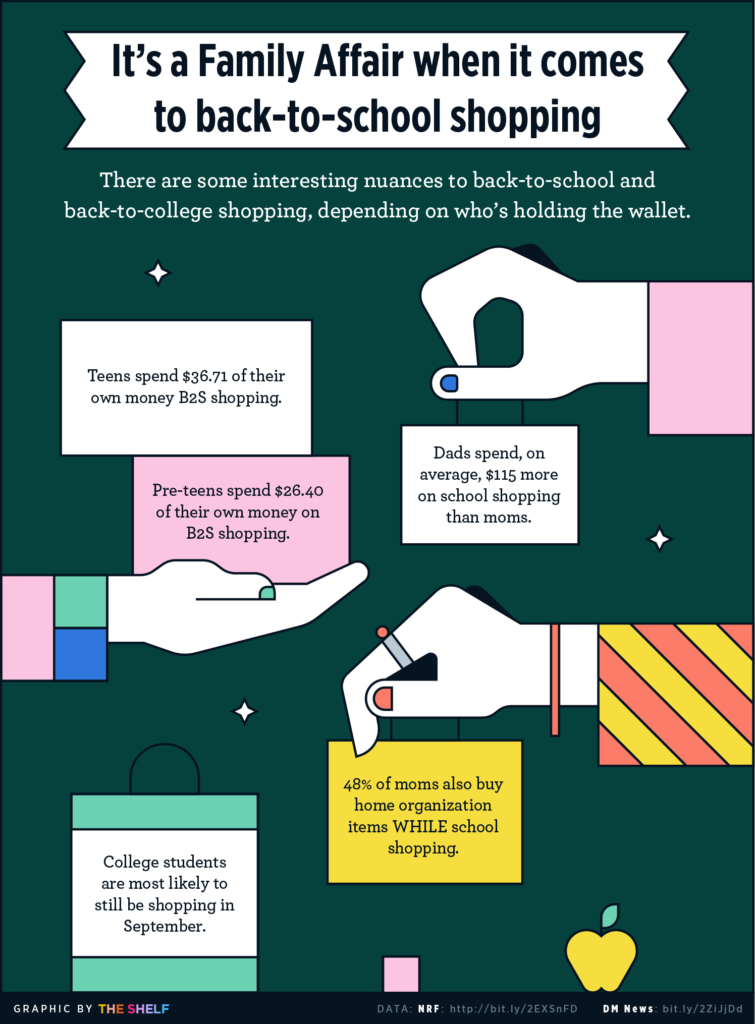 Courtesy of: The Shelf
COPY AND PASTE THIS 👇 CODE TO EMBED THIS ☝️GRAPHIC.
In-Store vs Online Shopping
Moms, dads, teens, kids, college students — whoever is doing the buying, it appears their money is going primarily towards clothing, accessories, and school supplies (98%).
According to Deloitte, 57 percent of k-12 back-to-school spending was in-store vs online last year. This year, the number is about the same, at 56 percent. But we see online shopping growing rapidly during Back-to-School season.
When we first rolled out our Back-to-School post back in 2016, e-commerce had accounted for just 7.9 percent of back-to-school spending (based on 2015 b2s stats). In 2018, 23 percent of back-to-school spending happened online. This year, 29 percent of back-to-school shopping will be online. Well, that's only 85 percent. What about the other 15 percent?
The remaining nearly $4 billion in k-12 back-to-school spending WILL be spent… but shoppers aren't yet sure whether they will be spending online or in stores.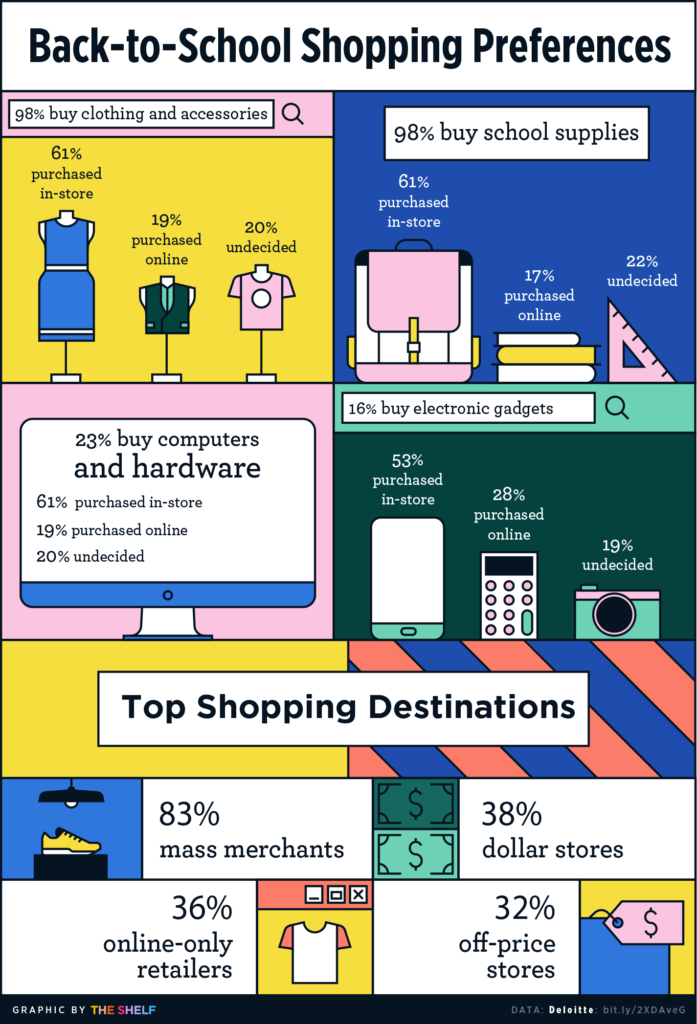 Courtesy of: The Shelf
COPY AND PASTE THIS 👇 CODE TO EMBED THIS ☝️GRAPHIC.
Discounts Play a Big Role in B2S Shopping
And this is no surprise, especially with this being one of the priciest bills parents and students have: Forty-six percent of moms say they find deals and discounts in emails from retailers and brands. More than half (51 percent) of B2S purchases are influenced by deals and promotions.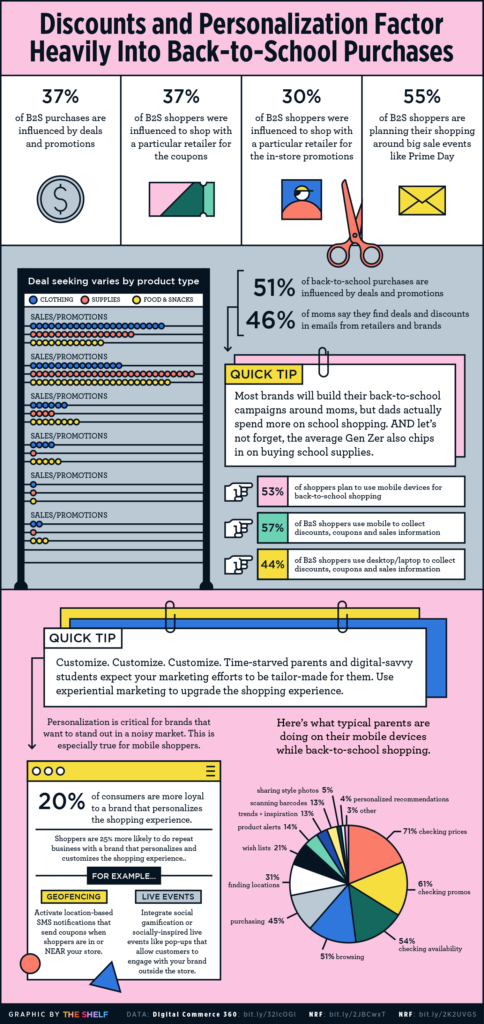 Courtesy of: The Shelf
COPY AND PASTE THIS 👇 CODE TO EMBED THIS ☝️GRAPHIC
Back-to-School 2019 Trends Worth Knowing
So what does the future hold for back-to-school shopping?
Shoppers are veering away from desktop and toward mobile. More than half of B2S shoppers (53 percent) are using mobile devices to make purchases. Another 57 percent are using mobile to find coupons, sales, and discounts (compared to 44 percent for desktop/laptop).
And while people are shopping online, they are looking for (and can be wooed by) a seamless omni-channel shopping experience. Two-thirds of shoppers use their smartphones to check prices while buying in-store — and vice versa, 67 percent of shoppers browse stores for products they then buy online.
The bottom line — 3.5x more money is spent by customers who get those omni-channel experiences from brands and retailers.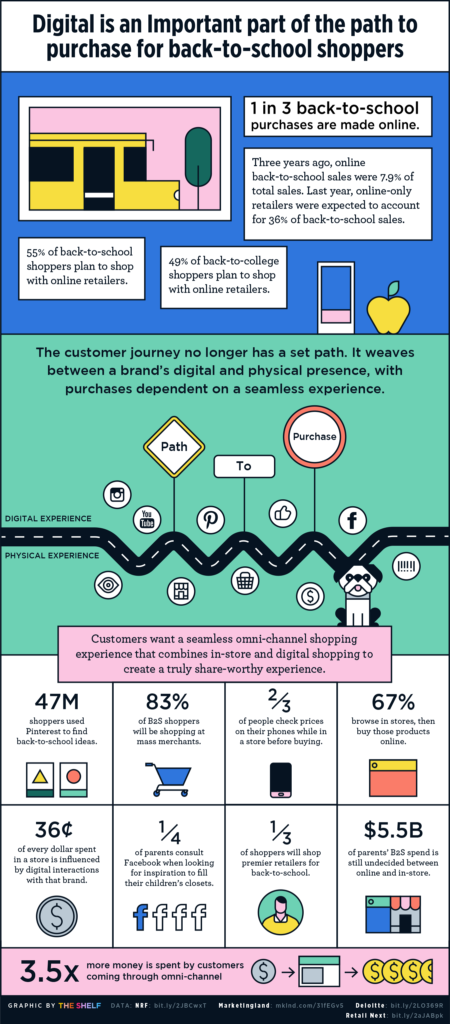 Courtesy of: The Shelf
COPY AND PASTE THIS 👇 CODE TO EMBED THIS ☝️GRAPHIC.
With Back-to-School Shopping Personalized Experiences Reign Supreme
At the end of the day, back-to-school shoppers are looking for great deals from brands that offer great experiences. Retailers that engage with shoppers at the right time with personalized deals will see the most success. And one of the best ways to do that is by using social sharing platforms.
Many Gen Z shoppers will use Instagram for product discovery, YouTube to find reviews and make final purchasing decisions, and Snapchat to document their experience with your brand.
In the same way, Moms rely on Pinterest and Instagram for inspiration and product discovery, YouTube for reviews, then organize their shopping lists using Pinterest (then it's back to Instagram to visually document their experiences with your brand (OR Facebook groups)). That said (and you knew it was coming) it does make sense to target your audience by working with an influential storyteller.
Customizing your content and offer for each shopper (moms, dads, college, Gen Z) is vital going forward for the back-to-school 2019 shopping season.
Back to School 2019 Is Here
That's actually just the beginning, if you can believe it. We covered several additional topics related to back-to-school 2019 that you're going to want to see, including when people do their back-to-school shopping (we talked about that in the post How to Nail the Timing of Your Back to School campaign) and how much shoppers spend in each of the popular B2S categories.
Bonus: The bottom of the infographic also includes strategies for, not just getting eyes on your campaign, but also getting your customers to take action.
You can grab the entire infographic using the embed code below it. There's also a shorter version and a few more of the mini-infographics we used throughout this post.
Here's the FULL Back-to-School Infographic in All Its Glory

Courtesy of: The Shelf
Back-to-School Household Spending by Category.

Courtesy of: The Shelf
Tips and Tricks for Running an Amazing Back to School Campaign

Courtesy of: The Shelf
EMBED CODE
COPY AND PASTE THIS 👇 CODE TO EMBED THIS ☝️GRAPHIC.
Here's the Shortened Version of the Back-to-School Infographic.
(IT'S JUST THE STATS)

Courtesy of: The Shelf
COPY AND PASTE THIS 👇 CODE TO EMBED THIS ☝️GRAPHIC.