It is officially back-to-school time. Every year, parents (and especially students) must face the inevitable: the arrival of midsummer. And that means back-to-school spending, sales, trends, and marketing. And tons of back-to-school stats. Tons.
Behold! The beauty of Konstantin's design brilliance!! You're such a friggin' rock star, Konstantin.
COPY and PASTE THIS 👇 CODE to EMBED THIS ☝️GRAPHIC.
Now, let's dig into the data.
How Much Back-to-School Shoppers Are Spending in 2023
The 2023 back-to-school spending season is expected to be the biggest one yet with consumers planning to spend a total of $135 billion in back-to-school and back-to-college spending.
Despite inflation shrinking the amount of bang shoppers can get for their B2S buck, K12 back-to-school shoppers will spend an average of $890 per household on school-related items, according to the National Retail Federation. With a few adjustments:
B2S shoppers are hitting the stores earlier this year and spending most of their budget by the end of July (upwards of 59 percent of it, according to Deloitte.
Shopping sustainably isn't as much a priority this year as it was last year as deals and discounts take center stage.
While the Dalios and Kyosakis of the world insist cash is trash, 77 percent of B2S shoppers are shopping with it, in lieu of charging purchases to their credit cards.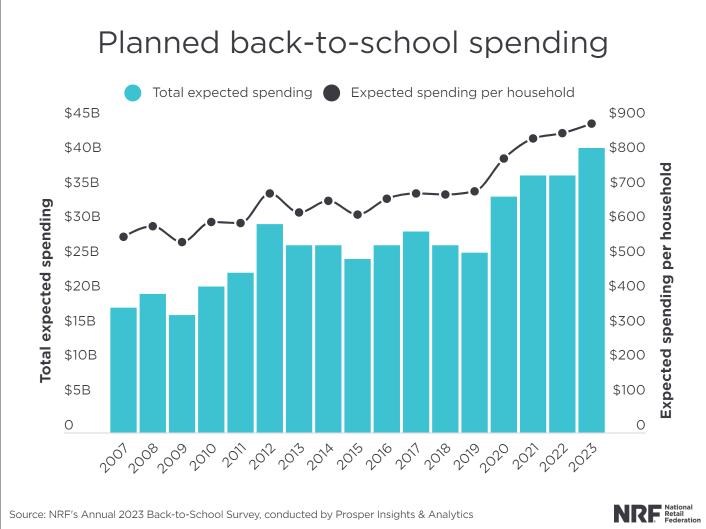 When it comes to back-to-college shopping, households are expecting to spend right around $1,370 this year. And this includes degree-earning moms and dads. To give you a little context, when we published the 2019 back-to-school post, spending on back-to-college supplies averaged about $977 per household. So, in the last four years, back-to-college spending has jumped 40 percent over where it was before the pandemic hit. And of course, that number doesn't include tuition or housing expenses.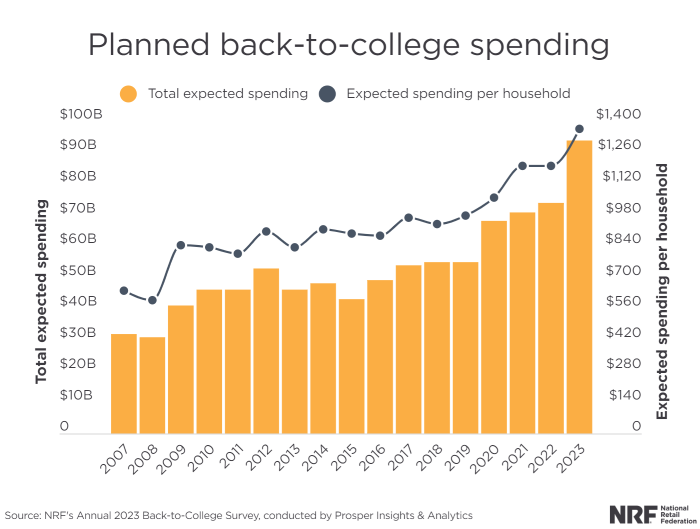 Deals Take Center Stage This Back-to-School Shopping Season
Okay, we are knee-deep in an economy that is in a fist-to-fist battle with inflation. 👀 In the current environment, the majority of back-to-school purchases will be influenced by deals and promotions this year.
The official start of the back-to-school spending season kicked off with a record-breaking Prime Day event that delivered $12.7 billion in sales for Amazon and its merchants. This year, nearly 7 in 10 back-to-school shoppers were planning to take advantage of Prime Day deals exclusively. Nearly 1 in 3 planned to shop other online deals during Prime Day, and 1 in 5 planned to shop in-store deals at other retailers during the Prime Day event.
Shoppers have already seen price increases on staples like apparel and paper. And this year, the idea of deals, discounts and value include conveniences such as easy returns, free returns (no restocking fees), and free shipping with order minimums of $30 or so.
But be warned: shoppers are fully prepared to switch brands if their preferred brand is out of stock or if the price of their preferred brand jumps significantly.
And there are differences in the importance discounts play for K12 back-to-school shopping vs back-to-college shopping. For instance, 45 percent of K12 shoppers will be shopping more sales and doing price comparisons online versus 37 percent of back-to-college shoppers who are zeroed in on finding deals.
Spending Categories: Back-to-School Shoppers Prioritize Necessities
School supplies and clothing remain the top spending categories. With inflation still kinda bossing everybody around, shoppers are compensating for the price increases by boosting their spending on school supplies by 20 percent while decreasing their spending on clothing/accessories and electronics by 14 percent and 13 percent, respectively according to Deloitte.
Across the board, parents, students, and back-to-school shoppers have seen an increase in prices:
77 percent of B2S shoppers report higher clothing prices
67 percent report higher prices on school supplies
59 percent report higher prices for shoes
58 percent report higher prices on electronics
23 percent say they're paying more for furniture
Spending More vs Spending Less
Regardless of whether shoppers say they're spending more or less on back-to-class shopping this year, pretty much all of them are pointing to inflation as the cause.
For shoppers who plan to spend less this year, 51 percent of them say it's because they have less disposable income. Of those who plan to spend more this year, 75 percent of them say it's because prices are higher this year. The sweet spot for retailers is to understand that price is of the utmost importance, but discounts, deals, and quality (value for your money) are the big influencers this year.
In-Store vs Online Shopping
We did a little digging in our article on back-to-school trends into the opportunity that exists for brands that are putting down roots in virtual environments. In previous years, we've only really looked at the YoY changes in the percentage of people who are shopping online versus those who are shopping in-store.
On the heels of a global pandemic, online schools, and the rise of advanced e-commerce capabilities, four in 10 back-to-school shoppers have been taking advantage of emerging technologies to make shopping safe and convenient. We're talking shoppable social posts, sure. But also digital wallets, interactive video, and virtual reality. Keep that in mind as you're structuring your influencer marketing strategies.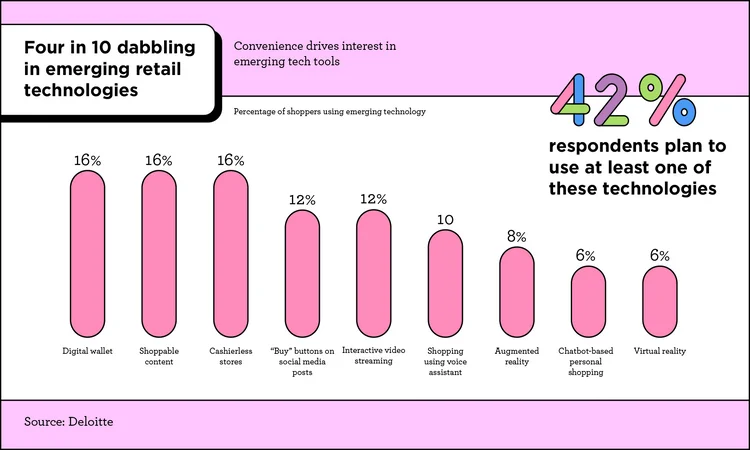 When we first rolled out our Back-to-School post back in 2016, e-commerce accounted for just 7.9 percent of back-to-school spending (based on 2015 b2s stats). In 2018, 23 percent of back-to-school spending happened online. This year, with stores open and school in session, 55 percent of back-to-school shoppers will be making some of their purchases online.
Back to School 2023 Is Here
The bright spot for kids is that going back to school often comes with a healthy shopping allowance. The bright spot for marketers is that school shopping often starts early, climaxes with AMAZING sales in mid-July, and glides right into the holiday shopping season.
And parents, well, they (and their wallets) get sort of jammed in between kids and brands, working out the logistics of it all. Use the back-to-school statistics, trends, and strategies to kickstart your winter influencer campaigns.