It's that time of the year! It's time for K12 back-to-school and higher ed back-to-college shopping. And there are a few important 2022 back-to-school trends we see cropping up that could make for some really cool influencer marketing campaigns this year.
We've been mulling over reports and looking at social media to identify some of the new needs shoppers have that marketers can craft campaigns around. Take a look at our top five picks for back-to-class trends brands and marketers can use to reach shoppers in the days and weeks leading up to (and into) the 2022-2023 school year.
Trend #1: Twice as many parents are homeschooling their kids this year compared to last year
In 2020, the kids came home for school as a way to keep them safe and combat the spread of the COVID-19 virus. As school re-opened in 2021, four percent of all K12 kids remained home for their schooling.
To provide a little context, in 2019, the US Census Bureau reported that three percent of US-based K12 students were being homeschooled. So, the homeschool crowd gained one percentage point from 2019 to 2021.
However…
Rolling into the 2022-2023 schoolyear, that percentage has doubled to eight percent (or 1 in 12) of all US school-age kids will be homeschooled this year.
Interestingly enough… 🎓
A Fortune.com article reported that something like 1 in 6 Black students (about 16%) will be homeschooled this year. You may have noticed that much of the chatter surrounding the well-publicized learning loss kids have experienced seems to position it as a permanent state that could result in $128 billion a year in lost wages for the K12 students who will be entering the workforce over the next 10 to 20 years.
Not insignificant. 🤔
Add to that the teacher shortages, the disappearance of additional help for kids who need more support, as well as for advanced kids who could benefit from more advanced instruction. In many school districts, there aren't any solutions being implemented to minimize the impact of these challenges. So, millions more parents have chosen to homeschool their kids.

We actually created an encyclopedia on this stuff…
The Complete Guide to Influencer Marketing 🤯
Opportunity for Marketers: Homeschooling families rely on social media
Depending on the state in which a family resides, laws governing how home study programs are to be run can be quite detailed OR virtually nonexistent. For instance, in my home state of Georgia, homeschool laws are very flexible. The state website for homeschooling K12 kids offers a bunch of ideas on what you could do as a parent and how things could work in a homeschool environment.
But no structure. NO framework. No real direction.
For a more detailed picture of how to effectively homeschool K12 kids, I, and many other parents rely on people we know (in my case, my sister) and homeschool influencers.
For something like this, even if you find a bunch of helpful resources online, you're going to spend weeks doing the reading and trying different things, not really knowing if they'll work. It's faster and more efficient for us to rely on online communities and creators who homeschool their own kids, preferably one in your state.
Homeschooling families like mine rely on their online communities to learn the ropes, share resources, get tips that won't ruin their kids, and find out how to get better and better at homeschooling their kids.
For brands, partnering with influential, knowledgeable teachers and homeschooling parents and guardians can be a really effective method for getting your brand in front of this audience.
Just to give you a starting point, I use YouTube for basic information, hacks, and best practices for my state.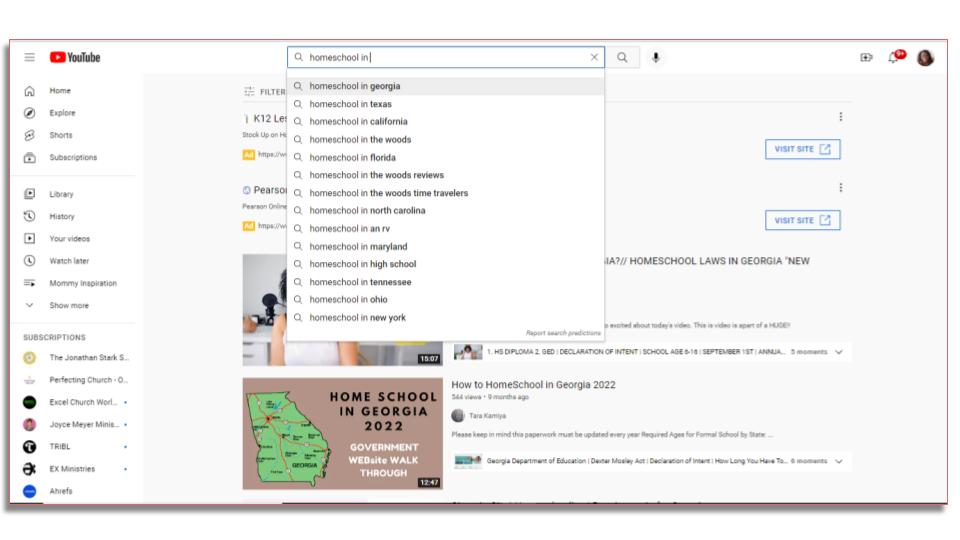 Pinterest is the resources hub.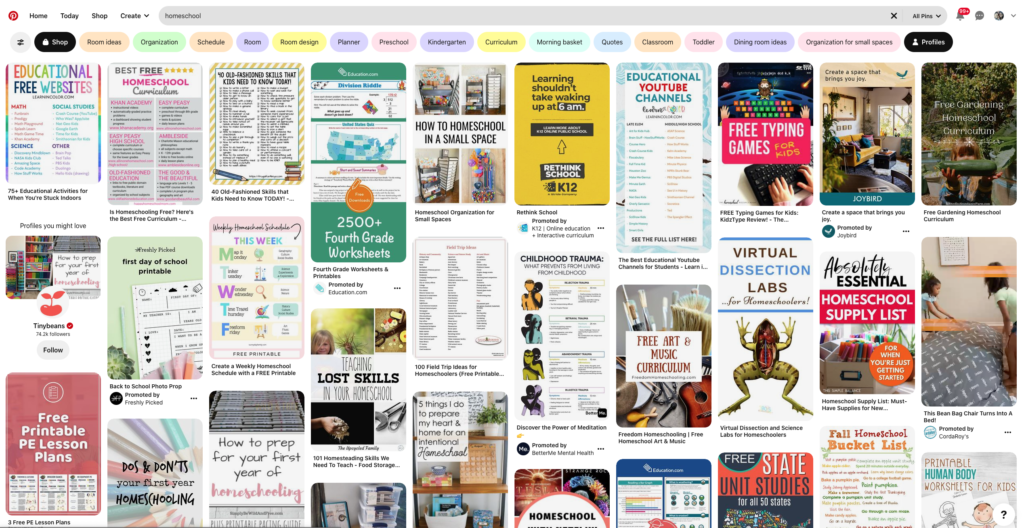 Facebook is the community hub with tons of groups for homeschooling families to connect with other homeschooling families for resources, information, and even in-person activities.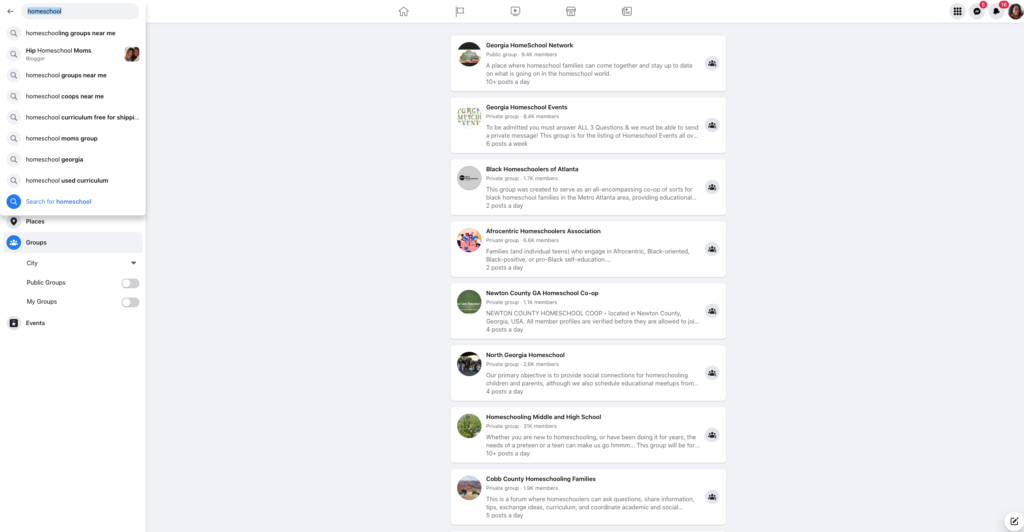 Instagram serves double-duty as both a resource hub and a community for homeschooling famlies
Homeschool families spend nearly as much as other K12 families – just on different things
Another part of this particular back-to-school trend is spending. If you're under the misconception that homeschool famlies don't spend as much, you may or may not be right.
Homeschoolers will account for about 4 million students this year. And while those households are expected to spend, on average, 15 percent less than households that have kids heading back into school buildings, Time4Learning.com estimates the average homeschooling household could very well spend between $700 and $1,400 per school year on materials (supplies, textbooks, subscriptions/online resources, devices), field trips, curriculum, and extracurricular activities.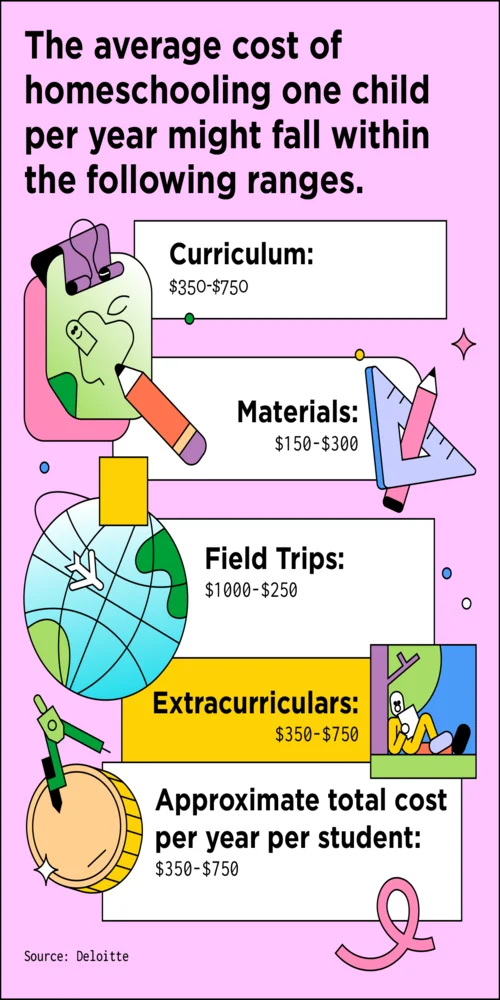 Makes sense, right?
Remember in 2020 when the kids came home, per-household spending on back-to-school items increased by more than 20% on average. During that year of online learning, parents of K12 students decreased their on apparel and gear but increased their spending on technology, workbooks, and furniture – these are the same categories homeschooling parents will be investing their money into.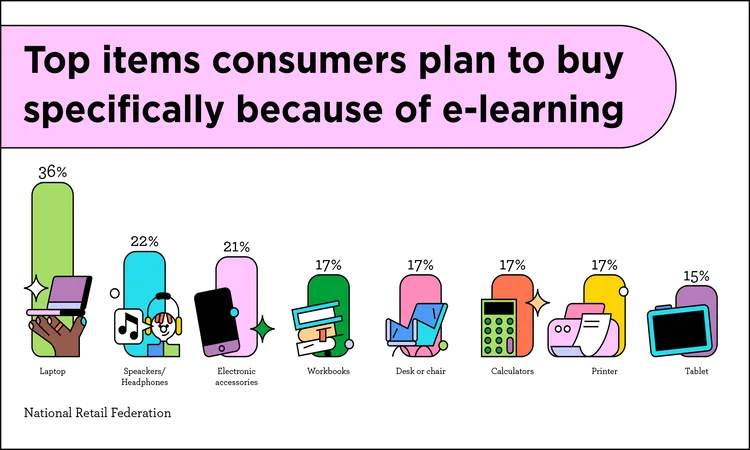 Trend #2: Parents are prioritizing their kids' mental health
For many families, the days of online-only schooling are over. But the lingering impact of that experience – the uncertainty, the drastic changes to how kids had to do school, missing their friends as we tried to social distance – all of it has contributed to concerns over the mental health of children.
In a forum hosted by the Harvard School of Public Health, Dr. Tasmin Ford, Ph.D. presented findings that pointed to ways in which the pandemic-related lockdowns exacerbated issues from hyperactivity to depression in K12 children. More parents are finding ways to help their kids through emotionally tough times.
According to Deloitte, 50 percent of the parents surveyed said they are concerned about their child's mental health. Many are prioritizing mental wellness and a third of them (36 percent) have already purchased products or services to address mental health issues.
Opportunity for Marketers: Parents are looking for non-medical options and solutions, too
As parents attempt to help their kids navigate a world that's constantly in a state of flux, it can be tough to know what the next right thing to do actually is. In that way, it's important for parents to be armed with a catalog of ideas and tons of great resources.
Dr. Janna Williams-Pitts is a psychologist with Wellstar Health System. In a recent article, Dr. Williams-Pitts identified behaviors parents can look for in their kids which may indicate their child is suffering from anxiety. These include things like kids not spending as much time doing the activities they once liked doing, or spending more time alone. Dr. Williams-Pitts also offered ways parents can help their kids better cope with some of the historic events unfolding before us.
Supporting a child's mental well-being can take many different forms, such as mean bringing in a family therapist to guide the household through difficult processes. But it can also mean setting up household routines such as a regular wind-down time that precedes a set bedtime every night. Or it could come in the form of making sure kids are getting plenty of physical activity – doing things they like as well as trying new things.
As a mom of two young kids, I can remember being intentional about making sure my kids had things to do. I bought scooters, rollerskates, jump ropes, skateboards, sidewalk chalk, strawberry seeds – any fun outdoor activity I saw that would require a little effort to learn and master. I wanted them to have a variety of different activities they could do together or alone that would keep them from being bored while social-distancing. I heard about fidget toys from a friend so we had a box of them delivered – whatever help we could get keeping hands and minds occupied
Parents who prioritize mental wellness for their kids are spending, on average, 8 percent more this back-to-school shopping season.

RELATED POST.
17 Key Influencer Marketing Trends to Follow in 2022
Trend #3 Parents care about shopping for sustainably-sourced products
Another interesting trend reported by Deloitte is that half of parents plan to shop sustainably-sourced back-to-school items when they're available. No easy feat, as circular and sustainable manufacturing aren't yet the norm among retailers of back-to-school goods.
But we're not just talking about recycled filler paper and backpacks made from other backpacks. This could actually be as simple as buying used or upcycled products over buying new. About a quarter of back-to-school shoppers (29 percent) plan to buy some used items for back-to-school.
Opportunity for Marketers: Educating parents and guiding them to the right brands
For many parents, the challenge they have with shopping for sustainable back-to-school products is a branding issue. They're not sure which brands are actually legit. In fact, 1 in 5 shoppers surveyed said they do not shop for sustainable products because they cannot tell which companies sell genuine sustainably-sourced products. But transparency and education are issues that can be solved with content.
For parents who do check out sustainable products, 50 percent of them say the products are expensive. Brands and marketers have a chance to meet these customers right where they are to educate them, engage them, and help them understand the who and the why behind shopping sustainably.
Consumers who are in the market for sustainable back-to-school products are willing to spend 22 percent more to buy from retailers who sell sustainable products.

RELATED POST.
Influencer Marketing ROI: Which Metrics Will Give You the Best Campaigns?
Trend #4: Most back-to-school shoppers are shopping on their phones
Two in three back-to-school shoppers (65 percent) are using their smartphones to complete their back-to-school shopping. (Right? Because why head into stores until you've checked your phone to see what's on sale and which stores have the items in stock?)
This year, smartphones trump personal computers when it comes to back-to-class shopping with 65 percent of shoppers planning to use their smartphones to assist in shopping and 58 percent planning to use their computers to help them.
Opportunity for marketers: SMS and location targeting
Ever see Minority Report? I will forever have the image of John Anderton (played by Tom Cruise) walking through either a mall or a train station of a random city in the year 2054, being bombarded with hologram ads triggered by retinal scans. Remember that?
Back then, the whole concept seemed so dystopian and far-fetched. Today, not so much. As a marketer, that kind of laser-focused targeting is what leads to conversions. As a consumer, I LOVE when marketing messages help me save money on stuff I'm already shopping for.
SMS texts and ads triggered by my location or an event hits me right where I am, at the time I'm planning to buy, or in the process of shopping.
I pulled a few interesting stats from Increasily and MarketerHire:
With two-thirds of back-to-school shoppers relying on their phones to help them make buying decisions, brands have an opportunity to increase the number of touchpoints they have with shoppers. More, by combining location marketing with SMS, they have the chance to reach shoppers who are within close proximity of your store.
Trend #5: People are shopping by way of emergent technology
One of the key differences in back-to-school trends this year is the level of interest in using emerging digital technology to access things in the physical world.
Over the last two years, we have gotten pretty comfortable with the idea of doing high-value things in virtual spaces. Kids went to school online for an entire year. College students attended classes online. We've seen online graduations and weddings. Coldplay in concert in a world whose name I forget? Done. I even live-streamed a funeral at the height of the pandemic.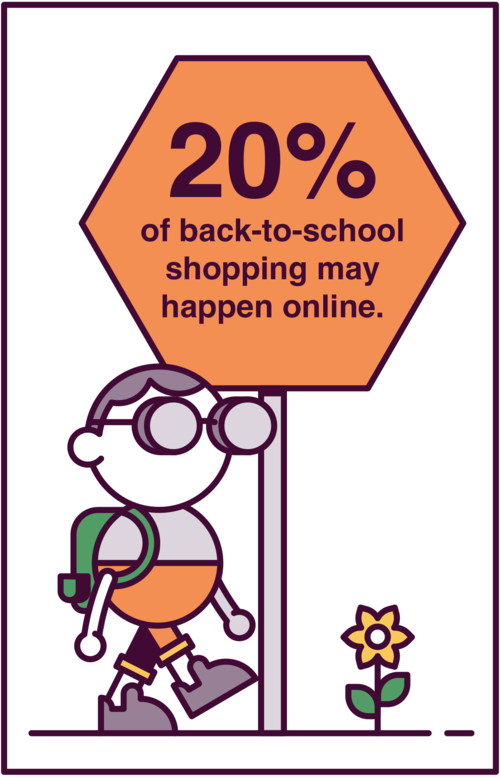 The point is, we've learned first-hand about how technology can support learning, give us access, ensure we have supplies, and enable us to experience events we otherwise wouldn't be able to attend. And we're more than willing to make the investment into making sure we have access to technology that enables us to augment even the mundane tasks.
So, I have a few more tech-related back-to-school stats for you:
59 percent of back-to-school shoppers are using emerging tech to shop this year.
50 percent of millennials are interested in having the metaverse implemented in schools.
59 percent of millennials say schools should provide students with the technology to access the metaverse for education
62 percent of parents plan to invest in online learning resources this school year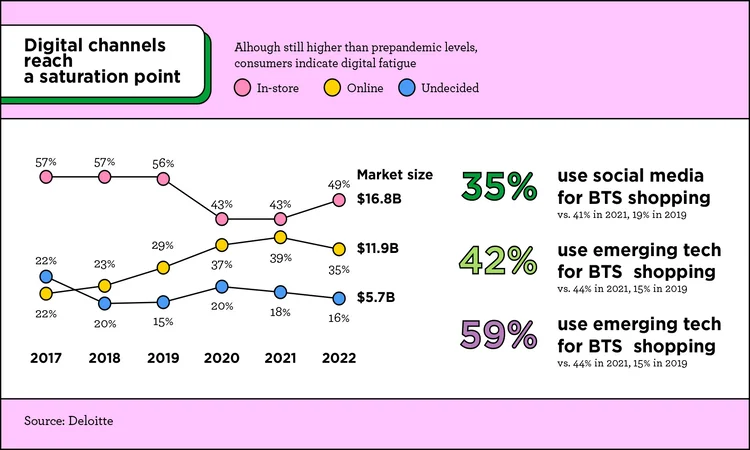 Opportunity for Marketers: Increasing touchpoints
I'm not an athletic shoe type of gal. I'm more your Madden Girl/Birkenstocks comfortable, ugly sandal buyer. I have NO idea what's happening in the world of sneaker releases. But the other day, I was brimming with ideas for shoe drops. I marveled at how clearly I could see the stitching on a green pair of Adidas Yeezy shoes that were suspended and spinning in mid-air inside a virtual world where members of The Shelf team were holding a meeting. And I finally "got it."💡
Emergent technology and virtual spaces create innumerable touchpoints for brands to connect with consumers. We love to share a gif our illustrator created of the path to purchase. Well, as fancy as this gif is…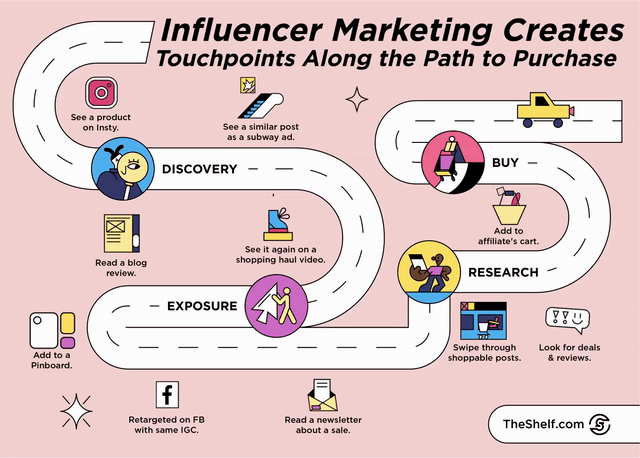 … we could add a second floor to this graphic now to represent immersive experiences in virtual spaces.
For the third year in a row, people are shopping online for back-to-class items as much as (or more than) they are shopping in-store. When I started shopping back-to-school sales this year (Julyish), the deals were only online – sales hadn't even hit the stores yet.
This year, since we've been knee-deep in the metaverse conversations all year long and watching the crypto market get weird, many of us have developed some level of comfort with all sorts of emergent technology: digital wallets, shoppable content, AR, VR, interactive video streaming… all of these channels represent additional avenues for brands to connect with shoppers in a variety of different ways.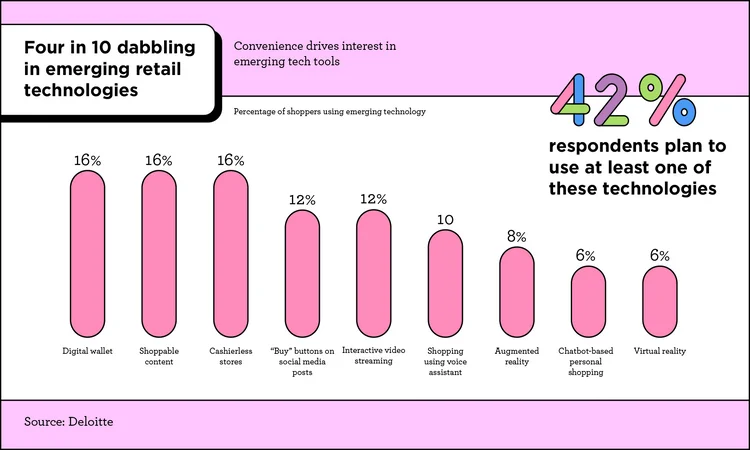 Final Words on Some Really Cool Back-to-School Trends
This year's back-to-school trends are unlike any we've seen in years. We're usually talking about trends such as moms shopping for organizers at the same time they're shopping for crayons. And dads are outspending moms on poly folders.
But dude, this year, we're talking about an exponential growth in how families are leveraging emergent technology to get necessities. Haven't we been waiting on this forever? The mission for us as marketers is to understand how people are using this technology (sort of like how people use Pinterest, Facebook, YouTube, Insta different for homeschooling, right?) and find creative ways to deliver value to customers in the form of education, transparency, entertainment, convenience, etc.
What an exciting time!