So you want to make the most of your Facebook influencer marketing. Good news, you're in the right place. As platforms like TikTok start to lead the pack on the influencer marketing front, it can be easy to let even goliath platforms like Facebook fall through the cracks. But don't be fooled. Facebook is still very much in the race, and Facebook influencer marketing is a valuable strategy for many brands.
We're here to help you craft the best influencer marketing strategy for the platform so you can get the most out of your budget across your social media portfolio.
In this article, we'll break down the Facebook features you need to craft a kickass campaign, the best strategies for Facebook influencer collaborations, the benefits of influencer marketing vs Facebook ads, and more.
First, let's dig into why Facebook influencer marketing is worth your time, energy, and cold hard cash.
Is Facebook Still Relevant for Influencer Campaigns? The data says yes.
To put it simply, yes.
Facebook has 2.934B active users. That means nearly 37 percent of the global population is on Facebook. It's the most active social media platform in the world, with 1.968B users logging on daily. (That's 67 percent if you want some quick math.) Nearly half of FB users are on the platform multiple times a day (49 percent are), and the average user spends 35 minutes of their day on the app.
We'll go into the breakdown of influencer marketing vs Facebook ads a little later, but it's also important to note that Facebook's traditional advertising reach is up 1.2 percent from last year, netting out at 2.17B in 2022. That's a lot of eyeballs on your brand.
Source: TechCrunch
Facebook Ranks Among the Top Platforms for a Few Different Metrics, Actually…
First, it's a leading platform for influencer campaigns.
According to Insider Intelligence, Facebook still ranks among the top social media channels for influencer marketing. Brands are expected to invest somewhere around $739M on Facebook influencer marketing campaigns this year alone. While that may sound like a lot, it's still less than the other big four influencer marketing platforms (TikTok, Instagram, and Youtube), in large part because larger audiences spend so much time on the other platforms.
#2 It's the most popular platform for social commerce.
One-third of shoppers are willing to purchase products from Facebook, compared to 24 percent who said they'd purchase from Instagram and 8 percent who said TikTok.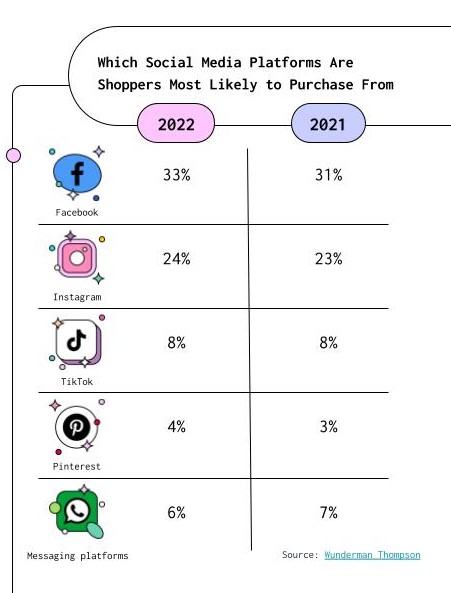 #3 Facebook is the social media channel that offers the best social commerce experience to consumers.
Facebook is the top choice for the best experience. Of those polled, 31 percent of consumers identify Facebook as the best social commerce experience in 2022.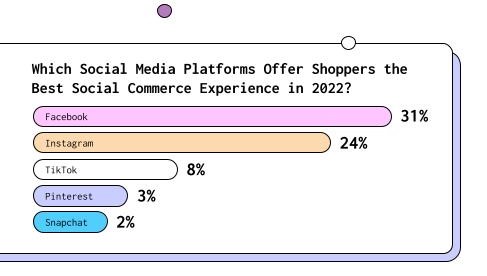 #4 Facebook users rely on the platform for product and event discovery.
Six in ten Facebook users (62 percent) use the platform to learn about live events. That number jumps to 72 percent for millennials. And 52 percent use the platform to discover new products.
More than half of US marketers – 55 percent – partnered with Facebook influencers in 2022, up from 42 percent in 2019. That number is expected to keep growing, with 60 percent of marketers expected to utilize the platform by 2024. Of those already utilizing the platform, 52 percent expect to increase their Facebook marketing budget next year.
According to Statista, Facebook generated $115B in ad revenue last year alone. Experts expect the platform to reach $203B by 2026. There's a reason Facebook is responsible for nearly 10 percent of global ad revenue.
Facebook may not generate the top influencer marketing spend, but it's a pretty important channel for full-funnel marketing. Don't let generational biases and click-baity headlines make you sleep on Facebook influencer marketing.
Here's How Brands are Using Facebook Influencers to Reach Audiences
When it comes time to craft a killer influencer marketing strategy, it's helpful to know what's already working for other brands. In a recent study, Facebook found that combining Facebook influencer ads with traditional branding ads drives a 40 percent higher click-through rate on average. You know we're all about that omnichannel approach at The Shelf. Using an integrated approach yields impressive results.
That integrated approach goes beyond mixing and matching advertising strategies on the Facebook platform itself. You'll likely want to target your audience across multiple platforms, with Facebook as one channel in your arsenal. Most millennials are active on at least three social channels (the number is actually something like 2.7… but we feel pretty comfortable rounding up on that). Actually, we have a cute, little chart that will map this thing out pretty well, based on data we pulled from Pew Research.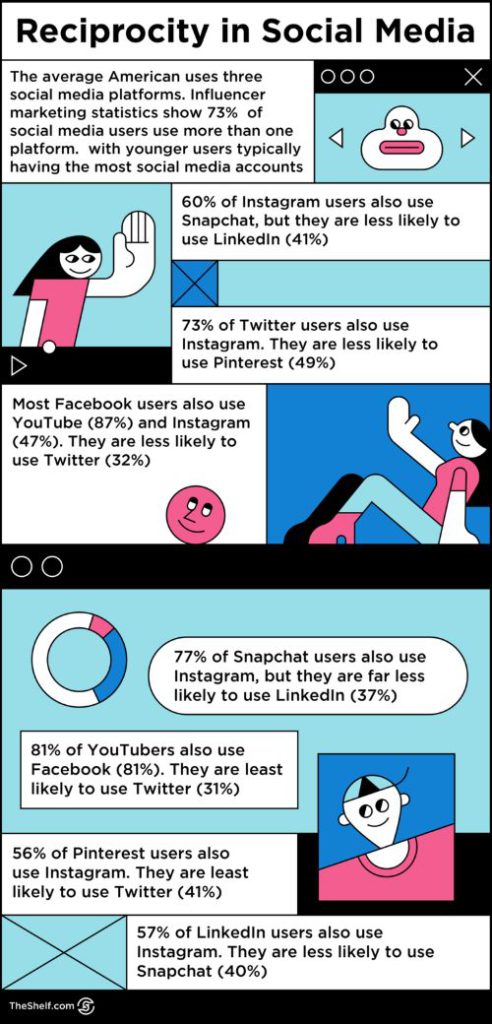 Point is… adding FB posts can be a great value-add to your campaign.
Content can (and should) be reused across platforms for maximum reach. Short videos from TikTok or Youtube can be reposted on Facebook — same with static ads from Instagram. Get the most mileage out of your content by using it cross-functionally. And don't forget to optimize the content generated by your Facebook influencers by boosting or whitelisting the posts for greater reach and more engagement.
Where Facebook Fits on the Path to Purchase
When it comes to the question of influencer marketing vs Facebook ads, the answer is less of an either/or and more of an and/both. The best results are achieved when the two strategies are combined in a marketing campaign. We are strong believers in the power of whitelisting influencer campaigns to amplify great content and reach a wider (much wider) targeted audience
Combining branded, Facebook influencer-generated content with traditional ads gets more eyes and drives more conversions. The combo results in an 85 percent likelihood to drive more add-to-cart clicks and an 80 percent likelihood to drive more purchase conversions.
Which leads to…
Four times the average purchase conversion. That means you're four times more likely to land a sale with your Facebook marketing budget when you combine Facebook influencer marketing with paid ads.
Because other platforms, like Instagram, have become so shoppable, Facebook is generally not the first place you turn when designing a campaign to drive sales. Facebook influencer marketing is best for top-of-funnel brand awareness campaigns, but that doesn't mean conversions don't happen on the platform.
More than 18 percent of U.S. adults made a purchase through Facebook last year, and if your target demographic is more diverse in age (we're talking more people over 30) this can still be a great place to make sales.
The Best Types of Facebook Influencer Collabs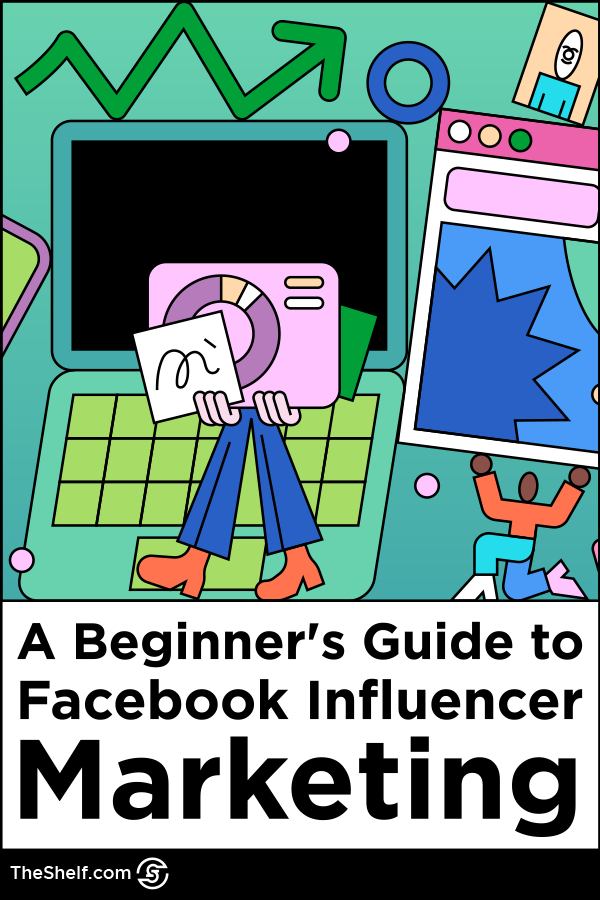 Selecting the best Facebook influencers is a crucial (and fun) part of the process. In addition to selecting the best influencers for the job, you also have to consider the best type of influencer collaboration for your campaign.
When it comes to selecting influencers, authenticity is key. Partnering with someone whose content naturally fits with your brand is important for the campaign to land. The best campaigns allow room for their influencers' creativity to shine, so you have to trust your influencer will create content that will serve your brand well.
In addition to creative alignment, you'll want to consider the size of their audience, how active they are on Facebook, what their engagement is like on the app, and how well their FB content usually performs.
It's becoming increasingly common for brands to partner with micro and nano influencers with smaller followings, more established niches, and better engagement. But if you're trying to roll out a huge brand awareness campaign and you have the budget, mega influencers still have their perks too.
Once you've found the right influencers, you'll have to decide the best way to collaborate with them. Types of Facebook influencer collabs can include sponsored content, guest posts, brand ambassador programs, giveaways, takeovers, and affiliate marketing. The best collab will depend on your campaign goals, relationship with your influencers, and the product or service you're marketing.
4 Facebook Features that Matter for Influencer Marketers
There are so many bells and whistles on social media these days. The good news is that you can use them to your advantage. Try out these Facebook features in your next campaign.
FACEBOOK LIVES: Harness your audience's FOMO and let them tune into your influencer's life in real-time. Facebook lives are a great way to engage your audience with real, authentic expression from your influencer.
FACEBOOK STORIES: The stories Facebook feature is a great place to test messaging and imagery for your upcoming campaign. Because they expire in 24 hours. Tease up to 20 seconds of video or let your followers bask in 5 seconds of a beautifully curated image before tapping to the next slide. Stories are great for bite-sized content in addition to your in-feed posts.
FACEBOOK GROUPS: One of the major selling points of influencer marketing is that it feels more human than traditional advertising. Facebook groups serve a similar function in the marketing world. They allow you to bring your target audience together in community with you, your brand, your influencers, and each other. And that carries big selling power.
FACEBOOK VIDEO: Short-form video is kicking butt and taking names in the influencer marketing world. When it comes to posting video content on Facebook, it's important to note that 85 percent of users watch videos on the app with their sound off. So make sure your video content is understandable on silent. Captions are your friend!
The Push Toward Video in Facebook Influencer Marketing
One of the most important Facebook features today is video. If you want more engagement with your content, video is the way to go. Videos on Facebook amass more than 4B views daily. And 65 percent of users who watch the first 3 seconds of a video on the platform will continue watching through at least second 10. So all you have to do is hook viewers in the first 3 seconds to capture their attention for an entire short ad.
With competitors like TikTok and Instagram Reels, Facebook is racing to keep up on the video front. The good news for influencer marketers is that some influencer-generated video content can be repurposed across the platforms. And Facebook is conducive to longer video content as well. So you can repurpose content originally created for Youtube on your Facebook feed with great success.
How to Loop Facebook Groups into Your Campaign
The Facebook algorithm is designed to prioritize group posts higher in users' feeds. That means you can extend your organic reach by channeling some of your influencer content to Facebook groups where your target audience is already active. (Side note: it may be worth creating your own group for your brand. That way die-hard fans of your brand can follow along with every campaign to come.)
Seek out (or create your own) groups with high engagement. Because the algorithm favors this Facebook feature, if a group is active and full of likes, shares, comments, tags, and posts, Facebook will treat the content as on par with friends and family. That means your group will stop functioning as a brand or influencer and will start functioning like a trusted confident online.
Facebook groups are a great way to build community, and that's what influencers do best! Combining groups with your influencer marketing strategy is a cost-effective way to see big returns.
A Facebook Influencer Marketing Campaign Example
Sometimes Facebook is the secret sauce to your influencer marketing campaign. When working in social media, you can only predict so much. It's hard to know when something will go viral, but in our line of work, it's almost always a good thing when it does.
In our recent Kidz Bop campaign, influencer families were tasked with creating content around their kids bopping to the new music (sorry, I couldn't resist). One family, The Dashleys, unexpectedly hit it big with a viral Facebook video. The baby dance battle vlog is eight and a half minutes long and was originally intended for and posted on Youtube.
Due to the nature of Meta's algorithms, it's much easier for a post to become viral on Facebook or Instagram than it is on Youtube. But it was still surprising to watch the vlog, which garnered a solid 5,000 views on Youtube, soar to 370,000 views on Facebook. What was considered a simple value-add in the campaign — repurposing content on a different platform — ended up making a huge difference for brand reach.
The Dashleys have 1M followers on Facebook, 253k followers on Instagram, and 176k subscribers on Youtube. That's an audience of nearly 1.5M in total, and the bulk of those eyeballs are coming from Facebook. It's great to select influencers who have range. Don't forget to play to their strengths and put forward content where their audience is strongest.
You can check out the Kidz Bop case study here, by the way.
Finishing Up…
Facebook may seem totally uncool to the Gen Zs in your life, but it's still a major player in the influencer marketing space. And if you're not targeting Gen Z in your next campaign, that's even more reason to direct your focus to the classic social platform. Facebook can add big value to your next influencer campaign and it's very conducive to sharing the love (and content) with its competitor platforms. Tap into the most widely used social platform worldwide on your next campaign.
Want to know more about how to leverage Facebook features and Facebook influencers to market to those nearly 3B users? Our team can help. Schedule a discovery call with one of our experts today. Or subscribe to our weekly newsletter to stay up to date on all things influencer marketing across the board.
Speaking of Facebook, let's bring back pokes. Whatever happened to those? Poke you next time with more influencer marketing tips. 
---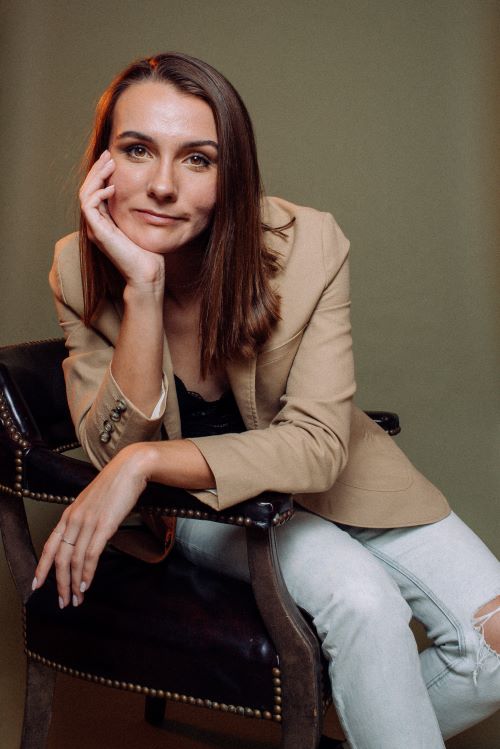 About This Author
Ariana Newhouse | B2B Writer
I am a freelance writer and comedian based in Los Angeles, and while making people laugh is my jam, it's not always the company brand. So, I strive to make people feel something. My writing philosophy is collaborative, empathetic, and humanistic. At the end of the day, no matter the message, there are real people on both ends of the process.
---