Micro-influencers make the Instaworld go 'round. They are the army of social media users who don't have millions of followers – or even hundreds of thousands of followers – but they know how to connect with their followers, gain their trust, and get them to take action.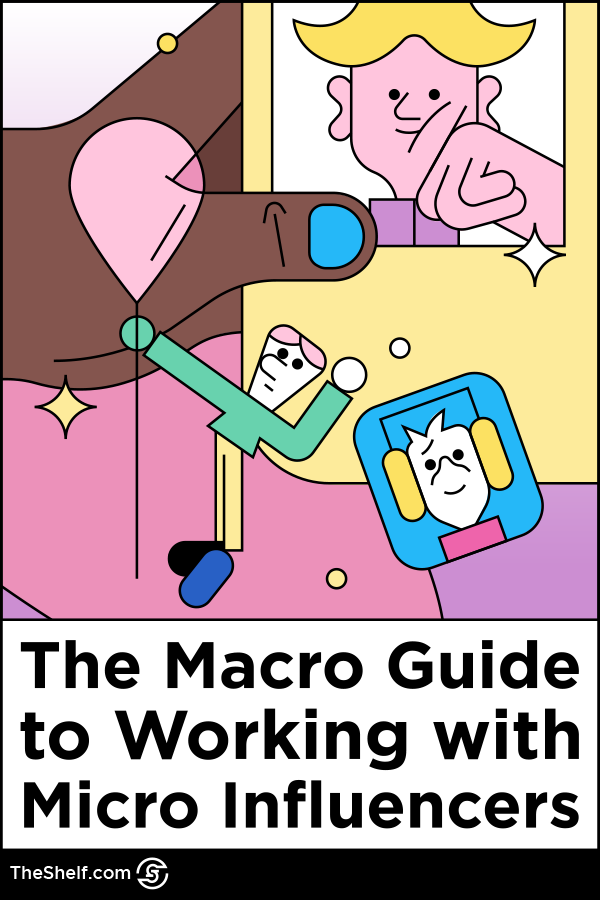 In a Web 3.0 kind of world, brand perception is not about your logos, brand colors, or tagline. It's about the message and image you push out, or better yet, the "face" and "voice" representing your company. Being human stays at the forefront of the most successful companies — especially those in the DTC (direct to consumer) market.
That's because consumers want to like the brands they buy from.
So, you're not out to get customers — you're on a mission to get fans. And to do that, you need to build a connection and trust. This is where micro-influencers come in.
Not already using them? Or maybe they're just not on your radar yet? If so, here's why they need to be.
What is a micro-influencer?
A micro-influencer is a person who has between 10,000 and 50,000 followers, give or take. These influencers are in various niches and typically have a presence on social media channels, such as Facebook, Instagram, Twitter, TikTok, and YouTube.
Regardless of which influencer tier a creator lands on, it's not just the follower count that makes a person an influencer. These individuals are in a specific niche and actively engage with their audiences to earn their trust. So, when they make an argument or promotion, their audience listens.
Why should you partner with micro-influencers?
Gaining the trust of today's consumers is not as easy as it used to be. It requires more than just being seen — you need to reach your audience in the spaces they spend time and speak to your audience in their language.
This is one reason micro-influencer partnerships are gold mines. Yet, it's still disregarded by many brands. If you're one of them, then here are several reasons you should start collaborating with them today.
Micro-influencers are authentic
Celebrities are great for one thing — entertaining us. They keep us on our toes, give us a few laughs, and may even inspire us. But do people trust their product endorsements? Not so much. This is what sets apart micro-influencers from the megastars. Their word is seen as genuine and trustworthy by their followers.
Many marketers assume smaller influencers will take any partnership they're offered. In reality, influencers decline more opportunities than they accept. The best influencers will only back products and brands they align with on a deeper level.
So, if your message doesn't resonate with them, they'll turn down your proposal. And that's okay. You always want to find the right influencers that align with your brand. This way they promote your products with authenticity.
Why's this essential? Simply put: Today's consumers aren't stupid. They know when they're being sold to or being taken advantage of. So, it's critical to find micro-influencers that can push your product naturally.
The beauty of the micro-influencer market is that there are hundreds of niches. This makes micro-influencer marketing easier since you can target specific influencers for collaborations.

We actually created an encyclopedia on this stuff…
The Complete Guide to Influencer Marketing 🤯
Micro-influencers have higher engagement rates
Since people trust the micro-influencers they follow, they're more likely to engage. And most of the time, micro-influencers engage back. This creates a "friendship" dynamic that builds deeper trust, creating somewhat of a tight-knit community. We shared a stat in our roundup of influencer marketing statistics:
40% of millennials say influencers know them better than their personal friends.
This sense social media users have that influencers understand them is part of what makes micro influencers such powerful allies for brands. That connection is what typically goes missing from the relationships between social media users and mega influencers. Without that genuine connection between followers and the influencer, the relationship ends up feeling more like one-way communication. It's difficult to "trust" a person that uses social media as a bullhorn. And let's not get started on the number of "celebrity" accounts that buy fake followers and engagement.
Since there are two-way conversations between micro-influencers and their audience, the engagement is from real people. And they typically stick around for the long haul.
Micro-influencers have higher conversion rates
We know that people follow, chat with, and trust micro-influencers. So naturally, they'll buy the products they talk about. Why? Because good influencer-generated content is not seen as a promotion — it's seen as a recommendation from a friend.
The only other way you're getting this level of trust is through the online reviews on Google, Amazon, Etsy, or wherever you sell goods online.
The difference is that with micro-influencers you get some control over the spotlight shed on your products.
On the fence about using micro-influencers over nano- and macro-influencers? According to Doug Pierce, a Chief Marketing Advisor, using micro-influencers yields better results than nano-influencers.
"Our results when using micro-influencers have been much better than when we've used nano- or macro-influencers. The average ROI we achieve using micro-influencers is 3.25x higher than what we achieved with nano-influencers in the past, and 1.6x better than using macro-influencers in past campaigns."
Micro-influencers have niche communities
Don't underestimate the power of a niche. It's key to finding audiences most likely to find interest in your brand and product. So, it's vital to target micro-influencers that specialize in certain industries.
For instance, some micro-influencers call themselves foodies, tech geeks, or fashionistas. If you can find your tribe, you'll find it easier to convert them into buyers (and potentially longtime fans).

RELATED POST.
What is an Influencer?
Micro- vs. macro-influencers
The difference between a micro- and macro-influencer is their follower count. Micro-influencers have between 5,000 and 50,000 followers, while macro-influencers have between 300K and 1M.
Macro-influencers sit right beneath mega-influencers and celebrities with over 1M followers. The difference: Macro-influencers are easier to get in touch with and possibly partner with than megastars.
Examples of micro-influencers
Micro-influencers come in all shades and sizes. Finding one that matches your brand and audience is easier than attempting to force-fit a connection with bigger influencers.
For example, you have Nana Agyemang, an IG micro-influencer in the fashion industry. Her focus is on highlighting people of color, plus she's a contributing editor for NY Mag (potential media connection?).
Valentin Bruneau is another fashion micro-influencer on Instagram. He also posts content about men's lifestyle and modeling topics.
Ali Alexa takes on a different path in the industry, focusing on affordable fashion. She's also a lifestyle blogger, which means more content formats and mediums for brands that collaborate with her.
Karen Camargo is a beauty influencer that publishes aesthetic makeup videos on Instagram.
So, you see, there is something for everyone. You just need the right tools and resources to get connected. And this brings us to our next point.
How do you find the best micro-influencers?
Micro-influencers are everywhere. In fact, you may follow more than a few yourself. But the issue isn't locating social media accounts with the right number of followers. It's about finding the "right fit" for your brand.
This is where it gets tricky. And it's one reason brands flock to macro- and mega-influencers – they're much easier to spot, and some are even household names).
So, what can you do to find micro-influencers partnerships? Depends on whether you're willing to do the legwork or prefer to take a few shortcuts. Either way, here are a few ideas.
Look in your immediate circle
Employees. Stakeholders. Bosses. Chances are, a few of these individuals are brand advocates already. Are they already publicly speaking about your brand and products? Then get them onboard with regularly promoting the brand but from a cultural standpoint.
Odds are, their audience isn't looking to buy from you anytime soon. But they are aware of how great the company is as a workplace. Who knows, maybe a journalist will want to interview the CEO one day for a feature story.
Use social listening tools
Social listening platforms are great-to-haves but not entirely necessary. You can use social listening methods to find folks speaking about your brand, products, and industry. Using hashtags and keywords is an easy way to identify potential micro-influencers to collaborate with.
For example, if you're in the bathing suit industry, look for the obvious "swimsuit" keyword. But also find those who like to travel to hot places over the summer. Fashion and travel enthusiasts are fair game in this scenario.

RELATED POST.
2022 Influencer Marketing Best Practices
Invest in a micro-influencer platform
Influencer marketplaces are excellent tools for finding potential partnerships. It's packed with influencers of all niches, locations, and audience sizes. But with an influencer platform, you get more than just a database of influencers.
You get access to tools to manage your influencer campaigns. This includes project creation, collaboration, and data reporting. Your dashboard organizes everything in one place so you can see how each campaign is performing at a glance.
The Shelf has proprietary software used for the influencer campaigns we manage for our clients. It contains influencers across various niches from beauty and fashion to parenting and home decor.
Micro-influencer agency
Hiring an influencer marketing agency is another way to access potential collaborators. Agencies have a network of influencers they built relationships with over the years. This cuts out some of the legwork of "swooning" prospective advocates to work with you.
Plus, you get services from industry experts that develop and oversee your campaigns, and use proven strategies.

RELATED POST.
An 8-Point Checklist to Find Influencers for Your Brand
Examples of micro-influencer campaigns
Micro-influencers bring a lot of value to the table. But how does a micro-influencer campaign look and behave in real life?
Hair care brand, Royal Locks Curl Care, regularly uses micro-influencers to grow its reputation. And so far, they've had great success.
"They are genuinely interested in the brand and products. This level of influencer is proud to help build the community in which we have products: the curly hair community. They work with us to ensure their posts are on-brand. And we've seen a rise in engagement as a direct result of micro-influencer posts and reviews." — Casey Simmons, Owner of Royal Locks Curl Care
Here's an example of one of their micro-influencers demonstrating their product:
Custom Neon also saw amazing results using micro-influencers.
"We've seen the best results with micro-influencers. One example is a collaboration with a mommy influencer, k_neesh_and_kit. Kaneesha posted on her platforms, showing off the sign and doing a series on her story. She also created a video showing the sign, illustrating the ease of hanging and how the wires can be hidden." — Courtney Stables, PR at Custom Neon
The result: $30k in sales from their partnership, plus great images for their portfolio.
We've even seen excellent results in the micro-influencer marketing campaigns we ran for our clients. A great example is Moosejaw, the fun outdoor retailer.
The campaign revolved around collaborations with fun personalities in the outdoor space. We found several influencers on the West Coast (where the brand is headquartered), like Caitlin McNulty.
The campaign used 37 outdoor adventure influencers, creating over 400 pieces of content (videos, images, etc.) and over 237,000 impressions. Moosejaw's IG page also generated over 15,000 views.
Safe to say that was a complete success.
Don't underestimate the power of the micro-influencer
One micro-influencer can impact a small group of people, sometimes yielding immediate returns. Now, imagine the power of collaborating with dozens in a single campaign.
You'll have a larger, highly engaged audience to build your visibility, reputation, and potential sales.
Working with micro-influencers is something every brand should do to increase their trust factor. Done right, you can build a small army of brand advocates to promote your business.
Who knows, maybe this will give you the break you need to increase your revenue. But there's only one way to find out.
It's time to build your next micro-influencer marketing campaign. Book a call with The Shelf to learn how we make the process simple and effective. Our influencer marketing services can help you run campaigns shaped by data-driven insights.