Influencer marketing continues to grow year after year both in value and size. By the end of 2021, the global influencer marketing industry value had reportedly reached $13.8 billion. These influencer marketing statistics are more than double the estimates from just two years ago. While influencers were once an emerging trend, they now remain a game-changing marketing strategy that's here to stay.
Influencer marketing allows brands to get in front of large groups of niched-down segments of their target audience by forming alliances with the most influential people in those segments. These days, there are millions of influencers across a wide range of platforms that's always evolving. You can target everything from vegans to new moms in no time with the right influencer marketing campaign.
Think of this as the influencer marketing statistics post to end all stats posts. With over 100 facts, you can start to get a better understanding of the influencer marketing industry and how you can optimize your brand strategy.
---
The 7 Topics We Covered in This EPIC Roundup of Stats
The Overall State of Influencer Marketing
Consumer-Brand Dynamic on Social Media
Consumer-Influencer Dynamic on Social Media
How Social and Influencers Affect Buyer Behavior
How Brand Values Affect Buyer Behavior
The Challenges with Influencer Marketing
Stats on Some of the Top Social Media Platforms
The Effectiveness of User-Generated Content
Brand Success and the Effectiveness of Influencer Marketing
---
Let's do this.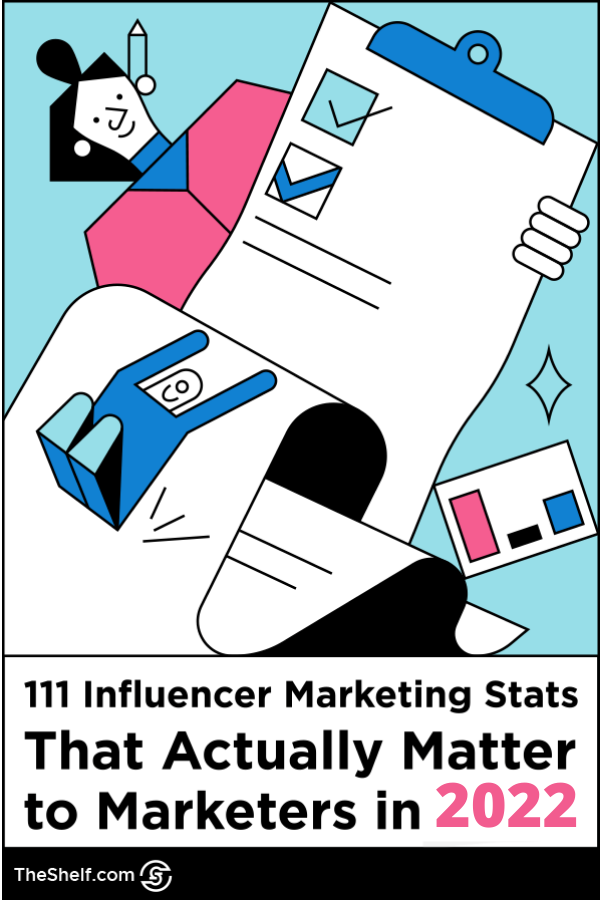 Stats on the State of Influencer Marketing
The influencer marketing industry continues to evolve and grow, and your brand can be part of the change with its own success story. When we first published this roundup back in 2019, the influencer marketing industry was on its way to $2 billion in revenue. Fast forward 3 years, and the industry has nearly 7Xed in size. Whereas, two in three marketers were planning to add influencer marketing to their budgets in 2019, now it's more than 9 in 10 marketers.
1. About 3.78 billion people use social media around the world.
More individuals are actively using social media, and there's no sign of this trend stopping as social media continues to ground itself in the foundation of marketing and our daily lives. Statista estimates that 3.78 billion people use social media worldwide in 2021, and that 4.41 billion will be active users in 2025.
2. The average person spends 2 hours and 24 minutes a day on social media.
Not only is there a high number of users, the amount of time their spending on these platforms allows for plenty of time to target your audience. The average amount of time a person spends on social media, globally, is 2 hours and 24 minutes. To give this some perspective, if a new user signs on to their first social platform at 16 years old and stopped using social media at 70 she will have spent almost 6 years scrolling, tapping, and swiping on these platforms.
3. 90% of marketers surveyed say influencer marketing works.
Influencer Marketing Hub had 90% of survey respondents say they believe influencer marketing to be an effective form of marketing.
4. Google searches with the phrase "influencer marketing" have increased 1500%.
Between 2014 and 2020, Google searches for the term influencer marketing increased exponentially. But then, so have related search queries for Instagram influencer marketing, influencer marketing platforms, and influencer marketing jobs. FYI: searches for influencer marketing jobs has seen significant growth since 2014.
5. The influencer marketing industry value is forecasted to be $24.1 billion by 2025, and sat at $13.8 billion by the end of 2021.
To give this some perspective, in 2017, the industry hovered around $1 billion in value. In 2020, the industry grew to $6 billion and the talking heads wondered (aloud) if the pandemic would be the end of influencer marketing. So…
6. The ROI on influencer marketing exceeds 5X for each dollar spent.
For every dollar spent on influencer marketing, the ROI ranges between $5.20 to $6.50. It's the type of ROI that no brand should snooze on.
7. Upwards of 93% of US marketers planned to use Instagram in their influencer marketing campaign.
That's compared to 97% in 2020. Although Instagram may keep its lead, other platforms are gaining notable momentum, namely TikTok, YouTube and Twitch.
8. The number of marketers who will use TikTok and Twitch in their influencer marketing campagns has 4Xed and 2Xed, respectively.
TikTok jumped from 16% in 2020 to 68% in 2021 and Twitch also more than doubled in the same time frame.
9. Micro-influencers dominate the brand collab landscape.
There's also a push for utilizing micro-influencers over mega influencers and celebrities. In 2019, brands used micro-influencers 10 times more than those with over 100,000 followers on social accounts.
10. The web is a noisy place.
Roughly 100 blog posts and 6,000 tweets go live every second.
11. It's estimated that 13,560 pieces of influencer-created sponsored content went up on Instagram in 2019.
And even that's out of the 95 million pics and videos Wordstream estimates go up on the platform every day. That's A LOT of content.
---

We actually created an encyclopedia on this stuff…
The Complete Guide to Influencer Marketing 🤯
---
Stats on the Consumer-Brand Dynamic on Social Media
The science and art of Influence is something we've been studying and mastering for many years. There are varying platforms, generations, and brands that are all interacting each day in ways that help us learn patterns where we can better understand consumer behavior.
We've produced a lot of content around the factors that influence people to buy (actually, there's an entire series). Many of these factors are directly related to the content people, and even brands, see on social media. And yes, that includes the sponsored content influencers post as part of their brand collab deals.
12. 36% of Millennials say they engage with brands at least once a month.
And 9 in 10 social media users follow at least one brand on a social platform.
13. 66% of Baby Boomers who engage with brands on social are looking for promotions.
It's also worth noting that Boomers are the most likely group to share with others any branded content they come across.
14. Something like 7 in 10 Gen Xers will buy something from a brand they follow on social media.
Gen Xers? They buy! According to a study by eMarketer, When compared to Millennials and Boomers, Gen X consumers tend to stick with brands they like, and are less likely to try new brands.
---
Related Post
YouTube User Stats by Generation
---
Stats on the Consumer-Influencer Dynamic on Social Media
15. 61% of consumers trust the recommendations that come from influencers.
That's not insignificant when you compare the 38% who trust social media content from the brand. This is why finding the best influencers that can target your audience can transform your marketing efforts and help consumers hear your message.
16. Teen YouTubers prefer influencers to celebrities.
When comparing influencers and celebrities, six to seven out of 10 teen and teenage YouTube subscribers relate, trust, and follow advice from influencers over celebrities. Just an FYI, our resident teenage culture expert and writer, Kira, confirms of Gen Z, "We don't trust celebrities." 😄
17. 40% of millennials say influencers know them better than personal friends.
Influencers are experts at crafting stories, images, and messages that resonate with their followers.
18. 61% of consumers interact with an influencer at least once a day.
Add to that, 35% interact with influencers multiple times a day. And men are more likely to engage with influencers than women
19. Following influencers and celebrities is one of the main reasons for using social media.
More than 1 in 5 (21%) of global social media users between the ages of 16 and 64 years old name following celebrities and influencers as one of their primary reasons for using social media at all. And 22.7% say seeing new content from their favorite brands is another good reason to hop on social media.
20. Statistically speaking, 23 to 38 year-olds are the most interested in what influencers have to say.
About 54% of 23 to 38-year-olds are interested in what influencers have to say. Compare that to 46% of 18 to 22-year-olds, 26% of 39 to 54-year-olds, and 10% of 55 to 64-year-olds.
21. 40% of women are interested in what influencers have to say.
The number's a bit lower for men – 29%.
22. If we look at different ethnicities, there are also differences in the way people of different backgrounds respond to influencer-generated content.
For Hispanic consumers, 42% are interested in what influencers have to say. Next, it's African American consumers, 34% of whom are interested in what influencers have to say. Asian influencers are next with 34% being interested in influencer content. Followed by White consumers, 33% of whom show an interest in influencer-generated content.
---

Related Post
What Makes People Buy? A 6-Article Series Providing Insights on 4 Generations of Buyers
---
Stats on How Social Media and Influencer Marketing Affect Buyer Behavior
23. Overall, 37% of consumers use social media as their go-to before making a purchase.
And different social media platforms are great for different parts of the buyer journey. For example, people use Pinterest to plan and get inspiration for everything from travel destinations to backyard design. More than 9 in 10 searches on Pinterest are unbranded searches. Instagram is a popular platform for product discovery and researching brand values and culture.
24. 3 in 4 execs use social media to make buying decisions.
When it comes to B2B purchases, 74% of C-level and executive-level buyers use social media to make purchasing decisions.
25. Influencer recommendations actually work.
About 40% of consumers purchase something after seeing it on an influencer's social page. Another 41% of consumers say that each week, they find at least one new product or brand mentioned/promoted by an influencer.
26. Influencers help boost audience sentiment so TV ads have a soft place to land.
Consumers are 58% more likely to have positive vibes about an ad on TV, Facebook, or YouTube if they're first exposed to the campaign via an influencer's post.
27. Influencer marketing is nearly 3x more effective at cementing memory recall than TV ads.
A neurologist analytics study found that influencer promotions generated 87% higher memory and 277% more emotional intensity when compared to ads in television.
28. 82% of social media users have either purchased or considered purchasing something after interacting with influencer content, whether that be a stranger or friend recommending it online.
This lines right up with another stat we saw that says 66% of those surveyed agree that social media plays a crucial role in impacting their decision to consider a brand.
29. 71% of consumers are more likely to purchase when referred by social media.
We often refer to a stat published by Bustle a few years ago that still holds true: 8 in 10 millennial women surveyed say social media is the best way for brands to reach them.
30. 75% of people don't accept ads as true.
And 86% say they change the channel, mute, or skip them. This information continues to be a sign for marketers to continue pivoting to identify more authentic solutions within the influencer marketing industry.
31. 1 in 4 global social media users look for things to buy on social media.
Yeah, when asked their top reasons for visiting social media platforms, 27.7% of survey respondents said they go on social media to find inspiration for things to do and buy. But 26.2% just hopscotch over the inspo and use their time on social media in search of stuff to buy.
---

RELATED POST.
17 Key Influencer Marketing Trends to Follow in 2022
---
Stats on How Brand Values Affect Buyer Behavior
We came across an interesting article on FastCompany.com. It was an excerpt from Jeff Rosenblum's book, Exponential on Nike's transition from being an athletic apparel brand to being the cultural poster child for relentless gains in every aspect of life.
In the article, Rosenblum referred to a brand as the way people "process and understand the meaning behind logos," encapsulating the idea that brands are no longer built based on what they produce, but how they behave. Read that piece when you have a chance.
People absolutely do consider your brand's voice as you build influencer marketing campaigns that make an impact. What are your values? What do you stand for? Millennials and Gen Zers (shoppers under 40ish) would rather give back through their purchases as opposed to donating money to the cause.
32. 81% of millennials want to support brands with corporate citizenship; it creates a sense of pride.
At the end of 2020, we published some of our original findings around the topic of influencers x politics and brands x social activism in a report titled The State of Influencer Marketing After the Events of 2020. More than half of adults (54%) expect brands to take an active role in conversations around social issues.
33. AND 81% of millennials want companies to make a public commitment to charitable causes and citizenship.
It's also important to point out that millennials expect brands to be positive influencers.
34. 64% of consumers would support or cancel a brand based on their social and political position.
We've seen this happen time and again, and with even more frequency since 2020.
35. Half of Americans would switch to a company that supports a cause they believe in.
Separately, 68% of adults surveyed expect brands to be clear about their values.
36. Two thirds of consumers surveyed say they would stop using a brand if that brand was acting irresponsibly.
37. 87% of consumers think companies should always do the right thing.
Consumers are holding brands accountable. And bonus: the social consciousness of a company can lead customers to believe products are of a higher quality.
38. Consider an honest approach as 66% of consumers think transparency is a top quality they want in a brand.
39. 77% of consumers buy from brands that share the same values as them.
The takeaway: In order to experience these influencer marketing stats, be sure that you're genuine and that your philanthropic efforts actually align with the brand. Jumping onto a generic non-profit no longer cuts it as younger generations see through it. It's important to build an authentic story that has meaning and serves a higher purpose.
---

RELATED POST.
2022 Influencer Marketing Best Practices
---
Stats on the Top Social Media Platforms: Where is Your Audience Hanging Out?
Many of these influencer marketing statistics will allow you to enhance your strategy for more refined campaigns that are targeted and effective. Finding your audience is critical, and the social media platforms you incorporate have an impact on your ROI.
Cellphones are integral to the American lifestyle, and people are on them roughly five to six hours everyday (not including work-related usage). Plus, the average social media user engages with between 6 and 7 different social media platforms. Let's take a look at a few of the more popular social platforms.
Facebook Stats
Facebook continues to evolve as a social media platform that has paved the way for influencer marketing in some ways. It may have been your initial introduction to social media, or it could be a mainstay in your daily routine. While the demographics and function of Facebook has shifted through the years, they continue to innovate and remain a popular platform.
40. Facebook has nearly 3 billion monthly active users.
Facebook is considered the world's top social media platform with roughly 2.9 billion monthly active users in October 2021. While the numbers of people using this platform are high, organic reach can be challenging. Other platforms are stealing the show for user-generated content (UGC). But, this doesn't mean count the platform out entirely.
41. Only 3.2% of Facebook users are teens, while 22% are over the age of 45.
Facebook's user base skews older, for sure. Statista reports that 5.7% of Facebook's worldwide users are between the ages of 13 and 17 years old, 22.7% are between the ages of 18 and 24, 49.2% are between the ages of 25 and 44 years old, and the remaining 22% are over the age of 45.
42. Facebook users access the platform 8X a day.
People who use Facebook, really USE Facebook. Most U.S. adults are Facebook users, and the average Facebook user accesses Facebook more frequently than any other platform… eight times a day, actually.
43. Four in ten Americans over the age of 65 are Facebook users.
That's twice what the number was in 2012. Facebook has officially aged up – all the way up.
44. On the low end, 55% of adults over 50 use Facebook, just over 80% of adults 25 to 29 do.
About 89% of women (young and old) who use social media are on Facebook.
45. About 4 in 5 urban dwellers use Facebook.
The numbers are identical for rural users.
46. There are a billion folks engaging daily in Facebook groups – that's half of all Facebook users.
According to Pew Research Center, Facebook is one of the most widely used platforms among adults in the United States. With recent rebranding and new ventures, Facebook remains an innovative player in the influencer marketing industry and the internet as a whole.
You may already be familiar with Facebook's shift into the Metaverse. While still new, this virtual move could be a chance to jump on a new opportunity with massive potential. Precision with data and targeting make this option something that any marketer can get excited about.

RELATED POST.
An Actionable Guide to Instagram Influencer Marketing
Instagram
Owned by Meta, Instagram remains a mainstay that has had a massive hand in the forming of the influencer marketing industry. The brand has already evolved greatly beyond the usual algorithm updates with all sorts of features that spotlight video content, safety features for younger users, and newer features to help Instagram creators monetize their content. The influencer marketing statistics highlight how critical this platform can be to your strategy.
47. There are now 2 billion monthly active users on Instagram, according to Meta.
That significant bump was announced by Instagram at the end of 2021. It's the first time IG's reported on its user base since hitting 1 billion monthly active users back in 2018.
48. 97% of marketers point to Instagram as the most important influencer marketing channel.
Stories draw a crowd. The feature is the most important IG feature according to marketers. Interestingly, as TikTok becomes more popular for influencer campaigns, reliance on IG has decreased a bit. Two in three brands (67%) use Instagram in their influencer marketing campaign, which is down from 80% in 2020.
49. About 8 in 10 Instagrammers use the platform to research future purchases.
Instagram both encourages and informs customers with 81% of people using the platform to research prior to purchase and 50% of people visiting a website to purchase after seeing a product or service on the app.
50. 52% of Instagram users are male.
That's globally. But in the US, 58% of the users are female.
51. There are 500 million active daily Instagram Story users.
25% of Gen Z and Millennials use Stories to find products and services.
52. Half of consumers surveyed have visited a website to buy a product or service as a result of seeing it in Stories
That stat was reported by Instagram, actually.

Related Post
YouTube User Stats, Demographics and Trends
YouTube Statistics
This video platform is integral to the way consumers search and interact with the internet. It's become a source for information, education, and entertainment that is competing with regular television and Google. Their influencer marketing statistics continue to wow marketers and our team for its overall potential and sustained growth.
53. YouTube is the second-most used social platform (after Facebook) and the second-most visited website (after Google).
There are an estimated 2 billion logging-in monthly users on YouTube, which almost rivals Facebook. However, this doesn't count those who are watching YouTube videos without an account.
54. People use Google to be entertained, informed, and to save time.
YouTube houses a diverse audience compared to other platforms like TikTok with baby boomers using the platform more than you might expect. Google found that 1 in 3 individuals in this group use YouTube to learn (because who wants to read the instructions?) while 68% say they use the platform for entertainment. Because this demographic may have more spending power, the platform could be the powerhouse your campaign needs.
55. 68% of YouTube users look to YouTube when it comes to making a purchase decision.
One-quarter of daily YouTube users have purchased something from an influencer or blogger recommendation. (Source)
56. 90% of global shoppers say they discover new brands and products on YouTube.
And 70% of consumers in the US, Mexico and Colombia have purchased a product after seeing it on YouTube. (Source)
57. 6 out of 10 people prefer online video platforms to live TV.
Plus, video content is 50X more likely to drive organic search traffic than plain text.
58. On the low end, 56% of adults over 50 use YouTube, while 94% of adults 18 to 24 do.
One-quarter of YouTube users are over the age of 55 years old.
We published YouTube User Statistics by Generation to The Shelf blog. And for a pretty great article on how to effectively use video marketing <— click that link.
TikTok Stats
TikTok was launched in 2016 and has quickly taken the world by storm with influencer marketing stats that have changed the meaning of "viral." Their high engagement and fast-moving trends make them the dark horse that quickly turned into a champion within the influencer marketing industry.
59. TikTok is the most popular website of 2021.
The micro-video platform [somehow] beat out Google for the top spot. #startedfromthebottom
TikTok got a legit boost in 2020 during the lockdowns. Not only did it become the most-downloaded app in history, but the user base has aged up significantly from being a place where Gen Zers go to being the place Gen X movie stars are hanging out making funny videos. In less than 18 months, the number of US adult TikTok users grew 5.5 times.
61. 1 in 3 Tiktokers surveyed say they've purchased products through TikTok.
Now, compare this to other influencer posts (9% Facebook, and 22% Instagram).
62. TikTok users spend an average of 52 minutes per day on the app.
Daily active TikTokers use the app more than any other social network, even when they don't engage with the content.

63. TikTok is GREAT for generating engagement.
Half of TikTok users say they've shared someone else's TikTok on another social network, and 41% of TikTokers upload reaction videos to content they've seen on TikTok. 35% of TikTokers have participated in a hashtag challenge.

Related Post
How To Use Pinterest Marketing To Power Your Digital Strategy
Pinterest Stats
Pinterest is a place where consumers come to be inspired and often find themselves at a shopping cart. Those on the platform spend two times more than people on other platforms each month. Pinterest users start the buying and planning process 2X
earlier than other consumers.
64. 444 million people use Pinterest every month.
That's according to Pinterest.
65. Pinterest users watch almost 1 billion videos a day on the platform.
But they're not just watching. 90% of weekly Pinners make purchase decisions on Pinterest. 98% report trying new things they find on Pinterest.
66. 80% of weekly Pinners have discovered a new brand or product on Pinterest.
And 85% of Pinterest users use the platform to map out new projects.
67. Half of Millennials use Pinterest every single month. And half of Pinterest users are outside the U.S.
68. One final half for you. Half of Pinterest users have made a purchase after seeing a Promoted Pin.
Pins that promote a special sale or offer generate a 61% higher email conversion lift. For every 100 impressions a Promoted Pin receives, brands get an average of 30 free views due to repinning. Heck, one study found that every $1 spent on promoted Pins yielded $2 in profit.
69. Over 80% of pins are re-pins compared to 1.4% of tweets retweeted.
70. Women make up more than 60% of the platform's global audience. But…
Dads who use Pinterest actively search 62% more than the average pinner. They're more likely to head to direct search.
Check out our guide on Pinterest marketing to better expand and optimize your efforts on this aesthetically pleasing platform.
Consider other platforms like…
71. Twitch has over 15 million daily users watching video streams.
Twitch remains a leader in eSports even with other platforms like YouTube fighting for this type of viewership.
72. 80% of those on Twitch are open to brand-sponsored gamers or teams.
And viewers don't mind sponsored games as long as those logos tucked in the corner of the screen don't block the action or cause lag.
Of which 19% (about 68.7 million)are based in the U.S.
74. 40% of Twitter users bought something based on a recommendation from an influencer.
75. Influencers created a 5.2x increase for consumer purchase intent.
That 5X increase happened when viewing influencer tweets compared to brand tweets at 2.7x.
76. According to Statista, there were roughly 306 million monthly Snapchat users worldwide in 2021.
That's down a bit from 2020 when the monthly users topped 340 million.
77. 40% of Snapchat users say they've discovered new brands from influencer marketing and celebrity endorsements.
78. LinkedIn geenrates 80% of social media B2B leads.
It's the largest networking website for business and a great option for more specialized niches or audiences.
79. Content creation increased 60% on LinkedIn in 2020 with a 55% increase in message conversations.
It's not your old-school LinkedIn anymore, where you had to practically sell a kidney to connect with someone who wasn't already in your Google contacts. LinkedIn is a lot more like other social platforms in that growing your network and forging connections has become the focus of the platform.
80. LinkedIn is considered the most trusted social media network in the United States.
Agreed.
81. Reddit receives over 46 million searches each day, and houses 440 million active monthly users just this last year.
There are always new ways to use social media platforms to your advantage so you can experience these influencer marketing statistics for yourself. Growing opportunities like podcasts are just some of the ways you can expand and spice up your approach (check our guide here). There are always new apps or classics adding new features or updating the algorithm to keep the game interesting.
Be sure to use omnichannel strategies in your influencer marketing campaign as it's reported to achieve 91% greater customer retention year over year compared to those who don't. This means the customer experience should extend regardless of the device or platform they're on.
Remember, that even after you find your audience's favorite platform, they are likely hanging out on other ones. These influencer marketing statistics help you diversify your efforts as opposed to putting all of your eggs into one virtual basket. This is called reciprocity and is especially critical in social media as a single update or algorithm adjustment can derail your entire campaign if you invested everything into one platform.
These platforms are integrated into our lifestyles. 81% of American social media users have used YouTube, while 69% say they have used Facebook, according to Pew Research.
Across the board, the percentage of U.S. adults who are using the major social media platforms – Facebook, YouTube, Instagram, Pinterest, LinkedIn, Snapchat, Twitter, and now TikTok – significantly increased from 2012 to 2019.
The first job for marketers is figuring out where their audience is spending time online, then developing platform-specific strategies to target small segments of that audience.
---

RELATED POST.
Influencer Marketing ROI: Which Metrics Will Give You the Best Campaigns?
---
Stats to Help an Omni-Channel Marketing Approach
Influencer marketing statistics show social media users tend to use more than one platform (called reciprocity), with younger users typically having the most social media accounts. The old adage for marketers is to never put all of your marketing resources into one platform. It only takes one update to the algorithm to render your hard work null and void. So, it's important to know not just your audience's favorite platform, but any reciprocal platforms where users tend to hang out.
82. Nearly 3 in 4 social media users (73%) use more than one platform.
The average American uses three social media platforms.
In general, having an account with any platform increases the likelihood of also using Facebook and YouTube. Beyond Facebook and YouTube, influencer marketing statistics shows the most popular combinations of social media reciprocity are:
83. 73% of Twitter users also use Instagram.
They are less likely to use Pinterest (49%).
84. Most Facebook users also use YouTube (87%) and Instagram (47%).
They are less likely to use Twitter (32%).
85. 77% of Snapchat users also use Instagram.
But they are far less likely to use LinkedIn (37%).
86. 81% of YouTubers also use Facebook (81%).
They are least likely to use Twitter (31%).
87. 56% of Pinterest users also use Instagram.
They are least likely to use Twitter (41%).
88. 57% of LinkedIn users also use Instagram.
They are less likely to use Snapchat (40%).
89. 60% of Instagram users also use Snapchat.
But they're less likely to use LinkedIn (41%).
---

Related Post
How to Loop Podcasts Into Your Influencer Marketing Campaigns
---
The Effectiveness of User-Generated Content
The content generated by influencers during a campaign is the most valuable asset brands get from influencer marketing. Content is what makes an influencer, and it's also the tool used to reach and engage followers. Check out these influencer marketing statistics on user-generated content:
90. 84% of millennials think user-generated content from strangers has at least some influence on how they spend their money.
Consumers are more aware of brand efforts, meaning that traditional advertising is no longer making the impact that it used to. They're more interested in high-quality content that's helpful or entertaining.
91. User-generated content can 7X engagement on Facebook.
When done right, user-generated content can generate nearly 7x higher engagement than brand-generated content on Facebook
92. 37% of consumers think quality of the content overrides the fact that it's a sponsored post.
And 34% of consumers don't even mind if they're reading sponsored content, as long as the content is useful.
93. Gen Zers are 3X more likely to buy from a pet influencers than a celebrity.
The celebrity endorsement isn't what it used to be. Pets can outperform celebrities when it comes to influencer marketing. While 3% of people said they would consider buying a product in-store after a celebrity endorsement, 10% of 18 to 24 year-olds said they were likely to buy a product endorsed by a famous pet influencer.
94. According to Kissmetrics, "25% of search results for the World's Top 20 largest brands are links to user-generated content."
So, yeah… user-generated content positively impacts your SEO efforts.
95. 57% of consumers have purchased a holiday gift after reading a product review on social media.
96. Four times as many consumers would prefer to watch a video about a product than to read about it.
This explains why product spec videos are so popular on YouTube, especially among older consumers (who are far less impressed with product reviews than they are with product specs).
97. 85% of consumers trust user-generated content more than brand content.
It's the leading force for influencer marketing campaigns. Business Wire mentions that people are 2.4 times more likely to view UGC compared to brand content as authentic.
98. 90% of consumers say authenticity is important when deciding which brands to support.
And 83% of marketers agree that authenticity is at the forefront of influencer marketing, and
99. Websites that feature UGC have a 20% increase in site returns and a 90% increase in the amount of time spent on the site.
UGC continues to reign supreme over your average business post. Dune London discovered that their sales where shoppers interacted with UGC increased by 82%, speculating that seeing others in real settings wearing their products boosted their confidence and willingness to purchase. Some companies are finding natural ways to make UGC an essential part of their strategy. Brands like Warby Parker have over 24K posts on Instagram (#warbyhometryon) and over 817K views on TikTok for trying on different pairs of glasses.
100. 89% of marketers plan to repurpose and re-use sponsored content.
These include things like e-mails, ads, brand social media, and more. Speaking of emails…
101. UGC encourages a 73% bump in click-through-rates for e-mails.
Increase the longevity of UGC with re-sharing and repurposing content in new ways. Check out our guide for mastering this art best. Take to social media and see if some of your favorite brands are experiencing these influencing marketing stats, firsthand. Keep your mind open and see what creative campaigns grab your attention as you dive into the content.
---

Related Post
The 3 Types of Influencer Campaigns [INFOGRAPHIC]
---
Stats on the Ongoing Challenges with Influencer Marketing
The trajectory for influencer marketing continues to dazzle. However, with these great rewards come a variety of small prices that contribute to the struggle. Whether it's campaign analysis or managing your influencer partnerships, the influencer marketing industry continues to pose old and new challenges.
Social media can act as a reflection of the world at large, which is why you want to keep your finger on the pulse. Check out our prediction for influencer marketing trends this year to try to stay ahead as you create winning campaigns.
One thing we can always count on is change. And, that's about the only thing. Influencer Marketing Hub notes that 75% brands they surveyed use influencer marketing, and 43% plan to increase their budgets.
102. 33% of teams simply don't measure the ROI of their influencer marketing efforts.
Yikes, right? Not tracking the ROI of influencer campaigns means it will be difficult to quantify the impact of sponsored content on sales or reach. While influencer marketing platforms and other software continue to make it easier to track and analyze the data, this can still pose an issue depending on the campaign, partnerships, platforms, etc.
103. 36% of brands still pay influencers with free products or discounts instead of a cash payment.
If freebies is your strategy, it's time to read the room, as creators and social media platforms have matured past the point of providing brands "free" content in exchange for free stuff.
104. 50% of marketers surveyed have a hard time managing the deadline, contracts, and overall logistics of an influencer campaign.
Managing a wide array of influencer partnerships is no easy feat. Influencer Marketing Hub mentions the difficulties in tracking the activity of your influencers. There are platforms that can help as well as agencies, like The Shelf, that can take care of the tracking, strategizing, creative concepts, and all the things.
105. Half of marketers have a hard time spotting fake followers and bought engagement.
Sometimes, everything isn't as it seems in influencer marketing. Over half of respondents in a survey are concerned about influencer marketing fraud. Fake followers or engagement can add a new level of difficulty when building authentic relationships for long-term partnerships. And yes, this is still a concern because reportedly 38% of influencers artificially increase their followings.
106. 49% of brands and their in-house teams lack the resources to run influencer campaigns.
Human resources, tech, bandwidth… influencer campaigns are made up of a lot of moving parts.
107. 3 in 4 brands have a hard time finding the right influencers for their campaigns.
When surveyed, 75% of marketing teams said finding the right influencers for their campaigns is a HUGE pain point.
108. 49% of marketing teams get stumped when things change on social media platforms.
Algorithm changes – nobody's favorite, right? Especially if you're already in the planning stages of an influencer campaign. Or worse… you have an active campaign running.
109. One in three marketing teams have a hard time keeping up with social media trends.
Who doesn't? If you're not getting a daily dose of podcasts and headlines feeding you updates, it's easy to get behind with the trends. Trends literally change in an instant. It's also true that 17% of marketing teams have a hard time looping emerging platforms into their campaigns. (We're sort of experts at that.)
110. 30% of marketing teams want to reduce the time spent managing influencer marketing campaigns.
The average influencer marketing activation lasts anywhere from 3 to 5 months from contract signing to wrap report.
111. 41% of marketing teams don't know how to build always-on, long-term influencer marketing campaigns.
But with other factors like rising influencer costs, more nuanced influencer marketing contracts, brad safety concerns long-term campaigns, and long-term influencer-brand relationships are becoming more and more common in our space.
---
The Big Wrap-Up
You need influencer marketing in your strategy. Everything from augmented reality to live events can all seem like a lot to keep up with. These influencer marketing stats show us the potential and changing nature of the industry.
The power of influencer marketing is indisputable. It took little time for this fad to become a multi-billion dollar industry that's a no-brainer for your brand. It deepens your connection to your audience, expands your customer base, increases ROI, and more.
This comprehensive list of influencer marketing statistics reminds us of how powerful of a role it can play in our strategies. It's time to get creative and find your audience as you navigate these platforms and find influencers that can share your brand's message authentically.
If you want to dive further into any of these topics, browse our blog or set up a call if you want us to take the lead so that you can focus more on what makes your brand special. Our influencer marketing services can help you run campaigns shaped by data-driven insights.