Four years ago, the two big questions on every marketer's mind were "What is influencer marketing?" and "Does it really work?" Fast forward to the future (it's, like, 2020! That's NUTS!) and 67% of marketers say not only does influencer marketing work, but it helps them to reach a more targeted audience. And we're not even counting that one toward the 111 influencer marketing stats.
Influencer marketing allows brands to get in front of large groups of niched-down segments of their target audience by forming alliances with the most influential people in those segments.
That means…
Finding a way to get in front of green Millennial moms who are also vegan (#veganmom, #veganmoms, #veganmommy), or Millennials from the Bluegrass State who support local businesses (#shoplocalky) gets really easy when you incorporate influencer marketing into your digital marketing strategy.
This is our big, fat Influencer Marketing Stats Post to end ALL stats posts. More than 100 facts and stats are contained in this post, stats that marketers can actually use to manage more targeted, more effective influencer marketing campaigns.
The 7 Topics We Covered in This EPIC Roundup of Stats
Let's do this.
The State of Influencer Marketing
This year, the category of social media marketing that focuses on influencers could creep past $8 billion. A year ago when we first put this stats post together, influencer marketing was on its way to $2 billion in revenue. marketing is still in its infancy. The industry is still growing, and depending on who you ask, the current size of the industry is probably between $2 billion and $4 billion.
1. Statista reported earlier this year that the size of the Instagram influencer market alone is expected to be $2.3 billion by next year. That doesn't include the other popular platforms for sponsored content like YouTube, Snapchat, TikTok, and Facebook.
2. And the platform is expected to host more than six million sponsored posts by the end of 2020.
3. According to The Drum, brands spent $442 million on influencer marketing in the second quarter of 2019.
4. There are nearly as many companies planning to spend more than $50k on influencer marketing as there are planning to spend less than $50k on influencer marketing this year (42% vs 58%). More than half of marketers (55%) find that their influencer marketing budget sweet spot is somewhere between $25k and $100k.
If you've ever wondered how long the influencer marketing trend will last, let me reassure you it's not a trend (we wrote a post on the long history of influencer marketing that made mention of Liberace and Aunt Jemima actually being at the World's Fair in the late 1800s, so…).
Suffice it to say, we're also pretty far from the tipping point for influencer marketing. In fact, the numbers around social media use are keen indicators that influencer marketing has some growing to do. Thirty-nine percent of marketers planned to increase their influencer marketing budget for 2018, according to Statista.
5. Nearly half the world's population (that's 3.8 billion people) actively use social media, according to a report compiled by We Are Social and Hootsuite.
6. And a growing army of Americans are accessing the Internet strictly by mobile. In 2013, 1 in 5 Americans accessed the web strictly at work and via smartphone, as they didn't have a broadband connection at home. Now, it's 1 in 3.
7. For Americans ages 18 – 29, more than 1 in 4 (28%) are "smartphone only" internet users who have no broadband connection at home.
COPY AND PASTE THIS 👇 CODE TO EMBED THIS ☝️ GRAPHIC.
Influencer Marketing and Buyer Behaviors
We've produced a lot of content (actually, there's an entire series) on the factors that influence people to buy, and many of these factors directly related to the content people, and even brands, see on social media.
28. Thirty percent of Millennials say they engage with brands at least once a month.
29. Sixty percent of Baby Boomers who engage with brands on social are looking for promotions.
30. Gen Xers? They buy. Something like 7 in 10 Gen Xers will buy something from a brand they follow.
31. BUT only 1 in 10 messages to brands get a response.
32. Overall, 37% of consumers use social media as their go-to before making a purchase.
33. This includes C-level and executive-level buyers, 74% of whom use social media to make purchasing decisions.
34. Consumers are 58% more likely to feel positively about an ad on TV, Facebook, or YouTube if they're first exposed to the campaign via an influencer's post.
35. Influencer recommendations are actually working. Forty percent of consumers purchase something after seeing it on an influencer's social page.
36. And another 41% of consumers say that each week, they find at least one new product or brand mentioned/promoted by an influencer.
37. It's also important to point out that millennials expect brands to be positive influencers — 81% want companies to make a public commitment to charitable causes and citizenship.
COPY AND PASTE THIS 👇 CODE TO EMBED THIS ☝️ GRAPHIC.
Stats on the Top Social Media Platforms
Don't assume all influencer campaigns happen on Instagram. In truth, influencers have generated millions of dollars for brands and for themselves across multiple social media platforms. Let's talk about that in this section.
WHERE IS YOUR AUDIENCE HANGING OUT?
Across the board, the percentage of U.S. adults who are using the major social media platforms – Facebook, YouTube, Instagram, Pinterest, LinkedIn, Snapchat, Twitter, and now TikTok – significantly increased from 2012 to 2019.
The first job for marketers is figuring out where their audience is spending time online, then developing platform-specific strategies to target small segments of that audience.
The influencer marketing statistics reveals…
YouTube
38. YouTube – On the low end, 56% of adults over 50 use YouTube, while 94% of adults 18 to 24 do.
39. Like Facebook, YouTube attracts users of all ages, including Gen Z (ages 8 to around 22 years). Social Media Today reports that 75% of Gen Zers want to become YouTubers, creating content for the platform.
40. Seventy percent of the content watched on YouTube is viewed on a mobile device.
41. More than one in three Millennials (37%) ages 18 to 34 binge-watch videos daily on YouTube. Coincidentally, across age groups, YouTube is a preferred platform of binge-watching videos.
42. According to the YouTube blog, users upload about a billion hours of video content a day to YouTube.
43. Versions of the platform are available in 90 countries and 80 different languages.
We published YouTube User Statistics by Generation to The Shelf blog. And for a pretty great article on how to effectively use video marketing <— click that link.
Facebook
44. Facebook – On the low end, 55% of adults over 50 use Facebook, just over 80% of adults 25 to 29 do.
45. Eighty-nine percent of women (young and old) who use social media are on Facebook.
46. About 4 in 5 urban dwellers use Facebook. The numbers are identical for rural users.
47. People who use Facebook, really USE Facebook. Most U.S. adults are Facebook users, and the average Facebook user accesses Facebook more frequently than any other platform… eight times a day, actually.
48. Four in ten Americans over the age of 65 are Facebook users. That's twice what the number was in 2012 (my octogenarian Uncle Buck -and his sassy wife, Aunt Charlotte – show up in my feed in the sharpest church suits you've ever seen).
49. There are a billion folks engaging daily in Facebook groups – that's half of all Facebook users.
Instagram
50. Instagram – On the low end, 16% of adults over 50 use Instagram, while 71% of adults 18 to 24 do.
51. There are a billion monthly active users on Instagram (we updated this stat June 25, 2018, after IG's announcement verifying 1 billion in MAUs).
52. Eighty percent of the accounts on Instagram follow at least one brand, according to Buffer, and 60% first heard about a product or service on Instagram.
53. Does that exposure help? Yes. According to Instagram's blog, between February and March of 2017, 120 million Instagrammers visited a website, got directions, called, emailed, or direct messaged to learn about a business.
54. According to Simply Measured, 7 in 10 hashtags on Instagram are branded hashtags.
55. Ad revenue is expected to reach $7 billion in 2018.
Twitter
56. Twitter – On the low end, 14% of adults over 50 use Twitter, while 45% of adults 18 to 24 years old use it. The most active Twitter users are millennials.
57. Twitter has more than 300 million monthly active users, of which 261 million are outside the U.S.
58. Twitter users generate hundreds of millions of tweets daily. accessing the app mostly from their mobile devices . Nearly 40% of Twitter users are following brands.
59. Most Twitter users are educated. 24% of Americans who have attended college use Twitter, and 28% of Americans who earned their college degree use Twitter.
60. More than 55% of Twitter users earn at least $50,000 a year in income.
61. Twitter is a go-to source for trending news and discovery.
Snapchat
62. Snapchat – On the low end, 7% of adults over 50 use Snapchat, while 78% of adults 18 to 24 do.
63. Snapchat is the most popular social media platform for Gen Zers between the ages of 12 and 17. Part of the platform's charm is its utter reliance on user-generated content (UGC). The app's entire culture is built on the originality you get when 300 million users create original content about themselves and their lives for their friends.
64. In Q1 of 2018, Snapchat had 191 million daily active users. To put that in perspective, Facebook – the most popular social media platform – has 1.45 billion daily active users. But 71% of 18 to 24 year-olds report using Snapchat multiple times a day.
65. More than 10 billion mobile videos are watched on the platform every day.
66. Activewear (90% of activewear companies surveyed have Snapchat profiles), beauty (78%), fashion (78%), and retail (56%) are the top four verticals with profiles on Snapchat.
Pinterest
67. The 200 million monthly Pinterest users are a 70/30 split between women and men, but the platform is diversifying – half of new signups are male.
68. Speaking of half… Half of Millennials use Pinterest every single month. And half of Pinterest users are outside the U.S.
69. One final half for you. Half of Pinterest users have made a purchase after seeing a Promoted Pin.
70. Over 80% of pins are re-pins compared to 1.4% of tweets retweeted.
71. Pinterest is the inspiration platform. People go to Pinterest to find and curate ideas on everything from home decor and starting a blog, to hairstyles and keto diet meal prep. More than 60% of Pinterest users say the platform helps them find ideas to be their best selves.
72. Forty percent of users have a household income of $100K+
73. Twenty-four percent of Pinterest users say the platform is a great place to "shop the look," according to KP Internet Trends 2017.
74. Pinterest users are buyers who are ready to buy. They spend 16% more on cosmetics than people not on Pinterest. They spend 29% more on retail than those not on the platform. They spend 27% more on home decor than people not on Pinterest. And they spent 30% more on fashion than people not on the platform.
75. Sixty percent of Pinterest households have children 5 and under.
76. The lionshare of Pinterest users (80%) are accessing the platform from mobile devices.
LinkedIn
77. LinkedIn is the world's largest professional network, with more than 562 million users across 200 countries, including decision makers from every Fortune 500 Company. LinkedIn users span across generations. The 18 to 29 crowd represents nearly a quarter of LinkedIn users, 61% of LinkedIn users are 30 to 64 years old, and 21% of LinkedIn users are over the age of 65.
78. There are more male-identified users (56%) on LikedIn than female users (44%).
79. Half of college-educated adults in the U.S. say they use Linkedin, compared to only nine percent for high school graduates who have no college experience.
80. Three in four LinkedIn users make more than $50,000 a year.
81. While it's not really set up like other social networks, LinkedIn users are not immune to user-generated content and recommendations from friends. Half of B2B buyers rely on LinkedIn to make their purchasing decisions, and when they do, 76% use recommendations from their professional networks to make those purchases.
82. As you could probably imagine,70% of LinkedIn users are from countries outside the U.S. The top 5 home countries of LInkedIn users are the United States, India, Brazil, Great Britain, and Canada.
TikTok
83. TikTok launched in September 2016 and it's already garnered 823 million active users. This puts it up there with the likes of Facebook, Instagram, and even LinkedIn!
84. It was also ranked the top most downloaded app in Apple's store for Q1 2019. How many, you ask? A whopping 33 million downloads.
85. It's also worth noting that the app grew an astounding 70% from Q1 2018 to Q1 2019 (133 million new users). It's continued growth is miraculous.
86. And guess who's the #1 user of TikTok? Youngsters. Roughly 41% of its users are between 16 and 24 years old.
87. But what are they doing on the app? Well, 68% watched someone else's video, 63% liked a video and followed someone, 55% uploaded a video, 54% commented on a video, and 50% shared someone's video. Very engaging!
88. Now, how often are the youngsters using this app, though? Stats show they're on this babynearly an hour per day.
Twitch
89. First, let's start with this — Twitch is so popular that it's out-doing CNN and MSNBC, attracting 962,000 concurrent viewers.
90. The platform also boasts over 3.3 million streamers (as of July 2019). This garnered over 916 million hours watched in July 2019 alone. That's a lot of man hours spent here!
91. A lot of Twitch streamers are gamers, so it's no surprise that 81.5% of its users are male. And 55% are between 18 and 34.
92. We also find that 1 million people watched a single event (ELEAGUE'S Counter-Strike: Global Offensive Major Grand Finale, 245K watched a single channel simulatneously (top League of Legends Player, Lee "Faker" Sang Hyeok), and 436K watched a game premiere (Destiny 2).
It's also worth noting that Twitch streamers receive donations from its viewers regularly. And it works so well that broadcasters were able to raise over $30 million for charity in 2017.
93. To top it off, the platform gets 15 million unique daily visitors and 355 billion minutes were watched in 2017. If you're in the video game industry, then Twitch most definitely should be on your radar.
RECIPROCITY IN SOCIAL MEDIA
Influencer marketing statistics show social media users tend to use more than one platform (called reciprocity), with younger users typically having the most social media accounts. Of the top 7 platforms (Facebook, YouTube, Instagram, Snapchat, LinkedIn, Twitter, Pinterest): Nearly 3 in 4 social media users (73%) use more than one platform, and the average American uses three social media platforms.
The old adage for marketers is to never put all of your marketing resources into one platform. It only takes one update to the algorithm to render your hard work null and void. So, it's important to know not just your audience's favorite platform, but any reciprocal platforms where users tend to hang out.
In general, having an account with any platform increases the likelihood of also using Facebook and YouTube. Beyond Facebook and YouTube, influencer marketing statistics shows the most popular combinations of social media reciprocity are:
94. Sixty percent of Instagram users also use Snapchat, but they are less likely to use LinkedIn (41%).
95. Seventy-three percent of Twitter users also use Instagram. They are less likely to use Pinterest (49%).
96. Most Facebook users also use YouTube (87%) and Instagram (47%). They are less likely to use Twitter (32%).
97. Seventy-seven percent of Snapchat users also use Instagram, but they are far less likely to use LinkedIn (37%).
98. Eighty-one percent of YouTubers also use Facebook (81%). They are least likely to use Twitter (31%).
99. Fifty-six percent of Pinterest users also use Instagram. They are least likely to use Twitter (41%).
100. Fifty-seven percent of LinkedIn users also use Instagram. They are less likely to use Snapchat (40%).
WHEN ARE THEY THERE?
Most social media users check the social feeds on their favorite platforms more than once a day. Which platform is the favorite?
Facebook is still the clear favorite across age groups, according to Sprout Social. A little over 65% of Baby Boomers peg Facebook as their favorite social media platform. And 64.7% of Gen Xers say Facebook is their favorite social media platform, compared with 33% of Millennials. One in four younger Millennials (18 to 24 years old) list Instagram as their favorite platform. Half of all Facebook users say they access the platform more than once a day.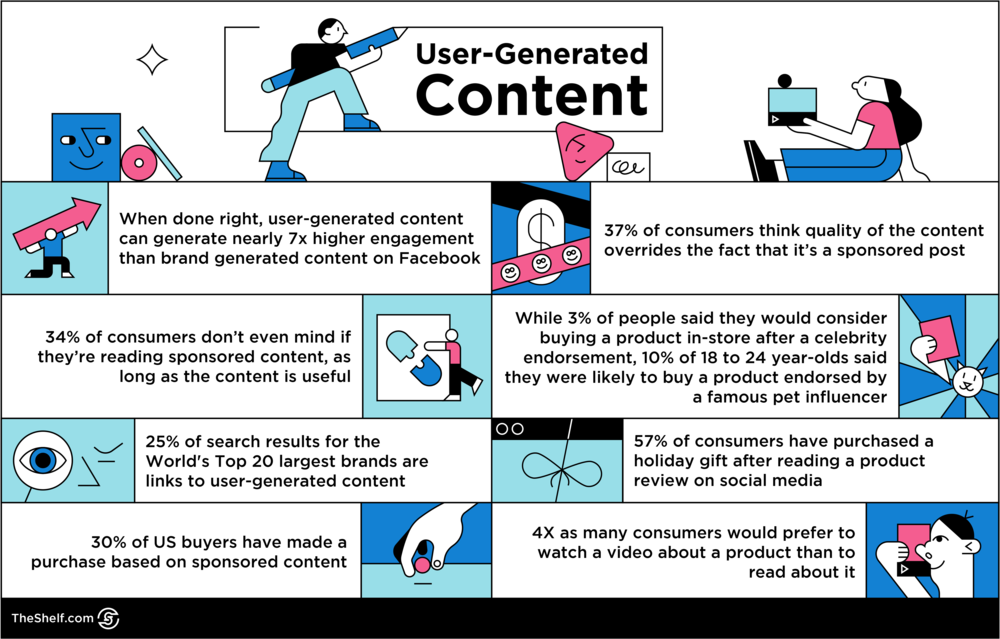 COPY AND PASTE THIS 👇 CODE TO EMBED THIS ☝️ GRAPHIC.
The Effectiveness of User-Generated Content
The content generated by influencers during a campaign is the most valuable asset brands get from influencer marketing. Content is what makes an influencer, and it's also the tool used to reach and engage followers.
Check out these influencer marketing statistics on user-generated content:
101. When done right, user-generated content can generate nearly 7x higher engagement than brand generated content on Facebook
102. Thirty-seven percent of consumers think quality of the content overrides the fact that it's a sponsored post. Thirty-four percent of consumers don't even mind if they're reading sponsored content, as long as the content is useful.
103. The celebrity endorsement isn't what it used to be. Pets can outperform celebrities when it comes to influencer marketing. While 3% of people said they would consider buying a product in-store after a celebrity endorsement, 10% of 18 to 24 year-olds said they were likely to buy a product endorsed by a famous pet influencer.
104. According to Kissmetrics, "25% of search results for the World's Top 20 largest brands are links to user-generated content."
105. Fifty-seven percent of consumers have purchased a holiday gift after reading a product review on social media.
106. Thirty percent of US buyers have made a purchase based on sponsored content.
107. Four times as many consumers would prefer to watch a video about a product than to read about it.
COPY AND PASTE THIS 👇 CODE TO EMBED THIS ☝️ GRAPHIC.
Does Influencer Marketing Work?
For all the fuss it's making in the digital marketing space right now (I'm so over the term "disruptive") influencer marketing is still being qualified with words like "nascent" and "emerging." This thing is still pretty new.
Marketers are seeing results, but they do need help finding ways to get the intel they need to make the best marketing decisions, and they need to find ways to refine the collection process so the data is usable. Typical big data issues: How do we get it? And once we have it, what do we do with it?
I'll raise you one big, fat question… How do we know if we're winning? And who else is winning at this? The following influencer marketing statistics tells us…
108. Eighty-four percent of marketers believe influencer marketing is effective.
A now-legendary influencer marketing study published by Tomoson found that businesses make $6.50 for every $1 spent on influencer marketing. That was in 2015. In 2018, Marketing Week published a stat saying beauty influencers are generating a return of $11.74 for each $1 a brand spends on influencer marketing. Similarly, $7.65 is the Average Earned Media value per $1 spent on influencer marketing, according to MarketingProfs.com.
Big brands have been successfully leveraging influencer marketing on social for years. Companies like Target, H&M, Adidas, Live Nation (our client), Lord & Taylor, Marvel (did you see their Valentine's Day campaign promoting the DVD release of Doctor Strange?), Samsung, American Express, Toyota, Hanes (our client), Fairmont, Famous Footwear (client), Neutrogena, Microsoft, Eos (client), and Ticketmaster (client) are just a handful of the brands partnering with influencers to reach audiences.
Authenticity is the one thing that keeps followers engaged on social media. Of 1,752 influencers surveyed, the most popular response for why their followers remain engaged was: "I am myself, honest, funny, open, willing to call it how I see it."
109. By far, the most common way of measuring success in an influencer marketing campaign is engagement (59%), followed by conversion / revenue (21%), then amplification / brand awareness (15%)
Nevertheless, most brands have traditionally (like, over the last 3 years – that kind of tradition) used influencer marketing campaigns specifically to increase brand awareness. This is due in large part to the fact that earned media value (impressions) played a bigger role in measuring ROI than engagement and conversions.
BUT according to this piece published on Forbes.com by the Forbes Agency Council…
When measured with loyalty card data, influencer content can drive sales and increase basket size. (Speaking of which, 68% of millennials will remain loyal to a program that offers the most rewards. Influencer marketing directly impacts sales through redemptions for promotional offers. Using point of sale (POS) data, influencer marketing can drive true measurable sales lift. When measured with foot traffic data, influencer marketing increases engagement.
Final important stats:
110. The average Instagram user gets just over 4% engagement per post. But as the number of followers increases, engagement ratio decreases. So, when hiring a macro or mega influencer for your campaign, a good rule of thumb is to ensure the influencer consistently garners around 2% engagement.
111. Social media spend in the US topped $13B in 2017.
A year ago, the term "influencer marketing" ranked 40 out of 100 for Google search popularity globally, and 56 out of 100 for in the United States. Today, it ranks 72 out of 100 worldwide, and 96 out of 100 in the United States. By the year 2020, global spending on influencer marketing is expected to reach anywhere from $5B to $10B.
The Big Wrap Up
When Instagram broke the Internet by selling to Facebook for a billion dollars just 18 months after it launched, I don't think we really pictured that six years later, the app would play host to a two billion-dollar influencer marketing industry (of which Instagram alone is responsible for $1 billion dollars). But here we are.
In a very short time, influencer marketing has gone from being a fad to being an important part of marketers' core digital marketing strategies for reaching Gen Xers and Millennials. And brands and marketers have had to learn the influencer marketing game on the fly.
But as the masses continue to move away from relying on TV and radio for entertainment, and replace TV time with online streaming and social media, marketers – as marketers tend to do – are getting better at finding ways get brands in front of buyers, and do so across multiple social media platforms through influencer marketing.