Whether you are one, work with one, or are aspiring to become one, social media influencers remain controversial. Why? Well… the thought of a 19-year-old using her iPhone camera to create effective marketing messages is ludicrous, right? At least it is to the Mad Men of the world. So, in this post, we're going to talk about exactly what is an influencer. We'll also discuss the different types of influencers and how brands can identify real influencers. Let's separate Joe Schmo social media user 🧔 from the social media influencers of the world. 🦄
(Hint: It's about more than just the follower count. )
---
---
A Good Definition of an Influencer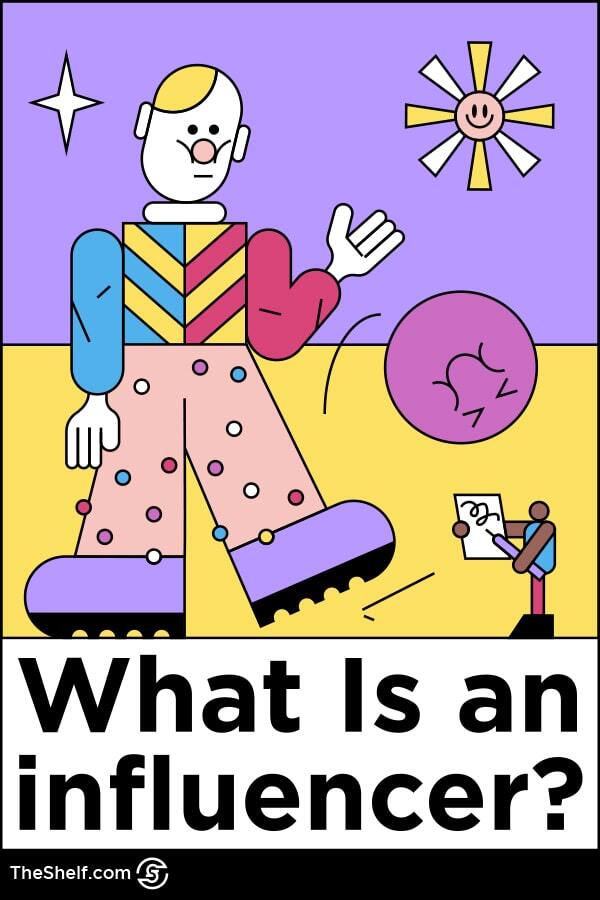 A social media influencer is a social media user who has built a reputation for being knowledgeable about something. Influencers create content around that topic that's compelling enough to get other people to take specific actions.
Usually, the first thing an influencer is able to get people to do is to follow him or her. The more followers an influencer has the more likely it is that person will prove influential in other areas, too.
To partner with brands, influencers must be able to get their followers to take specific (👈 super important) actions. That's why we say being an influencer is about more than just having a higher follower count.
That said, we totally get how the whole influencer marketing game can seem more than a little suspect. Still, 89 percent of marketers polled say influencer marketing is as effective as other marketing channels.
In order to drive those results, influencers must possess the one thing that matters – measurable influence.
What Do Influencers Do?
Influencers influence the decision-making process!
The primary marker of all any real influencer is that they can get people to do something. Read a book, join a movement, keep watching, buy a thing, download an app, research a product, opt-in for a coupon… things like that. When it comes to Instagram influencers and social media influencers, they are also absolute experts at creating targeted content. Experts.
Influencers have varying degrees of credibility – and therefore, influence – in different areas or categories. One of the first things our account managers do when moving through the influencer selection process for potential influencer partnerships is identify the categories in which a social media user is most influential. And it's not always super obvious.
For example…
Below is a screengrab of The Shelf platform's Category Coverage for a mid-tier influencer. She's a US-based mother of two toddlers and a travel blogger. In fact, all of her Stories Highlights are of different world-class cities, including Athens, Mykonos, and Lisbon. She has posted more than 2800 posts to Instagram and grown her audience to more than 270k followers, with an above-average engagement ratio of 2.5 percent.
But if you notice, her most influential categories are actually fashion and home decor, not travel and momming. 🤓 #data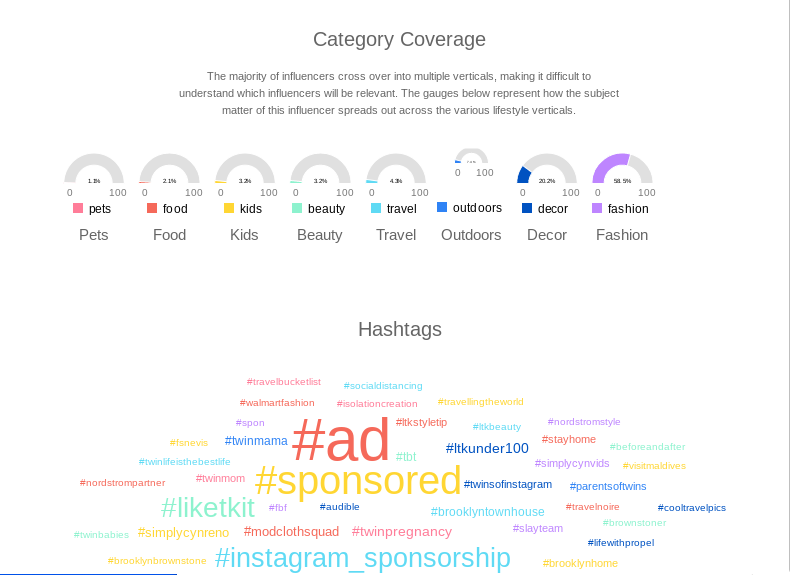 The big takeaway here is that an influencer can have a large, engaged audience. But that doesn't mean (s)he can sway followers to do what the brand wants. So, use the data to identify where an influencer's actual influence lies.
What Do Influencers Do In a Day Though?
The daily life of a social media influencer can be stacked with content-related tasks. An Instagram influencer could spend their day editing photos. Maybe they spend several hours recording and editing the weekly YouTube video that actually gets repurposed to Reels and Stories.
There are also administrative tasks like corresponding with brands or engaging with those in their community. Then there's the need to keep up with trends and checking out any new features rolled out on the different social media paltforms.
Being an influencer goes way beyond flatlays and pics of iced coffees that always catch the morning light just right. There's also a great deal of administrative work and analytical review that goes into this job. They spend a good deal of their time doing what other marketers do – strategizing and optimizing for better results from their content.
How Many Influencers Are There?
Influencers are frequently the topic of conversation, but they're not really all that common. The average Instagrammer tops out at about 150 followers, and half of all Instagram users never make it past 1,000 followers.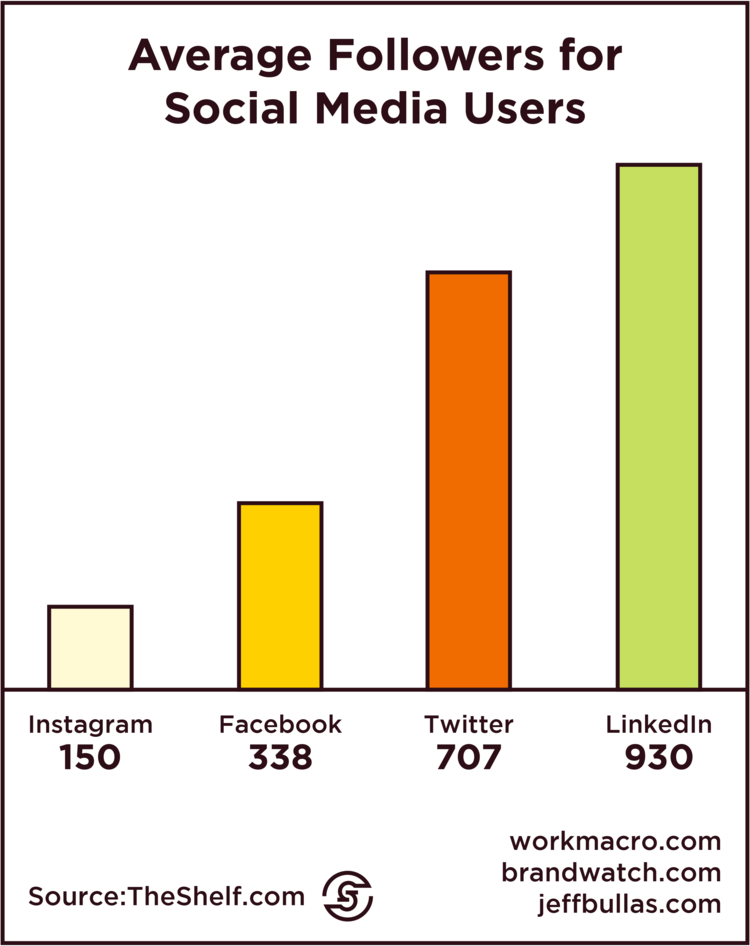 Puts things in perspective, right?
Your aunt, your cool uncle, your dad, your grandma, the church usher… they're all probably on Instagram. But they're not all going to be influencers, nor do they want to be (for the most part). They just want a place where they can look at pretty pictures of family members, bookmark funny posts, and get up-to-the-minute news on the stuff they're interested in.
So, while influencers may seem ubiquitous at this point, they're not. Only about 3 percent of Instagram users would qualify as mid-tier influencers, based on their follower count. Even at the nano-level, an Instagram influencer has to have at least 1,000 followers in order to meet even the minimum criteria for being considered a social media influencer.
Can Anyone Be an Influencer?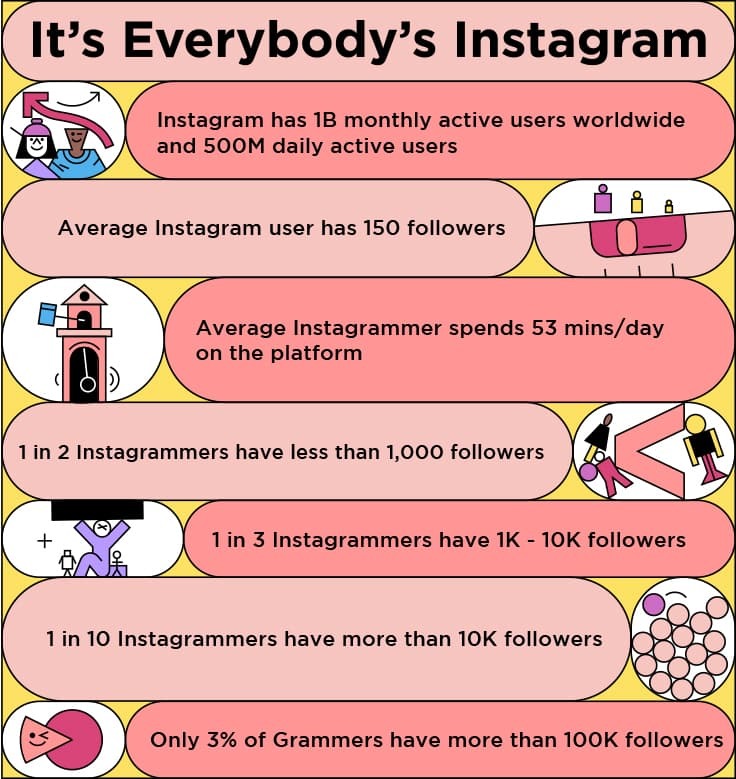 Often, the questions around what is an influencer have built-in subquestions, like:
Can anyone be an influencer?
How can you tell if you are an influencer?
What makes an influencer an influencer?
How much do influencers get paid? (And what should we be okay paying them?)
Anyone can be an influencer. It could be a university on social media promoting their school. Or for higher-impact social proof, it could be a student ambassador at that school sharing their experiences living on campus while pursuing a particular degree path.
It could be LeBron James calling Simone Biles the GOAT (greatest of all time) on Twitter. Or online business guru Jessica Stansberry talking about the virtues of digital planning and how she prefers the fine-tip Apple pencil over the rounded rubber tip of a stylus.
Influencers are important because consumers want to hear more from the people they trust, and influencers have a knack for breaking through the online chatter to share their ideas.
And make no mistake about it – becoming an influencer is hard work. Even if you have a strong foundation of followers, growth is a common challenge for Instagram influencers in particular, whether they do it as a side gig or their full-time job.
Types of Influencers
While follower count isn't everything, it dictates the potential number of people an influencer will be able to reach with their posts. So, let's look at the different types of influencers. Plus, there's an infographic at the bottom of this section that breaks down the tiers and tells you when to use them.
Mega/Celebrity Influencers (1M+): While a larger following doesn't necessarily equate to being an influencer or having high engagement rates, these accounts tend to be big swingers in the business and are worth noting, but not always your budget.
Macro-Influencers (300K – 1M): These influencers have been around the block and likely do this full-time, making them great for maximizing your reach, but not always engagement. Click to read our post on working with macro influencers.
Mid-Tier Influencers (50K – 300K): This range can be a mix of full-time and part-time influencers that are likely to do more paid work than product exchanges.
Micro-Influencers (10K – 50K): This influencer type features a wide range of pricing and experience while usually offering higher engagement rates. Check out this guide to micro influencers to learn more about this gold mine of influence. 
Nano-Influencers (1K – 10K): While the following count may seem slim, the engagement and likelihood of the influencer knowing and trusting their followers is bigger. Explore this untapped type of influencer with this must-have guide to working with nano-influencers. 
Fake Influencers: It sucks, but there are also fake influencer wannabes who will pay for followers, Likes, and comments. But you can weed them out pretty easily if you're paying attention. Our platform is good at sifting out people who commit influencer fraud.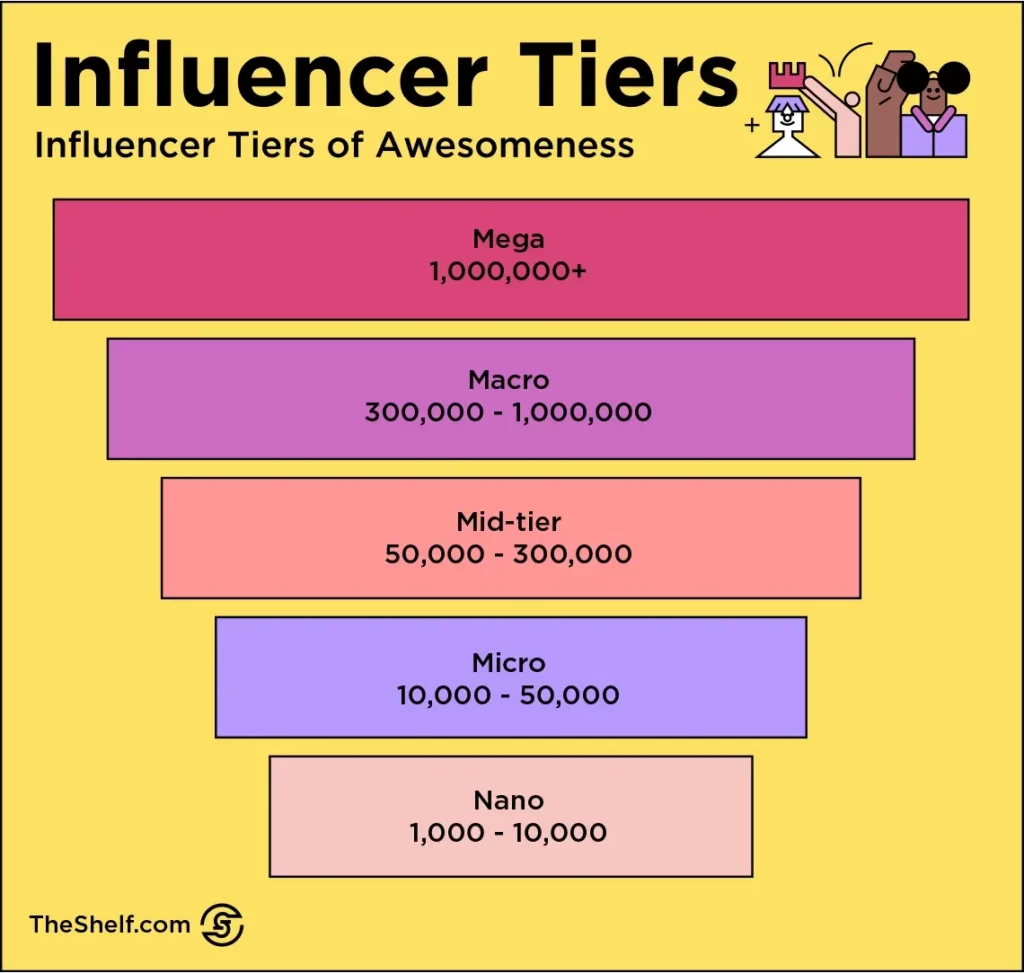 What Makes a Good Influencer?
Now that we've discussed the definition of an influencer, we can start to discover what makes one any good.
A good influencer is an expert. Influencers are experts at something, and they have built their online reputation in that area of expertise. The authenticity of an influencer campaign often stems from partnering with influencers whose expertise aligns with your product.
A good influencer is great at creating really compelling content. Influencers study their audiences. as a result, they develop a knack for knowing how to communicate thoughts and messages in a way that will get people to buy in.
A good influencer has an engaged audience. According to Big Commerce, 75 percent of marketers use this as the most common metric for measuring influencer success. Believe it or not, an important part of the influencer selection process for our team is analyzing each influencer's audience. By analyzing audience behavior, you can figure out who an influencer's audience is and know for sure if you will be reaching the right crowd by partnering with an influencer.
A good influencer is active, often across multiple platforms. Make that active and consistent with their brand. Most influencers will engage with their audiences daily, and post new content on a primary platform two to three times a week. Many influencers are active on more than one platform though their audience sizes for each platform will vary.
A good influencer is professional and responsive. Not flaky, right? Creatives have a reputation for being really "sometimey" but the influencers you choose as creative partners have to be responsive since most influencer campaigns have pre-determined timelines. The best influencers stay in touch with the account managers running the campaign.
A good influencer protects their own brand. The best influencers have invested time and energy into building their own brand and growing their audience. So, they are careful about the types of partnerships they enter. Real influencers don't just do things for the money because, as any brand can tell you, it takes A LOT to build a brand online.
A good influencer has developed their own voice and persona. An influencer's content will reflect their online personality. So, brands have to be sure to choose influencer partners that align well with their own voice, values, and persona. For instance…
The St. Pierre Bakery Campaign
We ran a campaign for St. Pierre Bakery to promote their brioche buns as the perfect way to amp up the summer backyard barbecue. Cookbook writer, food stylist, and Instagram influencer Kate Ramos (on Insta @holajalapeno) describes herself as a food lover. Her IG feed is a colorful mix of beautifully plated dishes and candid-looking snapshots from her life.
We brought her into the St. Pierre Bakery campaign and she contributed some really eye-catching pics soaked in summer vibes. She's not in a fancy kitchen or buttoned up to her neck in a chef's jacket (those are jackets, right?). She's outdoors, standing over a barbecue pit, cooking up the goods with a cement wall and some greenery in the background.
On the flip side, Chris Sussman (on Insta @the_bbq_buddha) is known for AMAZING barbecue. Tender, juicy, flavorful, unapologetic BBQ. He creates detailed how-to guides for getting the PERFECT piece of barbecue from the butcher to the table. on the table. So, the post from Chris was a more of a tutorial-style video and it worked well for his persona. He talked loud and he talked fast. And every word out of his mouth was emphatic.
While brand voice will differ from creator to creator, the best influencers are very consistent with how they create and share content online, as well as how they engage with their audience.
If you want to read a bit more about how we run food campaigns, we have a whole page on it.
Related Post
How to Do Blogger Outreach (Includes Templates)
How Does an Influencer Make Money?
While friends and family question what is an influencer or how is the influencer in their life making a living, the creator is faced with a variety of monetary channels that can help them make an income such as signing up for ad displays on YouTube or even selling their own products.
Sponsored Posts: Many influencers receive free products or services as a trade for content, while others also receive payment depending on the negotiation between the influencer and the brand. The size of the following and engagement rate are common guides for creating a fee for the work and exposure they receive on the account.
Affiliate Marketing: Affiliate marketing involves the influencer using a unique link for their "leads" as others click to the website and potentially make a purchase. Many partnerships use this system as a way for influencers to make residual income as they continue to promote the brand throughout their content as an ambassador.
Content Creation: Some influencers may be paid for creating content that the brand can use for marketing materials and beyond with an hourly rate or package fee where the emphasis is on the content and not the exposure from posting the work on the influencer's account.
Influencer Merch: Influencers can leverage the brands they worked so hard to build by creating their own line of branded merchandise and swag. For influencers with strong personalities, branded merchandise can be a great source of ecommerce influencer income. People love to support their favorite brands and personalities. We actually did a roundup of influencer-owned brands.
Conclusion
After nearly a decade of building influencer campaigns, we're pretty confident that there will always be people asking what is an influencer? Or what is a Instagram influencer, in particular? Or why would we pay them? We'll keep posting these answers, too. While being an Instagram influencer may not present itself as a simple job, it's a growing industry that marketers are still working to understand and incorporate into their annual marketing budgets.
If you want to learn more about how influencer marketing works, check out this guide to influencer marketing strategy, and be sure to take note of this evolving industry and understand where you fit in best. Check out our influencer marketing services to help you run campaigns shaped by data-driven insights.