Influencer marketing has surged in the last couple of years. With 39 percent of marketers planning to increase their influencer marketing budgets, an effective influencer marketing strategy is the key to standing out in a saturated influencer marketing landscape.
The secret to more targeted influencer marketing may be using nano-influencers. Nano-influencers are influencers who have fewer than 10,000 followers on a given platform. So, yeah… someone could be a nano-influencer on one platform and a mega-influencer on another (that's usually the case, by the way…)
Given the choice between mega and nano, why would a brand want to invest money having anyone with fewer than 10,000 followers promote their brand or product?
Well, there are actually a couple of good reasons.
Nano-influencers are relatively inexpensive to hire for influencer campaigns. They also tend to have much higher engagement rates and ROI than, say, a mega-influencer.
Let's dive into everything you need to know about nano-influencers — more information on who they are, how they're being used by media superstars, and why they may be a better fit for your campaign than some of the bigger influencers.
What (Exactly) Are Nano-Influencers?
The overall goal of influencer marketing is to find people who have the credibility to influence the purchasing decisions of large segments of the people in their social networks. Nano-influencers are influential people who have a smaller following — usually between 1,000-10,000 followers (think of them as that one really popular friend you have).
But being a nano-influencer isn't just about having 3,000 followers. Nano-influencers possess very distinctive traits that PROVE their influence.
Nano-influencers regularly post to the social media platform on which they wield influence. They are also responsive on social media – they respond to comments, winks, likes, pokes, and shares from their audience members. And perhaps most importantly, their followers actually do seem to like what they post; that is, the audience demonstrates positive sentiment toward the nano-influencer's social media content.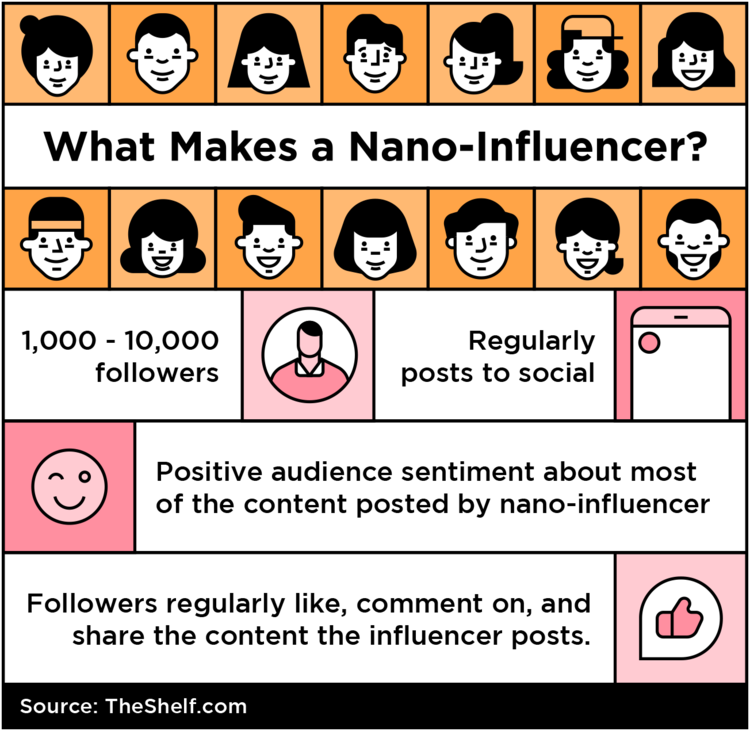 NANO-INFLUENCERS VS. BIGGER INFLUENCERS
Influencers fall into different tiers based on the number of followers they have. Contrary to popular belief, nano-influencers are not the same thing as micro-influencers. We like this colorful little chart from Mediakix (okay, you got us… we recolored it so it's cuter).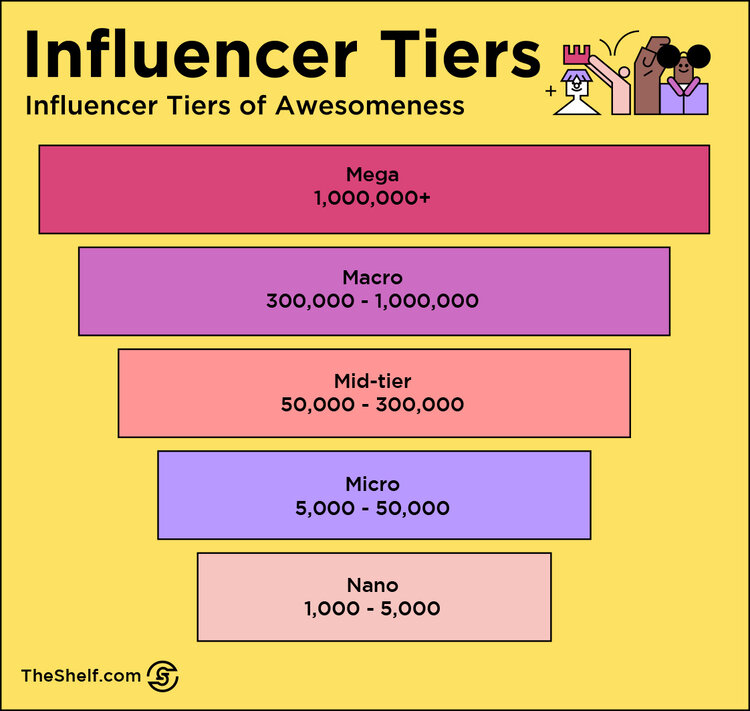 ● Mega-influencers — Have more than a million followers and are often more famous than influential. Mega-influencers offer brands HUGE potential reach and expansive exposure, but often at a hefty price.
● Macro-influencers — Have between 100,000 and one million followers. This is what most people think of when they hear the term "influencer." Most macro-influencers differ from mega-influencers because their fame is self-made, usually through the internet itself — think of fitness influencers like Whitney Simmons (on Instagram @whitneyysimmons) or fashion Youtubers like Patricia Bright (here's a link to her channel). They usually have a more targeted audience than mega-influencers.
● Micro-influencers — Have between 10,000 and 100,000 followers. Micro-influencers focus on a niche audience and are usually considered an expert in their given industry. Marketers who want to employ micro-influencers can count on the influencer's audience being interested in whatever made the influencer popular.
Nano-influencers have smaller audiences, so they can't really offer huge reach on their own. BUT these influencers do tend to demonstrate a closer connection to their audience members than just about any other tier of influencers.
For nano-influencers, their lack of fame doesn't compromise their influence. In fact, it's just the opposite. Nano-influencers are everyday people who may wield considerable selling power just because they engage frequently and directly with the people in their small, niche, and highly engaged audiences. Therein lies the prime benefit for brands and marketers.
The Benefits of Choosing a Nano-Influencer
Nano-influencers are a great option for brands that have never worked with influencers before. You don't have to have thousands of dollars laying around to secure sponsored posts from nano-influencers, and you can count on high engagement rates on the content they post.
Let's talk about some of the primary benefits of working with nano-influencers.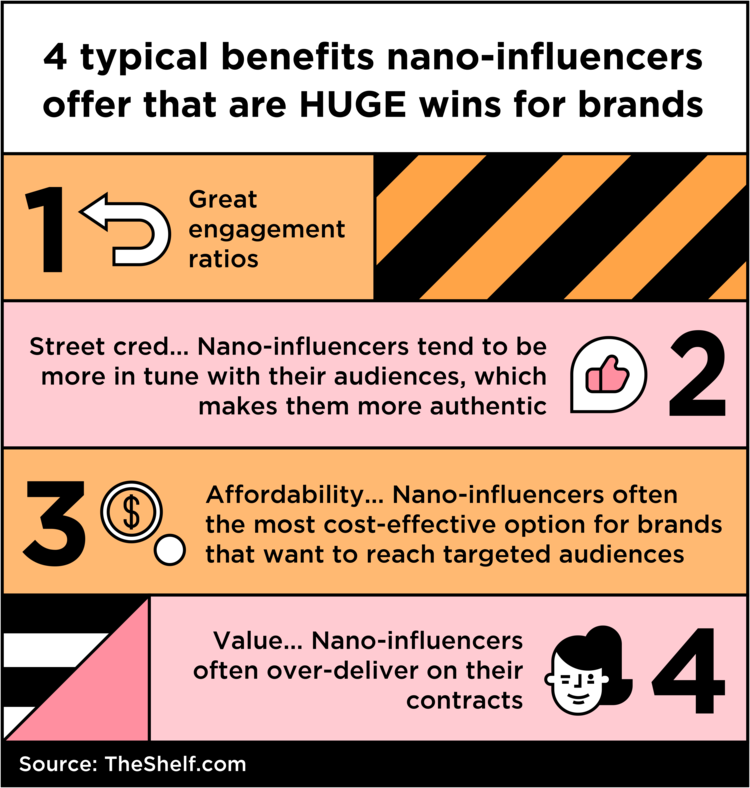 ENGAGEMENT
High engagement rates are one of the key distinguishing traits of nano-influencers compared to larger influencers who have greater reach. Small influencers consistently outperform larger influencers when it comes to responsiveness and audience engagement. That's a BIG DEAL.
Most marketers use engagement ratio as a key performance indicator for the success of influencer campaigns. Nano-influencers outshine every other influencer tier in that respect.
Digiday reported that nano-influencers are able to engage up to 8.7 percent of their following, whereas the average engagement rate for macro influencers with millions of followers is 1.7 percent and that percentage usually dips below one percent for celebrities. That's over 5x higher engagement rates nano-influencers produce with their content!
Source: Influencer Marketing Hub
Nano-influencers personally know their audience, or at least most of them. This familiarity helps them craft organic and authentic messages that resonate with their followers, leading to higher engagement rates. The smaller amount of followers also means that nano-influencers can respond to most every comment or personal message, further improving their authentic image (and usually resulting in a following that is consistently growing).
AUTHENTICITY
Having intimate knowledge of the people in their networks means nano-influencers can be an effective vehicle for word-of-mouth marketing. Nano-influencers become key opinion leaders among their followers. That gives them influence over the purchasing decisions of the people in their network.
Think about it. How do you typically research a product before you buy it? Most Millennials won't make large purchases AT ALL without first researching reviews of the product online, which includes asking people in their existing social networks.
As a buyer, you're more likely to believe the rave reviews of someone you know than a paid celebrity endorsement. Let's face it… who really thinks celebs use the same stuff the rest of us do?
But if it's someone you know, there's nothing to stop your from hitting them up in the DM to find out the real deal. Nano-influencers help companies connect with customers by allowing the influencers to share with their online community the real experiences they are having with different products.
COST
Nano-influencers typically don't charge excessive fees for their sponsorship like larger influencers do. There are a few that will either wittingly or unwittingly charge a higher fee than their influence warrants, but mostly… nano-influencer fees will be pretty fair.
According to Mike Dossett, VP and director of digital strategy at RPA, marketers can use the low cost of nano-influencers to their advantage. Low-cost nano-influencers means brands can work with a larger number of influencers, "each of whom can create and share their own content about the brand."
VALUE
Nano-influencers aren't just low cost — most nano-influencers tend to over-deliver. In fact, whenever a client wants to generate tons of UGC from an influencer campaign, we direct their ad spend to nano-influencers and micro-influencers, NOT macro- or mega-influencers. You would pay less per piece of content created for your campaign, and you're far more likely to get the UGC rights you want (and need).
In addition to being a more affordable option for influencer marketing, nano-influencers tend to offer marketers a huge ROI.
Over the course of a year, you could easily hire 100 nano-influencers with 10,000 followers each for a combined reach of 1,000,000 people. And the campaign(s) would probably generate between 200 and 600 unique pieces of content for your brand to reuse across your own social media channels and in ads.
How Brands Are Using Nano-Influencers
Nano-influencers aren't just for brands with small budgets. Nano-influencers are starting to proliferate marketing campaigns across every vertical with the help of endorsements from big media companies.
Companies like CMSwire, Hubspot, Vayner Media, Influencer Marketing Hub, and even the New York Times are already touting the success of nano-influencers — and other brands are taking notice.
According to research by Brian Solis, principal analyst at Altimeter Group, only 32 percent of consumers follow big-name influencers, compared to 70 percent who are influenced by their family and friends online. Trust is the name of the game when it comes to influencer marketing, and nano-influencers are uniquely positioned to stand in as trustworthy sources of information in the eyes of their respective audience members.
Brands are also paying attention to a particular demographic that relies heavily on the opinions of nano-influencers — Generation Z. Gen Z grew up surrounded by social media, and they've never existed in a world without it. Youtubing is a legitimate career path for Gen Z-ers, and their Instagram feeds are over-saturated with sponsored posts.
Social media is their main source of content, and where they discover most of the products they buy. Gen Z nano-influencers are using social media because their friends are too, which makes them a huge potential market for brands across the globe.
GYMBOREE
Take a look at some of the brands making use of nano-influencers across Instagram.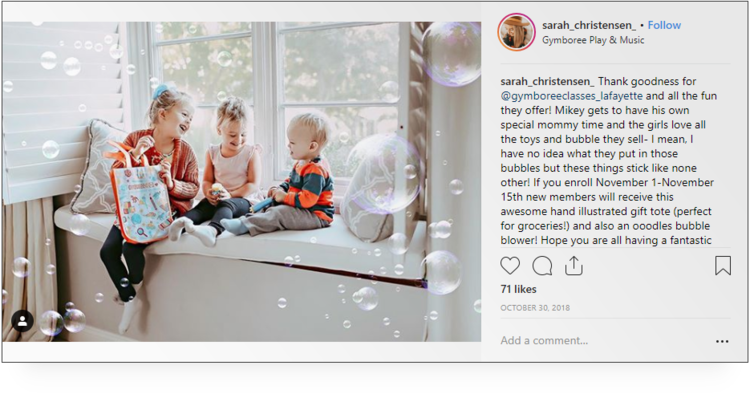 Source: On Instgram from Sarah Christensen
Parents love to seek out the advice of other parents, and Gymboree is smartly taking advantage of this with their influencer marketing campaign. Parents trust products used successfully by people they know, probably more so than any other target market. Gymboree's use of nano-influencers was a smart way to spread the news about the classes they offer through word-of-mouth marketing.
Sarah's post got 71 likes and six comments, earning her an engagement rate of 5.2 percent among her 1,472 followers.
GLOSSIER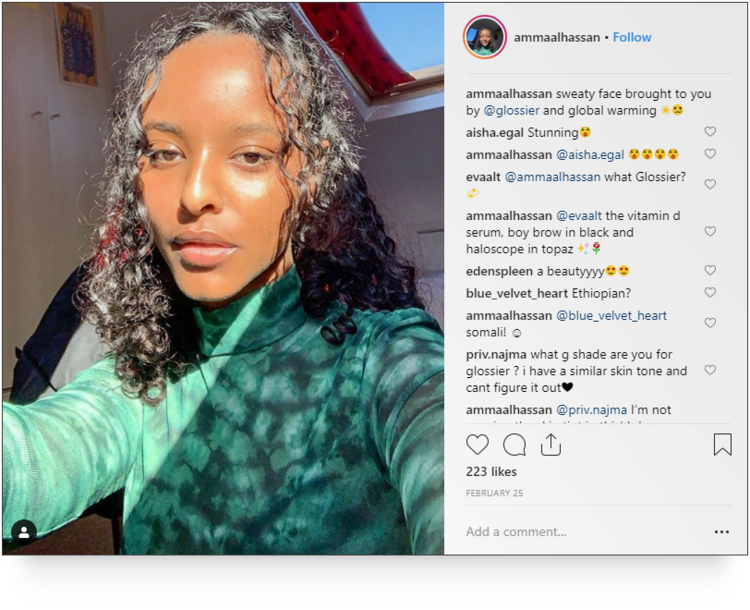 Source: On Instagram by @ammal
This relatively new skincare and makeup brand is taking the term nano-influencer to the next level by turning every customer into an influencer for the brand. Emily Weiss, Founder and CEO of Glossier, says the idea that everyone can be an influencer is ingrained into the makeup of the company and their marketing strategy.
According to Vox, Glossier has mainly relied on word-of-mouth to sell its products, and with huge success. The skincare company is partnered with over 500 ambassadors and has raised over $90 million in venture funding.
The post above from Ammal post received 215 likes and 16 comments. With 1,265 followers, the engagement rate for the post was 18.26 percent!
SUAVE
While Suave's instagram account @suavebeauty may be relatively young (it only has 18.6k followers) the brand is sure making use of influencers' audiences to promote its products. A quick look at the company's Instagram feed reveals that Suave using influencers from multiple tiers to reach a large audience and reach engaged audiences.
Using the hashtag #SuavePartner, influencers for the brand both large and small are highlighting the benefits of a new Rose Oil shampoo and conditioner.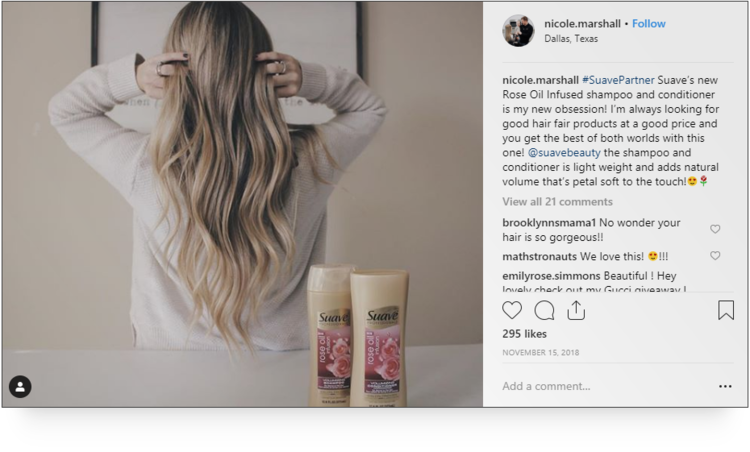 Source: On Instagram from @nicole.marshall
With 21 comments and 295 likes on this post, Nicole's post for Suave earned a 4.4 percent among her 7,082 followers.
LOCO COFFEE
It's not just beauty brands using nano-influencers. Loco Coffee (on Instagram @DRINKloco)is a new coffee brand with no added sugar and only two ingredients in the drink. The brand itself is new and only has 5,000 followers on Instagram, meaning they need a lot of bang for their buck in terms of their marketing strategy,
That's where their nano-influencers come in. With something in the food and beverage industry, ease of use, taste, and ingredients are important. Nano-influencers for Loco Coffee can highlight any of these features in their sponsored posts while being authentic and relatable to their audience.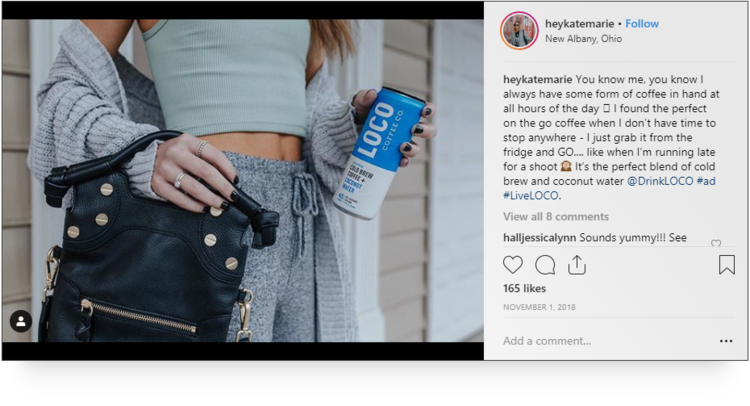 Source: On Instagram posted by @heykatemarie
This post of Katie's generated 165 likes and 8 comments, meaning the engagement rate for the post was 6.8 percent based on her 2,520 followers.
Suave, Clinique, and Loco Coffee have all made use of the same nano-influencer — Alexis Baker on Instagram @alexisbakerrr). Alexis's most recent sponsored Suave post garnered 213 engagements (comments and likes) — a 7.3 percent engagement rate based on her 3,000 follower audience.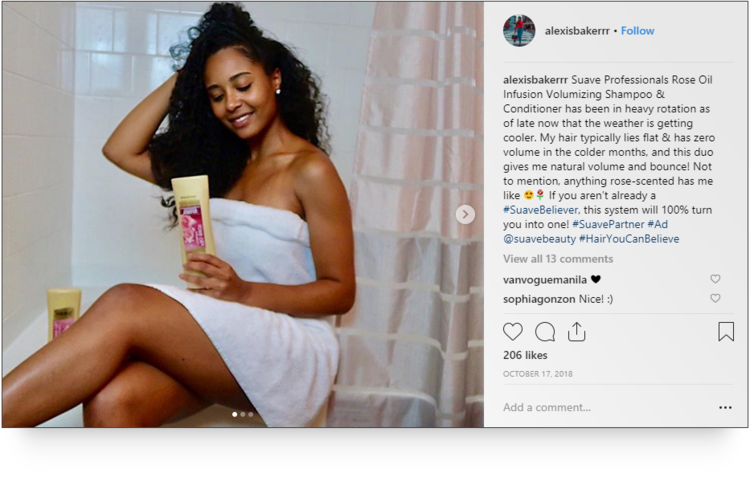 Final Thought
Nano-influencers are the next big thing for influencer marketing in 2019 — they are a low-cost option and they produce high engagement rates for the brands they work for. Any brand can make use of nano-influencers in their marketing strategy.
To get started working with nano-influencers, sign up for a demo or check out our resources section for more information.