How do you pick the best influencers for your social media campaign? It's not as straightforward as it seems. Influencer selection is crucial to the success of your influencer campaign, but 7 in 10 brands say finding the right influencers is a challenge. In fact, it's one of the biggest challenges for brands running influencer campaigns. Plenty of marketing teams can tell you that a misstep in the influencer selection process can kill your campaign ROI. So, in this post, we're outlining an 8-point checklist that will show you how to find influencers for your brand.
1. Find Influencers Who'll Help Meet Campaign Goals
In order to reach your campaign goals, you have to find influencers who are good at creating the kind of content that will help you get there. So, what are some goals you can set for an influencer marketing campaign? According to stats published by Statista, 35 percent of marketers say reaching and discovering new target audiences is the primary goal of their influencer campaigns. Twenty-six percent are looking to drive sales versus the 23 percent that want to drive purchase intent.
Goals.
If you haven't clearly identified your goals, it'll be tough to measure how well you're achieving those goals. Here's a look at some of the different types of campaign goals brands target and how different influencers would fit into these types of campaigns.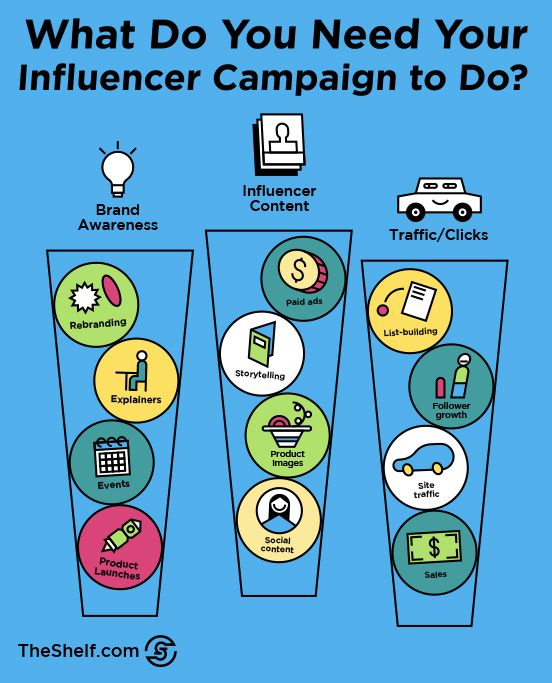 Common Influencer Campaign Goals
Promoting an Upcoming Sale
When getting the word out is the goal, your best bet is to go with bigger influencers in your niche. That way, they can tell tons of potential customers about your upcoming sale. Partner with influencers who can promote your big sale on a grand scale.
Explaining a New (Or Old) Product
Launching a new product is exciting for your company. But it doesn't mean much unless your audience can understand what it is, what it does, and how it can benefit them. In this instance, you may want to go with podcast influencers who have podcasts or blogs, and those who are great at creating compelling video content for Insta.
Increase App Downloads
Was your app launch a flop? If app downloads aren't coming through like you imagined, then you can always give it a boost with some help from niche influencers. We've run multiple campaigns to help brands get app downloads. When we ran campaigns for Atom Tickets (before the pandemic), one of the things our account managers did was grab influencers from different age groups – including bloggers over 50 – to help the ticketing app resonate with all sorts of moviegoers.
Build Your List of Subscribers
Have a channel, blog, or newsletter you want your audience to follow? Then harness the power of an influencer to build up your brand's email/subscriber list. This can work in a bunch of different ways, but contests and giveaways can be a good way to drive traffic to your site, and working with bloggers and larger influencers.
You're probably getting a pretty clear picture of the importance of knowing how to find influencers that will fit not only your brand but influencers who can help you achieve specific goals.
2. Determine How You'll Source Influencers
Another thing to consider when you're finding influencers for your campaigns is how and where you'll actually get them. Do you have influencers in mind? Are you going to do cold emails and influencer outreach?
You actually have several options here because there are different ways to source influencers. Our platform pulls profiles for hundreds of millions of social media users. After that, users can use filters to narrow the influencer pool by location, brand affinity, audience behaviors, and all sorts of criteria. But there are other ways to find influencers.
For instance, there are influencer agencies you can tap into. These are agencies that represent influencers and you choose from a pool of influencers, or the agency will provide you with access to their roster of influencers. You can also get an influencer platform subscription, kind of like ours where you can search for influencers by pulling up their profiles. A third option is casting calls- you put the word out about your campaign and let influencers show their interest.
Why does it matter how you find influencers? Well, the influencer selection process – and it is a process – should be structured to help you meet certain goals.
As a last resort, you can use manual search and outreach to connect with influencers. This will take some legwork to achieve any real results.
3. Identify Who it is You're Targeting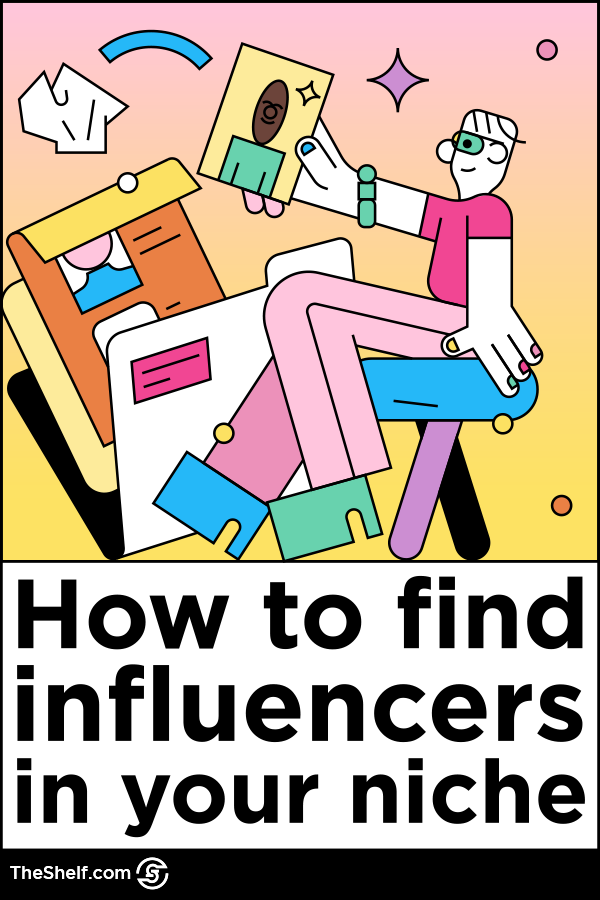 The influencers you choose to work with need to have an audience that matches your target customers. Otherwise, your posts will fall on deaf ears and blind eyes. This shouldn't be a difficult task, depending on the goals of your campaign. For example:
You offer parenting tips or sell kids toys and want to cater to moms and dads. In this case, bloggers on Instagram and Pinterest would be ideal.
You offer guides for home decor, DIY, or lifestyle projects. YouTubers, IGers, and Pinterest influencers are your best bet.
You share fashion and lifestyle ideas and tips to the cool and trendy. IG and TikTok creators can be helpful here.
You help professionals and entrepreneurs to better their industry skills and knowledge. These people are well-connected and are likely on LinkedIn, Clubhouse, and Twitter.
When it comes time to select your influencers, be sure they're truly influential in your vertical AND that their audience is receptive to the topic you want your influencer partners to create content around.


4. Look at Behaviors AND Demographics of the Influencer and Their Audience
"Look at behaviors" sounds very school psychologist, we know. But knowing where a person lives and their household size is different from understanding what kinds of brands they like, what kind of messages appeal to them, and what they do online. So, choosing the right influencer for your campaign requires you to know their background, sure. But you also need to understand what drives them.
And not just them, but their followers as well. Don't get nervous. This can be as straightforward as analyzing the types of hashtags you see their followers using or seeing what kinds of posts get different types of engagement as a way to identify subgroups. Knowing specifically who you're talking to will help shape your messaging so you're delivering the right messages to the right audience members.
When it comes to influencer marketing, online behaviors matter.
5. Diversify Your Campaign
Diversity, equality, and inclusion are the new standard. After the events of 2020, social media influencers pretty much led the charge for a global reckoning on everything from racial inequality to gender inequality to pay inequalities between different types of influencers.
You have your target audience, which is your primary group. But there are also subgroups you don't want to sleep on. And while you may be targeting your audience members who live in the US or in North America, this big, ol' body of land is made up of hundreds of millions of people from different cultures, all working to make Western culture what it is. So, it's smart to have people on your creative team who understand the nuances inherent in your messaging.
Diversity isn't just about race. It's also about reaching different subgroups within your audience. For instance, if you're in the travel industry, you could target both luxury travel influencers and van life enthusiasts.
Or if you're in fashion, you can promote luxury fashion, alongside Boho lifestyle items.
Or target the yee yee and the yee haw crowds (but in different ways, of course).
Get creative with your niches and verticals to tap into new markets.
6. Choose an Influencer Based On Their Activity
Does the number of followers a person has determine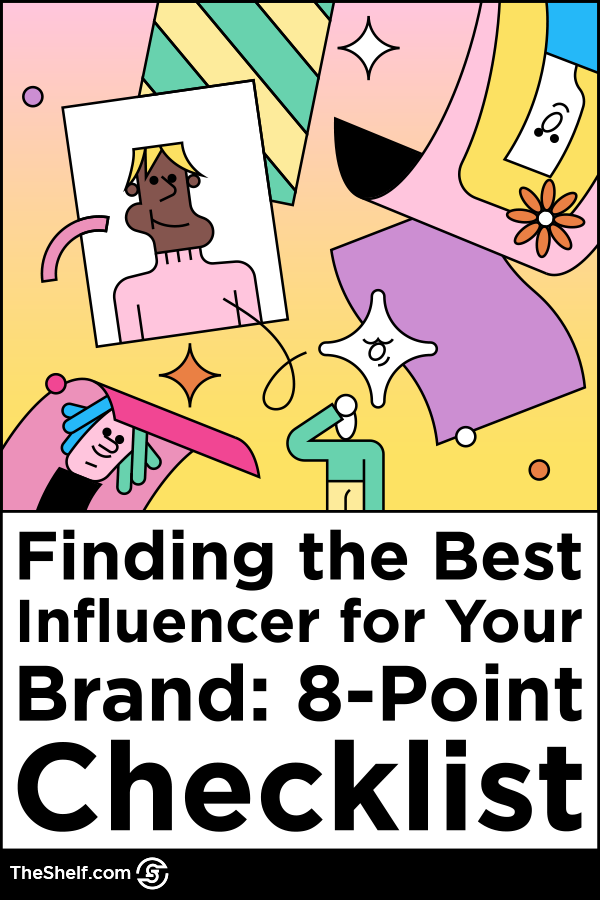 whether or not they're an influencer? Not at all — especially in the age where you can buy followers, likes, subscribers, comments. So what is an influencer, if follower count doesn't matter? A social media influencer is someone who uses content to get people to take an action. But that action doesn't have to be one that aligns with the brand's values, and it doesn't have to be an action that's in the brand's or the influencer's best interest.
This is why brands must be careful with who they choose for brand partnerships. One way to know if an influencer is legit and worthy of your social media campaign is to look at their past activity.
This includes:
How often they post: Is it multiple times per day, daily, weekly, or less?
What type of posts they create: Have they posted content that relates to your campaign so it feels authentic?
What messages do they share: If they're publishing content on multiple platforms, is the message overall consistent?
What brands they promote: Is the influencer an ambassador for other brands? Do they wear, buy and mention their products? If so, would your brand be in sync?
Ideally, you want to work with influencers who are publishing lots of relevant content on at least a daily basis. It's also critical for their message to be consistent — they can't publish hamburger meals on YouTube and discuss vegan lifestyle on Instagram.
Also, you want the content they've published up to this point to resonate with the posts they'll publish for you.
If they were just going on a rant about hating DIY projects, it wouldn't make sense to do a campaign that promotes DIY tips.
7. Base Your Decision On Past Campaign Performance
It's alright to hook up with rookies in the influencer realm, but when it comes to working with pros, you want to make sure you vet their track record.
For one, you want to validate whether they've had past successes with brand campaigns. Find out who they partnered with and what the outcome was. Did the brand end up doing more than one campaign with the influencer? If so, then chances are they were happy with the results.
Another way to vet influencers is to check their engagement ratio. Are people consistently engaging with the content via likes, shares, and comments? And are the comments you see relevant and genuine? More importantly, are the comments showing sentiment for the influencer and the brands they represent or dismay?
8. Know the Type of Content the Influencer Creates
Now, it's time to see the types of content the influencers are creating for brand campaigns. Some influencers are great photographers who put together captivating collages. Others may excel at Stories and publishing video content.
Whatever the type of content being produced, you want to ensure the quality and consistency is there. Also, be sure the style aligns with your brand and the message you're looking to convey.
Speaking of conveying messages — how great are they with storytelling? After all, this is one of the best methods for connecting with audiences and delivering powerful messaging. This should be the case whether they're creating still shots or videos. One way to determine this is to review the responses they receive from followers (hopefully, positive).
Turn Influencer Selection Into a Process for Consistent (Practically Predictable) Results
Selecting influencers isn't something you wake up one morning and embark on. It's a process, and if you can refine your process and fine-tune it, you'll leap frog over some of the mistakes brands commonly make with influencer marketing. The difference here is that one has no direction, and the other has a step-by-step path you take to guarantee proper selection.
And by that, we mean hooking up with influencers who can actually convert for your brand.
Sound good?
Then let's chat about your next influencer marketing campaign today!