Originally published September 2018. Updated June 2020
Gray is the new black, and 60 is the new 40. Forget what you heard about the Golden Years being a time for R&R and winding down. We've found 20 Instagram influencers and bloggers over the age of 50 (and 60 and 90) who are living life like it's golden golden.
Here's How We Came Up with Our List of Mature Bloggers and Influencers
We penned a post last year that pretty much detailed how we put together influencer roundups using our actual influencer marketing platform instead of just picking people we know and like. You can read that post here. It shows you how our platform does super-useful things like detect fraud and suss-out where influencers really live, what they're all about, and who their audience is.
For this particular roundup on the over-50 crowd, we actually ran into some unexpected challenges.
First of all, we were looking for more male bloggers over 50.
In July 2018, there were just as many men on Instagram as women (49.7 percent of users vs 50.3 percent of users) according to Statista, and that's true regardless of age.
But… there's a little something called search optimization… which, on Instagram, translates into hashtagging your Instagram posts so other people can find them according to the topic of the post and/or the topics you usually post about!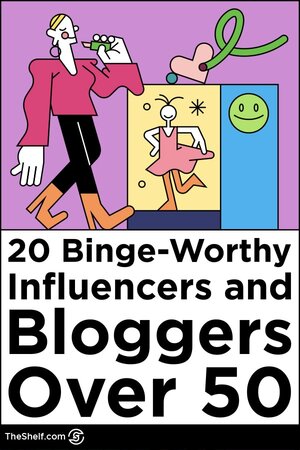 We discovered male influencers over 50 aren't as keen on hashtagging as female influencers over 50, so they don't get as many followers, which leads me to the next set of criteria…
Second, our roundup of mature bloggers had to qualify as a nano-influencer… at least.
At the very least, bloggers and influencers had to have 3,000 followers on Instagram with at least two percent average engagement. For the men, some of the ones we wanted to include in this particular roundup didn't meet the minimum criteria for nano-influencers… either that or we just couldn't find them.
Third, they had to fascinate in some way.
This was one area the data couldn't tell me about. So, we enjoyed hours of scrolling Instagram feeds, reading captions and checking out the blogs of some of our over-50 blogger candidates. We wanted to feature people who had "a thing", whether that thing was style over 50, fit over 50, being outrageous, being an avid blogger (on an actual blog, not a mini-blog), or being Creatives… whatever.
Fourth, we skipped anyone who recently bought tons of followers.
We put potential candidates through our database to filter out people who recently purchased followers. You know how we are about that sort of thing. Truth is, you would be hard-pressed to find an influencer who never bought followers. And sometimes, a boosted post will look a little like follower fraud, but boosted posts typically don't have the unfollows you get with influencer fraud.
We also excluded people who were actively engaged in the practice of buying followers. That meant excluding some of the people we really wanted to include in this roundup (we were actually shooting for 50 mature influencers with this version of the roundup, but you'd be surprised how many grandmas are out here trying to cheat at influencer marketing!!).#badgrandma
Fifth, #Thisis50 has reclaimed it's intended meaning.
This is actually now more of an interesting story, rather than a bonafide discover. When we first published this roundup back in July 2018, we pulled up the hashtag #thisis50, thinking it would help find more influencers. Instead we discovered the hashtag had been cop-opted by media mogul Curtis Jackson, aka rapper 50 Cent, aka Kanan Stark from Starz's drama, Power, which was at its height in 2018.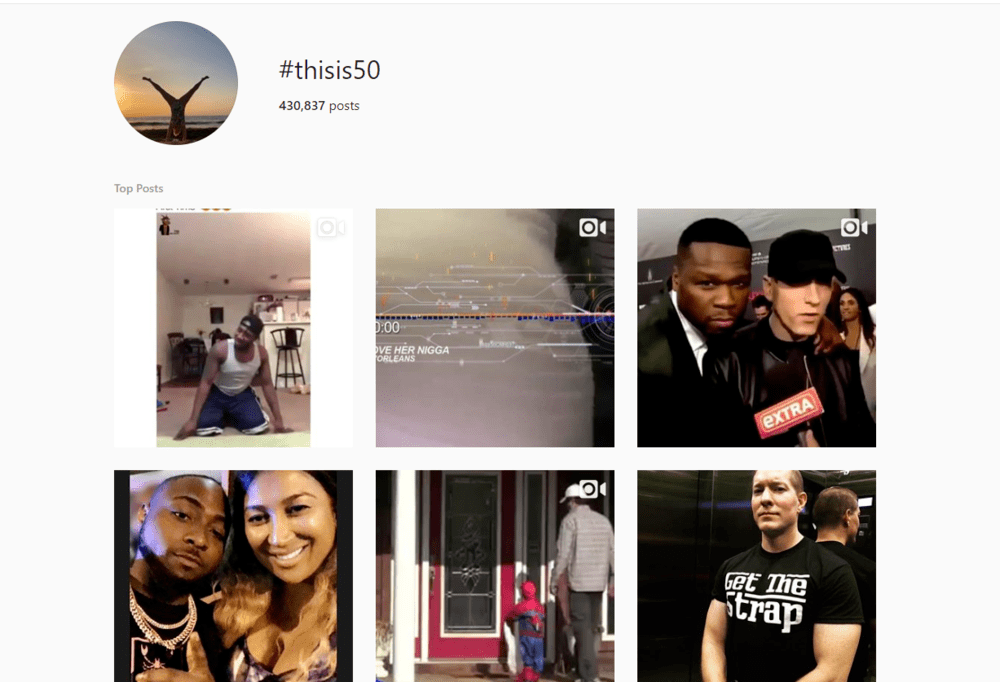 Today, however, the hashtag is back to being used by people over 50.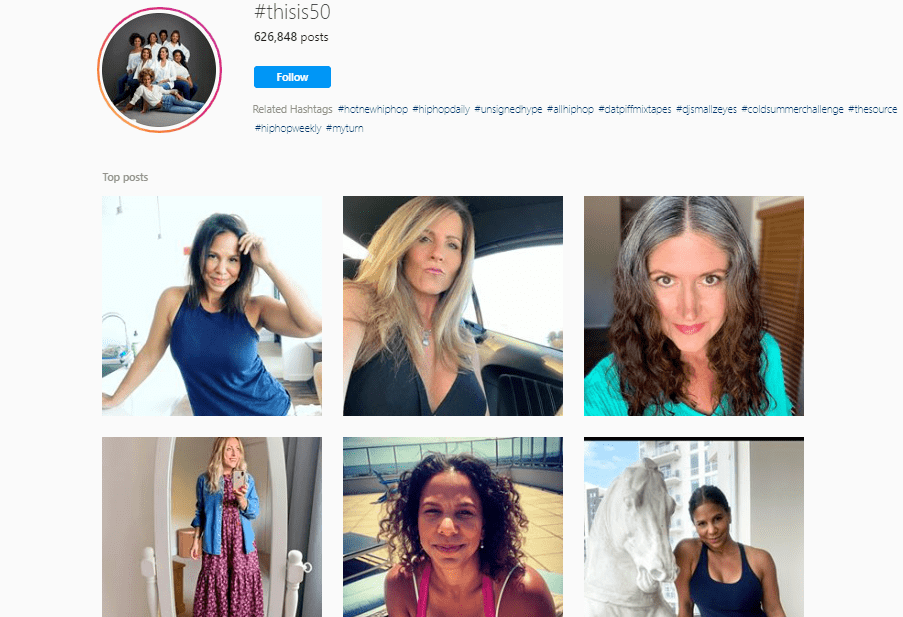 The big takeaway: Do your research on the nuances of using hashtags for your brand…
We also learned #over45 is a popular hashtag in the fitness community. Not sure about the importance of the number 45. Maybe that's just when things start getting real for people and they go, "I'm 45. Time to do something about this gout."
Or gut.
Whatever the case, #over45 is an important milestone age in the fitness community.
Just a quick lesson on the importance of researching hashtags… even the seemingly obvious, fail-proof ones. Never know what a hashtag has been appropriated for. (We picked up that handy, little lesson while researching toy hashtags for a holiday post. Yikes!)
---
Captivating Influencers and Bloggers Over 50 (who are probably way cooler than anyone else you know)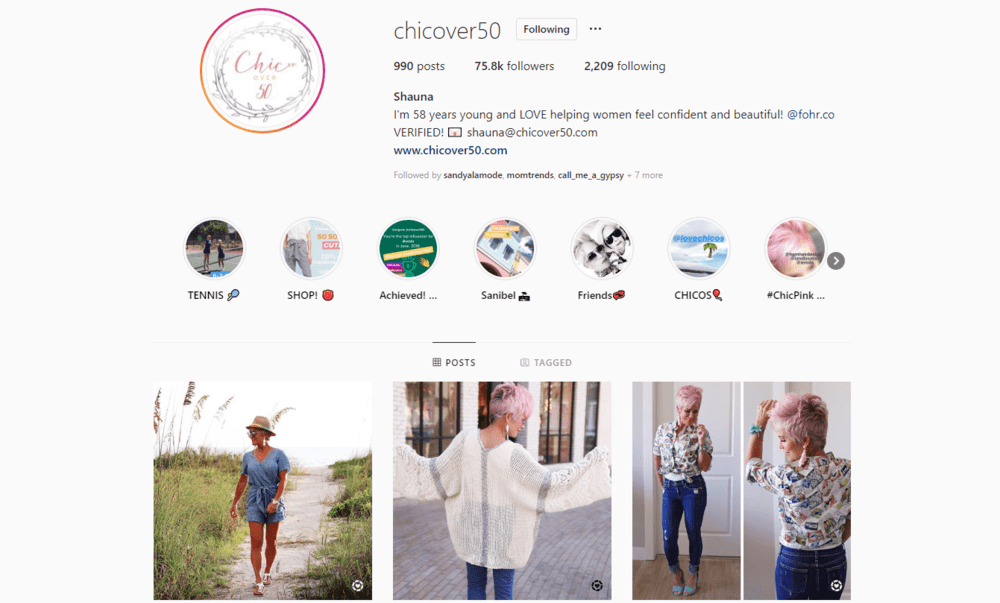 Shauna Robertson is the engaging and fiery persona behind the Chic Over 50 style blog. What began in 2015 as an online look book for Robertson to share with her friends has grown into a community of more than 98K actively engaged Instagram followers, 18K Facebook followers, and more than 93K monthly views on Pinterest. Based in Salt Lake City, Robertson's pink pixie cut, colorful outfits and high energy posts have become the exemplification of her personal charge for women to "Be confident, be beautiful".
---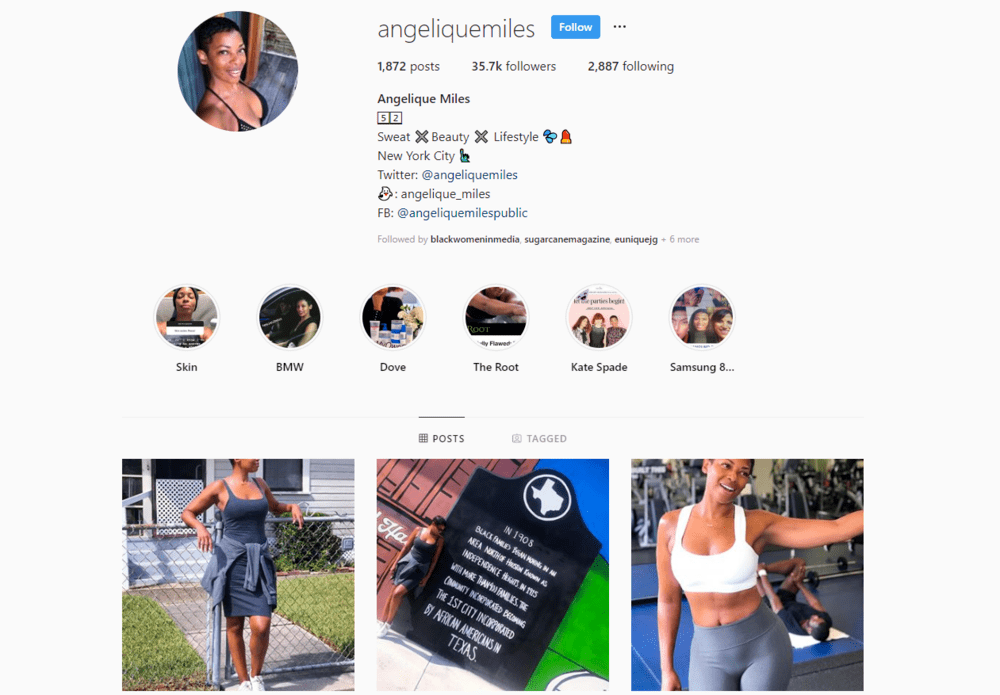 Angelique Miles is the record industry veteran – turned – over-50 fitness model who was responsible for signing to publishing deals some of the biggest names in the music industry. Today, the fitness over 50 guru is turning heads with her radiant skin (like, really – she glows) and incredible physique, while inspiring droves of Gen Xers to practice self-love with nutrition and good, old-fashioned sweat equity.
Her Instagram feed – where she has more than 48k followers – is liable to show pics of her pre-, during and post-workout. I spotted a sponsored post of her and Full(er) House's Candace Cameron Bure in her Facebook feed, and another picture of Miles and singer Carrie Underwood post-workout in her Instagram feed.
Miles' Instagram tagline is "Sweat, beauty, lifestyle".
---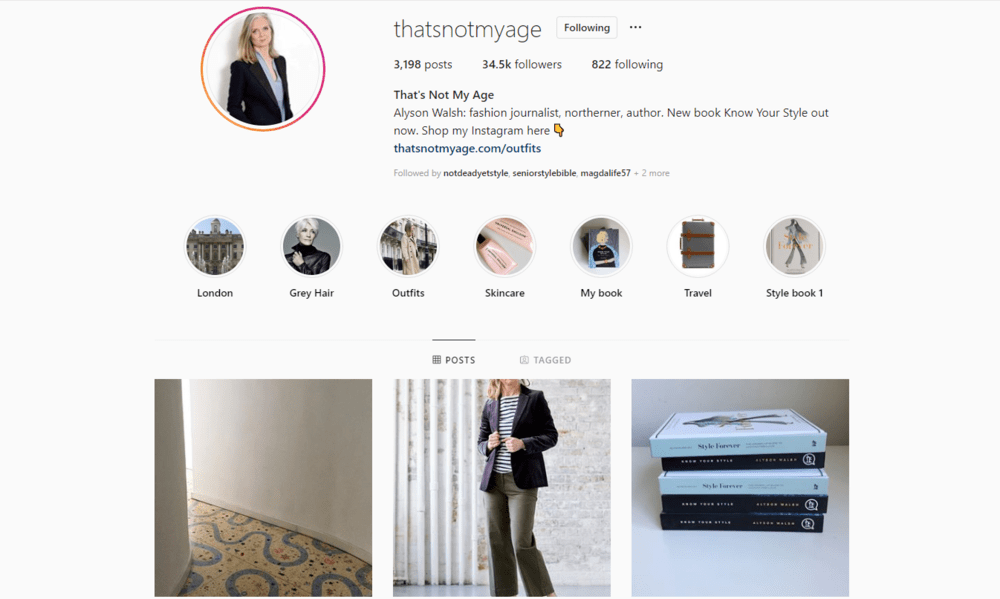 Alyson Walsh is a 50-something journalist, former magazine fashion editor and the author of two books, Know Your Style and Style Forever. Walsh is the editor of That's Not My Age, a fashion and lifestyle blog for women of all ages.
By, far one of my favorite fashion bloggers over 50, Walsh's Instagram feed is curated to well-styled perfection. It's an elegant mix of reserve and sophistication with a bit of the UK's infamous 80s-styled anarchy rioting just beneath the surface.
I dunno. There's just something there that I can't put my finger on. Her outfits are some of the dopest things I've seen on Instagram.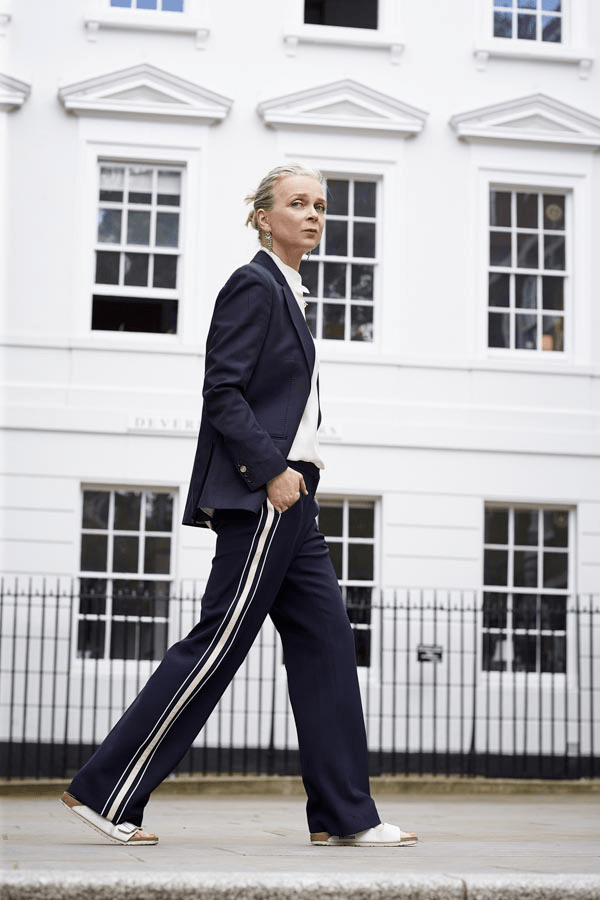 We respectfully submit that Instagram's cutest influencer couple may, in fact, be Boomers. Japanese couple Bon and Pon are killing it on Instagram with 832K followers and nearly five percent engagement on each post. How? By being awesome.
Bono and Pon appear together across Instagram in matching (but not identical) outfits, Bon standing on the left and Pon on the right. You can find them doing everything from boating and hiking to stroking a goat or just standing in the rain.
There are actually two books already published on Bon and Pon's lifestyle. The third hits Amazon September 14. The third book is a magazine of their complementary style choices.
Evelyn – Over-40 Fashion and Lifestyle @fashionistaover40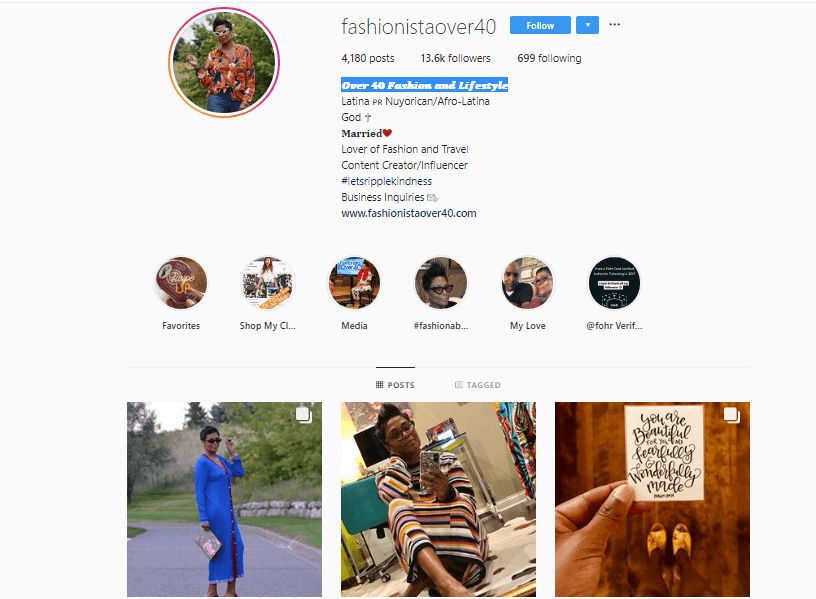 Evelyn created Fashionista Over 40 as a way to showcase her lively ensembles and share style ideas with other women  entering their prime. For Evelyn, confidence has accompanied age.
Evelyn grew up in the Bronx and spent her late teens and early 20s living in Puerto Rico. Formerly a stay-at-home mom, Evelyn is now a grandmother with an eye for bold colors, tall heels and striking jewelry.
---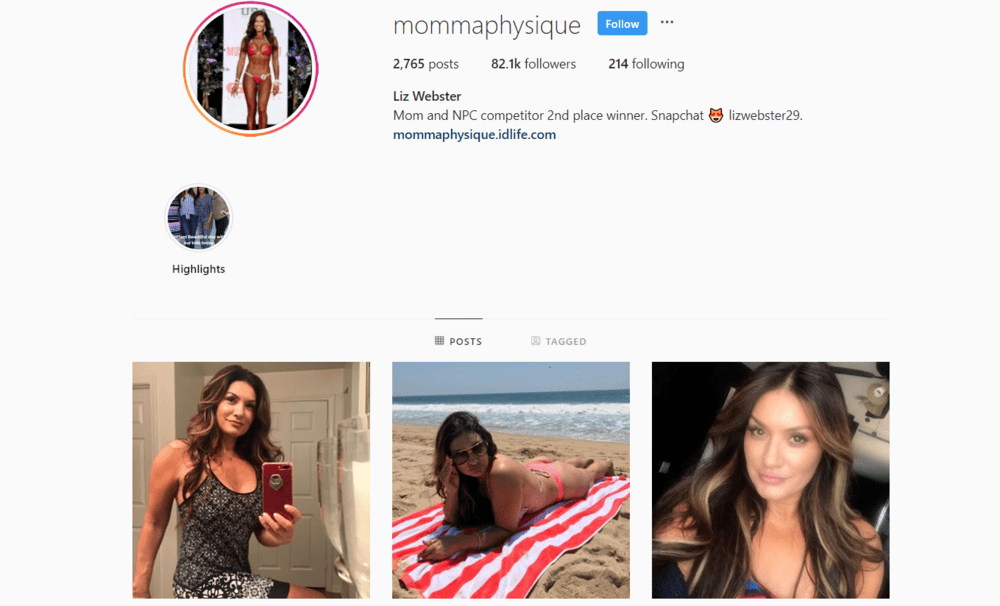 Liz Webster is a mother, hair stylist and a second place winner in the 2014 NPC bodybuilding competition as a bikini competitor. Her Instagram feed is a veritable portfolio of Webster, her partner (he's also a bodybuilder), their three kids, life in the gym, and days at the beach.
She also posts the occasional recipe and tons of gentle motivation (without her screaming  "get off your a**!" to her followers). She is also an affiliate of ID Life, a company that sells dietary supplements for athletes and bodybuilders.
---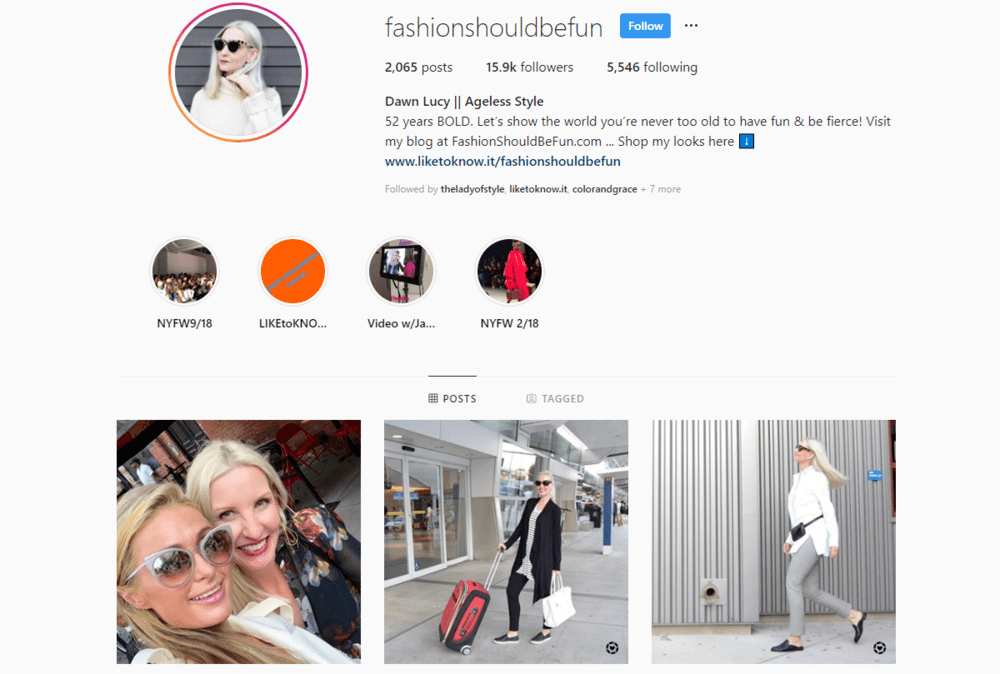 Dawn Lucy is the over-50 siren behind the over-40 style blog Fashion Should Be Fun. Lucy is a style blogger, a high school English teacher, a wife and the mom of dogs. Her Instagram feed is replete with Lucy's fresh and playful outfits, pics captured from her daily life in San Jose, California as well as her travels (it's New York Fashion Week, people!).
---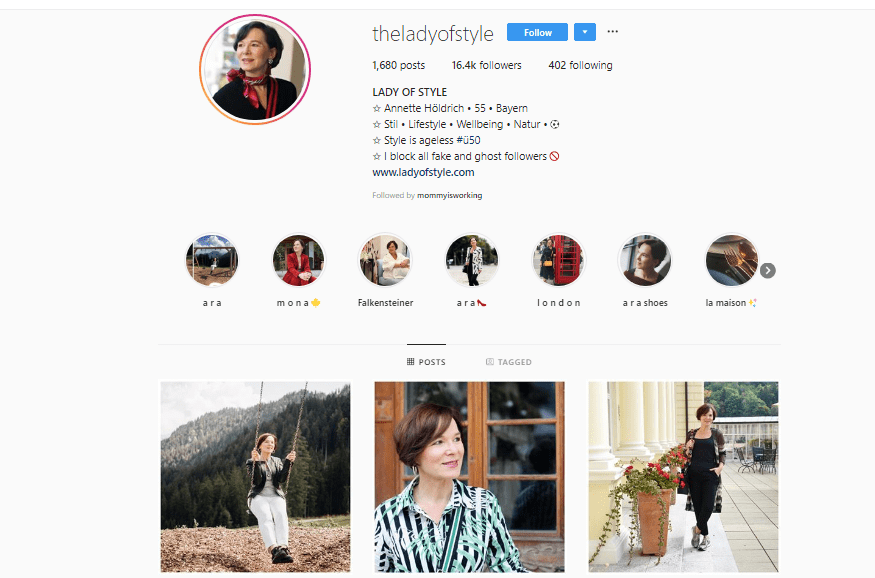 Fifty-five year-old Annette Höldrich launched Lady of Style in 2013 as a way to provide style advice and inspiration for women over 40 – transcending trends in favor of ageless style and natural beauty. It is now one of the top blogs in Germany for women over 40.
Höldrich describes her style as "elegance currently interpreted". The flip side is that she's a huge soccer (football) fan – even listing Bayern and the soccer ball icon in her Instagram bio.
Höldrich lives in Upper Bavaria where she works as an Executive Assistant and Travel Manager at NATO (she also includes professional dress ideas on her blog – which I love). You can find her on Instagram under the #ü50 hashtag.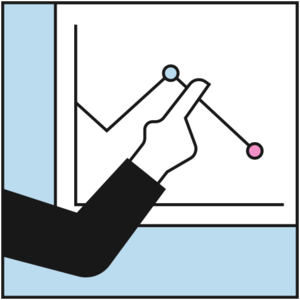 Related Post
How to Set Goals (Real Ones) for Your Influencer Marketing Campaigns [Downloadable Guide]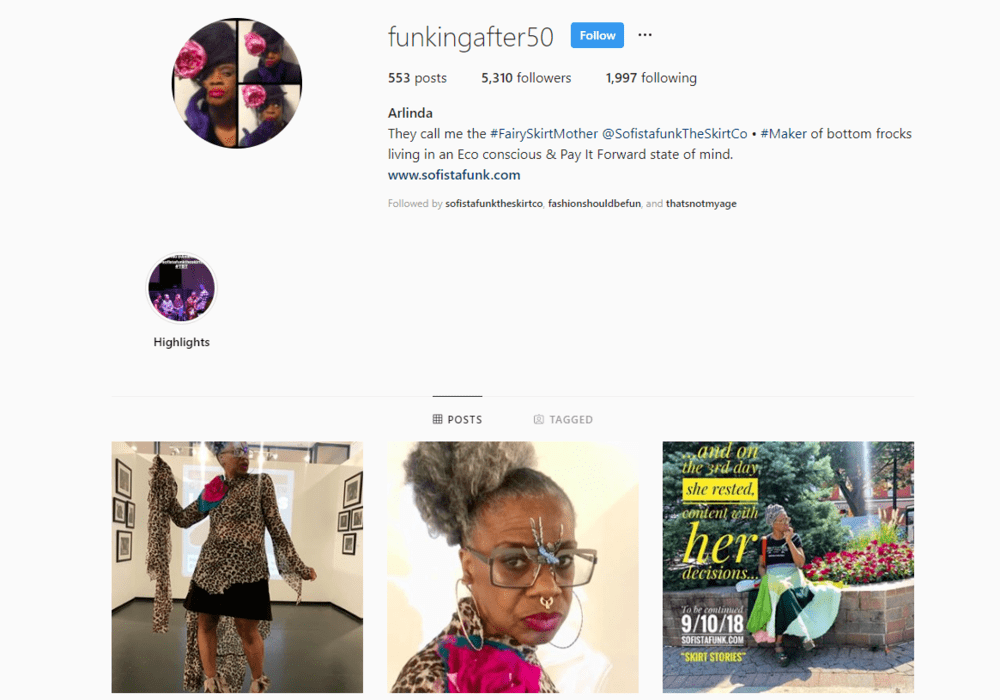 I came across Arlinda McIntosh while I was "flipping" through the pages of Alyson Walsh's blog, That's Not My Age. She was included in a roundup of over-50 influencers (along with Bon and Pon). McIntosh's out-of-the-box (read, in-your-face) style reminds me of the vibe you get wandering the streets of Midtown Detroit -100% the work of a Creative, 100% drawn from the grit and guts it takes to build something amazing out of scraps and found materials.
McIntosh is the creative director and founder of Sofistafunk, a "slow fashioned lifestyle collection of versatile zero-waste skirts". Her elegantly flamboyant skirts coupled with her low-key persona have earned her the moniker #thefairyskirtmother.
Sofistafunk is doing its part to reduce waste: "In our efforts to be more environmentally responsible, 99% cuttings are re-purposed into other useable fashion moments, so they never reach the already overflowing landfills."
---
 Helen Ruth Elam Van Winkle @baddiewinkle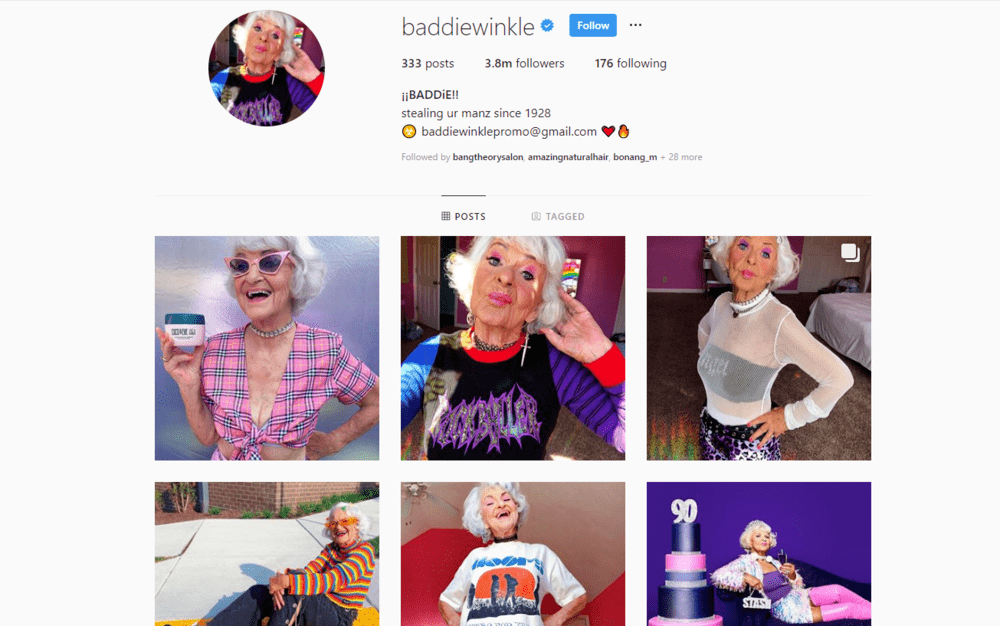 Last, but certainly not least is the infamous Baddiewinkle, the 90 year-old social media marvel from Hazard, Kentucky who – with help from her granddaughter – crafted an Internet personality that now has her on the red carpet.
Unlike over-90 influencers like Iris Apfel, who's been on our radar for decades for her work in the fashion world (she's the one in the big, round glasses), Baddiewinkle had a less glamorous job. She was a factory worker for years. In a CNN interview, the influencer said Baddiewinkle was born after her husband of 35 years died and she had trouble coping with the loss. When Helen was still grieving, Baddwinkle set about doing all the things Helen hadn't been able to do. The result – Instafame. Baddiewinkle has 3.8M followers on Instagram, and in 2016, she won a Shorty Award for Instagrammer of the Year. 
---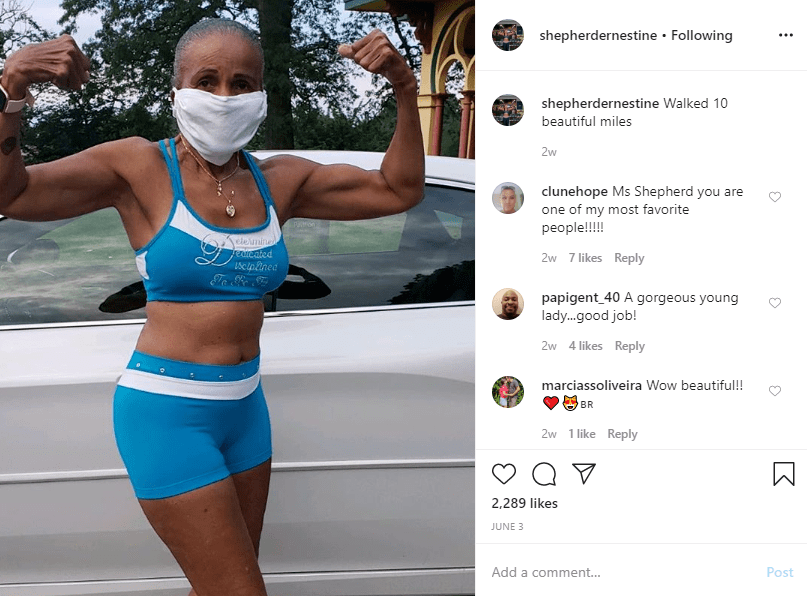 Ernestine Shepherd, social influencer and the world's oldest bodybuilder shatters typical perceptions of how an 83 year old looks, how she feels, who she is, and what she does.
She's now world-renowned, but Mrs. Shepherd wasn't always fit.  In her 50s, she was swimsuit shopping with her sister, and they noticed that they were out of shape.  After a  few well-timed  jokes about each other's appearances, they decided to do something about the way they looked and felt.  They vowed to start on a journey to health. 
This is a promise she's never broken. Despite losing her sister, she continued to push, beyond her wildest dreams. She has held the world record as the oldest competing bodybuilder and maintains a body fat percentage of 9-10% even out of competition.
  She now gives back by being a personal trainer to other female seniors. To stay in shape, Ernestine still trains and runs a very impressive  80 miles a week. Amazing!
---
All across the globe, but especially in Australia, the name Jenny Kee has become synonymous with the words fashion icon.  Her eclectic and unforgettable designs have completely revolutionized the global  definition, philosophy, and face of high-fashion
She has received numerous commissions, including the design of her breathtaking parade of costumes for the Opening Ceremony of the Sydney 2000 Olympic Games. She's even styled Diana, Princess of Wales. She knows that she's far too gifted to stop designing people, so she's also designed a housewares line for Target!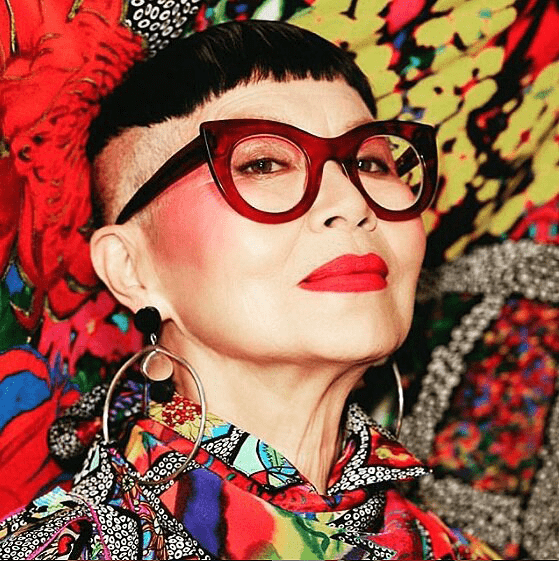 Kee attributes her success to the planet Earth, and living within nature.  She designs nothing without considering the earth  and its role in her art.  Outspoken about her love and dependency on the planet, on her website, she declares " I really cherish this earth.  It's behind everything I do"

Related Post
How to Do Blogger Outreach (Includes Templates)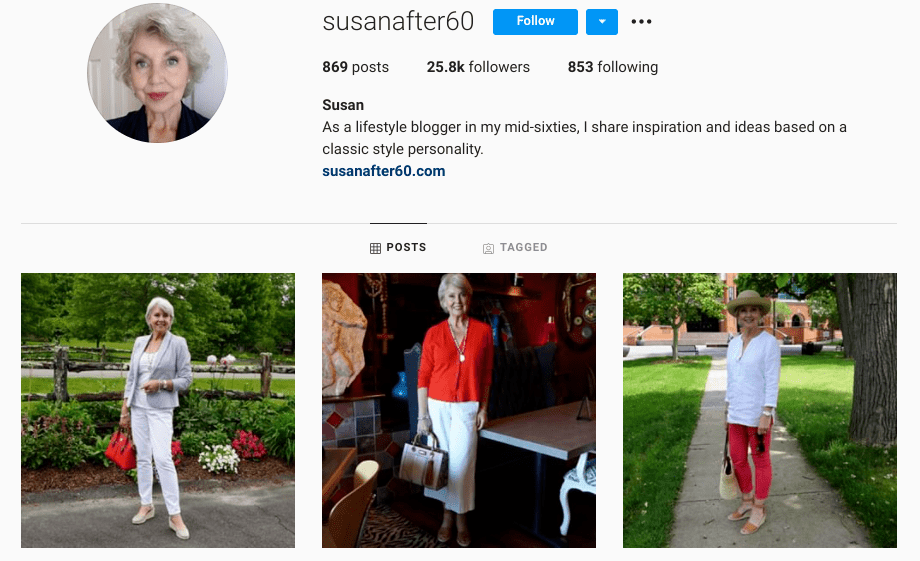 Frumpy, divorced, and homeless.  Like other superheros, Susan's story began with pain, and heartbreak. A decade ago she was unhealthy and in a battle for her life.  She suffered from diabetes, hypertension, and there were times when she didn't even want to leave her home. One day she took a look at herself, and came out of agreement with the shrunken-back, illness-ridden version of herself.  She decided to do something about it.  
She turned to healthier life choices, and lost about 50 pounds.  That's when she decided that she'd never go back to her old self.  Not only did she come out of her dark season victoriously, but she does all that she can to make sure no other woman experiences that pain. 
The influencer formally known as Fifty Not Frumpy has amassed a large following on both her blg and social media and inspires women all over the world, shattering generational barriers.
Gracefully grey, and enveloped with unmistakable style and confidence, Susan feels better now than she did in her thirties!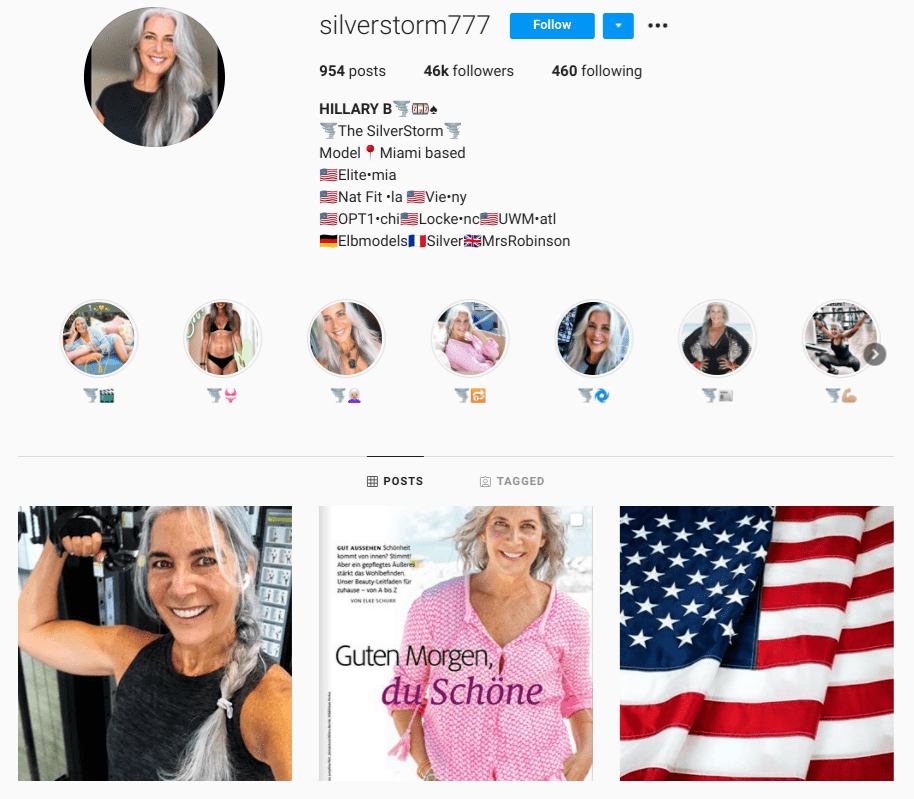 Hillary B, Or @SilverStorm as she's known on social media is a Zumba instructor turned model. Beautifully playful, her face is adorned with freckles, and an unforgettable smile. As a teen she searched for modeling jobs but was rejected because she didn't have the look that was thought to be "All-American". She didn't have blonde hair, or fit into society's unrealistic mold of beauty.
She wasn't deterred. She refused to change who she was,  She wouldn't even consider dyeing her hair. And to this day, she's still never altered her hair color.  Fast forward. At Age 50, she got wind of a position as a Zumba instructor- or so she thought. Once she arrived, she realized that the job was for a model, and she had everything they were looking for. She began her modeling career then. 
Her minimalistic, effortless beauty is impossible to ignore. She is the true embodiment of good things coming to those who wait. Along with Cindy Joseph, She now also works to spearhead the Boom Movement, A Pro-Age Revolution. Her mission is to do away with the stereotypes of old, and dispel myths and misconceptions about aging. 
In a post featuring her as the first Boom Brand Ambassador she shares her simple morning beauty routine with her audience. Hillary is quoted as saying "I have freckles. I have lines. And I have no desire to cover them up!" Legendary!
---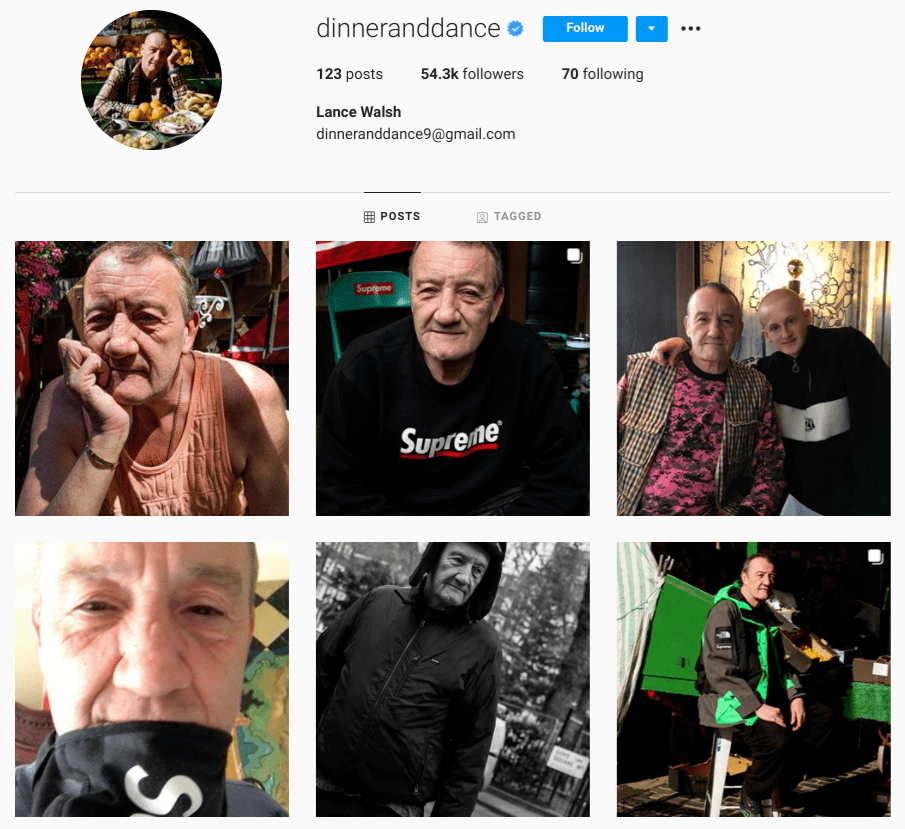 For over 30 years, Lance has serviced the wonder people of London, England as the owner of a fruit stand. He appeals greatly to GenZ-ers because of his vivid, fashionable appearance. His business is located outside of the Supreme's Soho location. In 2012, he became interested in the Supreme brand, and started collecting articles one at a time-starting with a simple hat, and buying one additional piece when his budget allowed. 
Lance, a father of three must seem like the coolest dad in the world to his children who are young adults; Although he seems to be  unfazed by the attention he receives on a daily basis. If you're ever in the area, stop by and say hello. This influencer won't be hard to miss! The bright colors he wears remind him of exotic fruit. People's preconceived notions may make it appear as though he's outlandish.He insists though, that he doesn't purchase or wear anything impractical, no matter what it is.
 Photographer, Ben Awin whose usual clientele is well-dressed urban youths,  couldn't help take immediate notice of Walsh as he stood  dressed in Supreme from head to toe. Awin posted a pic online of his elder protege. 
As a result, locals say he's become a tourist attraction of sorts. Fasn gather just to meet  and take pics with the unexpected influencer. HypeBeast features a documentary on Walsh on their site. Take a minute and watch Supreme Reality!
---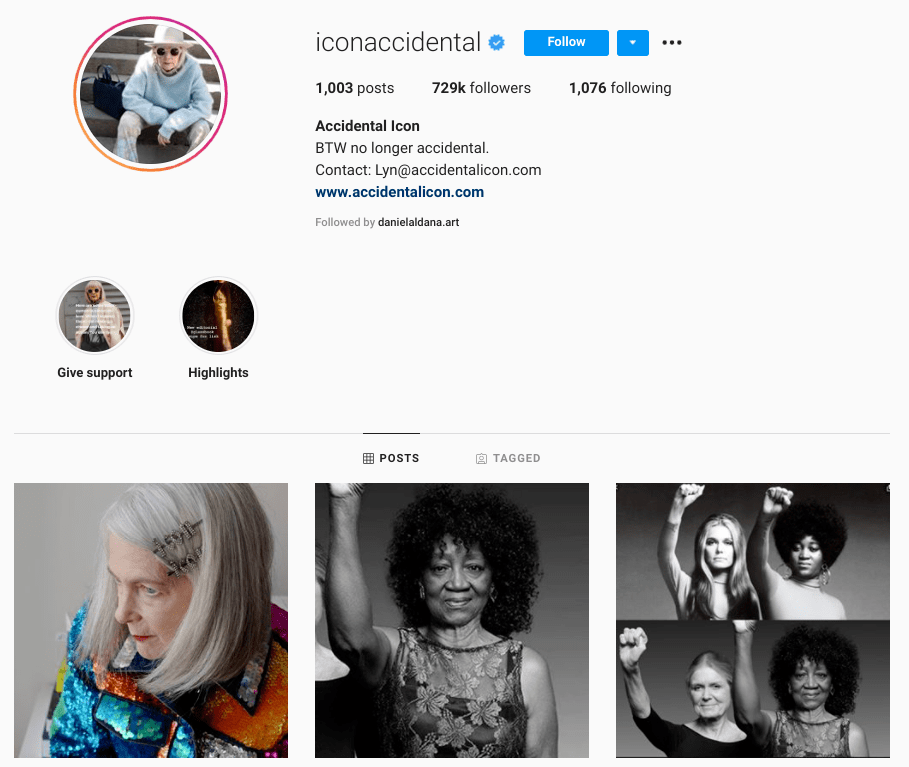 Lyn Slater,  an Associate Professor at Fordham University Graduate School of Social Services remembers the day she became the Accidental Icon. Waiting for a friend outside during fashion week, she was suddenly swarmed by hordes of thirsty photographers, journalists, and tourists who assumed, because she was so well-dressed that she must've been a fashion icon.  
She was wearing a perfectly tailored Yohji Yamamoto suit and her arm was adorned with a Chanel bag. As the chaos died down, and she sat down to lunch with her friend, they laughed. Her friend joked "You're an accidental icon!" Lyn knew that would be the perfect name for a blog.
And what an amazing blog she's built.  She embodies the idea of living a life unrestrained by societal norms and biases.  She's designed her blog in such a way that it targets and caters to 'Women who live interesting but ordinary lives.' I found it almost impossible to stop reading as I was offered a seemingly exclusive look inside her very intriguing everyday life, as she shared victories, frustrations, and even bad hair days!  
Never once mentioning age or aging, Lyn offers her readers advice- allowing them to glean from her ample wisdom. After sharing her life, and teaching readers everything from how to pair your earring with your personality to self-reinvention, she wraps up each post with calls-to-action; urging participants to share their lives as well.
She's mysterious, poised, and is indeed iconic. And she knows it!  She's changed her Instagram bio to reflect that she's  a 'No Longer Accidental Icon'. Epic!
---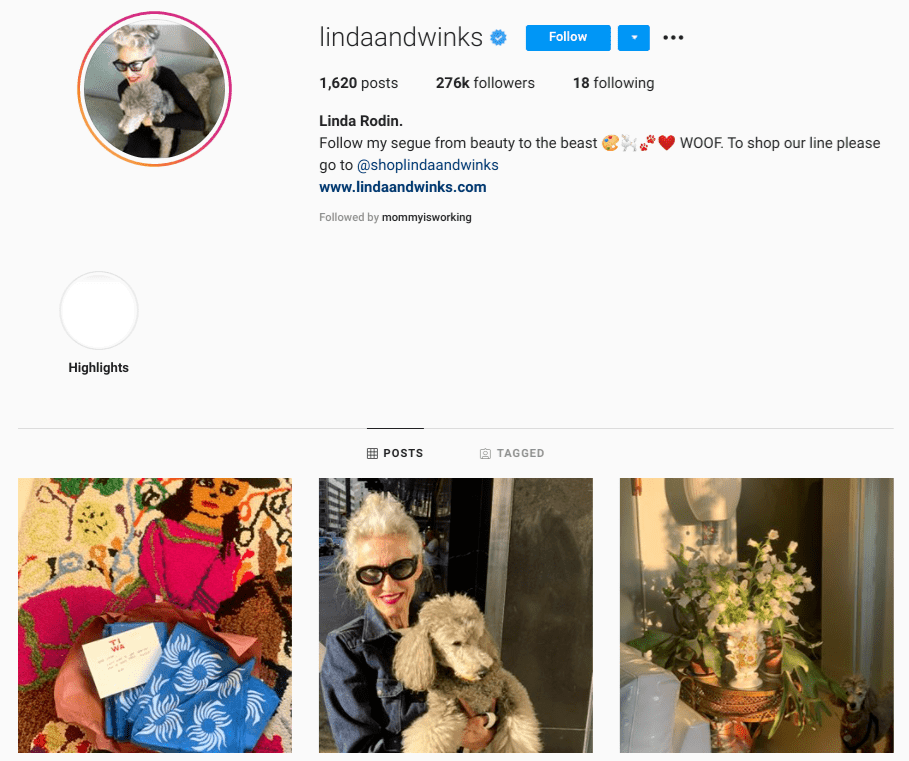 Linda, crowned with ageless beauty, has been turning heads for decades!  Starting out as a model in the sixties, Linda excelled, and moved up in the fashion industry quickly.  She began exploring many opportunities; Climbing the perfectly accessorized ladder to success.
She went from fashion buyer, to consultant/stylist of A-listers, icons and elite brands. She also rose to the ranks of a boutique owner. Inevitably, she found her sweet spot as the Founder of beauty brand RODIN olio lusso. The beauty mogul formly believes that "there is beauty in simplicity". She cites it as a philosophy that has helped shape her career. After only six years of operation, Estee Lauder acquired the company. Her unmatched face oil formula was a major consideration in the acquisition.  After reaching the pinnacle of her career in human fashion, Ms. Rodin shattered expectations by pivoting into a slightly different niche. 
Sporting a beautiful head of platinum grey hair and oversized specs, Linda is rarely seen without her nine year old best friend and business partner, Winks. The adorable, fashion-conscious poodle is Linda's muse.  Winks is the inspiration behind Linda and Winks, a haberdashery of sorts for you four-legged family members.  
Sticking to her simplistic design ideology, the shop carries a single tote design, a single flavor of beautiful flower shaped dog biscuits, and a collection of leash and collar sets Ten percent of all Linda and Winks proceeds benefit The Humane Society of New York. with nostalgic names like Wild Thing, Mellow Yellow, and Aunt Dottie (who ran an amazing hat shop when Linda was a teenager). Similar to other growing fashion empires, inclusion is very important. Linda is careful to mention on the site that these products aren't for poodles only! 😍
---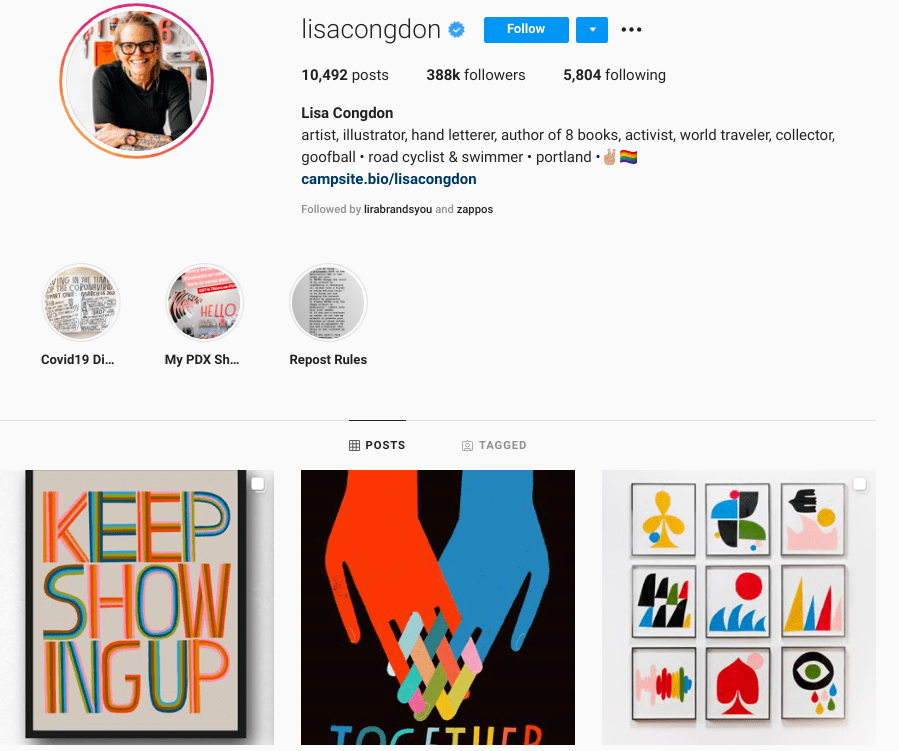 Let me share something with you. Close your eyes. Oh…wait..then you can't read with your eyes closed. Okay, keep them open. Now imagine you're a healthy, happy seven year old. The world is your playground. Anything is possible. 
Colors are brighter, the world is safe, you have endless energy, you can grow up to be a superhero and unicorns are probably real. Scratch that. They're definitely real! Look up into the clear blue sky of your imagination's past. Notice the vivid birds flying overhead? See the beautiful bright contrast of flowers? (Mine are royal blue and orange). The world you've created is pretty awesome. Huh?
This is EXACTLY how Lisa Congdon's art makes me feel.  She has an awe-inspiring way of translating her thoughts and imaginations onto the canvas, and nothing can compare.  I wonder what it must be like to be able to convey a complete sequence of ideas using brushstrokes.  It's profound. Poetic almost.
Lisa inspires me. Something about her is intriguing in the best way.  She captivated me immediately. I find it hard to look away. Every smile, every sentence, every train of thought challenges me to be more.  Maybe it's because of her "Do It Anyway" mantra.  Maybe it's because she's a self-taught artist who never even went to art school. Let alone picked up a brush until her thirties.  She used social media as a platform to give it a go- just to see if she could get herself out there.  Now she's globally sought-after. 
Again like most superheroes, Linda's "powers" are a result of painful, perceptually tragic change. Twenty years ago Lisa was a school teacher by trade. She was transitioning from childhood education to the nonprofit sector. As if that wasn't a big enough weight, she and her romantic partner were ending their 10-year relationship. She needed to find a safe place- even if it was in the form of a new hobby. Her art was born. The rest is history.
In a very relatable admission, Lisa shares that she still struggles with insecurities and can sometimes be apprehensive about sharing her art and herself with the world, but she cites the key to success as doing it anyway. 
Across social platforms, on her blog, in her published works, and as a Skillshare instructor, she constantly urges creatives to acknowledge those times of uncertainty as part of the creative process, and push through to the other side. She reassures her community by saying "Begin despite your fears or whatever roadblocks you think are in your way. Let go of the excuses and justifications, and begin anyhow."
---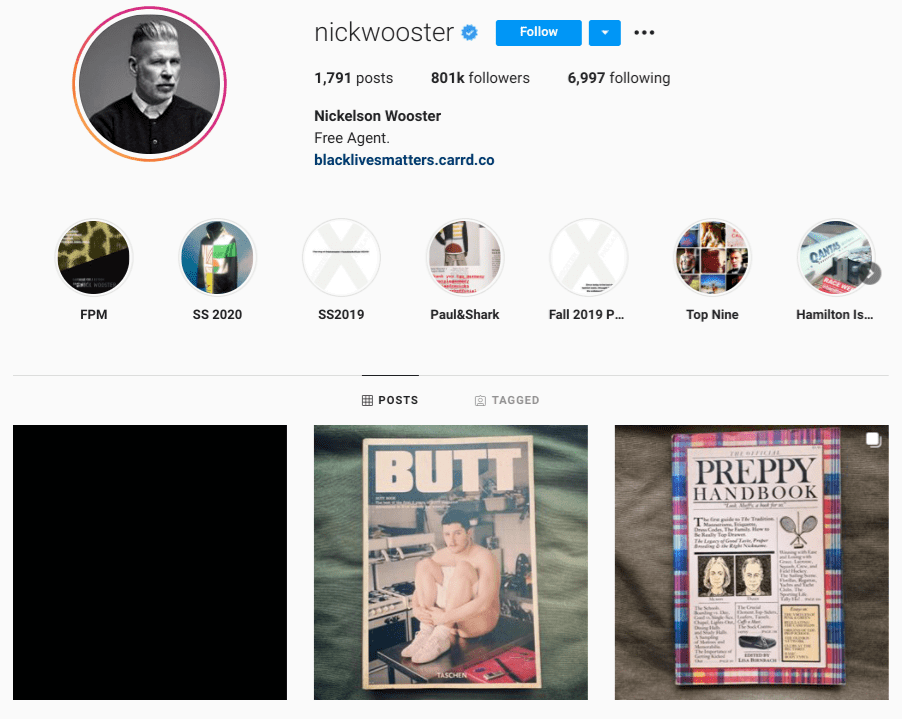 Sophisticated, stylish, sexy, confident, gaze-worthy. That's what comes to mind when I see Nickelson Wooster. Have I ever mentioned that I'm a black millennial from Detroit? Yeah. Let that sink in. 
I'm just as stunned by what I said as you are. But there's something undeniable about Nick. We're not talking silver foxes here, this dude hits unicorn levels. I'm talking OVER 9000!!! Have you noticed that he can pull off a pompadour? He has an air about himself that the Dos Equis guy can only dream of. May I suggest to you that Nickelson Wooster is in fact the most interesting man in the world?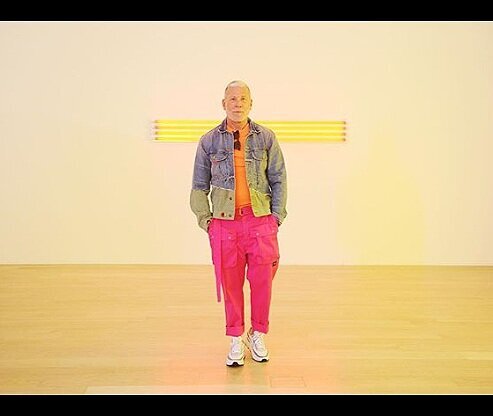 Born in Salina, Kansas , Wooster had an eye for fashion in his early years.  In junior high school, he noticed the disparities in clothing quality between the "rich kids" and himself. That didn't stop him. He looked for ways to improve on current style trends, and hated to wear any ensemble more than once. His mother quickly brought him back to reality when she suggested that he get a job to buy the additional clothes that he wanted.
Nick is no stranger to adversity, but he's never allowed himself to stay down. Growing up as a member of the LGBTIQ community in Kansas in the 70s wasn't easy, neither was beating drug addiction. But after college he made his way to New York where he thrived in the fashion industry, and this year, we'll celebrate 25 years of sobriety. Congratulations, Nick! You inspire us!
---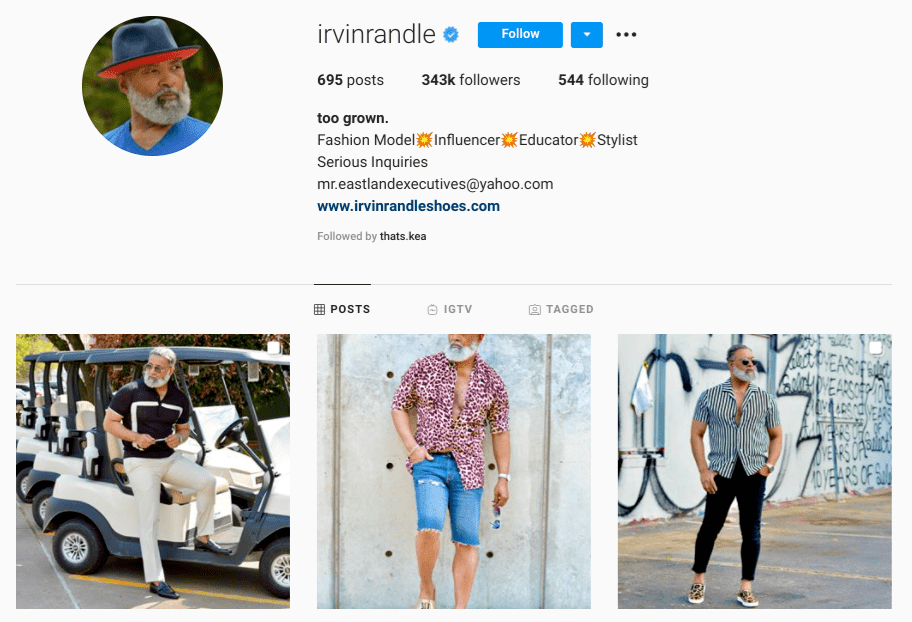 Nick-named, #MrStealYourGrandma on Instagram, Irvin Randle has 'drip' that transcends generational boundaries. The 58-year-old Houston native has a background in education that he remains true to. Being pursued by talk shows, media outlets, and the demands of his fans never takes a backseat to the passion he has for education.  He has dedicated his work and website to education.  
Pushing the philosophy that coordination is key, Randle offers personal style guidance, grooming advice, and fitness advice to men over 50. He even suggests grooming products categorically, intentionally pairing fragrances to create balanced notes.
Admittedly, his physical attractiveness is what grabs your attention, but what keeps it is the value he provides. He's worked with AARP, and has been featured by Essence, USA Today, The Real, and on The Wendy Williams Show!

Related Post
Reusing Influencer-Generated Content (How To + Best Practices)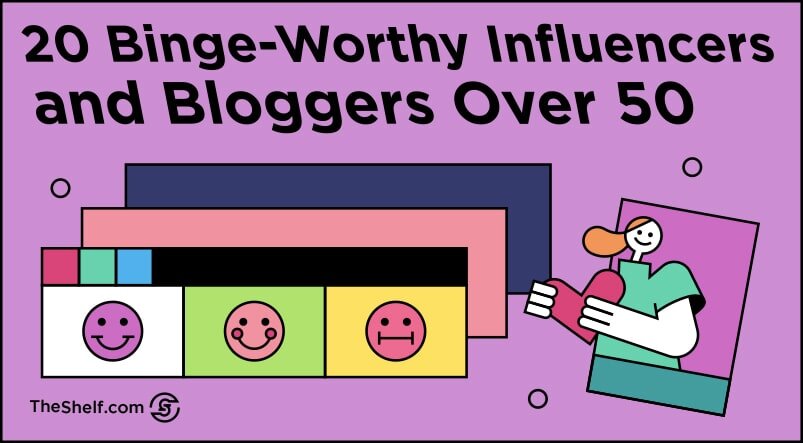 The Big Wrap-Up
This isn't the end of the list. There are tons more over-50 and over-60 influencers who are building their audiences on Instagram. The twelve Gen Xers and Boomers featured today are just a handful in a sea of mature influencers with what author Ari Seth Cohen calls "advanced style".
Do you need influencers for your next big product push? Ramping up sales? Drumming up leads? Influencer marketing – when done right – delivers the kind of consistent returns you just can't get with your PPC ads. Let us help you.