Baby Boomers are an incredibly powerful marketing demographic, responsible for billions of dollars in spending annually — and if you're not marketing to them in the right way, you could be missing out on tremendous opportunities. In this listicle, we'll share why watching Baby Boomer trends and digging into what drives the purchasing decisions of Baby Boomers creates a great opportunity for brands to boost their awareness and sales.
What's A Baby Boomer?
Baby Boomers are the demographic born between 1946 and 1964, and they account for a whopping 70.23 million people in the United States alone. Boomers are part of the cohort of people born during the post-World War II baby boom that started in the mid-1940s and continued through the early 1960s.
The post-war baby boom was largely attributed to increased economic prosperity. Many families chose to wait until the end of the depression to try for their kids. Couple this with millions of soldiers coming home from fighting WWII with a G.I Bill which allowed them to purchase homes, obtain formal education, and ultimately provide for a family. Almost exactly 9-months later, a baby boom started.
Many Marketers Have Outdated Notions of What a Boomer Looks Like
Brought up to appreciate hard work, value education, and fight for what's right, Boomers have been present to witness virtually every major cultural event in the past 75 years. They're tech-savvy, healthy, active, and independent.
Did you see Angela Bassett's arms as Queen of Wakanda? Or Keanu Reeves as John Wick? Tom Cruise is still out here doing his own stunts for the seventh AND eighth installations of Mission Impossible films. The clip below, we grabbed from the YouTube channel of Paramount Pictures. This footage was released in December 2022.
7 Characteristics About Boomers You Need to Know, and How to Address Them In Your Marketing
Chances are when you think of Boomers, you're getting the wrong idea. For some unfortunate, bottom-line-diminishing reason, brands tend to miss the mark when crafting traditional or influencer marketing strategies and analyzing the spending habits of Baby Boomers. But these mature consumers are willing to spend money with your brand IF you market to them properly.
#1: Boomers Are Influential. So, Let Them Influence.
Marketing campaigns shouldn't only target Millennial Moms and Gen Zers; marketing to Baby Boomers is essential for success. Not only do Boomers have control of their own $7 billion of annual online spending, but they are also critical influencers in the lives of their adult children, young adult grandchildren, and even great-grandchildren.
These adults have a lifetime of experience building relationships that span beyond marketing products to creating personal bonds with people in their lives. As Boomers age and life expectancy increases, they are increasingly investing in younger generations — whether it's college tuition or buying the latest tech gadgets for their grandkids.
Boomers are now more likely than ever to be a member of a multi-generational household.
In marketing to Baby Boomers, you can reach multiple generations with a single marketing campaign: the Gen Xers, Millennials, Gen Zs, and Alphas who are influenced by their parents' and grandparents' spending habits, as well as the Boomers themselves.
#2: Boomers Love To Shop Online
For years marketers have overlooked opportunities to market to Boomers online. This may be because Boomers are known for their in-person shopping preferences. Any marketer worth his or her salt knows that the decision phase is only one part of the buyer's journey. It's 2023 for crying out loud! Consumers (of all ages) are using the internet to discover, research, review and compare products before ever stepping foot inside a store.
Boomers are no exception to this trend. They are the fastest-growing e-commerce demographic. Consider this: 86 percent of Boomers in the US did their holiday shopping on Amazon.com in 2022.
It doesn't stop there! Forty-five percent of Boomers have discovered new products on the internet in the last 3 months. An overwhelming majority (59 percent) of those polled say online search is the primary channel for uncovering hidden gems.
This means marketing to the over-60 crowd requires creating content marketing strategies, thoughtful influencer marketing campaigns, and digital marketing targeting.
#3: Baby Boomers Also Love Loyalty
Baby boomers are the most loyal generation of consumers. They're reluctant to try new brands and products, but when they like something, they generally stick with it. This is great news for your brand for obvious reasons.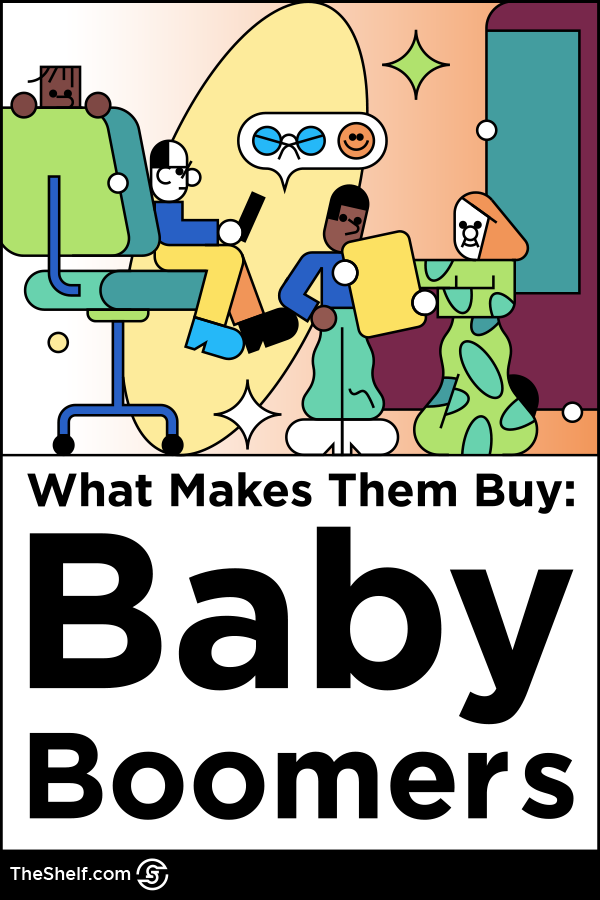 Loyalty to brands is especially strong among older generations, who value the affordability of their products. In a study conducted by Oracle, participants identified three primary reasons for brand loyalty: Fair pricing, product selection, and quality. Both Baby Boomers and Silent Generation consumers prioritized fair pricing as the most important factor when choosing their favorite brands.
Good service from decent people. While price is the most important, What makes Baby Boomers buy again and again is providing a high level of attention and service. Coming from a traditional background, they were brought up believing that the customer was always right and quality service was more important than any product.
My aunt is a Baby Boomer. She loves to go to breakfast at a particular diner in Oak Park, Michigan. She's been going there for years and has formed relationships with the staff. When she visits, they always greet her with a warm welcome and give her great service that keeps bringing her back.
Each time I go with her, I can't help but think, "This has got to be because of the service". The carpet is old, the chairs are pink and outdated (I'm positive that those chairs are older than me), and the place never really looks clean. I will never understand her love for that place!
Values. Another way to the Boomer's heart is to stand for something they believe in. Baby Boomers are more likely to be loyal to a company that shares their core values and makes them feel as though they are being heard.
Ben & Jerry's does a phenomenal job at this. For decades it used marketing campaigns for social justice causes. This resonates with the Baby Boomer generation as many were involved in civil rights movements in their life.
Although Millennials and Gen Zs like to consider themselves woke, and socially conscious, and they have been praised for their progressivism and social consciousness, older generations are more likely to take into consideration a brand's values and community contributions when making buying decisions.
Baby Boomers are marketing gold when you consider their loyalty, desire to build relationships, and expected level of customer service. With marketing strategies tailored toward Baby Boomers, your products and services have a much better chance of being seen
.
#4: Baby Boomers Are Active On the Socials
If you've spent any amount of time on TikTok, you've no doubt seen the video of the senior discovering a "Snapping Turla" on her property. At the time of writing this, the original video has 1.2 million views, and the sound has been used 5.6 million times.
Not only do Boomers like to use social. Everyone else loves when they do too! The fact that the Baby Boomer generation is now actively engaging with social media marketing should be good news for marketers hoping to tap into this segment of consumers.
While only two percent of Boomers polled (Statista) reported using TikTok, 78 percent of U.S. Boomer and Senior respondents stated they use Facebook, compared to 71 percent of the general online population. Next is YouTube (67 percent), then Pinterest (40 percent).
With the help of Facebook, Boomers stay connected with their loved ones and informed about current happenings in their area. Furthermore, this platform has even started to sway how they decide what products to buy! It's a win-win!
Not only does social media marketing allow companies to reach a wide audience, but it also allows them to target marketing strategies for baby boomers more precisely. Companies can use data collected from social media marketing to understand what products baby boomers buy and what activities they enjoy spending their money on.
Facebook, for example, allows companies to target ads based on a person's age, interests, and topics discussed in posts. This marketing strategy can be used to create marketing campaigns tailored specifically for the Boomer generation that resonate with them and are more likely to convert.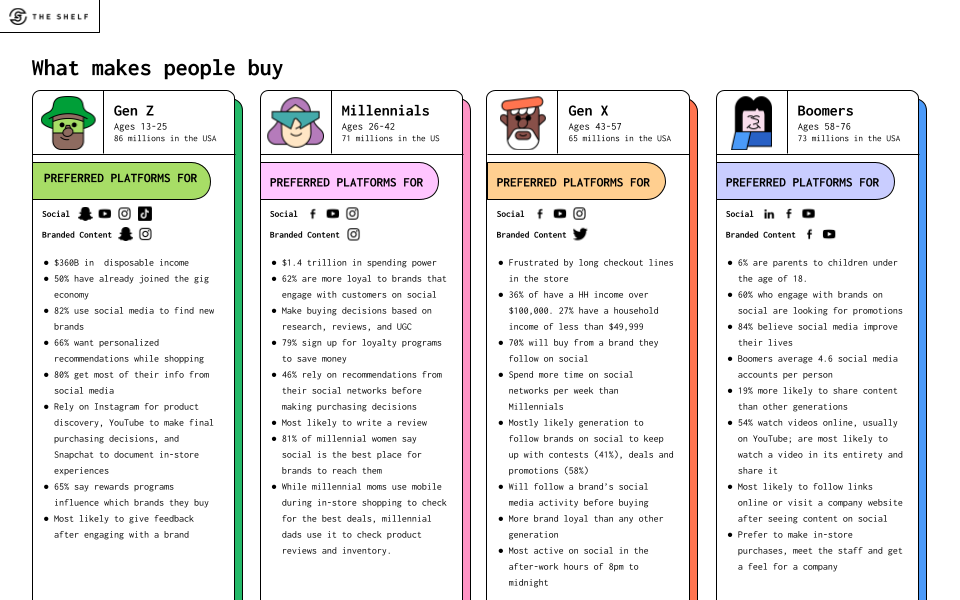 5: Boomers Ain't Going Nowhere…Have You Seen Them?
During my lifetime, my dad has celebrated "his 26th" birthday 40 times. Literally 40. While he can no longer pass for 26, He certainly doesn't look 66 years old. Baby Boomers are not the seniors of generations past. I think I know more millennials that like rocking chairs and knitting than Boomers.
They have a lot of living left to do and they are actively doing it! With more free time on their hands, Boomers are traveling the world, participating in philanthropic activities, and living their best lives.
They're not getting any younger, but due to technological advances and medical innovations, the average life expectancy is increasing each year. In a historic milestone, the US Census Bureau estimates that by 2034, for the first time in history, older adults will outnumber children under 18 years of age.
6: Boomers? They Got Money!
The U.S. Census Bureau According to a survey conducted by USCB, Baby Boomers hold almost nine times more wealth than Millennials. This mind-blowing research revealed that Baby Boomers boast the highest median wealth of all generations, excluding home equity – with a hefty $90,060!
The Silent Generation (those born between 1928 and 1945) come in second at $72,280. Gen X trails closely behind them with their median wealth amounting to $48,070 while Millennials tot up to an impressive sum of $13,110, and Generation Z clocked in at two-thousand dollars ($2,000).
The financial success of Baby Boomers is a result of their commitment to accumulating wealth and investments over time. Furthermore, Baby Boomers are increasingly active in the stock market.
Astonishingly, Vanguard Group reported that nearly one-fifth of their retail clients in the age range 65 to 74 have up to 98 percent of their portfolios allocated into stocks. A report from the group reveals that 40 percent of investors aged 60-69 who are associated with Fidelity 401(k) hold 67 percent or more of their portfolios in stocks.
Boomers have so much money that by the year 2030, millennials are poised to inherit a net worth five times greater than what they currently have. It's projected that this generation will inherit over $68 trillion from their boomers during The Great Transfer of Wealth.
#7: They'll Open Your Emails!
If you're looking for marketing strategies for baby boomers, you don't want to miss this one! Email marketing is one of the most effective ways to reach baby boomers. Research has shown that they are more likely than any other generation to open emails and respond–so if you want to make sure your marketing efforts hit their mark, this is a great place to start.
With email being the preferred medium for communication by an overwhelming 74 percent of Baby Boomers, it indicates that this generation considers it to best channel to receive communications from brands. This isn't an invitation to spam their inboxes though. 68 percent of Baby Boomers said it was acceptable for brands to contact them digitally regarding a purchase, while over half (53 percent) expressed that being contacted with offers or deals on digital platforms was alright.
Conclusion
Baby Boomers are indispensable and valuable to every brand. It may take more than a trendy meme or a pretty post to get them on the hook, but tapping into this marketing group's needs and wants can bring great rewards to your brand.
To curate your marketing for Baby Boomers, you should take the time to invest in communicating the value of your product. Be socially responsible and tailor your efforts to their values, interests, and needs. As long as you offer marketing content that resonates with them, Baby Boomers will be happy to invest their time and money in your product. Your brand will thank you for generations to come!
Baby Boomers and Influencer Marketing go hand-in-hand. Trust us! With decades of marketing experience, our marketing experts are uniquely equipped to help you reach this valuable demographic.
We understand how Baby Boomers think and what products they buy. From the research and marketing techniques to get their attention, The Shelf can help you stand out from the competition every step of the way and design marketing strategies for baby boomers. Book A Strategy Session today to learn more!
---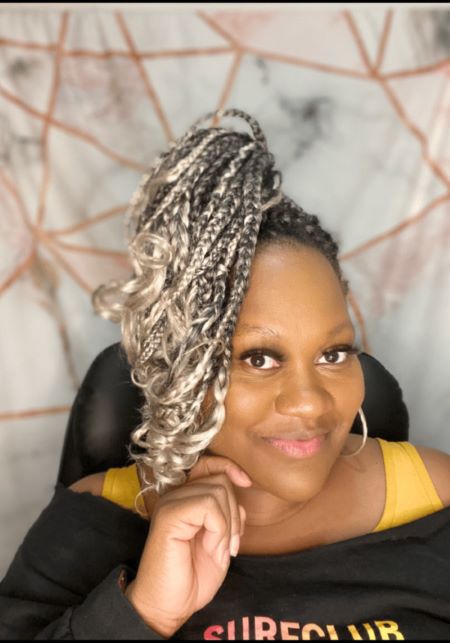 About This Author
Lira Stone | Effective, Magnetic Strategist
For over a decade, my focus has been ensuring that professionals stay ahead of the curve in the most time-efficient, task-prioritized, and stress-free manner possible. My extensive experience has equipped me with the knowledge to design a concise, company-culture-relevant, methodical approach to internet sales and marketing.
---