As the leaves begin to fall and a mysterious chill fills the air, there's no denying it. Spooky Season has arrived! Here at The Shelf, our excitement knows no bounds. We have the privilege of collaborating with a diverse array of creators, each bringing their unique touch to their craft. But when October rolls around, there's a special group that holds a dear place in our hearts — Halloween influencers.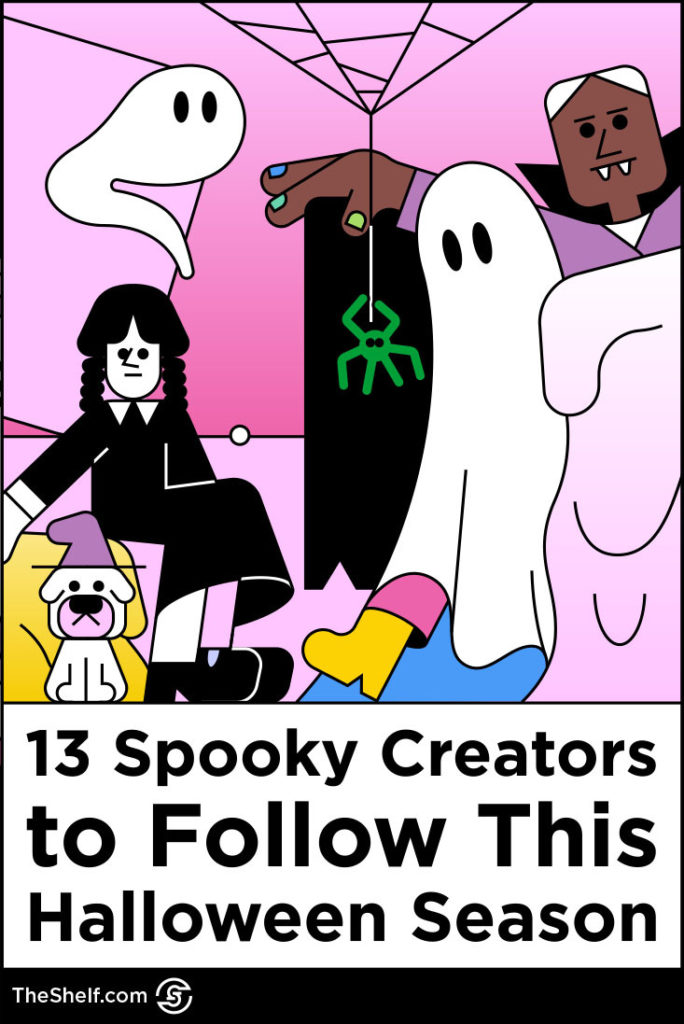 Our Favorite Halloween Influencers Serving Up Chills and Thrills
These are the creators who, with their passion and talent, truly encapsulate the essence of this haunted holiday. We're talking about the makeup maestros who can transform faces into eerie entities. The DIY crafters who bring to life the most ghoulish of designs. And the decorators whose spaces brim with all things supernatural. To celebrate, we've curated a list of our top 13 (a deliciously spooky number) Halloween influencers. These creators will fill your feed with every phantom, poltergeist, and pumpkin imaginable. Dive in, if you dare!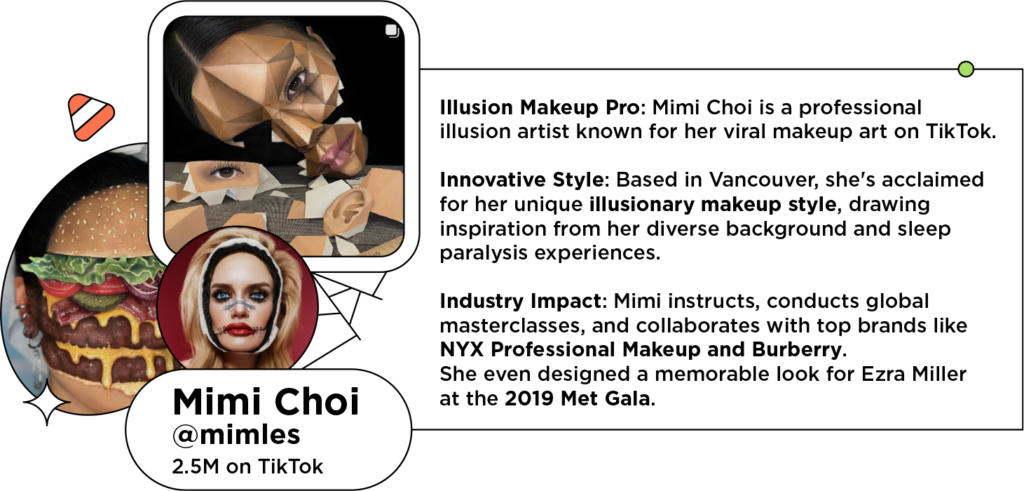 Mimi Choi is THE professional illusion artist. Her insane illusion makeup art is taking TikTok and the whole internet by storm. She is based in Vancouver and acclaimed for her innovative illusionary style. It's earned her international recognition and a substantial following on most platforms since her graduation from Blanche Macdonald Centre in 2014.
Originally from Macau, she immigrated to Canada in the 1990s. She melds inspiration from her diverse background, surreal art, and vivid sleep paralysis experiences to create her distinctive, macabre looks.
In addition to instructing at her alma mater, Mimi conducts global masterclasses. She also works as a freelance artistic director for prominent brands, such as NYX Professional Makeup and Burberry. Her transformative work has been featured across various platforms in pop culture. In 2019, she designed the widely acclaimed Met Gala look for actor/model Ezra Miller.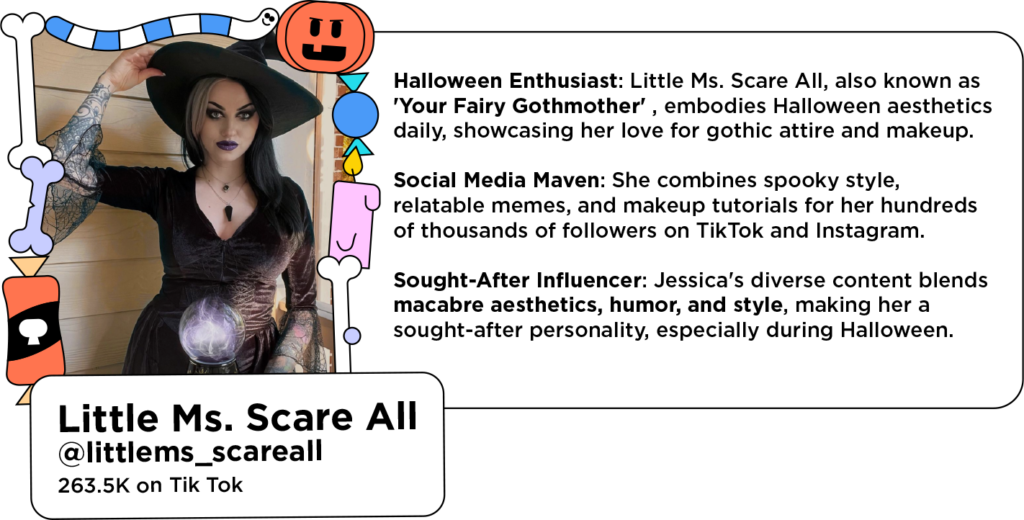 Known as Little Ms. Scare All or 'Your Fairy Gothmother,' Jessica Smith embodies Halloween aesthetics every day, showcasing her passion for gothic attire and makeup. She delivers a unique blend of spooky style, relatable memes, and insightful makeup tutorials.
Her content serves a vast audience seeking macabre aesthetics fused with humor and style. It's no wonder she's a sought-after personality, especially during the Halloween season. Fans and fellow Halloween creators alike flock for her enriching and creative insights.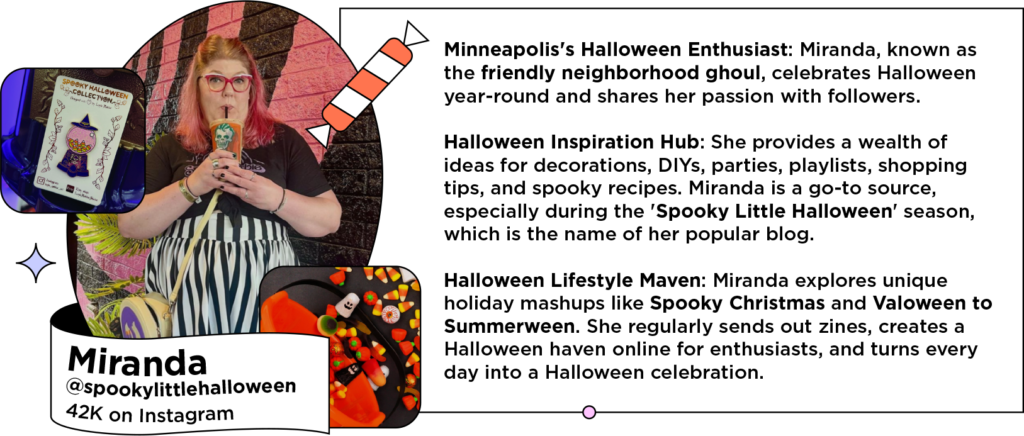 Miranda is Minneapolis's friendly neighborhood ghoul. Like many other creators on this list, she loves to celebrate October 31st year-round. She enchants spooky enthusiasts with inspirations for decorations, DIYs, and parties on her blog. And she goes the extra mile supplementing them with enthralling playlists, optimal year-round shopping spots, and festive recipes.
During the Halloween season, she diligently informs her followers about the newest spooky products on store shelves. But her holiday haunts don't stop there. She explores the amalgamation of various holidays with Halloween-themed twists, such as Spooky Christmas and Valoween to Summerween.
Fans look forward to a sprinkle of spookiness in their mail when she periodically sends out zines and full-size magazines. (The 2023 edition is currently available in her shop.) For aficionados of the Halloween lifestyle, her corner of the web serves as a perfect refuge. There, every day is a Halloween celebration.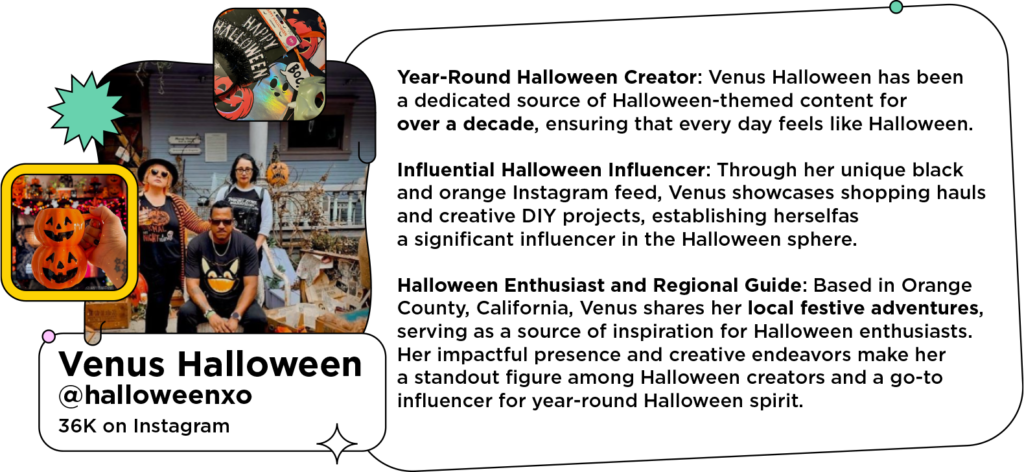 Venus Halloween, a year-round Halloween influencer, has been a source of festive and spooky content for over a decade. In her world, every day is a Halloween celebration.
With her distinctive black and orange Instagram feed, Venus unveils a mix of shopping hauls and innovative DIY projects. This year, she is actively participating in #31mugsofhalloween, revealing a unique Halloween-related mug each day.
Residing in Orange County, California, Venus frequently shares her regional festive adventures. She's a source of daily inspiration for Halloween enthusiasts in SoCal and beyond. Her impactful presence and creative endeavors make her a standout figure among Halloween creators. She's a go-to influencer for those seeking to immerse themselves in the Halloween spirit 365 days a year!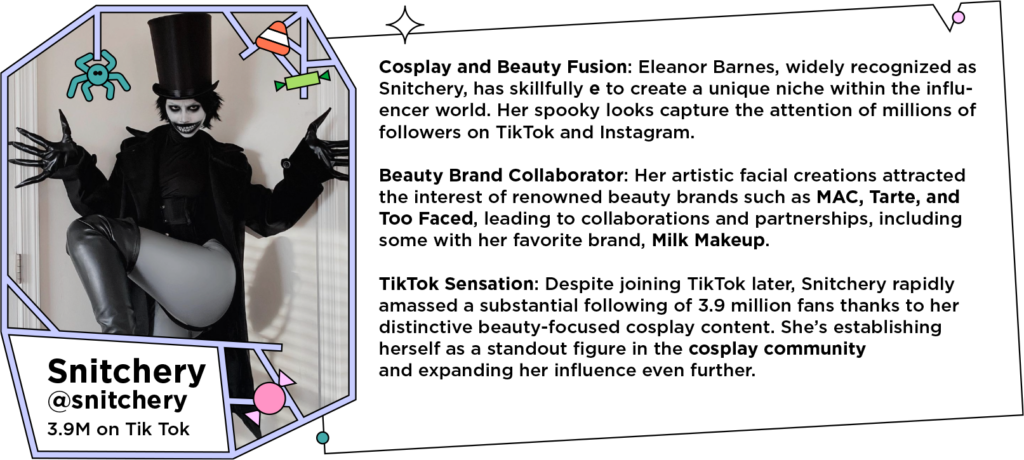 Eleanor Barnes is better known as Snitchery to her millions of followers across TikTok and Instagram. She has effectively merged the realms of beauty and cosplay, shaping a unique niche in the Halloween influencer world.
Her artistic facial creations have captured the attention of numerous beauty brands. She's worked with household names like MAC, Tarte, Too Faced, and her favorite, Milk Makeup.
Eventually, Barnes transitioned her content focus to beauty-centered cosplay. Her long-standing passion garnered support from brands like Fenty Beauty even as she maintained her unique aesthetic. It's no wonder she's quickly gained a substantial following. Snitchery amassed 3.9 million followers thanks to her distinctive, beauty-focused cosplay content that sets her apart in both communities.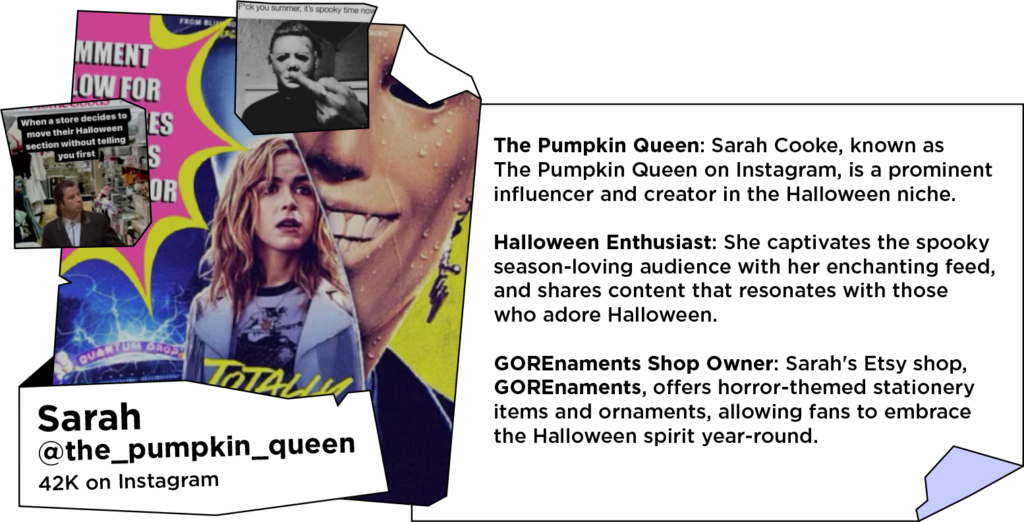 Sarah Cooke, known as The Pumpkin Queen on Instagram, has captivated the Halloween enthusiast community. Her enchanting, spooky feed is a delightful mix of festive memes and haunting Halloween decorations. As a prominent Halloween influencer, she significantly impacts the Halloween-loving audience. She's constantly sharing content that resonates with those who adore the spooky season.
The Pumpkin Queen brings a unique flavor of cute yet eerie aesthetics to her followers. Her Etsy shop, GOREnaments, is a treasure trove for fans. It offers a variety of horror-themed stationery items and ornaments. The products allow aficionados to imbue their lives with the Halloween spirit all year long.
Her innovative approach intertwines the cute with the spooky, making her a distinguished figure in the sea of Halloween creators.

Sam is the creator behind the vibrant Halloween Happy account on Instagram. Her spooky lifestyle content has successfully garnered the attention of thousands across Instagram and Facebook.
More impressively, her distinct approach to Halloween-centered content captured the fascination of The Drew Barrymore Show. Her appearance on the daytime program gave a wider audience a glimpse into her haunting hometown of Salem, Massachusetts.
Within the expansive realm of Halloween influencers, Sam stands out. She offers her followers a journey through haunting hauls, innovative décor inspiration, and festive planning ideas, fostering a year-round Halloween ambiance. She seamlessly blends the mystical allure of Salem with her passion for all things Halloween. Her social media platforms are hubs for those seeking to inject a dose of spookiness into their lives.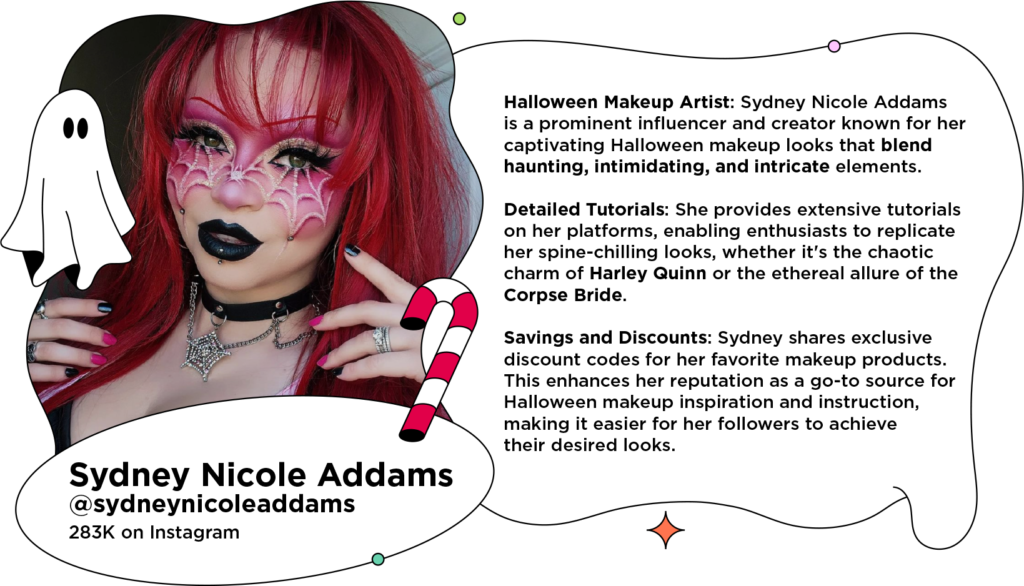 Sydney Nicole Addams is a Halloween influencer to watch. She captivates her audience with makeup looks that are simultaneously haunting, intimidating, and intricate. While her creations may appear daunting, she provides extensive tutorials, allowing enthusiasts to replicate her spine-chilling looks.
Whether it's the chaotic charm of Harley Quinn or the ethereal allure of the Corpse Bride, Sydney adeptly guides her followers through transformations into iconic characters. Additionally, her platforms are rich with discount codes, offering her followers exclusive access to savings on her favored makeup products. She's a go-to resource for accessible, affordable Halloween makeup inspiration and instruction.
9. Kiel James Patrick @kjp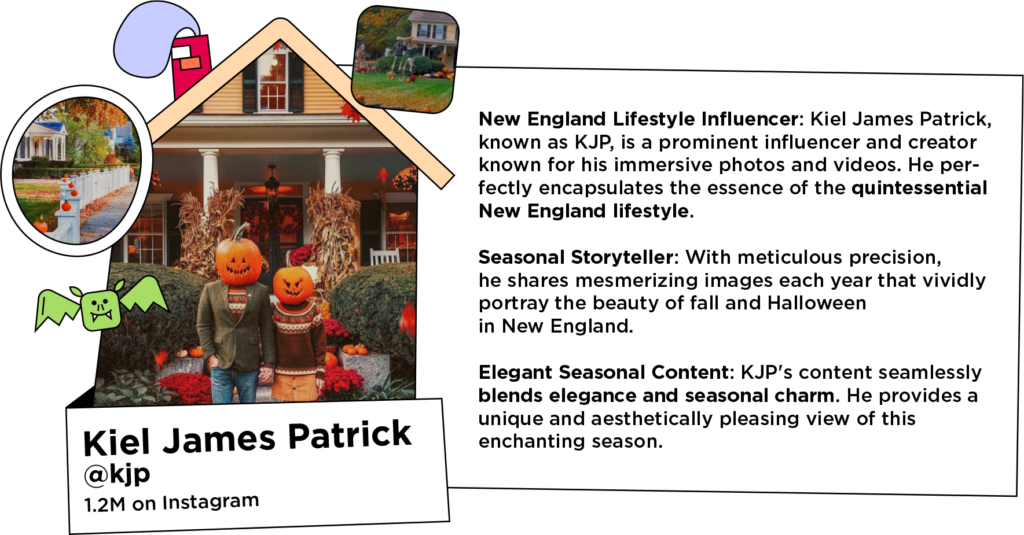 Every July, KJP releases an Instagram Reel laden with pumpkins and vivid fall leaves. It signals the impending arrival of the spooky season. Kiel James Patrick, known as KJP, has long been a staple in social media circles. He's well-known among Halloween influencers and creators with a penchant for fall content.
KJP's immersive photos and videos encapsulate the essence of the quintessential New England lifestyle. They evoke a sense of timeless charm and scenic beauty. Each year, as the leaves begin to change and the air turns crisp, KJP shares mesmerizing images that paint a picture of Halloween in New England.
His content features a seamless blend of elegance and seasonal charm. He provides a unique and aesthetically pleasing perspective to all lovers of this bewitching season.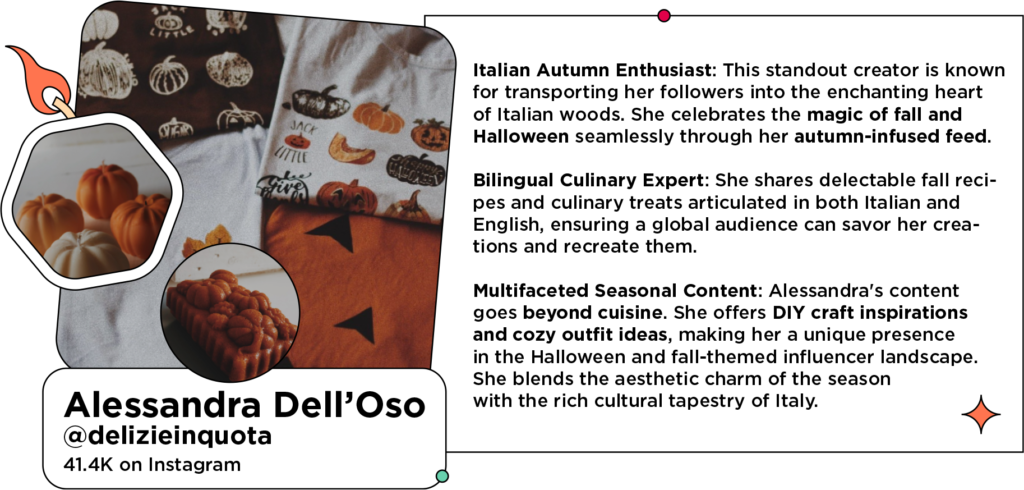 Alessandra Dell' Oso transports her followers straight into the enchanting heart of Italian woods. Her autumn-infused feed features a world where the magic of fall and the splendor of Halloween converge seamlessly.
This creator's bilingual content, articulated both in Italian and English, captivates a global audience. Followers savor her delectable fall recipes and recreate the culinary treats she shares.
Aside from cooking, Alessandra's content features DIY craft inspo, cozy outfit ideas, and autumnal experiences. Her uniquely Italian twist to the seasonal celebration keeps fans flocking back for more.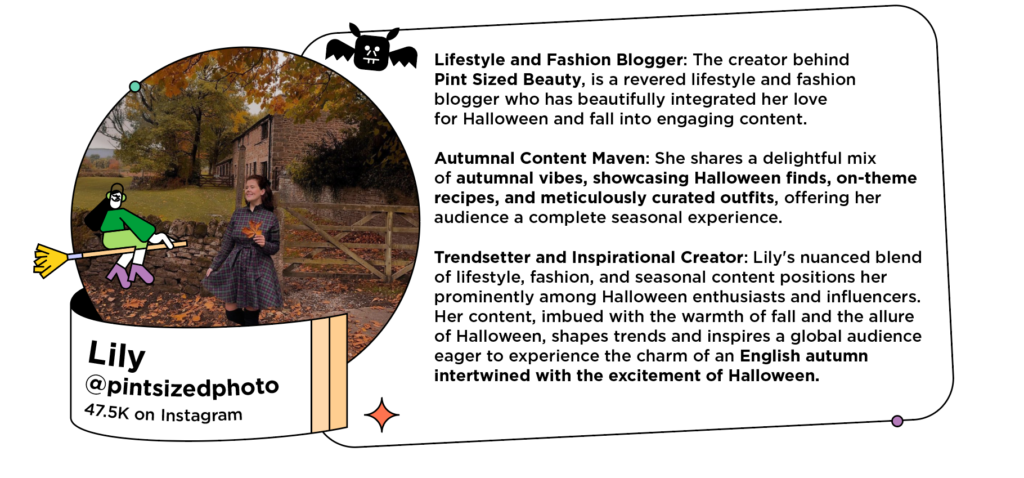 Lily is the ingenious creator behind the lifestyle and fashion blog, Pint Sized Beauty. Her passion for Halloween and fall translate to engaging content that captivates over 190 thousand followers on TikTok.
Broadcasting from her quaint English town, Lily's feed is a delightful concoction of autumnal vibes. She showcases eclectic Halloween finds, fall recipes, and seasonal outfit inspo.
Every piece of content she crafts resonates with a warmth synonymous with fall, interspersed with the thrilling allure of Halloween. Her unique blend of fashion-forward and seasonally-inspired content continues to shape trends. This Halloween influencer inspires a global audience eager to experience the charm of an English autumn.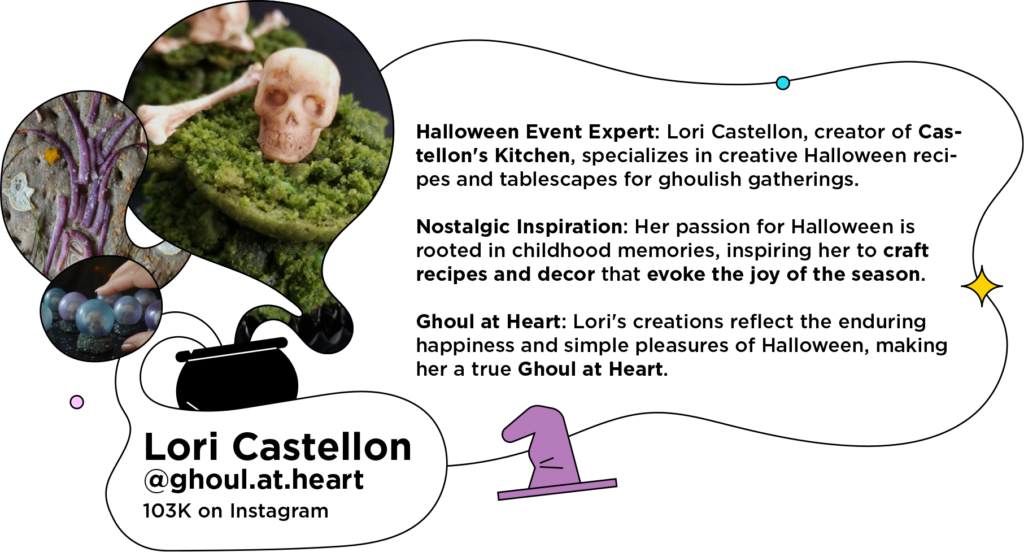 Are you hosting a haunted house party? Or a cozy movie night in? If you're still planning your menu, don't worry. Lori Castellon has you covered. Her page is full of the most creative Halloween recipes and tablescapes for your future ghoulish gatherings.
The creator of Castellon's Kitchen is always cooking up Halloween-centric creations. Recently, she decided to designate a unique platform exclusively for her Halloween obsession. Her new blog Ghoul at Heart delves deeper into the essence of this haunting celebration.
Lori's affinity for Halloween is a nostalgic journey back to her childhood. Her creations invoke memories of autumn walks, school costume parades, and homemade Jack-o-lantern cupcakes. At the end of the day, it's clear Lori has always been a Ghoul at Heart.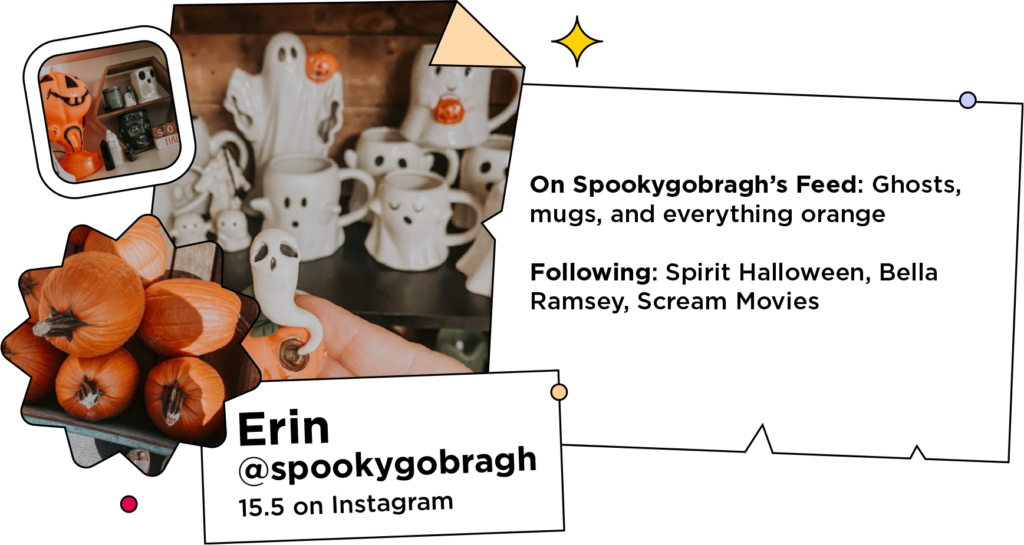 No description suits Erin's feed better than her own. "You'll get a lot of ghosts, orange, and mugs," she says. Sprinkle in some pumpkins and awesome festive finds and you've got her account covered. She's a simple and effective Halloween influencer proving sometimes it's best to stick with the basics.
The Trick of Finding the Best Halloween Influencers is our Treat for You
Our journey through this eerie season has been all the more thrilling with this incredible array of talent. From faces painted with tales of horror to spaces that echo with ghostly whispers, our curated list of 13 Halloween creators offers a variet of spooky spirit.
These Halloween influencers prove the heart of this holiday lies in the artistry that brings shadows to life. They've filled our feeds and hearts with phantoms, poltergeists, and pumpkins. If you'd like help finding influencers for your next festive campaign, schedule a strategy call with one of our experts. Until next year, may your days be filled with chills, thrills, and endless Halloween inspiration!
---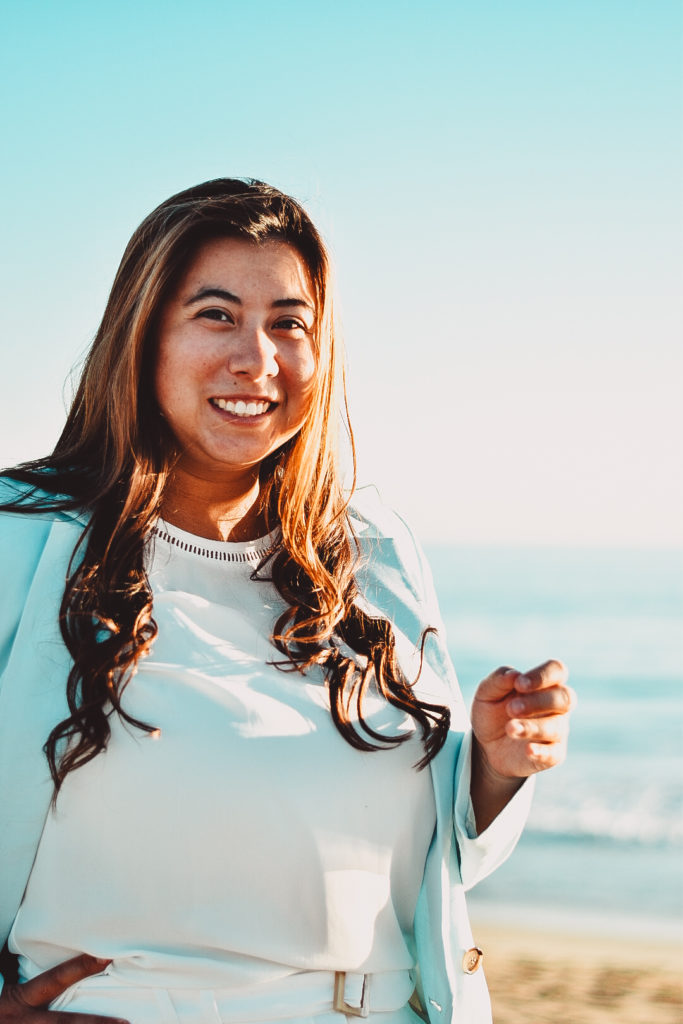 ABOUT THE AUTHOR
Abigail Welcom | Marketing Magician
Abby wins hearts and gains trust as our Brand Marketing & Outreach Coordinator. She puts her Film and Television Production degree to good use dreaming up visual marketing for The Shelf. When she's not dazzling us with out-of-the-box ideas, you can likely find her at The Happiest Place on Earth — Disneyland!
---