How Brands Are Partnering with Kid Bloggers to Sell Toys, Clothes and Fun This Holiday Season
People are spending more time online today than ever before. According to Pew Research, 26 percent of American adults say they are online almost constantly, and 77 percent of Americans go online at least once a day. But kids under the age of 13 are also upping their online time.
The digital media market is currently seeing 25 percent year-on-year growth when it comes to the under-13 demographic. The average toddler is already using the Internet by the time he or she turns three years old and spends twice as much time online as Mom or Dad think. According to CNN:
42 percent of kids under the age of nine have their own tablets
Kids in that same age groups spend two hours a day on screens
The time children under the age of eight spend on mobile devices has tripled since 2013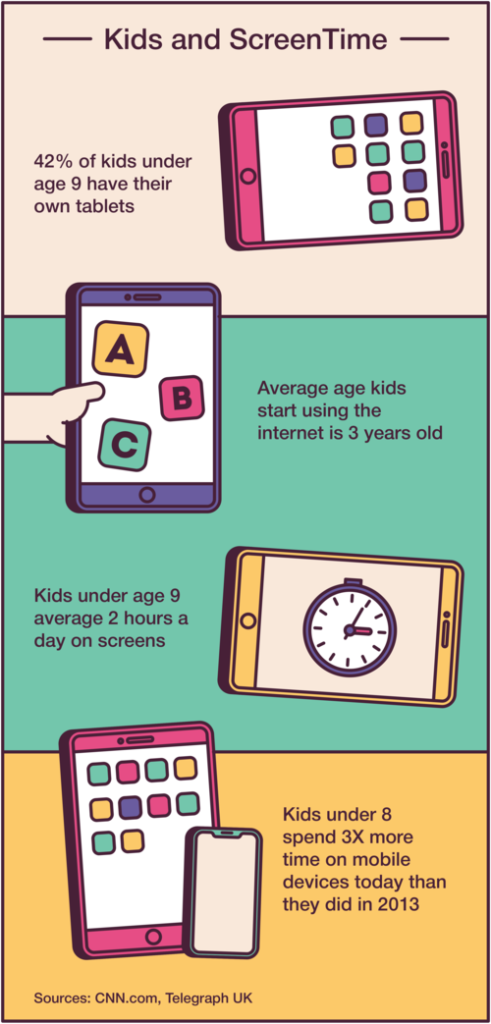 This really isn't a huge surprise as kids from Generation Z (born around 1996 and later), and Generation Alpha (born around 2010 or after) have grown up surrounded by technology – not just for entertainment purposes, but as part of their education, communication, and future career prospects.
Kids today seem to have a knack for technology. Add to that their affinity for all things digital and virtual and it's easy to see how preteens can be the perfect target for effective influencer marketing.
Of course, targeting kids also brings up ethical questions that the toy makers and cereal manufacturers have been grappling with forever. But Generations Z and Alpha are consumers, indirectly controlling upwards of $143 billion in spending power annually when we consider the substantial influence they have on their parents' purchases.
For the purposes of this post, we want to look at elementary and middle school-aged kids, from about ages 5 to 13. This includes the intersection of where Gen Alpha kids intersect Gen Z preteens and how kidfluencers are impacting the desires and spending habits of kids.
Until now, the influencer market has been controlled by Millennials and older members of Gen Z… mostly for their awesome ability to craft the perfect instagram feed and create content fearlessly (which lends itself rather nicely to authenticity and uniqueness).
Now that Millennials are having kids of their own, they are passing on their social media know-how to a new generation of influencers and helping them flourish online.
The Toy Market Was Already Slowing Down, Then…
Brands and marketers are stepping in to partner with these kidfluencers and their parents, and ever the more as the holiday shopping season picks up. The big boys in particular – Walmart, Target, Amazon and eBay – are vying for a greater share of the toy market recently vacated by Toys R Us, which closed down more than 800 stores in June of this year.
For decades, Toys R Us has been the home of all things toys. I mean, even if you didn't necessarily buy all your toys there, making the trip to Toys R Us with the kids was a holiday tradition. It was an easy way to figure out what the kids wanted in one shot.
Since Toys R Us announced it was filing for bankruptcy, there have been multiple mergers and acquisitions happening in the toy market. On the heels of the Toys R Us toy closures, Mattel said it would cut more than 2,000 jobs due, in large part, to lost sales that would otherwise come from Toys R Us customers.
Deals made since the announcement have totalled at least $962.7 million, quite a leap from the $85.4 million in the same period last year. These have been characterized by big brands buying up other big brands – like Hasbro's purchase of the Power Rangers brands from Haim Saban – to further solidify their share of the market.
It's worth noting that while Toys R Us was responsible for a hefty 12 percent of all toy sales in the US before its demise, the toy sales industry has been slowing in recent years. Toy manufacturers are losing market share to mobile games – which now account for 20 percent of the $187 global toy and games market.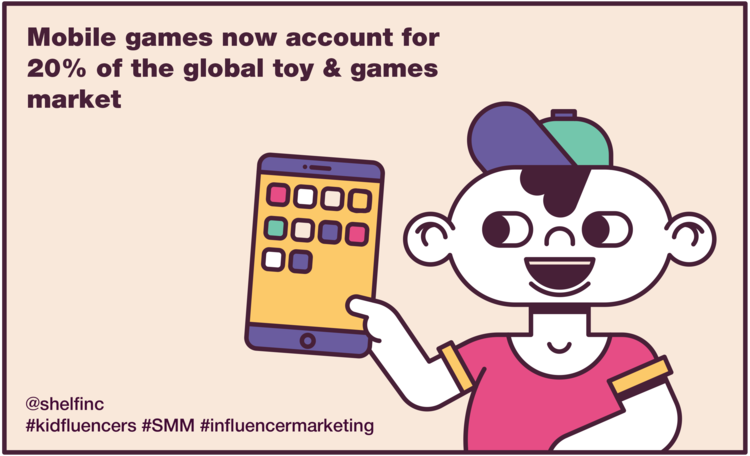 Kidfluencers May Be the Answer to Breaking Into New Markets… and Grabbing That 12 Percent
One thing remains true this holiday season: If the shuttering of Toys R Us (how ever temporary the toy retailer's closure may end up being) impacted a heavyweight like Mattel who relied on Toys R Us to drive consistent, year-round sales, surely the closure has posed unique challenges for smaller toy makers who relied on Toys R Us to reach new markets.
For small toy companies, it can be difficult to get on the shelves of megastores whose stores sell tens of thousands of products across many verticals instead of tens of thousands of toys. Retail giants like Walmart and Target have limited shelf space for toys, and typically only carry legacy brands like Barbie, Hasbro, and Hot Wheels or toys that are new, promising, and trending.
Smaller toy brands are now in a position where they are competing with these types of megabrands for shelf space, and they are usually fighting a losing battle. Perhaps shifting their focus from pursuing top retailers to partnering with top influencers is the way forward.
Influencer marketing provides a way for small toy companies to cut through the noise and insert their brand in front of potential customers just as this year's shopping season gets under way.
HERE'S WHY KID INFLUENCERS MAY BE THE FIX
By 2020, Gen Z – most of whom are now teens and preteens – will make up 40 percent of the consumer market, and the children who make up Gen Alpha have mad sway over how Mom and Dad (and Papa and MeeMa) spend their money.
Thanks to the prevalence of social media, influencer visibility is increasing, and fact is, the younger generation looks to their peers for assistance and guidance… not old fogies like you and me.
Were you to spend half an hour watching cartoons on Nick Jr., you would see traditional TV ads during the five to eight minutes of every sitcom that's set aside for paid advertising. So, television ads aren't going anywhere, but we're two years past the point when time spent online overtook time spent watching television for five to 15 year-olds. That means kids today are spending more time on screens and less time in front of the tube.
More and more, kids are going to the web for entertainment and education. And the key to marketing to this generation is to meet them where they are. And nobody knows how to reach kids like other kids, which is why partnering with kid influencers for your holiday campaigns may be the most effective (not to mention cost-effective) ways of reaching the your target audience.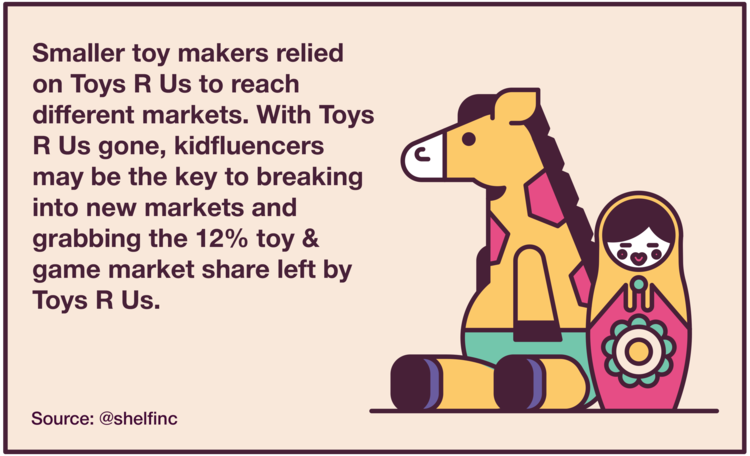 THERE ARE SOME CHALLENGES, THOUGH…
UGC – Working with any influencer has its challenges and there are legal aspects you must address each and every time intellectual property (aka user-generated content) is created for a campaign, whether it's the rights to a photo, the caption or both.
FTC – As well, kid influencers – like all U.S.-based influencers – are beholden to the Federal Trade Commission's Endorsement Guidelines. Failure to adhere to social media laws can result in hefty fines and even legal trouble. So, brands should be even more vigilant (and even a bit more adamant) over the nuances of the content that's created and posted for a SMM campaigns, particularly when working with a kidfluencer.
Parents – Of course, it should go without saying that every aspect of your campaign should go through the child's parent, guardian and/or agent for all decision-making and all things contractual. And the parents will be the first in line for you to communicate The parents should always be your first point of contact for any decisions about or changes with your campaign.
So, Who's Doing the Kidfluencer Thing Right?
One thing to remember about working with influencers of any age is that they are always creating content… which means they are always looking for interesting ideas to create their content around. With younger influencers, some of their most talked about topics are going to be in verticals that are family-friendly, like toys, games, clothes, or family trips.
Perfect example – Early in 2018 popular YouTube gamer and kidfluencer Dan D chronicled his finds during his visit to the 2018 London Toy Fair.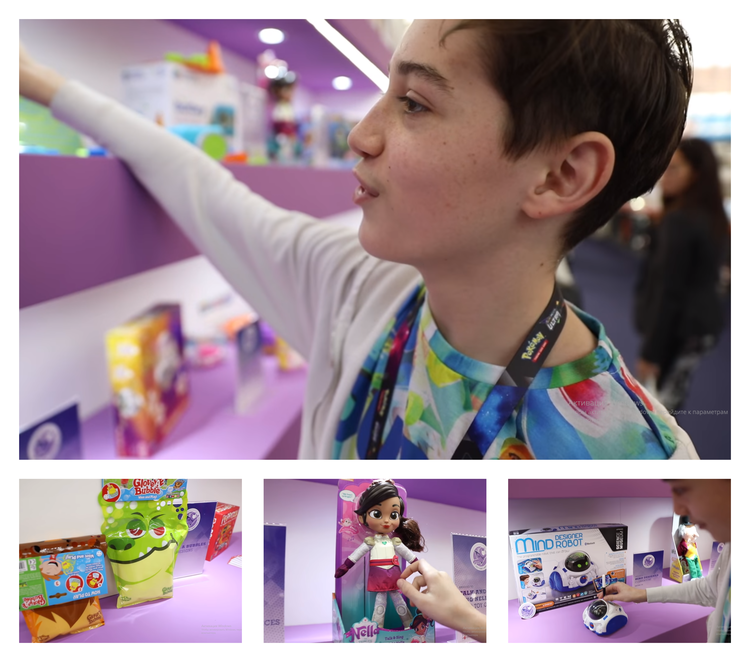 Source: YouTube
Another good example is from 11 year-old YouTube vlogger Tiana, who posted a video in February 2018 on her Smooshy Mushy party.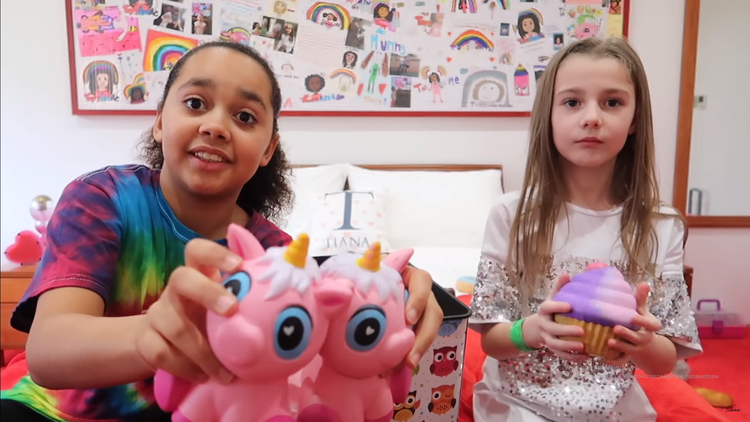 Another good example is from 11 year-old YouTube vlogger Tiana, who posted a video in February 2018 on her Smooshy Mushy party.
Tiana(left) and her friend Maisie (right) Source: YouTube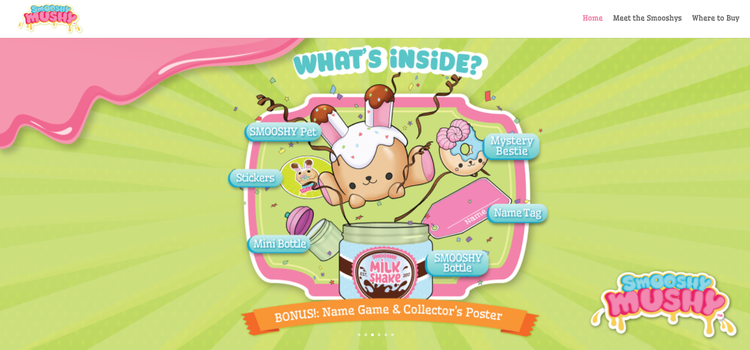 Source: Smooshy Mushy
FYI, a Smooshy Mushy is a soft, scented toy pet that comes with its own [favorite] snack called a bestie, i.e…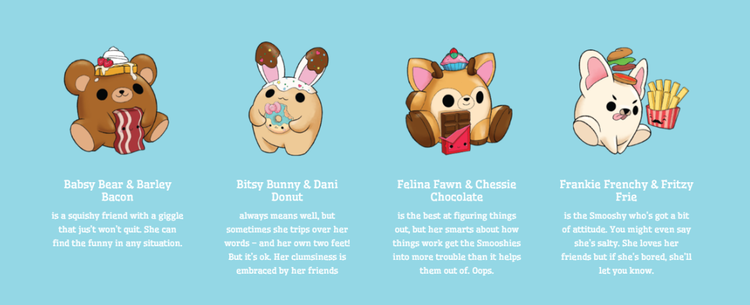 To date, Tiana's Smooshy Mushy video has more than 6.8 YouTube million views. Again, it's captivating content for a kid (and her mom) that makes everyday life a little more interesting.
Side note: If I were a kid with just one Smooshy Mushy, this video would make me seriously consider whether I need to add more smooshy pets to my collection.
As you may expect, some of the bigger brands have already partnered with kidfluencers for important, high-profile campaigns.
TARGET
Back in 2017, Target launched a children's clothing line designed, modeled, and promoted by a class of kidfluencers. The 10 kids worked together to design a collection for children aged 4-16 years old, all displaying their own individual styles.
The influencers ranged from 7-year old photographer Hawkeye Huey, to Dance Moms star Kendall Vertes, each with their own unique styles and designs woven into the 100 piece collection.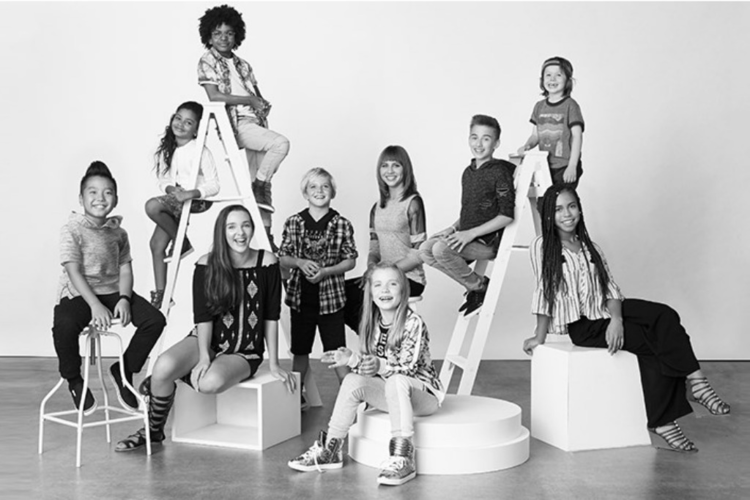 (Image : Footwear News)
Instead of designing what they thought kids would like, they brought the kids in themselves to design the pieces. And, by keeping the collection affordable, they're taking a little bit of pressure off the parents of their target market too. We all know how "convincing" kids can be when they really want something.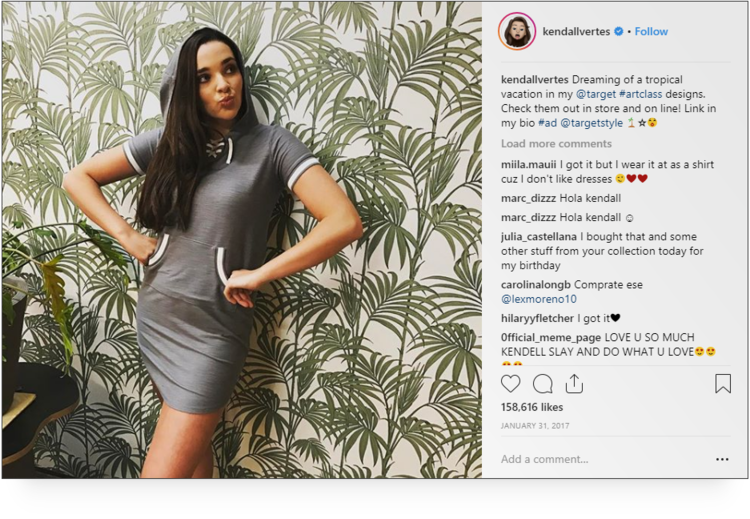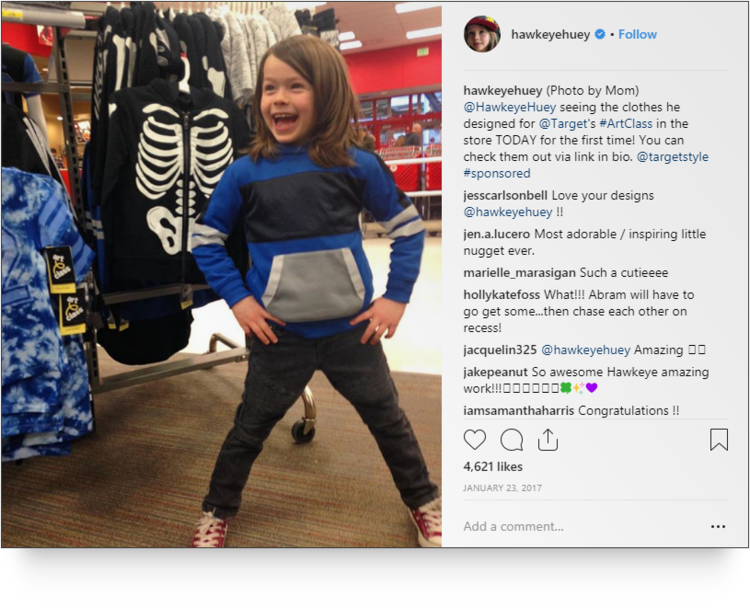 Target used this same tactic again in later seasons of their "Art Class" line as well as inviting kidfluencers to come in and assess their other clothing lines each season. Each campaign features a new batch of kidfluencers.
WALMART
Top-Rated By Kids
Earlier this year, Walmart completely overhauled its website, so that it looks more like a traditional lifestyle blog than a e-commerce site.
Old Walmart Home Page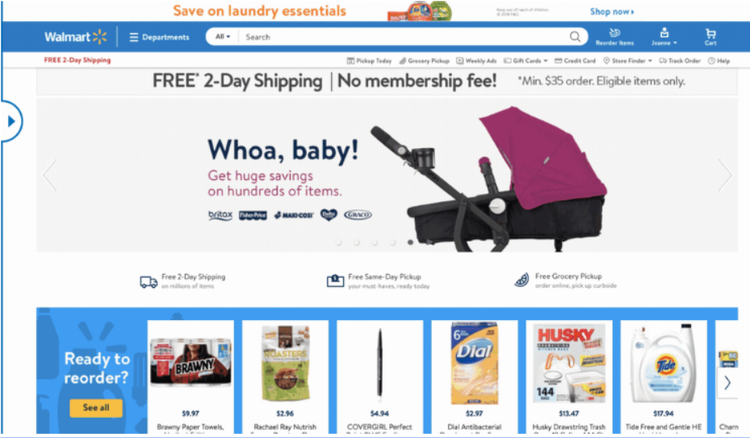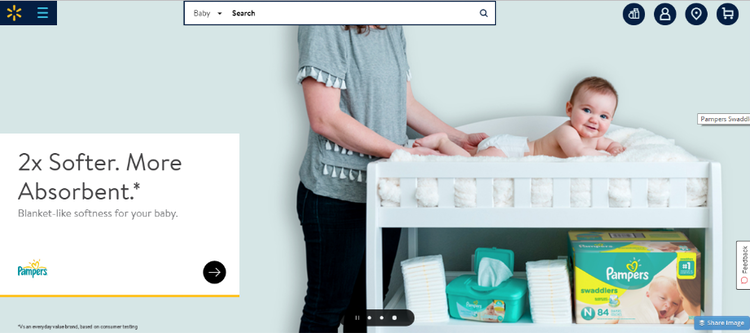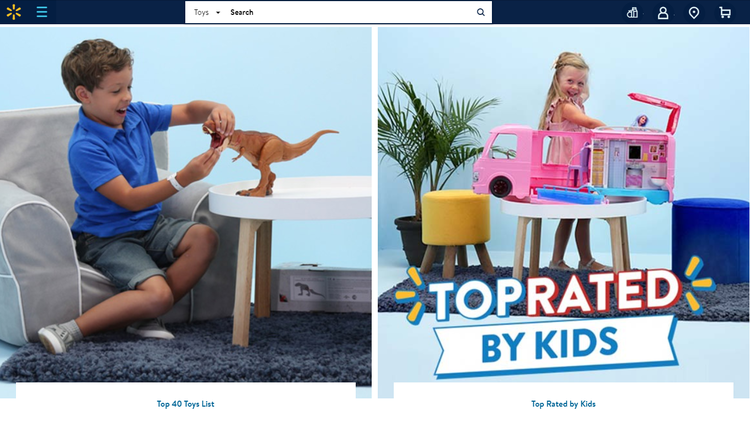 Smartly, Walmart is using well-known kidfluencers as a way to better position itself to grab a greater share of the toy market, and equally as important, grab a greater share of consumer attention.
Top-Rated by Kids features filmed experiences and unscripted (though not unedited) reviews from Walmart's cast of kidfluencers (and Walmart really does have a roster of kid influencers that you can check out here, on their Meet the Our Top Rated By Kid Influencers page) about the toys currently lining the shelves of Walmart stores and those trending – the ones you can only get on Walmart.com.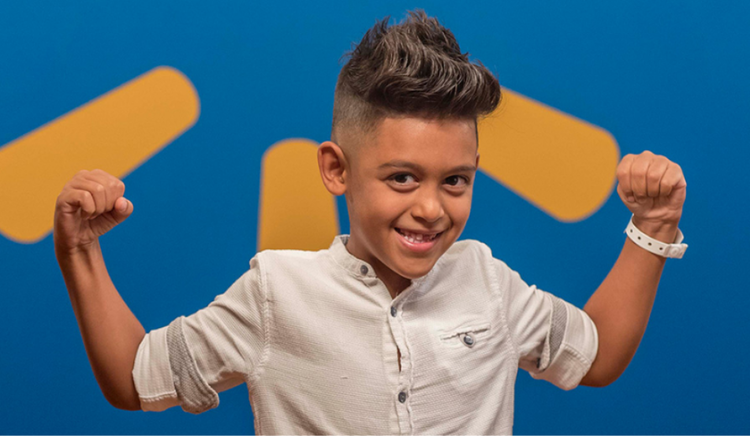 Parents don't necessarily have to rely strictly on YouTube and social to research products, and the hours Mom and Dad would spend trying to figure out which toys are hot, which are age-appropriate and how toys work before buying can be done on the same site that allows parents to secretly buy and ship the toys they buy – no bulky bags to hide in the trunk and sneak into the house or garage when Junior's not looking.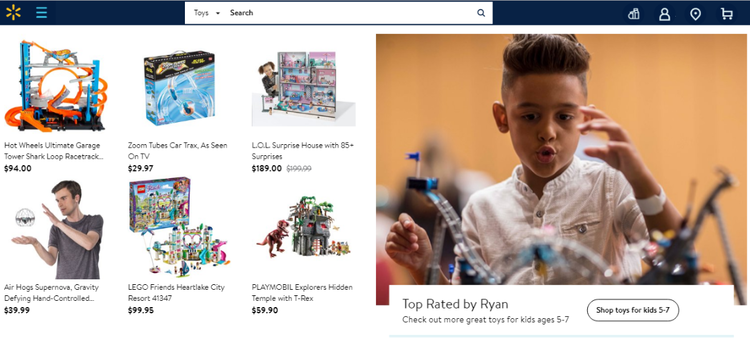 Products featured on the left and the kidfluencer reviews accessible on the right. Review are filtered by kidfluencer and age level.
Brilliant, Walmart.
Campaign: Ryan's World Giant Mystery Egg
Walmart has also included products designed by kidfluencers themselves, like with the launch of their Ryan's World Giant Mystery Egg created with another YouTube star named Ryan, from Ryan ToysReview.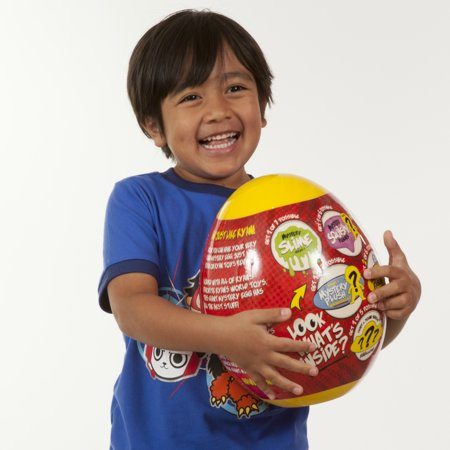 (Image: Walmart)
But, of course, Walmart and Target aren't the only brands partnering with kid influencers. eBay has recently began to launch a new advertising offensive featuring a range of influences across a wide range of niches and backgrounds. One of the more surprising choices they made was working with British Dad Blogger and his son –LadBaby. The two of them have appeared in a number of TV commercials, promoting the family-oriented side to eBay.
Tips for Incorporating Kidfluencers Into Your Campaigns This Holiday Season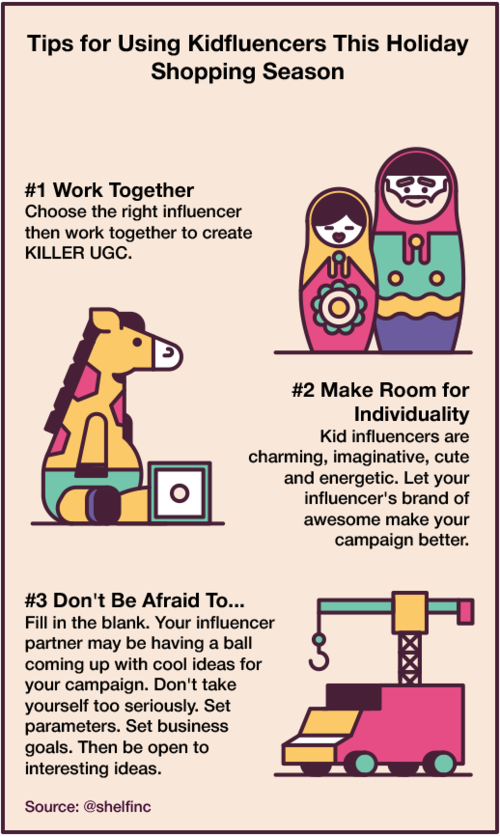 Now that we've gotten all that stuff out, we do have some tips to help you streamline your marketing push this holiday shopping season IF you plan to use kid influencers.
This is the time of year when shoppers will gladly venture into stores and online in search of the perfect gift. Launching a smart influencer strategy by partnering with kidfluencers can help you get in front of buyes.
WORK TOGETHER
There's power in a strong collaboration. Choosing the right kid influencer is as important as choosing the right fashion or lifestyle influencer. Not only do you need to earn the trust of both the parents and your young influencer, but you have to be able to appropriately address concerns as they arise. Keep the lines of communication open so you have the freedom to exchange ideas with your influencer partners.
MAKE ROOM FOR INDIVIDUALITY
Remember, the kidfluencers you choose for your campaign have worked hard to build their social media followings by consistently creating great content and honing their unique brand of storytelling. Celebrate that. You need that. But you're probably not going to be working with ultra-poised, mega-influencers here; so keep that in mind through the creative process.
Let them express themselves fully, and let their humor and style shine through. Your team can help shape the campaigns to protect your brand, but the delivery and presentation is where your influencer can shine. Let them.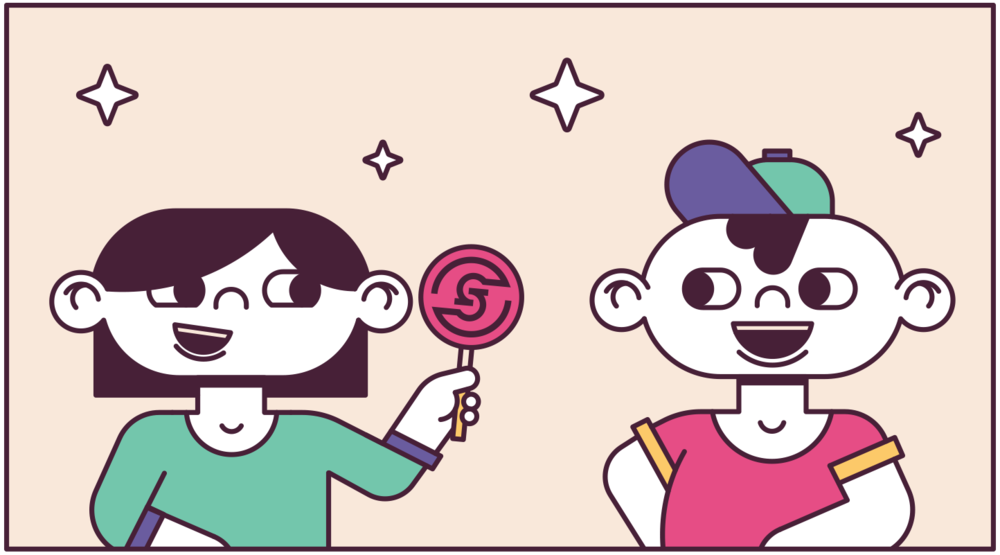 DON'T BE AFRAID TO…
The holidays sees a huge increase in marketing across all sectors, so you need a way to stand out from the crowd. Partnering with kidfluencers is one way to do that. Kids are well-known for having weird and wonderful creative ideas, so take advantage of this when working with kidfluencers. Don't take yourself too seriously. Your influencer partners are bound to have some cool ideas – maybe even unorthodox ideas – about ways you can present your products and use it to get traction on social media.