Behind every great millennial, is an even greater travel story. Fueled-up on avocado toast and lavender chai tea lattes, millennial travelers hit the roads (or airports) in droves, with few worries about using some of their savings to create and capture these unforgettable moments.
A few years ago, we were all abuzz about millennials favoring Instagram-worthy experiences over tangible items…and that's still the case. That shift from tangible to intangible, however, made marketing to millennials way more about brands being able to create memorable shopping experiences than any of us really imagined it could.
(….except for futurists like Joseph Pine II and James Gilmore (not even sure if they're futurists), who wrote the book The Experience Economy back in the 90s when non-futurist marketers were stocking up on Hammer pants.)
A Few Quick Points About Millennials
The Numbers. Millennials make up more than a quarter of the US Population – 83.1 million strong – and have spending power of about $65 billion a year. Just $65 billion? Yeah… but they influence more than 10x that. Nielsen reports that millennials influence about $1 trillion in spending.
That's "trillion" with a trill.
The Trend. And, of course, we're marketers, so we've talked almost nonstop about millennials for the last five years (nope, not tapped out yet). Born between 1980 and 1995ish, millennials are the current-day 24 to 39-year-olds. The eldest millennials are pushing middle age while the youngest millennials are now in their mid-20s.
The Adulting Part. Regardless, most millennials are trying their hand at full-on adulting (or at least they should be), and they're game for spending an extra buck or two *cough* grand *cough* on travel. Bank accounts are finally out of that awkward teen phase and most millennials are at that stage in their careers where their incomes are increasing pretty steadily every year.
27 High-Impact Stats on Millennial Travelers That Will Help You Craft a Brilliant Marketing Campaign
So, let's talk about the portion of that spending power that millennial travelers have earmarked for travel. In the next few sections, we're going to hash out the stats on a couple of key areas of millennial travel including:
Why millennials travel
How millennial travelers choose a destination
Vacation spending
Millennial parents traveling with Gen Alpha kiddos
How mobile and social media factor into travel spending
Millennial Travelers: Raise Your Hand If You're On Your Vacay Grind
#1. Millennials travel more days per year than any other generation.
According to a 2017 Expedia Group Media Poll (gated), Millennials who were [then] between the ages of 24 and 35 years old took the lead on travel days, averaging 35 travel days a year. The next closest was Gen Z with 29 days, followed by Nana and Pop-Pop (Baby Boomers) with 27 days. Bringing up the rear is our time-pressed support economy all-stars, the Gen Xers at 26 days.
#2. Millennials travel for self-development.
Sometimes travel isn't just about the pics. It's also about the climb. More than 22 percent of millennials travel for personal development (sounds like fun, am I right?).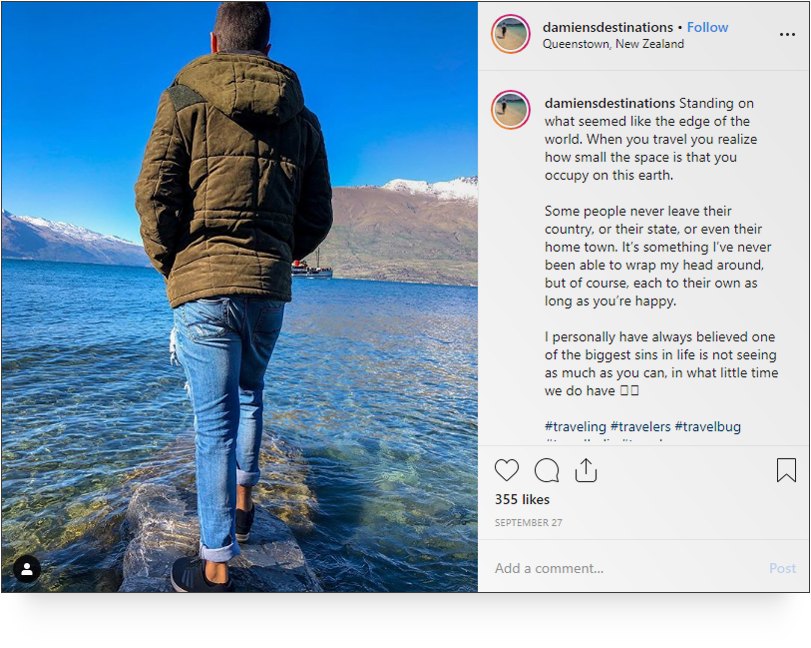 For many millennials, personal development is all about finding their identities and sharpening their skills while immersing themselves in a foreign culture. Good way to expand your goals and expose yourself to bigger and greater things. That there is dream fuel!
#3. Millennials are all about that Bleisure work-life balance.
We didn't make that term up to be weirdos. Bleisure (pronounced buh LEE zhur) is an actual thing that you're probably really familiar with. It's when business trips are extended to leisure trips (hence the funny word Bleisure). In 2017 more than half of business trips were extended to allow business travelers to get a little me time.
#4. Millennials are twice as likely as other generations to seek travel adventures.
It's true that many of us just want some place by the water where we can chill… but millennials are overwhelmingly interested in actually DOING non-chill stuff during their travels. Of those surveyed, 89 percent of millennials say they will go anywhere as along as they can explore the outdoors and be active.
#5. Three in five millennial vacays are now international travel.
Millennials are THE fastest-growing segment of travelers, and they're more likely than other generations to travel the world (and even travel it solo). An older stat published by the United Nations back in 2012 reported that young travelers made up 20 percent of all international tourists. Fast forward to 2019, and three in five planned trips will have millennial travelers heading abroad.
How Millennial Travelers Choose a Destination
#6. Eighty-six percent of millennial travelers would rather experience a new culture while on vacation.
Compare that to the 44 percent of millennial travelers who want to party on vacation and the 28 percent of millennial travelers who prefer to shop. Seventy-eight percent of travelers want to learn something new while they travel, and half would pick a destination because they want to experience the culture.
"These young travellers are environmentally-aware and tend to stay longer and interact more closely with the communities they visit than the average tourist. As such, youth travel has emerged as one of the most promising paths towards a more responsible and sustainable tourism sector." – UNWTO Secretary-General, Taleb Rifai
#7. Millennials are the MOST likely generation to book their travels using an online travel agency.
More than half of millennial travelers (53 percent) book their trips using an Online Travel Agency (OTA). When it comes to finding online content resources, OTAs are also the number one resource travel shoppers use to get info on destinations, with 54 percent of American travelers using OTAs and information sites to find get the 411 on different spots.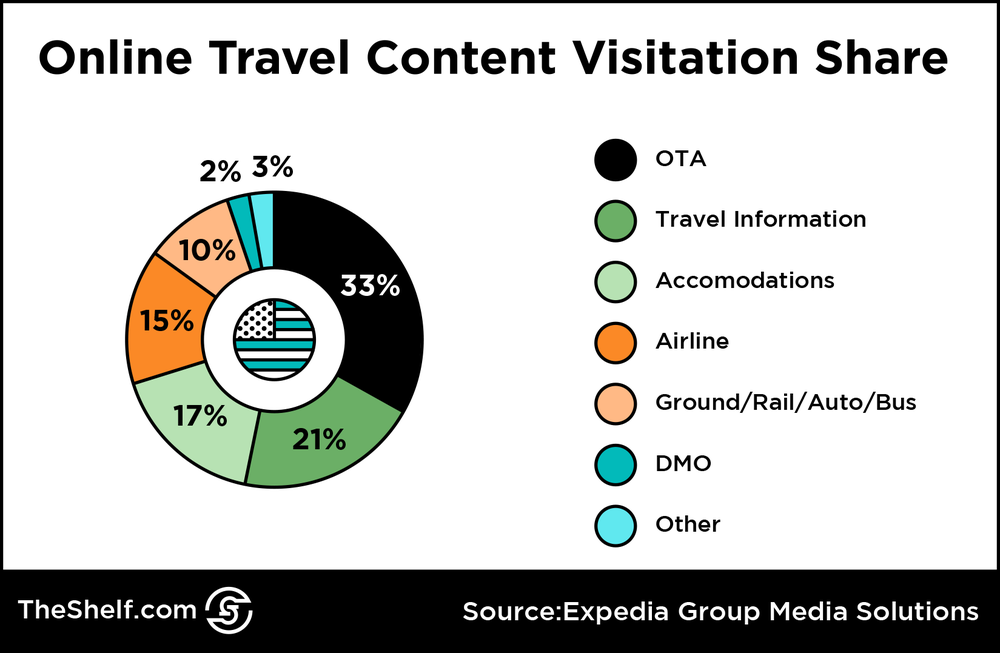 #8. Cost is a major deciding factor for 36 percent of American travelers.
Not surprising at all, really. A few other important factors that typically play into the destination decision are hotel accommodations (34 percent of travelers look at this), and the recommendations of friends (online and offline) and family (14 percent).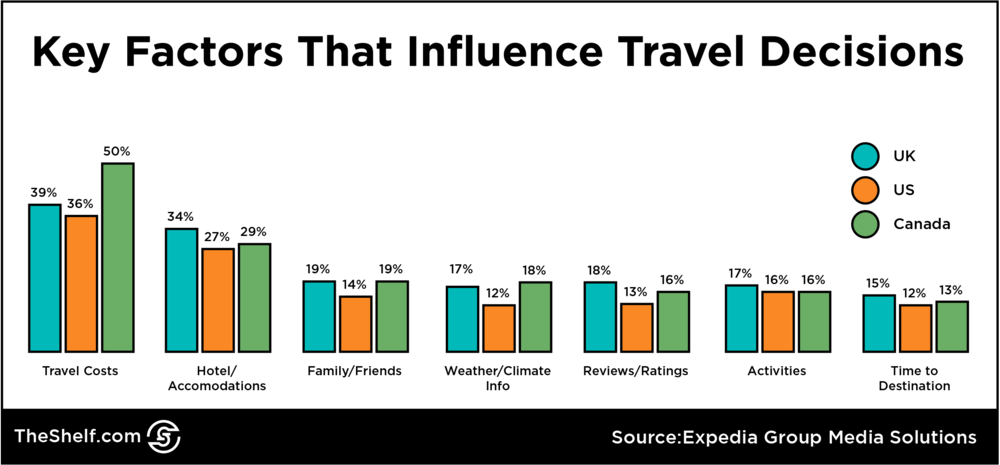 The Millennial Traveler's Path to Purchase
#9. For 72 percent of millennial travelers, the ads they see during the planning process play a role in their decision-making process.
That's according to Expedia Group Media Solutions. In fact, for all the talk about the growing popularity of ad blockers, millennials are more likely than other generations to notice travel ads for hotels and travel packages.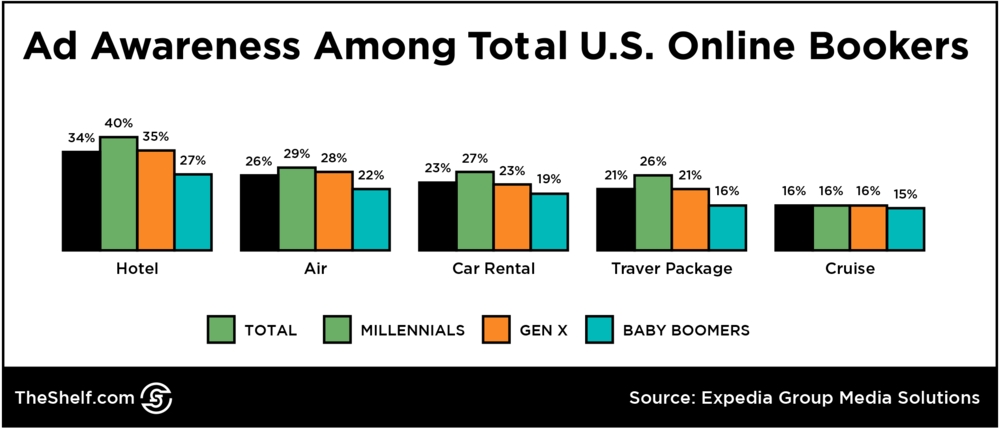 #10. The average traveler visits 140 travel sites over 45 days before making a purchase.
In total, it's more like 290 for the number of sites American travelers visit before making vacay plans. Of that 290, about 140 of them are typically travel sites. By comparison, Canadian travelers will visit 317 travel and non-travel sites before booking a trip, while British travelers will visit 181 travel and non-travel sites before making a purchase decision.
#11. One in three US-based millennials consider multiple travel destinations.
Interestingly, this stat is actually on the low end, as 42 percent of millennials in Canada and the UK consider multiple destinations. But then, U.S.-based millennials tend to have (and take) fewer vacation days from work.
#12. American travel shoppers spend 8.7 billion minutes per month consuming travel-related digital content.
That makes sense, right? '
"I've witnessed my teenage nephew literally watching hours of destination content on YouTube that's basically just images set to music or – and I'm really surprised I'm not kidding about this part – computer-generated walks (where you see the city from the walker's point of view) through different cities." Sorilbran, head content geek for The Shelf.
In general, three in five [American] digital users consume travel-related content. That's more than 160 million users checking out travel content every month, whether or not they're actively planning a trip.
How Mobile and Social Fit Into the Picture with Millennial Travelers
#13."Instagrammability" is an official travel term.
Forty percent of travelers under the age of 33 prioritize the Instagrammability of a destination when making a decision on whether they want to book it. Of course, we know that Millennial travelers look to social media for guidance on everything from shoes to mobile apps. Well, 97 percent of millennial travelers also share their experiences to social media while they're traveling.
But this tendency to rely on social media to make key purchase decisions, aka the Instagram Effect, also factors in when it comes time for people to decide where to holiday, honeymoon, and chill.
I'm about to go off on a totally related tangent… but don't worry, I won't do a lot of these in this post.
Here's how Instagram x travel play out in the virtual-to-real world.
New York beats Paris as a top travel destination, according to Vogue. I know that because Vogue published a pretty lengthy roundup of top travel destinations.
And apparently this cave in Portugal…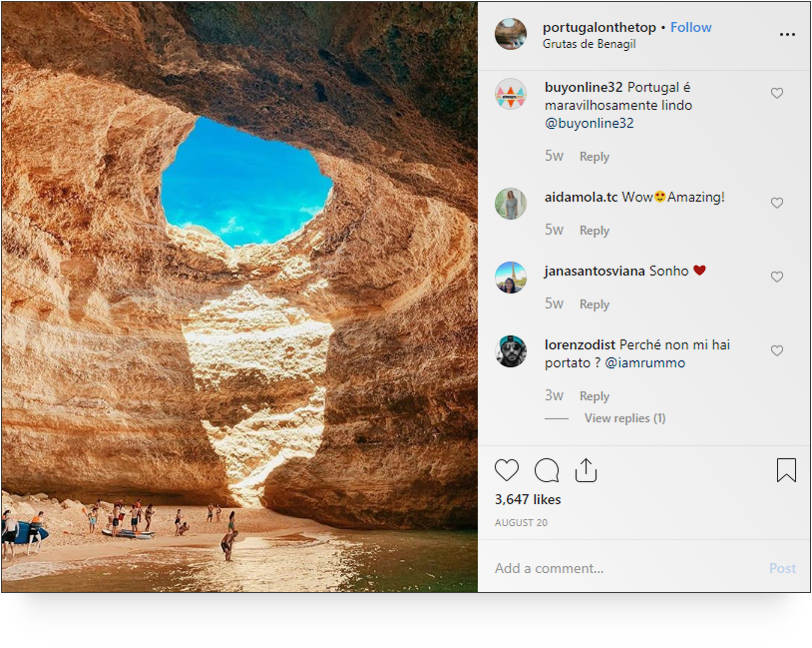 ….has 63 friggin' POSTS!.
Kidding. Lol.
This cave has actually been tagged in more than ten thousands posts because it's considered Instagram-worthy.
In reality, it's this influencer…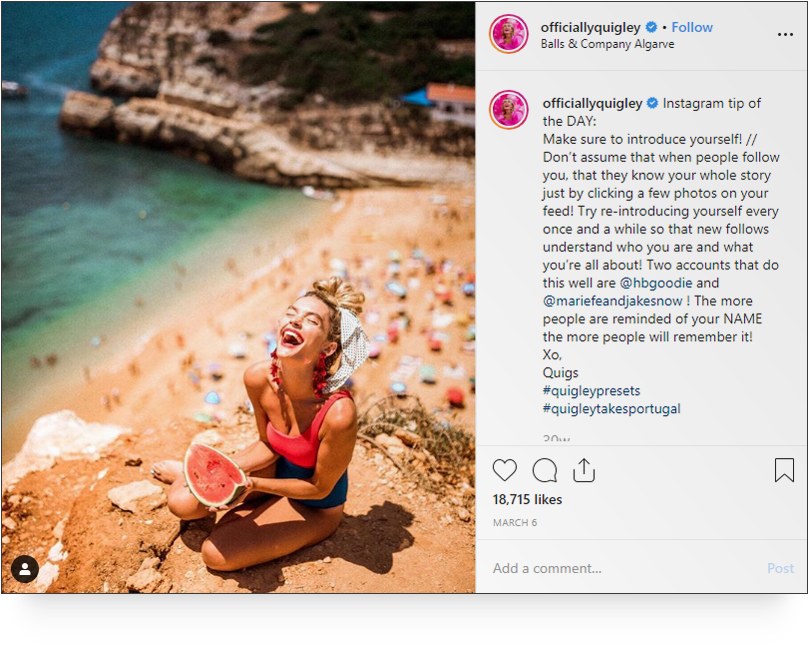 …. who has 63 posts that she tagged at different locations in Portugal (and many of those individual posts are carousels with multiple images).
The post above is currently one of the top-performing posts under the hashtag #benagilcaves…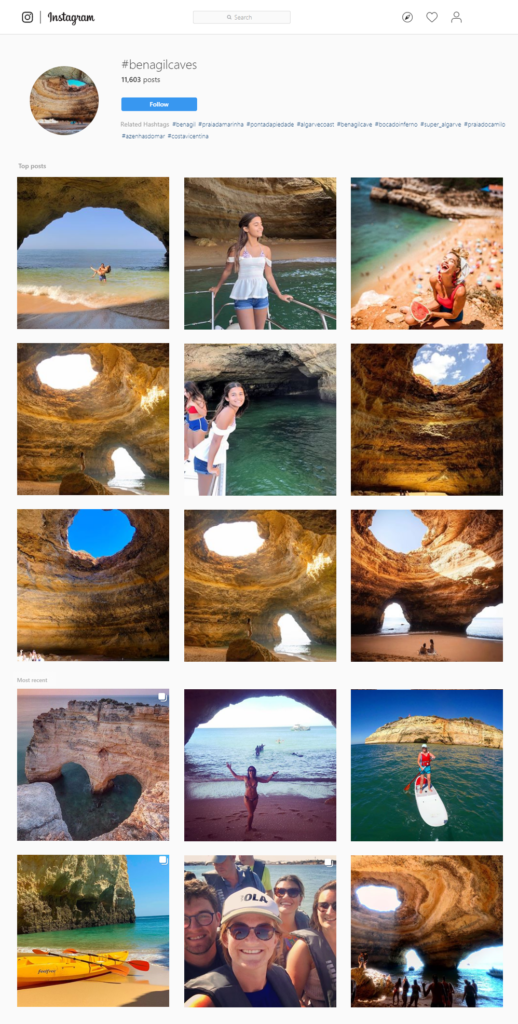 …. which I found skimming through a BuzzFeed article, "20 Destinations to Travel If You Want a Lit Instagram".
…
A few years ago, Benagil was just a small fishing village on the edge of Portugal. Today, you can literally read Google reviews about the Benagil Caves. There are more than 5500 reviews of this tiny 4.7-star village, and three ideas are threaded through most of them:
It's a beautiful place
It's tough to reach without a boat
It's swarming with tourists
The word there is swarming.
#14. Sixty-two percent of millennials use mobile to access online resources of travel inspiration.
Inspired millennial travelers say they found ideas for their most recent trips on Instagram. I have a few stats here from Facebook's Insights platform (which is AWESOME, by the way).
#15. Nearly half of U.S. travelers are comfortable planning and booking their entire trip using their smartphones.
It's 48 percent, to be exact.
#16. Price and ease-of-use play a huge role in determining which hospitality companies millennial travelers book with.
While price is THE major factor when it comes to booking travel, convenience and ease-of-use are the primary factors when it comes to brand loyalty. Measure that against the previous stat about half of U.S. travelers being cool booking their entire trip on their phones.
Eighty-five percent of US travelers say convenience is enough of a reason to remain loyal to a travel brand.
#17. Eight-six percent of millennial travelers would be okay with a travel brand posting in an online group that was started by a person.
This stat actually ties in nicely with another key insight from Facebook that three in four millennial travelers who are weekly users of Facebook use the platform for travel-related activities.

Related Post
What Makes Them Buy: Millennial Men
Luxury on the Road
#18. Millennials are redefining luxury travel. And that's pretty big.
The word luxury means different things to different people. While you may think of luxury accommodations as fancy lamps, crystal vases (pronounced VAHzis), and a skyline view that takes your breath away, for many millennial luxury travelers that "skyline view" could easily be in reference to a sea of treetops that canopy a jungle.
For millenials, the term "luxury" often doesn't translate as a high-end lifestyle so much as it translates as prestige moments… elements of luxury. As these moments, when captured, are as good as social media gold.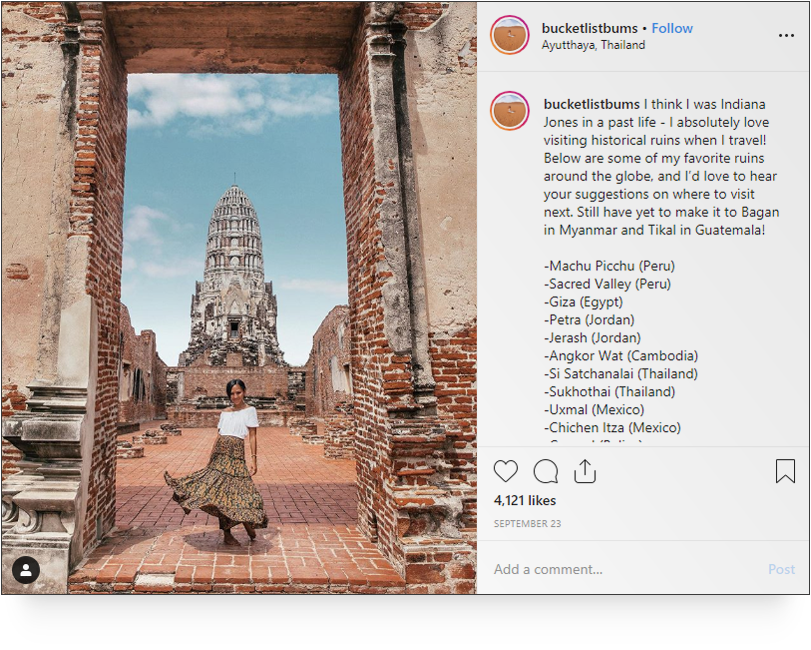 #19. Six in ten millennials want the option for "full or selective" luxury travel.
LEK 2017 Luxury Travel Study (gated) states millennials want 13 percent luxury at all times, 20 percent luxury on some travel, and 28 percent option for a luxurious experience when traveling.
Okay… what?
Let's break it down: You put 10 Millenials in a room (hopefully with their phones or they'll get bored), and 6 of the 10 will want the option for luxury when they travel.
Of those 6, one wants to be wined and dined all day, erryday when traveling. This one luxury millennial wants all-inclusive eat and drink, etc; you name it, they want it.
Two of the 6 want to take some luxury vacations here and there, but don't need all travel options to be fancy. Sure, they want to stay at a resort in Mexico or hopefully have a direct flight, but they're also down to hop in the Jeep and road-trip to Colorado and camp in the mountains.
Half of the 6 want a luxurious experience while on a regular vacation. That could mean going to a spa one time or splurging at a restaurant, or seeing their favorite artists on stage. They'll select at least one elaborate activity then plan several low key options around it.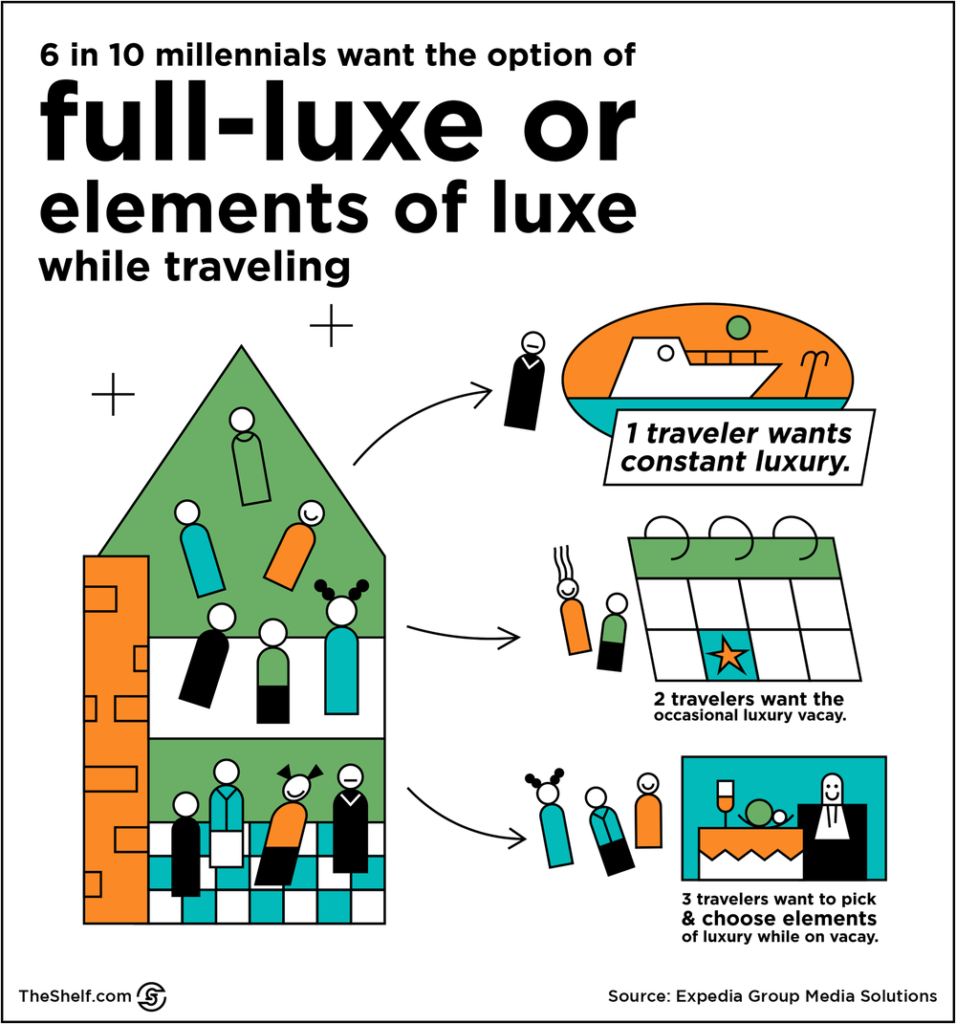 Millennial Parents:Traveling with the Fam
#20. The average millennial family with gen alpha kids take more than three family trips a year .
And the chances are pretty good these family trips will be domestic travel (they are 68 percent of the time)… even when the kids aren't in tow.
#21. Family vacays with Gen Alpha kids under nine are a week long on average.
It's 6.9 days, to be exact.
#22. Sixty percent of millennial parents in the process of planning a family trip that includes their Gen Alpha kids are deciding between multiple destinations.
Typically, only one in ten millennial parents will decide to go on family vacation without first having a destination in mind. Twenty-nine percent will already have their hearts set on a specific destination from the start, and the remaining 60 percent will start off eyeing multiple destinations and make a final decision later on.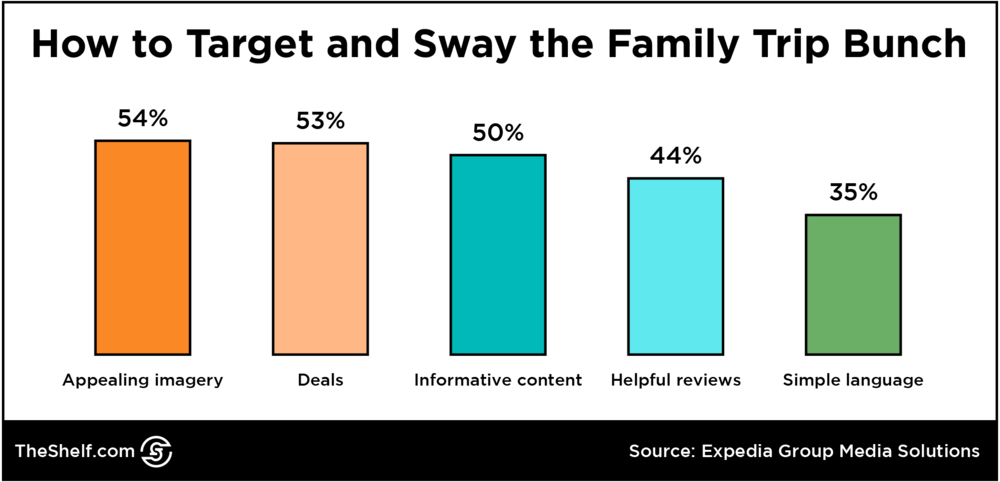 #23. Fifty-four percent of family travel with kids under the age of nine are by plane.
The next most popular mode of transportation for family trips – cars by 47 percent.
#24. More than half of millennial families traveling with kids stay in hotels.
Fifty-eight percent, actually, compared to resorts (21 percent), family/friends (17 percent), or vacation rentals (16 percent).
Millennial Vacation Spending
#25. In the 45 days leading up to a trip, US travelers spend $1,255 online on average, not including travel spending.
The average vacation planning cycle is about 45 days. Travelers who book their trips scheduled to take place less than 30 days from the booking date tend to spend 50 percent more on travel preparations than those who gives themselves more time to plan, book, and prepare for their trip.
#26. Millennials spend more on travel than other generations.
One in three millennials are willing to spend $5,000 or more on vacation. Forty-two percent of millennia travelers plan to shell out between $1,0001 and $5,000 on a vacation in the following 12 months.
#27. Millennial men are more likely to outspend millennial women on their travel plans.
While 15 percent of women planned to spend more than $5,000 on their vacations in the next twelve months, 37 percent of men planned to spend more than $5,000 on their vacations.