It's the holiday season, the perfect time to meet up with extended family at Grandma's house, drink hot chocolate, carve the turkey, and maybe even go caroling. After all, you've waited for this moment all year. Right?  Well, maybe.
Last year, more than 54 million Americans hit the roads for the Thanksgiving holiday. This year, a million more were expected to hit the roads. Another 112 million scheduled year-end holiday travels between December 23rd and January 2nd.
While nearly 91 percent of those doing holiday traveling will be doing so by car, the Christmas season is a popular time for travelers to make their way to faraway destinations. We're talking bucket list stuff – beachfront resorts, foreign getaways, spontaneous adventure trips.
Just like many of us, influencers are shopping around for the best holiday travel deals. That means if you're in the hospitality, travel, or tourism business, you need to get your cool packages in front of holiday travelers like, now.
We're going to keep the stats to a minimum (bummer – I know), and get right down to the strategies of how brands are partnering with influencers to boost airline sales, reduce hotel vacancies, and sell tickets to their respective main attractions.
The Trend is Moving Toward Giving Experiences Over Gifts
Whether they know it or not, people prefer experiences over material things. Even your kids. Over the course of the last decade, more and more intel has been gathered to put science behind the rising trend of giving experiences over gifts.
Several years ago, The Atlantic published a piece on behavioral economics, detailing the emotional impact of receiving an experience over a material gift. The science says the emotions triggered when people receive or even plan experiences  – like the joy of anticipation before an event happens and the pleasantness of the memory after – consistently surpasses the impact of material possessions.
Cornell professor Thomas Gilovich, who has done extensive studies on behavioral economics, shows that experiences tend to make people happier, in part because people are far less likely to measure the value of their experiences against the experiences of others.
On the other hand, you can go tit for tat comparing your new smartphone to your friend's new smartphone, and if your device doesn't come out the winner, you can end up feeling bad about yourself. Not sure if phone shaming is a thing yet, but it would be like that.
Anyway, Gilovich's research says experiences are preferred because they are associated with identity, connection, and social behavior. (Very similar to the way people view sports, oddly enough.)
Coincident with the rise of social media, Millennials are leaning more toward being able to tell awesome stories about their experiences, than just showing pictures of the stuff they got. I think this quote from CNBC.com sums it up pretty well:
Millennials "aren't spending our money on cars, TVs and watches," Taylor Smith, CEO and co-founder of Blueboard, told CNBC. "We're renting scooters and touring Vietnam, rocking out at music festivals, or hiking Machu Picchu."
Memories Get Treasured, Stuff Gets Trashed… Eventually
Most of us can relate to the idea of longing for a cool, new coat, working to get that cool, new coat, then complaining about the dry-cleaning bills for your cool, new coat once it's not so new anymore. Even if it is still cool. That's because we adapt to material things, and lose appreciation for even the priciest and most stunningly posh luxury items. But experiences are just the opposite.
You know that old saying, "In time, you'll laugh at this"?  The more time that goes by, the more endearing our memories become, even the bad memories.  
I recently told a friend of mine who got stuck at the airport after her wallet and phone were stolen on a trip to London that in a year, the entire ordeal – which she chronicled on Facebook for us – would make a great story to tell over beers and wings. She agreed.
So, I'm going to skip the Sephora gift card this year (which seems cruel, I know). That would be simple and appreciated, but you know what would be even cooler? A family trip to some place warm and pretty.
The Who and Why of Holiday Traveling
So, who is traveling during the holidays? The people who show up at my house, for one. The uncle from Florida, the aunt from Jersey. The brother-in-law from New York. Hopefully, my sister and the kids will come down from Detroit. We've pretty much reached a point in American history where folks just aren't going home for the holidays as much as they used to be.
Millennial Travelers Are Pretty Much Remixing What "Hitting the Road" Means Now
Not to be the person who blames all life's cultural shifts on millennials, but they are shaking  things up just a little. Baby Boomers and Gen Xers tend to have a more conservative approach to travel.  They travel less, and place a heavy value on the destination of the trip. Millennial travelers on the other hand, prefer more frequent trips.
On average, Millennials take 32 percent more vacations than Gen Xers, and 44 percent more vacations than Baby Boomers.
Making Room for New Holiday Travel Traditions
In comparison to younger generations, Boomers never really ventured that far from home. Gen Xers were more scattered than Boomers, but they returned home to celebrate the holidays with family. They come home for the holidays.
Millennials, don't feel obligated to venture home as much, so they invented Friendsgiving (spending Thanksgiving with your friends instead of going home to your family).
Other cultural shifts such as adult children staying home with their parents longer, young adults getting married and having kids later in life, the prevalence of blended (and re-blended) families, and the rise of a sort of "global community" are all playing a significant role in how we celebrate holidays.
Seven years ago, Friendsgiving wasn't even a thing. Seven years ago, we collectively tried to think of good gifts to give, not necessarily good experiences to gift. Today, selling experiences (like paying for the experience of being trapped in an escape room with a zombie chained to a wall that's closing in on you ever few minutes) is a growing industry.
My point? Things change.
I said all of that to drive home the point that younger Americans aren't forfeiting holiday traditions. They are effectively creating new ones. 
MULTI-GENERATIONAL TRIPS
Multi-generational trips have seen an unprecedented increase in popularity over the last few years. Adult children are creating experiences as a way to show appreciation to their parents and grandparents. Children are getting the chance to spend time with their extended families, and possibly the rare opportunity to see mom and dad in a more playful, relatable way.
BUDDY TRIPS
Although Millennials travel more frequently, their attitudes about getaways are different than that of their older counterparts. They often believe that even more than where you're going, it matters who comes along for the ride. And some insist that a vacation isn't worthwhile if your friends aren't there to share it with you.
Not only are Millennials more educated than previous generations, they also spend longer phases of their lives unattached, which means travel companions are often friends who are sharing moments, sharing travel costs, and creating stronger bonds. It's no wonder new traditions like Friendsgiving are becoming so popular.
SOLO GETAWAYS
Solo holidays are becoming more popular as well, and with it, an increase in the number of companies offering guided tours to small groups and solo travelers. According to an article in The New York Times, 24 percent of people traveled alone on their most recent overseas vacations. Of that number, 37 percent were traveling for the first time.
You would think solo travelers would be young unmarried college kids. That's not always the case though. Those in committed relationships take solo vacations for a variety of reasons. Sometimes it's not possible for both partners to take a vacation at the same time. Or one partner needs time off from a lifetime of caring for kids or a disabled partner.
To kind of go back to the point of how experiences impact behavior, one behavioral study found that once travel plans were set, vacationers experienced up to a 2-month boost in happiness in preparation for the trip (I know I did).  And upon their return, the positive energy and relaxing mood could last up to two weeks post-trip.
---

Related Post
Download The Shelf's Step-by-Step Holiday Social Media Strategy
---
Brands Are Using Influencers to Sell Travel Experiences for Christmas
There are two primary end-goals for brands marketing travel and vacation experiences during the holidays. The first is to capture the attention of those who will be traveling during the holiday season. The second is to capture the attention of those who will shopping for travel deals during the holidays and actually vacationing the following year.  Let's look at a few campaigns for each of these marketing goals.
Brands Marketing to Holiday TravelersTHE PARTNERSHIP: TOYOTA X TAYLOR MACKENZIE
I was surprised to find posts from auto manufacturers a few years ago over the Thanksgiving weekend.  But it makes sense. By Thanksgiving, many local car dealers have already received shipments of cars for the new model year. That means Black Friday is not only a great time to buy a smart TV, but it's also a great time to get a deal on a new car.
The same is true if you're buying a used car, whether from Craigslist or an auto auction. People are spending money on holiday gifts, but the holiday shopping season is also one of the best times of the year to save money on a new car purchase.
This post from style blogger Taylor Mackenzie (@lovetaymack) was sponsored by Toyota (@localtoyotadealers). Taylor's post was one of several we saw of influencers test driving new cars and using them for holiday shopping last year.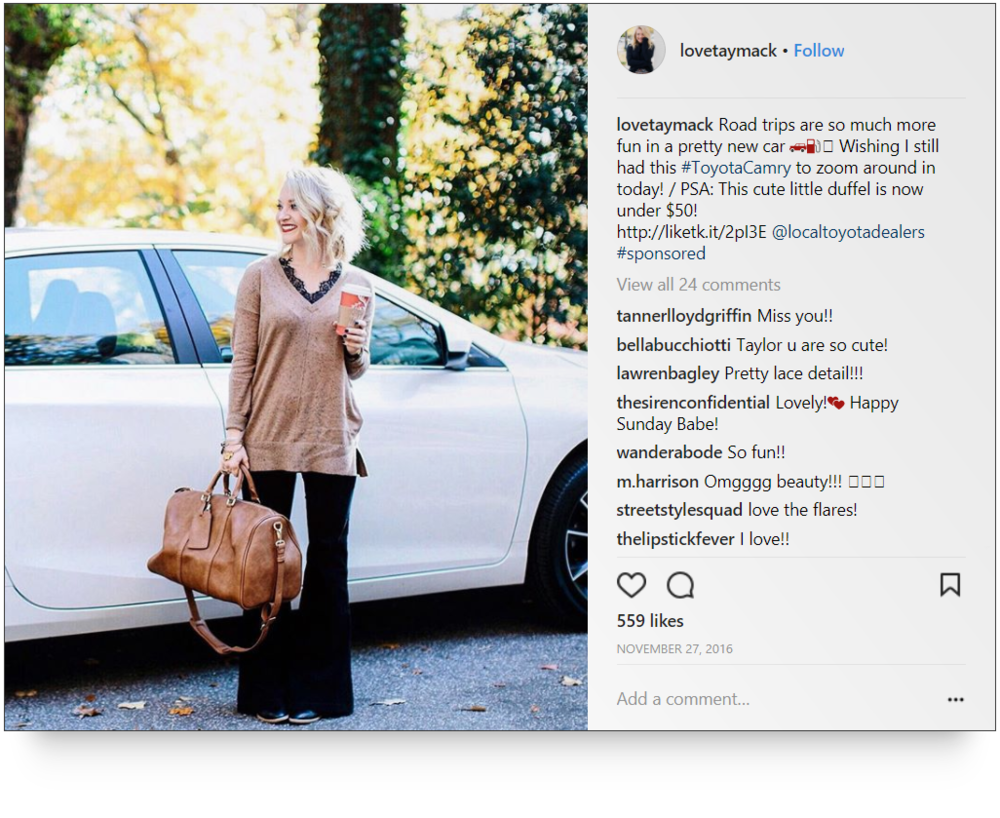 What Taylor Did Right in This Post: Style
Taylor's sponsored post, which got 4.6 percent engagement, pictures a well-styled Taylor standing in front of the new Camry. But… smartly, the car is not the focus of the shot.  She is.  And that one small detail likely shifts the perception of the post from being obviously sponsored to being another cool lifestyle shot from @lovetaymack.
I've seen several sponsored posts by car companies, and unless an influencer is specifically promoting an elite sports car or ultra-elite luxury car (think Bentley, Rolls Royce, Bugatti and other cars that typically don't use influencers), posts that feature the car as the focus of the post tend to under-perform.
One of Taylor's strengths as an influencers is being able to infuse products into her posts without making them look like ads. The result is consistently higher engagement with her audience.
THE PARTNERSHIP: SLEEPYPOD x NORBERT THE DOG
For many families, a family trip really is for the entire family, including the family pet. According to the 2017–2018 National Pet Owners Survey conducted by the American Pet Products Association (APPA) 37 percent of pet owners travel with their pets every year. And this sponsored post from Norbert the Dog (in Instagram @norbertthedog) is capitalizing on just that in this fall 2019 campaign for Sleepypod.
There are a couple of things about this post that are worth mentioning. First, I know this post is targeting holiday travelers because I actually found this post by searching the hashtag #safetravels. Also, when you read the caption, you can see that this particular giveaway from Sleepypod ended on Thanksgiving Day and the brand assures entrants that the winner will be notified on that day and a pod sent to the winner within 5 business days of receiving the winner's address (so, likely by the following Thursday (which is today, December 5th)).
The second thing is that Americans like to spend money on their pets around the holidays. A Bloomberg article published last year for the holidays reported that the average pet owner would spend about $67 on their furry friend, while higher-income millennials would shell out more than twice that – $183.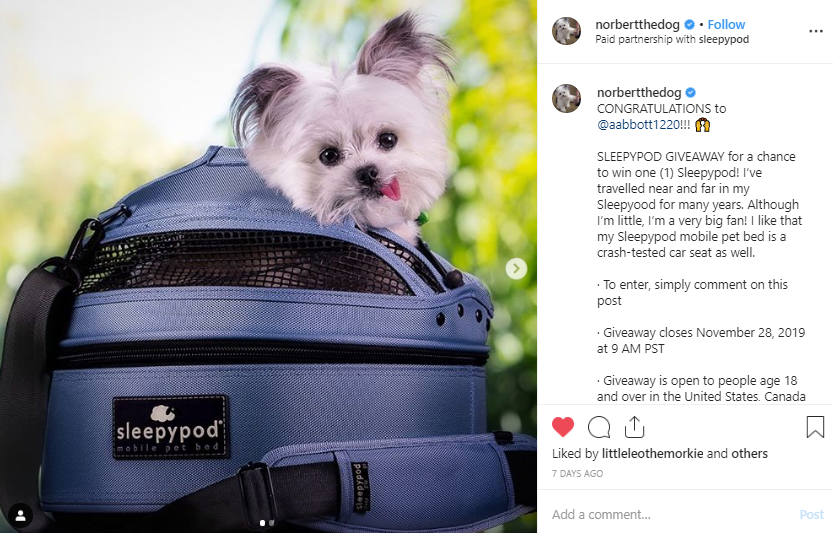 What Norbert the Dog Did Right In This Post: Be Adorable
You know how people love videos of cute animals? That's what's happening here. Nothing makes people stop scrolling faster than babies and furry little pets like Norbert. People love seeing cute animals in their social media feeds. Nine in ten social media users follow pet infuencers. By comparison, eight in ten Instagram users follow brands while four in ten Twitter users follow brands. Pets trump celebrities and brands every time when it comes to grabbing attention on social media.
THE PARTNERSHIP: MARRIOTT HOTELS X ERICA CHOI
Instagram influencer Erica Choi (@eggcanvas) partnered with Marriott Hotels for a series of six posts published between December 24 and December 26, 2016. The posts – which positioned Marriott as an almost surreal destination and a fantastic alternative to the traditional home-for-the-holidays travel plans, were scenic, blue, and beautiful.
For holiday travelers who are okay with skipping out on next year's white Christmas, this post from Erica of palm trees, infinity pools, and blue skies captures a more perfect Christmas experience.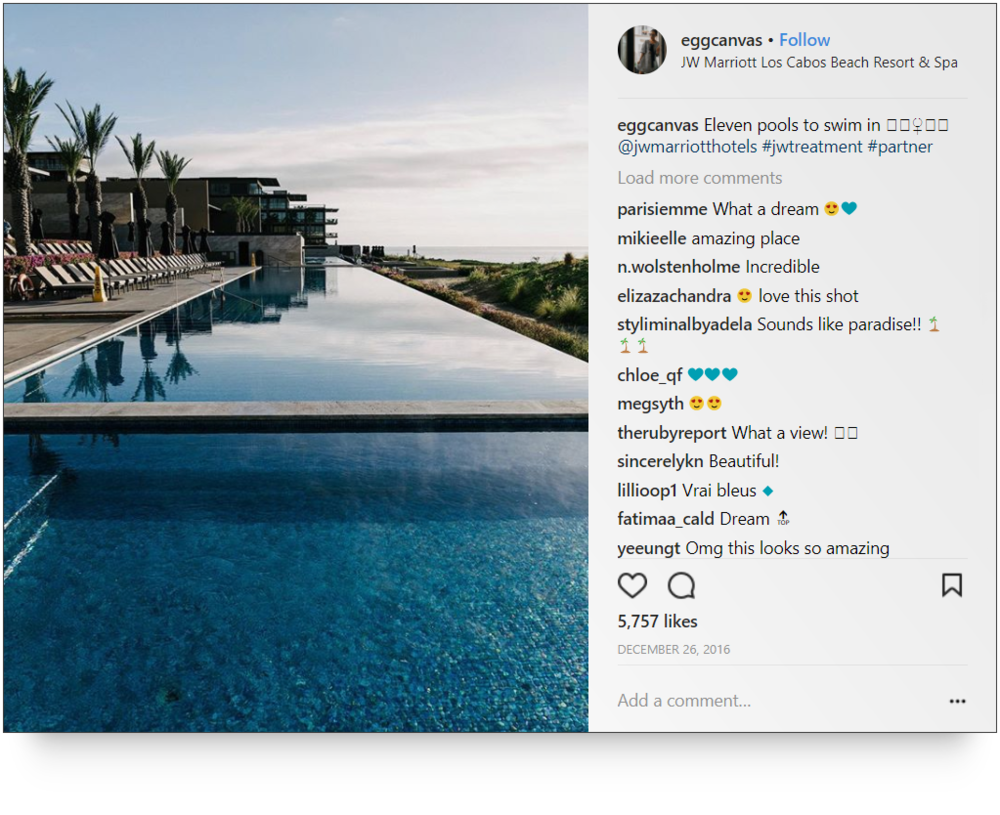 What Erica Did Right in This Post: Evoke Emotion
To drum-up more than five thousand likes and 85 comments, Erica Choi crafted a simply breathtaking picture of her hotel. More than being a snapshot, the picture is representative of a luxurious vacation experience that I imagine is overflowing with amenities, comforts, and sun-soaked adventures that you just can't get in the guest room at your aunt's house back in Boston. What Erica did right was help her followers relate to the awe and wonder she may have experienced sitting poolside at one of Marriott's eleven swimming pools.
THE CAMPAIGN: #SOUTHWESTPASSPORT
Southwest Airlines (@southwestair) launched an Instagram campaign during the 2016 holiday shopping season that included partnerships with several influencers as part of their #SouthwestPassport travel campaign and contest.
As part of the promotion, Instagram influencers were sent to secret destinations in the month of December. Followers who saw and reposted their Instagram posts could enter for a chance to win a $500 Southwest gift card.
Travel fashion blogger Alex TravelFashionGirl.com (@travelfashiongirl) writes and posts about what to wear when traveling to help women travel light and spend less. Her first sponsored post was a picture of her with a box from Southwest which contained her secret destination.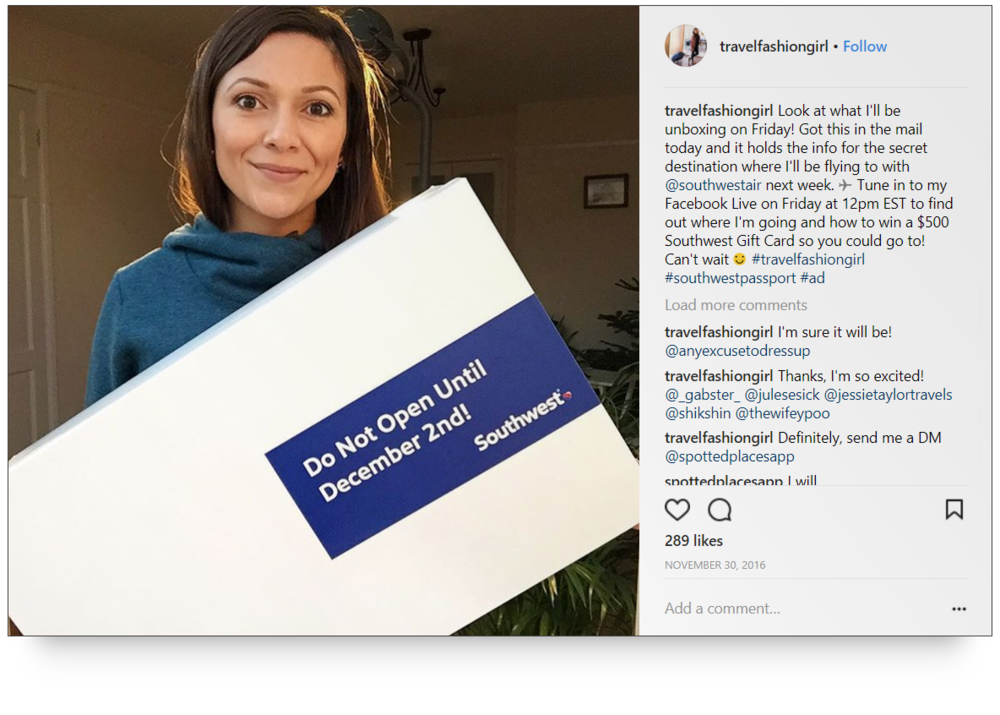 Tiffany Nguyen (@tiffpenguin), a dentist and travel photographer from Los Angeles was pegged for the Belize slot and shared pictures of her Southwest-sponsored trip.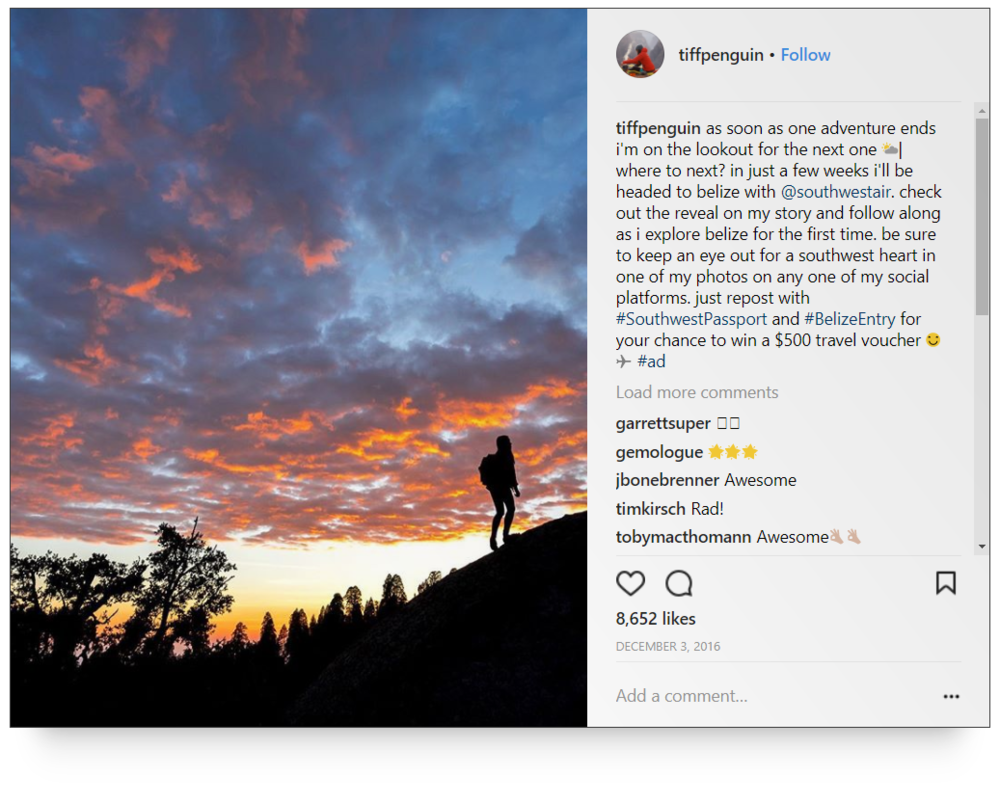 What's clever about this post is that it's not of her Belize trip. It's a striking photo, but it's actually just announcing her partnership with Southwest. The post garnered nearly twice as much engagement as the post she actually published during her trip to Belize.
Also, if you read the comments, right around the center, you will see Southwest's efforts have paid off. Someone verifies that Southwest flies to Belize. That, I believe, is the purpose of the entire campaign, to let people know that Southwest isn't just your favorite low-cost domestic carrier anymore.
The #Southwestpassport campaign sent influencer Jessica Ricks (@hapatime) to Cabo San Lucas, B.C.S. Mexico where this post got more than 13K likes and six dozen comments.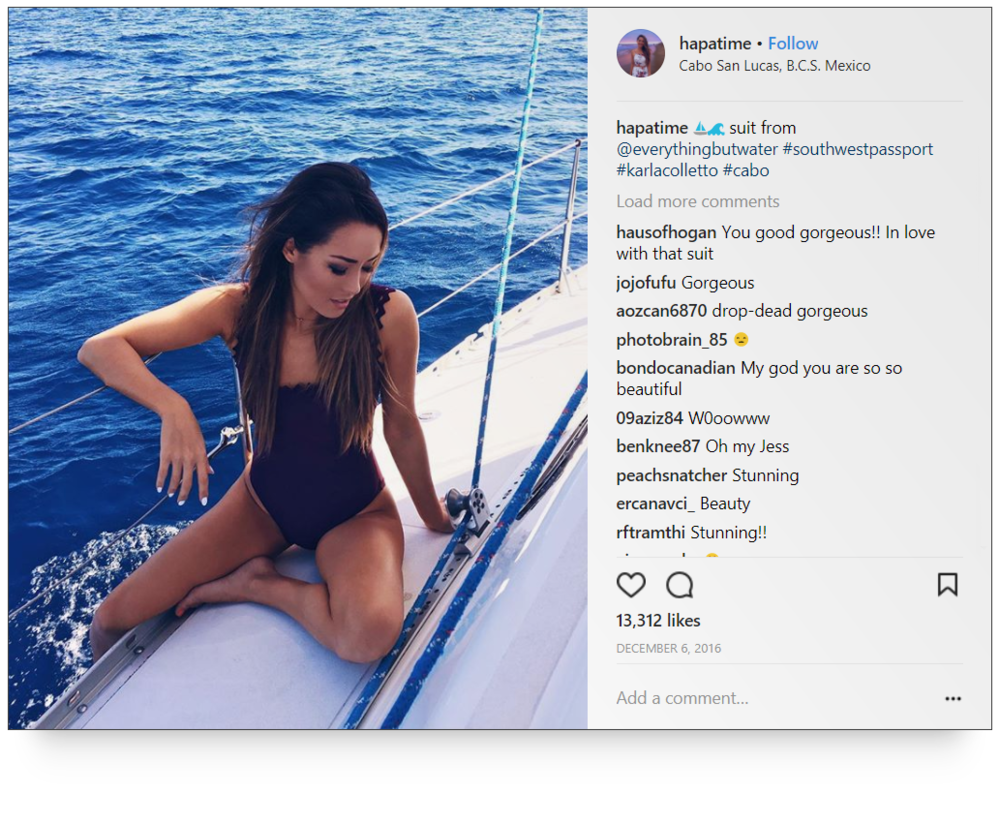 What the #Southwestpassport Campaign Did Right: Possibilities
Without a doubt, Southwest made it clear they are no longer the airline you use for short flights. Heck, when I moved to Atlanta, I had to give up Southwest because it didn't fly here.
But Southwest used the right influencers to tell great stories about their travel experiences. Each influencer displayed fantastic instincts for creating content that appealed to their respective followers. And since Southwest has historically been known as an affordable airline, the fact that it now goes to all points across the Americas not only makes Southwest a contender for any new vacation plans I may dream up, but the campaign did a pretty good job of inspiring me to look up possible vacation packages.
ONGOING CAMPAIGNS: ILLINOIS OFFICE OF TOURISM
The state of Illinois has some really great holiday travel content aimed at wooing people who love the cold, the snow, and biting winds that "disrespect the hell outta coats" (that last part is how my brother described his winter trip to Chicago).
And I'll tell you right now what the Illinois Office of Tourism (@enjoyillinois) is doing right on Instagram – following hashtags and reposting some really great user-generated content from people who in Illinois, people who visit Chicago, and local businesses posting to their own Instagram pages. The smarty pants government agency reposts content then adds holiday and travel-themed hashtags like #TravelIllinois and #HolidayTravel.
Like this repost of a pic from the Morton Arboretum…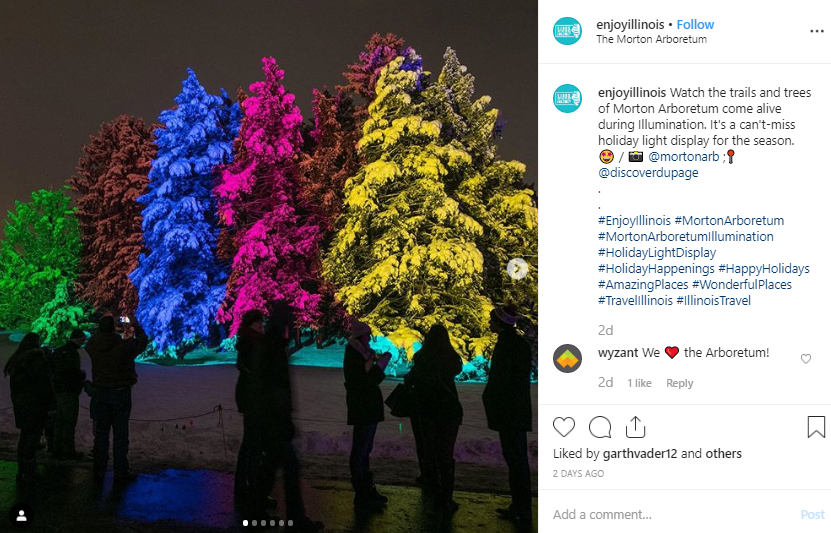 Or this repost of a pic from Alexanda Charita (@onlylivinggirlny)…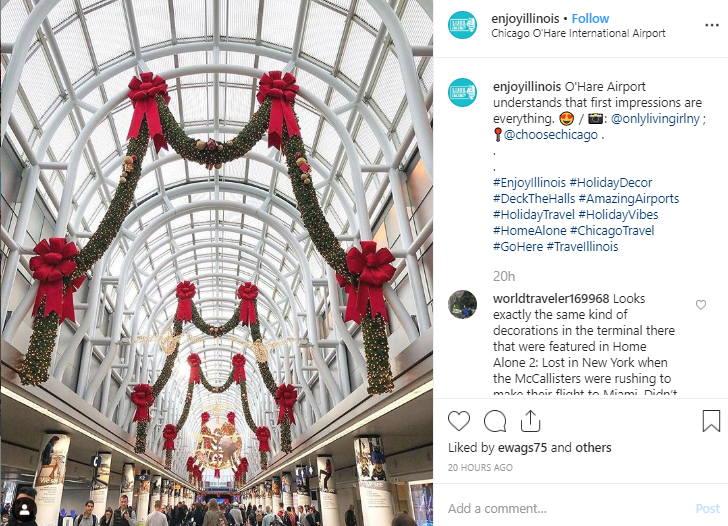 THE CAMPAIGN: #MEDJET
Medjet launched a holiday influencer campaign for Christmas 2017 to boost visibility and increase brand awareness. Medjet is a member-based travel insurance program that positions itself as an affordable way to protect yourself from crisis during your travels.
The brand worked with mommy bloggers / lifestyle micro influencers with sizable, actively engaged audiences. Medjet smartly targeted both road trippers (including this post from Robyn Meacham @robynmeacham), who was driving between Vegas and SoCal for the holidays)…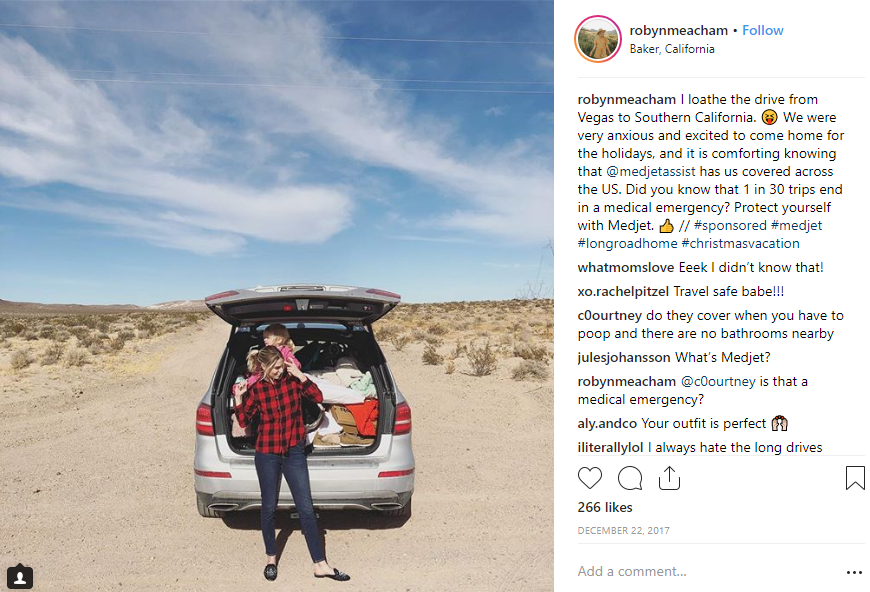 Source: Robyn Meacham on Instagram
As well as travelers who weren't specifically driving, like this post from Jennifer D (@savvygreystyles), who is found twinning with her son (who is a twin) during the holiday festivities.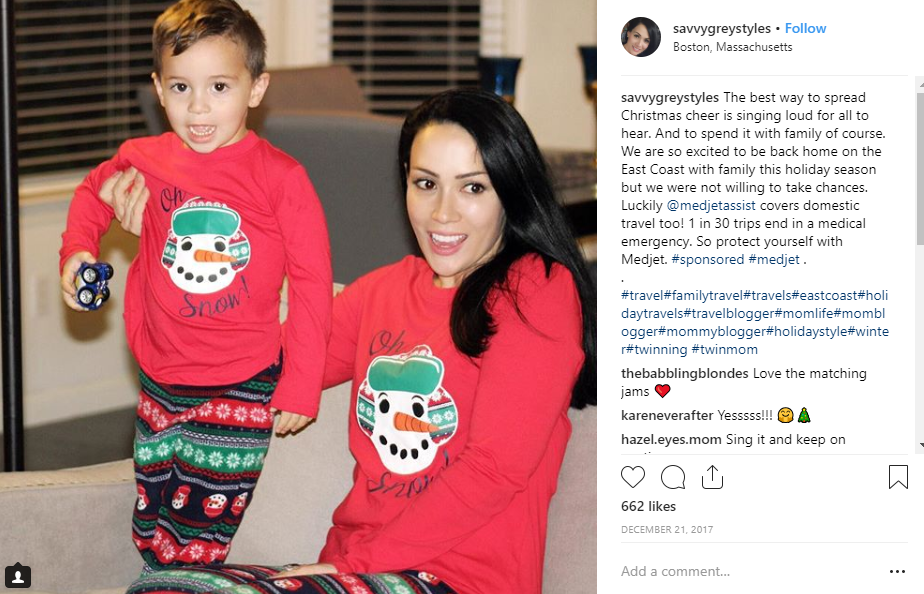 Source: Jennifer D on Instagram
What Robyn and Jennifer Did Right In This Post: Not Make It About Travel Insurance
When you're promoting something as dry as travel insurance, influencer marketing is absolutely the way to go if you're targeting the 30 to 50 demographic. Because the worst thing you can do is make your ad or sponsored post look like it's about travel insurance. Travel insurance is a background player, helping to make holiday moments carefree. By keeping the travel insurance vibe out of the posts, it sort of simplifies the concept for you, as opposed to making it a big deal. Downplaying it works.
Robyn's caption gives a great soft pitch for the virtues of getting travel insurance, and includes Medjet's tagline in the caption: Did you know that 1 in 30 trips end in a medical emergency? Protect yourself with Medjet. But the picture of her behind her vehicle, taking in the sun and having a moment with her daughter Saylor.
In the same way, Jennifer's pic is a fantastic, tight close-up of her and her little one. It's endearing. It's engaging. It's relatable. And has nothing to do with insurance.
BUT you sort of read the caption and walk away feeling like you could probably just bookmark it so you have access to the name MedJet just in case…

Related Post
9 Ways to Get Eyes on Your Holiday Food Campaign
Brands Marketing Vacation Packages for Next YearTHE PARTNERSHIP: ROYAL CARIBBEAN X CODY ANDREW
If you've never seen Cody Andrew's Instagram page (@codywestonandrew), it's pretty fascinating. It is the story of Cody's high-couture family, which includes his gorgeous wife, Christine Andrew (@hellofashionblog), and their three adorable kids.
Both Cody and his wife contribute to the http://HelloFashionBlog.com (Cody contributes to http://HelloHis.HelloFashionBlog.com, the site's subdomain). They are stylish… all 5 of them. They are strikingly good looking… all 5 of them. And they tell fantastic stories of an ideal All-American family with pictures.
This sponsored post of Cody with the three kids lands in the Instagram feeds on Cyber Monday 2016, and the post reads: "First big snow storm today. Wish I was back with @royalcaribbean in the sun. More from our trip on the blog."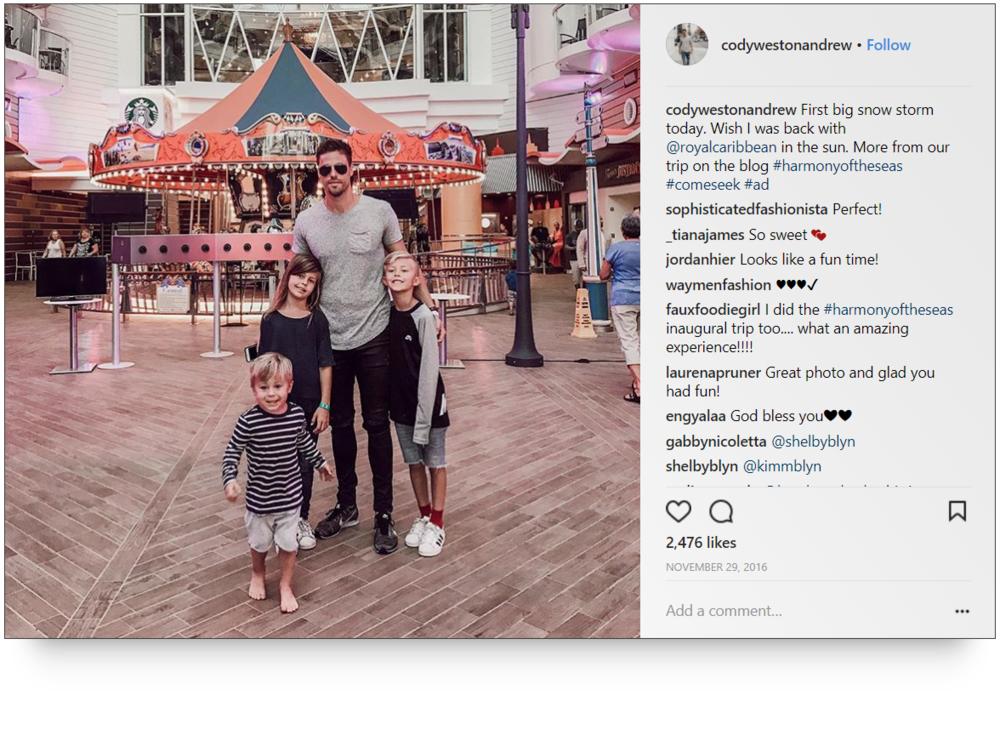 Experience gifts like travel and vacation packages go on sale during the holiday shopping season just like material gifts. In fact, the popular holiday deal guide, CyberMonday.com has an entire section dedicated to vacation deals. NYTimes.com has already short-listed several vacation packages that go on sale this Cyber Monday for travel dates in 2018.
What Cody Did Right in This Post: Tug at Our Heart Strings
A young, attractive father on a dream vacation taking a picture with his three cute kids. That's pretty much all this had to be. No further social media magic needed.
THE PARTNERSHIP: HAMILTON PRINCESS BERMUDA x FAIRMONT HOTELS x AMBER FILLERUP CLARK
Amber Clark (@amberfillerup) is the author of the Barefoot Blonde blog and creator of Barefoot Blonde Hair extensions. With 1.3 million Instagram followers, Amber is a popular YouTube lifestyle vlogger with 233K subscribers. The stories she unfolds for her followers on Instagram are mostly made up of the day-to-day lives and travels of Amber, her husband, and their two kids.
To promote Princess cruise lines, Amber created a professionally-edited video diary that she hosts on her blog. The snippet, which appears on Instagram as a sponsored post performed quite well with her audience.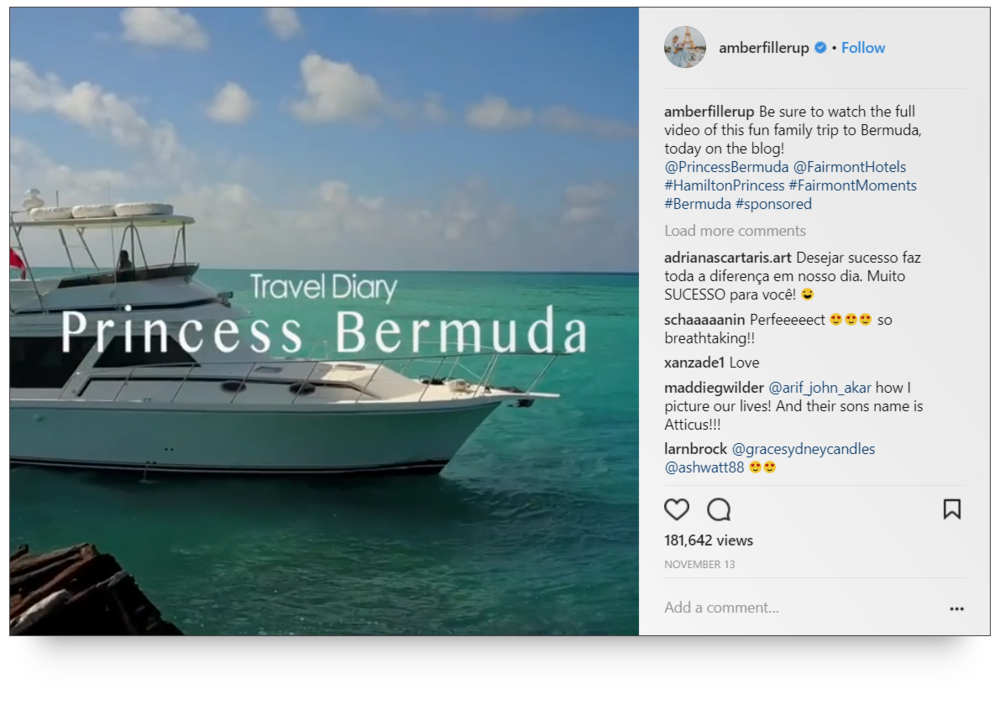 What Amber Did Right: Awesome Video Content
Just ahead of the official start of the 2017 holiday shopping season, Amber published a sponsored post for Hamilton Bermuda Princess and Fairmont Hotels that got 135,222 video views (a pretty impressive 10% engagement) in its first 20 hours on Instagram.
The first 20 hours. Look at the screenshot!
Heck, I watched the video in its entirety two or three times myself.  The video was great. It was engaging, visually appealing, and professionally edited. I think I may even be following her now. Nearly one year later, the post has over 209K views.
THE PARTNERSHIP: AGENZIA IMMOBILIARE LANCISI x THEKITTYLUXE HOLLY AH-THION
THEKITTYLUXE Holly Ah-Thion is a UK-based mechanical engineer whose lifestyle / fashion blog, http://Thekittyluxe.com is a self-professed passion project. In this sponsored post for Agenzia Immobilaire Lancisi, Holly gives followers a glimpse into her stay in Tuscany with a candid shot of the countryside.
The post, which got 3.3 percent engagement from Holly's followers looks like it has a filter applied to mute the colors just a bit so the image fits in with Holly's black and white color scheme on Instagram.
What Holly Did Right: Non-Touristy Attraction
The chance to get a real-life glimpse into the culture and landscape of a place like Italy is Instagram fodder. To see someone we know (even if it's just someone we know via social) go to the hills of Tuscany, or ride on the train to Versailles (as opposed to standing in front of the Eiffel Tower), or otherwise engaged in a non-touristy activity is rare and appreciated.
I believe that's what Holly did right in this post. If there is such a thing, Holly's post is the equivalent of Tuscany without makeup. It's brilliantly simple and makes those of us who love solitude long to be there. That's why it works.
The Wrap-Up
Holiday travel is about more than just getting home for the holidays. Today, it's about bringing the spirit of being "home for the holidays" wherever you happen to land. So, for your holiday marketing campaigns, it's important that you focus on selling the experience.
To do that, you need to find and partner with the right influencers, influencers who can make the travel or vacation experience you brand offers meaningful, accessible, and desirable to people who may not yet even know they want to buy what you have. That's what these influencers are great at doing.
And it's what we at The Shelf are great at helping you to do.  
If you are marketing experiences and you need help with this year's holiday campaign, there's still time to get a phenomenal campaign in just under the buzzer. We can help you.