Images can be powerful communicators. They have the capacity to evoke emotion, convey a message, and tell an emotional story… which is why images are integral to your digital marketing strategies.
More than just prettying-up your posts and emails, images elicit emotions. You can use them to strategically put your followers, readers, and visitors in certain states of mind, to push them toward certain actions, whether it's downloading a content offer or purchasing one of your newest products. You can even use images to tell your brand's story.
While it's true that images can be a driving force in digital marketing, you have to know how to use them if you want to maximize their power.
In this post, we're going to run down a list of ways to put your images to work for you ESPECIALLY if you're paying for stock photos or partnering with an influencer to create UGC for your social feeds.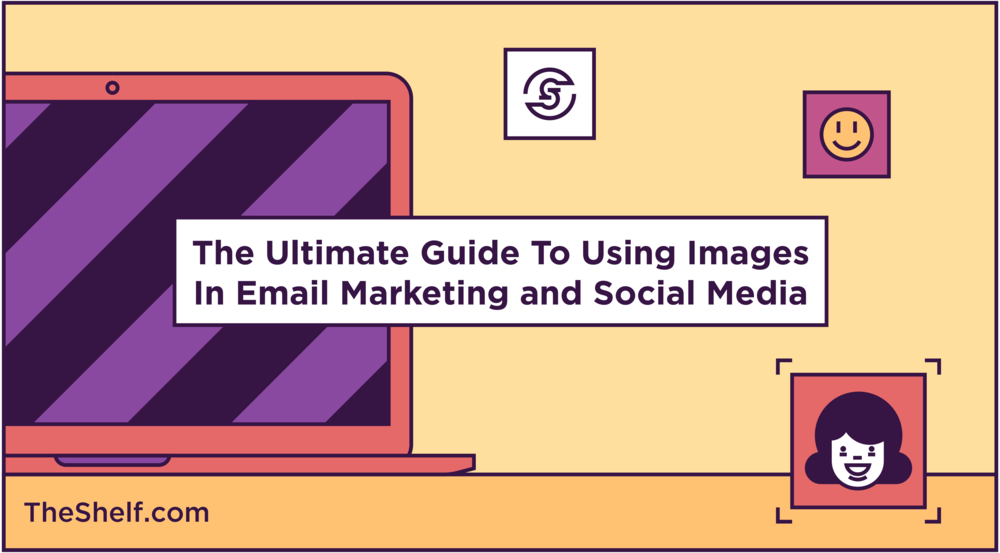 A Few Expert Tips for Using Images in Emails and Across Social
#1 Correctly Format Images for Social Media
Social networks like Facebook and Instagram are awesome platforms for showcasing your brand with visual content. To get the most mileage with your visual content, it's important to upload that are formatted correctly for the platform you're using.
Here are the recommended upload sizes of the different images seen on Facebook.
FACEBOOK
Cover photos – 800 x 312 pixels
Profile photos – 180 x 180 pixels (although the maximum display area is 160 x 160 pixels)
Shared images – 1200 x 630 pixels
Shared links – 1200 x 628 pixels
Event photos – 1920 x 1080 pixels (with a (16:9 aspect ratio)
Meanwhile, Instagram recommends these image sizes.
INSTAGRAM
Profile photos (1:1 aspect ratio) – 180 x 180 pixels
Feed photos – 1080 x 1080 pixels
Thumbnails (1:1 aspect ratio) – 1080 x 1080 pixels (Instagram automatically crops photos with higher aspect ratios)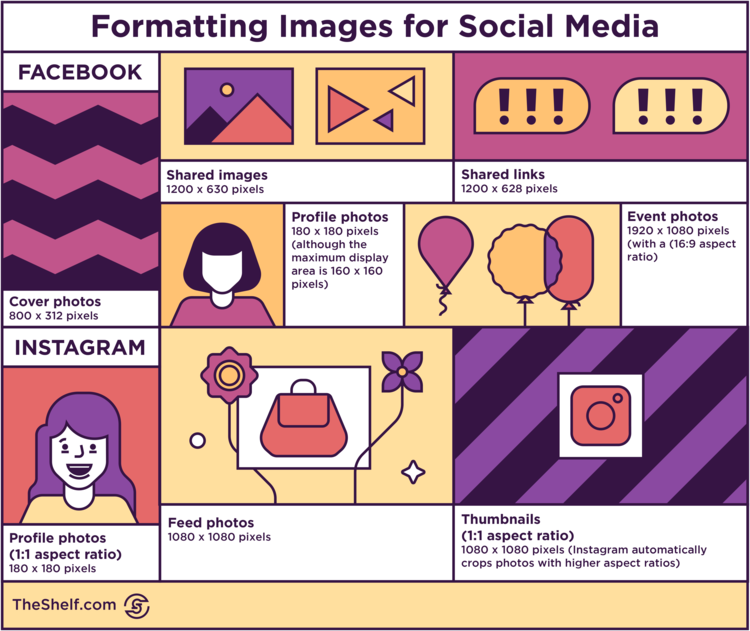 Now, when it comes to choosing the right image size for email, things get a little trickier. A one-size-fits-all approach doesn't always make for great formatting.
Take a look at this above-the-fold screenshot of KeVita's home page (with my screen zoomed to 90%) compared with the way KeVita's home page shows up on an LG with a 6.2-inch screen.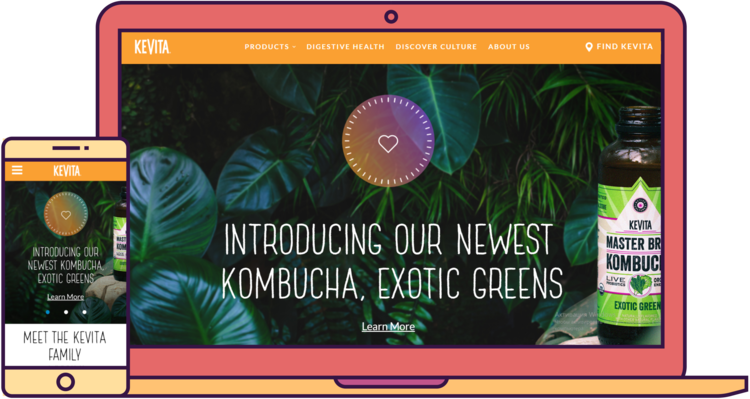 To get the best results for using images in emails, just keep in mind that most desktop devices today have a resolution higher than 1024 x 768 pixels.
But more than half of email opens occur on mobile…
So, you also have to consider how your images scale for mobile devices.
#2 Make Your Images Contextually Relevant
Regardless of the kind of campaign you're running – whether it's asking your audience to help you support a worthy cause, informing customers of updates in your business, or promoting a new product – it's important to choose images that fit the overall context of your message. In essence, the image you use has to be related to your specific campaign.
Let's say you want to promote your restaurant's new menu. If your goal is to entice customers in to take a look at this menu, a good way to do that is to include in any emails you send to subscribers a grid of high-resolution pictures that best represent the appeal of your new menu items.
If you're announcing the new menu lineup on social media, you could run an influencer campaign that features pictures of a handful of local micro influencers enjoying some of those new menu items at your restaurant, OR just post great-looking pictures of the new menu options. #foodporn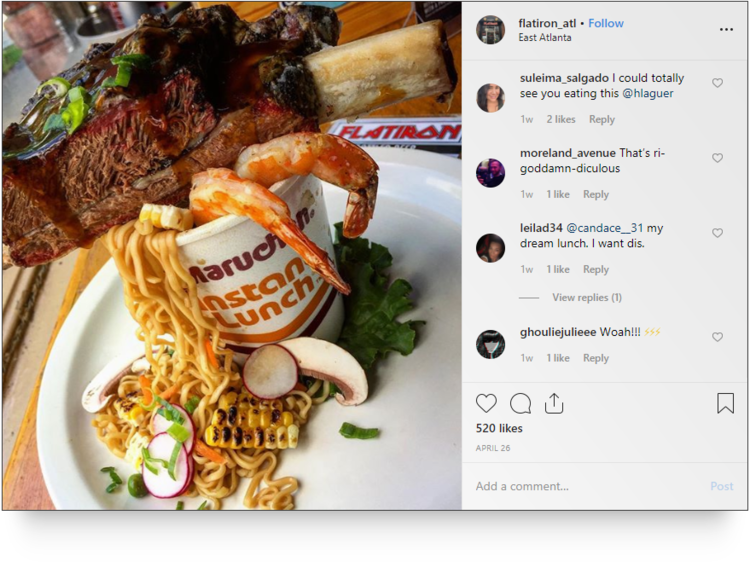 Uhh… is that fancy ramen or is that fancy ramen? Source: The Flatiron on Instagram
Of course, you dont' want to use pictures of food that aren't on your menu. You probably know what it's like to go into a store to buy something the store advertised only to find out the product is sold out. Or worse, that the store never actually had it.
Don't be that guy.
The takeaway here is a time-tested marketing tactic is to show a product in action. A great picture can help you do that.
#3 Use High-Quality Images That Support Your Brand Story
For your audience to fully appreciate the beauty of your images, you have to get great-looking photos. Not only should they be high-quality images, but it's also a good idea to let your images tell your story.
We included Kate and Jade's Instagram feed (@panaceas_pantry) in a recent roundup of health food influencers, and one of the things that was pretty cool about that feed (other than the high-quality food photography) is that their overall feed had purple threaded all through it.
What comes to mind when you see purple food? Probably sweets? Rich, indulgent, decadent flavors.  A really smart idea for a feed that's full of healthy vegan desserts and treats.
Source: on Instagram @panaceas_pantry
People spend way too much time looking at screens to want to see anything blurry. Trust us when you say, you're going to IMMEDIATELY lose your audience if they're having to fight to make sense of your picture.
Low-quality images are just going to turn your customers off, causing them to unfollow you on social media or unsubscribe from your newsletters.
#4 Use Pictures of Faces. We Just LOVE Pictures of Faces!
If you're trying to drum up engagement, nothing trumps featuring people – and specifically faces – in your post. We love looking at one another.  According to a study of more than one million photos on Instagram, images containing human faces received 38 percent more "Likes" than those without. Furthermore, the images with faces were 32 percent more likely to get comments from viewers.
If you use Instagram and have liked or followed an style-related accounts, the chances are pretty good that you have seen the Shapermint ads. Most of the ads are content from Shapermint users. They video quality isn't always great, but they are always high-impact, in large part because they feature videos of regular women.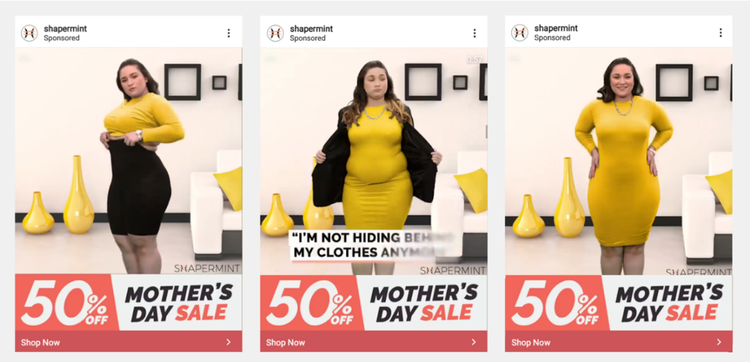 The data gathered in the study may have been isolated to just Instagram, but the logic applies to other social media platforms and even email as well. This is because email and social media share a common goal: to drive engagement with audiences.
So if you want to engage with your followers or subscribers, make it a point to use images with human faces.
#5 Personalize Your Images So They Resonate with Your Audience
Stock photos are everywhere in the marketing world. But you don't really HAVE to use stock images just for the sake of having an image, especially if your stock image options suck or are outdated.
Hey, folks… stock images can get outdated! Images communicate messages, and the conversations going on in the business world 10 years ago are very different from the ones going on in the business world right now. SO stock images have an expiration date.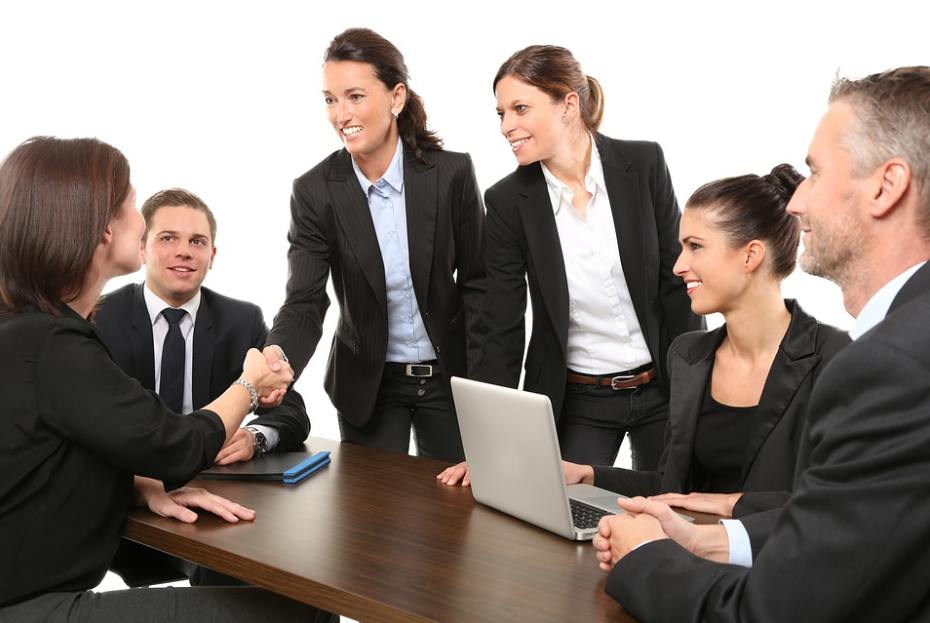 Remember these kinds of stock business photos? This one has been optimized for the search terms "Men employees suit work greeting" …
: /
Stock photos are only as effective as their ability to "speak" to your audience. And the only message I'm getting from that picture above is "stock photo". But, if you just search a little longer…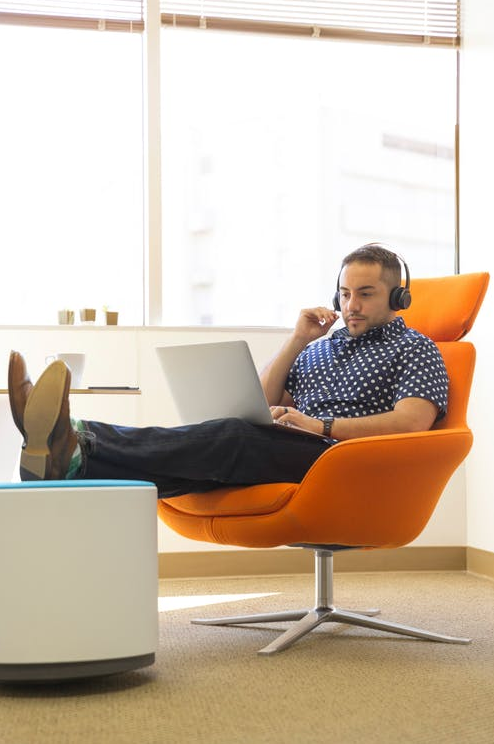 …. Work pictures like this one from the LinkedIn Sales Navigator look a little different, a little more interesting, a little more relatable, a little more current.
Personalizing images like these can make them more relevant to your audience. Doing so not only helps humanize your content, but it also makes your customers feel like you're talking directly to them.
By "personalizing", we mean basing your image choice on the type of subscriber data you have.
For instance, if you run a travel and hospitality website, you can survey your most frequent customers and ask them which places they'd like to visit next. You can then send them images of those places the next time you send them offers.
#6 Add Alt text to Your Images to Support Your SEO Efforts
Images can and should be optimized. Google image searches account for one-third of all Google searches. That's 1.1 billion image searches a day. Just on Google.
So, using alt tags to optimize your images can go a long way toward helping your content, brand, and products get found online.  Not only that, but it's important in email marketing as well. Images in your email can be blocked by certain email clients. Including alt text in your images solves this problem, because it provides context for the image.
You've seen these little gray boxes in your email, I'm sure.
If a subscriber's email client blocks images, using alt text to describe what your images are will encourage the subscriber to turn off image blocking. This enables them to see your images and have a more positive experience reading your emails.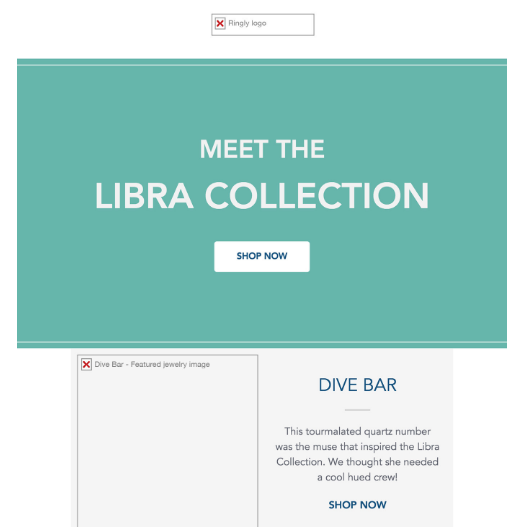 Regardless of what email service provider (ESP) or content management system (CMS) you use, adding alt text to images is pretty straightforward. Just look for the "Alt text" or "Add alt text" on the platform you're using, and type in the appropriate alt text. Simple, isn't it?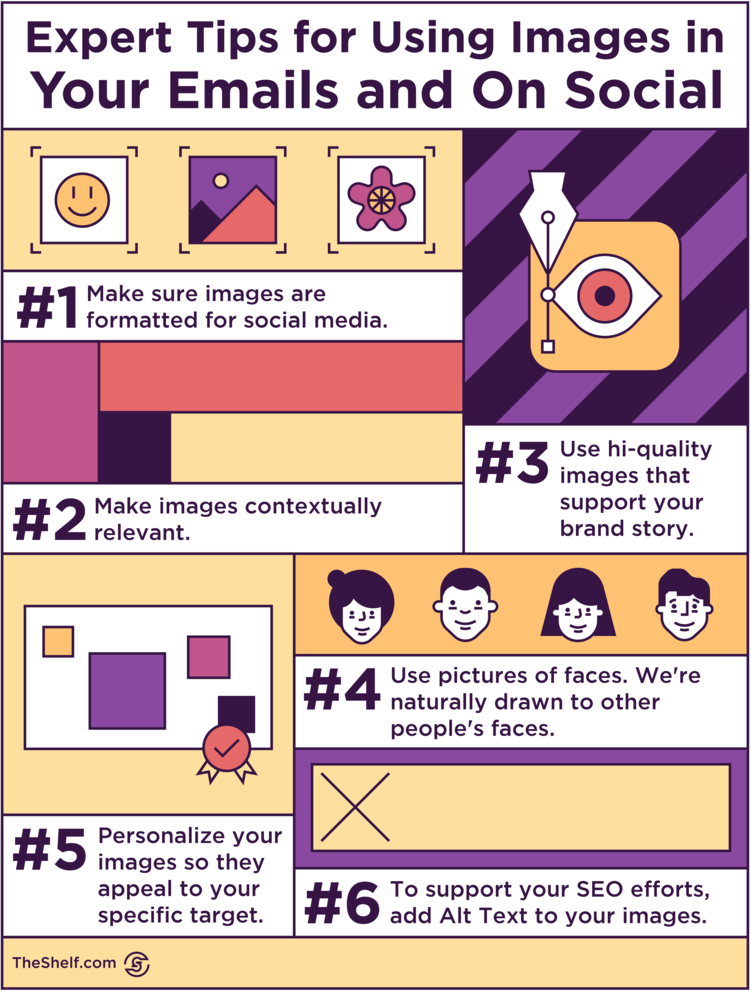 Wrap Up
No matter what digital marketing campaign you're running, images are an important part of it. By using high-quality, relevant, and well-positioned images, you can improve engagement with your audience, encourage social sharing, and even boost your revenue.
Follow these tips, and leverage the power of your images.
ABOUT THE AUTHOR
Kaitlin Westbrook is a Content Specialist at Campaign Monitor. She is also a film aficionado and has written several screenplays.