Gaining an influence over buyers is what every brand aspires to do. But let's face it, trust between consumers and businesses is lacking. Shoppers today know what they want and demand a lot from brands they engage with.
The reason: Consumers no longer purchase from brands – they invest in them.
And like the savvy investors they are, they want to use products from brands they resonate with. So, you have two options:
1. Study your customers and represent them in all of your ads and marketing
2. Collaborate with influencers your audience already knows and trusts
One can take many months to see results, and the other drives traffic and sales in days or weeks. But we're not talking influencers in the realm of a Kardashian or Minaj.
We're referring to nano-influencer marketing. Not sure what this is or if it's for your brand? Then continue reading.
What are nano-influencers (and how many followers do they have)?
Nano influencers are the smallest of the bunch in terms of followers – with 1,000 – 5,000 followers. These are the niche influencers with sacred communities built upon trust and authenticity. Depending on who you ask, nano-influencers can include social media users with as few as 100 followers and as many as 10,000 followers.
You can find them across all platforms, including YouTube, Instagram, Twitter, Facebook, and TikTok (to name a few). Plus, they exist across all industries, from health and beauty to tech and travel.
And apparently, nano-influencer collaborations are on the rise (even in B2B). A report from Influencer Marketing Hub shows 52% of brands are working with up to 10 influencers. Another 22% are partnering with between 10 and 50 influencers.
Something must be working if businesses invest this much in nano-influencer marketing.
Nano-influencers are not to be confused with micro-influencers, who are also smaller than the traditional influencer but have 5,000 – 50,000 followers. It's a small distinction – but a powerful one.
6 reasons why you should work with nano-influencers
Your goal is to sell your products to buyers. And nano-influencers are the gateway to consumers' hearts (and pockets).
That's because people trust people. And unlike macro-influencers, nano-influencers feel more authentic and trustworthy. When they promote a product, 9 times out of 10, it's because they stand firmly behind the brand and its cause. Here's a look at the other benefits of nano-influencer marketing.
1. Nano-influencers are everyday people
Mentioned it already, but it's worth hammering the nail on the head again. These are hard-working people with families, goals, and careers outside of social media.
So, followers don't view them as walking and talking social media ads. And most importantly, they're authentic. You won't find a feed filled with promotional content. But when the occasional product-related content appears, it's a mix of praise and disapproval.
It's like getting advice from a family member or best friend. And that's what makes an influencer collab with a nano-influencer is so effective.
2. Nano-influencers have high engagement rates
Can't toot the horn of the nano-influencer without mentioning their exceptional engagement rates. After all, this is what you want to see on brand-related posts.
These folks built their social media network authentically by starting conversations, engaging with others' posts, and offering value to their tight-knit community.
This is easier to do since they have a smaller circle to manage and can reply to comments in a timely manner. In turn, this increases engagement from followers (and potential followers).
And we're not just talking likes, shares, and basic comments. But meaningful engagement, such as conversation, deep interest, and tagging folks in posts.
3. Nano-influencers are easy on the pockets
Not only do nano-influencers increase your visibility and sales, but they do it at a reasonable cost. Their rates are substantially lower since they don't tout a large following. Some will even just do it in exchange for your free product.
That's not to say they aren't worth a fair rate for the work they put in to connecting your brand with their highly-engaged audience. So, it's best to pay for all nano-influencer partnerships.
But how much do nano-influencers cost? Well, that depends on several factors (covered more in-depth below). However, you can expect to spend several hundred dollars.
4. Nano-influencers are personable and enthusiastic
When a nano-influencer enters a partnership with a brand, they're ecstatic (especially if you're one of their first gigs). And it shows through the posts they create.
The posts may not be as "professional" as a macro influencer's, but they'll be creative and genuine. The project isn't "just another business engagement" like larger influencers who live and breathe influencer marketing.
And whatever they produce will work for their audience, which is ultimately what you're trying to tap into. Let their platforms be their portfolio. With a little research on your end, you'll be able to tell the quality of what they typically produce, whether for a brand or not.
5. Nano-influencers are super niche
Filling your network with generalist influencers – not a good idea. This makes the content they create less relevant to your brand and their audience. In other words, no eyeballs, clicks, or purchases for you.
But nano-influencers are super niche, making connecting with audiences relevant to your brand and product easier. This is critical to prevent wasting money on little to no engagement with your content.
And with the increase of influencers in general, you'll be sure to find a nano-influencer that is perfect for your brand.
6. Fast content production
You can forget about getting your content published fast when you work with a macro-influencer. In some cases, you'll have to wait months to have your post ready for the public or pay big bucks to have it done sooner.
But that's not typically the case with nano-influencers. Most can have your post ready for publishing within days of receiving your product (depending on their work schedule, of course) or for a small fee if they are really busy.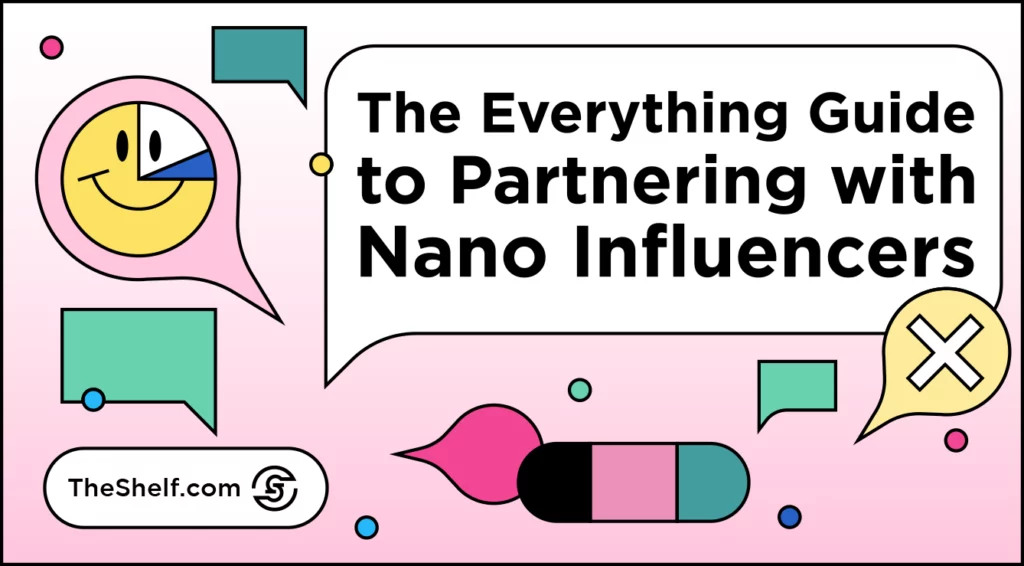 How much do nano-influencers cost?
Nano-influencers are typically affordable for small businesses and brands. You can expect to pay anywhere from $100 to several hundred dollars for a post. On Instagram, nano-influencers typically cost between $10 to $100 per post.
But what you'll spend depends on several factors, including:
The social media platform of choice
Type of content they're creating (e.g. static post versus video)
Number of posts they must create
Agency fees (if you're working with one)
The amount of effort required (Do they have to travel to a local pool to show off your swimsuit?)
Influencer's reach (the closer to 5,000, the higher the rate)
Amount of engagement (high engagement = more pay)
Industry expertise (expect to pay higher for fitness influencers vs. health enthusiasts)
Influencer's demand (the sought after will cost more)
Exclusivity (if you want them all to yourself, you'll have to pay a pretty penny)
So, keep this in mind while searching for a nano-influencer to work with.
And speaking of which…
How do you find nano-influencers?
If you're on social media networks, then you're already a step closer to finding nano-influencers. But locating the perfect one for your brand is another story.
There are several methods brands use to find relevant social media influencers for marketing campaigns. For instance, you can follow industry hashtags, search for published industry authors or bloggers, or use influencer marketplaces like The Shelf. (The latter speeds up the process by recommending a list of influencers that fit your criteria.)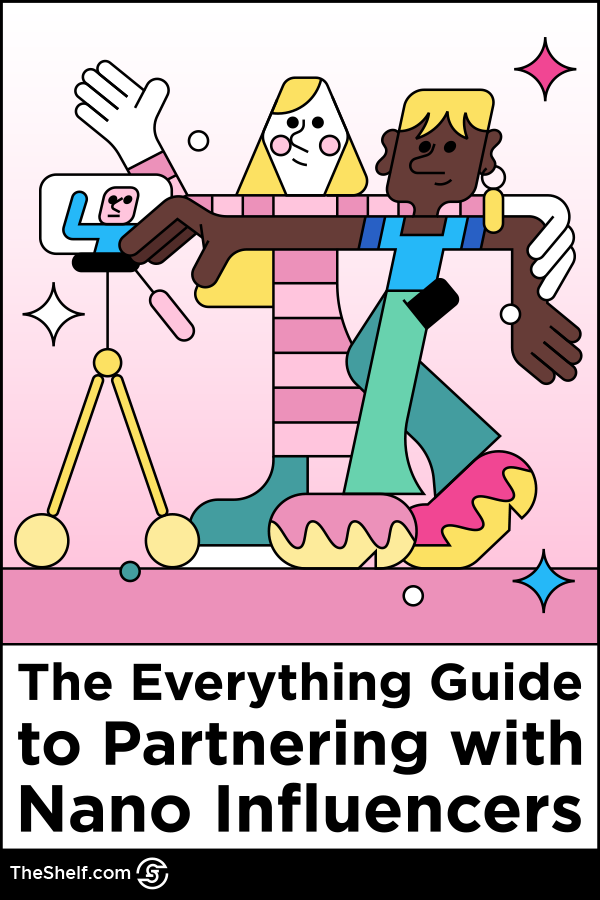 iHeartRaves, for example, uses relevant hashtags to find influencers to collaborate with:
"We usually find a lot of nano-influencers in our tagged images on Instagram. If we see that a customer has potential as an influencer, we will often send them products in exchange for creating more content." – Brandon Chopp, Digital Manager at iHeartRaves
How do you find the right nano-influencer?
There are 8 questions to consider before selecting a nano-influencer:
Are they relevant to your audience and niche?
Do they have consistent (quality) engagement with loyal followers?
Are their followers good quality?
Is the quality of their content high?
Do they consistently post content?
What is their follower count?
Do they have good reach?
Does their content have a mix of promotional and personal posts?
The best way to answer these questions is to analyze their social media profiles. For instance, to calculate their engagement rate, you divide the number of likes, comments, and shares with the number of followers they have. Ideally, you want to hit between 2% and 3%, but higher is even better.
Formula: Number of Engagement / Number of Followers = Engagement Rate
Then, you can review some of their followers' profiles. Are they a real person (not a bot)? And do they show interest in your industry? Do the same for the influencer – check all of their social profiles to see what they discuss.
This gives a well-rounded view of what they represent and who they target. This also ensures they're not fake influencers with fake audiences. waht is
Here's what Brandon Chopp does to find the best nano-influencer for campaigns:
"First, their content has to be of good enough quality that we would want to repost it. Next, we look at their engagement. We generally like to work with influencers that get at least 1,000 likes per photo, regardless of how many followers they have. That said, we do make exceptions if their content is great and we think they have potential." – Brandon Chopp
Here's an example of a post from a nano-influencer iHeartRaves collaborated with recently:
Influencer marketing platform vs. influencer marketing agency vs. doing it all yourself
As you're searching for nano-influencers, you'll come across three options:
Doing it on your own
Working with an agency
Signing up to an influencer marketing platform
The first will eat up most of your time and resources, and won't guarantee results. Hiring an influencer marketing agency is a good option to delegate the creation and execution of your nano-influencer campaigns. And if you use one with a built-in influencer marketing platform – even better.
For instance, The Shelf is a done-for-you influencer marketing agency that boasts a platform packed with different types of influencers. You can browse through influencers and select those you want to work with. Plus, you can monitor your campaigns in real-time via the dashboard.
Since agencies already have influencer relationships, it's quicker to get the ball rolling with your influencer marketing campaigns. And they have dozens of campaigns under their belt, ensuring you generate a nice return on investment.
How to use nano-influencers in your marketing
You found a nano-influencer you like. Now what? Here are several tips to improve your chances of generating favorable results:
Develop an influencer marketing strategy with clear goals and expected outcomes
Use software to monitor key insights from each campaign (and to see what's working)
Use relevant existing and branded hashtags to drive visibility and recognition
Publish content at the right times (use audience analytics to see when their target audience is most active)
Choose the right type of content (e.g. Stories are best to demonstrate a product)
Reuse their user-generated content in other channels and content (blogs, emails, social media, etc.)
Pay nano-influencers a fair rate to show you value their collaboration
In the end, nano-influencer marketing is a partnership. So, get them involved in planning the campaigns to ensure the content and promotions resonate with your brand and their audience.
An example of a brand using a nano-influencer comes from one of The Shelf's influencer marketing campaigns for The Smile Generation (a photography brand).
Nano-influencer, Ilda, did a family photoshoot and used it as a backdrop for Instagram and blog content. She created heartwarming words about what makes her family smile (clever), and how important their smiles are.
The Bottom Line: You can use nano-influencers to build your brand.
When you need to connect with your target audience authentically, nano-influencer marketing is the way to go. It positions your products in front of potential customers using the people they know and trust.
It's an underrated strategy, but it's quickly gaining steam among businesses and marketers.
There are millions of aspiring nano-influencers out there, and more are popping up every day. So, there's plenty to go around. But don't wait too long, or they may get snatched up into exclusive deals.
Ready to get started with nano-influencers? Sign up for a demo with The Shelf today.