Influencer marketing continues to grow and evolve rapidly. It seems like new terms and strategies are cropping up daily (like, literally, we're getting updates fed to us via real-time news updates and podcasts because things keep changing in the influencer space). So, we decided to create an influencer marketing dictionary — a glossary of important jargon and buzzwords you'll want to know the next time you hop on a Zoom call about an influencer campaign.
Think of how impressed your friends and family will be when you bore dazzle them with terms like "collab feature" and "brand ambassador".
Whether you're blowing the minds of your non-marketer friends or not, this particular glossary of influencer marketing terms will help you stay up to date on what's popping in the world of influencer marketing.
And…
It will arm you with an understanding of the elements of influencer marketing. Plus, it will give you the language to communicate effectively with your in-house team and the team appointed/hired to run your campaigns. Believe it or not, this post doesn't contain any influencer marketing stats — which is kind of our jam — but it's packed with information and insights. Without further ado, let's dive into the influencer marketing dictionary.
Ready? C'mon, it'll be fun.

The First, and Most Important Influencer Marketing Definition
Influencer Marketing or Creator Marketing: Influencer Marketing is a form of word-of-mouth marketing where brands hire social media creators who have expertise and influence in specific areas to talk to their own audiences about the various benefits of the brand's products.
Influencer marketing isn't new — not by any stretch of the imagination.
The current iteration of this form of word-of-mouth marketing being driven largely by content posted to social media channels IS new. But influencer marketing has a long history and a critical role in the sales process because influencer marketing works.
When influencers are sourced properly, brands can be assured that their influencer collab puts them in front of people who are most willing to buy their product. Presumably, the influencer's audience is largely made up of members of the brand's target audience (👈🏼 that part's important). An analysis of the influencer's followers will verify that their audience is a match for the brand's target buyer. Actually, you can check out this piece for a more in-depth explanation of what is influencer marketing. And this article will answer your most commonly asked questions about influencer marketing.
Now, let's get on with the jargon…

Influencer marketing continues to grow and evolve rapidly. New terms and strategies feel like they're popping up as fast as your phone's notifications. So, we decided to create a dictionary of key terms to know so that you can learn the ins and outs of the influencer marketing industry and build winning campaigns.
Influencers: Social media users whose followers look up to them for advice and guidance on specific subjects. Answer your deep questions about what is an influencer in this article.
Nano-Influencer: Typical nano-influencers have between 1K-10K followers. There needs to be an intent to influence. While their followings are lower, they are often much closer to their community as they likely know some of them in real life.
Micro-Influencer: The majority of influencers are in this influencer tier. Micros' experience, content quality, and content themes vary widely. Their higher engagement rates and personal connections with their followers set them apart, and their experience and price tag vary.
Mid-Tier Influencer: Not quite micros, not quite macros, these influencers expect more than just free product in exchange for posts. They may not be a full-time influencer, and usually have larger engagement rates than the mega and macro influencers.
Macro-Influencer: There is no industry standard for classifying macros, but the average range is from 300K – 1M followers. These are experienced influencers who may work full-time or have a manager.
Mega/Celebrity Influencer: Well-known influencers and celebs who have talent managers, and their fees are exponentially higher than other tiers. They typically have higher reach, lower engagement rates, and higher price tags.
Fake Influencer: These are accounts that appear to be influencers. In reality, the so-called followers actually consist of a disproportionate number of bots or fake accounts. It's the equivalent of buying a fresh jelly doughnut and biting in only to realize there's no jelly. 🍩 🍩 🍩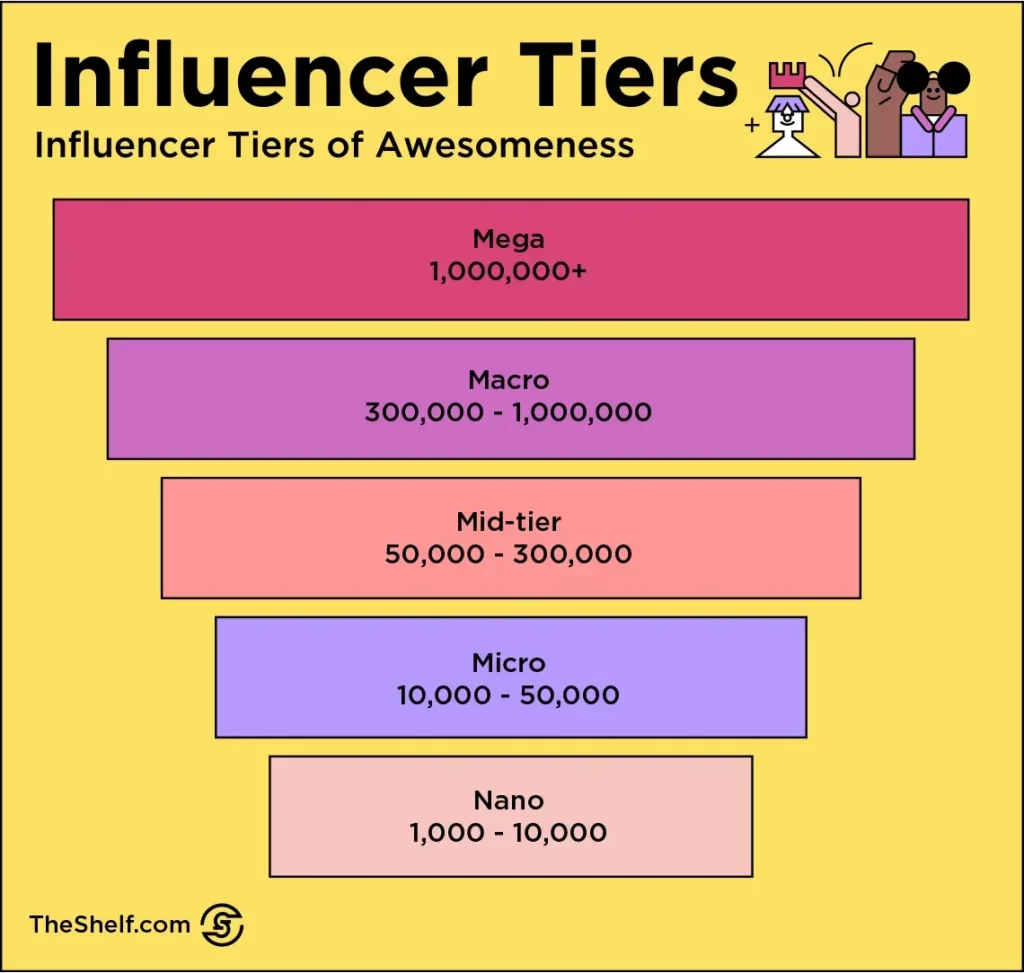 These various types of influencers can help you increase your ROI. But first, you need to set some campaign goals to ensure you deploy influencer marketing best practices AND that you find the perfect campaign type for your brand. 
Brand Awareness Campaign: Branded campaigns help you get consumers talking about your brand and help you build trust. They work best when introducing a new product, rebranding, and trying to present a value prop big enough to interrupt the buyer's regular pattern.
Content Campaign: This approach is best when your goal is to get a ton of influencer-generated content (especially evergreen content) that you can reuse across your branded channels and in online and offline ads.
Traffic/Clicks Campaign: These campaigns work best for increasing site traffic, growing your list, getting sales, and running retargeting campaigns. They're also great for when you need prospects to see your brand a few more times to stay top-of-mind. 

Just as you want to select the best influencer marketing strategy for your brand, you need to effectively track the campaign to analyze the success of your efforts. Different metrics also help you select the best influencers to meet your campaign objectives and hit the most important influencer marketing KPIs.
Key Performance Indicators (KPI): Values for measuring your influencer marketing campaign.
Influencer Selection Criteria: This is the predetermined system a brand or third party uses to determine the likelihood of success in choosing to work with an influencer to meet marketing goals. This could include previous partnerships, marital status, storytelling, brand affinity, and lifestyle. Here's the Agency's Technical Guide to Influencer Selection. 
Social Media Platform: These are digital channels that allow users to share different types of content such as video, text, photos, etc. Influencer marketing relies on these interactive, virtual spaces like YouTube or Instagram to reach the right audience by carefully selecting the right influencers on each platform. 
Vanity Metrics: Think metrics like follower count which may look great on the surface but not mean much in practice. Vanity metrics may not indicate performance or benefit to your influencer marketing campaign strategy. 
Reach: Influencers' follower count at the time of posting.
Unique Reach: Campaign-wide metric that means the sum of all influencers' follower counts across platforms.
Total Potential Reach: Influencers' follower count x Total number of posts.
Impressions: Total number of times the content is viewed.
Engagements: Number of interactions on post. This includes comments, likes, link clicks, shares, replies, profile visits, sticker taps, etc.
Total Engagements: The sum of all likes + comments across all posts.
Engagement Rate (ER): Authenticated total engagements divided by total potential reach.
CPM (Cost per 1,000 impressions): It's your total digital spend, divided by your total paid impressions, then multiplied by 1,000.
CPE (Cost per Engagement): Your total digital spend, divided by the number of paid engagements.
CPC (Cost Per Click): Your total digital spend, divided by your total number of clicks.
Views: A view is a predetermined number of seconds a user allows a video to play. This magic number differs from platform to platform.
---
Want more than an influencer marketing dictionary? Familiarize yourself further with the analytics and dive into influencer marketing ROI and the metrics you should be watching.
---

There are many influencer marketing tactics, systems, and ways to enhance your efforts and amplify the benefits of running influencer campaigns. These terms further explain how to build a winning strategy and optimize so you get the most out of your campaign.
Call to Action (CTA): A button or request for users to take some type of action. CTA's are only as good as the concepts used to motivate the audience to increase connections and conversions. This could include promotions, rewards, signups, or giveaways.
Concepts: Brand-safe creative ideas that make people want to engage with your campaign content. Quizzes, community content, and informational ideas are all concepts that can help you reach your marketing goals.
Post Type: The combination of media formats and the platform options. Examples include an IG photo, IG story, Pinterest pin, or YouTube short. 
Verticals: Verticals are segments of your target audience identified by their commonalities. For example, adventurers or organized moms could be verticals.

Distribution: Distribution entails getting greater reach for the top-performing content in your campaign. This helps you optimize your efforts and increase the resources behind high-performing content to boost the ROI of an influencer campaign. For example, this could include boosting, Facebook groups, newsletters, or organic reach.
Allowlisting: Turning an influencer's organic posts into a paid ad and running it through their account (instead of running an ad/dark post through your brand's account). This is available on Facebook and Instagram and allows you to reach new audiences.
---
Check out our Guide to Influencer Whitelisting.
---
Dark Posts: These are social ads (made with either brand or influencer assets) that appear as sponsored content in the feeds of users you're targeting. They don't appear on your timeline or show up organically in your followers' feeds.
User Generated Content (UGC): This refers to the marketing assets or sponsored content that influencers are hired to create for brands during influencer marketing campaigns. Regardless of how influencers are paid for that content.
Sponsored Posts: This type of post means that an influencer is publishing a post that's compensated by the brand.
Re-Share: This is when your brand's page shares the influencer's original post from their page to yours. This could be retweeting a tweet from an influencer or their page on your Instagram story.
Repost: A new post published to your page that looks as though it was "reposted" from an influencer's page. This could be uploading the influencer's assets to your Facebook page for a new post with their caption in quotes and additional information from you.
Repurpose: When a brand takes the influencer's assets, optimizes them for the channel, and then posts them directly to their page(s) with an original caption. This could be sharing assets and a caption on LinkedIn and crediting the influencer for the visuals.
Brand Ambassadors: Much like an influencer relationship, brand ambassador partnerships are more long-term. The influencer typically has an authentic affinity for the brand. These partnerships are more than one-off campaigns with influencers meeting a short-term goal. 
Federal Trade Commission (FTC): The FTC has a set of guidelines for the influencer marketing industry where influencers are required to disclose their relationships with the brand in the post that promotes their product or service.


Influencer Networks: A roster of an existing influencer network curated by a third party.
Opt-Ins: Influencers who respond to your "casting call."
Agents: Professionals who represent a group of top influencers (which isn't the same as repping a large group of influencers).
Outreach: Conducting cold outreach to influencers you don't know and who probably don't know you. But you have a master plan and a fantastic influencer outreach template that keeps you from looking like a crazy person.
The Influencer Marketing Dictionary in Conclusion
Bookmark this influencer marketing dictionary and refer to it each time you need a refresher on the basics or lingo. It's a fast-paced industry. Social algorithms and influencer marketing trends are always changing. But that keeps us all on our toes (and is half the fun). So, whether you're an influencer or marketer, you want to be sure that you're staying up to date.
Understanding and implementing these terms and practices can help you scale, expand, and amplify your brand. Influencer marketing lets you increase your ROI when you have the right campaign that wins over your audience.
Enjoy being the influencer marketing go-to specialist on your team with these key terms.
---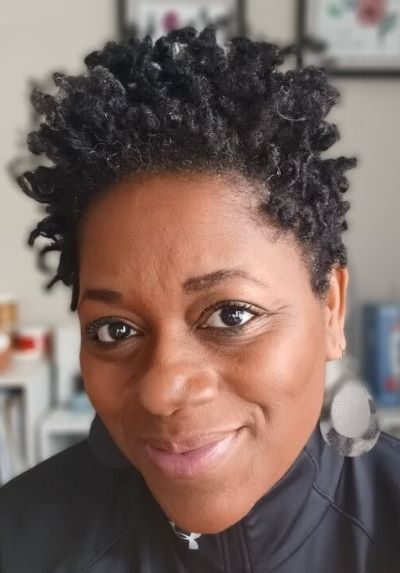 About the Author
Sorilbran Stone | Content Strategist
I serve as the resident content strategist and the official Head of Content Marketing at The Shelf. Marketing is my happy place. I'm as happy looking at analytics as I am actually creating a thing. I focus a lot on dreaming up and implementing the best ways to create, publish, and distribute content that will builds our brand and gets our readers to do a thing
---