Whether you've been in the industry for years or you're just now dipping your toes into the social media pool, you might still have a few questions about influencer marketing. Understandable. So, you know us – always trying to meet the need. So, we've updated our Influencer Marketing FAQ.
A lot has changed since we originally published our influencer marketing Q&A back in 2018. In that time, influencer marketing industry has gone from being new and shiny to being new and shiny and ever-changing – our strategy team literally updates the team on changes in the space in our weekly meetings. Its value has grown from $1 billion in 2018, to being projected to generate more than $20 billion by the end of 2023.
My point is – things change fast in this space. So, it's not unusual for brands to feel unsure when it comes to knowing what works and what doesn't when it's time to run influencer marketing campaigns. See…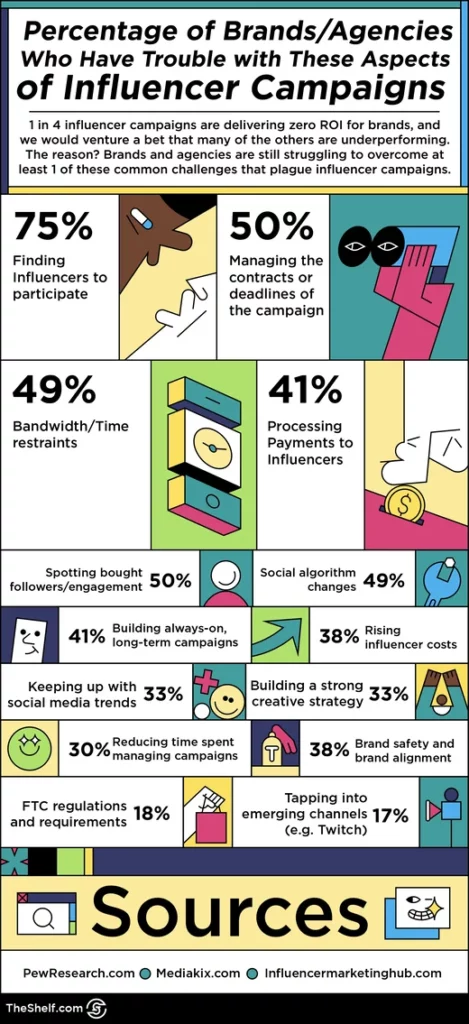 At The Shelf, we consider ourselves one of the die-hards, and with our devotion comes great knowledge. So, we want to answer some of the more common influencer marketing questions that come up with clients, influencers, and marketers alike. Think of this page as your go-to when you find yourself scrambling for the influencer marketing FAQs, and be sure to bookmark it.  
#1 What is influencer marketing?
Likely one of the first influencer marketing questions that comes up in your mind is, well, "what is influencer marketing?"
Influencer marketing, or Creator Marketing, is a type of marketing that leverages influencers on different online platforms. It's a virtual version of word of mouth marketing where an individual endorses a product or service to their online community.
There are multiple different social media platforms playing host to more than 50 million social media influencers. These platforms are where creators share photos, written thoughts, videos, vocal discussions, and animations. Different types of influencer collaborations take different shapes.
For example, a dog account on Instagram may partner with a brand to promote dog food or treats that are thoughtfully incorporated into their usual content. Like @2husketeers in their Instagram post featuring Stella & Chewy's. The influencer understands their community and is an expert in connecting authentically with their followers in their chosen niche.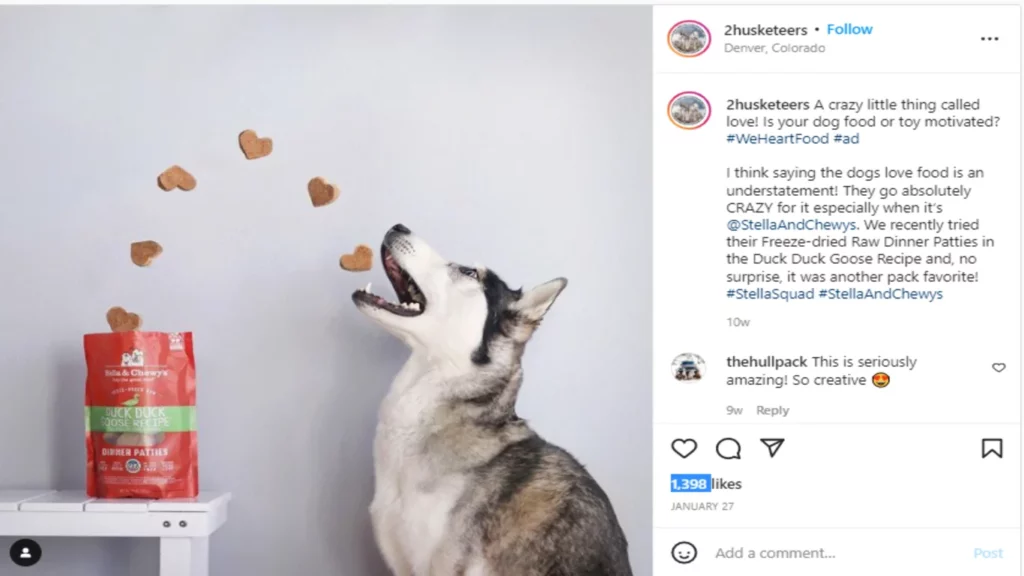 Much of the process of ensuring your social media influencer marketing is effective relies on being able to pinpoint which platforms your audience frequents as well as the influencers that are going to best communicate your brand's message or story. It's this type of engagement that brands should capitalize on as it maximizes effort and increases the effectiveness of your influencer marketing campaign.
#2 How many followers do you need to be an influencer?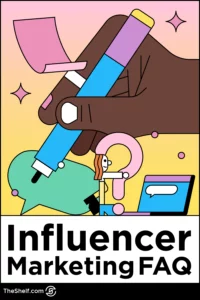 An influencer, by definition, is someone who is able to influence the views and actions of their community. So, we typically think of an influencer as first and foremost, someone who is deliberately and actively exercising their influencer. Meaning a post may do well or go viral, sure. But in order to be an influencer, someone has to have the intention of being an influencer. So, keep that int he back of your mind – being an influencer isn't just about growing a following.
Does the size of said community matter though?
Yes. Well, sorta.
There are different types of influencers that range from nano influencers with 1,000 followers to celebrity influencers (1 million or more followers). In fact, The Shelf platform automatically starts pulling social media profiles once a social media user hits 1,000 followers on a single platform.
There are 5 types of influencers: nano, micro, mid-tier, macro, and mega (celebs like Johnny Depp or Lizzo). The account should specialize in some topic (niche) and be a good/credible source of information, entertainment, etc.
This may be one of the influencer marketing questions that doesn't have a clear-cut answer. However, accounts on Instagram with 1,000 followers or more can be a good starting point as a minimum for being considered an influencer.

RELATED POST.
2022 Influencer Marketing Best Practices
#3 How do brands find influencers?
Brands typically connect with influencers in one of five ways:
Contacting influencers directly
Subscribing to an influencer marketing platforms with search capabilities
Hiring an influencer agent who represents multiple influencers, or
Bringing in an influencer marketing agency like The Shelf that manages influencer marketing campaigns.
That said, there are steps you should take ahead of time to make the influencer selection process more effective. First, make sure you have set out your goals or desired outcomes and campaign ROI you expect to see, as this will influence your selection process. 
#4 What do brands look for in influencers?
Brands create detailed personas or criteria to keep them on track during the influencer selection process. While following or engagement are key influencer marketing metrics, there are other aspects that many brands overlook.
Alignment is critical, which means elements like values or style should naturally coincide with the brand. You might seek out experienced influencers that are professional, responsive, and offer analytics or a portfolio.
Think of this influencer draft as your hype team that acts more like long-term ambassadors for your brand as opposed to fulfilling the needs of a single campaign.
Depending on your campaign goals, you can adjust some of your criteria as you seek out influencers that match your checklist with followings that include current or soon-to-be customers.
Here are some influenc influencer marketing best practices when it comes to optimizing your influencer marketing tactics, especially in relation to finding rockstar influencers. 

RELATED POST.
An 8-Point Checklist to Find Influencers for Your Brand
#5 Who owns the sponsored content that influencers create?
One of the most common influencer marketing mistakes we see brands making is not understanding content rights in the current influencer landscape. In 2019, the conversation around content rights and content usage were very different than they are right now. A LOT has changed since COVD-19, in part, because we all leaned so heavily on influencers to keep us informed, entertained, calm, and distracted. We have a post where you can dig into the three big shifts that happened in the influencer marketing space in 2020.
Suffice it to say, you must explicitly get the rights to reuse influencer-generated content as UGC, and there will usually be stipulations worked into the contract around the amount of time In the United States, the copyright goes to the creator, so you're going to need explicit written permission. This is true whether it's organic like user-generated content (UGC) or if you paid the creator for content (sponsored).
UGC is the gateway to influencer marketing heaven. It can revolutionize your influencer marketing strategy, so it's in your best interest to secure content rights – in writing – ahead of time so that you can avoid complications. Be proactive and get your ducks in a row before capitalizing on sponsored and non-sponsored content as it can level up your content, authenticity, engagement, and sales.
#6 Are there laws governing influencer marketing?
Many of the questions we get around influencer marketing, especially from our larger brand clients, center around brand safety and the legalities of influencer marketing. The UGC and copyright laws we addressed in question five come up regularly in campaigns, which is why content ownership should be clearly outlined ahead of time.
Brands and influencers also need to abide by the Federal Trade Commission (FTC) guidelines, which require clear disclosure. This means that influencers need to explicitly note whether they were paid or sent free product. Mediakix reports that a celebrity may post roughly 58 sponsored posts in a year with only 3 being compliant. Don't be like them.
Familiarize yourself with the FTC guidelines to avoid having you or your brand's name in a legal battle. And be sure your influencers are abiding by the rules and regulations for each platform before they post their content. 

RELATED POST.
An Actionable Guide to Instagram Influencer Marketing
#7 Which social media platform is best for influencer marketing?
Social media platforms continue to grow and adapt in the fast-paced industry of influencer marketing. This is one of the influencer marketing FAQs that doesn't have a perfect answer.
It's all about where your audiences live and your overall campaign goals. For some, this might be capitalizing on the growth of e-sports and partnering with popular Twitch users, or possibly Instagram for aesthetically-pleasing photos and reels. Or, you might seek out TikTok for its viral nature and growth. The start of 2021 reported 9% of marketers using the platform, and by the middle of the year showed that more than half of all agencies intended to sponsor influencers on TikTok.
While there isn't a perfect answer to this influencer marketing question, diversifying your approach can support a winning campaign as you expand your efforts.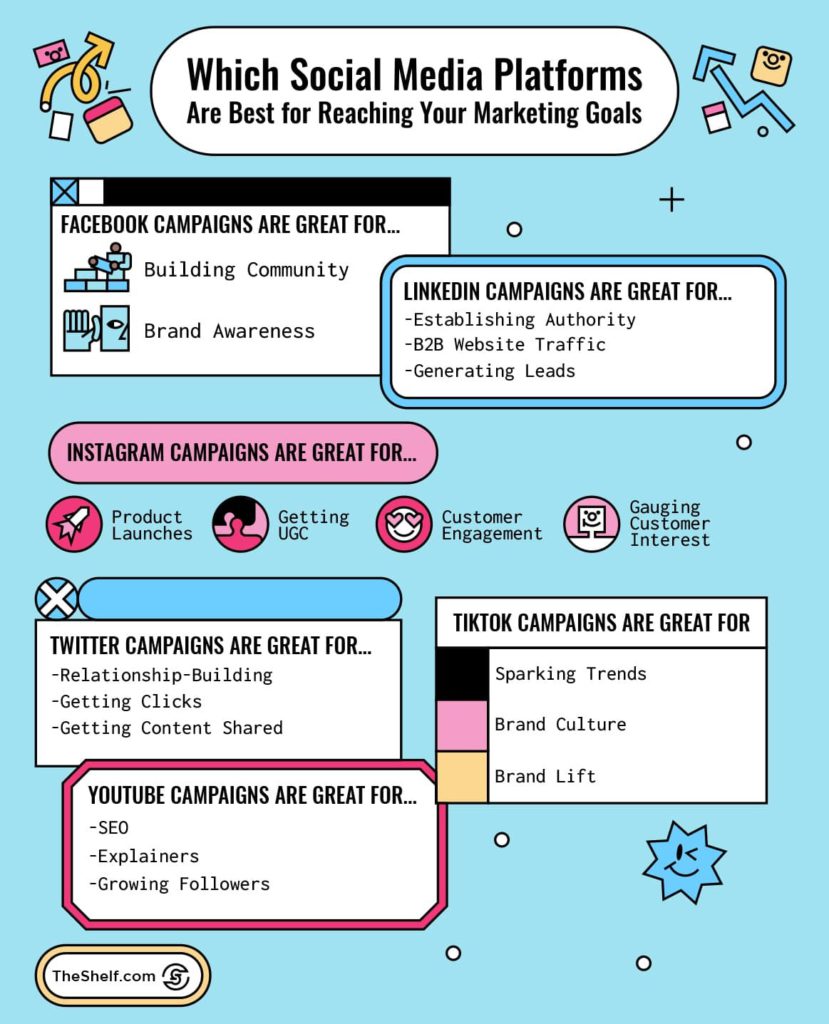 #8 What is always-on influencer marketing?
"Always-on" is a phrase that translates into long-term and sustainable marketing efforts that create consistent progress. This could mean seeking out ambassadors instead of one-off influencers for a single campaign to create lasting trust and ongoing content. This helps you achieve brand affinity over transactional interactions that can feel less authentic or effective.
This usually involves broader campaigns that give you more wiggle room when it comes to the timing or messaging of your strategy. You may set up automated gifting or find ways to deepen your relationships with influencers to increase your chance of real, high-quality content.
#9 How can you tell if an influencer campaign worked?
One of the challenges of influencer marketing is the ability to track the data. While some campaigns may be cut and dry when you look back at the increase in sales after a new launch, others that focus on brand awareness may be harder to interpret.
Set clear goals and strategies for tracking and reviewing the results before starting the campaign, so you know your KPIs from the get-go. This could mean measuring engagement rates, referrals, sales, hashtags, reach, promo codes, etc. You'll likely use a mix of these indicators depending on the platform, campaign type, and niche, among other things.
#10 Does influencer marketing lead to sales?
Mark this as one of the easiest influencer marketing questions to answer.
YES! A thousand times, yes. If it didn't, we wouldn't be crushing it at The Shelf. Influencer marketing has become the industry standard for helping brands steadily grow and offers up to 11x the ROI (this stat was specifically for the beauty vertical) than other forms of marketing. Businesses get roughly $5 for every dollar spent on influencer marketing.
Pretty awesome, right?
#11 Does influencer marketing affect your SEO?
A search engine is designed to give the searcher the best, most relevant answer. However, just like this influencer marketing question, it's a little complex.
Search engines can use social signals to inform ranking, which take into account collective shares or general social viability. This can improve organic search just like a healthy backlink profile. Some social media platforms like YouTube or bloggers with their own website are easier to analyze or track.
While you may not be able to see it, everything from someone mentioning your brand on Reddit to a Facebook share could impact your SEO. One the flip side, social media greatly boosts your SEO strategy as many find themselves redirected to a product page after seeing an influencer with something they fancy.
Both SEO and influencer marketing are intimately connected and can work together to guide your customers to you.

RELATED POST.
Influencer Marketing ROI: Which Metrics Will Give You the Best Campaigns?
#12 What are the benefits of influencer marketing?
The benefits of influencer marketing extend far beyond just to flight time of the campaign and dot the path to purchase at every pivotal touchpoint. Or at least it could. According to Salesforce, the average path to purchase now travels across nine different platforms – not seven touchpoints, like marketers have been saying since the 1930s, but nine different channels. Which means, an omnichannel approach to marketing is non-negotiable.
Influencer marketing helps you increase everything from audience size to your quarterly sales. You can shape brand perception, affinity, and overall value with a well-designed campaign.
You can achieve your goals with ease when you use influencer marketing to your advantage. The potential is only limited by your imagination when it comes to the benefits that this marketing format can provide you and your brand.
#13 What does an influencer marketing platform do?
An influencer marketing platform serves as a marketplace that connects brands with social media influencers and content creators. These platforms vary in features and sophistication. Some allow you to use filters to streamline your influencer discovery process. Others provide a full suite of tracking capabilities to help you monitor your campaign and measure performance.
By harnessing the reach and credibility of influencers, these platforms enable brands to reach a targeted and engaged audience, driving brand awareness, engagement, and ultimately, business growth in the digital age.
#14 How much does influencer marketing cost?
We've covered the influencer marketing questions that show you the ROI potential and undeniable benefits, and now, you may be wondering how much all of this is going to cost you. And the answer is always: it depends.
There isn't a perfect standard for influencer rates. We once had a brand client ask about the conversion rate of dollars to likes. That's like asking me the formula to convert the scream of a single Eras Tour concert goer into Taylor Swift merch dollars. 🤨 That's not the math maths. And it's now how consumers shop – at least not in 2023.
There was a time when influencers would charge based on the size of their audiences, the platforms on which they wielded influence, and their experience. So, the standard published rates you see floating around industry publications that say YouTube influencers charge somewhere between $50 – $100 per 1,000 views is an adequate starting point. But the truth is influencers set their fees based on multiple factors including:
follower size
engagement ratio
vertical/category
platform
content format
content reuse
length of content license
length of time content stays in their feed
allowlisting permissions
time of year
Are some influencers happy with free products? Yes, but that's the exception, not the rule. while others may charge more than the average if they serve a more niche audience or produce high-quality content. So, be sure to set up a budget ahead of time before you start reaching out, so you know what kind of influencers can provide you with the best bang for your buck.
As far as agency services, you can check a directory like Clutch and find out that many companies that self-identify as influencer marketing agencies have listed their prices starting at $1,000. Does that mean you can run an entire influencer marketing campaign for a thousand bucks??!!
Uhhh… 😳 #shrug
But you can certainly partner with smaller nano and micro-influencers who may charge modest fees for their services.
Conclusion
Influencer marketing is not just a trend; it's a proven strategy that yields substantial returns on investment. With careful planning, alignment of values, and a solid understanding of the influencer landscape, brands can capitalize on the power of influencer marketing to engage audiences, foster authenticity, and drive sales growth. Use this Influencer Marketing FAQ as an indispensable resource for anyone looking to navigate the complex world of influencer marketing successfully.