Updated December 2020
Brands and marketers have come to recognize the impact Memory Lane can have on our moods, the affinities we develop for people and things, and – here's the big one – the actions we take. If you've noticed the old school vibe creeping into branded content, you're not alone. Tying new, promotional content to an audience's memories by cleverly weaving in old content, ideas, or ideals can be a powerful way to spread a brand's message. And we call that nostalgia marketing.
..
Before I get into the whys and wherefores of nostalgia marketing, let me tell you a little story about a kid from Harlem that will drive home the impact nostalgia can have on buyers in the real world.
The Kid Who Invented the OG Rap Station
In 1993, a cocky, 24-year-old college dropout by the name of Sean left his cushy job at an urban record company to start his own record company. His thought behind the label that he started under the guidance of the late, great, Andre Harrell was to create music for college students, young adults, and the club scene.
But…
He was launching his business at a time when gangster rap had sort of ruined everything already. Politicians were literally steamrolling over piles and piles of rap albums indiscriminately. Like… literally… they were steamrolling over albums. But Sean came from a marketing background, so he developed a game plan. To protect his burgeoning brand from the backlash surrounding gangster rap, Sean decided to skip the edgy but prolific East Coast rap sound and instead decided to lay raps (some of them quite gangster) over old dance tracks from the 70s and 80s.
Sean got the content rights (we talk a lot about content rights on this blog) to use songs that were not just hits on the pop charts, but more importantly, songs that were cultural and national staples, frequently heard at backyard parties, graduation parties, wedding receptions, and at holiday celebrations all over the country. These were songs moms and dads partied to in their youth, songs that evoked all the feels.
The songs he chose included those made famous by the likes of Diana Ross, David Bowie, The Jackson 5, James Brown, KC & the Sunshine Band, The Police, The Trammps, Lisa Stansfield, Miami Sound Machine, Kool & the Gang, Duran Duran, Miles Davis… major, right?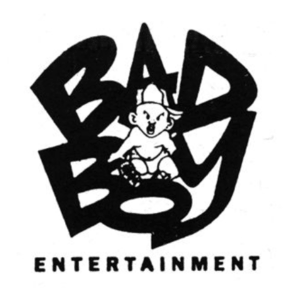 The record company Sean formed and built on the foundation of making music that would make HIS FANS' PARENTS forget they were listening to rap sold something like 40 million records in its first five years of existence (and made Sean one of the richest men on the planet)… at a time when a video views didn't count as a record sold.
Decades later, you can still hear Sean's music around the clock, playing on throwback rap stations that broadcast nothing but rap hits from the 80s and 90s… many of them originally released by Sean's company.
Bad Boy Entertainment is still one of the most successful rap labels of all time, according to Statista (yes, they absolutely have a chart on rap labels, too) and 26 years later, the company is consistently voted among the top five hip hop labels IN HISTORY among fans of the music. And don't be surprised if you see your kid's math teacher delivering a flawless, although slightly tipsy, performance of Notorious B.I.G.'s Hypnotize at the local karaoke bar. Because it's probably on the song list.
Now, that's one of the most striking instances of using nostalgia to sell.
#justsaying

Related Post
The Complete Guide to Influencer Marketing 🤯
Why Nostalgia Marketing Works So Well (Here Comes the Brain Stuff)
"My bologna has a first name. It's O-S-C-A-R.
My bologna has a second name. It's M-A-Y-E-R.
Oh! I love to eat it every day, And if you ask me why I'll saaayyy,
' Cause Oscar Mayer has a way with ________!!!!"
Were you able to sing the missing portion of this jingle? Of course you were! Now think about the way you felt as you belted out "B-O-L-O-G-N-A!" Somehow that feels great, right? That's because most of us have a mental catalog of commercials and jingles we remember loving as kids!
Ahhh, the good ol' days. A time that was more certain, more secure, and more comfortable (probably because these good ol' days happened back when someone else was doing all the adulting for us – haha). But those types of positive emotions tied to SIGNIFICANT memories form the core of why nostalgia marketing is so effective.
The caption below this Gucci spot reads: Presenting #ForeverGuilty. Academy award-winning actor and musician Jared Leto is joined by multi-platinum singer songwriter Lana Del Rey in the new campaign by Glen Luchford.
COLLECTIVE MEMORY
Nostalgia works on a couple of different levels – individual, familial, community, nationally, culturally, generationally….
You and the friends from your old neighborhood will have a different set of nostalgic moments than the ones you and your college friends share.
Gen Xers will harp on things like breakdancing… or that time Michael Jackson debuted the Moonwalk and broke everybody's mind… or the Friends gang hanging out at Central Perk.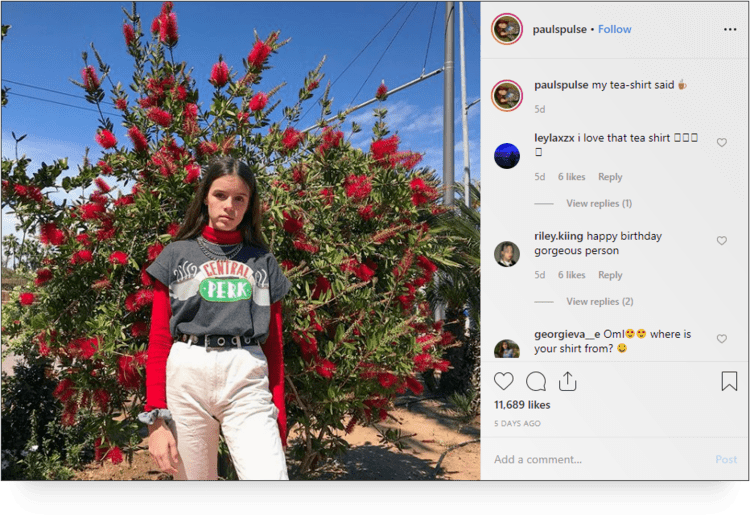 Millennials will be more excited about Nickelodeon showing up on the scene, and boy bands… and crushing on the curly-haired boy on Mickey Mouse Club before he became a member of the group N*Sync and a big pop star. And before he (Justin Timberlake) became Branch (the grumpy troll) for your kids.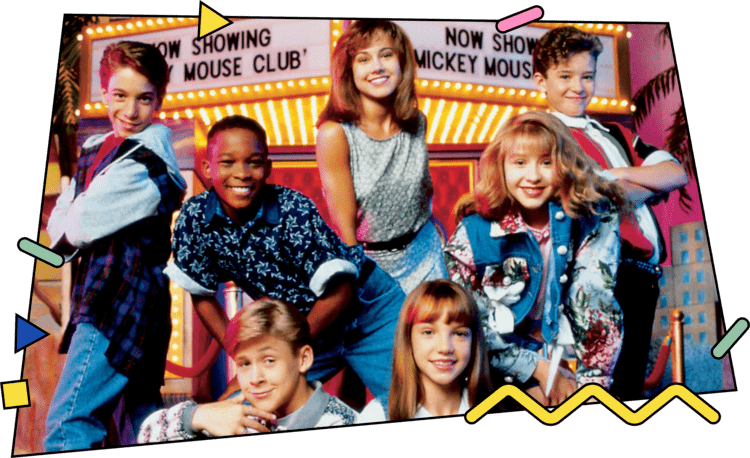 Nationally, we have things we treasure as well. If you were too young (or too busy not being born yet) to appreciate Golden Girls back when the original episodes were airing between 1985 and 1992, it's no matter. Golden Girls are still a national treasure. Old episodes still run on TV. And surprisingly, the actresses actually still grace the covers of magazines together, despite the fact that Betty White is the only surviving member of the ensemble that made up America's favorite over-50 single roommates.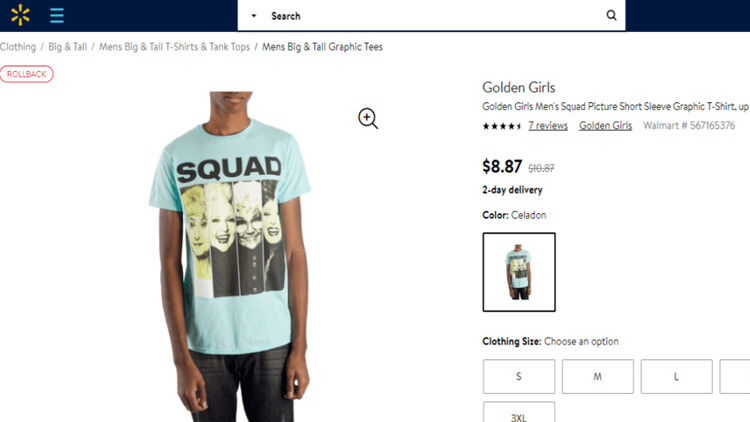 I bought my sister a Golden Girls-theme Christmas gift last year. It's actress Bea Arthur as Golden Girls' quick-witted roomie, Dorothy Zbornak. She never put the seeds in it. She literally has it in her living room as a bust, a statue.
#shrug
We like what we like.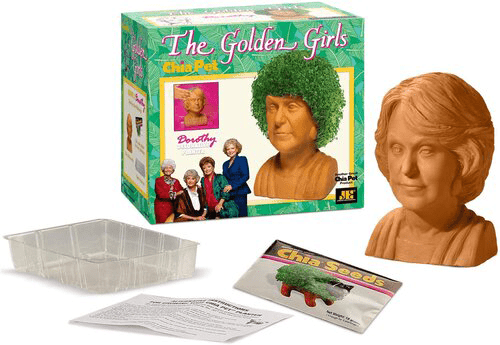 WE VISIT OUR RESPECTIVE PASTS MORE THAN ANY OF US PROBABLY REALIZE
You may not think much about it, but the average person experiences nostalgia about once a week. Once a week? Really?!! Sure. Facebook will often give users the chance to repost some of their popular posts from years past.

And anyone who uses Twitter and Instagram have probably dug through their own photo albums (physical and virtual) to find the perfect pic for #throwbackthursday. We get nostalgic on purpose. The next point talks about why that is.
NOSTALGIA FEELS REALLY GOOD
We trigger nostalgic moments as a self-soothing mechanism – our regular dose of feel-good to get through the week. Nostalgia actually lights up the brain's reward center, which may be why we like talking about the good ol' days.
Every single one of us has moments, periods, and times in our lives that we can look back on and say "Ahh! The good ol' days." Times when having a flip phone was still a luxury and overalls were all the rage (those days seem to have returned for the overalls). Times of amazing childhood days spent watching Beyblade and Pokemon, running in your flashy sneakers and feeding your virtual pocket pet.
(I mean…I actually killed my Gigapet but it's a good memory, nonetheless.)
These recollections almost certainly bring a smile to your face, and that overlap between memory and emotion is unique to nostalgia. You might even forget for a while that 15, 20, 30 years has passed since you created these warm, seemingly not-so-distant memories.
NOSTALGIA MAKES PEOPLE MORE OPTIMISTIC
A University of Southampton study found that nostalgia makes people more optimistic about the future and increases resilience. Whether reading older song lyrics, hearing throwback jams, or just remembering a significant event from the past, participants in the study naturally integrated more optimistic words into describing their experiences than those who were exposed to current music or lyrics, or who were asked to remember or talk about regular events.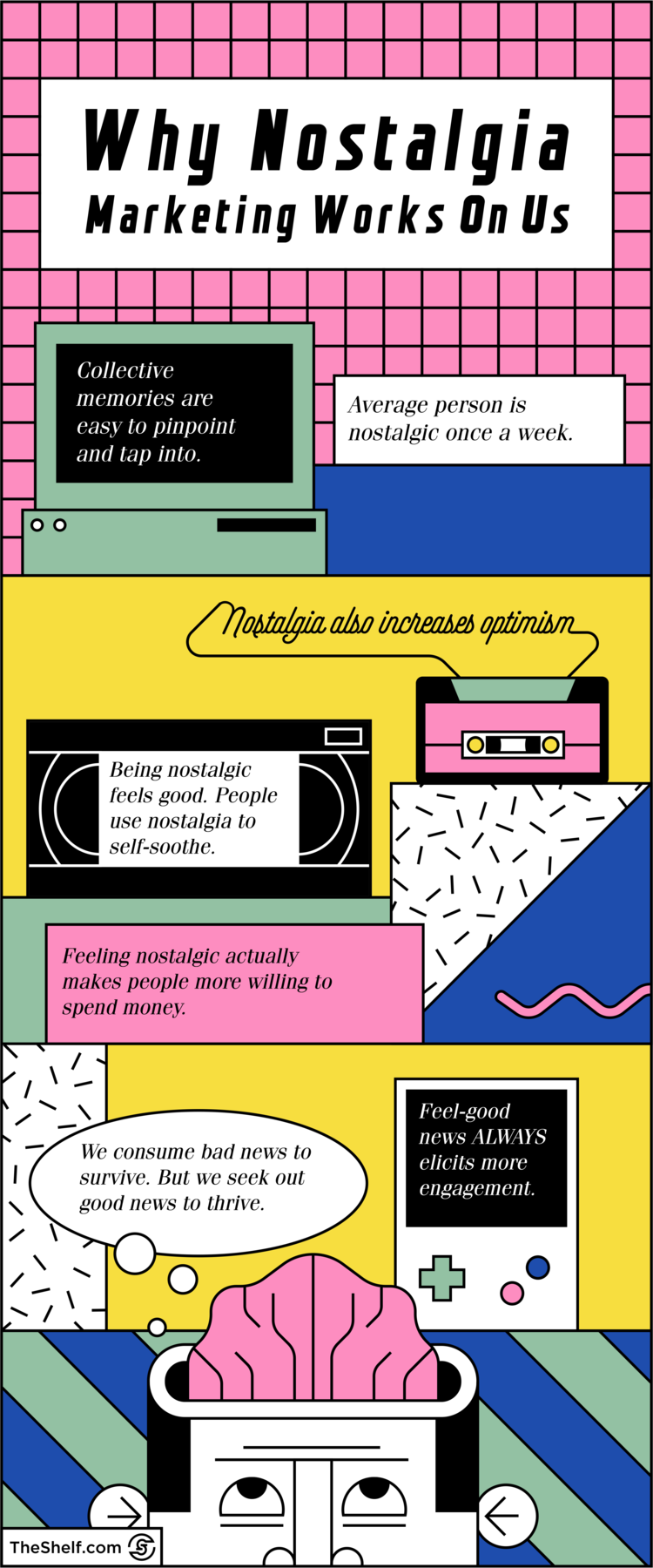 COPY AND PASTE THIS 👇 CODE TO EMBED THIS ☝️GRAPHIC.
---
WHEN NOSTALGIA KICKS IN, PEOPLE ARE MORE LIKELY TO SPEND (MONEY, NOT TIME)
Science Daily reported that nostalgia compels people to spend more money. In a study conducted by the Journal of Consumer Research, consumers who were asked to think about the past were willing to pay more for a set of products than a separate group who were asked to think about creating new memories.
Interestingly – and this will probably be of interest to nonprofits as well – people were willing to pay or give more money to others after reflecting on a past life event BUT NOT MORE TIME. So for nonprofits, triggering those memories of old will help you get more donations, but not necessarily more volunteers.
GOOD FEELINGS ARE MORE LIKELY TO BE WELL-RECEIVED
Raise your hand if you've ever gone on a Facebook hiatus for a spell to get away from the negativity.
While our human instincts make us want to hear bad news so we can stay out of harm's way, the truth is most of us don't actually WANT to be be loaded down with a bunch of bad news all the time.
Think about it: If you're at a party, are you going to spend all night hanging out in a corner with Debbie Downer or get in that growing circle of laughs around Fun Bobby?
(Friends fans will get the Fun Bobby reference.)
Content that evokes positive emotions also triggers engagement. But there's only a certain remnant of the population that will happily engage with content that incites rage, fear, or shame.
Brands That Have Used Nostalgia to Make Memorable Branded Content (And Tips for How You Can Use it In Your Next Campaign)
Two things about nostalgia marketing: First, it works because it instantly disappears the days, months, years to make you feel like no time has passed at all since your significant moment. Second, it helps brands create an instant connection with their audiences by tapping into a shared memory. So, creating an opportunity to tie your brand's message to a fond childhood memory can help make your brand and your message more memorable.
---
Doritos
For this year's Super Bowl, Doritos aired a 60-second spot promoting its Flaming Hot Nacho flavor by teaming Chance the Rapper with 90s boy band The Backstreet Boys. The spot, which opened with Chance the Rapper alone followed by a dance number in an airplane hangar with the rapper and the pop stars was sort of epic in that it served to kick off The Backstreet Boys' tour. The campaign included a the branded hashtag #NowItsHot.
A PLAN TO CONSIDER… ENTERTAIN THEM
Sometimes the immediate goal isn't transactional. Not every ad is meant to sell your product. But rather, to stay top-of-mind and create a memorable, positive experience for your audience. A good way to do this is by capitalizing on a collective memory that many of them will appreciate.
So, for instance, tying your brand to an old school pop culture phenomenon like the boy band craze of the 90s to grab the attention of Millennials… Maybe you can do something cool with a Kung Fu movie vibe reminiscent of the 80s for Gen Xers. Or take it back to the 60s (like that Gucci ad we included in the first part of this post) to appeal to Boomers.
These types of light-hearted entertainment breaks can make for highly memorable, highly shareable content AND create good buzz for your brand.

KIA
For Super Bowl LII, Kia ran a spot to promote the Stinger using Aerosmith frontman-turned-American Idol judge Steven Tyler. The spot featured 2018 Tyler hopping in a Stinger on a racetrack and speeding around the track in reverse to the band's iconic song, Dream On. He drove so fast that he turned back the hands of time. A few seconds later, Tyler hops out of the car 40 years younger. Super-cool idea. And this ad will have cross-generational appeal.
Now, couple of things to note here:
First, Dream On was on the band's first LP, released in 1973. The song was re-released and charted in 1976 after the band's second album. It's epic. It's the soundtrack of a generation. It's the template for every power rock ballad that came after it.
Next, the turning back the hands of time thing isn't without precedent. If you saw the movie Superman (1978), you may remember a pretty emotional point in the film when Superman's love interest, Lois Lane, died unexpectedly when her car is swallowed up in an earthquake. So distraught was the man of steel that his beloved was dead, that he flew off from the scene, off the planet a blind rage, and circled the earth so fast that he turned back the hands of time and essentially unkilled Lois (comic book reality, here… bear with me).
Same type of situation. Tyler drives so fast around the track that he actually turns back the hands of time. When he stops and gets out of the car as Young Steven, 70s-era fans come rushing toward him before the message, "Feel something again" is captured on the screen.
A PLAN TO CONSIDER… WOW THEM
This ad dreams up a concept that anyone over a certain age has considered before – turning back the hands of time. "If I knew then what I know now…"
Visually, it couples old school cool (Steven Tyler is all that) with new school innovation and keeps the audience's attention because it's always cool to see a Benjamin Button-styled age-down… This ad works because it gives the audience something they probably didn't expect – a cool, imaginative car commercial that skips over all the regular car commercial stuff like the car, its features, the safety rating, price, down payments, well-qualified buyers, lease options…
I don't even exactly remember what the car even looked like, only that Kia did a really cool spot for the Stinger. Give the viewer something unexpected… even if the unexpected isn't necessarily unprecedented.

Prime Wardrobe
Prime Wardrobe's Try Before You Buy campaign is airing multiple commercials right now with the same general idea: aspiration
One spot features a studious, bespectacled man sitting hunched over at a bar, scrolling through his phone. He comes across a picture of a black leather jacket. The jacket triggers a kind of theme song in this guy's imagination (K-Ci and Jo Jo's All My Life) where he imagines himself sitting at that same bar, only this time he's wearing the jacket and he's not hunched over the bar with his back to the room. He has his back to the bar, nothing in his hands, and is glasses-free. He's a cool, confident dude in that jacket.
In two other Prime Wardrobe spots, similar situations are presented and set to 80s rock hits, Eternal Flame by The Bangles and Is This Love? from Whitesnake.

A PLAN TO CONSIDER… INSPIRE THEM
Nostalgia goes hand-in-hand with optimism and inspiration. Appreciating the good times makes people feel like more good times are on the way. Find a natural way to make your product more aspirational by triggering inspiration (but not envy). FYI: Music is a fast and easy way to both set the tone of your content and inject much-needed nostalgia. #nostalgiamarketing.

BP
If you ever get tired of watching this commercial, you're crazy. The three truckers singing Backstreet Boys' I Want it That Way together is an epic feel-good moment in ad history.
Now, BP has had a rough go of it since the big oil spill of 2010. The company released a rather sobering, "Our bad, we'll do better" type of ad in response to the incident. BP ended up the butt of tons of late night monologue jokes and became the poster child for corporations' need for more oversight and accountability. I doubt anyone will ever forget the images of all the dead fish and oil-slicked birds that flooded the web in the days and weeks following the incident. The entire ordeal was both an ecological and a publicity nightmare. A hard thing for any company to recover from.
So, this particular instance of nostalgia marketing was an emotional play both for Millennials who love The Backstreet Boys as well as anyone who's ever been wholly committed to their red-light vocal performance from the front seat of their car.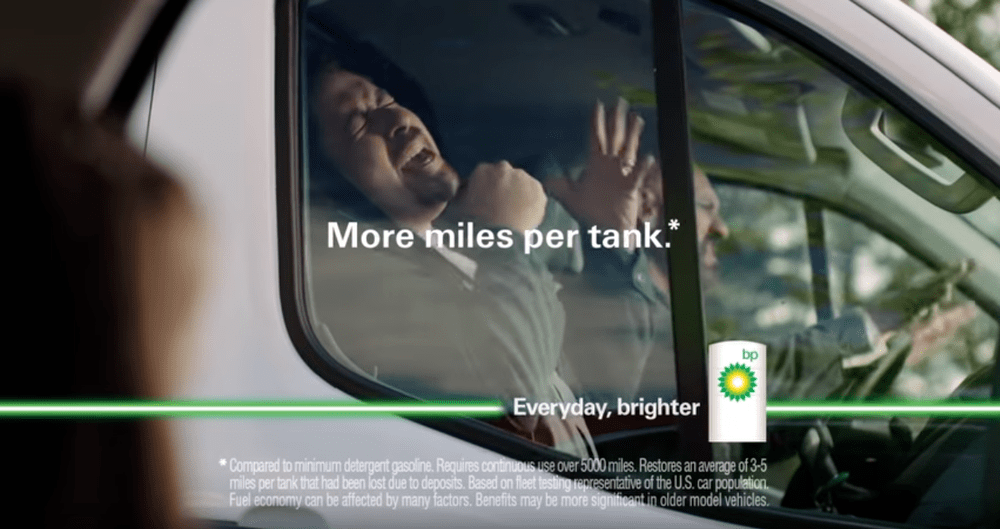 A PLAN TO CONSIDER… HUMANIZE YOUR BRAND
Make your brand more relatable by putting a face on your brand and by connecting a positive vibe or mission to your brand. We talked about this pretty extensively in the social proof post. This strategy worked really well for Blendtec blenders when the company launched its Will It Blend? campaign. Blendtec boosted sales and created an enormous amount of buzz about the brand by using its industrial blender (with the super unsexy name) to grind up things like cell phones, baseballs, marbles, super glue (that one was cool), silly putty… the list goes on.
But you don't have to blend a bag of marbles, man. This can really be as simple as showing your audience an unguarded, vulnerable moment (like singing in a car) that anyone can relate to… or it can be as complex as investing in a large-scale community development project.

iHeartRadio
Congratulations to the Class of late 1990-something or 2000-whateverrrrr!
iHeartRadio has a feature called Graduation Playlist (GraduationPlaylist.com) where users can type in the year they graduated high school, college, or whatever and stream music that was popular the year they graduated.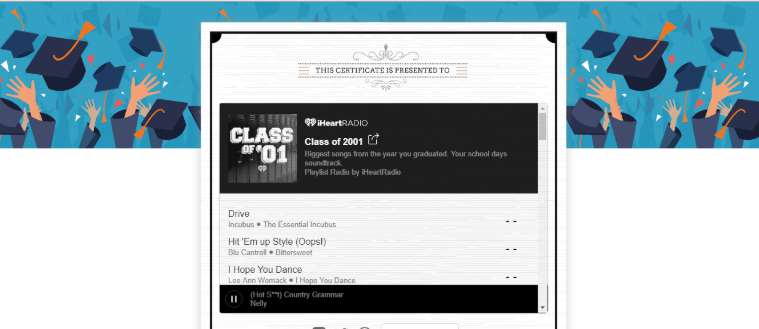 Each channel streams a set playlist, but users have the option to click away to hear specific songs in the playlist in a separate tab. Clicking away lets you hear your song choice, but also provides you the option to register for a free account (and opt in to receive emails) and of course, create custom playlists. If you choose not to create an account, you can go back to your graduation-year playlist, but it's basically a just commercial-free radio station – you don't get to call any shots.

A PLAN TO CONSIDER… LEAD WITH VALUE
Front-load value and ask for nothing (or very little) in return. This could be a very useful strategy for apps and SaaS companies. Find creative ways – like a graduation-year playlist – to tie nostalgia (and its positive vibes) into your value offering.

Geico
Before the Geico gecko, there were the Geico cavemen. The company has used a string of mascots in its commercials over the last couple decades (Mayhem, for instance). For those who grew up during the 90s and early 2000s, you may think back fondly on the cavemen. This spot in particular originally aired in 2006 with a KILLER song called Remind Me by Röyksopp (there are tons of mixes of this song… and yeah that pixel art thing is the real video).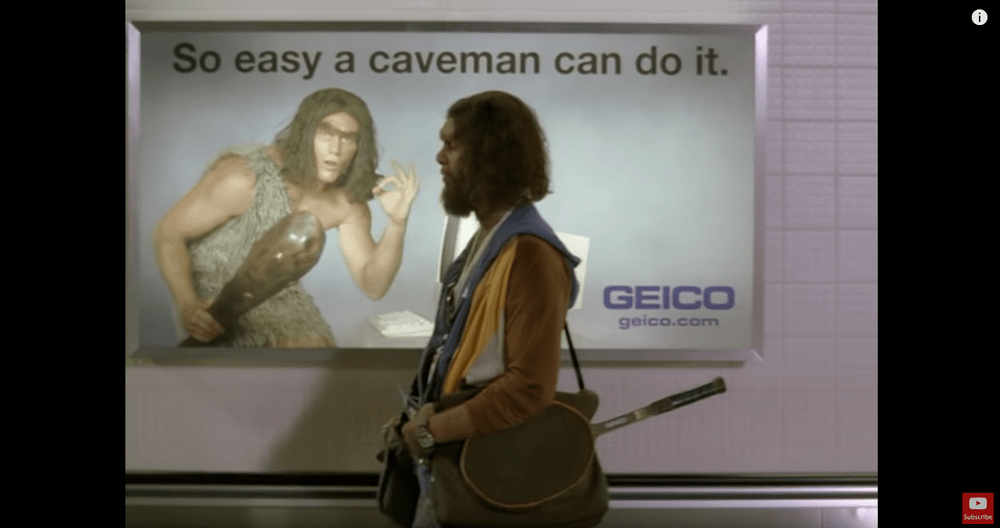 What's superb about this commercial is in 2018, Geico pulled this one from the archives as part of a campaign to get people to vote for their favorite Geico commercials and started airing it again. People love it!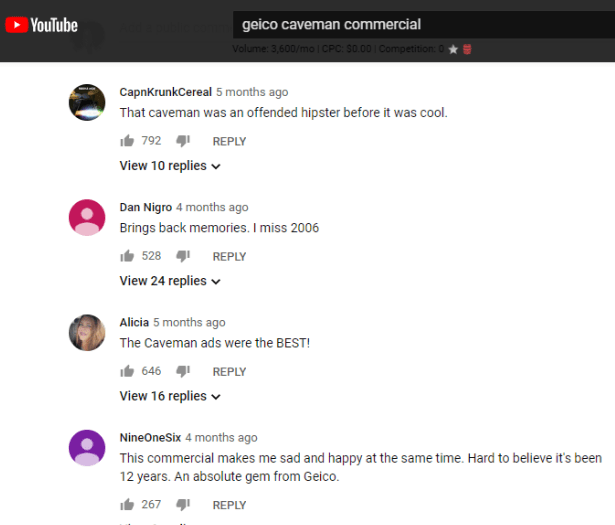 AND they get to remember / rediscover the Royksopp video. Just adds another layer of awesomesauce because when the video first aired back in 2006, you had to know a record store geek to find out who the heck the band is. Now… a two-second YouTube search of the term "song from geico caveman commercial"… and you're suddenly remix-rich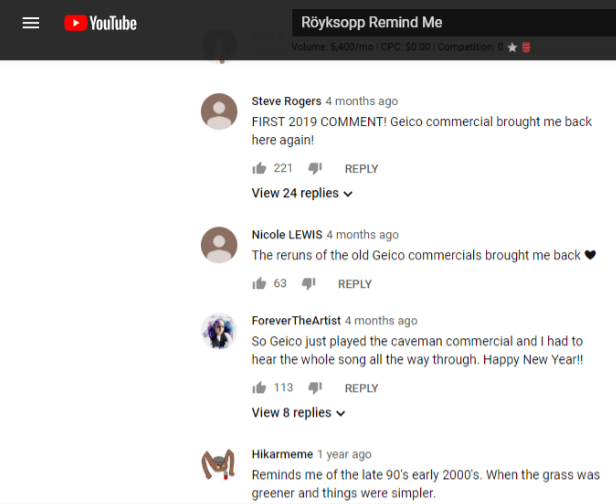 I love the internets.
A PLAN TO CONSIDER… PULL OUT THE OLD ARCHIVES
Nostalgia marketing works when brands remind customers of something cool from the past, but it also works pretty well when brands are willing to share their own memories and corporate histories. Doing things like re-running popular old campaigns or doing a mashup that combines your old, grainy training videos attended by ladies in long, wool skirts with new irreverent commentary from people young enough to be their adult kids can be a fun way for brands to nurture old connections AND establish new connections with their audiences.

Forever 21 x Pepsi
A trip into Forever 21 is like visiting the past. The store is pretty well-stocked with throwback gear. If you didn't get around to buying it when it was hot in 1981, now's your chance.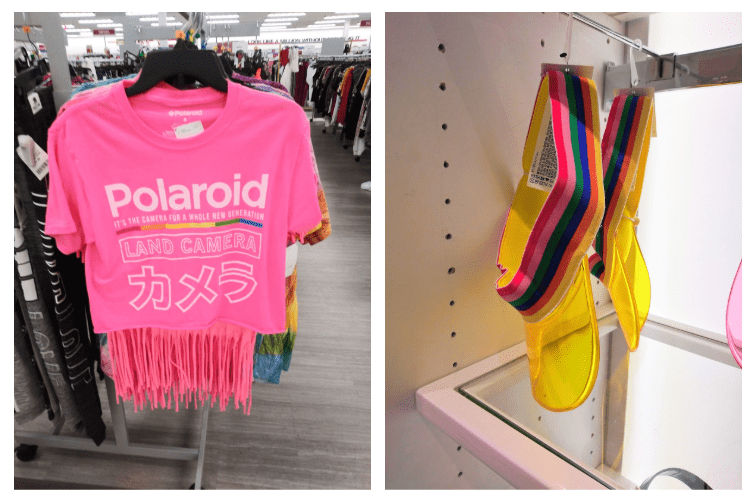 A lot of the clothes you see at Forever 21 are heavily branded, whether it's a jacket tagged with a bunch of USPS logos or a worn Van Halen graphic tee, Forever 21 is the place to go if you want to get a really cool throwback… anything, I guess (as evidence by the Three's Company-esque Mr. Roper visor above that was spotted at the local Forever 21).
So, Forever 21's collaboration with Pepsi is totally on-brand for the store – 80s/90s-inspired jackets and outfits heavily branded with the old school Pepsi logo.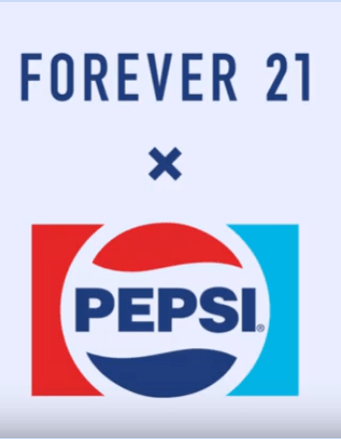 A PLAN TO CONSIDER… OVERBRAND THE HECK OUT OF THIS THING
Reappropriating old logos and marketing collateral in fun, new ways can really boost the impact of your campaigns. Think about that for a moment. What would it say about your brand if you blanketed a members only jacket (you may have to look that one up) or other clothing items and outerwear with your logo? The idea is to skip the ho-hum, corporate-y polo shirts this time around. What about corporate earrings that break the dress code… and people can't really wear them to work? Or a leather belt with a big, gaudy logo'd belt buckle would probably KILL… and surprise the heck out of both your team and your customers. #nostalgiamarketing.

Walmart
Last one. Nothing says throwback quite like a retro arcade game. Last holiday season, Walmart stores displayed a small selection of 45-inch, full-cabinet arcade games. It was shocking to see in-store. To promote these, one of the marketing tactics Walmart used was game reviews by someone who specializes in collector's items.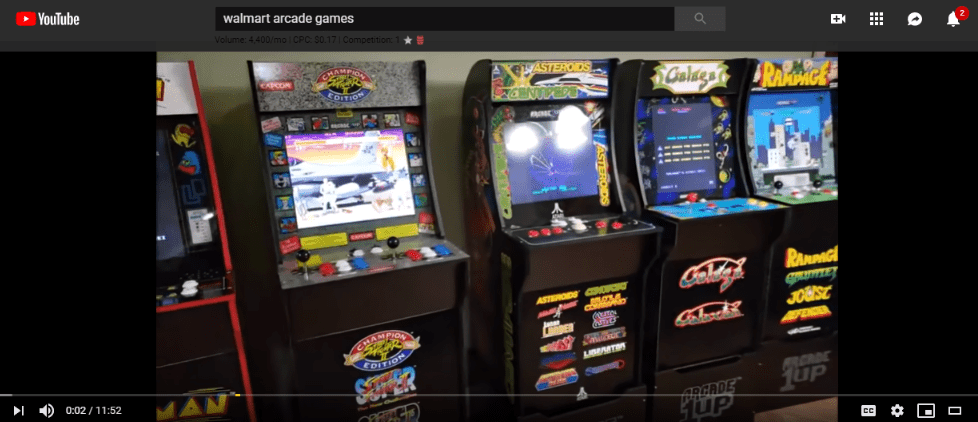 Walmart is no stranger to retro video games. There's a section of Walmart.com called Classic Arcade Gaming that hosts a virtual catalog of 6-inch games, tabletop arcade games, the four-foot game cabinets, and risers for the game cabinets. You can also grab the throwback Atari or Sega game consoles suped-up to work with even the smartest flat screen TV.
I came across a game review video from YouTuber Boogie2988 who published a review of an entire selection of arcade games just ahead of the Christmas 2018 holiday season. Arcade 1UP supplied the arcade games for him to review, and in the video description he also mentioned going to Walmart to pick up the games… that, and there was a guy in a Walmart t-shirt actually assembling the games… which leads me to believe the review was a Walmart x Arcade 1UP collaboration for the holiday season.
A PLAN TO CONSIDER… PARTNER WITH A NICHE BLOGGER
Creating a high-impact nostalgia marketing campaign will niche-down your audience reasonably well but you can go narrower to really zero in on what your target buyer wants and what they actually need to hear from you to convert the sale.
What was super smart about this particular review was that this guy wasn't just your typical Gen Z or Millennial gamer. There are plenty of young gamers who are interested in retro arcade games. Don't get me wrong.
But…
Boogie2988 is older and played the original arcade games back in the day when they were out. So, he talked A LOT about one of the things older gamers will find MOST important – the similarities between the "feel" of the new games compared to the old arcade games. That's going to be a BIG DEAL for people who spent their childhood and teen years in the arcade.
Nostalgia is all about being taken back to that time. Well, for gamers, going back means not having major differences (like a video game where the console is too small for two-player mode, or the joystick is too loose, or the buttons aren't firm enough) that distract from the experience of going back. So, it was smart to go with a niche-gamer… someone who can give validity to the new games by comparing them to the many experiences he had with the old games.

That's All, Folks!
Here's the big takeaway… A personalized, compelling, relatable, and nostalgia-inducing message is an effective way to tie your brand to a positive memory or experience for your target customer.
More than just helping you makes sales, nostalgia marketing can help you make positive impact and help solidify the value of your brand in the minds of your target audience.
We want to help you link up with amazing creators who can help make your message beautiful, relevant, and effective. Click the button below to schedule a 30-minute demo with us and we'll help you reach your brands expansion and development goals. Reach out to us!
It's gonna be totally gnarly!