Kid Influencers, Bloggers and Vloggers Who Are Crushing It!
Make way for kid influencers! We know Influencers come in all shapes and sizes… from your mega influencers like the Kardashian-Jenner clan to unfluencers with fewer than 3000 followers (and much more niched-down audiences). Either level of influence can help to get more eyes on your brand.
These days, referring to a "smaller influencer" could mean the size of an influencer's audience OR it could mean the size and age of the actual influencer. We published a recent post about how big brands like Walmart and Target are using child vloggers (aka kidfluencers) to boost the impact of their holiday social media campaigns. There's never been a better time to take note of what these kidfluencers are saying than right now, in these final days leading up to the holidays.
These kids know what their peers would love to see under that Christmas tree and they have opinions about which toys are going to be THE toys to get for summer fun.
So, in this post, we've put together a list of young influencers we think are just the tops (that was a saying, right?).

Related Post
SELLING TOYS, CLOTHES AND FUN WITH KID INFLUENCERS
EvanTubeHD
Evan is one of most recognizable kidfluencers in the world. His YouTube channel has grown to over 5 million subscribers, really taking a big chunk of the video market for himself. He produces toy reviews, fun challenges, science experiments, and good, high-quality videos across his three YouTube channels. This is the kind of content kids of all ages seem to just love.
With all his social media platforms combined – his YouTube channels, Facebook, Twitter, and Instagram – he has around 10 million followers, quite the accomplishment for a pre-teen! He regularly partners with big brands to review kid-focused products, He's even written his own book. #mommygoals #daddygoals
---
Ryan ToysReview
This adorable 8-year-old is probably THE biggest kidfluencer out right now with nearly 17 million subscribers to his YouTube channel already. As his the name suggests, his channel is mostly toy review videos. He attracts an audience of both children and parents who seem to really respect his opinions.
He's also broken into the toy market even more by launching HIS OWN TOYS (!!) in conjunction with Walmart. The most popular of these being his giant surprise egg filled with a collection of some of his favorite toys for children to enjoy.
---
Jacob Sartorious
Next up on our list is social media superstar Jacob Sartorious. Believe it or not, at 15 years old, Jacob is already a veteran influencer. He first made a name for himself with lip-syncing videos he posted on Music.ly, he now has over 9 million followers on his Instagram account. Some of his fame can be attributed to his choice to date Stranger Things star Millie Bobby Brown – but, he's also an influencer in his own right.
He has released his own music as well, with his music videos gaining millions of view on YouTube. His music career is slowly growing, and we should expect to keep seeing this young man for a long time to come.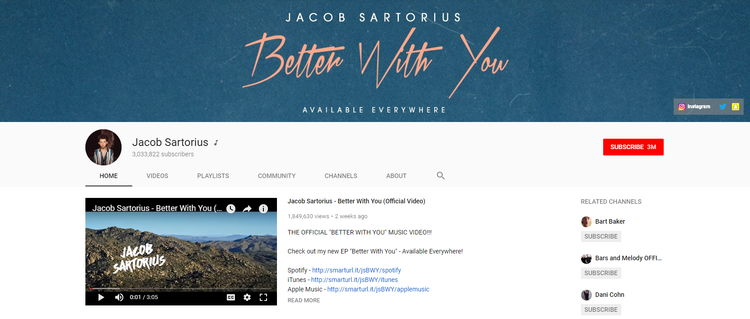 Emma and Mila Stauffer
Adorable twins Emma and Mila have shot to Instagram fame thanks to their mom and the pictures she shares of her big family. Even though the account is run by mom Katie, the twins are definitely the main focus – and it's easy to see why! Their expressive faces and hilariously cute videos have made these two internet sensations.
The girls have had multiple influencer partnerships already with family-friendly brands such as Pampers and Amazon.
---
Fashion_Laerta
This 6-year-old fashionista is giving us all kinds of Insta-envy with her amazing outfits and perfectly-posed pics. It's often hard to believe just how young this stylish superstar is. She photographs just like a professional fashion blogger.
And, just like a pro fashion blogger, she's already teamed up with a number of well-known fashion brands such as Gap Kids to help promote products through her feed. We can't wait to see how powerful an influencer she becomes as she grows. She's already taking the Insta-world by storm!
---
Millie Belle Diamond
Another pint-size picture queen is fashion influencer Millie-Belle Diamond. At just 4 years old, she has already built quite the following on her Instagram account, which is run by her mom. She's been an Insta-sensation ever since she started on the platform at just 2 months old, and it's easy to see why.
Every time you visit her account, you get a cuteness overload thanks to her designer outfits and perfect poses. She has even launched her own line of baby clothes off the back of her influencer success.
---
Hawkeye Huey
This 8-year-old influencer has made a name for himself as an artsy photographer, and for such a young age, he already has an incredible eye. His account, like many of the influencers on this list, is managed by a parent. In this case, it's his dad Aaron Huey, who is a professional photographer for Nat Geo – so it would seem that creativity runs in the family.
But, he has also branched outside of this niche before, collaborating with other young influencers to design clothes for a special collection at Target called "Art Class".
---
KittiesMama
These siblings have grown up in front of our eyes thanks to their wildly successful YouTube channel which has racked up over 2 million subscribers. While the older trio may now be aged 15-, 16-, and 18-years-old, they have one younger brother aged 2, and another sibling on the way!
We imagine that this family will continue to appear on our computer and phone screens for a long time coming, with every new addition, a new chance to create intriguing content.
---
Gabe and Garrett
This brotherly duo produce engaging and entertaining videos on their YouTube channel, including the well-known Sidewalk Cops series where they drive child size versions of police cars along the street. At just 10-, and 12-years-old these two rambunctious boys have really made a name for themselves.
Thanks to their 1.6 million subscribers, they've already worked with a wide range of brands on their channel, reviewing and using their products, and showing them off to all their viewers.
It's clear that kidfluencers are becoming more regular as time progresses. Everyone is on social media nowadays, and now that the first social media generation is growing up and having kids, these children are even better placed to succeed online than any generation before them.

Related Post
14 GEN Z INFLUENCERS WHO HAVE MAD SWAY AROUND THE WORLD
Who's your favorite kidfluencer? Did we miss them off the list? Let us know in the comments!