So, you want to learn how to run an influencer marketing campaign? Good news. You're in the right place. You've got questions, and we've got answers.
Even if you're not familiar with all the bells and whistles of Instagram and TikTok, you probably know more about influencer marketing than you think. Influencers and brand advocates have been endorsing products for more than 100 years. The history of influencer marketing dates back to at least the 19th century.
Brands started putting friendly, familiar faces on packaging in the 1800s. Even before then, the Queen of England could influence buying power by giving a product or service her royal stamp of approval.
To put it simply, an influencer is anyone whose opinion is trusted by those who follow them. This can include celebrities, public figures, bloggers, and now, of course, social media stars. They can even be fictional characters like Tony the Tiger from Frosted Flakes or Duo the green owl that acts as Duolingo's viral mascot.
Launching an influencer marketing campaign today usually means turning to social media channels to find your audience and the influencers they follow. In this post, we'll dig into exactly how you can set campaign goals and harness the power of today's influencers to boost your brand.
Why Should I Start Influencer Marketing?
Before we dive into how to run an influencer marketing campaign, let's start with why you should be spending your time, money, and energy on influencer marketing in the first place. More than 75 percent of marketers are dedicating their budget to influencer marketing this year — for good reason. This year, it's a $16.4B industry alone. But why?
Consumers are tired of boring old ads and have outgrown their tricks. They don't want to hear from companies who only have money to gain from them buying their products. They want to be exposed to products in a way that feels organic and not-at-all predatory. Especially as Gen Z consumers turn more toward ethical spending.
The good news is 92 percent of consumers trust word of mouth over traditional forms of advertising. That means they're more likely to buy a product recommended to them by a family member, friend, or peer than something marketed to them by a brand or corporation. And this trend seems to be here to stay. 82 percent of Gen Z trust word of mouth more than any other form of advertising. That's especially powerful coming from the most online, tech-savvy generation.
You may be thinking to yourself, but I'm a brand, not a trusted peer. That's okay! The power of influencer marketing today is that you can hire influencers your target audience trusts to recommend your products in a natural way.
The very best influencers earn the trust of their audiences because they feel like a best friend, older sibling, or trusted mentor — even on a large scale where 1:1 relationships between influencers and followers aren't possible. That means you can spend your marketing dollars and capitalize on the consumer preference of word of mouth.
How Much Does it Cost to Run an Influencer Marketing Campaign?
Depends. We certainly realize that's not the answer you wanted to read – you probably want a number or range of numbers. But there are several important factors that go into pricing an influencer campaign:
What sizes are the influencers you'll need for your campaign? Larger influencers will cost more than nanos and micro influencers.
Which platforms will your campaign run on? A campaign that includes YouTube will probably require a larger investment than an IG campaign that loops in Pinterest/bloggers.
Which media formats will influencers need to create? Are these produced videos or raw short-form videos?
How long will your campaign run? Is it seasonal? A year-long, always-on activation?
Is it during the holiday season? There's more demand for influencers around the holidays, so you'll probably pay a bit more to partner with one.
Then there's factoring in the whitelisting budget, agency fees, and wiggle room for changes and additions to your campaign…
Many agencies have minimums
A small to mid-sized agency may require a minimum campaign investment of $25,000 to $50,000, or upwards of $100K minimum, depending on that influencer agency. And often, minimums are based, not on the size of the influencer agency, but on the size of the clients they serve. So, if you're impressed by the logos on the logo bar on their website, wowed by case studies, or compelled to click by testimonials from people at Fortune 500 companies, expect that agency to have minimums in the six-figure area.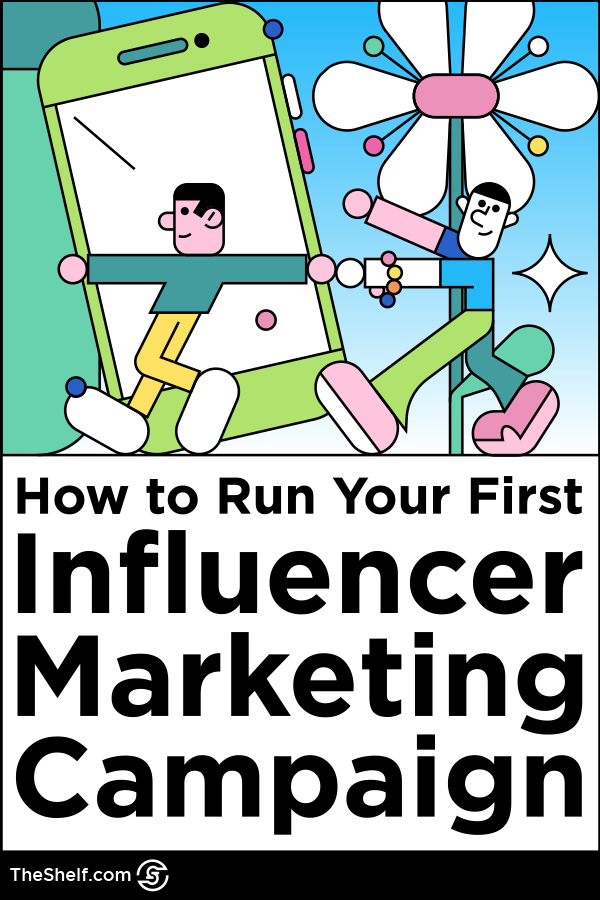 And influencer pricing can vary wildly
To be frank, influencer pricing is all over the place. The cost of an influencer who does brand deals exclusively through a management agency can differ wildly from an influencer who is completely self-employed. We're starting to see more pay and rate transparency in the influencer world, but pricing is based on so many factors, it's hard to streamline influencers with X amount of followers into any one single pay band.
Expect to pay influencers based on followers, engagement, niche, platform, and the content format. Keep in mind that higher follower counts or pricing don't always mean higher quality or greater ROI, and vice versa. This is why influencer selection is such a critical part of the process. If you're starting out with a meager budget as you dip your toe into the world of influencer marketing, it may make sense to partner with smaller creators who will charge as little as $50 to $100 per post.
It is possible to run your first influencer marketing campaign with a modest budget. You may be pleased to hear that the average ROI for an influencer marketing campaign is $5.78 for every $1 spent. So if you're willing to put your money where your mouth is, you could have some big returns in store.
Convinced yet? Let's dig into the initial steps of running your first influencer marketing campaign.
What is the First Step in Launching an Influencer Campaign?
As with any marketing effort, your first step will be to establish your campaign goals. Setting goals for your campaign will help determine what type of influencer campaign you will run, who your target audience for the campaign will be, and which influencers you should partner with to get the most bang for your buck.
Including setting goals for your campaign, there are five steps to creating a kickass influencer marketing strategy. You can use our strategy template to launch each new influencer marketing campaign you plan, but let's run through the basics before you get started.
STEP 1: ESTABLISH GOALS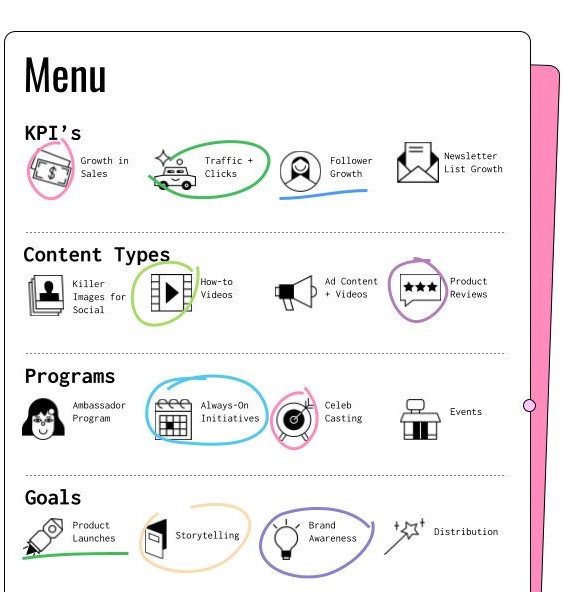 Setting goals for your campaign is easy when you know what's possible. Here are 18 possible goals for your first influencer marketing campaign.
Brand Awareness
Sales Growth
Product Reviews
How-To Videos
Ambassador Programs
Content Creation
Product Launches
Product Placement
Traffic + Clicks
App Downloads
Storytelling
Search Rankings
Distribution
Events
Follower Growth
List Growth
Always-On Initiatives
Ad Content + Videos
STEP 2: IDENTIFY CAMPAIGN TYPE
Now that you've identified your campaign goals, it's time to decide what type of influencer campaign will best help you achieve them. There are three major types of campaigns: brand awareness, content, and traffic/clicks. Once you've figured out your ideal campaign type, you can determine who your audience is for the campaign and which platforms will be best to reach them.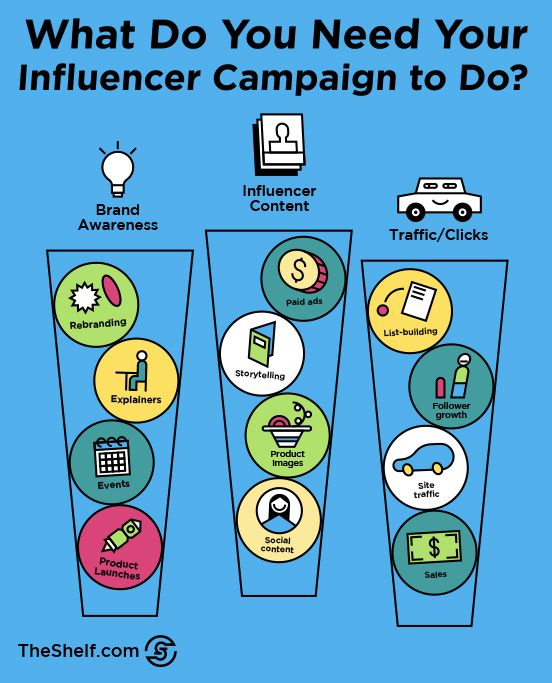 STEP 3: FIND THE BEST INFLUENCERS
So you've got your campaign type, audience, and platforms figured out. Now it's time to determine which influencers on each platform are right for your campaign. First, you'll probably want to consider what size influencer to target. Influencers fall into five major tiers:
Mega Influencers: 1M+ followers
Macro Influencers: 300k – 1M followers
Mid-Tier Influencers: 50k – 300k followers
Micro Influencers: 5k – 50k followers
Nano Influencers 1k – 5k followers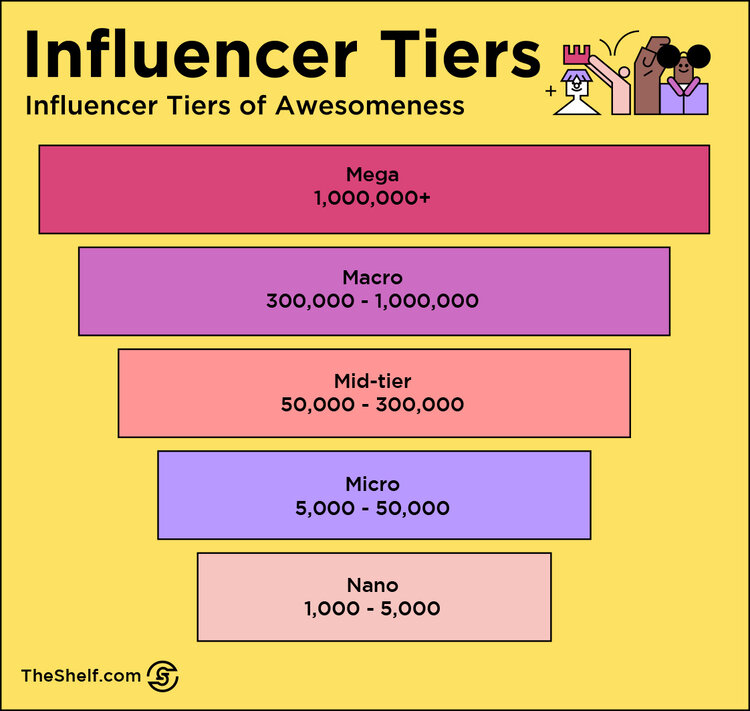 Your budget will likely determine which tier influencers you can afford. Your campaign type will also dictate which audience size is best to target. For example, brand awareness campaigns are all about reaching as many eyeballs as possible, so macro influencers with highly engaged audiences may work best.
On the other hand, if the goal of your campaign is user-generated content, it might make the most sense to partner with several micro influencers with more niche audiences.
Aside from size, it's also very important to consider which creators will be able to best fulfill your influencer brief. The beauty of working with influencers is that when they create content centering your brand, they do it with their own creative flair. Make sure the content creation style of the influencers you select meshes well with your vision for the campaign and the overall brand.
STEP 4: OPTIMIZE CONTENT
You've got the perfect influencers, and they created some truly inspiring content. Now what? It's time to SCALE. Good influencer marketers wait and see how their content performs. Great influencer marketers promote, test, and optimize their content to maximize its potential.
It's a good rule of thumb to keep a close eye on your reach and analytics for the first few posts of each campaign. You can even test messaging using the 24-hour story feature on Instagram, Facebook, or TikTok. Once you identify what works, you can focus on promoting that content.
Optimizing content can look like whitelisting, boosting, or utilizing dark posts. Each offers different benefits, but whitelisting is a particularly useful tool.
STEP 5: TRACK RESULTS
You absolutely, 100% must track your campaign results. As with anything, practice makes perfect. Your influencer marketing strategy is no exception. Your influencer marketing will get better over time because you'll have learnings unique to your brand from each of your previous campaigns. Use these 7 seven metrics to see how your campaign is performing.
How Do You Attract Influencers?
As we discussed earlier, finding the right influencers hinges on a variety of factors. So you'll first want to make sure you're targeting the right ones. Once you've established whether you're looking to partner with nano influencers or micro influencers or if you're going for the mega big fish like a D'Amelio or Kardashian, you can start courting specific influencers to work with your brand.
It's important to do your research and approach influencers with courtesy and professionalism. If you'd like an in-depth guide on how to reach out to an influencer, you can download our outreach guide here.
How Long Should You Run an Influencer Campaign?
One month is generally the sweet spot for the lifespan of an influencer marketing campaign. Most brands and agencies plan for campaigns to last anywhere from two to six weeks. After launching a campaign, you want to have enough time to see the performance of initial posts and optimize the best-performing content, so opting for a month is generally a good strategy.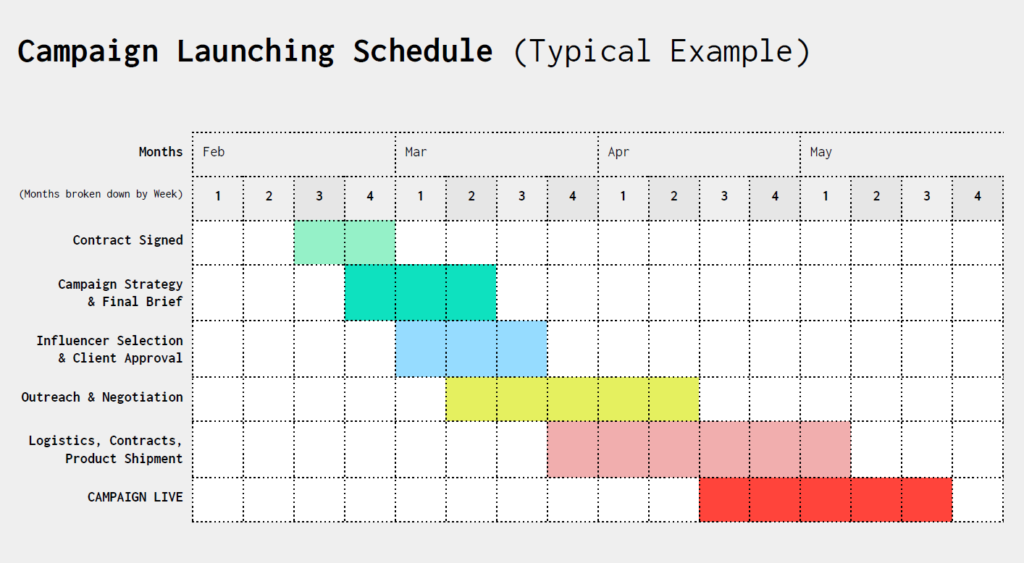 How Can I Expand the Reach of My Campaign?
Launching your first influencer marketing campaign is only half the battle. Once you're up and running, you'll want to get the most out of the content your influencers create.
You can expand the reach of your campaign by optimizing your content. Promoting content will always get it in front of more eyeballs than organic posting. As mentioned above, our current fave optimization tool is whitelisting. It allows you to run ads at scale and repurpose your influencer-generated content as a paid ad from your brand account. Whitelisting allows for specific retargeting so you can ensure your target audience will see it and you gather all the analytics from the post in one place.
Boosting and dark posts are also good promotion tactics. Dark posts show up organically as ads in the feeds of your target audience. And boosting allows you to expand the reach of a singular post, which is great if you only have one post you'd really like to promote.
Does Influencer Marketing Still Work in 2023?
Hell yes.
The influencer marketing world is alive and well in 2023. A whopping 90 percent of consumers believe influencer marketing is effective today. It's no surprise that influencer marketing is projected to be a $90B industry by 2028. If you're not in the influencer marketing game yet, it's time to hop on the bandwagon!
To Wrap Up…
Launching an influencer campaign may seem daunting at first, but remember we've been influenced and influencing for years. Sure, word of mouth has migrated online in recent years, but that's great news for you and your business.
Here at The Shelf, we have everything you need to make your next influencer marketing campaign run smoothly. Whether you'd like to partner with us, or just need to glean the latest tips and trends from the blog, we're happy to help.
I hope this helps you run your first influencer marketing campaign with the ease of a seasoned influencer marketer. If you'd like even more tools to run a kickass first campaign, download our goals book to get real about what you want to accomplish next.
---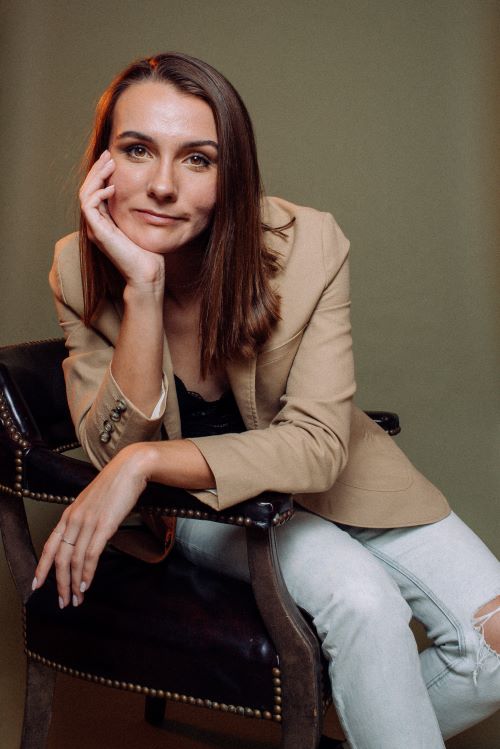 About This Author
Ariana Newhouse | B2B Writer
I am a freelance writer and comedian based in Los Angeles, and while making people laugh is my jam, it's not always the company brand. So, I strive to make people feel something. My writing philosophy is collaborative, empathetic, and humanistic. At the end of the day, no matter the message, there are real people on both ends of the process.
---