Influencer marketing is dead? 💀 Is it possible that the era of the social media influencer has finally come to an end?
I'll be honest — the influencer marketing industry has changed A LOT over the past decade. However, the principles that govern influencer marketing are pretty well established. People will always talk to other people about their experiences. And many of those conversations are happening online because 6 in 10 adult humans are online.
Influencer marketing isn't dead. But just so you have a chance to understand why we're taking that position, let's look at the data. And you can decide for yourself if influencer marketing is over.
---
Is Trouble Looming for the Influencer Marketing Industry?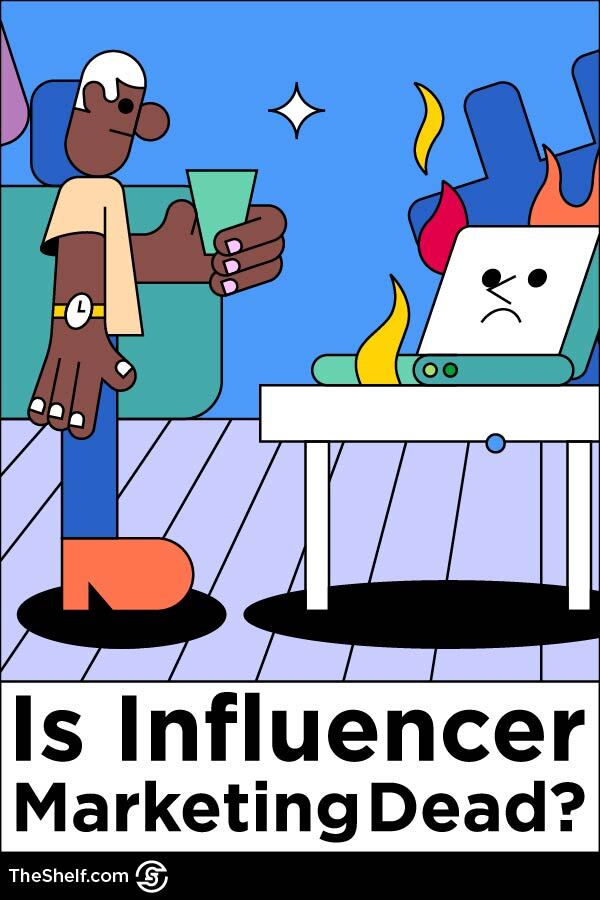 I saw a stat recently that said 48 percent of consumers distrust influencer marketing. This stat, along with a handful of similar stats, is making the rounds in our industry and it gets cited over and over again. I saw another stat just last week that says 90 percent of consumers are turned off by influencer marketing. Both stats were used as headlines.
These types of headlines have been floating around for years. I know that because I originally wrote and published this article as a response post in 2018. Most of the articles with these types of gloom-and-doom headlines around influencer marketing are either misquotes or clickbait. If you keep clicking through the links to find the original source of the stat, you'll discover the stat is either misquoted from a study with similar wording, but a completely different meaning, or it's a "shock stat" created 🤥 to get you to click to read the article. Happens all the time.
In Reality, Influencer Marketing Is Having a Growth Spurt
The influencer marketing industry has more than tripled in size in the last four years, ballooning to a market size of $21 billion. New influencer marketing best practices and laws help to further formalize influencer marketing as an industry, not just another growth hacking strategy.
So, if you happen to be one of the 5 to 8 percent of marketers still grappling with whether an Instagram influencer marketing campaign would be worth the effort, you're in the right place.
Influencer Marketing Isn't New
Influencer marketing isn't new. The history of influencer marketing stretches as long as human history. But social media influencer marketing? Yeah, that's newish. If you don't count forums and chat rooms, leveraging word-of-mouth marketing in digital spaces is a relatively new tactic for boosting awareness. But using influential creatives to get the word out about something? That's always been a thing.
Yeah, before Ronald Reagan was president, he was an actor hawking soap for daytime television. Soap operas, if you will.
At its core, influencer marketing is word-of-mouth marketing in a digital space. So… Instagram didn't invent influence. And Instagram won't end it.
5 Signs That Influencer Marketing Is Alive and Well
In recent years, influencer marketing has been under scrutiny, with talking heads and skeptics predicting its imminent decline. But we don't believe that. Not because we're plucky and optimistic, and not because we're an influencer marketing agency living in denial. We don't believe it because the data doesn't back it up, and if there's one thing we're big on, it's data.
So let's look at several compelling signals that suggest influencer marketing is far from dead and is, in fact, thriving.
Signal #1: People Are Living Life on Social Media
Social media has woven itself into the very fabric of our lives. There are 8 billion people on this planet, and 68 percent of us are online. What's even more fascinating is that 87.5 percent of those who are online are also active social media users. That's around 4.8 billion people. Regardless of geographic location or age group, social media users spend an average of 2.5 hours a day on social media platforms.

That's 75 hours a month.
Or three full days dedicated to social media every single month.
That's the average, but the number's even higher for Gen Z.
Social media is how we connect:
Remember when a phone call or face-to-face meet-up was the only way to catch up with friends and family? Well, those days aren't entirely gone, but social media has become our go-to avenue for staying in touch. These days, new acquaintances are just as likely to exchange Instagram handles as phone numbers.
Nearly 45 percent of social media users aged 16 and above follow their friends, family, and people they know on platforms like Instagram, Facebook, WhatsApp, and WeChat. It's where we share milestones, inside jokes, nostalgic memes, and TikToks so that we can tag our siblings and ask them if they agree with Miss Tanara's assessment that everybody's so creative with their cooking.

Social media is a growing source of entertainment:
The days of traditional TV dominating our entertainment are quickly fading into oblivion. According to Daily Mail, young Britons between the ages of 15 and 24 are spending more time scrolling through TikTok than they are glued to their TV screens. Similar trends can be observed among teenagers and young adults in the United States, as indicated by statistics published by Insider Intelligence.
And it's not just TikTok. According to Data Reportal, platforms like YouTube are outshining streaming giants like Netflix, Prime Video, and Disney Plus. More time, more users, and more entertainment are attributed to social media platforms — that's the new norm.
People are on social media, and brands go where the attention is.
---
Signal #2: People Like (and Trust) Influencers
One of the most telling signals of the continued relevance of influencer marketing is the popularity of influencers themselves. Social media users genuinely enjoy following influencers who resonate with their interests and values. When it comes to spending time on social media, 21 percent of users are there to find communities of people who like what they like. And those groups are often moderated, hosted, or created by influential content creators.
1 in 5 social media users say following influencers is one of their main reasons for using social media, and those percentages get significantly higher with younger consumers.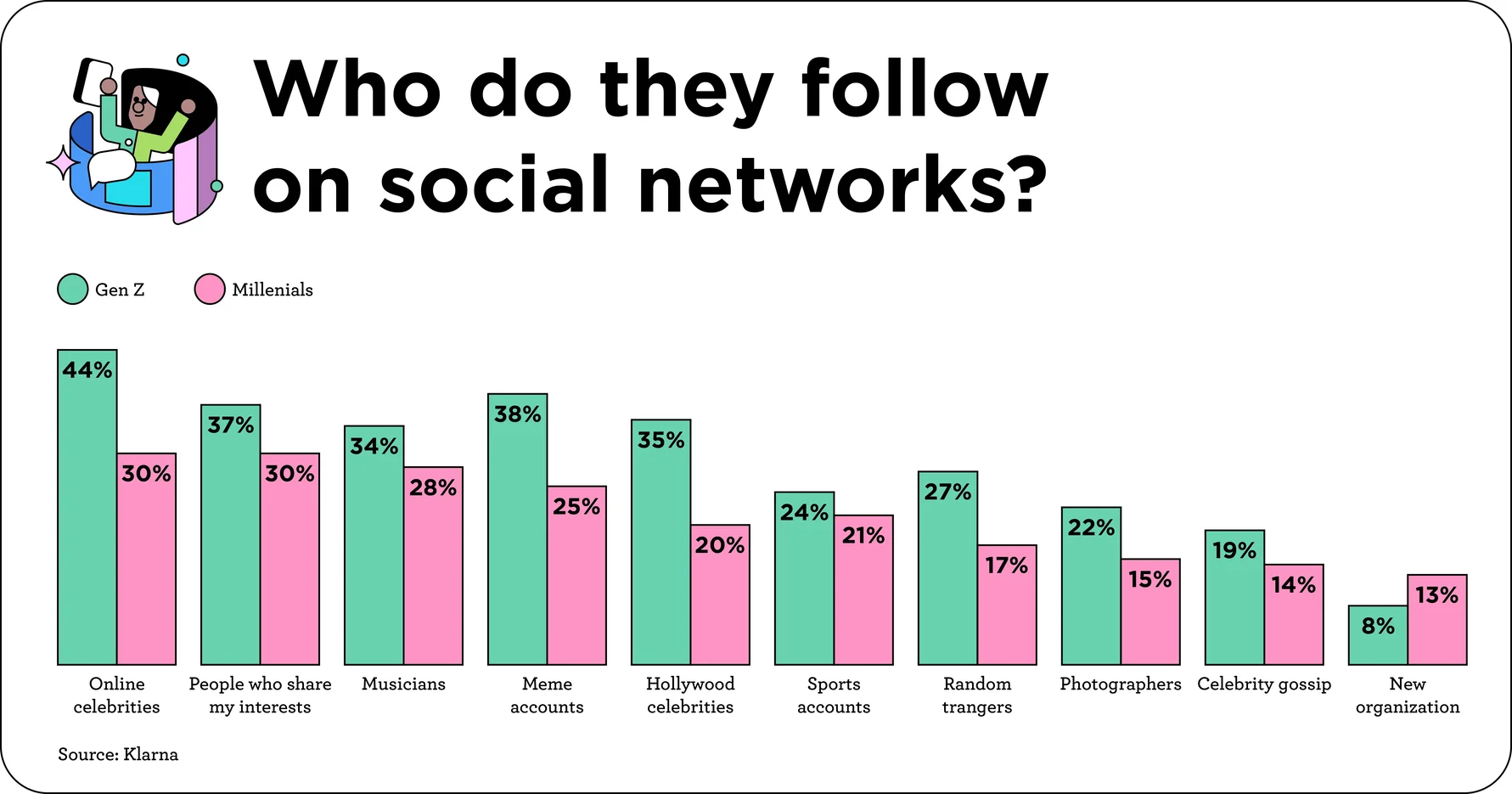 Influencers first; ambassadors second
It's worth remembering that influencers don't become influencers because a brand hires them. Content creators become influencers long before they're partnering with brands. And yes, there's a difference between content creators and influencers.
One of the key metrics The Shelf influencer marketing platform measures during the influencer selection process is category influence — the specific vertical in which a content creator wields influence.
The categories show the topics around which an influencer creates content that are received well by their audience. And those categories are usually supported by the catalog of regularly used hashtags on topics that are closely aligned with their category of influence.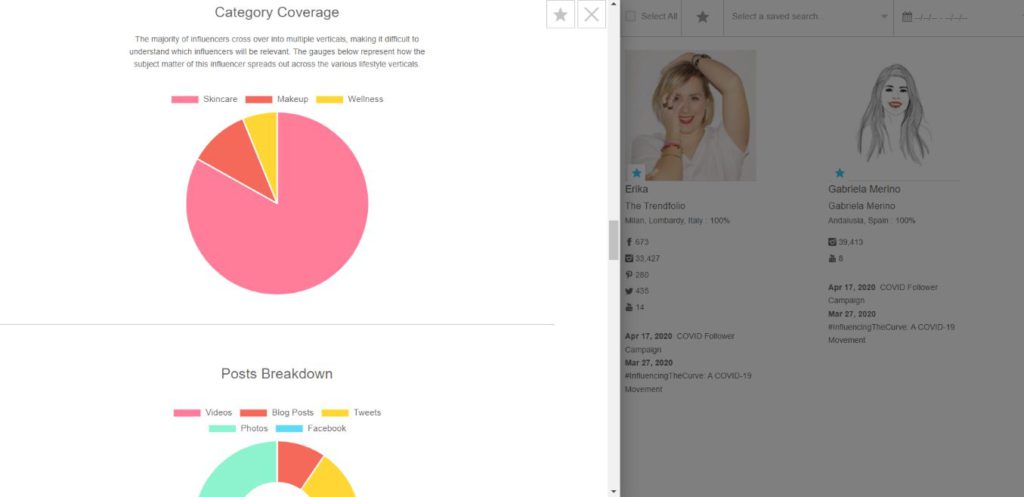 So…
When you see headlines that say people are tired of influencers or that they don't trust influencers, I would bet dollars to donuts that the thing they actually don't trust is ads — influencer-generated sponsored content that looks super ad-sy. 💸 to 🍩!!
This isn't an a-ha moment for anyone, is it? Unless it's a Ryan Reynolds-styled advertainment spot, NO ONE likes ads.
They're disruptive.
They're superficial.
And they come off as tone-deaf and inauthentic. Sometimes it's not even because it's a bad ad! It may be more about the placement. Publishers promise targeted placement, but it's getting harder and harder for them to grab the data they need to ensure it's potential buyers who are being targeted with those ads.
Without enough first-party data (and the tech to make that data meaningful) publishers and social media platforms aren't able to place every ad contextually. That means I end up seeing a Doja Cat video snippet in the middle of my Sunday morning digital church livestream replay. Or my kids have to sit through ads of a middle-aged guy talking up his migraine meds in the middle of their "Come play with me" YouTube binges.
Influencer marketing, when done right, is the fix for tone-deaf ads. Or, at least, it should be. Influencers offer a sense of authenticity and relatability that traditional advertising often lacks. Whether it's a travel vlogger sharing adventure stories or a beauty guru offering makeup tutorials, influencers create content that resonates with their audiences.
---
Signal #3: Influencer Marketing Works
Influencer marketing works. And there are a couple of reasons why this is so. Without dropping a bunch of stats in your lap, I first want to set the stage for how people use social media. Those insights will inform the context of the stats and make 'em hit different.
WHY DOES IT WORK?
Social media plays a more significant role in our day-to-day.
Right now, young adults (ages 16 to 30) spend an average of 1 hour more on social media per day than the average person. Half (friggin' HALF!!) of Gen Zers spend 4 hours or more on social media every single day. That kind of time investment leads me to believe that the way younger consumers are using social media is more encompassing than the way older consumers social. For example:
Search: About 47 percent of 16 to 34-year-olds use social media as a primary source of information when researching brands. Meanwhile, 44 percent rely on search engines.
Spying: 82 percent of 16 to 64-year-olds use at least one social media platform to follow or research brands.
Connecting: For Generation Z, social posts aren't a highlight reel like they were for Millennials. They're the social media equivalent of their train of thought. Their posts and stories are a window into their lives and passions. 
Relationship-building: During a recent interview on the 20VC podcast, Instagram head Adam Mosseri said young people are spending more time in DMs than in Stories, and more time in Stories than in Feed. That's also where the most rich media (i.e. videos, gifs, pics, audio) are being shared on Instagram.
Living a lifestyle of sharing and influencing: 41 percent of Gen Z describe themselves as video content creators, signaling a shift to a culture of creativity and influence.
Innovation: 65 percent of Gen Z surveyed say they used a filter, feature, or effect on a video app over the past year. And 60 percent of Gen Zers surveyed say they're open to watching content from creators who use AI to generate their content.
👀We have a hub dedicated to Gen Z: their values and characteristics, how they use social, and their spending habits.
That said…
Social media is the key to brand visibility.
Visibility on social media today carries the cachet that an ad in the Yellowpages carried a generation ago. It's the primary way your customers are finding you. And it's a really straightforward way to legitimize your business.
For many consumers, social media is their primary method of discovering new goods and services and researching brands. Consumers aren't just searching by hashtags and paying attention to the recommendations of influencers; they're also scrolling your feed and looking for reasons to patronize your business. Added bonus: social media content is visible in the SERPs.
Influencer marketing paves the way for tons of earned media value.
So, earned media value is a way of quantifying the benefit you get from your marketing efforts in a formulaic way that translates mentions into likely conversions. All by itself, earned media is just that — it's earned. It's not sponsored content. But often you'll see stats that tie influencer marketing to increases in earned media value, kinda like how TV spots eventually lead to more sales.
While you're not gonna be able to use middle school algebra to convert a Like into a sale, there is a direct correlation between influencer content, mentions, and brand lift. Not every sale generated from social media will convert with a click-thru from an influencer post, but we know that most adults have purchased something, or considered purchasing it, after seeing influencer content.
Influencer marketing is an extension of earned media. And if you have a strategy team (like ours) that nails the concepts, they can provide influencers with a framework that will help them not just leverage their influence, but also tap into their mojo as content creators. Great influencer content gets shared and talked about.
Influencer content can provide a nice boost to your other marketing efforts.
Great content also lends itself to positive brand sentiment. Great influencer content can positively impact your customer's sales path. According to Salesforce, the path to purchase now fragments across nine different channels, and the average social media user is on different seven platforms.
Influencer-generated content makes it easier for brands to show up on different channels with nuanced messages and creative that's native to each specific channel. That's what distinguishes traditional ads from influencer content, and it's a compelling reason to repurpose your influencer content for paid activations through allowlisting.
But even if you're running full-funnel campaigns using other tactics, consumers are 58 percent more likely to have positive vibes about an ad on TV, Facebook, or YouTube if they're first exposed to the campaign via an influencer's post. A neurological analytics study found that influencer promotions generated 87 percent higher memory and 277 percent more emotional intensity when compared to ads on television.
Plus, if you're targeting younger consumers, Gen Zers are much better than the average consumer at recalling brands and messaging from ads, even if they've only seen them for a second or two.
WHO SAYS IT WORKS?
I tried to color outside the lines a bit on this to deliberately seek out influencer marketing stats from publishers that are not influencer marketing agencies or influencer marketing publications. I found this little gem in the Harvard Business Review in a 2022 article entitled "Does Influencer Marketing Really Pay Off?": 75 percent of brands now have a dedicated budget for influencer marketing.  
HubSpot reports that 68 percent of marketers work with influencers, and 34 percent are investing between $50K and $500K a year on influencer marketing.
Half of marketers said they believed influencer marketing helped them to woo higher quality customers.
---
---
Signal #4: Platforms Provide Support for Influencers
Interestingly enough, influencer marketing has earned its spot as a staple of digital marketing strategies, so much so that both brands and social media platforms are building hubs to actively support influencers. These hubs provide content creators with various tools and features that allow them to enhance their profiles and increase their reach, long before they're on track to become influencers.
On TikTok…
TikTok's Creator Portal is the resource hub for TikTok creators, helping newbies navigate the platform and get the lay of the land. The portal also provides TikTokers with a catalog of how-to videos that help TikTokers upskill in everything from their on-screen presence to video effects and editing.
On Meta…
Instagram's Creator Lab rolled out in 2022 as an educational hub crafted by creators for creators. Instagram brought in content creators to share their invaluable insights gained from their journey, and walks creators through three key areas of content creation on Instagram:
Expressing Yourself: Discover your purpose for creating, refine your voice, and enhance your content.
Building Community: Learn how to forge meaningful connections and nurture a loyal following.
Growing Long-Term: Dive into strategies for the long game, monetizing your content, and establishing a sustainable career.
On Amazon…
Creator University is designed to help influencers and Amazon affiliates learn the ins and outs of selling on the platform. The platform decodes the influencer dashboard, breaks down Amazon's Operator Agreement, and even walks you through best practices for setting up an Amazon storefront.
Plus, platforms continue to build out features that simplify the process of creating, posting, and monetizing content for creators, as well as tools to boost their visibility and simultaneously build their respective brands.
Signal #5: Governments Continue Formulating Laws to Formalize and Legitimize This Space
Lawmakers now oversee the influencer marketing industry. The rise of influencer marketing laws in places like Brazil, China, Japan, and the US are a sign that the influencer industry is growing up, not fading away.
For the last few years, countries have consistently been formalizing the rules that regulate the influencer marketing industry around the globe. It's a clear indicator that the industry is maturing. It's like going from the Wild West to having structured laws that keep everything in check.
In the US, the FTC's Endorsement Guidelines set the standards for transparency in advertising. They're basically saying, "Hey, if you're promoting stuff and you're getting perks or cash, just tell your followers." It's all about honesty and fairness.
Now, take Japan, for instance. They've banned sneaky online marketing and made it clear that advertisers are the ones who need to play by the rules. They want to stop misleading product info from spreading.
In the UAE, they've got influencer licenses! If you're a creator taking money for ads, you've got to get one. It's a way of making sure influencers are responsible and transparent.
China is also taking steps towards transparency by making Key Opinion Leaders (KOLs are influencers) reveal which networks are backing them and whether their content is pro or user-generated. It's about keeping things crystal clear.
And Brazil? One of the issues Brazil prioritizes is one we constantly seem to be arguing over in the US, and that's protecting minors from sketchy online content. With influencer marketing gaining traction, they're making sure there are safeguards in place.
So, what's the bottom line? These laws and regulations are a signal that the influencer industry is growing up and becoming more professional. It's not going away; it's just becoming more responsible and accountable.
Recap and Wrap-Up
So, there it is. Five signals that make it evident the influencer marketing space is evolving and maturing, but not disappearing. Influencer marketing is far from obsolete. The signals mentioned above collectively indicate that influencer marketing remains a potent tool for brands to connect with their audiences, build trust, and drive engagement. As long as influencers continue to resonate with consumers and deliver value to brands, influencer marketing will maintain its place in the ever-changing landscape of digital marketing.
So, if you're considering becoming an influencer, remember that success lies in your ability to build a strong, ethical digital marketing business.
---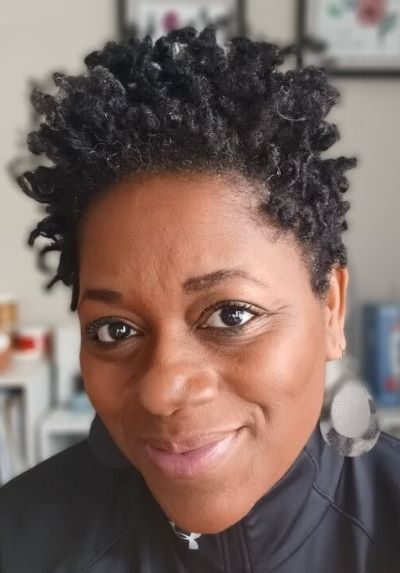 About the Author
Sorilbran Stone | Content Strategist
I serve as the resident content strategist and the official Head of Content Marketing at The Shelf. Marketing is my happy place. I'm as happy looking at analytics as I am actually creating a thing. I focus a lot on dreaming up and implementing the best ways to create, publish, and distribute content that will builds our brand and gets our readers to do a thing