Selling a product is tough, especially when you're the new kid on the block. You can promote your new line of items 24-hours a day using social media, and receive not a single sale. 💩
But let an influencer create a single tweet about your brand, and your website traffic spikes 10-fold overnight. The difference lies in the reach. If you don't have a large list of followers who care to read and share your posts, then your social media strategy becomes obsolete. A complete waste of time (and money).
Launching a product without considering influencer marketing is shooting yourself in the foot. Brands know this. And it's why 62% of marketers planned to increase their influencer marketing budget in Q4 2020.
While it's a smart move for even the smallest e-retailer, it's not something most have the time (or experience) to pull off. The next best option: hire an influencer marketing agency.
But how do you choose an influencer marketing agency to work with? That's what we'll cover today.
Let's review the top 14 things to look for during your search. And in case you're interested, we created a guide How to Hire the Right Influencer Marketing Agency for Your Brand that will walk you through the questions you should ask to easily figure out
which influencer marketing agencies are legit
which ones produce the best content from great storytellers, and
exactly what (and whom) you should expect to get for your money
---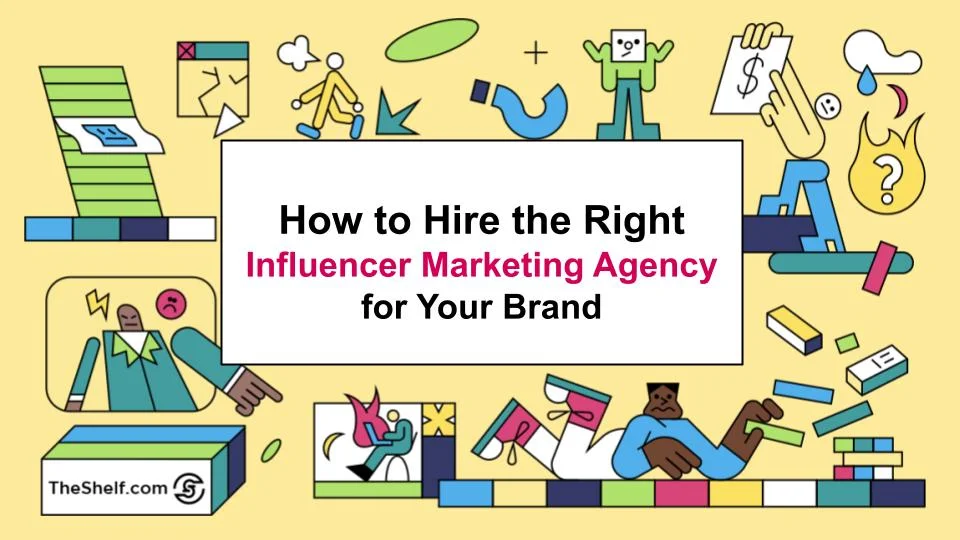 This guide includes a bunch of questions you should ask potential agency partners in this gude – questions that aren't in this post and that cover the topic from a different angle. This is one you'll definitely want.
---
What is an Influencer Marketing Agency?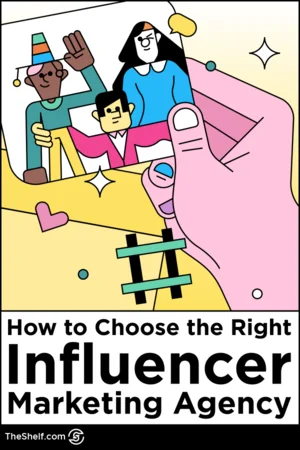 An influencer marketing agency is a company that helps brands and businesses find the right people to promote their products, services, or ideas. Companies use influencers to spread awareness, increase sales, and build relationships with potential customers.
Why are influencer marketing agencies important? Easy. We're important because our success hinges on our ability to analyze data, dream up creative strategies, and build relationships and a tight network with influencers across niche industries. This makes influencer agencies like ours an invaluable resource brands can leverage to grow their business faster.
What Are the Benefits of Hiring an Influencer Marketing Agency?
When you hire an influencer marketing agency, what benefits will you receive? Here's a look at the reasons brands choose to work with an agency instead of doing it themselves.
Connects your brand with relevant influencers
The biggest benefit of working with an influencer marketing agency is their network of hundreds (or thousands) of influencers. They built a database of contacts over years of client engagement. In our case, we built a discovery platform and that platform helps us to find those needle-in-a-haystack influencers that brands need for their campaigns.
So they can find influencers for your brand that align with your brand message and are comfortable promoting your product or service.
Access consistent reporting
Influencer marketing agencies provide detailed insights throughout the campaign to show what's working (and what's not). They'll include metrics like reach, impressions, clicks, sentiment, and conversions to determine if your influencer marketing efforts are paying off.
These insights help you make informed decisions for future influencer marketing campaigns. Like knowing what type of social media influencers to collaborate with.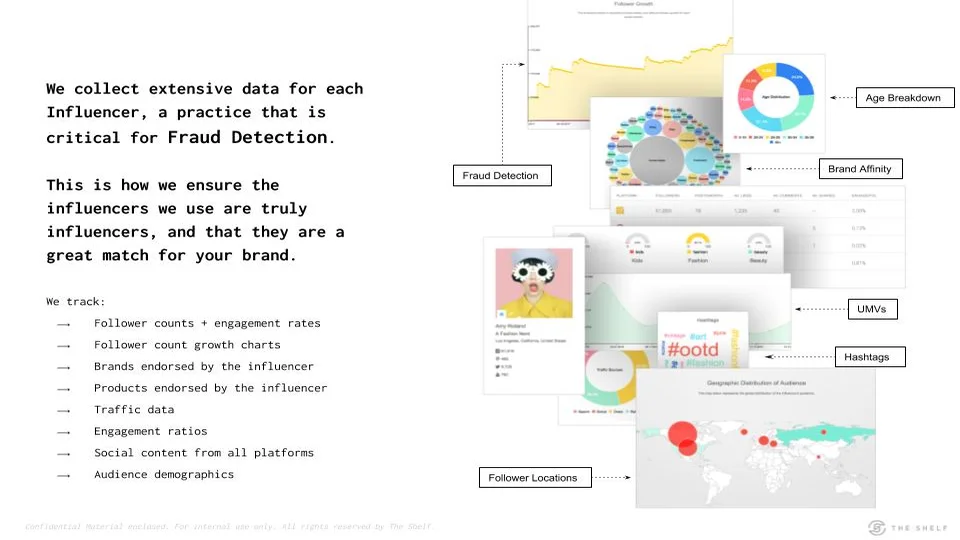 An influencer marketing agency knows what works
As mentioned earlier, influencer marketing agencies have been building relationships with influencers for years. They're constantly learning from their clients and listening to feedback on expected results from certain campaigns.
This allows them to create strategies that deliver promising results. So whether you're looking to drive traffic, sell more products, or expand your social media presence, an influencer marketing agency has proven influencer marketing tactics to achieve your goals.

RELATED POST.
Influencer Marketing ROI: Which Metrics Will Give You the Best Campaigns?
How Do I Choose an Influencer Marketing Agency?
Influencer marketing agencies are awesome. But you don't want to choose just any one. Countless websites today proclaim industry dominance and understanding. Knowing who to trust can be a challenge.
So we surveyed brands and agencies to learn their most pressing challenges with influencer marketing. Based on our findings, here's a list of challenges brands want their influencer agency partners to solve and have experience and expertise handling:
1. Spotting fake followers
An "influencer" with hundreds of thousands of followers and only dozens of occasional engagement? Three words: not an influencer. It's not realistic for a social media account to have millions of followers and no one really engaging with its content.
So the followers are either fake or irrelevant—both are unsuitable to help your business's visibility. Unfortunately, 50% of marketers say it's a struggle to identify fake. And that, all by itself, can end up being a huge objection from stakeholders that can stop marketing teams from getting the budget to run influencer campaigns.
This is why it's ideal to hire an influencer marketing agency that knows the telltale signs to watch for. For instance, off-topic comments from spammy-looking accounts.
2. Understands social media algorithm changes
LinkedIn prioritizing posts with high dwell time. Facebook weeding out fake news. Twitter making it easier to see a chronological feed of tweets. It's like algorithms are changing daily on social media platforms. And staying on top of it all is difficult for 49% of brands.
Not so much for influencer marketing agencies that live and breathe social media. Getting wind of algorithm shifts is how they sail the high seas of social media marketing. Not knowing this can send a campaign to the depths of the abyss.
Like prioritizing text-based posts when the algorithms show favoritism to videos.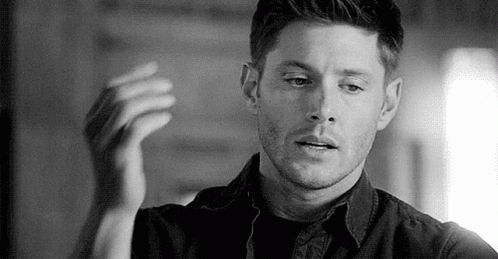 3. Builds long-term campaigns
Influencer marketing isn't a one-hitter quitter approach. It's a marketing technique that works best when you consistently collaborate with relevant influencers. It increases the odds of the slow-to-see and slow-to-move followers taking action.
Yet, 41% of brands lack the ability to do this.
An influencer marketing agency will create long-term campaigns that build on top of your current successes and maximize your results.
4. Stays within budget
Here's a tough one for 38% of brands and agencies. The reason: influencer marketing rates are on the rise. In 2019, it rose by 44% from the year before. Then looking at the increases over the past two decades, you'll see it grew from $7.39 per post to $1,442 per post in 2019.
By working with an influencer agency, you get access to their network and the rates they established with notables.
5. Uses latest social media trends
It's not just the platforms changing the game—it's the users' behavior as well. For instance, Instagram influencer marketing differs from what you'll find on Facebook. Some experts predict live streams are here to stay, along with Stories as a leading content format. A study by SocialInsider shows Stories have a 10.4% average reach rate (slightly more than videos).
Image Source
There's also a rise in social commerce, which is major for e-retailers. Staying abreast of the latest and greatest influencer marketing trends is something 33% of brands struggle with. And by choosing the right influencer agency, you can sweep this issue under the rug.

RELATED POST.
17 Key Influencer Marketing Trends to Follow in 2022
6. Frees your time to do bigger and better "business" things
Selecting products. Talking to manufacturers. Responding to customer feedback. There's enough on your plate as a brand. Adding influencer marketing into the mix will overwhelm your plate and underwhelm your outcomes.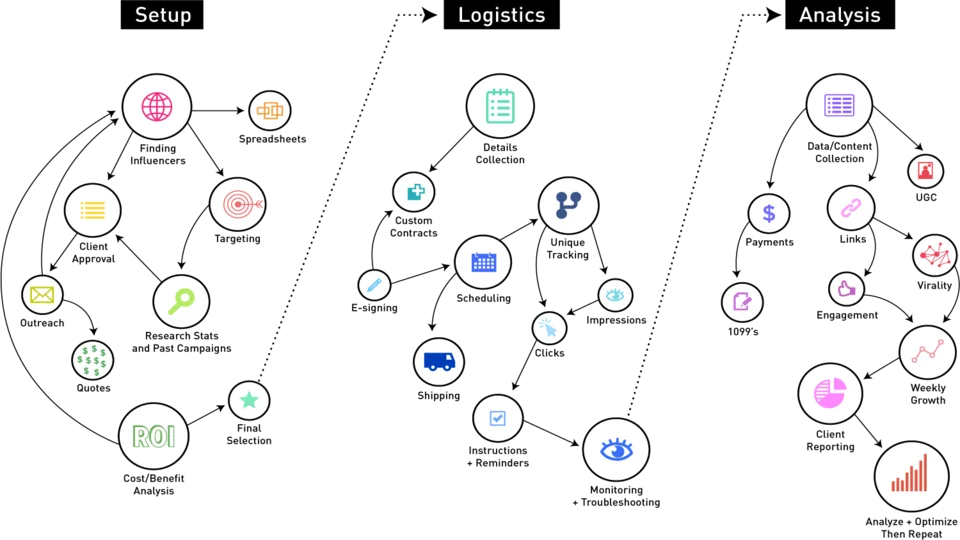 Bandwidth and time constraints are an issue among 49% of brands. Partnering with an influencer agency removes the headache and responsibility from your hands.
7. Finds relevant influencers for your campaigns
There are millions of influencers on the web—some large, others…not so much. But each offers different perks, depending on their niche and engagement rates. Connecting with influencers that match your brand and offer high potential to improve your visibility and sales takes a lot of legwork.
And it's the problem irking 75% of brands. Of course, they can join the influencer marketing agency bandwagon and leave the legwork to the pros.
8 & 9. Manages your influencer contracts (and payments)
Social media strategy. Influencer selection. Relationship building. Influencer contract negotiation, management, and payment. It's a full-time job building and executing an influencer marketing campaign. And it's partly why many don't have the time to manage it all.
Around half of the brands surveyed said managing deadlines and contracts is a challenge. Another 41% say processing influencers' payments is a struggle. More than one-third (38%) identify rising influencer costs as a challenge. And it just so happens influencer marketing agencies can execute campaigns and pay influencers on time.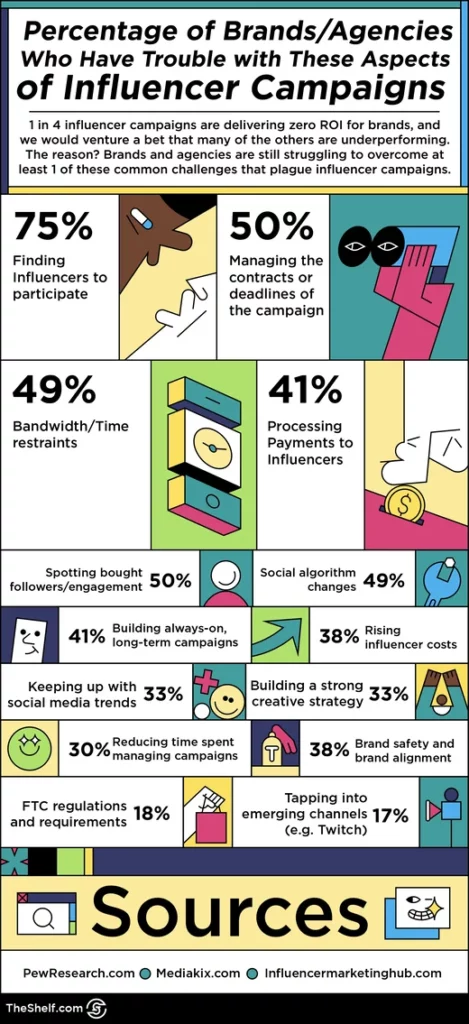 10. Builds strong creative strategies
Social media is a form of content marketing, but it demands creativity that's on a whole other level. It's not like a blog where you publish content, and the traffic comes to you (eventually).
To be seen on social, you need to stand apart (and fast). Because once your post gets pushed down the feed wall, your five seconds of fame are up. Few can build strong creative strategies that capture the attention of targeted audiences.
So it's not surprising 33% of brands battle with this dilemma. Fortunately, influencer agencies dwell in creativity and are jam-packed with ideas for brands across niches.
11. Ensures brand safety and alignment
Publishing on social media can improve brand recognition quickly. That's what businesses love about it. But what happens when it leads to the wrong type of attention? Maybe you used an offensive hashtag or meme, and now your brand is under fire.
It's not a scenario you want to get caught up in. And unless you're culturally in the know, it's tough to ensure you won't. This is where influencer marketing companies prove helpful. Not only do they keep your brand image safe, they also ensure your content is on-brand 100% of the time.
A sigh of relief for the 33% of brands struggling in this area.
12. Stays within FTC regulations and requirements
Partnering with influencers seems like a sly way to get consumers to trust your brand. But it's no secret that influencers use their status and visibility to push products. Some don't mind, as long as it's authentic and adds value.
However, it's not just users you have to worry about. FTC regulations and requirements demand brands and influencers make it known that a post contains promotions. Not doing so can land you in legal trouble and owing fines. And it's yet another struggle for 18% of brands.
Not for influencer agencies, though. They have FTC guidelines down-packed and can ensure compliance in every campaign and post.
13. Manages your influencer campaigns
Time is a scarce commodity among brand owners. There are only a handful of work hours in a day—why choose between running a campaign to grow your business and maintaining the day-to-day activities of operating your company?
It's the very question 30% of brands are asking themselves. The good news: you don't have to choose. Instead, work with an influencer marketing agency that'll manage your campaign and ensure your influencer marketing ROI is on point.
14. Taps into emerging channels
Remember when TikTok first arrived on the scene? Most businesses didn't see it as a plausible platform to attract customers. Today… you'll find hundreds, if not thousands, of brands publishing on it daily.
And let's not forget about Clubhouse, one of the newest channels on the scene. Not sure if it's right for you? Then you'll likely feel the same for the next generation of apps waiting to emerge over the next decade.
It's a lot to keep up with and for 17% of brands, tapping into these new platforms is a challenge. Of course, knowing this stuff is the bread and butter of influencer marketing agencies.

RELATED POST.
2022 Influencer Marketing Best Practices
How Much Does an Influencer Marketing Agency Cost?
What can you expect to pay when you hire an influencer marketing agency? Well…it depends. It comes down to how large a campaign you're running and the size and number of influencers you need to add to reach your marketing goals. So obviously, it'll cost more for large-scale campaigns with top-level influencers.
However, compared to working with an in-house team, influencer marketing agencies can cost less and offer more value. For instance, hiring an in-house team can cost upwards of $8,000 per month. Then depending on their experience, you may not get the same results as you would with an agency.
Now, there are different types of influencer marketing agencies out there. The first has a roster of influencers under management they can reach out to on a whim. They have countless campaigns under their belts and can quickly match you with the best influencer for your brand. Unfortunately, this limits your reach because the engagement may be minimal.
There's no guarantee that their influencers will make a splash for your products. So the cost can sit around a couple of thousand per month and increase by up to 40 percent of your total budget (for bigger campaigns).
The second type of influencer marketing agency uses software to manage its influencer network. It's a step up since they have connections with thousands, if not millions, of influencers. Campaign management is through the influencer marketing platform, which you can do from your end.
Expect to pay between $500 and $10,000 per month for access (depending on the features, network size, and track record).
Then there are the done-for-you influencer marketing agencies. In this scenario, you tell the agency your business goals. They'll build the strategy and then execute it on your behalf. They have wide-ranging knowledge of influencer marketing best practices, an established network, and top industry tools to ensure you get the best match for your campaigns. 
The cost varies depending on the size and reputation of the influencer marketing agency you hire.
Related Post
111 Influencer Marketing Stats
Hire an Influencer Marketing Agency for Your Brand
Finding the best influencer marketing agency to represent your brand shouldn't be a part of your list of challenges. Brands today have enough to worry about—working with an influencer agency shouldn't be one of them.
Check out our downloadable guide on hiring an influencer marketing agency. The guide gets down to the nitty-gritty of what you need to know and which questions you need to ask when it comes time to find an influencer agency partner.