Fellow marketers, we've spent our fair share of time mulling over research about Millennials – what they eat, what they drink, how they engage, how they spend their money and time. As Millennials age up (the oldest Millennials have reached midlife), it becomes equally important to find out how Millennials are doing with the adulting thing, and that means family.
In this post, we look specifically at young families headed by Millennials to gain some insights on how Millennial parents and their Generation Alpha kids use social media to make purchasing decisions.
Millennial Moms
WHO THEY ARE
Estimated to be born between 1980 and 1995ish (we actually adjusted this date since we first explored this demographic last year, and next year, we'll probably have to do the same thing), Millennial women are now 23 to 38 years old. They are the kids of Boomers and Gen X parents.There's a Growing Army of Millennial Moms
Approximately a quarter of America's mothers are Millennials. I want to say the number falls somewhere around 10 to 12 million moms, but I can't say for sure. What I can say is the percentage of mothers who are Millennials will increase over the next two decades. Two decades? Well, yeah… in part, because women are starting their families later and giving birth to kids well into their 40s. And the youngest Millennial women are still in their early 20s.
More than 80 percent of new moms are Millennials though, according to BabyCenter. Sixty-seven percent of Millennial Moms are multicultural, according to research from Carat. In fact, Millennial Moms and their children are part of the two most ethnically diverse generations currently living in the US.
Millennial Moms and Money
Like Gen X and Boomer Moms, most Millennial Moms work, often out of necessity. Thirty-percent of Millennial Moms work full time, and 35 percent call themselves homemakers.
Unlike mothers of generations before them, Millennial Moms are, by and large, more confident with (and more savvy about) finances and products that protect their family's financial well-being.
One-third of Millennial Moms are the primary breadwinners in their households, and a third of THEM are either unmarried, or not cohabitating with a partner.
Being Mom
Motherhood is crucial to the identities of Millennial Moms. In fact, with so many "social" eyes watching, being a perfect mom is a goal to which many Millennial Moms aspire. In a world where Millennial Moms must work, 17 percent of Millennial Dads are now stay-at-home dads.
Work-like balance is an ideal to which many Millennial Moms aspire. One in four Millennial Moms are willing to pay at least $50 a month to have someone step in and help them keep their home lives organized. About 20 percent of Millennial Moms are willing to pay up to $150 a month for that kind of help. It's probably a good move considering one in five family meals are now being eaten in a car.
HOW MILLENNIAL MOMS USE SOCIAL MEDIA
Millennial Moms are social creatures indeed, significantly more social than Gen X Moms.
While Millennial Moms favor Instagram and Facebook (average MM has 500 Facebook friends), the typical Millennial Mom has at least three social media accounts, according to a Weber Shandwick study.
Millennial Moms prefer smartphones to laptops. More than half of the Millennial Moms surveyed said they spend most or all of their time online on their phones, and spend more than 17 hours on social networks every week. That's 30 percent more time than the average mom spends on social sites. Millennial Moms spend two hours more per week on social than they do watching TV.
Mom Influence
Where Millennial Moms are concerned, influence is the magic word. Millennials moms have more close friends than the average mom (24 vs 22 for other moms). Yes, they spend more time on social, but they're not vegging out on Instagram. They engage with one another. The average Millennial Mama gets asked for a product recommendation 9.6 times per month.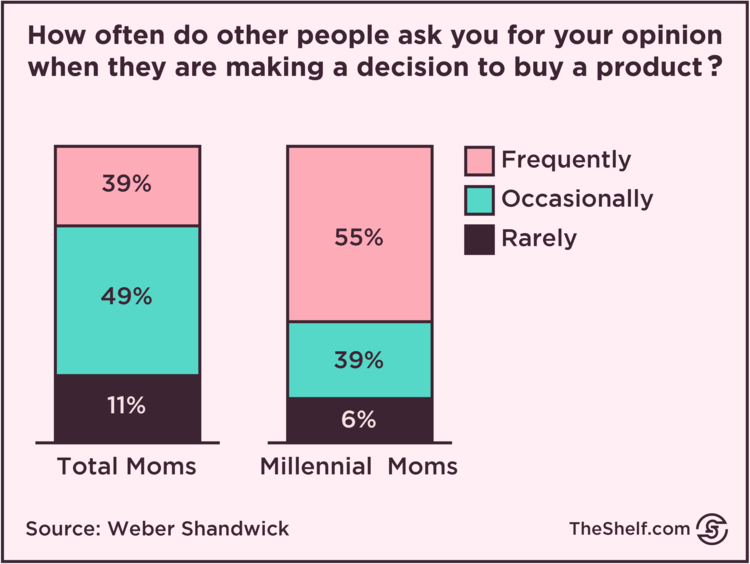 She also offers her own unsolicited product recommendations online 10.4 times a month.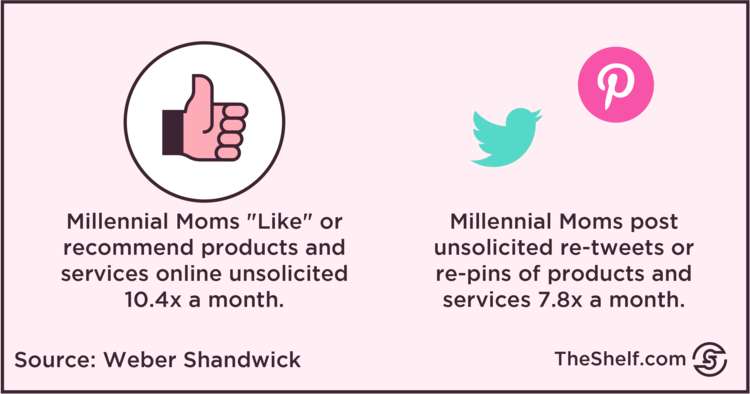 Millennial Moms rely on the online communities they've built to make buying decisions, and are totally okay with offering their opinions online about products – any products at all. They talk openly about clothes, brands, retailers, experience-based services, and even financial products.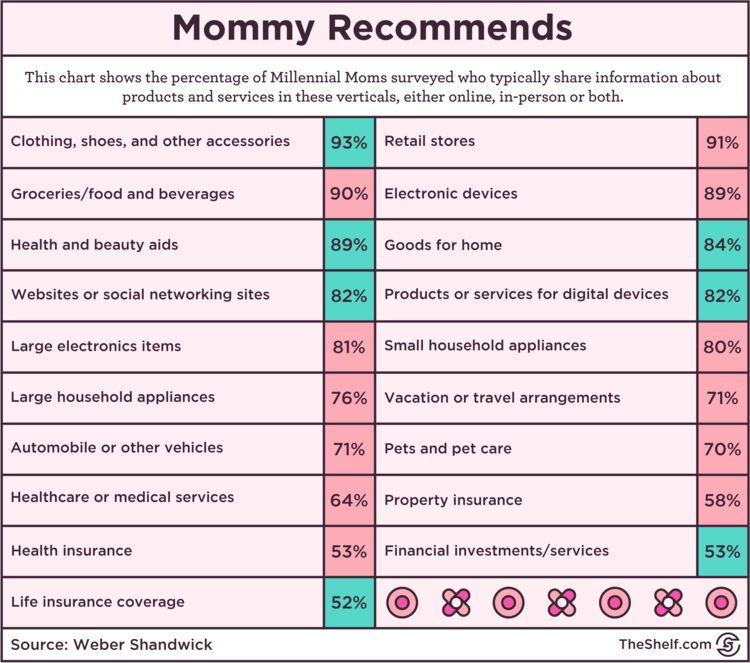 In addition to giving advice, 46 percent of Millennial Moms look to the recommendations of their own networks when it comes time to make buying decisions.
HOW THEY SHOP
Moms control 85 percent of household purchases, with spending power that tops $2 trillion. Women also outpace men when it comes to using mobile for shopping, especially in-store shopping. I, and 41 percent of my female contemporaries, look up email promotions while actually in the store.
How does that play out? While my better half is loading the conveyor belt with products from our cart, I am punching in the names of products as they move down the belt to find discounts. Between the time we get in line and the time hubby hands over the cash, I can usually cut our bill by up to 25 percent with coupons I can click to download to my phone in a few seconds. I count it a victory, a dazzling display of teamwork.
That's women shoppers for you.
Millennial Moms shop for deals. In fact, according to Trybe:
83 percent of Millennial Moms shop online to hunt for the best price
79 percent of Millennial Moms use e-commerce to get a better selection of products
62 percent of Millennial Moms shop online because of the good shipping options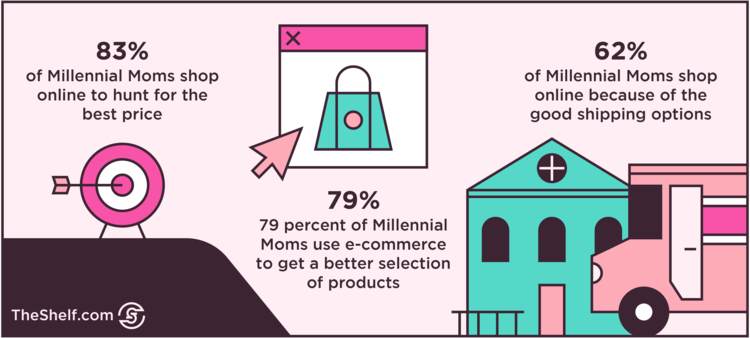 What about brand names? Well, Millennials, as a whole, tend to be less brand-focused than Gen Xers, Flip side: Millennial parents can be swayed. More than half of Millennial parents say that are "very loyal" to a brand once they find one they think is the perfect marriage of quality + price.
And Millennial Moms heavily favor speed and convenience to streamline as much of their day-to-day work+life tasks as they possibly can. One in four Millennial Moms have a smart home assistant like Google Home or Amazon Echo. And of those who have such devices in the house, 31 percent of Millennial Moms use them to add items to their shopping lists.
Millennial Moms are far more likely to have necessities like diapers and beauty products delivered to their homes than to spend time combing the aisles for them in-store. Forty percent of Millennial parents currently use a subscription service.
Millennial Dads
WHO THEY ARE
If you think there's a bit of a gap between how Millennial Moms do things compared to previous generations of moms, I gotta say: Dadhood has changed quite a bit as well. While the youngest Millennial men are still finding their footing in the workforce, older Millennial Men have officially reached middle age (gasp!). No less cool… just older.
Millennials are parenting about half the world's kids. No small feat, considering we just posted about how there are 50 million kids heading back to America's public schools for the 2019-20 school year.
Without a doubt, Millennial Dads are responsible for some of the biggest shifts in fatherhood… maybe ever. They are more likely to think of fatherhood as important to their identities; when polled, 9 in 10 Millennial Dads even went so far as to say it's important for them to be the "perfect dad".Crushing It As Dads
Millennial Dads spend five more hours per week with their children than dads did in 1995, and 3x the number of hours dads from 1965 spent with their kids.
Prince Harrys' request for a two-week paternity leave just ahead of the birth of his baby boy made headlines. Granted, I'm not exactly sure what he does as his 9 to 5 (other than be the most awesome Royal), but his request isn't an unusual request for today's new parents. Paternity leave is a priority for Millennial parents; 80 percent of Millennial Dads would be reluctant to leave a job that offered paternity leave.
Millennial Dads prioritize family time, and many of them are sharing in the day-to-day responsibilities of raising children and maintaining a family. Half of two-parent households say they split the household chores equally between the parents.
HOW THEY USE SOCIAL MEDIA
For Millennial men, fatherhood seems to turn on that social media gene. About 70 percent of Millennial men use social media, according to Nielson Newswire. They use blogs, online news websites, and social networking sites to make purchase decisions.
By the same token, 70 percent of Millennial Dads seek out parenting information online, according to Think With Google. And most of the time, that searching is done using the device closest to them – usually their smartphones. When are those moments showing up? Daily. Half of dads are heading to social media daily for parenting advice.
As well, 45 percent of Millennial Dads use search to get answers to questions on everything from the best baby products to the best cities for families. This they do in lieu of getting advice from their own dads, by the way.Dad Time
Far more than Boomer fathers, Millennial Dads are kicking in on one-on-one time with the kids, the shopping decisions, and the housework. As most Millennial families are two-income households, the changing role of fathers in the home is just too big for marketers to ignore.
Millennial Dads dedicate 28 percent of their time online to dad-related content and 60 percent of Millennial fathers say they're better dads because of the resources they're able to find online.
HOW THEY SHOP
When we ran down the stats for our recent back-to-school post, one of the things that stood out was the fact that, on average, dads outspend moms on back-to-school stuff by more than 100 bucks.
It's not really a question of whether or not Dad goes shopping. It's more a question of how Millennial Dads are shopping. Eighty percent of Millennial Dads handle (or chime in on) the household shopping, and we're not talking about getting a list from Mom and running an errand she doesn't have time to run. I'm talking about Dad doing a little research then going to the store to buy what his family needs. And Millennial Dads shop a little differently than Millennial Moms. Couponing
Millennial Dad probably isn't going to the store in a fanny pack stocked with coupons like Millennial Mom will. He isn't even super duper concerned about loading up his grocery store app with digital coupons. One, it takes too long, and most dads are all about getting the task done fast and done well. And two, handing a fistful of paper coupons to a pretty cashier is not on any dude's list of ways to crush it. It's just not. So, if you're a brand that's targeting men, discounts are great and they absolutely WILL make it more likely that Dad will buy your brand… but add the discount to his rewards account automatically as points or email it to him. Don't expect him to spend time in the evenings searching your app for a $3 off coupon.Quality Counts for Something
Millennial Dads shop for quality more than Millennial Moms, AND they are more concerned about quality than Millennial men without kids. According to MediaPost, 66 percent of Millennial Dads say that high quality is extremely important. By comparison, 50 percent of Millennial men without children, 45 percent of Millennial Moms, and 51 percent of the general population focus on quality.In-Store Mobile
Both Millennial Moms and Millennial Dads will use their phones in-store to enhance their shopping experiences. The difference is usually a matter of what they're looking for.
Moms are more likely to be looking for deals. Dads? Product reviews. Dads also use their phones to find nearby locations, look up store hours, and to create shopping lists while shopping.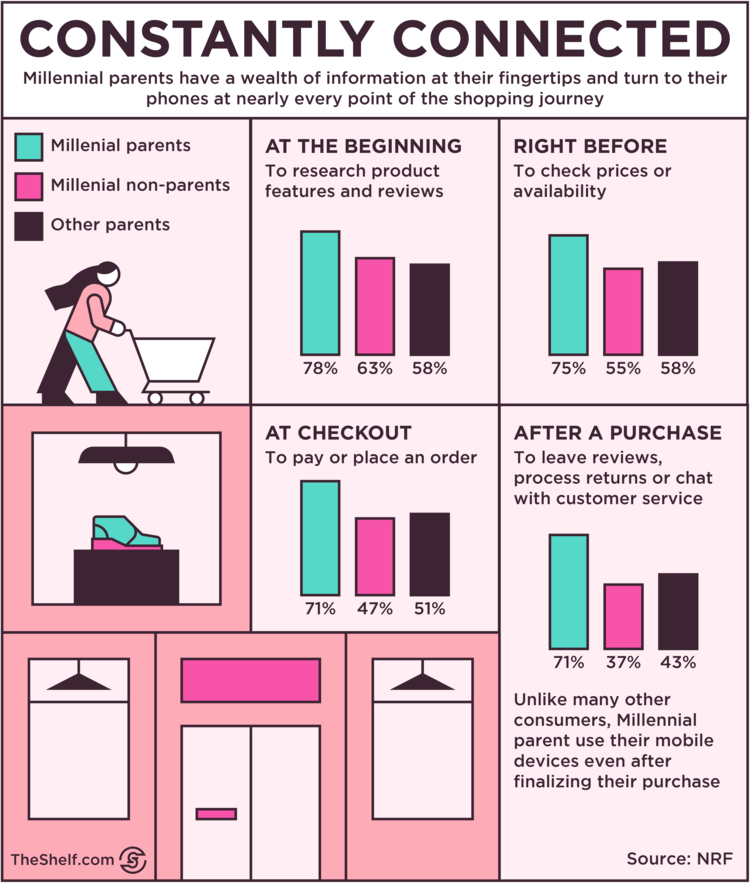 Courtesy of: The Shelf Full-Funnel Influencer Marketing
COPY AND PASTE THIS CODE TO EMBED ON YOUR SITE
Generation Alpha
WHO THEY ARE
The first Generation Alpha babies were born in 2010 and the last will be born in 2025. Currently, Millennial Moms are giving birth to some 9,000 Gen Alpha babies every day. By the time the entire generation has been birthed, Generation Alpha will be two billion strong.
Gen Alphas are predominantly the offspring of Millennials. But many of them are also the kids of Gen Xers. They have arrived in the world at a time when the Internet of Things enables them to live in a wholly-connected America.
Gen Alphas are the first generation of kids born completely in the 21st century, and their arrival coincides with the arrival of the first iPad. Their entire experience thus far has been on-demand, whether it's getting their food right now, streaming entertainment right now, downloading games right now, or even using smart home devices to get answers to their questions… right now.
HOW THEY USE SOCIAL MEDIA
While only about one in five kids under the age of 12 use social media platforms (though Tik Tok actually caters to a younger demographic and is growing rapidly), most younger kids spend a significant portion of their screen time on platforms like YouTube and Amazon Prime watching short-form video.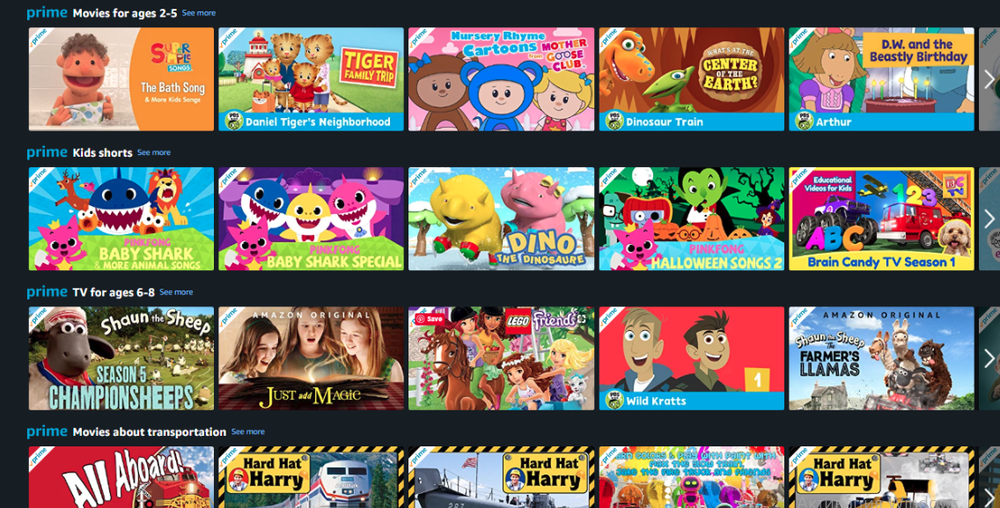 The screenshot above is of the Kids section of our household's Amazon Prime Video subscription. Notice how the content is separated by format, length, the focus of the content, and by the age of the viewer.
LOVE this.
On the flip side, what I like about YouTube is that it's free (yay!) and I can create playlists of videos that I hand-curate for my kids to watch.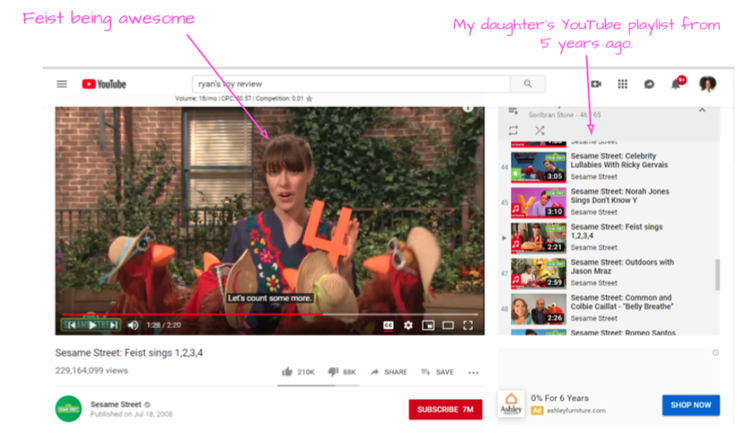 The World's First Screenagers
Mark McCrindle, an Australian social researcher who has done extensive studies and projections on Generations Z and Alpha, refers to Generation Alpha as "screenagers." Although the oldest Gen Alphas are heading to third or fourth grade now, 81 percent of parents say their Gen Alpha kids either watch videos or play games on electronic devices every single day.
As a result, startups that produce Alpha-targeted apps (like Age of Learning's popular app ABCmouse) are leveraging the market being carved out by the most tech-savvy, influential, and materially-endowed generation the world has ever seen. Coincidentally, ABCMouse has well over 1 million paid subscribers.
The way in which young kids consume content also creates an "in" for brands that can no longer reach school-aged kids through traditional TV spots. And for the kids who spend time on YouTube, that content is loaded with ads and marketing messages.
More impactful than ads for this demographic is branded and unbranded content created by kid influencers like Ryan Kaji.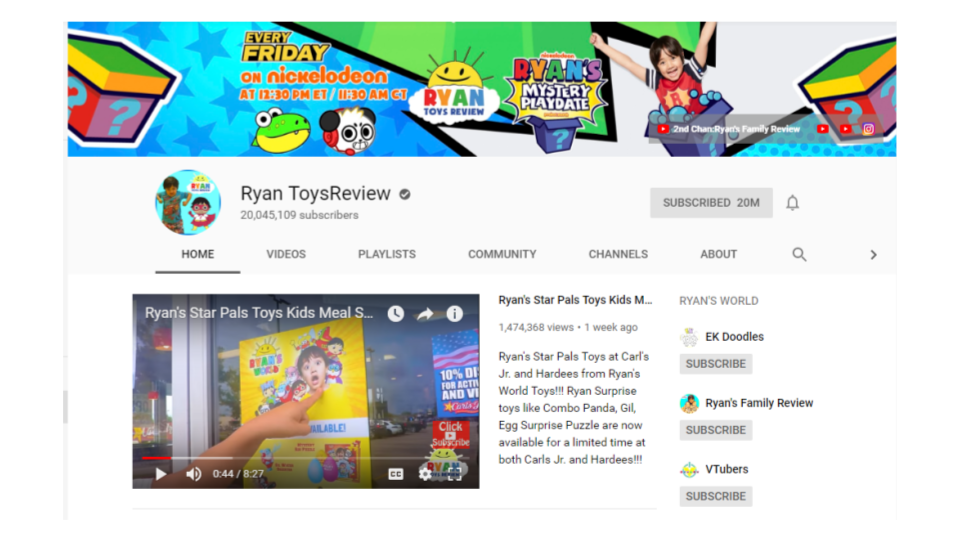 Source: Ryan ToysReview Channel on YouTube
Ryan started out reviewing toys on YouTube when he was just four years old. Today, he is a global brand with toys, apparel, accessories, and products at Walmart, Target, Claire's Kohl's, and Barnes and Noble. This morning, I even noticed one of his toys comes with the kids meal at the Hardee's restaurant down the street.
In addition to his popular YouTube toy review vlog, Nickelodeon is broadcasting the very first season of his NickJr show, Ryan's Mystery Playdate. And let me tell you, Ryan is a BIG FRIGGIN DEAL to my five- and two-year-old daughters. And yes they ask for the toys he reviews in his vlog.
HOW THEY INFLUENCE SPENDING
If you don't happen to have young children, you may not fully grok the impact a toddler can have on one's budget. Within the family unit, the children often play the role of arbiters, championing for certain products and brands, while parents are the curators who make the final decisions on what comes into the house. But parents' choices are based, in large part, on what their kids and other family members present as viable options. More than three in four parents say kids influence their buying decisions.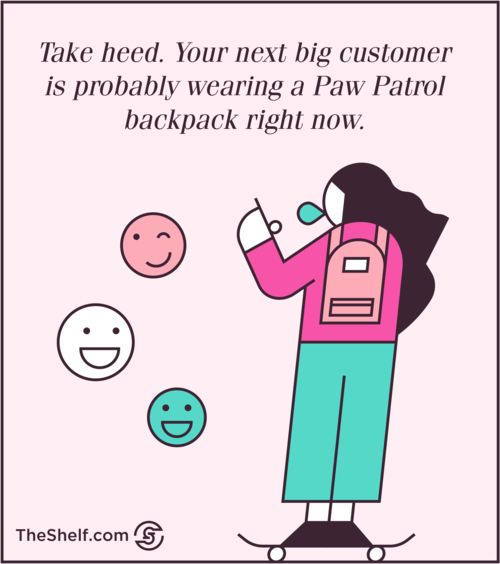 Children under the age of 11 influence something like $1.2 trillion in spending, weighing in on everything from breakfast foods (Nature Valley breakfast cookie, anyone?) to the family car, according to Digitas. This global phenomenon (and it is, in fact, global) of giving kids a say in household purchases directly impacts the way in which brands target kids.
I don't think it's a coincidence that parents spent about $1 trillion every year raising their children. Best guess: that other $200 billion that kids influence includes grandparents, cool aunts (PANKS), awesome uncles, and non-necessity spending from Mom and Dad.
In 1983, brands spent $100 million marketing things like cereal, toys, and burgers to children. Today, the number is $12 billion; kids are seeing more than 40,000 marketing messages a year, many of them in the curated video content parents allow their kids to watch.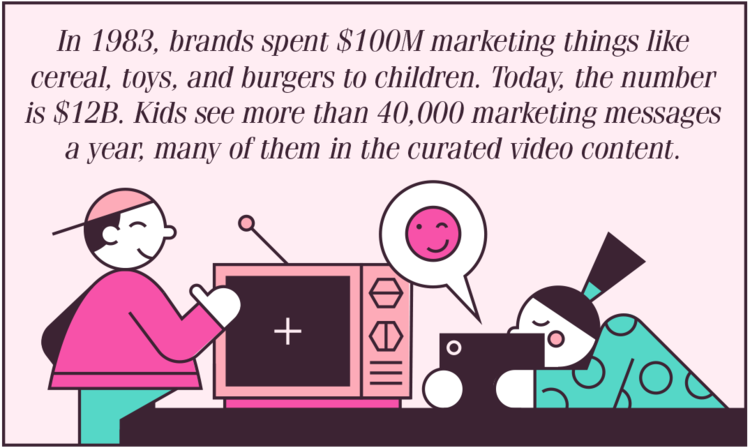 Kid influencers and short-form videos present an opportunity for brands to reach young viewers. Eighty-seven percent of kids remember the ads they see, and 77 percent of parents will admit their kids ask them to buy products they've seen in ads.
Well, duh. Right? Kids are always asking for stuff. The question is: Do Mom and Dad head to the stores just because kids ask? And the answer is yes. Nearly three out of four times, the purchase is made, and when kids chime in on purchases, parents typically end up spending 60 percent more than they otherwise would have. So… take heed. Your next big customer is probably wearing a Paw Patrol backpack right now.
Conclusion
What's interesting about the Millennial-Alpha connection is that Millennial parents seem to display an almost obsessive relationship with their kids. This tendency may be attributed to the fact that they themselves may have been a little sheltered by their Gen X and Baby Boomer parents (the web refers to them as helicopter parents – you know, for hovering over their kids they way they did). Or, it may be the result of such a high number of Millennials growing up in single-parent homes (about 40 percent).
Millennials are the most educated generation on the planet, and the most socially-connected in decades, but they face trials American parents haven't had to face in recent history.
Economic instability, job uncertainty (Millennials change careers more than Gen Xers, Boomers, or the Silent Generation ever had to), climate change, and shifts in the global political landscape can have a catastrophic impact on the future of the entire world.
This is the environment in which Millennials are rearing children. Yet, they spend twice as much time with their kids as previous generations. Dad is home more to shoulder some of the responsibility of helping around the house. Millennial Moms are somehow present with the kids AND working full-time.
Millennial parents value parenting as perhaps the most important part of adulthood, out-ranking even professional aspirations and financial success. So, it seems Millennials parents are crushing parenthood… or at the very least, raising the bar.
Conclusion
For Millennial parents, shopping is both logical and emotional. The rational drivers for making purchases often include considerations about not just how much something will cost, but also whether or not the kids will like it. Millennial Moms and Dads are raising the first generation of kids who are learning, playing and living online.
Brands and marketers can use social media marketing, video marketing, and of course, influencer marketing to help parents streamline and even marry the research and purchase process so Millennial parents accomplish what they want most – to optimize everything around them in an effort to preserve and prioritize family.