I heard an interview with Instagram's Adam Mosseri a few days ago in which he said the shift to video is as important as the shift to mobile. The platform is prioritizing Instagram video features and giving preference to video content in people's feeds. For those of us who are low-key dragging our feet on adopting video as part of the regular content marketing strategy, 2021 may prove to be go time.
It's hard to keep up with the perpetual changes happening across platforms. I literally get daily updates in the morning by way of my Google workday routine. Here, at The Shelf, we've been keeping a close watch on Instagram Reels, Instagram's fourth major video feature (preceded by in-feed, Stories, and IGTV), especially since the rollout coincided with TikTok's Trump troubles last fall.
Right off the bat, we noticed Instagram was giving Reels content preferential treatment. Reels show up on the Explore page, which gives creators who use Reels – even if they're just reposting videos direct from TikTok to Reels – much greater visibility and reach.
The result?
Reels were KILLING it with video views, producing 2X, 5X and 10X the views organizations like the UFC and the NBA, and even brands like Louis Vuitton were getting on their IGTV content.
So, we created this visual guide to help you (and by "you" I really mean us) get a handle on how and when to use each of Instagram's four video features.
Stories vs IGTV vs Reels: When Do You Use Each One?
Here's the Big Takeaway for this thing, I think: Reels are a great tool for brands and creators looking to grow their audience because Reels extend beyond the boundaries of your own followers. So, if you have micro-content that you want non-followers to see, Reels is your jam.
If you have content under 30 seconds that you want your audience to see, go with Stories.
If the content's between 30 seconds and 1 minute, publish it to your feed. And if it's over one minute long, IGTV is the place to put it. Even though IGTV is a separate platform, you can set the videos to also show in your main feed, so… win.
Check out our chart below, and of course, you can use the embed code to add it to your site.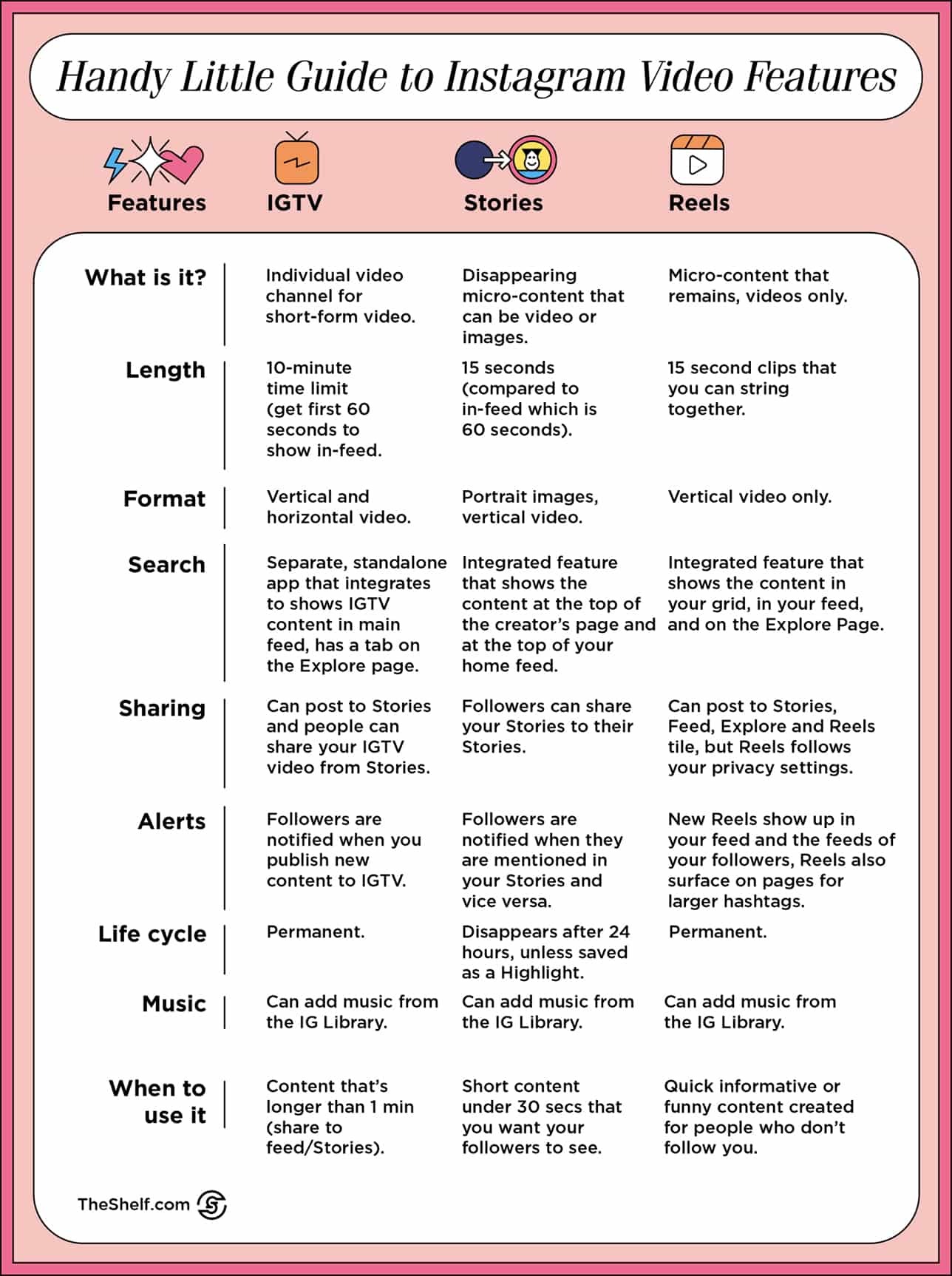 Courtesy of: The Shelf
COPY THE CODE TO EMBED THIS ON YOUR SITE