I've seen a lot of influencer marketing campaigns and blogger collaborations come and go over the years and I can tell you one thing is for sure. There's nothing more relatable for your customers than seeing a product used or worn by real people. Customers who view or engage with a piece of user-generated content featuring the brand's products are more likely to purchase an item…and that kind of says it all.
It's far easier to push customers through the funnel simply by showing how real people use or style your products. Branded content just doesn't have the same effect. Research shows that 92% of consumers trust recommendations from other people – even someone they don't know – over branded content.
Brands and PR pros should take serious note when it comes to how they work with bloggers and social media influencers. Equally important, they should be keeping track of user generated content from their customers, as it's one of the most inexpensive, relatable, and strategic ways to dive into influencer marketing. Let me draw on some of my own experiences as well as others I've come across.
Loft
LOFT has a style hub on their site where they encourage customers to share how they wear their brand. They then aggregate the best user-generated content from these customers. Instagrammers have to be wearing LOFT and tag the photo with #LOVELOFT so the photo can easily be tracked by their team. Once aggregated, if a user clicks on that photo, they're taken to a pop up that allows them to easily shop the look online. Seeing the clothing on a real person is the most relatable way to show off the garment and how to style it. Oftentimes, customers are so inspired, they barely think twice before adding the item to their shopping cart.
LOFT contacted me directly to get permission to use my photo, which was featured both on their hub and on their Instagram channel.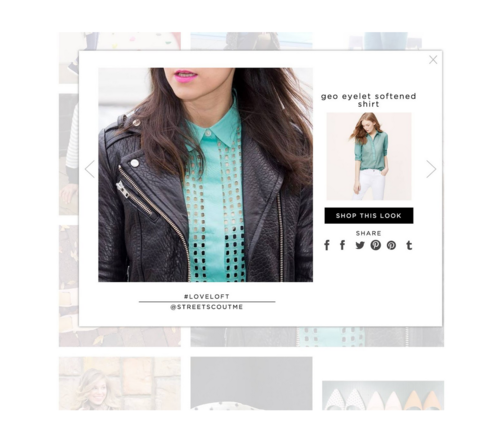 LOFT was very smart to create this hub because the majority of their brand photos – while very nice – are pretty unrelatable. Aggregating content from real people that style their clothes in new and fresh ways adds another layer to their social strategy and helps to drive online sales from their current customer base.
Style Moi
E-commerce store, Style Moi also has a style hub where they aggregate looks snapped by their shoppers. They've also created a blogger program that offers gifted goods to bloggers when they earn enough points. If looks are snapped by those bloggers, the photos are tracked so they can add them to their style hub.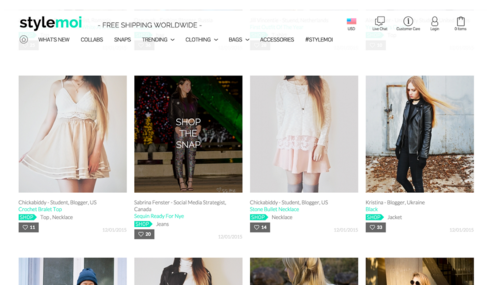 They make this SNAPS page easy to find and prove that it's integral to their brand. As they say, "We believe that we are building something more culturally important than just an e-store. We aim to create a place where you could come and search for style inspirations and the opportunity to follow fashion on your own terms."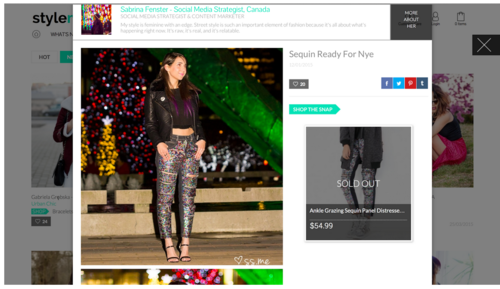 To that end, if something catches your fancy in the feed of styled snaps, you can shop the look directly from there. What's more, they add all the photos from your blog post and information on the blogger for a more personal element.
As you can see below, you would normally be able to shop my look if it wasn't sold out. Don't underestimate the power of UGC 'shop the look' content because it actually works (in this case my pants were sold out one or two days after I shared them online).
Style Moi also has a section on their website called #STYLEMOI, and as the name suggests, everything is aggregated by this hashtag. Whether or not you're part of this blogger program, as long as the look is posted on Instagram, Twitter or Tumblr it gets aggregated here.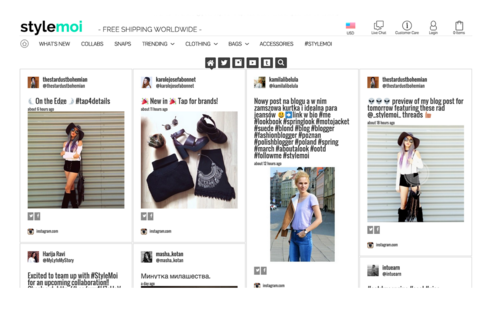 MEZZI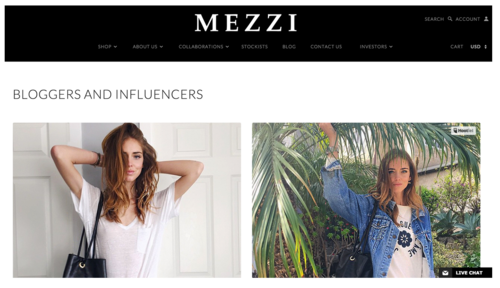 MEZZI is new on the scene but they've made insta-impact with their luxury handbags by immediately getting them into the hands (or should I say onto the shoulders) of the most high caliber bloggers – The Blonde Salad, Fashion Toast, Trop Rouge, Peace Love Shea, and Eat Sleep Wear, to name a few.
Given the makeup of their current social and content strategy, I'm willing to bet that the majority of their ecommerce sales come from these high caliber blogger collaborations.
Not only is MEZZI seeing the value in being featured by such heavy-weight influencers, they get that this high quality content can be utilized through their own channels – their website and various social media presences. Let's just say it adds a lot of credibility to their brand (and they've established this at the onset of their launch – pretty impressive, to say the least).
Clearly Contacts
Let's face it…Clearly Contacts isn't a brand you would normally associate with words like "current" or "trendy" or "cool"…until recently. Partnering with style ambassadors that represent these words has helped them climb the ladder to a new, fresh identity.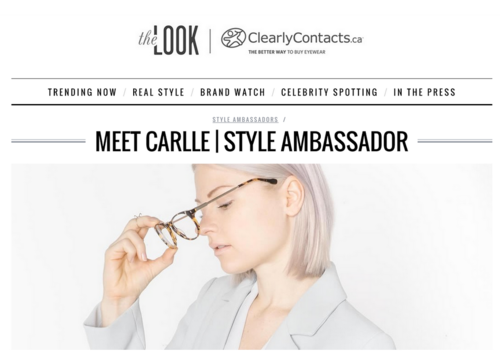 Through their blog, "The Look" and regular style ambassador features, they've attracted a new set of customers that value style and affordable prices. They're now top-of-mind for many of these people. Need to buy frames? Clearly Contacts has your back. Need a fresh look? Eyewear adds a next level element to your personal style…in fact, it's the perfect accessory.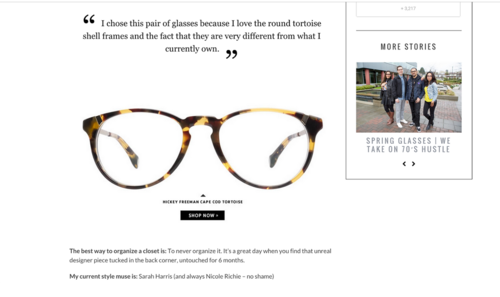 They seem to know what they're doing on the marketing front. The content lives on their site and it gets promoted on both their end and ultimately the influencer's as well.
Equally important here is the fact that you can shop the eyewear straight from the post…so any opportunity to increase sales is taken advantage of. They've even partnered with niche bloggers and business pros, like Marissa of Design Love Co., where eyewear fits oh-so perfectly into her lifestyle. They've done video campaigns and fun collabs that get the attention of their own customers and the influencer's followers alike (once again including shoppable content). Influencers are quick to share the content…after all, what blogger or business-minded pro doesn't like a sweet little feature?
Stuart Weitzman
Stuart Weitzman is experimenting with the next level of influencer marketing: people-powered e-commerce. It's a newer model for sales associates and influencers to set up their own personalized versions of a corporate e-commerce site, curate products and content recommendations, offer shopping advice, and ultimately, sell products for the brand.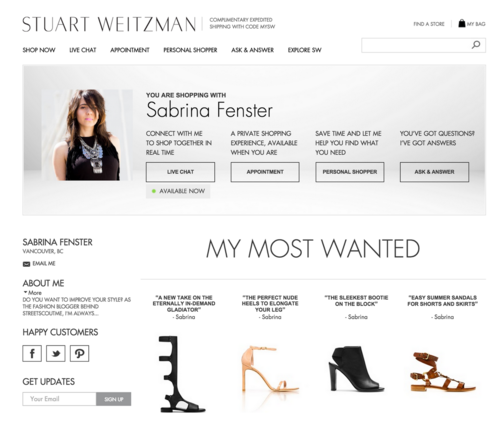 It's basically another version of a Style Ambassador Program and rewards the influencer by offering commission on any sale they make. In essence, the influencer is selling the product FOR the brand. Does it get any smarter than that?
How The Shelf Can Help
Do you actively participate in influential social media conversations about your brand? With our platform, you can surface all influencer mentions from blog posts, Instagram, Twitter, and Pinterest so you can leverage and amplify that content. You can even interact with the content and influencers straight from our platform. You'd be surprised how many influencers are talking about your brand already!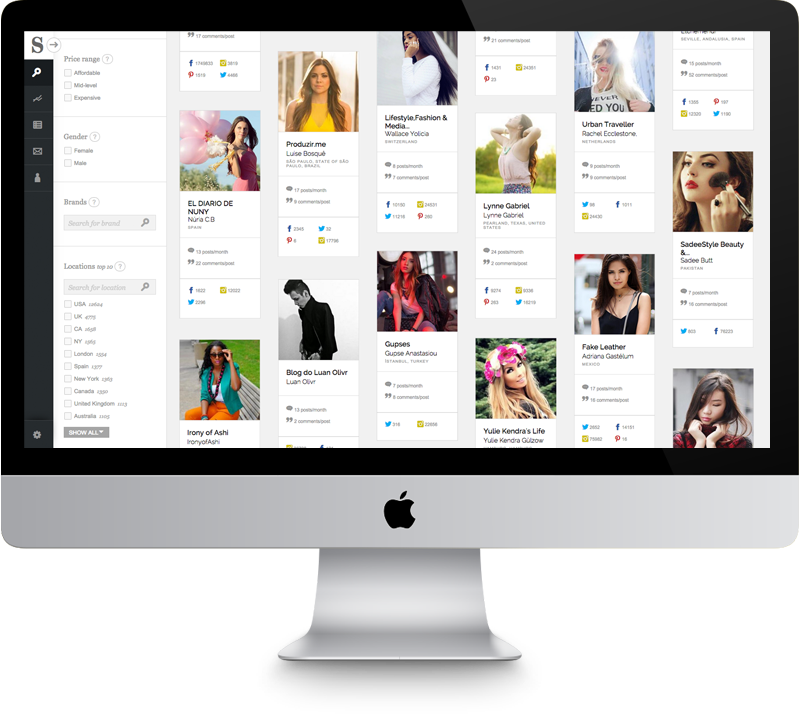 So, if you're one of the many brands that has barely scratched the surface of user-generated content, I urge you to ask yourself why? As Jay Heinrichs says, "Your best customers are your greatest influencers."
Now, how can you put this high quality content to good use so you can elevate the credibility of your brand, drive interest, and ultimately push sales? Sound off in the comments with your thoughts!