Want to get your message in front of your (younger) audience? Then collaborate with TikTok influencers. Companies know this. Brands know this. And, well, even the White House knows this. Apparently, the government "briefed" TikTok stars about the war in Ukraine to shed light on the matter.
Not surprising.
TikTok is the new television ad on steroids. It potentially reaches millions of people (who actually want to see it). But, finding the right TikTokers for your campaign is another story.
You can't partner with just anyone, so we're writing this guide to help you navigate the selection process and find your perfect match. Let's review how much TikTok influencers cost and how to leverage their influence of creative genius to spread your marketing message.
What is a TikTok Influencer?
First things first, the term is actually TikTok creators. But for the sake of SEO…
A TikTok influencer is a person on TikTok with thousands or millions of followers. Some TikTok influencers are niche and discuss specific topics, while others focus on entertainment and trending issues.
What makes TikTok influencer marketing unique is the style of content — short video snippets that are easy to watch and interact with. Video continues to reign supreme, and it's why social media platforms like YouTube and TikTok continue to rival and even beat Google at their own game with TikTok ranking number one in website popularity last year. It's no wonder more brands are using TikTok creators for business growth.
Why Partner with TikTok Creators?
TikTok popularity gives creators sway over everything from fashion and beauty to trending dances and music. But what makes TikTok influencers most appealing is their ability to convince followers to purchase products and services.
Don't believe it? One report shows TikTok users spent $2.3 billion on the app in 2021. And that's just in America. But, it's not just kiddos on the app — adult viewers spend nearly 2.5 hours daily watching videos.
So if you're looking to reach an older audience, TikTok is an excellent platform to share your message (and products). And, it's not just about capturing attention — it's about getting engagement. Based on the top 10 TikTok influencers of 2020, the average engagement rate is over 12%. One (Zach King) saw even higher engagement at 22.6%.
The wonderful thing about online video — it generates leads. A report from Wyzowl shows that 87 percent of marketers increased their website traffic using video marketing. So if you're looking to grow your brand visibility or increase sales, TikTok is an ideal channel.
Here's how it panned out for Upstryve, a platform for trade professionals that uses TikTok influencers:
"Typically, we'd see a nice influx of followers," says Cesar Valencia, Business Development Manager at Upstryve. "However, the thing TikTok influencers helped the most with is brand awareness. When I reach out to new potential influencers, they're excited because they saw influencers we worked with. This makes it easier to negotiate prices for the contract. On the customer side of things, we saw sales come in right after a post goes live, which is great."
How to Find TikTok Influencers
Working with TikTok influencers/creators is a smart move for your brand. But how do you find them? There are several options — like searching for them manually on the platform.
One company, Upstyre, starts their hunt using the hashtag #generalcontractors, according to Cesar Valencia. It helps to stay plugged in online and to search for creators in the space making relevant content that aligns with your brand.
Once he finds TikTok influencers to work with, he clicks follow and engages with their content to start a conversation organically. This builds rapport before asking for the BIG C (collaboration). Cesar waits a few days before connecting.
"I'll send them a DM letting them know how much I enjoy their content and that our company would love to collaborate with them. And if they're interested, to email me directly so we can continue the conversation."
This is a valid method of sourcing TikTok influencers for your campaigns. But, it won't always end in a deal. And, those that do, may not generate the results you hoped for.
An alternative: Use an influencer marketing platform to connect with TikTokers who are open to partnering with brands like yours. You can filter through thousands of influencers to find several ideal matches.
As you're going through your options (manually or automated), look for influencers with content that's creative, niche,, and engaging. Otherwise, you risk your posts being ignored by followers and losing the dollars you invest in the campaign. Here are some tips on finding TikTok influencers for your next marketing campaign.
How to Reach Out to a TikTok Influencer?
You have a list of TikTok influencers — should you send them a DM? Not right away. Brands bombard influencers daily with collaboration requests. So not only will this rub them the wrong way, your message will drown in the countless other transactional messages in their inbox.
Instead, follow these simple steps:
Research the influencer to learn their niche, topics, and audience (and ensure a good fit)
Engage with the influencer in the comments on several posts for a few days
Send a DM (or email) with a personalized message (no pitching just yet)
After the ice breaks, let them know you're looking to partner with content creators
Before pitching, clarify your brand goals and how the influencer will help. And, what they'll get in return for their participation..
This way, the influencer understands what you need and what's in it for them.
However, if you lack the time and resources for this approach, consider hiring someone or outsourcing to a company (like us) to help you select and communicate with influencers. Check out our checklist here for more insight into forming the right pitch.
How Much Does it Cost to Hire a TikTok Influencer?
Here's the million-dollar question. Many influencers are rolling in moolah, especially if they're macro-influencers with hundreds of thousands of followers. Naturally, the larger the following, typically the higher the rate for a TikTok post.
But, rates vary widely for TikTok marketing. According to a 2022 Collectively report, macro TikTok influencers charge between $5,133 and $45k per video. But then TikTok influencer prices depend on the industry, niche, follower size and engagement the creators is able to consistently achieve.
Also, working with TikTok influencers that are smaller may be a more affordable option and effective with potentially larger engagement rates. As creators gain an unwavering fanbase, TikTok influencer prices rise.
For example, Rosi Ghalachyan, SEO specialist at Renderforest, works with macro-influencers on TikTok and pays between $2k and $5k per video.
Upstryve avoids paying per individual post. Instead, it offers content creator packages with multiple posts spread over one to three months. It includes a schedule and specific topics to cover, costing $35–75 per post. The company prefers working with TikTok influencers/creators with smaller followings since they have a more engaged audience at a more affordable rate.
Another example is Way, a car insurance company that partners with TikTok influencers at $1k to $10k per post. Its collaborations consist of product demos, skits, and testimonials. The highest performing of the bunch: skits.
Anything under 10 seconds is the sweet spot. Here's an example of a skit with @moontellthat:
What were the results?
"For ads we run on TikTok, the Moontellthat partnership was by far the winner, creating hundreds of leads and hundreds of thousands of impressions. Many other creatives were really clever, but took too long to get to the point." — Jeannie Assimos, Head of Content at Way.com
Best Practices for Partnering with TikTok Influencers
TikTok creator partnerships are opportunities to expand your business visually and financially. But to make it work, you must adhere to certain best practices. Otherwise, you risk hurting relationships with TikTokers.
So here's a checklist to keep in mind when working with TikTok influencers:
Allow creative freedom, so content creation is natural and an excellent experience for the influencer.
Embrace TikTok trends to play into TikTok's algorithm, which boosts reels that use trending hashtags and keywords.
Create a statement of work (SOW) detailing the expectations of the influencer and brand.
Build relationships with influencers to create lasting partnerships and brand advocates.
Don't overlook FTC rules — influencers must disclose sponsored posts.
Be open to influencer insights — they're TikTok experts and know what works and what doesn't for their audience.
Look for influencers with reach, a relevant audience, and resonance with your brand.
TikTok Influencer Marketing Examples
The beauty of TikTok — it works for brands of all sizes and niches. Here are several examples of micro and macro influencers partnering with companies.
Dove partners with @spencer.barbosa (6.6 millionk followers)
Big brands target not only micro and macro-influencers — they collaborate with celebrities and mega influencers with millions of followers. In this example, Dove partners with @spencer.barbosa , who has over 6 million followers and is a #dovepartner.
The campaign: #detoxyourfeed challenge, which is under the larger umbrella campaign #DoveSelfEsteemProject.
The #detoxyourfeed campaign generated 35m views and the #DoveSelfEsteemProject has over 63m views.
Puma partners with @fridolinarolfo (12k followers)
Here's another micro-influencer campaign with the popular sports brand, Puma. The company has an extensive network of influencers across various sports. But for the #PUMAFootball campaign, it collaborated with @fridolinarolfo, who has 12.6k followers.
Wanna Kicks partners with @jabrilm19
Some brands go micro-niche with their campaigns, while others partner with not one — but multiple macro-influencers. That's what Wanna Kicks did in a campaign to promote its AR sneaker testing app.
It involved several macro-influencers, including @jabrilm19, who has 608k followers. The collaboration included an ad to encourage folks to use the app.
And it worked. The ad achieved 15 million views, 75k app installs, and a 15.9% engagement rate.
DKNY partners with @fashiongirl42069
Fashion company DKNY also collaborated with a group of macro-influencers on TikTok. The goal: to promote its fashion line in its #dknydoyourthing campaign.
One TikTok influencer it partnered with is @fashiongirl42069, who has over 404k followers.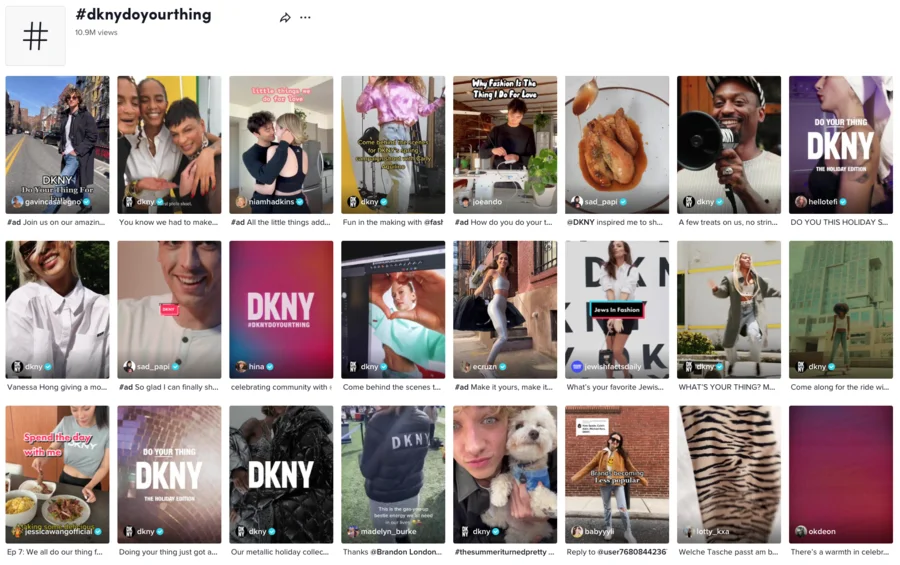 Using multiple macro TikTok influencers for any campaign will garner exceptional results. And it holds true for this campaign, which generated 8 million views for its hashtag.
Partner with a TikTok Influencer
When you want visibility, engagement, and sales, then it's simple — get yourselfTikTok influencers to partner with. This channel is a gold mine of opportunities for brands large and small looking to establish themselves and grow.
But, to produce exceptional results, you need the right influencer. That's where we come in. The Shelf is an influencer database and agency that connects brands with TikTokers. We find the right face for your products and brand, so you can maximize returns.
Getting favorable outcomes is what we do. Ready to get started? Schedule a demo with The Shelf today.
---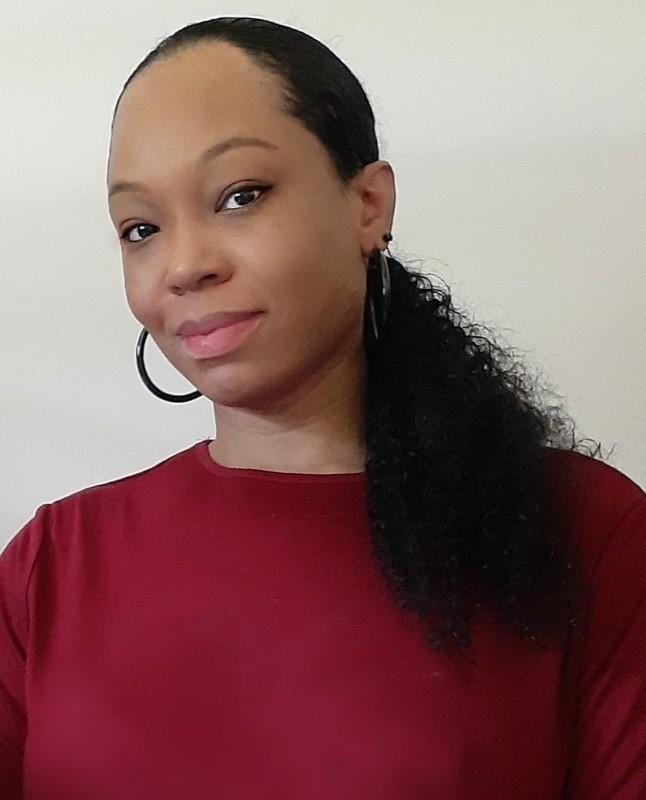 About This Author
Saphia Lanier | B2B Content Expert
Marketer. Journalist. Strategist. A powerful combo for B2B SaaS brands looking for customer-centric content that attracts and converts. My 15 years in digital marketing and magazine/newspaper writing prepped me to develop well-researched long-form content that edutains and drives action.
---