Social commerce is a powerful tool for streamlining the buyer's journey. It gives consumers a more direct path from scrolling their social media feeds to shopping online for the items they see in their feeds. Shoppability has always been the goal for social media platforms. The popularity of influencer marketing has likely played a key role in expediting the process of making social media 100% shoppable.
Long before the first social media influencer agency or marketing team figured out how to drive followers from an IG post to a landing page to buy a paisley dress (a reference to Lord & Taylor's now-iconic 2015 Design Lab campaign), social commerce was the goal we all wanted platforms to achieve.
Truth be told, social commerce is one of the most effective ways to reach your actual customers as they're scrolling or swiping or tapping or watching. So, it's time to create some thumb-stopping shoppable posts to boost your brand awareness and streamline the inspiration-to-purchase process.
What is Social Commerce?
Before we dive too far in, you might be wondering, wait — what even is social commerce? You've probably seen ads on social media with little price tags denoting products to shop. But is that it?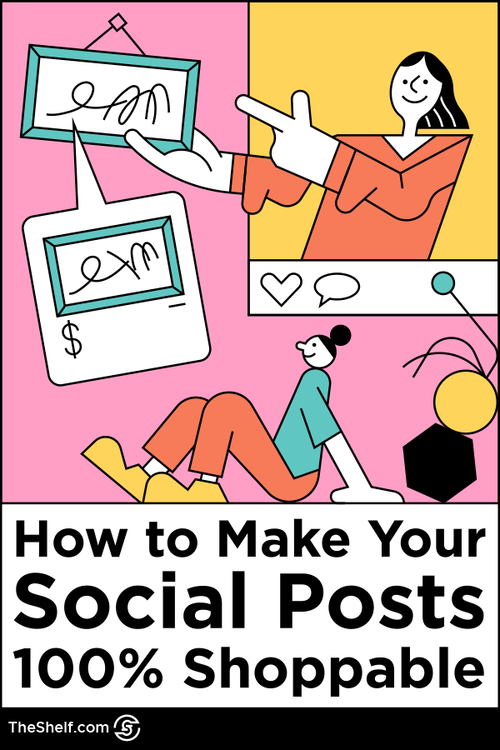 Here's a good social commerce definition: Social commerce is the happy marriage between e-commerce and social media wherein the content created for a social media platform is used to help facilitate online shopping. That means you can take the entire shopping experience, from inspiration to checkout, and house it on a single social media platform.  
The U.S. social commerce market alone has an estimated value of $51.2 billion in 2021. Experts estimate the global market will reach $2.9 trillion by 2026. So yeah, the time to embrace social commerce is now. (Or yesterday, but better late than never!)
Social commerce can be done through influencer posts or from branded accounts themselves. The beauty of shoppable posts is that they can come in all shapes and sizes – feed posts, story slide-ups, six-second ads, you name it. 
Read on to figure out the best social channels and strategies to leverage to make your posts 100% shoppable. We've included some social commerce examples in the final section to get you inspired to sell.
The Top Social Commerce Platforms
As of 2021, 83 percent of Americans age 13 or older use at least one social media platform. And 63 percent of the global population age 13 or older is active on social, too. So this isn't just an American thing. That means nearly 5 billion consumers worldwide are scrolling, ready to click on your shoppable posts. 
Facebook: 2.9 billion
Youtube: 2.3 billion
Instagram: 1.4 billion
TikTok: 732 million
Pinterest: 478 million
Snapchat: 514 million
Twitter: 397 million
While Facebook, Youtube, Instagram, TikTok, and Pinterest are the big five, Snapchat and Twitter have made a concerted effort to expand their social commerce this year. So don't write them off just yet. 
FACEBOOK: BUILD YOUR BRAND BIG TIME
Facebook is the biggest, baddest (Michael Jackson bad) social commerce platform on the block. With the most active users of any social platform, it's no surprise that Facebook is the top social commerce site in the US. Boasting 56.1 million buyers, this is a great place to focus your shoppable posts. 
A whopping 70 percent of Facebook users say they use the site daily. That's a lot of eyeballs on your posts! But whose eyeballs are they? 
Pew Research found that in 2021, 77 percent of American women use Facebook while 61 percent of American men were active users. Despite the common misconception that Gen Z doesn't use Facebook, research shows that 70 perfcent of American young adults (age 18-29) are active users. So at the very least, older Gen Z-ers are still on the platform. 
What does this mean? Basically, Facebook provides the largest, broadest consumer base of any social commerce platform, which is certainly a benefit to brands — more opportunities to sell. But any social media influencer agency can tell you that those large numbers come with very real challenges limited reach. Brands have to find smart ways to get their name, products, and content seen so they don't get lost in the shuffle. 
An estimated 18 percent of Facebook users have purchased a product through a shoppable post. So it's no surprise that when Facebook Shops launched in 2020, it was a huge success.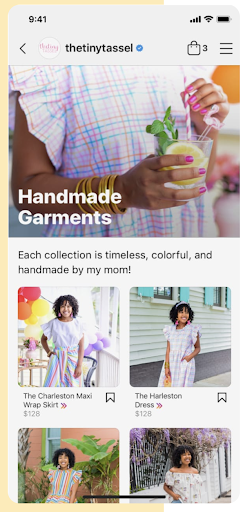 INSTAGRAM: OKAY NOW LADIES
My personal favorite social commerce platform is Instagram. Probably because I fall in its key demographic. About 44 percent of American women and 71 percent of American young adults, between the ages of 18 and 29, use Instagram. 
Of all users, 59 percent say they use the app daily. Another 21 percent say they visit the 'gram weekly. Meaning 80 percent of all users scroll through their feeds at least once a week. 
As of 2020, 11 percent of users had purchased a product from Instagram. While this trails the 18 percent of Facebook users, Instagrammers are 10x more likely to engage with brands than they do on Facebook. So if you're looking for brand awareness, not just sales, Instagram is the place to be. 
In addition to creating your own Instagram Shop, accessible from your profile, you can also get noticed with featured posts on the Shop page. The Shop tab, located on the Instagram homescreen, is intended to help users discover new brands using their personalized data. 
Of course, you can also link products in feed posts and in the slide-up feature on Instagram stories. Brands and users can even tag up to 30 products in their Instagram live streams for viewers to shop.
If you're targeting young women, especially in the realms of fashion and lifestyle, this is likely the social commerce platform for you.
YOUTUBE: 6 SECONDS TO LAUNCH
Those who are frequent Youtube visitors are no stranger to pre-roll ads (or ads that play during or after videos, for that matter). We've been sold to on Youtube for years. To maximize these ads, opt for 6 or 15 second non-skippable versions for maximum retention. 67 percent of viewers skip Youtube ads if given the option.
Youtube users already leverage the platform to conduct product research before buying. Soon they'll be able to do their research and their purchasing in the same place.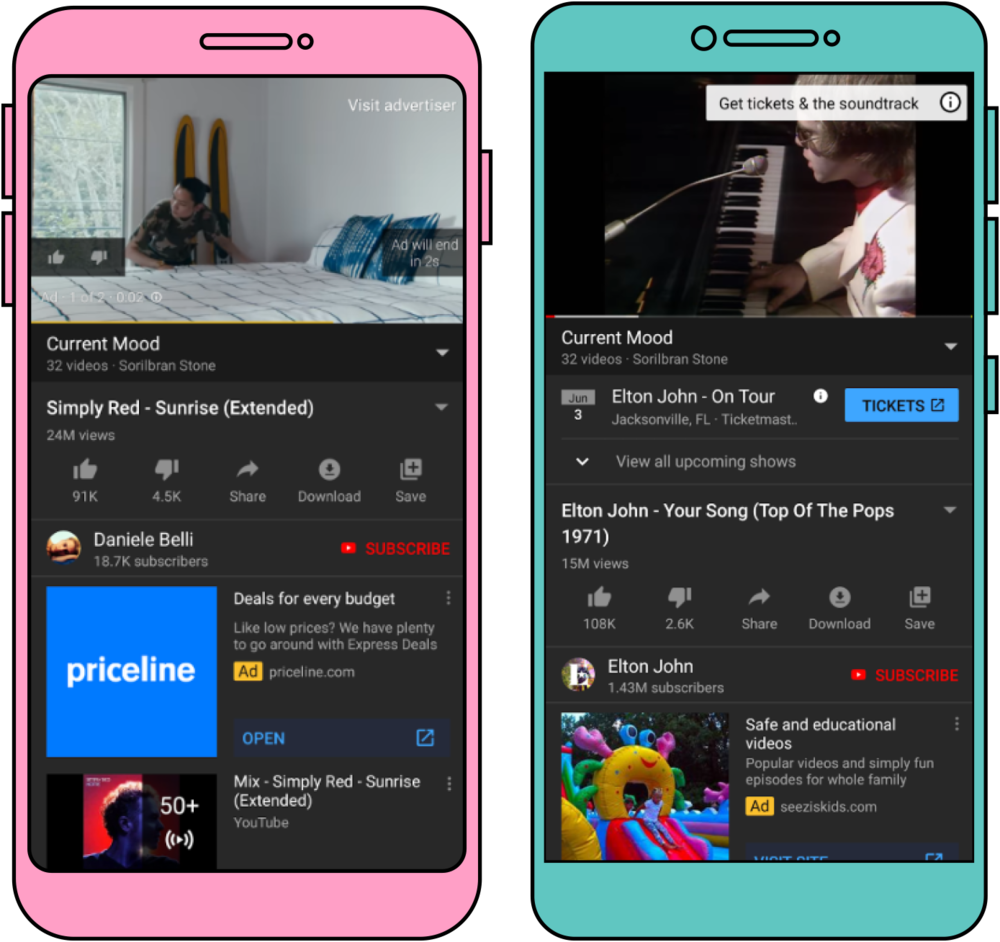 An upcoming Video Selling feature will allow Youtubers to tag products in videos. Viewers will then be able to browse or purchase those products using the shopping bag icon in the corner of the screen. This is a step up from the traditional pre-roll ads because it allows you to more accurately target your audience, tailor your advertising specifically for Youtube, and ensure all product info is accurate and up to date. 
Youtube Video Selling is currently in its pilot program, but we hope to have examples for you soon. For now, we're still pumped about the tried and true non-skippable ads.
TIKTOK: CLASSY, BOUGIE, RACKING IN THE SALES
"TikTok made me buy it," is a common refrain on my For You Page, and for good reason. The app is filled with influencers and users rating and recommending products. And now they're launching a partnership with Shopify, so users can buy those recommended products in the app. 
Although you can't tag products in videos just yet, you'll soon be able to launch your own shop on TikTok Shopping. Business accounts will be able to create organic content videos promoting products and send customers to the shop tab in their profile for purchasing.
TikTok Shopping is currently in its pilot program and only available to select businesses. But if you're targeting Gen Z with fashion, lifestyle products, or anything that can accompany a viral trend, this could be a great place to focus your social commerce efforts in the coming year.
PINTEREST: PIN NOW, BUY NOW…OR LATER
Pinterest was designed with shoppers in mind. Nearly 9 in 10 users say they use Pinterest for purchase inspiration. That means almost 90 percent of people scrolling on Pinterest are looking for new brands to buy.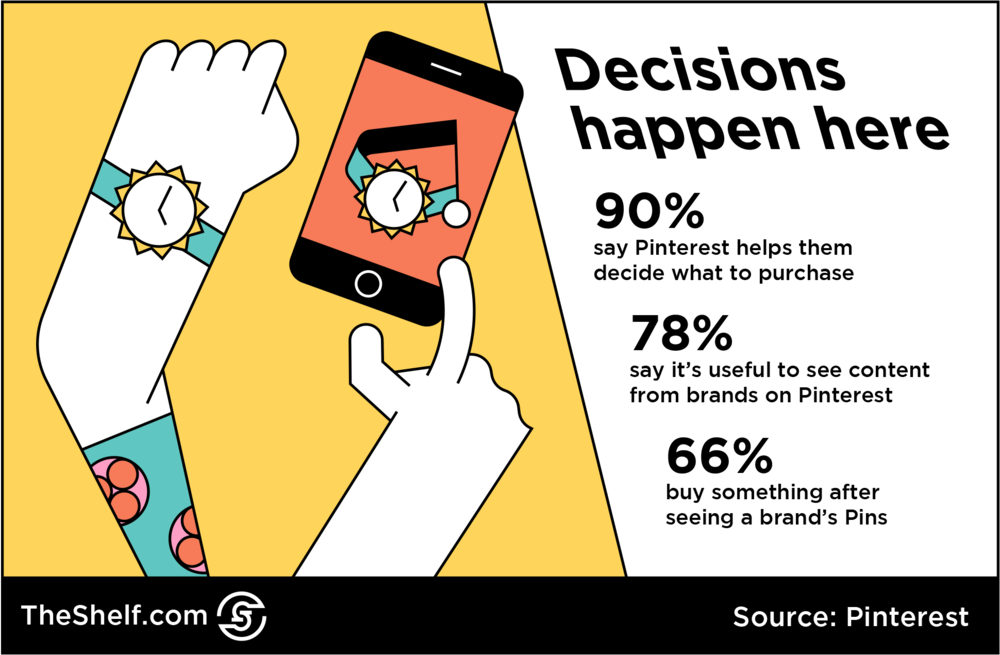 If that's not enough incentive, maybe you'll be intrigued by the fact that there was an 85 percent increase in engagement across shopping platforms on Pinterest in 2020 after the introduction of the Shop tab.  On average, Pinterest users spend $50 per purchase.
Shopping and Product Pins are available to Pinterest business accounts across North America, with availability expanding internationally this year. Users can browse Product Pins by clicking on the Shop tab under the search bar. Brands can also promote their Pinterest shops on the Explore page using a shop button.
SNAPCHAT: SALES THAT WON'T DISAPPEAR
Most Snapchat users are under 30, so if you're targeting Gen Z, this is a good place to start. Snapchat makes social commerce fun, with interactive and highly personalized shoppable posts. Like, your own face in the advertisement, personalized.
Since the social platform acquired Screenshot in April, Snapchat users can now upload screenshots of outfits they like and get in-app recommendations for similar products. Paired with augmented reality (AR) capabilities (which are also available on Instagram), Snapchat is taking a futuristic approach to social selling.
Anyone else getting Cher's Clueless closet vibes? 
TWITTER: THE UNDERDOG
In the world of social commerce, Twitter is a little behind the times. But not for long! They're rolling out new shoppable features that are sure to resonate with audiences and spark ongoing conversations centering brands and the products customers know and love. 
As of March 2021, Twitter is testing new shoppable features for tweets. This includes a new shoppable Twitter Card intended to be an upgrade from the old "buy" button model.
---
Old Twitter shoppable post layout. New shoppable tweet layout.
A little birdy told us, er tweeted to us, that Twitter is also testing a shopping module that would live at the top of Twitter profiles. The module would allow brands to display a carousel of products where users can tap to browse, learn more, and eventually buy. We're not clear on when exactly this will be launched, but it's exciting to see Twitter jumping headfirst into the social commerce race!
How to Make Your Posts 100% Shoppable on Each Platform
Now that you've got all the nitty-gritty details, it's time to put those learnings into action. Take a look at these social commerce examples to get a better idea of what makes stellar shoppable posts and get inspired to create your own
ON FACEBOOK 
Get started by creating your Facebook shop and tailoring your posts to your target audience. And remember, you can create shoppable posts for ticketed experiences too. Social commerce is not limited to product-based posts. Services and experiences are also fair game, like this Frida Kahlo exhibit coming soon to my city.
ON INSTAGRAM
Ready to make your Insta posts 100 percent shoppable? Launch your Instagram shop today and start leveraging the power of social commerce. Your customers can even save your products and shoppable posts to their Instagram wish lists, as I did with this PANGAIA top. (*Wink wink* at any readers wondering what I want for Christmas.) Note how users can click on the shopping bag/view product button to reveal product pricing and go to the shop page. 
ON YOUTUBE
Until Youtube releases video selling capabilities to all brands and users, trust the power of non-skippable ads. Whether you pack a punch in 6 seconds or 15, these ads can be incredibly effective. Especially when a clickable link to the product page or brand homepage is included. 
ON TIKTOK
Perhaps the most infamous and widely spread social purchase of the pandemic, we present the TikTok legging. 
#tiktokleggings has more than 723 million views on the app. Not bad for product awareness. With the upcoming ability to include Shopify links, the next viral product could be purchased directly in the app! For now, we recommend working with a social media influencer agency that can bring in creators to drop links to products in the comments or at the link in their bio. 
Here's a sneak peek at what TikTok Shopping could look like for your business. Kylie Cosmetics was one of the first TikTok Shops launched. 
ON PINTEREST
Make the most of the Pinterest Shop tab and the Shop the Look features. Tag products or similar products in inspo pins using the white dot Shop the Look function. 
And promote your Product Pins themselves on the Shop tab. (Hint: both shopping options have "shop similar" prompts so you're always targeting the right buyers.)
ON SNAPCHAT
Check out this AR filter advertising Naomi Beauty. Using the NAOMI lens, I can beautify my selfie as if I'm using her makeup products. Then, if I like the way it looks, I can click on the info button where I can choose to like or subscribe to the brand. If you click on the Naomi Beauty option at the top of the menu, it takes you to Naomi Cambell's page. She has linked her Youtube channel, but this could easily link to the shop for in-app purchases. 
The Future Called — She Wants You to Start Leveraging Social Commerce, Like Now
There's no time like the present to start embracing social commerce. Find where your audience is scrolling. Create thumb-stopping content. Get those clicks. And make those sales! One-stop shopping has never been easier.
If you found our social commerce examples helpful, there are loads more where that came from. Be sure to check out our post on all the latest influencer marketing trends. And if you need help for a last-minute campaign with a social media influencer agency that's put thousands of successful campaigns together, give us a call. We do the hard work so you can reap the benefits. That's what social media expert friends are for!