The power of social media is undisputed. Take, for example, the plain orange square posted on Instagram that helped build a music festival and the viral tweet of an unappetizing sandwich that destroyed it. This is just one example of the way in which understanding social media trends can help you quickly gain or grow an audience.
Your instincts may be telling you that if you can harness the power of social media trends you can probably boost the bottom line for your ecommerce store, and the statistics agree. A study by Sprout Social found that when consumers follow a brand on social media, 91% go on to visit the brand's website or app and 89 percent buy from the brand. These customers also bring more customers in, with 85% saying they refer friends and family members to these brands.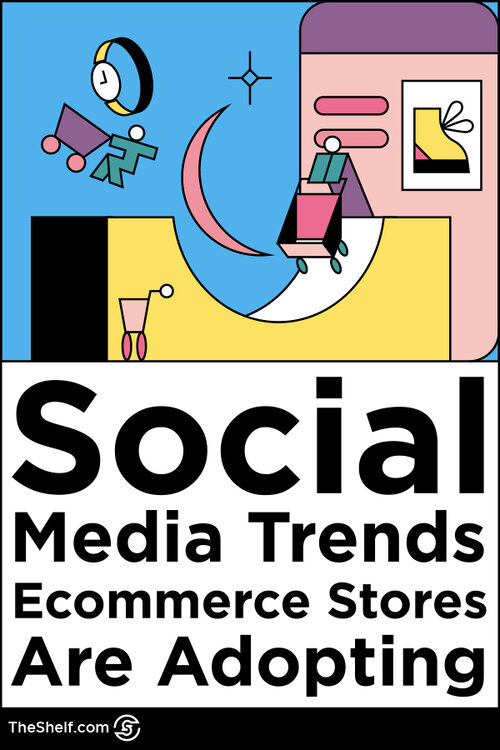 This method of reaching customers has become even more important as shifts in how people consume content has diminished the effectiveness of traditional advertising. Streaming entertainment options mean radio and television advertising is less likely to reach an audience (though radio has enjoyed a nice little comeback during the pandemic).
As far as online advertising is concerned, one report found that over a quarter of U.S. internet users have ad blockers, and the average click-through rate of banner ads in North America is just 0.08 percent. Clearly, ecommerce brands need to find other ways of reaching their customers, and social media is an excellent way to connect.
Facebook has 1.56 billion daily active users, and the average user spends an hour a day on the platform. Instagram has 1 billion users, and Twitter's number of monthly active users is 330 million. That's a lot of eyes that brands can reach, and it doesn't include the users on niche or up-and-coming new platforms, like Reddit or TikTok.
But social media has more to offer than just an audience. One of its strengths is the ability to target your effort. Whether you're paying for social media advertising or implementing an organic social media strategy, you can use tools like hashtags and the platform's research tools to connect with people who want and need your product. With the right strategy that focuses on key social media trends, you can get customers to follow your ecommerce brand and create a ready-made audience for your every sale and product launch.
Related Post
The 3 Types of Influencer Campaigns [INFOGRAPHIC]
6 Social Media Trends That Matter to Ecommerce Brands
#1 Influencers Are Key
Social media influencers occasionally get a bad rap, but the truth is that they're a very powerful form of word-of-mouth marketing. A now-famous study by Tomoson in 2017 found that businesses made $6.50 for every $1 spent on influencer marketing. In 2020, Influencer Marketing Hub's Benchmark Reports put that ROI at $5.78 generated for every $1 invested in influencer marketing. Not bad.
Many of the brands that still think of influencer marketing as a way to boost brand awareness are the same ones struggling to launch successful influencer campaigns. In fact, only 25 percent of influencer campaigns actually fail to result in revenue. And marketers believe they get more sales-qualified customers through influencers. These are consumers who are ready to spend money and who recommend products to family and friends.
The best part is that influencer-generated content is the kind of advertising consumers want because even though the sponsored content is, well… sponsored, it's still perceived as being more authentic than content created and owned by the brand. Authenticity is a big deal to 90 percent of consumers when deciding which brands to support.
It also means that since an influencer's followers made a decision to follow, you're reaching exactly the sort of people who want to buy your products — the targeted and enthusiastic audience of your influencer.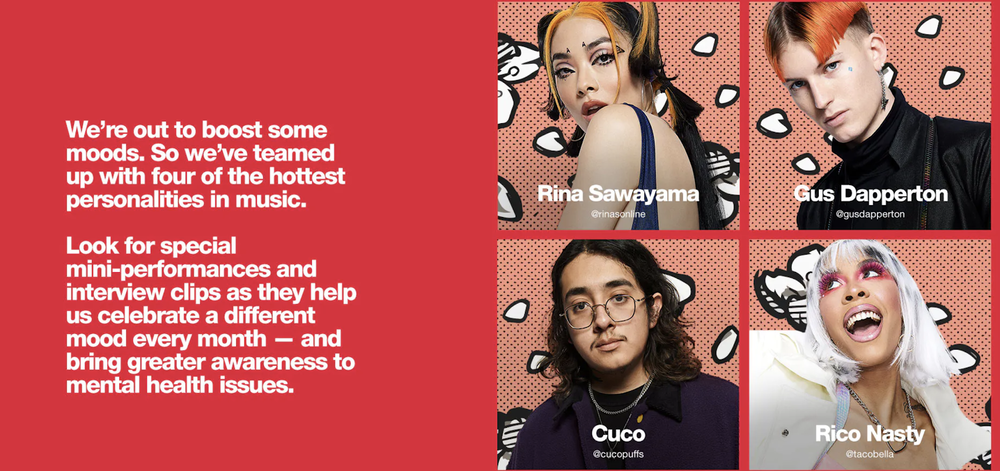 To see an influencer campaign done well, ☝️ check out Skullcandy. Skullcandy's Mood Boost campaign connects with hot musicians and features videos, performances, interviews, and hashtags. As the influencers promote to their audiences, Skullcandy also introduces the musicians to new fans, creating a symbiotic relationship. As a bonus, each month has a limited edition bundle attached, encouraging fans to buy.
#2 Video Is Everything
You've probably heard that video is king in the social media world. Social Media Today found that a third of all time spent online is devoted to watching videos, and 90 percent of customers say videos help them make buying decisions. Companies that use videos on socials have a 27 percent higher click-through rate and 34 percent higher conversion rates than those that don't.
Video doesn't have to be slick YouTube creations. There are over 8 billion average daily video views on Facebook, according to Omnicore, and people are also watching video content on Instagram, Twitter, and Pinterest. (We actually just published a guide to Instagram Reels that has some pretty compelling info about the reach and engagement Reels is getting for brands and creators!)
The types of videos you can produce are endless. Think about product demos, promotions, stories, and testimonials. About Us videos help you create authenticity and connection, and if your history is too long, create more than one, such as the initial idea, the people behind it, and creating the prototype.
Take a look at this chart below from GlobalWebIndex. Three of the five top types of content followers want to see from influencers are video, and the how-to tutorial (which we're assuming is video as well) is the top choice.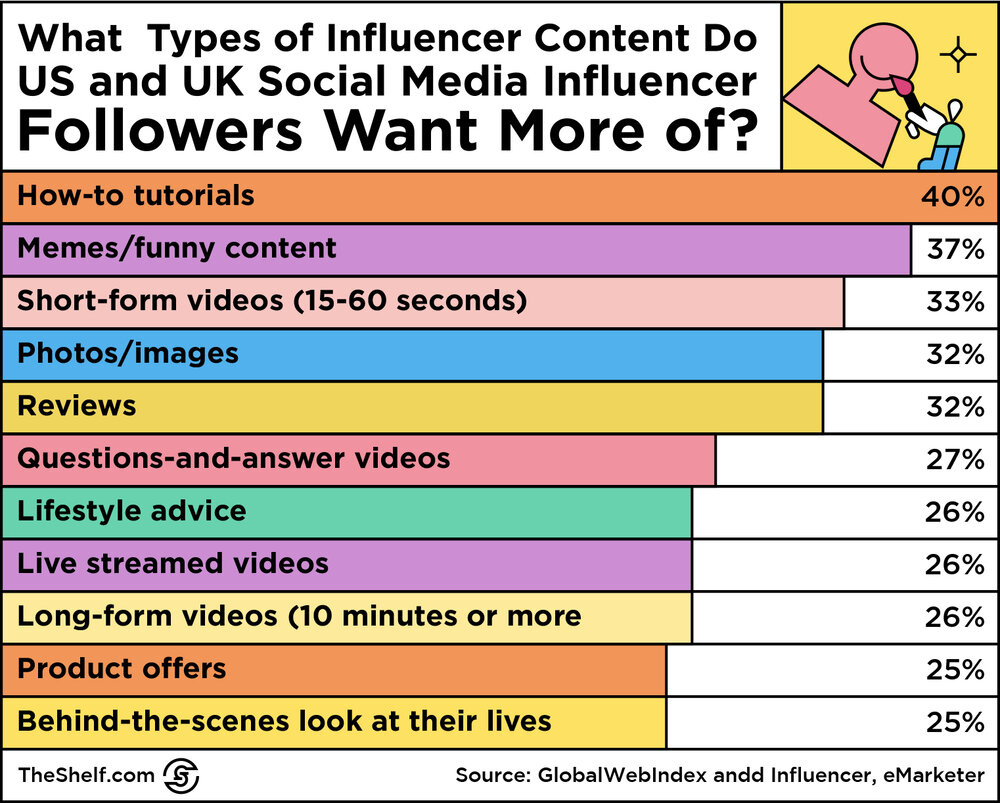 Videos can also help you create authority with your audience. You're probably already an expert in your field, and you can create How-To videos that educate your customers on a topic. These sorts of videos drive customer engagement and are likely to be shared, helping you connect to a wider audience.
To create successful videos, know your audience and make videos that they'll enjoy. Test the response, and make more videos like the ones that do well. Lastly, think about how people consume your videos, and make sure viewing is easy for them. People on Instagram prefer a square or portrait format, for example, so they don't have to turn their phones. It's the little things…
Mountain Crest Gardens uses their videos to give their customers some insight into the company. The succulent sellers have promotional videos across their social channels but also use short stories, particularly on Instagram, to show behind-the-scenes life, such as sorting seeds and watering. This video we actually found on the homepage of MountainCrestGardens.com.
#3 Use Social Media for Customer Service
Just as phone calls took over mail, instant messaging is overtaking phone calls, and ecommerce brands need to take this into account when setting up customer service channels. Customers prefer to communicate via messaging, as it's convenient, easy, instantaneous, and often available around the clock. Messaging options also make people feel more comfortable about the brand, as they can easily see that service is available.
Instant messaging on Facebook is one option for customer service, but brands also need to be able to respond to customer service queries in other forums. Conversations about your brand on a social media channel can help or damage you, depending on how you respond. Make sure you have people monitoring your brand so you know when you're mentioned. They can boost the positives, answer questions, and resolve or address complaints. A dedicated customer support profile can help you quickly find customers who need assistance, and chatbots can be established to answer easy questions quickly.
Remember to always be transparent with customers. People expect quick responses, so if you don't have staff available 24/7, list your hours clearly. Establish social media best practices early, so customers receive consistent service when interacting with your brand. Finally, remember to respond to positive comments as well as negative. A personalized thank you helps your happy customers feel valued and increase your customer retention rate. Check out Skullcandy's active Facebook page to see this in action. Customers are welcomed with a chat box in case they have any questions.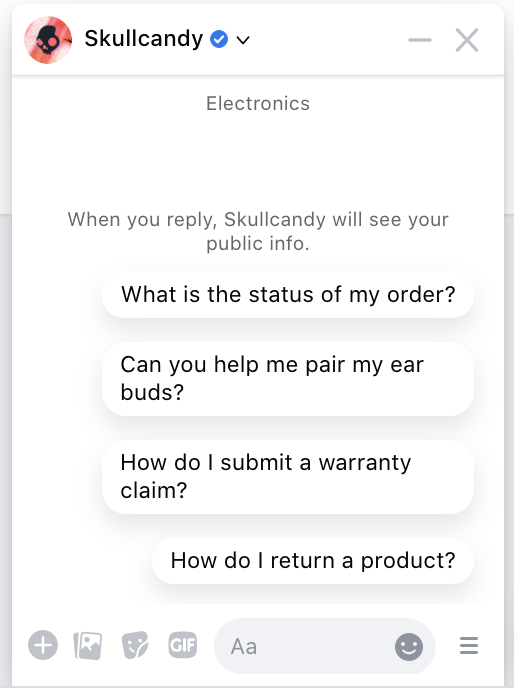 #4 Have a Solid Social Commerce Strategy
Social commerce refers to any activity that relates to buying and selling on social media – shoppable posts. Although more social media companies are introducing native checkouts within the platform, social commerce can also include promoting products, providing customer service, and answering questions.
As platforms have seen the potential in selling through social media, the options for promoting within them have grown. There are buy buttons, shoppable posts, dynamic ads, and more being offered to businesses that want to use social media to sell products. These methods work. One report shows that in 2018, 55 percent of consumers made a purchase through social media channels. For platforms like Pinterest where more than 8 in 10 users on the platform come to the platform with the intent to buy, that percentages shoots to 85 percent of users have made a purchase based on something they saw on the platform. (We also published a guide to Pinterest over the summer that includes a breakdown of the new shoppable functions, local search capabilities, and Story Pins.)
Think about how you can use social media to sell your products, and set up a strategy that takes advantage of each channel's strengths. Spearmint Love has a presence on multiple platforms and uses each to their advantage. Instagram has pictures of adorable babies in their clothes, while Facebook has videos and plenty of interaction. Each post includes links to their ecommerce store. They haven't neglected Pinterest and use the platform's shop feature to direct customers to curated collections.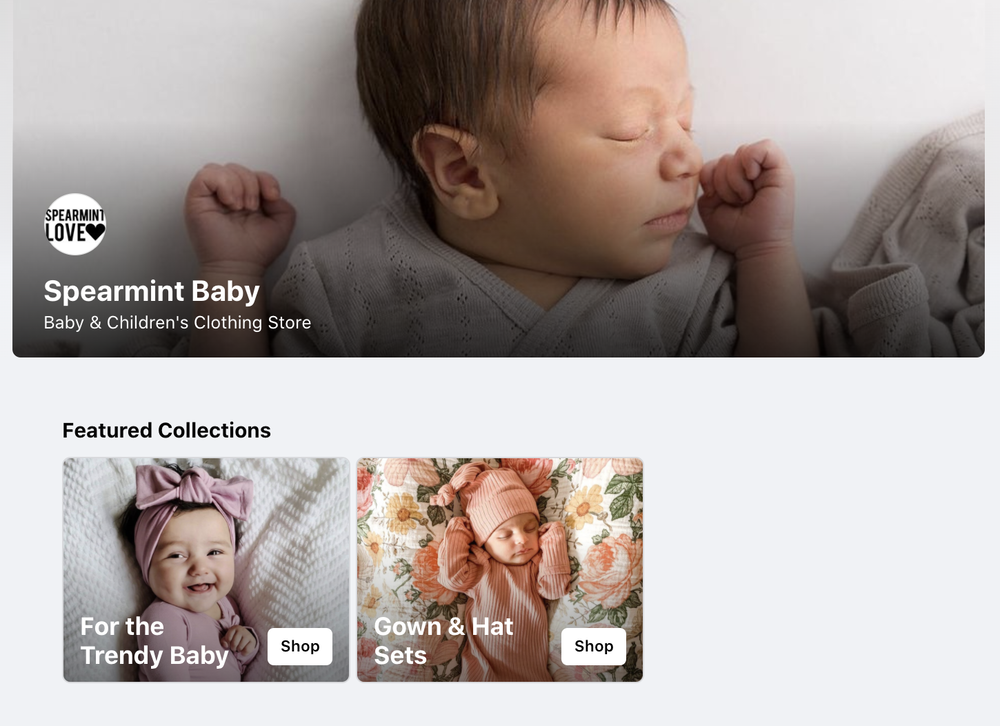 Although built-in ecommerce is rising in social media, don't neglect your own ecommerce store. Your own space online gives you complete control over your customers' experience, allows you to collect better customer insights, and helps insulate you from the impact of platform changes, such as algorithm updates.

Related Post
Which Social Media Network Drives the Greatest ROI?
#5 Adopt an Omnichannel Social Presence
Thinking about a social presence can be overwhelming. There are so many platforms, and a new one seems to become popular every day. It can be tempting to decide on one platform and stick to it, and this isn't a bad strategy for plucky startups that are trying to get ahead. But to get the most from social media, you should have a presence on multiple channels.
Each social media platform has its own strengths and weaknesses, so each gives you different opportunities to connect with customers. Instagram and Pinterest are the platforms of choice for visual marketing, while Twitter lets you have witty conversations and Facebook is great for videos. Each platform also attracts different users. TikTok is popular with Gen Z, and Facebook is used by millennials and Gen X.
Choosing the right platforms to reach your target audience makes your social media effective, but understanding who uses each platform can also let you create unique content for each channel based on the users. An omnichannel strategy not only lets you reach different types of audiences but it also protects you from the vagaries of changing algorithms and popularity. If you'd built your entire business around Myspace, there would have been a lot of rebuilding required when Facebook came along.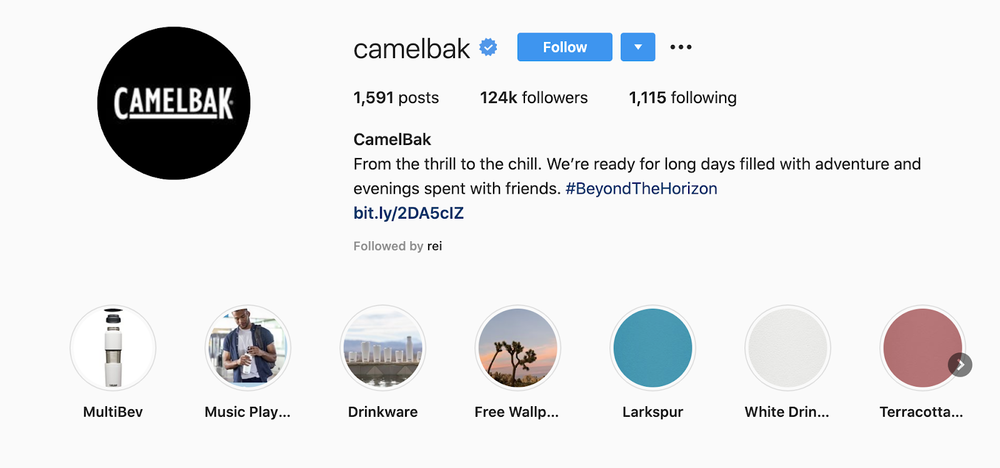 Camelbak is one company that does omnichannel well. It has a presence on Instagram, Pinterest, Twitter, and Facebook, with numbers of followers ranging from 26K on Twitter to 632K on Facebook. They use relevant, timely content that suits the platform, utilizing video, hashtags, and user-generated content to create engagement and continue to build their brand.
#6 Curate User-Generated Content to Satisfy Customers
User-generated content, or UGC, is one of social media's biggest strengths. It's defined as any content that's created by your customers, including videos, images, and reviews. One Nielsen study showed that 92 percent of consumers trust recommendations from people they don't know over branded content. This makes UGC super valuable, because your customers are going to listen to people they consider peers more readily than they will listen to you.
UGC has the added benefit of being memorable content that is abundant and free. Consumers are eager to be featured by their favorite brands and this helps you build relationships with your passionate customers who are generating the content. In addition to marketing, UGC can give you insight into the strengths and weaknesses of your products.
If you're wondering how to generate the content, it's as easy as asking. Send follow up emails that ask for reviews, and include social sharing links. Use hashtag campaigns to encourage social sharing, and add your favorites to your website. Also remember to keep an eye on social media sites, including third-party review sites like Yelp, and publicly address concerns. A well-crafted response to negative feedback can win over a dissatisfied customer and attract new attention.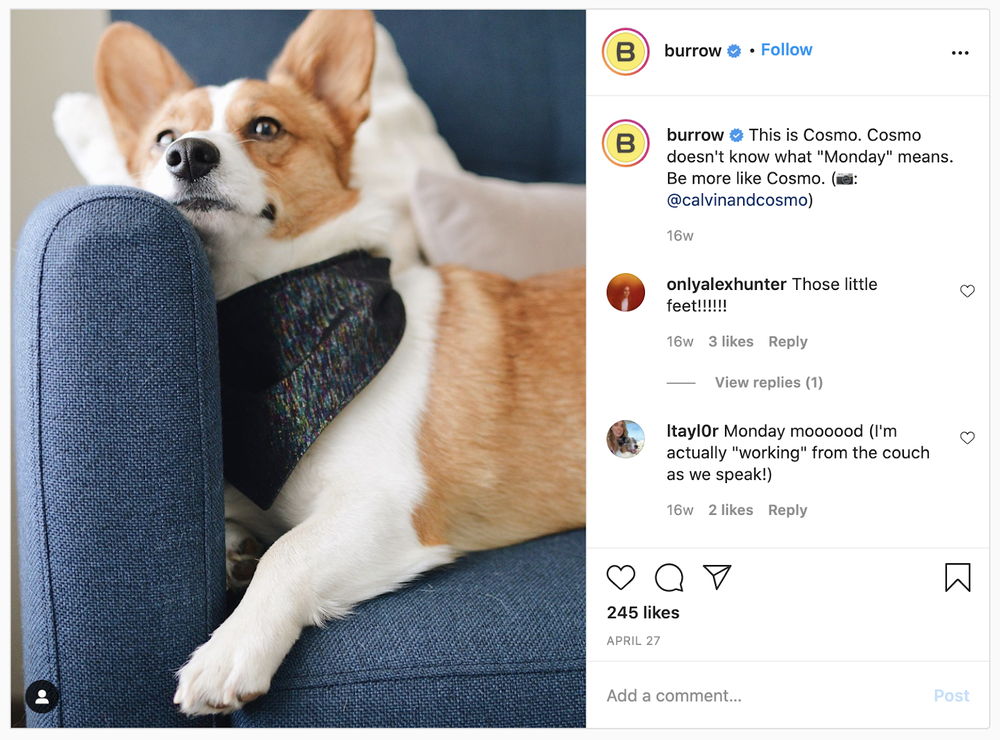 Furniture company Burrow makes great use of UGC. Yes, they have customer reviews on their website, but on their Instagram, they have dogs. There are dogs lounging on their couches and dogs relaxing on their rugs. Although their account features more content than just dogs (what more do you need?!), including other UGC, the dogs encourage likes and comments, and each one links back to the creator's Instagram so people seeing the images know that they're genuine.
Conclusion
Social media marketing can seem like it has a large learning curve, from deciding on the right platforms to having a strategic content marketing plan and figuring out when to post. But the benefits far outweigh the time and money that most companies spend learning the ropes. Social media has the ability to build relationships with customers, which leads to trust, authenticity, and more money spent on products. Keeping an eye on the trends and integrating them into your social media strategy can help you make the most of your social media platforms.