Why User-Generated Content is Influencer Marketing's Pot o' Gold
In the world of influencer marketing, user-generated content (UGC) is marketing gold. It is the influencer's raison d'être. It is the one part of the campaign where an influencer proves his or her value to your brand. And frankly, it's the reason you hired an influencer in the first place.
Of course, UGC isn't limited to the framework of an influencer campaign. Brands have leveraged the power of handwritten product reviews, service testimonials, and video reviews for years. If you're old enough to remember life before the Internet of Things, you may remember filling out an employment verification or rental application that required you to provide a list of references. These were living, breathing folks who had knowledge of your abilities and behaviors, and could confirm or deny the accuracy of whatever sales pitch you laid on the decision makers during your interview.
Who among us can deny being swayed one way or another by the presence of five little yellow stars lined up below a company's name? We have been groomed to see and heed those stars, and back away from any product, service, or brand that falls below a 4-star rating.
Unless we REALLY NEED what they sell.
All of that – the reviews, the testimonials, the videos, the phone calls, the yellow stars – is user-generated content. So, what is UGC?
What is User-Generated Content?
Techpreneur and branding expert Hajj Flemings says branding is the experience people have with your company or product. User-generated content is the content an existing user, customer or social media follower creates to document that experience. For the sake of this article, we will focus a lot on influencer marketing campaigns. So, UGC includes the content your influencer creates during a marketing campaign to promote your product, brand, or service.
This content is not only crucial to the success of your influencer marketing campaign, it's also an asset you can repurpose and use on your own social media channels and branded properties for years to come.
USER-GENERATED CONTENT VS ONLINE ADS
I could sum up this entire section with six sad words: Most adults don't trust online ads.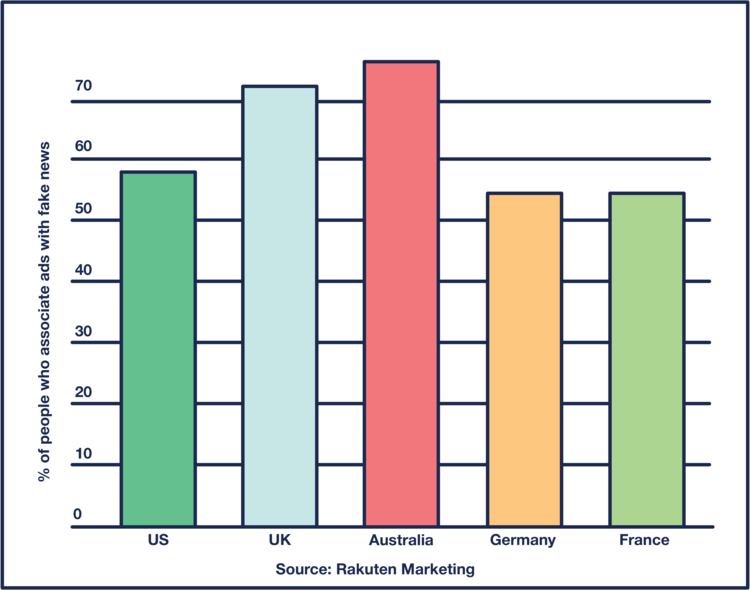 Online ads have somehow made their way into the same classification as fake news, according to a study from Rakuten Marketing. Americans are a bit more trusting when it comes to online ads, but in the UK and Australia, online ads get a bad rap.
Marketing Sherpa reports that traditional methods of advertising such as print, TV, radio and outdoor ads are seen as far more credible than search ads, online banners, or mobile ads.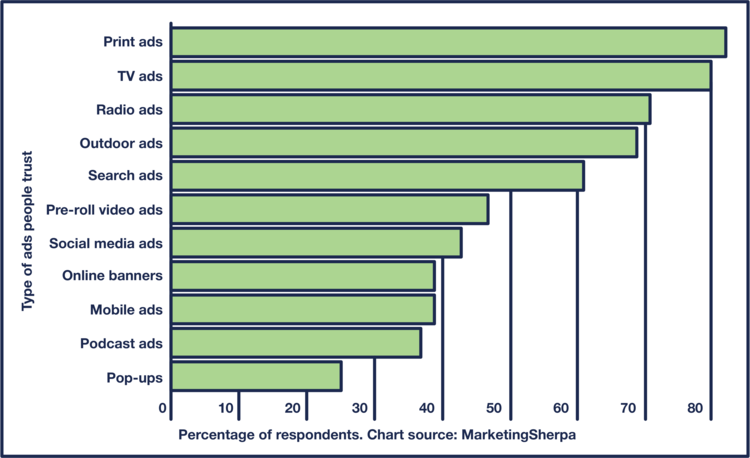 The Nielsen Global Trust in Advertising Report surveyed people in 60 countries and found that respondents consistently viewed earned media (online reviews and publicity) as more credible than owned media (media owned and managed by brands). Eighty-three percent of respondents trusted recommendations from people they knew. Sixty-six percent of respondents put their trust in online reviews.
UGC IS AN ENDORSEMENT
Think of positive user-generated content as an endorsement. Unlike ads, which are tiny sales pitches from brands that want to sell things, user-generated content relies on an endorsement model. People view positive, objective reviews more as product information than an ad. For influencers, their endorsements – even paid endorsements – are often seen more as helpful tips and good advice than product pitches. I'll get into why that is in a bit.
UGC HUMANIZES YOUR BRAND
At its core, an endorsement is essentially one person saying to another, "Hey, I know that guy. I survived my interaction with him. And you know what? I'm better for having met him." And that's what you want – someone to vouch for your goodness, your usefulness, your smarts, and your benefits.
Your customers are far more likely to trust someone's endorsement of you than they are to trust the content on your website. User-generated content helps you to forge a connection between your brand and your prospect by humanizing your brand to make it seem relatable and accessible. UGC is a necessary inroad into the lives of your target audience.
Remember when this brand finally got a face?
You probably remember Blendtec's now legendary Will it Blend? campaign. These videos were a YouTube sensation just a year after the platform debuted. Before the Will it Blend? promo, Blendtec was a faceless company with an unsexy name that manufactured pricey, commercial-grade blenders.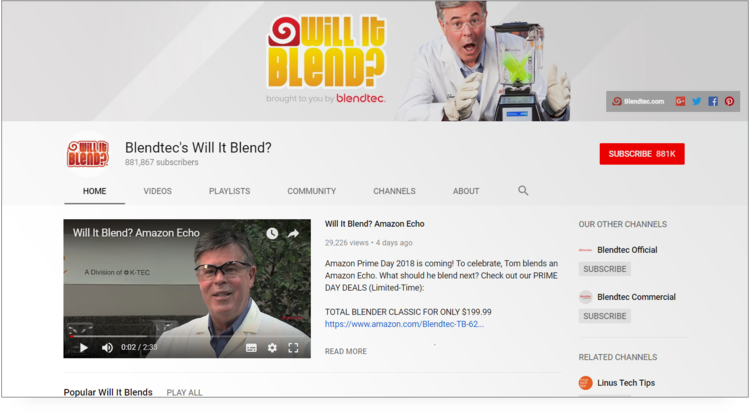 When the CMO got the idea to actually film and release footage of the company's normal testing process, that's when things changed. Blendtec's first YouTube went live October 30, 2006. It was a video of CEO Tom Dickson blending a bag of 50 marbles. The next day, the company published videos of the CEO blending a rake handle, then an Extra Value Meal, Cochicken (a whole rotisserie chicken and a 12 oz can of Coke). The videos went viral, garnering six million views in the first week of being released.
What was the secret to their success? Besides the novelty of seeing a rake being turned into a smoothie by a kitchen appliance, people liked the Tom Dickson. By getting in front of the camera, Dickson gave Blendtec a face.
Today, Blendtec's YouTube channel has more than 285.5 million views and more than 884K subscribers. And the videos increased sales by 700 percent.
THE 5 BIG BENEFITS OF USER-GENERATED CONTENT
If you are among the countless brands trying to figure out how to churn out enough high-value content to stay top-of-mind with your audience, you're not alone. Between publishing to your blog, guest blogging, publishing videos, creating memes, testing ads, and being sure to Tweet, Retweet, Like, Follow, Comment, and Repost, content development and distribution can become a full-time job.
We know you're not looking to push out 10 posts an hour like Huffington Post (that's a real number, by the way), you just want to stay in the game. Well, integrating user-generated content into your content marketing strategy allows you to delegate some of the content development responsibilities, and provides you with benefits to which you may not otherwise get immediate access.
#1 STELLAR USER-GENERATED CONTENT WILL BOOST YOUR VISIBILITY AND TRAFFIC.
You may not immediately connect influencer marketing with SEO, but they are connected. Years ago, SEO experts began referring to social as the new SEO. Social media provides a way for people to sort of "vote up" content they like from brands they trust by including links to that content in their social media posts. Search engines aren't blind to these endorsements.
Have you ever researched a topic only to find Tweets and YouTube videos included in your top search results? That's the intersection between search engine optimization and social media marketing. Your brand can benefit from it by recruiting influencers who are experts at creating engaging, shareable content for your brand that looks more like another great post than an ad. High-value social media content can generate valuable inbound leads for your organization. I wrote an article on influencer marketing and SEO that you can read here.
#2 GOOD USER-GENERATED CONTENT IS SHAREABLE.
People are twice as likely to share user-generated content with their friends and family members than posts directly from brands. We already established that more than 80 percent of people trust product recommendations from their friends and family.
For influencers, the frequency with which their content is shared outweighs the size of their audience. Followers share content that interests them. Choosing the right influencer means choosing an influencer who knows how to create brand-sponsored content that RESONATES with their audience.
An influencer who figures out how to craft posts that impact his or her target audience will have a pretty good idea of how to generate content for your campaign that will also resonate with followers. This is the kind of content you want influencers to generate because it helps your credibility.
#3 EFFECTIVE USER-GENERATED CONTENT SHOWS HOW YOUR BRAND IS RELEVANT AND MAKES IT MORE RELATABLE.
User-generated content sparks conversations about your brand, and it encourages engagement, which can immediately boost brand awareness and increase your follower count.
Two of the most popular reasons people go to a brand's page is to address product concerns with a brand's customer service team (35 percent of the people who go to a brand's page are there for customer care), and to get access to announcements about deals and promotions.
The CrossFit box near me has a website, but I Liked their page before I checked out the website. I'm thinking I'll find out the real deal about that particular box on their Facebook page, and I'll find out the basic stuff – hours of operation, pricing, packages – on their site. The Facebook is living, it's dynamic. It's always being updated with posts from the box members and people like me who are curious about CrossFit. The website is static. Who knows when it was last updated?
But I'll tell you one thing – this particular box gets BONUS POINTS for even having an active Facebook page with recent pictures and an engaged set of followers. That's everything. And it will ultimately play a big role in determining whether I choose this box or another for CrossFit
#4 POSITIVE USER-GENERATED CONTENT BUILDS YOUR CREDIBILITY.
Positive user-generated content can boost your brand's credibility, and that's what you want. UGC isn't a one-and-done promise to deliver clicks and active carts to your campaign. It takes multiple times seeing your brand out in the world to move your prospect from the discovery stage to the buying stage. But each positive experience a person has with your brand moves them closer to opting in, buying, or completing the action you want them to take.
Of course, the opposite is also true. Even for the biggest brands in the world, negative UGC can be devastating.
How 2 High-Profile Burns in a Month Helped Snapchat Lose About a Billion Dollars
"Sooo does anyone else not open Snapchat anymore? Or is it just me… ugh this is so sad." That's what Kylie Jenner tweeted on Wednesday, February 21st of this year in response to Snapchat's redesigned app. She wasn't the first to express dislike for the app's new design. In fact, within days of it being released, over 1 million people had signed a Change.org petition insisting Snapchat ditch the new design and go back to the old one.
However…
Jenner had tens of millions of followers on Snapchat, and by Friday, February 23rd, the media was reporting Snapchat stocks were down 6 percent and the company had lost about $1 billion of its value in the wake of the redesign and Jenner's now-infamous Tweet.
A month later, Rihanna publicly blasted Snapchat for running an ad on the app for a game called Would You Rather, which poked fun at a 2009 incident that resulted in R&B singer Chris Brown pleading guilty to assaulting then-girlfriend Rihanna during an argument. By the end of the day, Snapchat had lost another $800 million in value when the market reacted swiftly to fears users would uninstall the app.
Well-crafted, brand-building UGC can make all the difference in the world. The Q2 2016 Sprout Social Index says buyers are 70 percent more likely to buy from you after a good interaction. Not only does will a good experience with your brand move your customers farther along the path to buy, but 75 percent of them say they will share a positive experience with a brand.
#5 THE BEST USER-GENERATED CONTENT CAN DRIVE SALES.
Customers who engage with a brand indirectly through user-generated content are more likely to buy, according to research conducted by Gartner L2. L2 also finds that conversion rates increase by 4.6 percent when customers see user-generated content as they're shopping. If they engage with this content in any way, it boosts conversions by 9.6 percent.
We know people tend to trust the recommendations of their peers, whether those peers are friends, family, or strangers online. And we know these recommendations can play a big role in solidifying a brand's credibility.
Starbucks seems more like an institution and symbol of the hustle and grind culture than a brand trying to get sales at this point, BUT I noticed something curious about Starbucks's Instagram page. If you notice, the brand's page has 16.4 million followers, and the brand has published just over 1600 posts, as of this writing. I can see the company posts two or three times a week.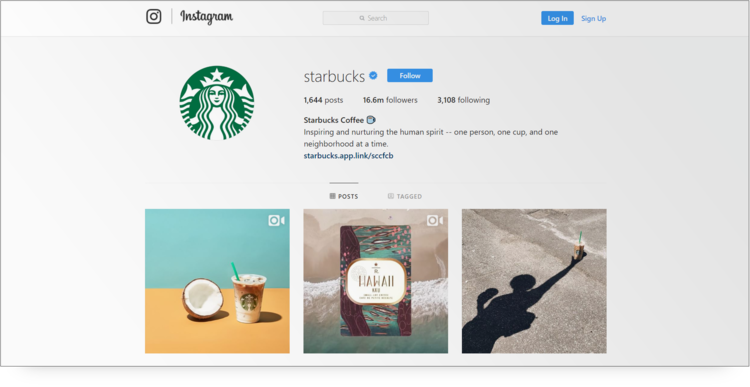 Here's the interesting part. The company's Frappuccino drink has its own Instagram page, with another 1.4 million followers and 791 posts.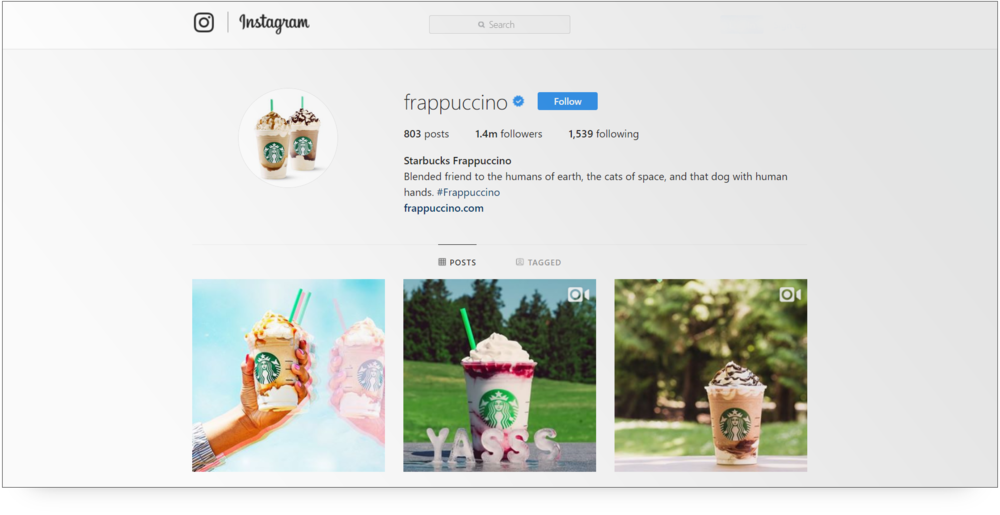 But there are 3,775 posts featuring the hashtag #smokedbutterscotchlatte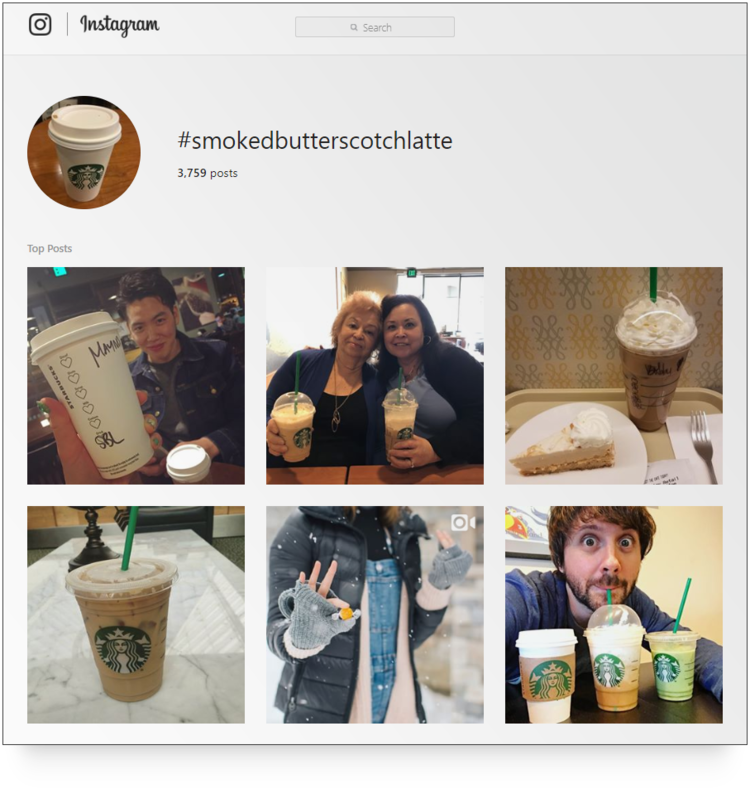 And 482 posts using the hashtag #triplemochafrappuccino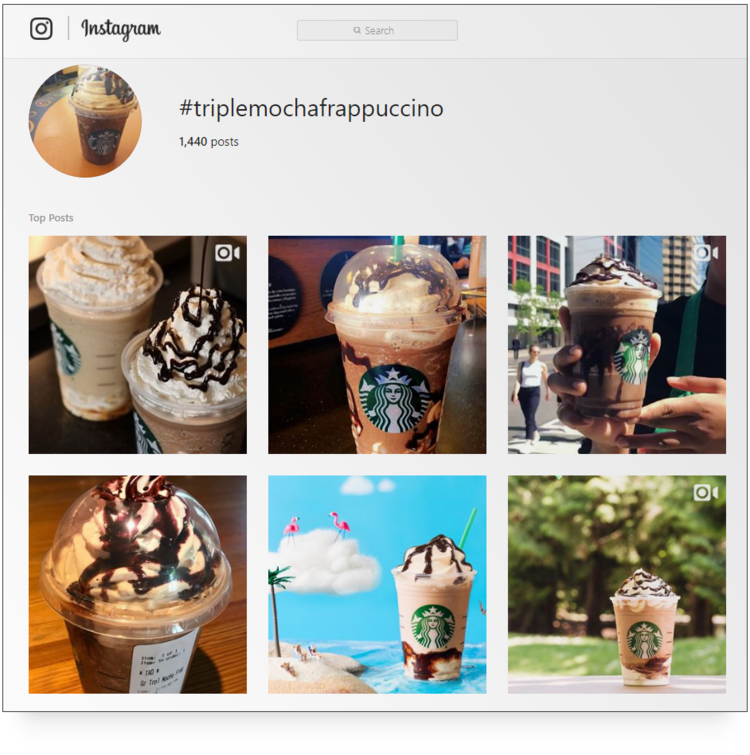 And 4,750 posts using the hashtag #blondeespresso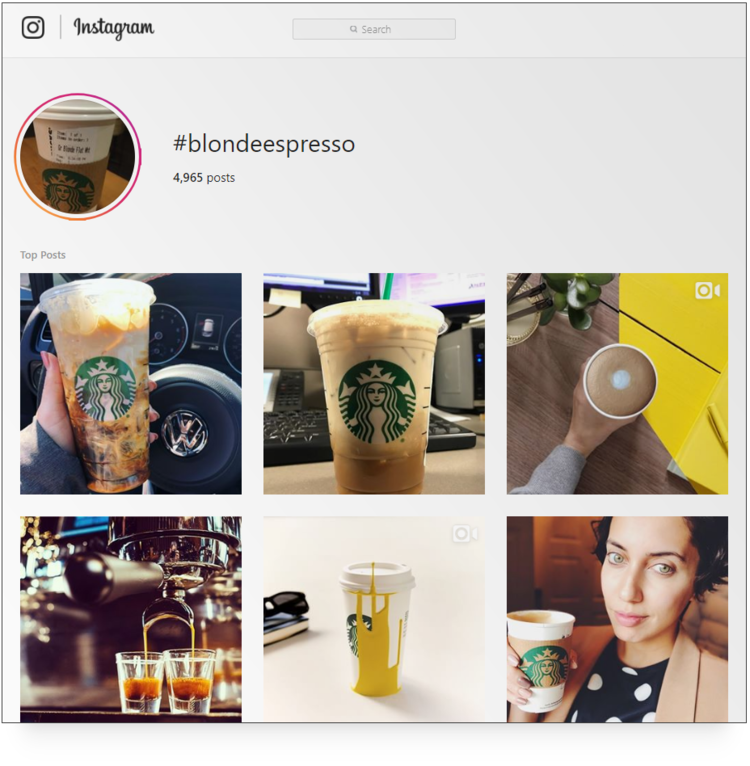 And 482 posts using the hashtag #triplemochafrappuccino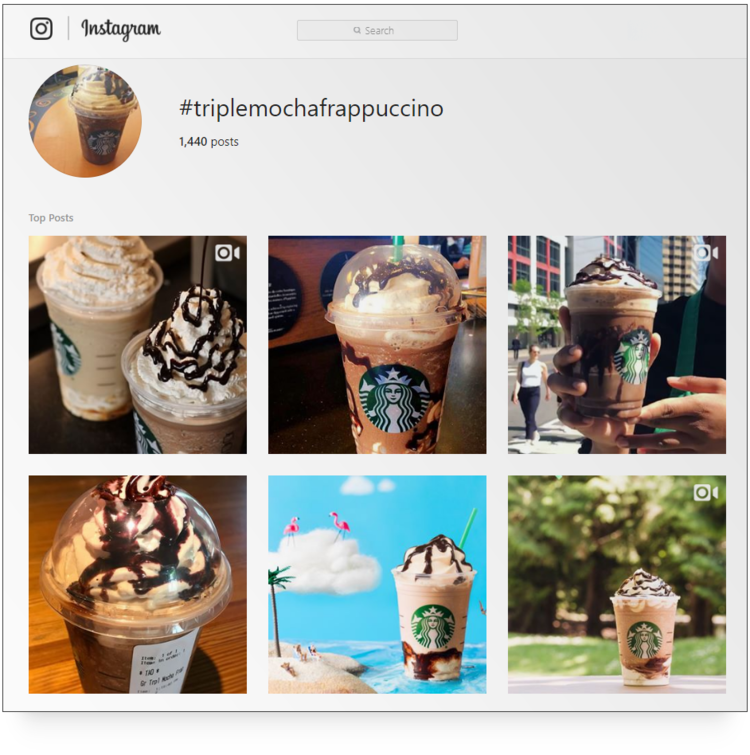 And 29,747 posts about my FAVORITE, the Green Tea Frappuccino.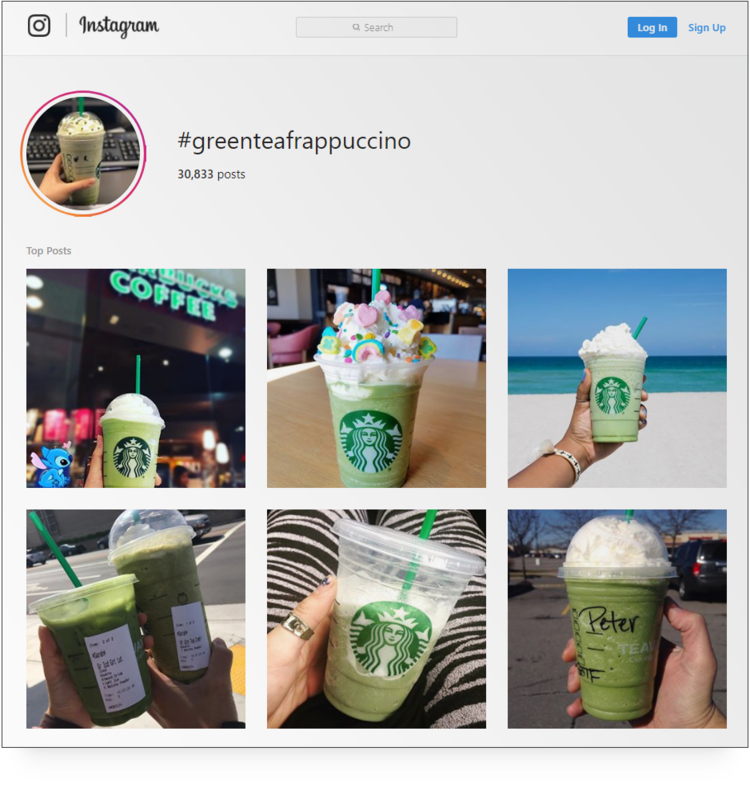 And 482 posts using the hashtag #triplemochafrappuccino
And 4,750 posts using the hashtag #blondeespresso
And 29,747 posts about my FAVORITE, the Green Tea Frappuccino.
1,542 posts include the hashtag #shakentea
115,936 posts include the hashtag #whitechocolatemocha
3,878 posts include the hashtag #skinnymocha
1,355 posts include the hashtag #strawberriesandcreamfrappuccino
---
Why People Talk About Brands in the First Place
As it turns out most people are opinion-givers. Okay, that's not a newsflash. Try this one on: According to Talking to Strangers: Millennials Trust People Over Brands, a white paper released by Bazaar Voice, 84 percent of Millennials and 70 percent of Baby Boomers are directly influenced by the UGC on a company's website.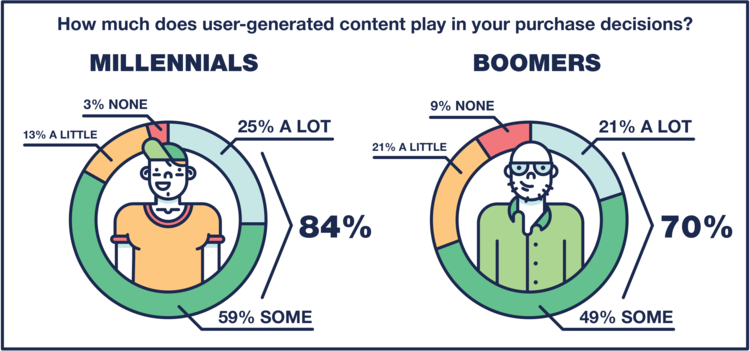 According to the report, there are purchases Millennials tend not to make without first reviewing user-generated content on the product they're researching:
44 percent of Millennials won't buy major electronics without user-generated content
40 percent won't buy cars
39 percent won't book at a hotel
32 percent won't book travel accommodations
29 percent won't get credit cards
29 percent won't buy insurance from a company without first reviewing user-generated content
SIGNALS AND SYMBOLISM
Starbucks customers have managed to generate hundreds of thousands of pieces of content, each piece is posted to the customer's own Instagram account, and generating engagement separate from the watchful eyes of the Starbucks CMO.
Come to think of it…
That's my daughter on her first trip to Starbucks. She had a cake pop, and now thinks Starbucks is THA TRUTH!
This is another post from me – a stock image by Adrianna Calvo that I captioned and posted. But the post isn't about Starbucks. It's about what Starbucks represents. The image signals productivity and small business culture, with "a hearty nod to" the people who grind everyday and drink coffee for fuel – with or without the grass-fed butter.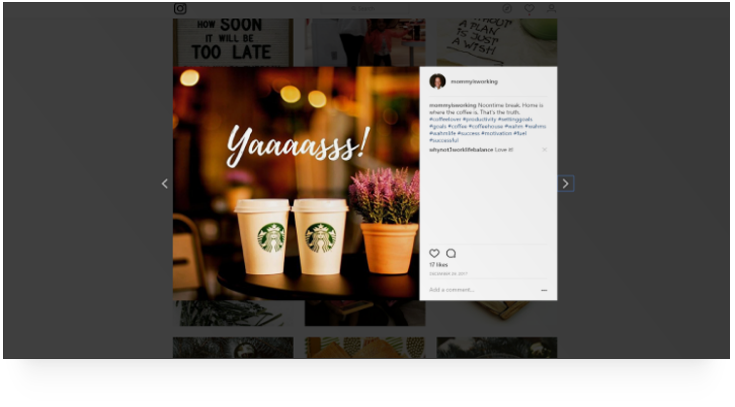 My point is the sheer number of users (like me) who are basically leveraging Starbucks as proof of their success in business and enjoyment of life. These kinds of posts – and Starbucks has TONS of them out there – push repeat customers to go back to the store (and document their experiences), and persuades future customers to give Starbucks a try.
SELF-IDENTITY AND BELONGING
Creating content as a byproduct of living your life results in branded content. It just does. People like sharing info about the things, products, brands, and companies they support. For some, that means sharing pictures of the work site as they build single-family homes with Habitat for Humanity. For others, it means taking a picture of that famous green and white paper cup from Starbucks.
Occasionally, people create branded content to be recognized by the brand. More often than not, you will find branded content is an outgrowth of self-identity. People just like letting other people know what they're into.
I Will Conclude with This
The art and science of developing high-impact UGC that your influencers can use in your campaigns depends on you being able to clearly articulate:
What your brand is about
The message (offer) you want to send your target audience, and
The outcomes you wish to see
This is the information your influencers will use to create content that is authentic to both your brand and theirs, and that impacts the members of their followership who are also members of your target audience.
The value of the influencer is that he or she knows how to talk to their audience. It's important to provide influencers with enough experience with your brand and products that you remove the guesswork from the content creation process.
User-generated content is the primary value you get with influencer marketing. Because even the best marketing departments will consistently fall short of crafting an ad that makes a greater impact on your customers than what people are already saying about your company online.