By far, the outcome our brand clients are most focused on in this not-quite-post-pandemic market is sales. They want The Shelf team to put together influencer marketing campaigns with creators who truly can influence purchasing decisions. Like, no one's talking about brand awareness campaigns right now, not even the brands who NEED them (and yeah, a lot of brands needs them). Stakeholders are pushing marketing teams to make it rain. 💰💰
Back in the day, retailers relied on print and airwaves to get the word out about in-store inventory. In many cases, brands would resort to shady ads and gimmicks to drive foot traffic to your store. And this tactic worked for a long time, especially for the large retailers. But now that we're in the digital age, a lot has changed.
Consumers are better informed these days. They do their own research by checking out explainer videos on YouTube, user reviews on Google, and even sponsored content from the influencers they trust. Then with people staying home more, there's even more time to plan purchases. So, brands need to be present to engage customers at as many of the different touch points as possible, and that means understanding how to structure campaigns to reach buyers at those different touch points. 
Let's talk about bottom-of-the-funnel influencer campaigns.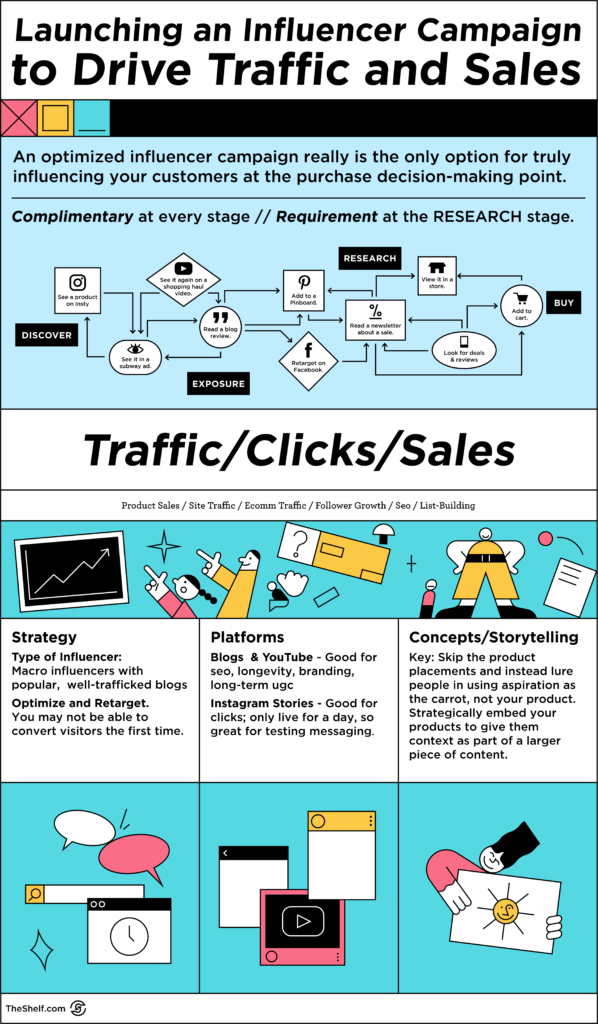 COPY AND PASTE THIS CODE TO EMBED ON YOUR SITE
Influencer Marketing Strategy: Building Campaigns to Get Clicks vs Campaigns to Boost Brand Lift
If you're of the mindset that influencer marketing is just for boosting brand awareness, or you happen to be one of the people who low-key thinks a brand awareness campaign is a cop-out, this section is for you because I want to identify a couple of important things that distinguish a brand awareness campaign from a campaign for traffic and clicks. 
Reach
Whether you're rolling out a brand awareness influencer campaign or a campaign for clicks, reach is going to be important. 
For brand lift influencer campaigns… it's smart to partner with larger influencers – as many as your budget can handle. The goal is to have a network of macro-influencers talking up your product or brand to their followers and extolling the virtues of your product.
When your campaign goal is to get clicks… partner with a diverse set of influencers who have sizable, engaged followings. In this case, it may be more beneficial to enlist a greater number of smaller (but not small) influencers to give you the opportunity to target different segments of your audience with more targeted messaging.
Platform
For brand lift influencer campaigns… Instagram is the go-to platform. There really aren't any other social media platforms that are able to deliver the reach and engagement you can get by running a brand awareness campaign on Instagram. YouTube is a contender, but tends to be a much larger financial investment (like, add-a-zero larger).  
For influencer campaigns where the goal is conversions… go with Instagram, but you also want to rely pretty heavily on blog content, which means partnering with influential bloggers who are active on their own blogs as well as on Instagram. 
When they're active on their own blogs, the content they create for your campaign has a much better chance of surfacing in Google search results. When they're also active on Instagram, they can drive traffic from the platform to their blog, or from the platform to your landing/product page. 
Another thing to remember about blogs is that the content has an exponentially longer life cycle than Instagram posts (2 years compared to 2 days). So, you want to partner with bloggers who have blogs that are well-trafficked, and whose blogs bring in unique monthly visitors in the tens of thousands. You may have to work with them to create keyword-optimized influencer-generated blog content. 
Dedicated Content
One of the things we've advised brands to do to minimize costs is to include their products as part of a larger piece of content that may include other products as well. For instance, having your luxury bath set included in a Mother's Day haul video that features five other really cool luxury products. 
Great for brand awareness. Not ideal for clicks. 
When the goal is to get clicks, have influencers create dedicated content to ensure your product is the only one featured. For Instagram posts, also make sure your branded hashtag and your brand or product @-mentions are the only ones in the caption. For YouTube videos, make sure your link is the only one in the product section of the video description. 
CTA + Link
For brand awareness influencer campaigns… mentions are 100% necessary, but links usually aren't. It may even be too soon in the process to expect people to hop over to your site from IG unless your product is being tagged or included among shoppable items as part of a lookbook or outfit of the day kind of thing. But generally, for brand lift influencer campaigns (which can live on Instagram), you just want to make sure the influencer includes the branded campaign hashtag and @-mentions the brand. 
For an influencer campaign to get conversions… you'll need both links and a CTA. This one and the previous point go hand-in-hand because you'll want a dedicated post that makes your product look like the only game in town. You don't want the influencer mentioning competitors by name, even if it's just to say how awesome your thing is. And you don't want your link buried in a list of affiliate products that could easily steal your thunder. 
No, to get conversions, influencers should include links back to your landing page/product page, and the swipe up feature in Stories should go to your landing page or product page as well. 
And don't forget that people want to know what to do next, so you also want the CTA to be clear and succinct. "Swipe up to grab this deal" or "Head over to my blog for the coupon code". Links and a clear CTA will help influencers drive Instagram traffic from Instagram and provide followers with those next important steps.
Promo Codes + Pixels
For brand awareness campaigns… pixels are a good idea because looping retargeting into your brand awareness campaign is a smart move. I always like to use the vitamin example (because with the kids literally home 24/7 and me working full-time (also seemingly 24/7), I've legit had to up my supplement game). While I'm not really in the market for a new vitamin since I'm all stocked up and have my regular vitamin on autoship through Amazon, I actually could be swayed if @getupwithnards or another one of the moms I follow who also has young children and a job says her mom brain's finally gone away or that her energy's been stabilized with some new-fangled vitamin. My ears would perk up, and I promise you it wouldn't take long before I was in somebody's funnel.
Unless I got distracted by life. And if there's no retargeting strategy that pulls me back in with a pic of a mommy influencer I know stalking me around the web, it would be really easy to miss out on a guaranteed sale. So, pixels are a must for brand awareness campaigns AND conversion campaigns.
But for getting clicks… promo codes also matter. They incentivize the deal you're promoting, and they're a good way to track which influencers are delivering for your campaign. When you know that, you know which influencers to loop in for the next stage of your current campaign, and even for future campaigns. 
---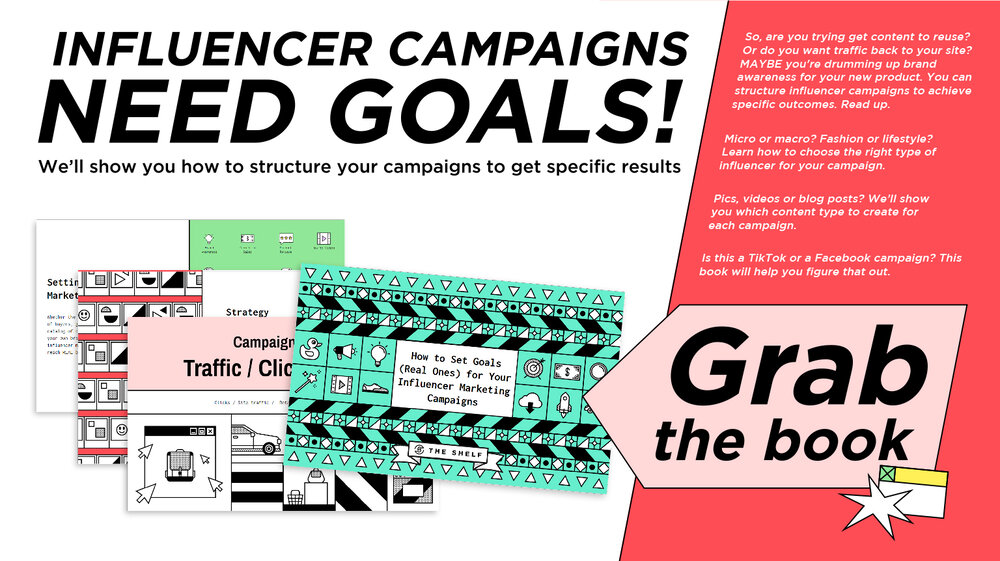 ---
Product Visibility
For any influencer campaign you run, the images should be hi-res images that are captivating and engagement-worthy. This one isn't really a differentiator, but it's worth noting in this post that contextual product embeds will trump basic product placement posts every single time. If I had to nail it down to a percentage, I would say the product should be visible in 20% – 25% of your content, whether that's video or images. What goes in the rest of the content? LIFE, man!
That's not to say every post has to be some lame pic of you mopping your floor with a yellow container of cleaning solution on the countertop in the background. (Actually, those don't have to be lame either.) But it is to say that generally speaking, the actual products won't be the main focus of the post.
A really fun take on this may be hosting an Instagram takeover where each of your influencer partners engage on your profile for a few days as part of the campaign. But still, all that other stuff I mentioned still applies.
Content + Messaging
The final aspect of this whole thing that is important for both brand awareness campaigns and campaigns for conversions is the messaging. Remember what I said earlier about not needing vitamins, but being swayed by a mom who feels my pain and maybe has a better solution than me taking three different types of vitamin everyday?
Messaging matters, and that's true even when it seems like drumming up interest and getting conversions is going to be impossible. Enter Mint Mobile.
Before Deadpool was showing up in Mint Mobile spots with his dry wit and hilarious commentary, Mint Mobile took to Instagram with an influencer campaign to boost brand lift while simultaneously driving clicks. The video below is from Ryan Reynolds' YouTube channel. His Mint Mobile spots are hilarious.
---
Our challenge, of course, was getting a SIM card to make you stop-scroll and click. And posting a pic of an actual SIM card wasn't going to do it. The influencers we brought into the campaign needed to be creative. They needed to be really good at creating compelling visuals.
The other thing was the messaging had to be spot-on if the campaign was going to compel people to click the link and give the service a shot.
Of the concepts we went with for this campaign, I want to show you two so that you can see how content + messaging + product placement works to drive a click.
Concept #1: Influencing (@afashionnerd)
Appeals to influencers and creators, many of whom are building their businesses and reputations while trying to keep their cost of living low.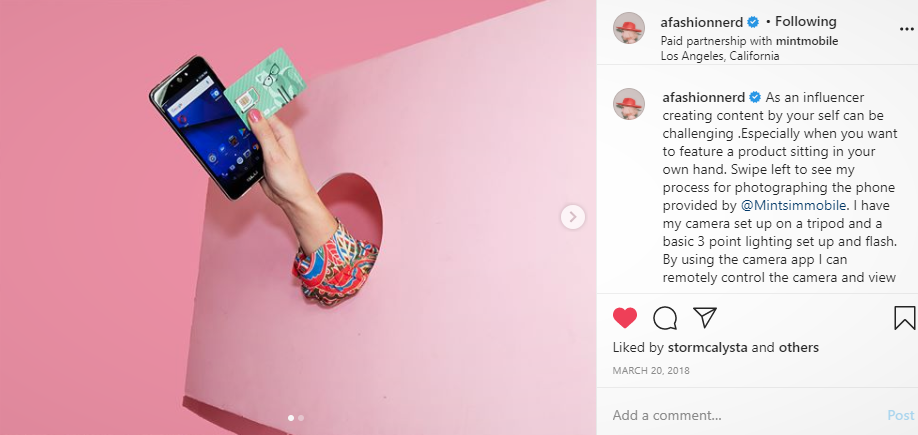 Concept #2: Adulting(@prettylittleeegirls)
Young adults who are just making their way in the world. What's more appealing than finally adulting and not needing your parents for something as important as your phone because you've found a way to get your phone bill down to $15 a month… and you can definitely handle $15 a month.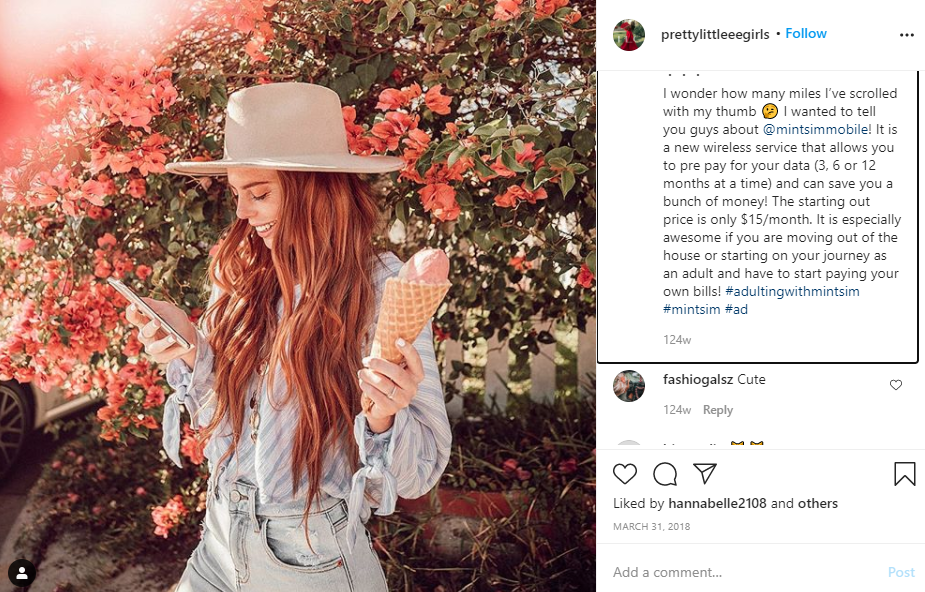 ---
This campaign drove more than 10,000 clicks because it wasn't just pictures of the Mint SIM card and captions talking about it being $15. The campaign was made up of really interesting images that stand out in the feed captioned with messaging that was relatable and that could compel people to act.
Which brings me to my final point…
When you're running a campaign for clicks, make sure you have stipulations in your contract that ensure influencers will keep their posts live for as long as possible. Many influencers don't care, but some will try to negotiate to have the option to remove the post after the campaign or maybe six months from now. Try to keep your sponcon live for as long as you possibly can, ESPECIALLY blog content because once it's live, it has SEO value that can drive traffic for years to come.
See… You CAN Build an Influencer Campaign for Conversions
Effective influencer campaigns go way beyond just building brand awareness. Don't get me wrong, campaigns designed to boost brand lift are important, but when you know what to do, you can build influencer campaigns to achieve a number of different marketing goals. If you want more help with this, we wrote a book on setting campaign goals here.
Otherwise, The Shelf team is pretty awesome. We dream up amazing concepts to help even the most utilitarian products – like SIM cards – come off as a little more hip, edgy, and necessary. If you need help with your next campaign, we've got you covered. Click the button and let's rack up a win.