Okay, so a few days ago, we published an infographic detailing the different ways you can structure influencer marketing campaigns to reach specific outcomes. In this post, we pulled together 11 examples of influencer marketing campaigns for conversions, awareness, and content that pretty much nailed the nuances between the different types of influencer strategies you can deploy to get the outcomes you want to see.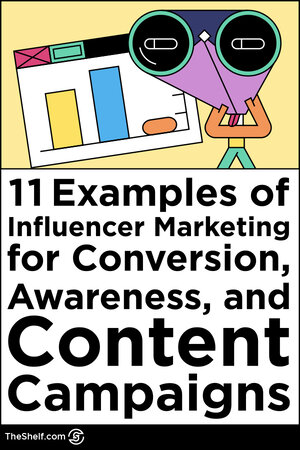 4 Great Examples of Influencer Campaigns for Brand Lift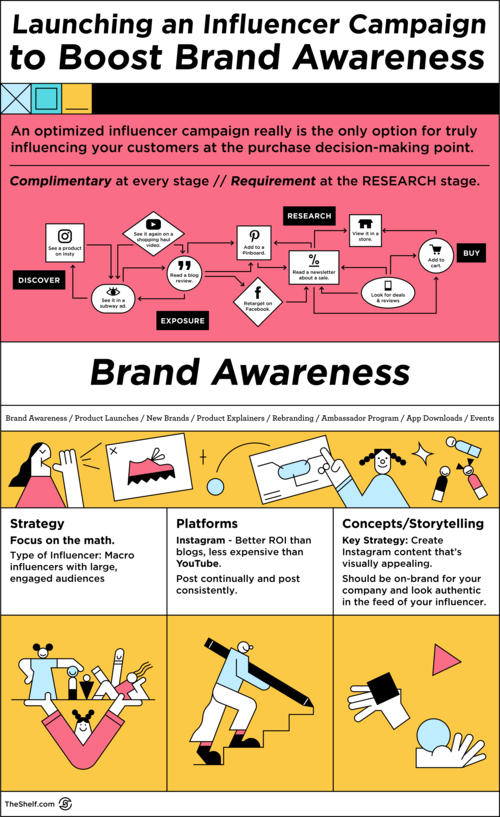 It partnered with macro-influencer like Callum Snape because for brand awareness campaigns, the key is to get in front of as many people as possible in a short amount of time, and larger influencers are the good way to do it.
It stuck to Instagram, which is typically less expensive than YouTube (also good for brand awareness) and delivers better visibility and better ROI than blogs
Created content that's scrolling-stopping. Quality is important for making that all-important first impression, and because Sun Peaks Resort partnered with the right influencers, it was able to capitalize on getting really great influencer-generated content that can be reused in other online and offline marketing efforts. Callum's videos and photos featuring the brand did more than just name drop; they told a story.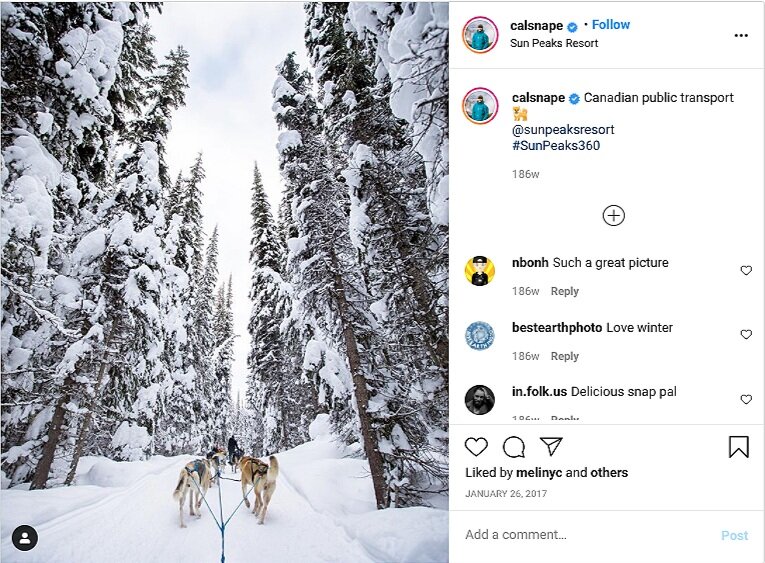 And no, your eyes are not deceiving you. One photo got more than 18k likes from his followers. The reach of this one photo, through one influencer (the right influencer of course) is pretty epic.
BLISS
Bliss is currently in the midst of a brand awareness push that's actually pretty interesting. The skin care line is included among the brands being featured in a month-long beauty/cosmetics sale at CVS stores until the 26th of this month (September).
The post below from micro-influencer @curlycandi, we came across by checking out the tab of posts that tagged Bliss on Instagram. If you notice, these posts are basically haul posts which feature multiple products in each picture, along with the campaign hashtags #cvsbeauty and #beautyunaltered. The eye treatment is actually a Bliss product.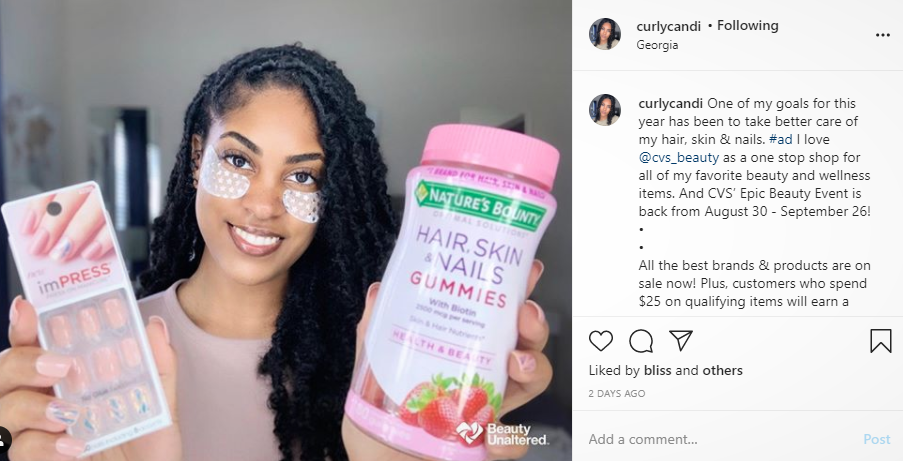 I know. I know. This pic has product placement written all over it, but curlycandi's feed is filled with these really tight shots of her face, so this pic actually fits in with her typical post style. Nevertheless, let's look at another post from that campaign.
Check out this video from nano-influencer @amakeupjunkie_, another haul post from another campaign. The caption lists seven products and three of the seven are Bliss products.
Two things to notice: Bliss isn't adding this content to their Instagram grid, but instead maintains a colorful, curated page that's packed with really great pictures of their skincare line. Second, the brand is leveraging small influencers who can reach different segments of their target audience with news about Bliss.
SUBARU
Subaru has a great example of boosting brand lift. The company worked with influencer Devin Graham for their #MeetAnOwner campaign to market the new Impreza vehicle. This has been kind of an ongoing "uncampaign" for Suburu because most of the posts using that hashtag are actually from Suburu's branded accounts on Instagram, with the exception of a few. Among the few are this video from Devin and his Super Tramp film team catapulting off a slip-and-slide and falling off a 500-foot cliff in rocky, mountainous terrain via parachute.
What the heck does THAT have to do with driving a Subaru, right? Their whole thing is safety – safe travel for college kids, driving in the rain and making it home safely… you've seen the commercials.
Well, that's the beauty of this campaign, actually. Those are commercials. This is one, too, but it doesn't feel like one. The focus of the video is on Devin's stunt, and the viewer gets to come along for the ride. In the entirety of the four-minute video, the car shows up for a grand total of 17 seconds to drive Devin, the parachutes, and the Super Tramp team around the tough terrain.
Ah… now we see… Suburus are more than cars that get passed down from dads to daughters. It's also a car the cool kids are using to get them to and fro when filming kick-butt stunts with their friends. Suburu has sponsored this video from Devin and his thrill-seeking buddies because it allows car shoppers to see another side of Suburu.
Suburu really leaned in on the adventure aspect of their branding, too. If you head over to their feed, you'll see a nice mix of nano-influencers fueling Suburu's Instagram strategy.
---
3 Examples of Influencer Campaigns Designed to Get Conversions and Clicks
Best for achieving the following campaign goals: Clicks / Site traffic / Retargeting / Product sales
So, you know that the most important KPI brands want from their influencer campaigns right now is conversions – traffic, clicks, and sales. You can take a look at our post outlining strategies for building campaigns for conversions instead of just brand lift. For now, let's take a look at a couple of really great campaigns for conversions.
Really quick, let's rehash a few of the finer points of building an influencer campaign for conversions: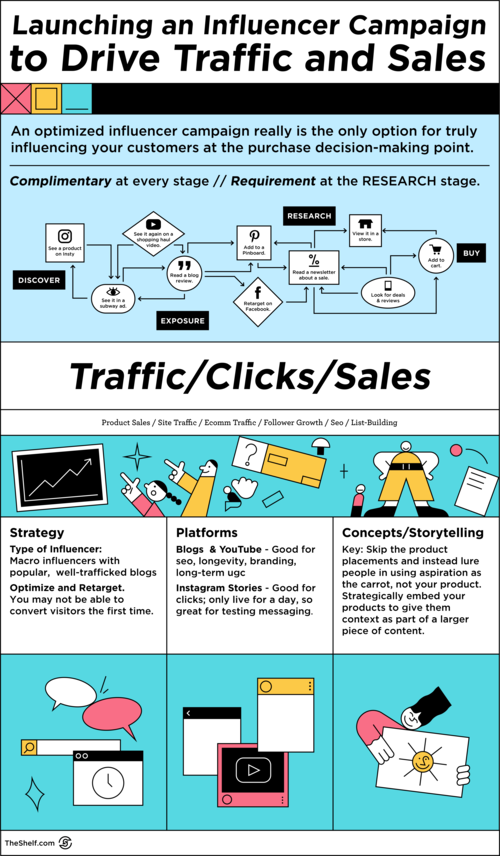 Unlike brand awareness pushes where your goal may just be to show up on people radars (and Instagram Reels is great for this right now), the goal with a conversion campaign is to answer enough questions and provide enough value to get a conversion . That means posts that are dedicated solely to your content, your benefits, your brand, your coupon codes.
This is also where you want to partner with influencers who are also bloggers and avid Pinterest users. Adding blogs, YouTube videos, and pinning to your strategy extends the life of your content and affords content from your campaign the chance to surface in search results (hello, SEO) and produce traffic, leads, and sales for you for years to come.
Incorporate a retargeting strategy that loops in your site, the sites/blogs of your influencer partners, AND social media platforms.
BLISS
Let's head back to the fine folks at Bliss to check out a partnership with the one and only beauty influencer extraordinaire, Manny Gutierrez. This ad was actually an in-app promotion that didn't completely suck (a lot of those ads are THE WORST).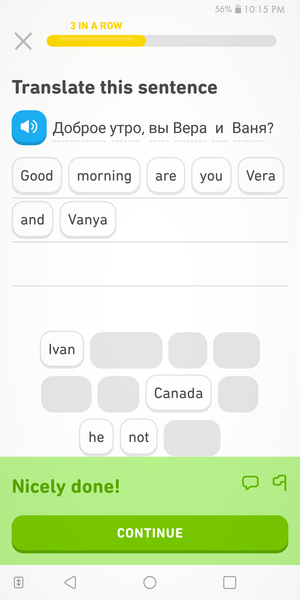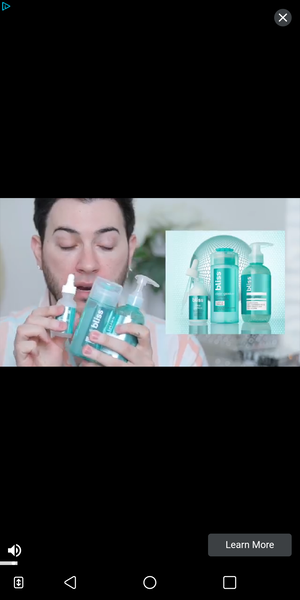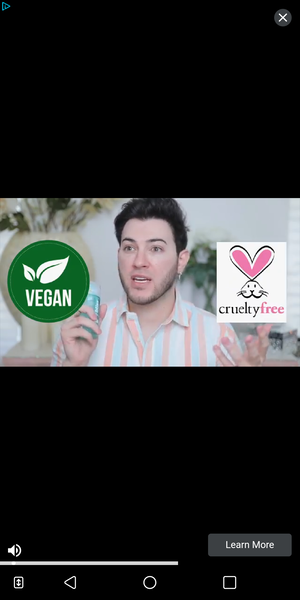 ---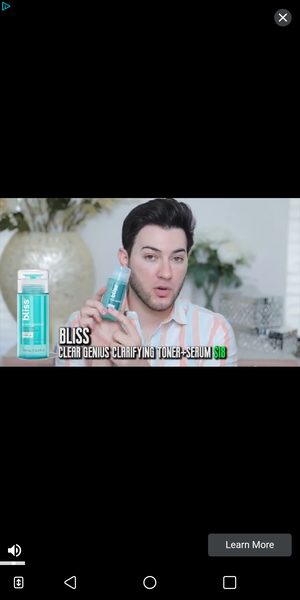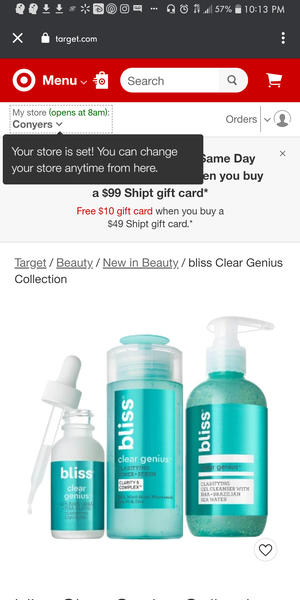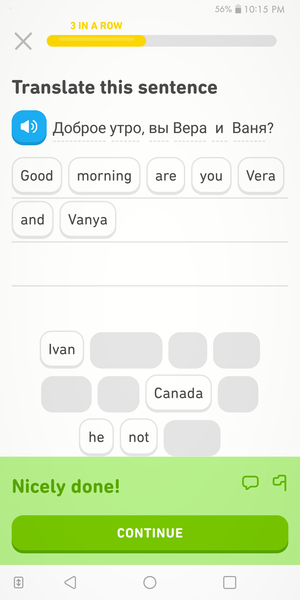 This in-app ad – not the Instagram content – was my first introduction to Bliss. Just another reason why it's SO important for brands to repurpose and reuse influencer-generated content.
ABSOLUT X DRIZLY
This one is kinda cool. Absolut partnered with one of the cutest couples on the Gram to remind us all that fun can be had at home. The travel bloggers Dani and Nico (known as @twooutsiders) added a beautiful pic to their already stunning Instagram feed to promote Absolut Vodka.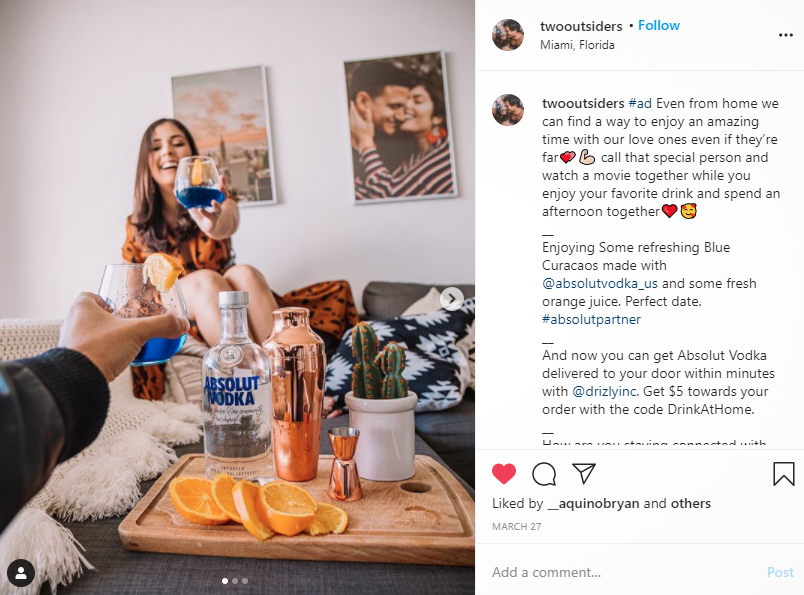 Here's the #plottwist though: if you read that caption, you'll see that the CTA is for grammers to get Absolut from @drizly and take advantage of a $5 discount when they place their first order with Drizly. Who the heck is Drizly, right? Drizly is like the GrubHub of beer, wine, and spirits. You can shop a HUGE selection of alcoholic beverages and have them delivered to your house within an hour of placing your order.
Another thing that's cool about this one is Drizly's website is set up to make you want to take action. Look at this page. Don't you want to put your address in here JUST to find out what happens next?
Clicks, ladies and gentlemen. That's how you get clicks.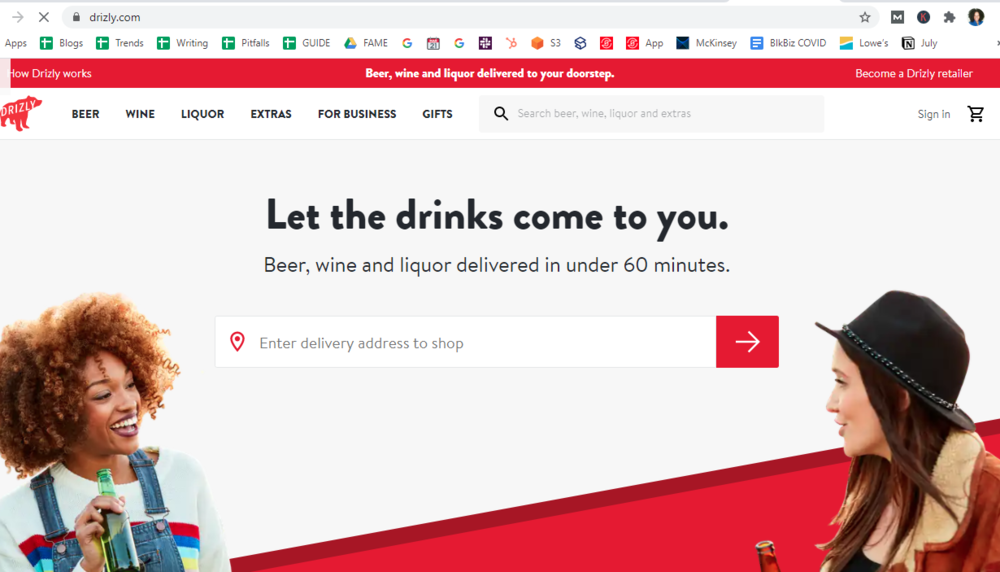 BLACK SWAN JEWELS
One of the go-to ways to get clicks is to give something away where the price of entry is a follow + tagging your friends. Black Swan Jewels partnered with larger influencers like style influencer @krsikapamarija (237k followers) and @yefiimiya (79k followers) to announce this contest 👇with the simple instructions.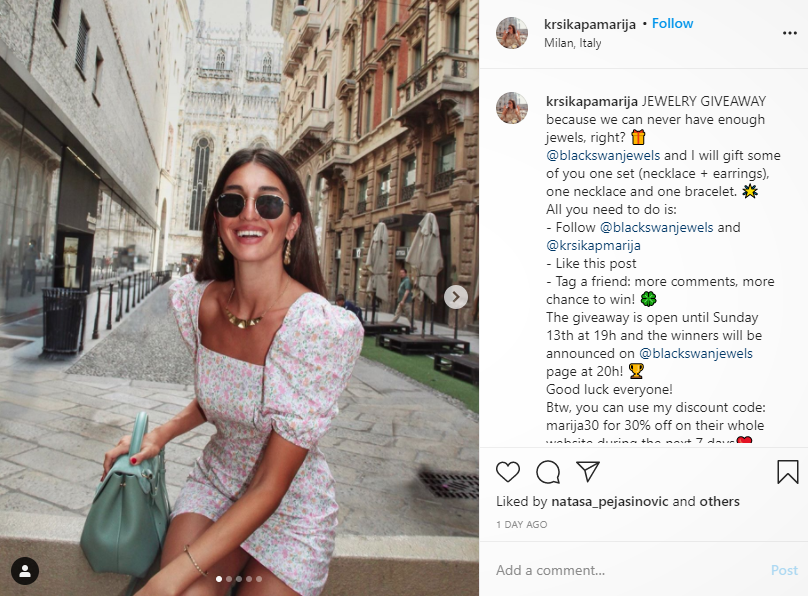 Black Swan Jewels does giveaways like this all the time because it's a great way to get clicks and follows while you're boosting brand awareness, and they're easy to get off the ground. Just remember to have your influencer partners use different coupon codes (assign one code per influencer so you can track each influencer's performance) and pixels.
4 Examples of Campaigns to Generate Content (UGC and IGC)
Best for achieving the following campaign goals: Social media content / Product images / Marketing assets / Creative for paid ads / Storytelling
The content your influencer partners create for you can become some of your most valuable assets. Most influencer campaigns have a primary or secondary objective of generating tons of influencer-generated content because that content can be reused across multiple mediums and along different points in your customer's path to purchase to drive them to your site.
If your goal is to get tons of content from your influencer campaign, micro-influencers are going to be your jam.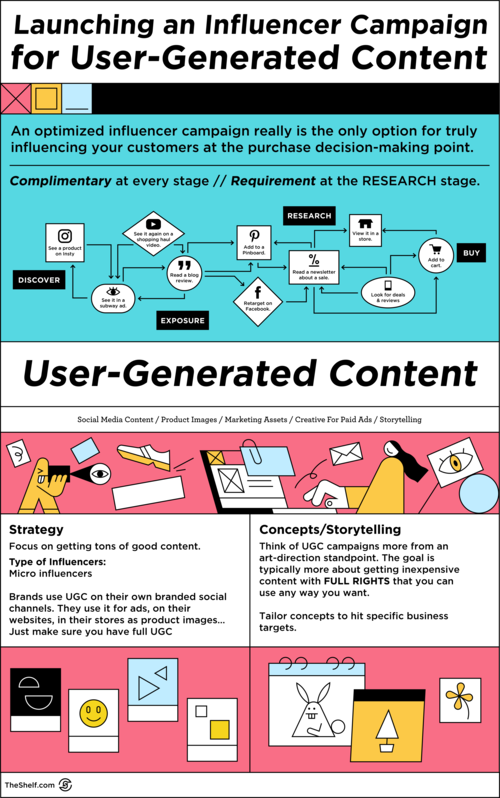 GREENVELOPE
Greenvelope provides online invitations and announcements that people love to use for their weddings, parties, and other events. Greenvelope's feed is filled with great pictures of invitation designs and people using them, and makes you wish you had something to announce.
There are two really smart ways Greenvelope gets content for its social media feed and social media marketing:
Greenvelope partners with influencers like @teachingandlaundry, @twooutsiders, and @freshprinceofbuhlaire to create adorable, targeted posts about simplifying the wedding process, zero-waste nuptials, virtual happy hour, and other events.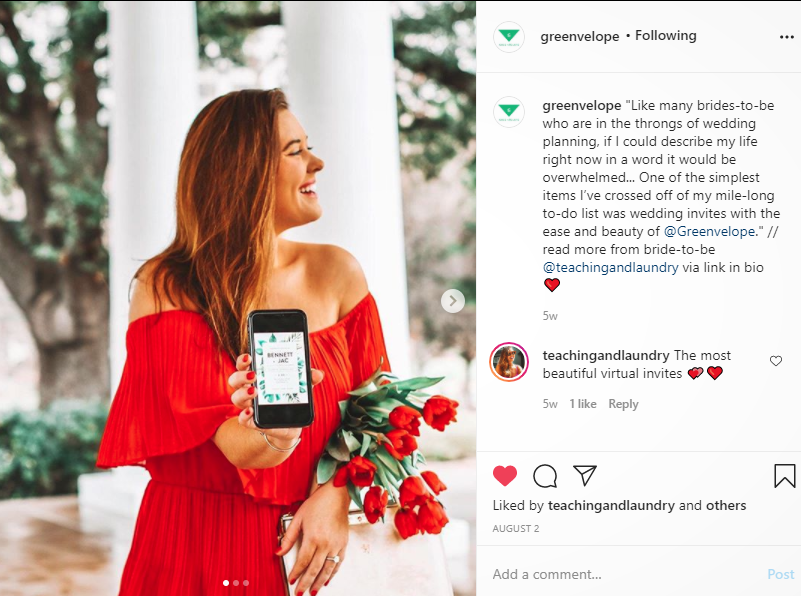 And there are also some really cool posts that tagged Greenvelope that you can find under Greenvelope's tagged posts.
Greenvelope shares the designs created by their independent designers like this design from @staceyday. This gives the social media feed depth, color, and variety.
STARBUCKS
You may remember Starbucks' well-publicized White Cup Contest. Starbucks asked customers to cover their Starbucks cups with imaginative doodles, and submit a photo of their artwork on social media using #WhiteCupContest. The winning design was featured on a limited edition reusable cup.
With more than 4000 entries (and nearly 4,000 Instagram posts), Starbucks ended up with tons of user-generated content from its social media followers and Starbucks customers had fun in the process.
Here's one of the great things about this contest though: It happened six years ago, and it was so epic that social media users are STILL posting their doodled cups – whether from Starbucks or not – using that branded hashtag – even up through this summer.
Previous participants repost their winning designs and lament over the day they won the contest with these thoughtful, "how it all began" posts.
Other coffeehouses pay homage by hosting their own #whitecupchallenge .
AERIE
Aerie often collaborates with micro and nano-influencers to promote their body-positive branding. The company recently did this by requesting customers post untouched photos of themselves wearing Aerie swimsuits.
To get the most out of their marketing campaigns, Aerie often collaborates with influencers for influencer-generated content (IGC). The brand is committed to the body positivity movement and wants women to be comfortable in their skin. So, they don't airbrush the photos they used in their campaigns.
To promote this cause, they collaborated with several micro and nano-influencers who posted unedited photos of themselves, and encouraged customers to post untouched photos of themselves wearing Aerie's swimsuits.
This #antiairbrush campaign got the brand major kudos for being socially progressive, and tons of publicity. I think this campaign is a good example of what can happen with a concept that is UGC- and IGC-friendly.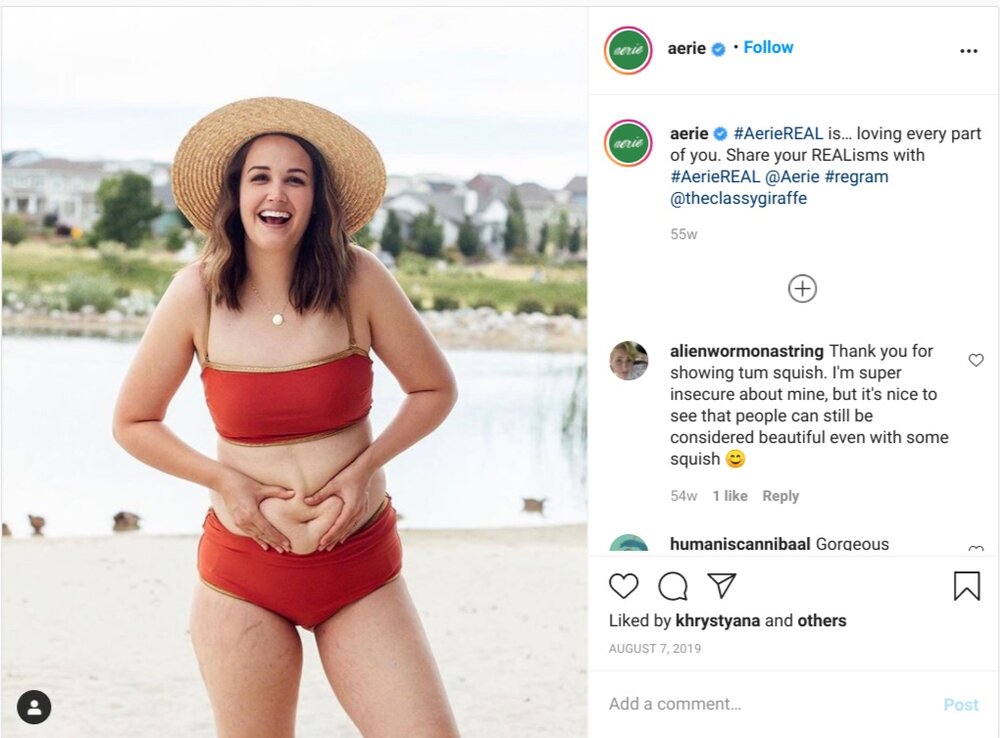 A few more things to clarify for this type of campaign:
Get full UGC rights, and then you can go crazy using all the goods across all of your branded web-based platforms.
Here you will want more quality pics. But don't worry, with a decent camera app on your phone, you don't have to be Casey Niestat or anything to get great pics.