Welcome to the holiday season! We're officially at that point when people start shopping for their fall décor, Halloween items, and holiday home goods. Plus, they pick up the occasional Christmas gift when they spot a deal or a sale. So, we've created our September 2023 social media calendar.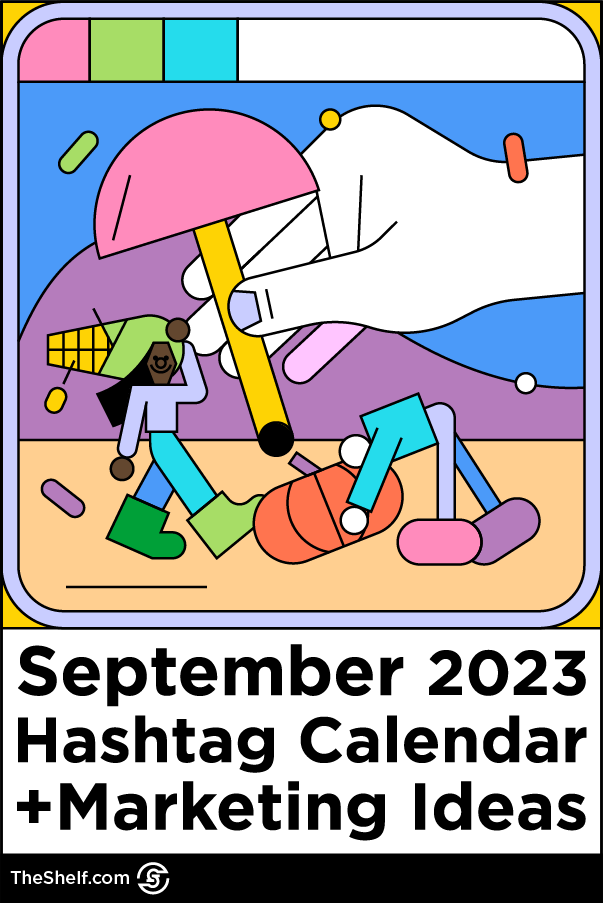 September campaigns are all about keeping your audience engaged as we roll into the holiday season. If you're running deals and promos for Halloween, September is the best time to get in front of your audience. 45 percent of Halloween shoppers are doing their Halloween spending this month.
If you're not selling anything Halloween-related, you can still use Halloween to boost your visibility and start getting eyes on your brand ahead of the winter holiday push which will ramp up in October.
So, this month's tip is right in line with finding ways to stay visible and get on people's radars over the next four to six weeks. Let's talk about how you can use contests, giveaways, and freemium promos to boost brand lift and start building your army of loyal customers.
Using Promos, Contests, and Giveaways to Boost Your Visibility Ahead of Holiday Shopping Season
Anyone who has spent hundreds of dollars on draft lattes after getting a few freebies through a rebate app like Ibotta understands the power of a giving something away.
For example, ready-to-drink cans of coffee are a grocery list staple for me when three years ago, I couldn't even get my mind around what a draft latte was.
When rebate apps started offering free and discounted Bulletproof, La Colombe, High Rise, and Super Coffees, I bought them. And when the coupons disappeared and I was staring down the barrel of full retail price… I still bought them.
More, when I moved to a new neighborhood and my local grocer didn't carry my beloved draft lattes, I legit shopped at another store farther from my house. A smaller store that I liked less but that carried the coffees I'd gotten used to drinking. These are products I almost certainly would not have noticed had I not been given the chance to try them for free.
I've said all of that as proof of this:
Rewards programs work.
In the US, the average consumer is a member of more than a dozen loyalty programs, and 84 percent of loyalty program members have made a redemption from the program. 90 percent of shoppers are willing to use a coupon, even if they're not your typical Sunday morning coupon clipper.
For your brand, offering digital coupons is a good way to drive traffic from your social media profile to your website and into your store. Plus, rewards programs are a great way to build your rep as a trustworthy brand.
The challenge many brands perceive is that by discounting their products, they would be seen as less valuable. The flipside is for people like me who use discounts and freebies as a way to discover new products. The 20 bucks you give away in free coffee you'll make back hundreds of times over when I spend 20 bucks buying your coffee every time I make a grocery run. In fact, shoppers who use coupons end up spending 35 percent more than those who don't.
So, consider using coupons, and especially loyalty programs, not as a way to drive up sales, but as a way to make your brand more visible and more reputable.
Get this: 8 in 10 consumers say they would be okay with brands collecting more information about them IF that big data led to more personalized recommendations.
Promotions, giveaways, and contests can help with brand recall and make your brand appear more trustworthy. Instead of having a bunch of people bookmark your post and never visit that bookmark again, by crafting contests and giveaways and offering coupon codes, you can get them to click through to your site where you can woo them with your fanciness and upselling abilities.
Think about incorporating discount codes, coupons, and referral links into your social strategy this September. Watch those promotional efforts work their magic and your brand loyalty skyrocket.
September 2023 Hashtag Holidays Worth Noting
The arrival of September brings some pretty interesting hashtag holidays that are perfect for your social media content marketing, including:
Hispanic Heritage Month
National Yoga Month
National Indoor Plant Week
Naitonal Roller Skating Week
World Afro Day
National Good Neighbor Day
Positive Thinking Day
Take a look at the September 2023 social media calendar below. Feel free to embed it on your website using the embed code under the calendar.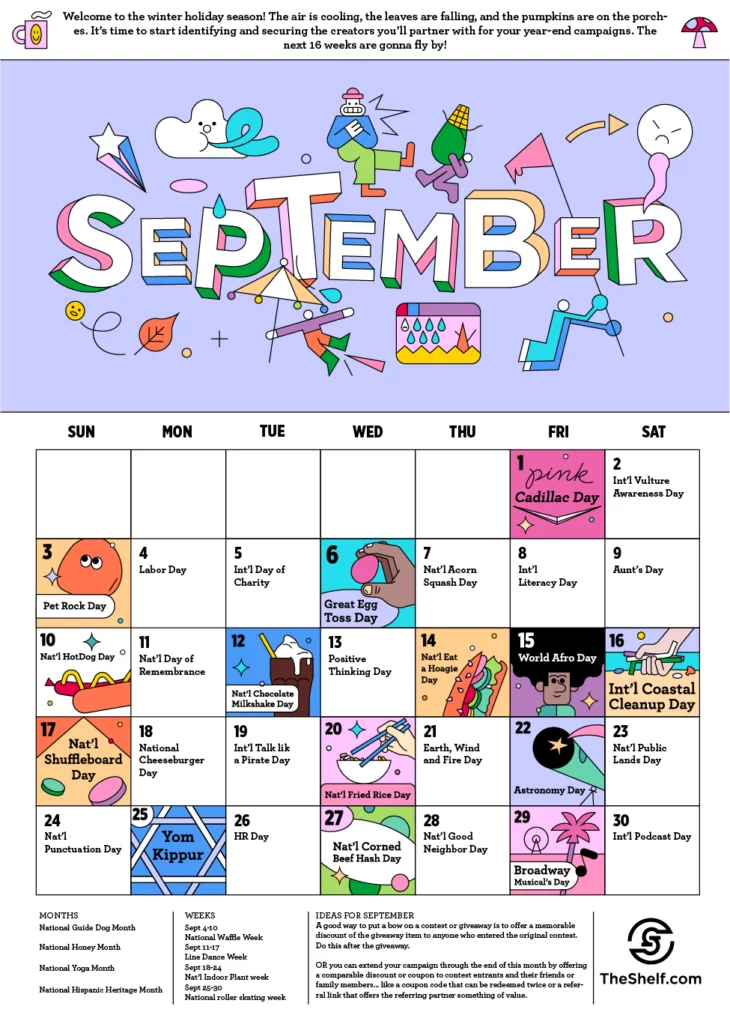 COPY and PASTE THIS 👇 CODE to EMBED THIS ☝️GRAPHIC.
---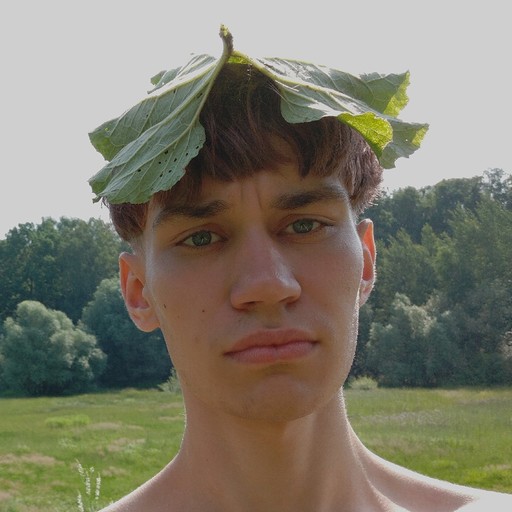 ABOUT THE AUTHOR
Константин Смирнов | Wizard of Design
Konstantin Smirnov has a knack for dreaming up fantastical illustrations that convert complex concepts into really cool visuals. He has created an amazing catalog of magnificent illustrations and designs that help bring The Shelf branding to life. You'll find his work on just about every creative asset we publish.
---