Halloween is just a few short weeks away! That means it's the perfect time to start hashing out Halloween marketing ideas that will help your company get in on the shopping rush… even if you don't sell costumes, candy, or dry ice.
Work in an office selling Dunder Mifflin paper? We'll cover that. Spend your days under the hood of a car? Not to worry – we have you covered, too. This is our annual Halloween post for every small business that has NOTHING to do with Halloween. We're going to show you exactly how you can use Halloween as a way to get your brand and your products in front of potential customers.
Feel free to dance now. *Monster Mash starts playing in the background*
Halloween Is a Big Deal, and People Are Spending Big Bucks
Last year, 7 in 10 people planned to celebrate Halloween, and spent an average of 90 bucks each celebrating. As you can probably imagine, costumes grabbed most of the individual Halloween spending. BUT, categories like home decor and candy hold their own around Halloween time, as well.
Home decor, in particular, is a category that's been growing over the past few years. Last year, Halloween celebrants were expected to shell out a total of $2.7 billion on Halloween decorations alone! (And here I am using the same old decorations I've used since 2010.)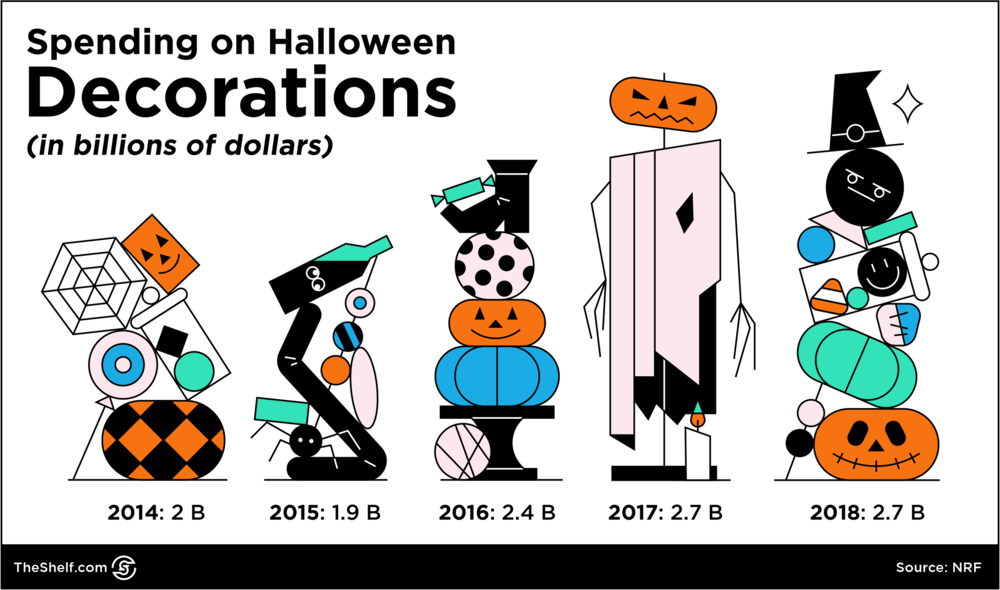 Spooky pumpkins aside, people LOVE dreaming up new home decor ideas. Home decor is consistently one of the top-searched topics on Pinterest. Of course, when you throw Halloween decorating into the mix, the goal and tone of home decor typically shifts a bit from making your house a home to having some fun and being creative. And THAT gives people room to try out new ideas.
Fine. Fine. Fine, Justine. What about my business? Well, I'm getting to that riiiiight…
NOW!
8 Ways to Infuse Some Actual Fun Into Halloween Marketing Ideas (So They're Way Less Market-y)
How do you integrate fun, creative Halloween marketing ideas that will help your brand get more fans and followers online, and more Likes and shares of your content? And how do you do it without completely disrupting your business? We actually have some really cool ideas on this.
Regardless of who you are or what you sell, your brand can absolutely get in on the Halloween spirit. And there are a number of cool, unassuming ways you can do that. Here we go.
Part 1: Creating Halloween Experiences
#1 SPOOKY DISPLAYS
For retailers that market and sell crafts, furniture, or home goods, Halloween is a natural outlet for setting up creative, spooky displays. For the rest of us, however, a window display, in-store display, or company Halloween display will take some doing.
To make this work, you really want to skip the ho-hum cotton spider webs and hard, plastic spiders. No one's going to snap and share any pictures of that. Not even your employees.
My recommendation? If your company's reputation tends to be extremely conservative, create a display, and make the unveiling a legitimate social media event. Make it something that surprises your employees with how edgy it is.
If your startup has a more laid back, next-gen type of vibe, go a little overboard on a single, awesome display that's super-detailed.
Not office decorations!! For the love of all things productive, don't go overboard on office decorations. Just create one display that rocks hard.
The advantages of moving forward with this idea
Eyes. For stores, designing an elaborate window display is sure to grab the attention of passersby and will boost your in-store foot traffic. Both good things. An in-store display or a fancy Halloween section of your building that can't easily be accessed by your customers also works because it provides you with the benefit of giving employees a built-in spot that's perfect for Instagram.
UGC. Whether you're doing a window display for customers or an office display for your team, include a branded hashtag in the display that will show up in the picture so people remember to use that hashtag. That way, you can track the hashtag (if you want) to figure out how well your content is performing online and what customers and employees are saying about the display. Plus, you can reuse that content.
Company culture. This idea will make your company look like a cool place to work and provide some important insights about your company culture when those office pictures start floating around social media.
Cool stuff I found under the hashtag #halloweendisplay that should give you some ideas.
You're gonna want to skip the dollar stores for this one. You MAY find some cool decor that looks creepy… but chances are, it's just going to be cartoony cutouts of skeletons or Elvira or something. (Coincidentally, if you're an Elvira fan, she'll be at the Salem Horror Fest signing autographs October 12, 2019.)
I want to turn your attention to this post from Traditions… because I want you to get an idea of what I mean by creepy. Traditions is a specialty store for decorations. Not your typical decor lining the front walk of your local grocery store chain, right? But for this first marketing concept to work, you need to get your hands on the stuff that ISN'T your typical decor. And this fits the bill.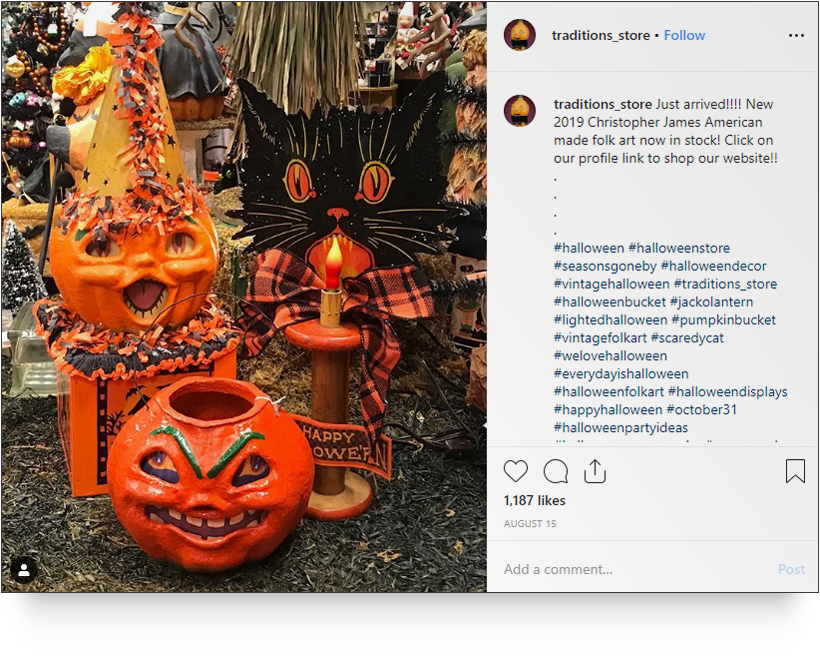 The post below is actually from an Instagram account that does nothing but look for cool shops and storefronts. And this is one of the gorgeous #halloweendisplays featured on the Shopkeepers page.
It's striking, it's in the Halloween spirit, and it's a little dark. Not really creepy… but it kind of speaks to the dark aspects of autumn. Pretty perfect pic to post on Instagram, too.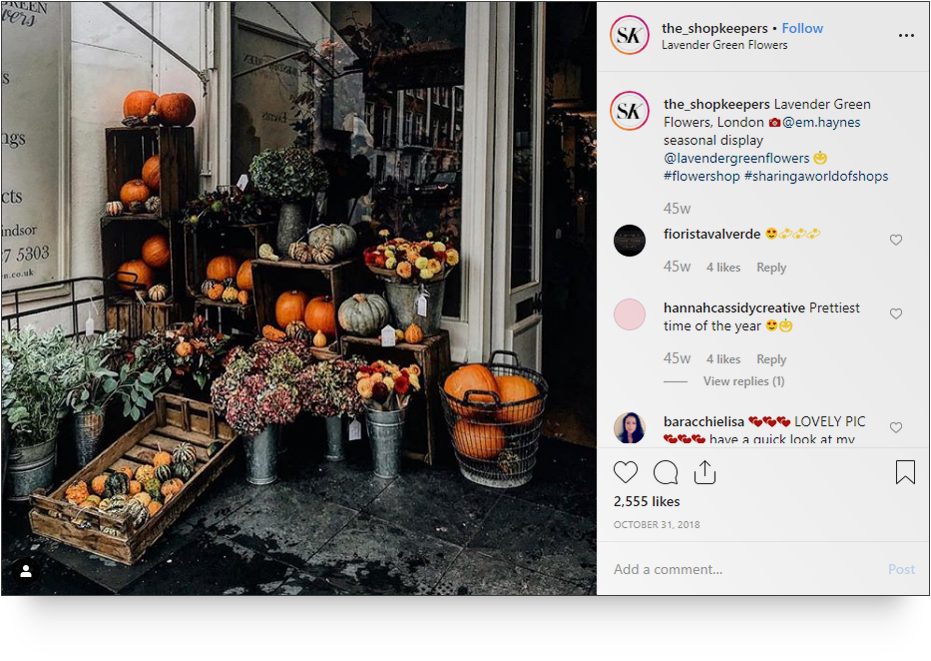 Or this room… which isn't an office space, but this space is highly grammable, won't distract your team from being productive, and is something that can definitely work in a professional space. Love this.
I grabbed this shot from @spookiehoagie, who grabbed it from @noelledowning… whose feed is so striking, she got an instant follow. Seriously, it's art, and even her sponsored posts just look like one girl crushing it with her amazing life.
#2 COMPANY COSTUME CONTEST OR HALLOWEEN FASHION SHOW
Launch a company-wide costume contest with an actual prize that every employee would want, like an extra week of vacation time. The goal here is to get as much staff participation as possible from those who celebrate Halloween. The more people who participate, the more branded content you get out of the deal.
The rules of engagement are simple – nothing offensive (may want to write a few rules out about this so that one guy in the marketing department does show up in a tasteless t-shirt, and no one comes to work over-exposed, if you know what I mean).
Set up voting systems where both employees and your social media followers can cast their votes on who should be the winners and runners up in two categories: store-bought costumes and DIY costumes. Maybe you can even get the gray suits in the C-suite to participate. #shrug
The advantages of moving forward with this idea
People spend most of their Halloween money on costumes. And, even though there are a lot of places to buy them already done, one of the most popular searches before (and during) Halloween, is DIY costumes. If they're like me, they will already have a board on Pinterest full of costume ideas they spent all year collecting. But, if they're regular, normal human beings, they'll still be putting together their costume a few days before Halloween.
Let's do a little preliminary planning here: Halloween parties will probably be the weekend of October 25th, meaning most of your employees who are also partygoers will already have their costumes earlier in that week.
So, you can plan your own Halloween event for Friday, October 25 then have six whole days of posting pictures (UGC) of your team members in their costumes to your Instagram feed. Then you can make the winners a really big deal and
If you caption the pics with humor, trending hashtags, quirky hashtags, and funny blurbs about "Barb from Accounting" (or whomever), you can go along way toward humanizing your brand and making your team more likable.
And I don't care if it's a handshake deal in the Wild West or a Saas subscription, people like doing business with people they like.
#Halloweenatwork is a popular hashtag this time of year..
Love this idea from @brazelynbrown, captioned, "A pretty damsel to a Mohini pei. Bringing an Indian flavour to Halloween at work! #scaryinasaree"
Yes, please!
A cool thing about this idea is it gives your team members a chance to show up in a way I'm sure they probably suppress between 8 am and 4 pm. And employees – because their networks extend beyond your customers – will inevitably add hashtags to their post that normally wouldn't even show up on your radar as it relates to branded hashtags, like #indianhalloween (585 posts) and #sareeaustralia (14.8k posts). That means more eyeballs on your company.
Take a look at this pic from Rashmi Maniyar, who, apparently won the office Halloween costume contest.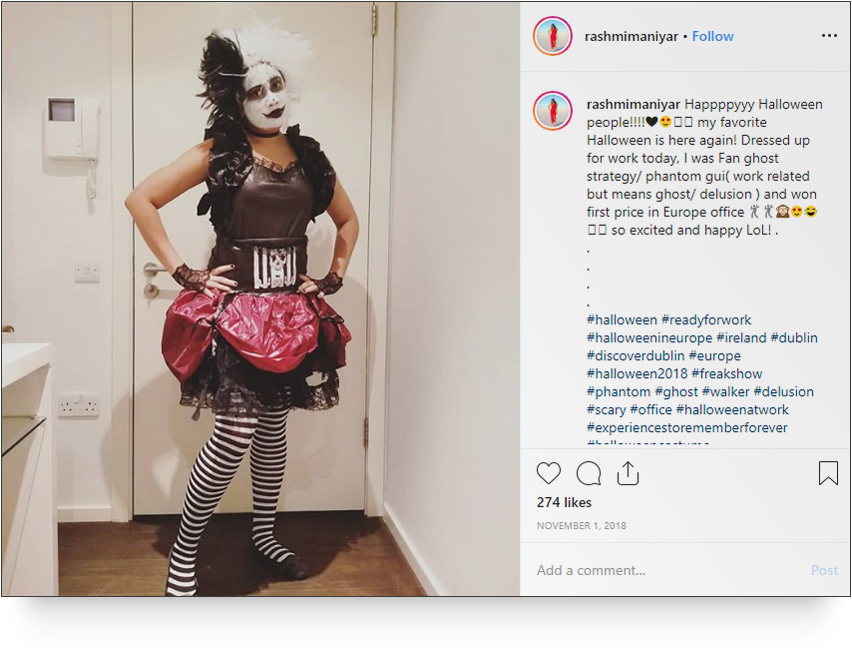 #3 HOST OR SPONSOR A LOCAL HALLOWEEN EVENT
You can host or sponsor a local Halloween party. In Halloween trends post I mentioned earlier, it talks a bit about how families are foregoing trick-or-treating in favor of community parties, church parties, and events hosted by brick-and-mortar establishments like your neighborhood grocery store.
So, Kroger is a grocery store that's in 35 states. But if you don't have a Kroger, you probably have one of the other popular grocers in the Kroger store family in your state or neighborhood.

Kroger is a favorite amongst lovers of amazing Halloween decor because depending on the store, you can grab some pretty good deals on great Halloween decor. Many Kroger stores also host in-store Halloween activities and giveaways aimed at younger kids. And, of course, that thing they give away – likely a sweet thing. This way, tots don't miss out on the sugary treats while they're having some in-store fun to keep them from wandering around the neighborhood.
The advantages of moving forward with this idea
If you happen to run a store that relies on foot traffic, are promoting a new store, or maybe your business isn't a store at all, and you're just trying to boost your profile in your town, a family-friendly Halloween event will help you do just that.
And, of course, it also offers a great photo opp for Instagrammers to share what their kids are into on Halloween. Invite your team members and your neighbors… you'll get all kinds of hashtag action, plus Instagrammers will likely include your name and maybe your location… or at the very least, hashtag your city.
#4 KIDS HALLOWEEN FASHION SHOW
Whether you run one of these for employees only or announce it ahead of time for the community, a kids fashion show lets you tap into the Halloween fun without having to create tons of activities to occupy kids all night.
But you definitely want to make that runway an experience, for sure, and maybe switch up the music so your princess doesn't have to walk to the Avengers theme song.
This idea can shake out of the box and fall a million different ways to make it an event worth capturing and sharing. You can do the kids fashion show, which is a cool, everybody-wins sort of way to celebrate.
You can use it as an opportunity to partner with a local kids clothing store and use it as a live event that would translate really well to Pinterest under the heading Kids Costume Ideas from X Brand.
You can also run an employee Instagram contest and have team members submit really cool pics of their own kids in live-action Halloween shots, like this one from @thejamielynnshow. (Or if they have no kids, they can submit close relatives like nieces and nephews for all the professional aunts and uncles out there.)
The advantages of moving forward with this idea
Creating events, contests, and content like the ones I mentioned above around a popular time like Halloween can do wonders to help you foster a stronger company culture. Plus, it gives your employees tons of opportunities to create and share their own company-approved user-generated content.
These types of Halloween marketing ideas also do a great job of humanizing your brand online and creating organic opportunities to engage with your customers using your own fun, branded, non-market-y content.
Let's hear it for the #kidshalloweencostume
Primary, a kid's clothing brand with a wide range of basics, created a campaign some years ago where they transformed their clothes into costumes. They created easy to make costumes like birds or superheroes and then, they created the hashtag #PrimaryHalloweenParade.
Now, some years later, you can see tons of costumes based on their line of basics that their fans upload. If you visit their Facebook page, you'll see that they now post some of their favorite costumes to inspire the parents that are already following them.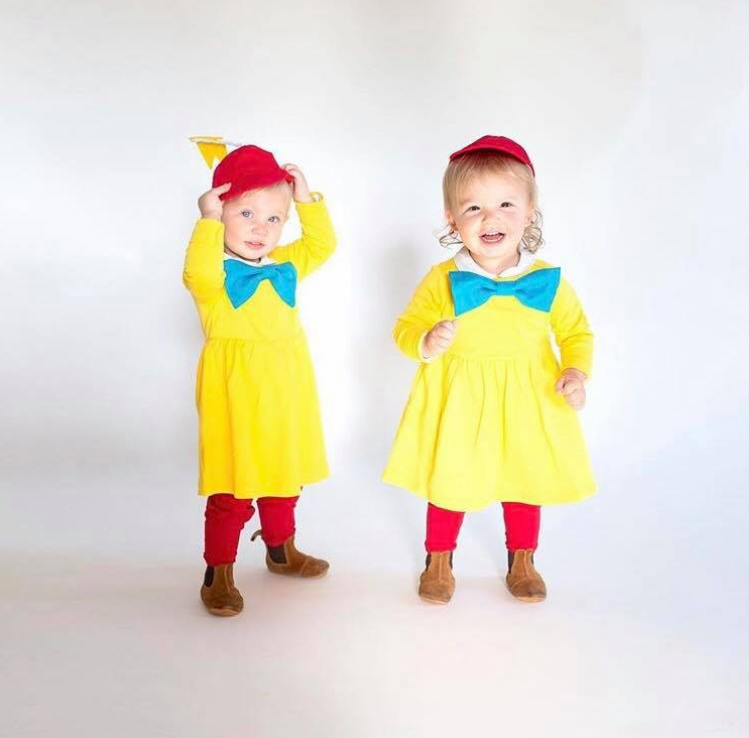 Of course, for a clothing brand is easier to share content about costumes, you might think. But a great kids costume idea is a great kids costume idea.
Like this walking pinata here from @art2theextreme (another BEAUTIFUL FEED that you should just follow if you want your life to be better).
Mama talks about the 18 hours she spent sewing this costume, and how that's directly contributing to them hitting up all the Halloween parties. Haha. It is an adorable costume. Watch the video for a few seconds to see his face when he turns around.
But just notice that the very last hashtag is #gymboween2018. That's a branded hashtag for Gymboree, which isn't mentioned AT ALL in this post. So, of course, the next step for me was clicking to see what Gymboree did for Halloween… that I missed.
That's how this whole UGC/branded hashtag thing works. Makes people click to see.
Part 2: Creating Halloween-Themed Content
Google searches for Halloween-themed stuff picks up drastically in September, but pinners start heading to Pinterest with their Halloween ideas as early as June. That means you can start creating content about the topic around that time. So, if you're thinking it's too soon to get started, just consider that Spirit of Halloween stores show up in strip malls around the country in early July.
Disney's Halloween season starts on September 6th… which somehow makes me feel older and older every year.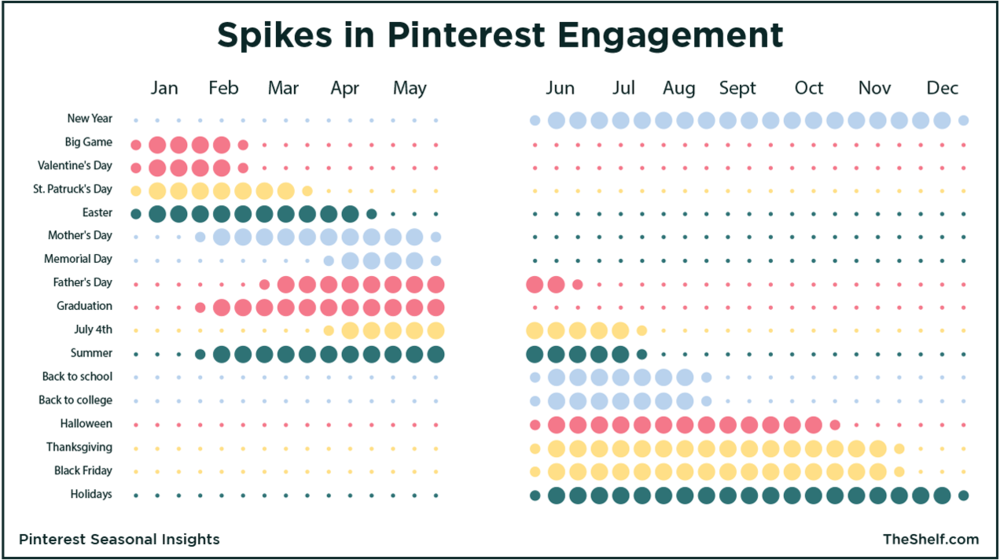 The sooner you start creating content, the sooner you'll have your audience's attention. 1 in 5 people start their holiday shopping in October, Halloween campaigns and content can be a great way to be on the radar for those people. If you sell products, it's better to start selling them now when there's not so much competition than later. Begin planning everything right away!
#5 ACKNOWLEDGE THE MASTERS
I want to offer two takes on this: kitschy and roundups.
Let's start with kitschy. This probably needs to be more in-the-pocket for your brand and company culture for it to not seem totally random.
FYI… musical term refers to a rhythm section that's unshakeable and unbreakable at keeping time – no matter what else happens in the ensemble, the drums and/or bass know where they are in the music and they hold things together for the rest of the band.
Kitschy.
There are tons of pictures of people who are pretty iconic as it relates to scary stuff, Halloween, ghosts, ghouls, and goblins. If you can offer a hearty nod to some of the masters of scare, it makes for some pretty good content floating around your social media feed. Here's what I mean:
#VINCENTPRICE IS TIED TO 88K INSTAGRAM POSTS
There are currently more than 88k Instagram posts using the hashtag #vincentprice. Vincent Price is an old school horror master. He voiced the monologue in Michael Jackson's EPIC hit Thriller.
He was in Tim Burton's Edward Scissorhands alongside Johnny Depp.
He was an actor who always seemed to have a sinister secret behind his eyes. So, he's iconic, despite the fact that he died 26 years ago, two decades before Instagram even came out.
But he's not alone. Other masters of horror who became famous when movies were still black and white are popular on Instagram, too. Christopher Lee, Peter Lorre…
But it Old Hollywood isn't your thing (and I get it), you can go more cosplay and sci-fi fantasy with it, like this re-casting of Lord of the Rings using stars from the 70s.
(Harrison Ford and Michael Douglas would be ticked off they're on this list.). This post is a conversation starter, to the tune of 166 comments.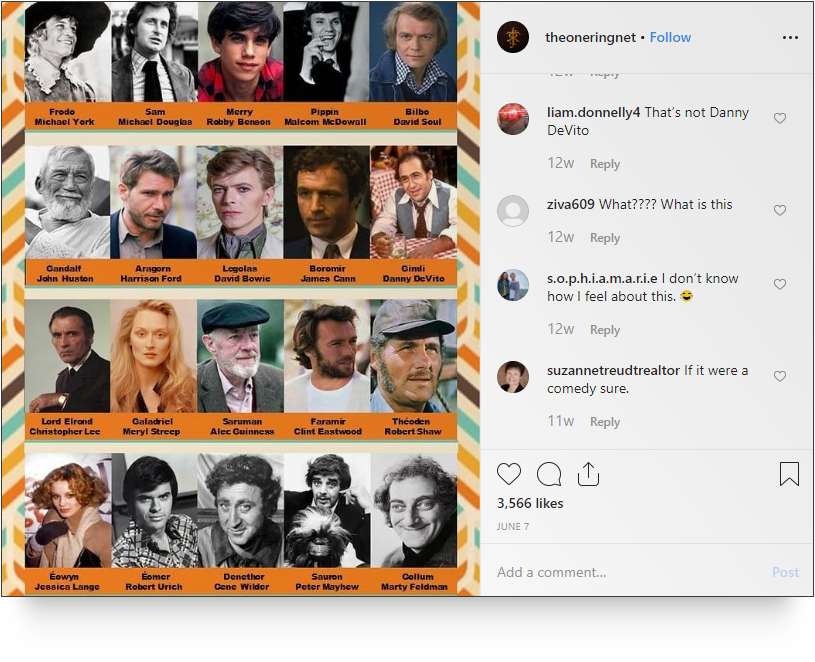 Roundups.
The second idea is relatively simple – you can curate lists of your favorite creators of Halloween-themed content. They could include special effects makeup artists, people who crush it with DIY Halloween decor, cooks who make cooky desserts, moms who are brilliant at making their kids' costumes, cosplay influencers… the list goes on and on.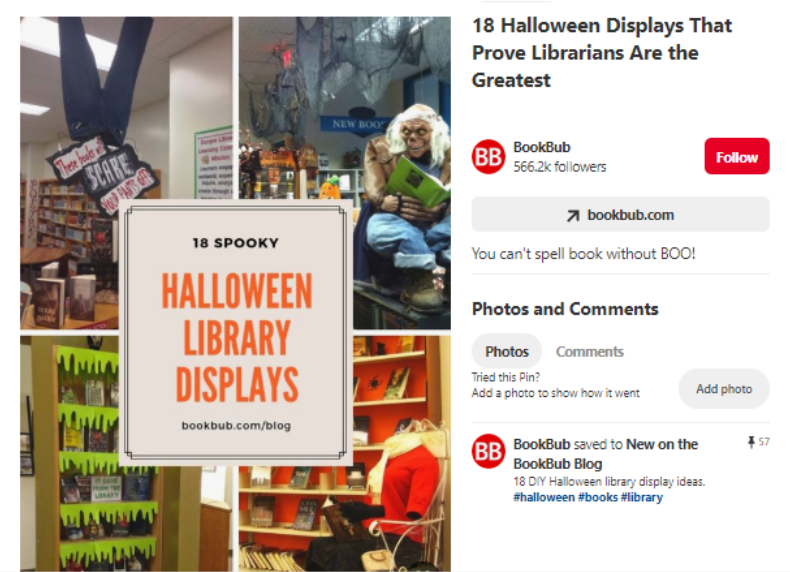 BookBub doesn't sell books. It's not a library or anything. It's actually a service that helps book lovers keep up with what's happening in the publishing industry by sharing news about your favorite authors, announcing new books you'll probably like, sending you deals and discounts for books you're interested in… that sort of thing.
This idea is really useful for two BIG reasons. First, it's a roundup of Library displays, so it's going to be DIY stuff on a budget. It triggers curiosity. The second reason is that the libraries mentioned in this roundup will automatically share this piece with their own social media followers, likely across multiple platforms.
The advantages of moving forward with this idea
The aim is to create content whose only purpose is to start a conversation, whether it's looking at the horrors of 80s rock stars with mascara-blackened eyes or trying to decide if it's uncool to include Harrison Ford in a roundup of people who peaked 40 years ago. (Yeah, that's really rubbing me the wrong way).
Another benefit is that you have nothing to lose. These are supposed to be fun, quirky ideas and each post will probably only drum up engagement from the people who are geeks for that specific post topic (like Old Hollywood or J.R.R. Tolkien, or 80s hair bands).
#6 BUILD A VIRTUAL CATALOG OF CURATED HALLOWEEN IDEAS
Whether it's makeup tutorials or Halloween recipes, you can create content that's basically a catalog of other people's great content. It's smart to tap into your team to shortlist a few favorites.
They can share tutorials on how to decorate a work space, how to host a memorable Halloween party, DIY costume ideas, the best neighborhoods for kids to go trick-or-treating.
The idea here is to provide people with really useful, non-work information by crowdsourcing ideas.
The advantages of moving forward with this idea
This idea is an example of how you can create Halloween content without creating any Halloween content. It's a real time saver, effectively uses crowdsourcing to cut down (or cut out) research time, and involves your team in a fun thing at work that doesn't feel like work.
Hashtag: The day every department became the marketing department.
Helloooooo, Pinterest!
There are already a lot of DIY Halloween projects and ideas out there that your audience is absolutely in love with. Being a source of inspiration is perfect if you're not too much into home decor and DIY…or you're not willing to create your own content and just want to curate it. No worries. Anyone who has ever created content knows it's both exhausting and thrilling. And exhausting.
You can become a resource without the writing work by looking for information yourself. Pinterest has 58 million Halloween boards. Not pins, boards.
And there are a TON of Halloween categories from which to choose: costumes, decorations, food, disfraz, party, aesthetic, makeup, crafts, DIY, vintage, art, quotes, wallpaper, treats, pictures, ideas, nails, background, desserts, memes, movies, pumpkins, games, wedding, photography, snacks, scary, outfits, tattoos, drinks, happy, drawing, cookies, wreaths, activities, kids, recipes, – all filters for Halloween content on Pinterest. And that's just where I stopped clicking the right arrow.
Cute in Millennial Pink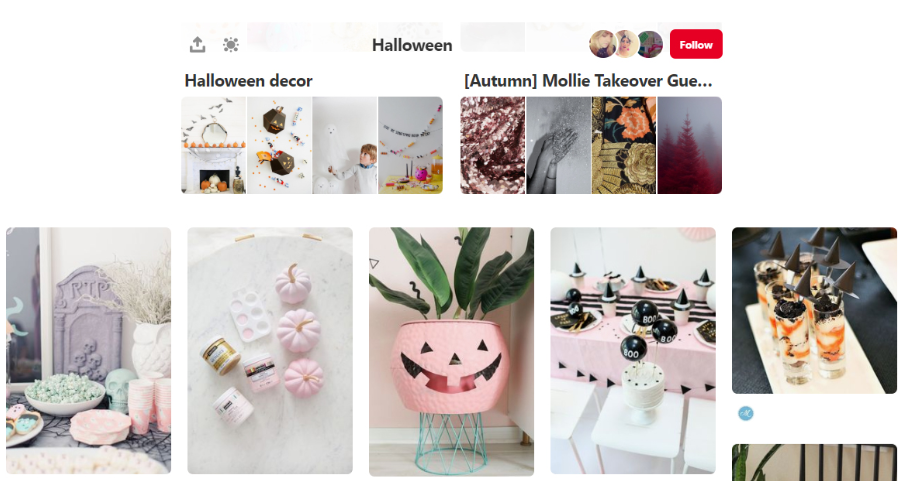 Get that Party Table Ready!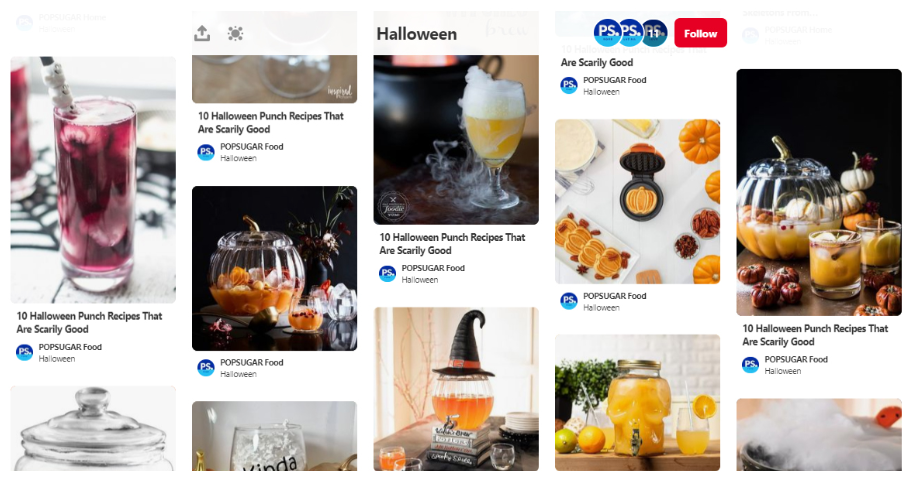 Cool Halloween looks from Redbook (obviously with lots of red)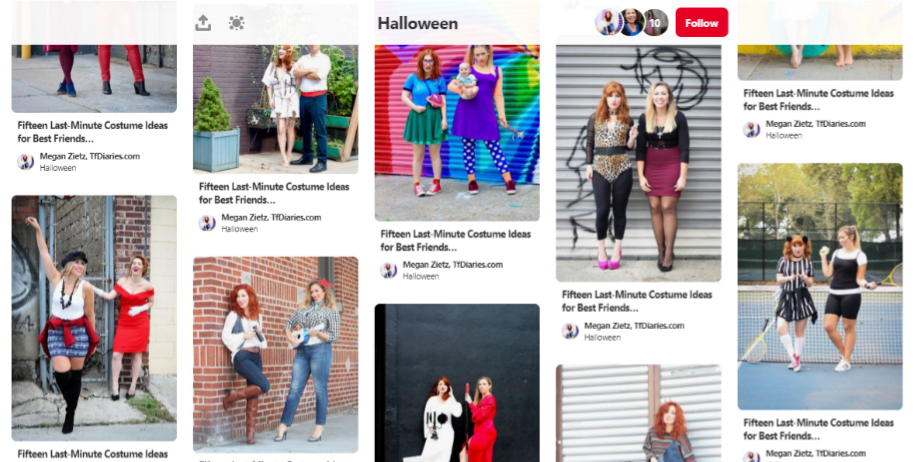 #7 CREATE A COMPANY PINTEREST ACCOUNT
A lot of businesses have company Pinterest accounts that only the marketing team ever gets to see. It would be a cool campaign to launch a series of Halloween boards on Pinterest. But it only works if there are other people involved.
So, start by following everyone in the company who already has a Pinterest account. Maybe you can get some sense of what different team members like to browse and pin. If you have someone on your team who can reach out to the most active pinners directly to invite them to pin to the company board, great.
If not, consider inviting one manager from each department to contribute to a specific Pinterest board. That way, there's someone in every department who will have this campaign back-of-mind at all times. That person can move your curating efforts forward.
The advantages of moving forward with this idea
Pinterest is great for building traffic to your blog. You may think of Pinterest as a social platform or a visual search engine, but every pin is linked to a page – often a blog post or product page – on the pinner's or another Pinterest user's website.
Pinterest shows its users new pins of content and topics they are most likely to engage with. So, you can rest assured that the content you create has a pretty good chance of being discovered. That's true of Halloween content and your other B2C and B2B content.
#8 CREATE ACTUAL HALLOWEEN CONTENT
Creating your own content might seem like the trickiest part of all this, but your efforts will pay off, believe me. You don't have to talk about your Martha Stewartesque DIYs or your Spielberg-y video abilities to create great content. All you really need to do is find a way to capture your interesting insights, tips, and hacks in a way that's engaging or entertaining.
Simple. Here are a few quick tips for creating your own branded Halloween content:
Stay on-brand. Use Halloween-ish colors and motifs but don't let your brand identity and voice get lost in the mix. Create content that goes with your brand, don't just post anything to make the cut, think about how it will help your brand's goals. And speaking of goals…
Set a goal and keep it simple. Selling 100 lawnmowers probably isn't the best goal, but boosting brand awareness, getting more followers, or increasing the reach of your content – all good goals. Keep it reachable, measurable, and time-bound.
Choose platforms strategically. Some content is best-suited for specific platforms, especially when you're trying to achieve platform-specific goals (like growing your Instagram following). Think about how to best-leverage your Halloween content for the platforms you're targeting.
Leverage those ninja skills. If you're going to think outside the box, you may have to tap into your and your team's secret powers. Your tech person may make amazing desserts. The office manager may have a thriving side hustle as a photographer. Find out. Capitalize.
Create a content calendar. Depending on how much content you plan to create, you may or may not really need this, but if you're putting together 30 piece of content, organize it on a content calendar that shows what you're posting and when.
Take lots of photos or video shots. This is gonna be fun… if you let it. So, take plenty of pictures and let the staff chime, and maybe even your customers, chime in on what gets posted on social media.
Have fun! The worst thing that can happen is that you have to delete a post or two. Also, Halloween is the perfect time to blame any mistake on a ghost or monster.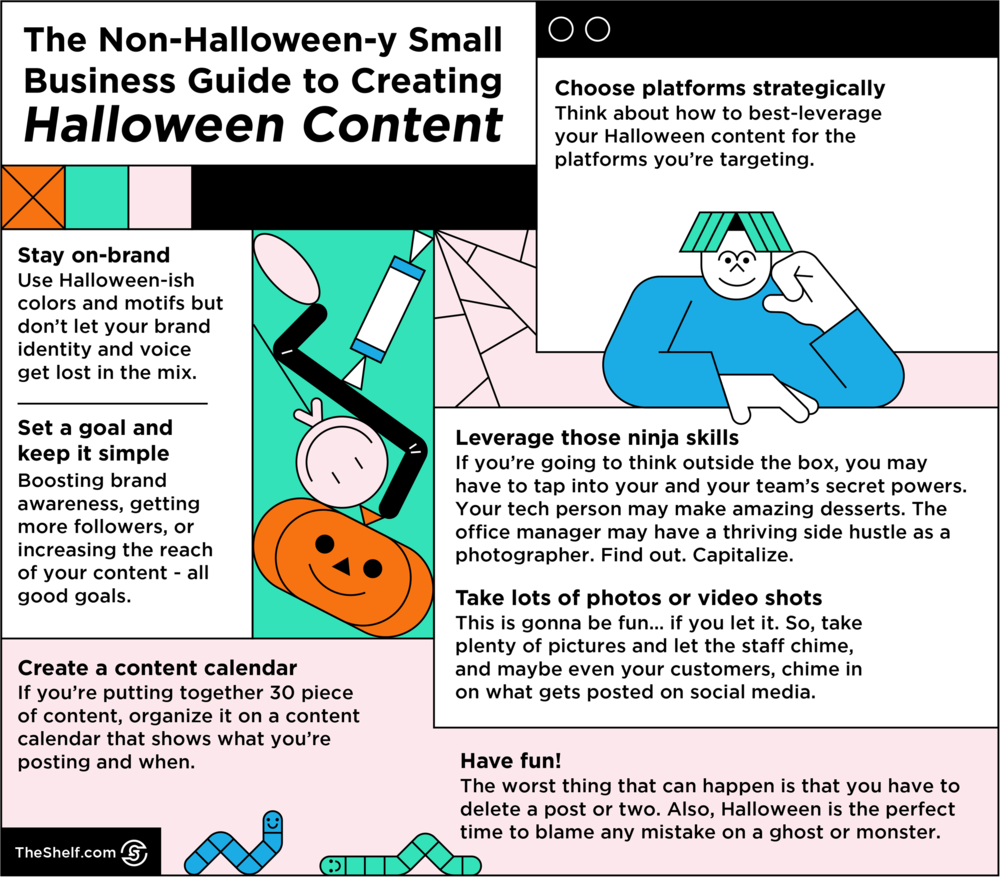 The advantages of moving forward with this idea
There are tons of advantages to creating your own content. The internet is 100% made up of content from brands, organizations, governments, and people. Literally ALL content.
So, content – even your Halloween content – is important.
You know the saying about what happens in Vegas? Well, what gets published to the web stays on the web. And that's a good thing for content marketing purposes. Think of a Halloween post, or event-themed content as a living piece of marketing collateral because every year around this time, you can go back in and breathe new life into that piece of content. You don't have to dream up different ways to wow them every fall.
Nope. Just keep perfecting the piece ya got and you'll keep ranking for that piece.
Content is one of the most commonly used and effective ways to showcase your product's utility and build your own reputation.
So, creating Halloween content – even if it's just to get clicks and get your name out there is a brilliant way to move the needle.
Done is better than perfect. Now, what actually needs to get done?
Supply Ideas. Halloween is one of those events where it's easy to see what people are spending on – costumes, decor, candy, cards, partying.
Supply Information. Both B2B and B2C brands base their Halloween campaigns on insights and data. Be a source for both and you're sure to create
Supply Convenience. Keep this one simple. We're not talking 101 insights on Halloween… although that sounds pretty cool. But just find ways of simplifying things for people so they can fit Halloween into their schedules without it being a BIG deal.
Not everybody's been keeping a Pinterest board of costume ideas since last Halloween. Some people aren't even going to think about costumes until the clearance signs start going up. For time-pressed celebrants who are short on ideas (and maybe short on cash), you can find cool DIY costumes that are super affordable, simple, and convenient to do.
For example, you'd never think of Office Depot as a brand related to Halloween but last year they created some simple infographics that showed how to create DIY Halloween costumes with materials you can get at their stores. These costumes were super quick an easy to make, perfect for office workers that probably don't have too much time to think about their costumes (and that might take some material from their own offices to create them, maybe).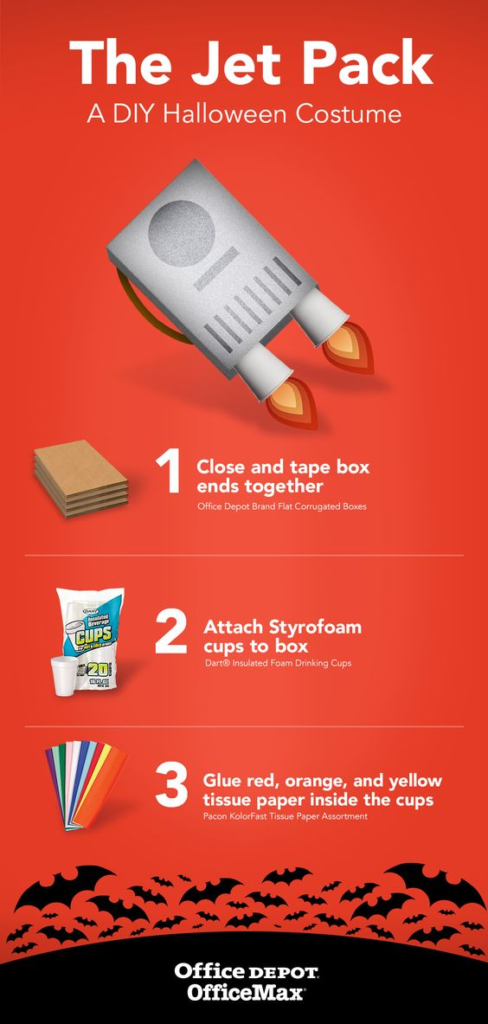 What's really important about sharing DIY costume ideas is that you really think what's currently popular. Of course, you can go the offbeat way and share whatever quirky costume you might like. But, consider that content created around costumes reflects what trends people follow in real life. Don't try to reinvent the wheel!
A Few Final Ideas About Halloween Marketing
The idea behind sharing content and creating campaigns about Halloween is that you, as a business, can participate in a conversation your community is already having.
Halloween is a perfect time to create experiences and themed content because it's a time most people – not just businesses – will be looking for ways to get in the Halloween spirit. It's a fun holiday, where the stakes aren't as high as they'll be in December, and it's a global event that is perfect for generating lots and lots of branded content… and people won't mind that it's branded content.
Infuse your brand voice and your company culture into the experiences and content you create. Add local references when possible and don't be afraid to use the language your costumers are using (just don't be like Steve Buscemi in 30 Rock, please).
Consider also the multiculturality of your community (and the holiday). Maybe you can also create some content related to Día de Muertos, for example.
Sponsor costume contests or even a pumpkin carving activity (or pumpkin pie eating type of thing) at your business. Remember, experimenting with campaigns and content in Halloween can help you have better ideas for bigger campaigns like Christmas. Have a spooky Halloween!