From Budget and Family Travel to Luxury and Adventure, Here Is Our List of Hot Niche Travel Bloggers
Many of us dream about traveling the world, but few of us actually manage to do so. We have familial obligations, work commitments and social ties that help us to stay put. And money. Don't forget money. It costs money to travel the world in style. Thankfully, social media has made it possible for us to live vicariously through the droves of people who are seeing the world and documenting their travels on blogs, Instagram, Twitter, Pinterest, and YouTube. These travel bloggers help inspire and educate us, and they urge us to book the flight and make moves that will fill up our passports.
Why We Find Travel Bloggers SO Appealing 
Most of us are pros at taking the fun family photos when we hit the roads and we see cool sights, and have awesome moments and experiences when we travel. Travel bloggers are explorers, though. They document their travels with flair and artistry, telling stories with their vivid imagery and descriptive narratives. The best travel bloggers can transport you to far away places with just a snapshot. Visual storytelling is their strength, and that's what we looked for when we compiled this mini-roundup of travel bloggers. 
TRAVEL BLOGGERS CAN HELP YOUR INFLUENCER CAMPAIGN
Travel bloggers aren't just about the next destination, though. Travel bloggers are influential because they speak to that other part of us, the "Us" we would have been had we chosen the other road that diverged in that yellow wood.
For most people life on the road isn't feasible, so travel bloggers – with all their experiences, and Dos Equis-level adventures – represent The Road Not Taken, which makes the a kind of folk hero we aspire to mimic one day. 
Because of this, travel bloggers make ideal brand ambassadors for a wide range of products, whether your brand is travel-related or not. Any products that make life easier for consumers, or handy gadgets to help in our everyday lives will be an authentic, intuitive fit for travel influencers – as they're often on the road and need this kind of convenience.
Enough chit chat. Let's meets some of our favorite travel bloggers.

Related Post
27 Millennial Travel Stats You Need to Know for a Brilliant Marketing Campaign
Meet a Handful of the Top Niche Bloggers in the World 
There are thousands of travel bloggers out there trying to make a name for themselves in the influencer space. With the large variety of niches inside this vertical, that finding the right one for your campaign can take some digging but niching-down will provide you with more targeted marketing.
MY PICK FOR UNIQUE TRAVEL
Christina is a Canadian travel blogger who shares stories of her [mis]adventures around the world through her blog, HappytoWander.com and social media accounts.
Unlike many other travel bloggers, she doesn't focus on the picture perfect aspects of her life, but rather takes us along with her as if we were a close friend, telling us about her fails as much as her successes.
MY PICK FOR #VANLIFE TRAVEL
Travelling the United States in "Vanna" – her well loved camper van, Candice gives us all some serious wanderlust with her #vanlife pictures. The rose-tinted images can make even the most luxury-loving viewer long for a good, old-fashioned road trip across the country.
MY PICK FOR FAMILY TRAVEL
Karen Edwards is the mum behind the blog Travel Mad Mum, which began when she spent her maternity leave traveling the world with her partner and daughter Esme. Esme was just 10 weeks old! Armed with a wealth of practical travel tips, Edwards is a mother of two and owner of her award winning blog. She has built the perfect account to follow if you want to pack up the whole family and see the world.
MY PICK FOR FASHIONABLE TRAVEL
Former ELLE fashion editor Bonnie really takes "travelling in style" to a whole new level. Serving up the perfect balance of envy-inducing travel and stunningly stylish outfits, her fashionable travels around the world are the perfect backdrop for a multitude of brand partnerships. She is also the owner of The Style Traveller blog. 
MY PICK FOR SUSTAINABLE TRAVEL

Related Post
12 Fashion Bloggers with Chic Travel Style
Stefania Guglielmi refuses to sacrifice stylishness for her eco-friendly lifestyle. Instead, she marries the two beautifully with her nomadic lifestyle. Helping to inspire (and teach) people to travel green with her stunning Instagram feed, Guglielmi partners with brands that fit her niche, including health products, resorts, and sustainable fashion. You can check out her blog by the same name, Every Steph. 
MY PICK FOR BUDGET TRAVEL
Possibly one of the most famous travel bloggers out there – and probably one of the first few to make a name for himself – Matt Kepnes has been helping his followers travel the world for less from day one. His blog is filled with actionable tips for saving money, traveling cheaper, and working abroad, and his reputation is well-known across the travel community.
MY PICK FOR ADVENTURE TRAVEL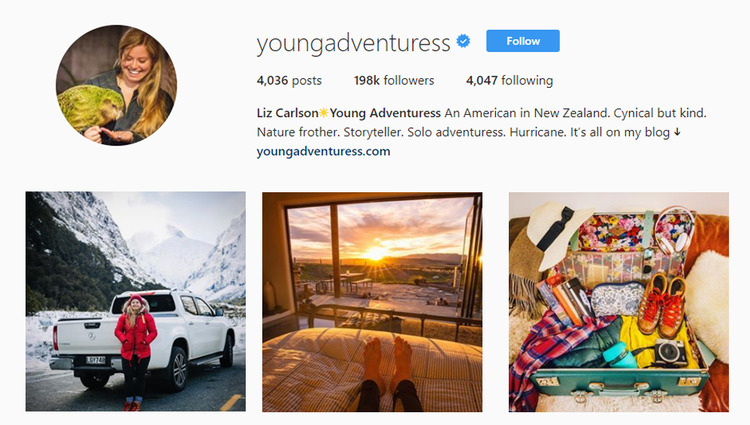 Liz Carlson is the nature-loving face behind Young Adventuress and her daring travel exploits have us all reaching for our hiking boots! Her Instagram feed is filled with stunning landscapes, exciting adventures, and travel tips for anyone hoping to get their own travel-fueled adrenaline fix.
MY PICK FOR LUXURY TRAVEL
Suze is a travel blogger with a taste for all things luxury! From five-star hotels to undiscovered locations. From Michelin starred restaurants to beautiful gardens, she takes it all in her stride. Her feed is filled with colorful shots from around the world, making us all wish we could fly off on our own private jet and join her! You can find here blog at https://luxurycolumnist.com.
Who are your favorite travel bloggers? Did we miss them from this list? Let us know in the comments!