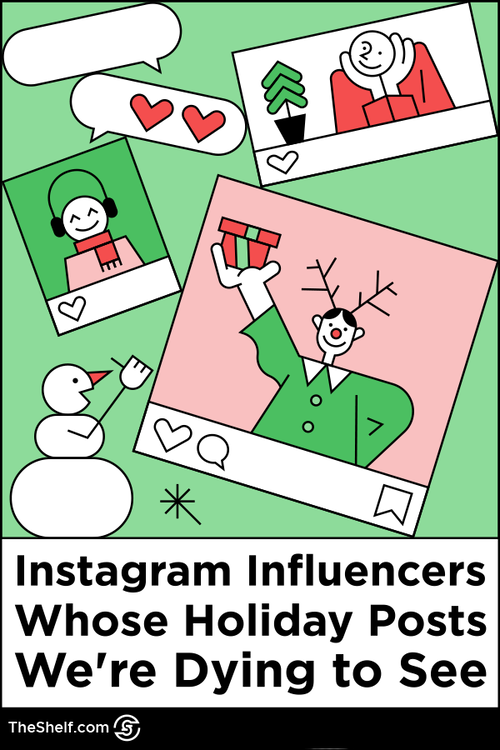 It's the MOST wonderful time of the year. That means sitting in front of the fire and sipping a cup of cocoa, phone-in-hand.
Why?
Because besides your Uncle Fred, there's nothing more entertaining around the holidays than the people we meet and the things we see on social media. New memes about cranberry sauce being compared to micro-purses (did you see that purse). Throwback Charlie Brown stuff. Decor ideas that don't force you to make your living room forest green if you're not into it.
Social media is brimming with great content, great ideas, and literally hours and hours of entertainment. (That's part of the reason Instagram influencer marketing is so effective.)
SO… we put together our list of the 16 Instagram influencers whose past holiday posts were so amazing that we can't wait to see what they're cooking up this year. It's gonna be epic.
Christine
Christine, who goes by just her first name on her blog www.thishausofours.com and by @christine_simplybloom on Instagram is the sweetest mama of three with a passion for making memories. With over 170k followers, Christine draws you into her day to day life here as a German living in America with perfectly curated moments that are sprinkled with the cutest imperfections that every Mom can relate to. (You know, like asking your kiddo to smile and getting a scowl instead.) Her feed is full of tender moments, a little bit of whimsy, and lots of lovable looks and we are here for it.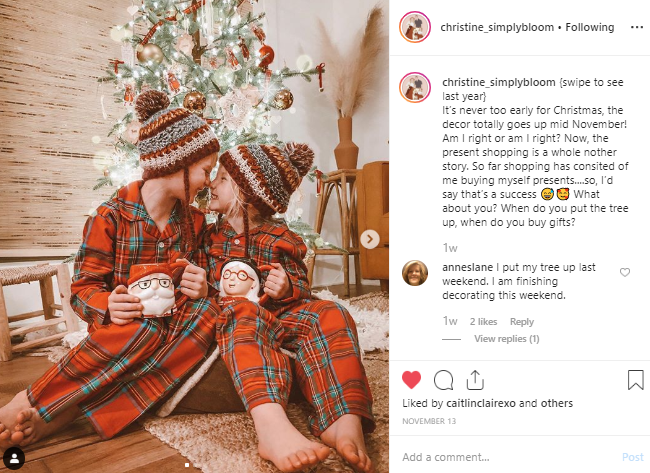 Mallory Ervin
With a background ranging from pageant queen to The Amazing Race to current podcast superstar, Mallory Ervin is no stranger to the spotlight. Just ask her over 300k followers! These days though, she's all about the kids, costumes, and content, and she's sharing all of her tips with you. Whether it's the best place to buy diapers, how to regain your passion after a setback, or how to turn your home into a winter wonderland, our girl Mal is here to help. Check her out at @malloryervin on Instagram or on her podcast, Living Fully With Mallory Ervin.
Taryn Newton
Mommy blogger isn't quite the right title, but Texas mom Taryn Newton gives us all the feels. You can catch her on Instagram showing moms everywhere how to keep yourself and your family infinitely stylish… even in plaid jammies. @tarynnewton has more than 60k followers and authors the blog, Glamorous Versatility, where she talks about everything from style to travel to motherhood to owning your role as a Girl Boss. Consider this your official holiday feel-good feed.

Related Post
Ebook: How to Reuse Influencer Content
Landyn Hutchinson
Landyn Hutchinson, better known on Instagram as @livingwithlandyn, is amazing! Between her ability to be completely authentic about the good, the bad, and all the in between and her signature shimmy, you can't help but want to be her friend. She's a big believer in making pretty choices, loves a good deal on the perfect outfit, and can plan the perfect soiree in under a day. She'll have you swooning over her holiday decor, and she'll tell you just how to do it as well!
Cortney LaCorte
Cortney LaCorte, better known on socials as @nashvillecheesegal is the epitome of an overnight success. Taking her hobby of elevated cheese boards and turning them into THE go to "gotta have it" for those in both the music industry and influencer world, Cortney is an absolute sensation! With over 30k followers on Instagram (with an account that just started in March 2019), Cortney gives you tips and tricks on how to curate the perfect charcuterie all while she serves up mouthwatering treats for the likes of Lily Aldridge, Tim McGraw, and her adorable daughter Charlotte.
Nicolle Galyon
Nicolle is one of the most sought after songwriters in Nashville, having written hits for everyone from Keith Urban and Miranda Lambert to Dan & Shay and Camila Cabello. You may have heard of a little song called Tequila? Yeah, that's her. What you may not know is that Nicolle captures every moment in the most magical way on social media. @nicatnitemusic has over 63k followers who love to read her words, hear her heart, and come along for the wild ride she's on. Whether it's her EPIC Christmas party, her hilarious hashtags, or her bold but never brash takeover of country music, she's more than worth the follow!
Chelsea Martin
Chelsea Martin, the travel blogger known as @passporttofriday is based in Austin, Texas based but barely there. While she's known for planning personalized adventures for her 20k followers, it's her feed full of precious sights and powerhouse places to stamp your passport with that draws you in. Her grid takes you along for the ride as she brunches in Saint- Tropez, sails in Kauai, and pops up in Positano. Something tells us her feed will help you feel warm during these cold winter months ahead!
Kelvin Davis
Get ready to share the holiday love, whether you want to or not. Now, if you recognize Notoroiously Dapper Kelvin (on Instagram @kelvindavis) from our Instagram feed, it's because he was a favorite in the #ArtofFun campaign we ran for Donald J Pliner. He was voted Best Smile on Instagram and is a regular (and much-loved) face for Target. With about 100k, Kelvin has to be the epitome of solo cool, and has the uncanny ability to put a smile on your face when you see that smile on his.
Plus, look at that suit and those shoes. #done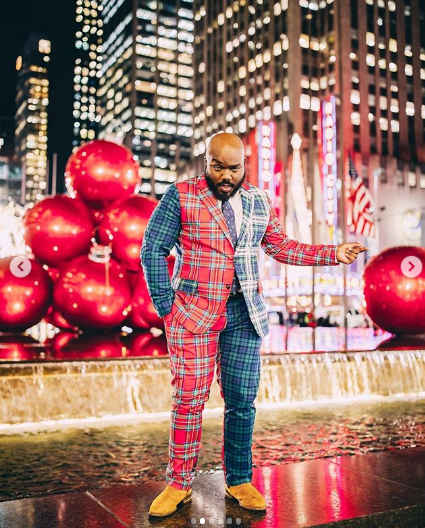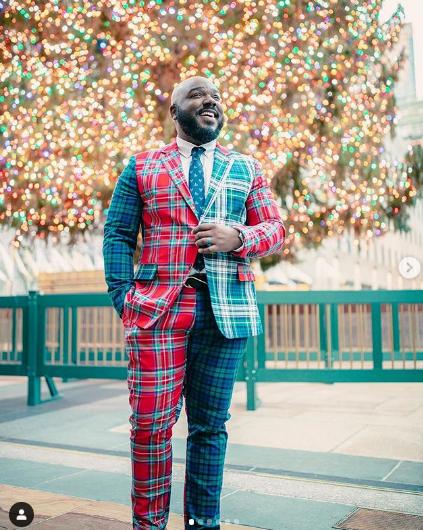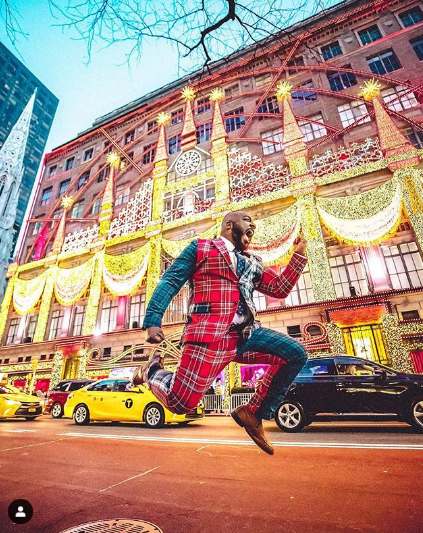 Related Post
Download The Shelf's Step-by-Step Holiday Social Media Strategy
Anne de Wit
Anne is an Amsterdam-based influencer with 157k followers and a brand new baby! When you stop by her instagram, @thestylevisitor, to visit HER style, you will not be disappointed. She served up a LEWK on Halloween, her pumpkin patch posts were on point, and we know she'll put her whole heart into the holidays. Not to mention, she's known for giving away all the goodies. And let's be real, is there anything better than pretty pictures and presets? Grab your favorite cup of cocoa, settle in for a look at her feed, and prepare to feel inspired!
---
Sarah Landry
With almost 630k followers, Sarah Landry is changing the game when it comes to how we view our bodies. Her social media handle, @thebirdspapaya, isn't one for just body positivity, but body neutrality. She's showing off what she's been given, and she's spitting truth while she does it. Speaking on everything from being overweight to underweight and how to be truly happy in her own skin (stretch marks, cellulite, and all), Sarah will give you the boost of confidence you deserve to own who you are, as you are. Not to mention, she has the BEST thrift store finds and sleep shops all the time, which makes for some hilarious stories!
Ari & M
Ari & M of @honeyidressedthepug are bringing all things stylish and sassy to NYC! Along with their 43k followers, Ari the pug and his mom are exploring the Big Apple, one treat at a time. Ari is a man about town as he dines on a balcony, celebrates "Yappy Hour", and cheers on runners in Central Park. (Or would it be Central BARK?) Not only is Ari adorable, but his mom keeps his feed filled with clean colors and posed pictures that bring out the best in both Ari and the city. No matter where he goes, you can tell he brings the fun. Something tells us the holidays with Ari will be PAW-some!
Helena
Helena of @mylittleredhouse is actual magic. Her stunning home in the Swedish countryside will transport you to the Hallmark holiday of your dreams. We aren't the only ones who are mesmerized by Helena, she has over 250k followers on Instagram! From throw pillows and cozy corners to snow covered trees and dimly lit doorways, you can practically smell the hot cocoa being made in her sweet corner of Sweden. We can't get enough of her, and her home decor, too!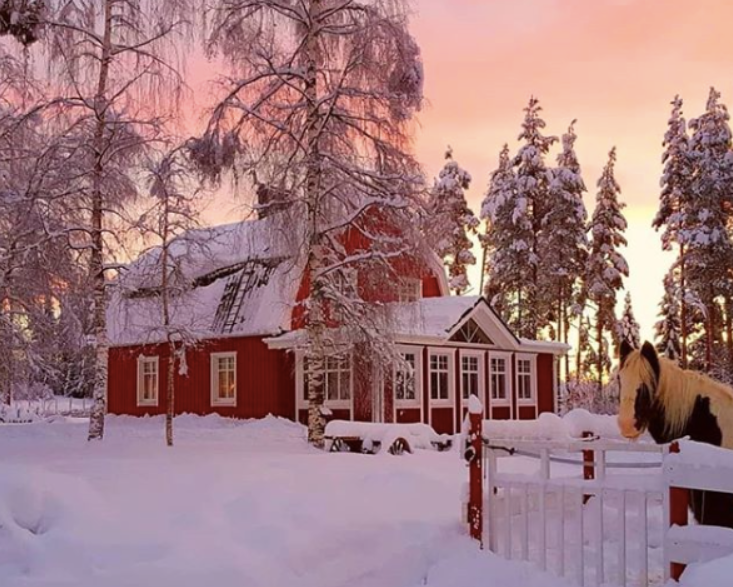 Eduardo Cipion
Eduardo Cipion (on Instagram @eduardocipionphoto) is a photographer capturing the perfect moments in people's lives. A visit to his page is something out of a fairy tale, except he's making it happen for you! Looking at his work, it's easy to see why he has over 6100 people following him! He's a brilliant photographer with a knack of being able to find what others often miss, and the results are gorgeous. He will definitely be inspiring a lot of family portraits this holiday season, and gaining some new followers as well!
Ashley
Interior design blogger and creative crafts expert Ashley is a fixture in the DIY community. You may have spotted her (or her work) on Apartment Therapy, Lonny or HGTV magazine. Ashley (on Insta @athomewithashley) is also a mom, and all about that thrifting life (which WE love – decorating on a budget is our jam). Lately, she's been featuring pics of the work she and her husband have been doing on their Utah home, and it's pretty phenomenal. So, if you want to get some really great, non-traditional holiday ideas cooking for your home decor this Christmas, Ashley's your girl.
---
Mattie James
Wife, mom, influencer, blogger, podcaster, speaker, educator. Mattie James is wearing many hats… and they're all super cute. With more than 63k followers, Mattie's Instagram feed @themattiejames is packed with gorgeous, colorful family photos being actual regular people (gasp!). And of course, she publishes a health collection of Gram-worthy pics to fuel your #outfitinspo and #familygoals needs on a daily basis.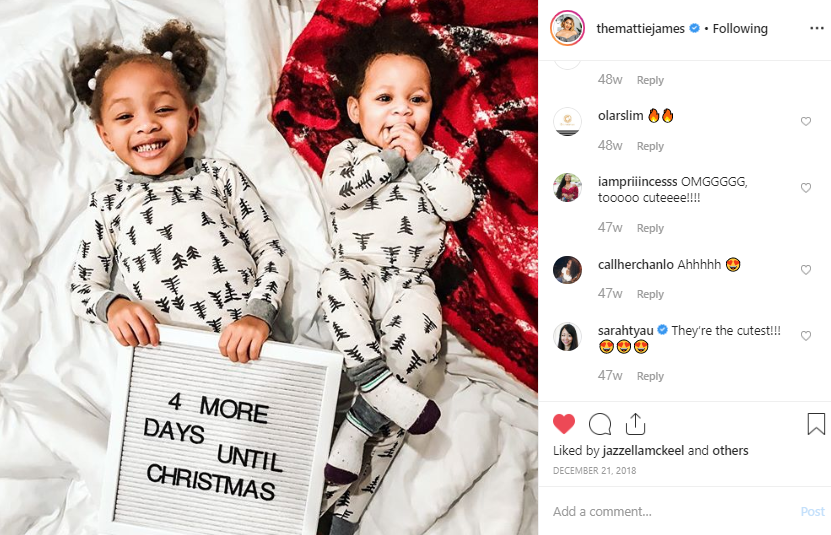 Holly Nichols
With 734k followers, @hnicholsillustration is absolutely killing it! She takes fashion and turns it into art. We know, you're probably thinking, isn't fashion already art? Yes, but Holly takes it to a whole new level by drawing and illustrating different scenes that are so dreamy! From couture Halloween sketches to wintry city skylines, Holly is an artist unlike any other and a favorite of ours to follow! Take a look at her stuff and stick around, you never know what she'll draw next!
---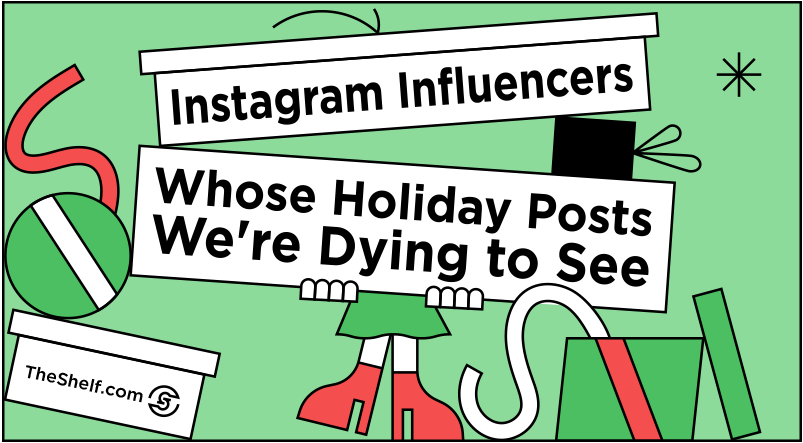 Conclusion
We hope you found a pretty nice mix of the type of fun stuff you can find on Instagram this holiday season. If you know of anyone you think we should have included, leave a comment. We're always putting together roundups and there's a really good chance your suggested influencer will end up in our next one.
Have a great holiday!