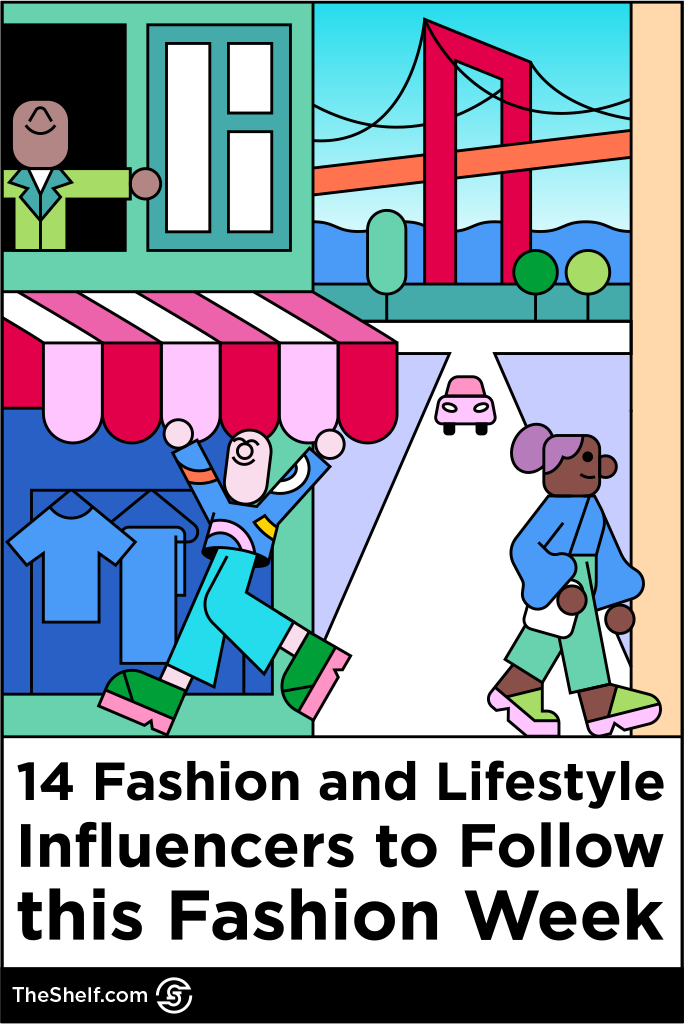 As we gear up for New York Fashion Week, there is truly no better time to unveil our list of fan favorite fashion and lifestyle influencers. Here at The Shelf, we know the importance of keeping up with influencer trends, and these fashion aficionados are keeping us current.
Fashion Influencers We Love to Follow
These trendsetters are setting the pace in the industry and captivating audiences with their unique style and refreshing perspectives. Let's dive in and get a sneak peek at the fashion influencers who are shaping the world of fashion one post at a time.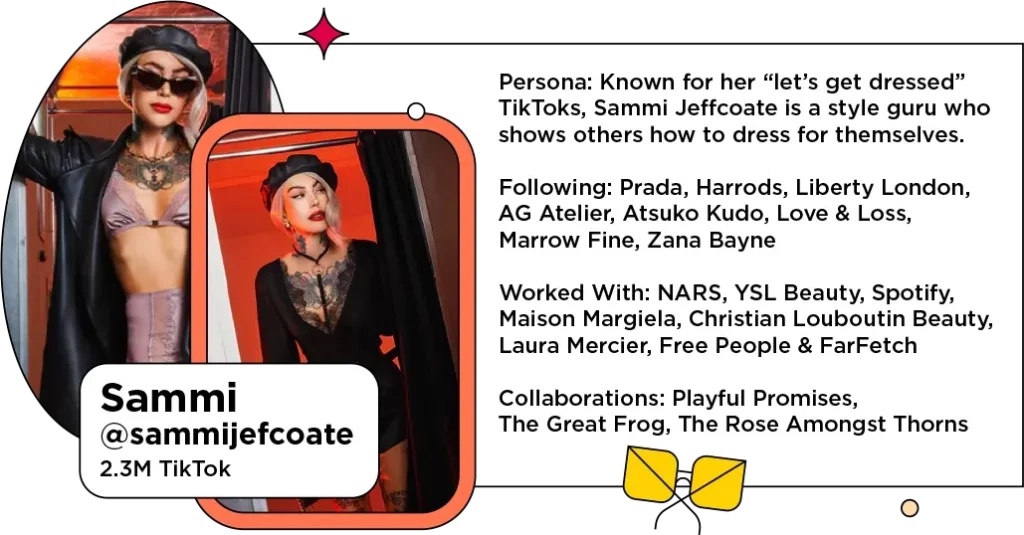 With 3.5 million fashion fans across her social channels, Sammi Jefcoate has been serving sartorial realness since 2017. Launching with "get the look" snippets and evolving with her snazzy "let's get dressed" TikToks, she's become a style guru dedicated to showing others how to dress for themselves. The latest twist? She's now the brainchild behind the chic brand, ĀRDĒO.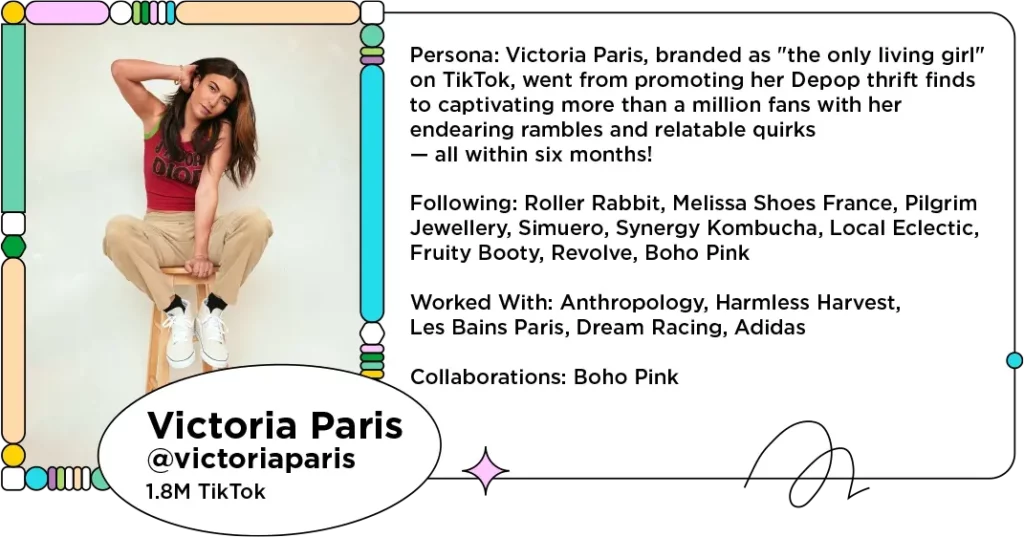 Victoria Paris, "the only living girl," launched to fame amidst 2020's global stay-at-home fashion show. Followers initially came for the threads but stayed for her candid charisma. Fast forward, and while she's juggling brand deals like a pro, our 24-year-old thrift queen remains steadfastly on-brand: a chaotic train of thoughts and fantastic fashion.

Originally YouTube's style siren, Chriselle Lim has made her mark on Instagram and TikTok as well, graciously accepting the moniker "rich mum." As her digital empire has expanded, so have the glimpses into her life. When she turned the page on a new chapter involving her divorce, her content morphed from fashion frames to heartfelt reels. When it comes to fashion and lifestyle, Chriselle can definitely do both.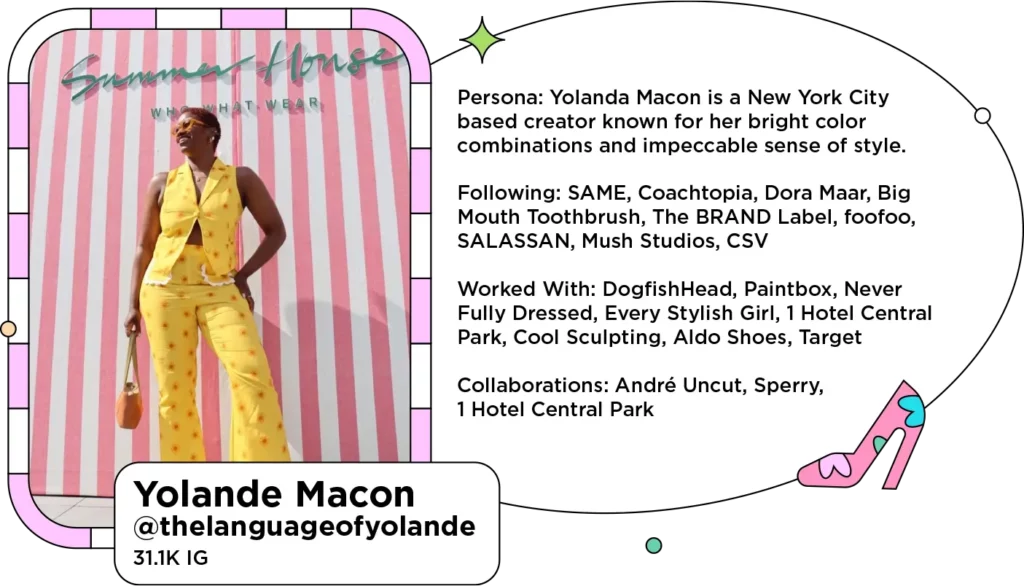 Yolanda Macon is a fashion maven whose style seamlessly bridges the gap between the past and present. With a penchant for vibrant hues and unexpected pairings, her aesthetic can best be described as a rich tapestry of colorful, nostalgic influences blended with a contemporary edge. Yolanda's ensembles often resonate with the bold dynamism of the 70s divas, the polished panache of the 80s preps, and the iconic flair of Black Americans who were instrumental in defining the fashion landscapes of the 90s and 00s. Her deep reverence for the diverse epochs of fashion is evident in every ensemble she crafts, making her a true connoisseur of style that transcends time.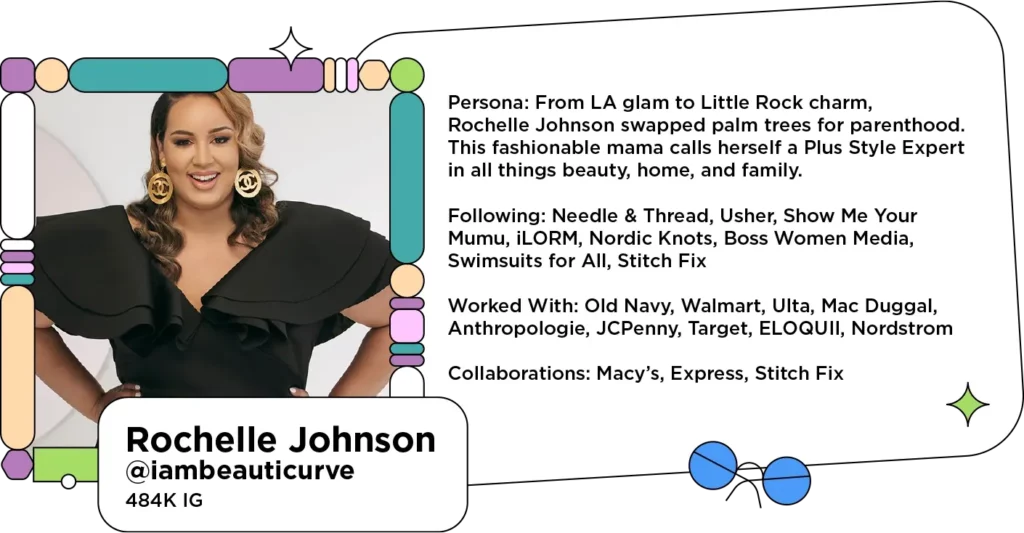 Tagging herself as blogger, plus size style guru, and Mom, Rochelle turned Beauticurve.com into a one-stop-shop for everything fabulous and full-sized. She's worked with brands big and small, from Macy's and Walmart to Baby Creed. Rochelle is one fashion Influencer who knows how to live, and mother, beautifully.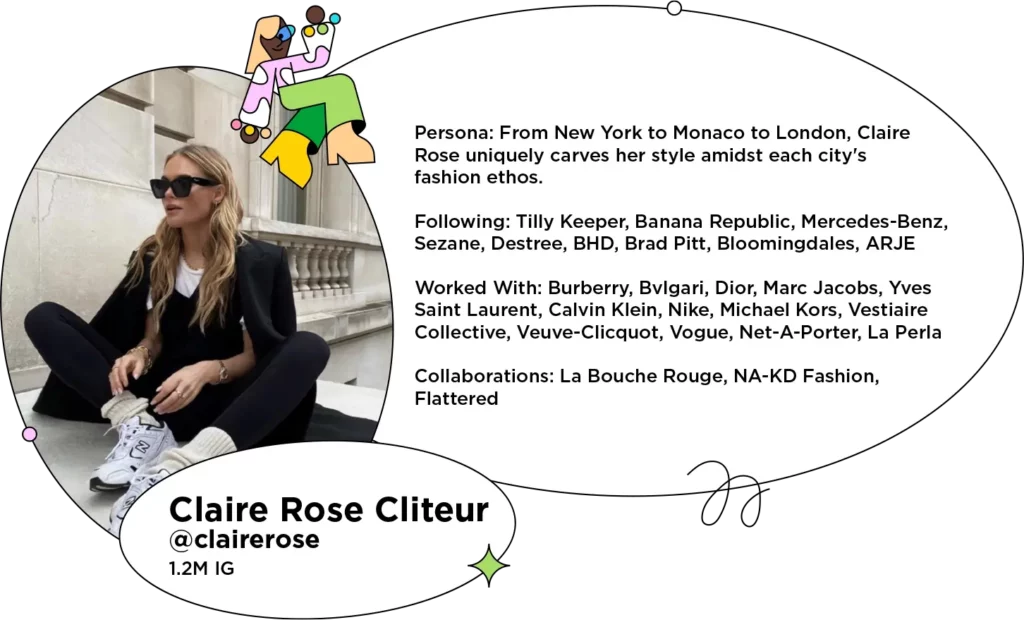 Jetting from New York to Monaco and now landing in London, Claire Rose tailors her style to each city's fashion ethos. She didn't just stumble upon fashion. She wore her childhood hearing impairment as a badge, letting it nudge into the world of haute couture. Early accolades in her pocket, she's now the It Girl on every fashion insider's radar, serving up consistent looks worth drooling over.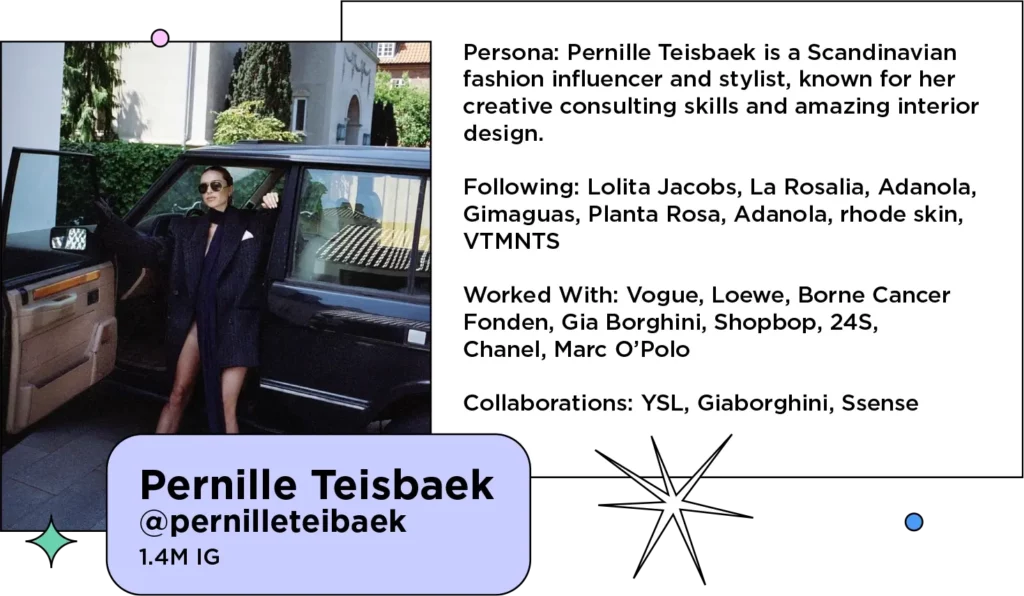 Pernille Teisbaek, the Scandinavian fashion influencer and stylist is known for her creative consulting and amazing interior design. She and her husband founded Rains, a rainwear brand that has a contemporary reinterpretation of the classic raincoat we all know. She's all about ageless chic with a dash of Scandinavian "eco-glam." Because who says saving the planet can't be stylish?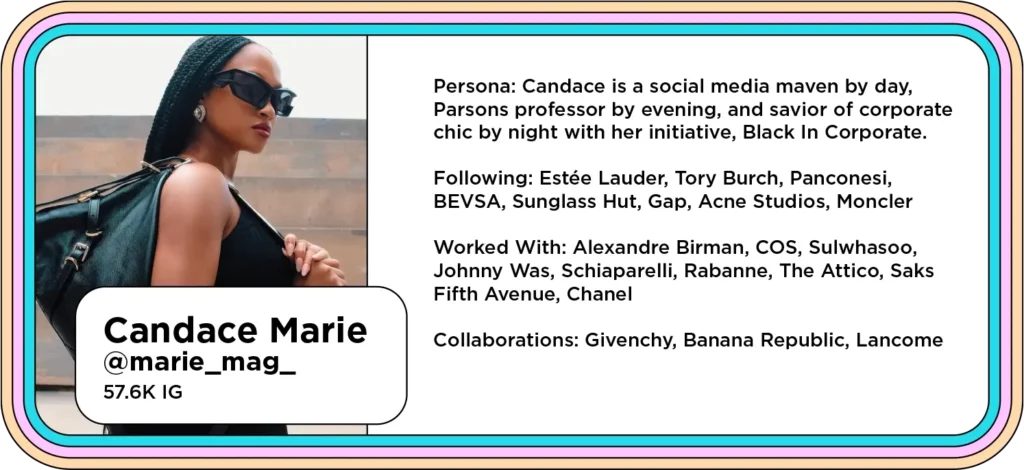 Candace Marie does it all. She's a social media maven by day, Parsons professor by evening, and savior of corporate chic by night with her initiative, Black In Corporate. Touted as an 'unsung hero of the fashion industry' by American VOGUE, she isn't just any fashion influencer. She's fashion's equivalent of a triple-threat. Her Insta feed? A masterclass in how to be effortlessly cool. Showcasing everything from avant-garde shapes to the next big design names, Candace is the ultimate inspo.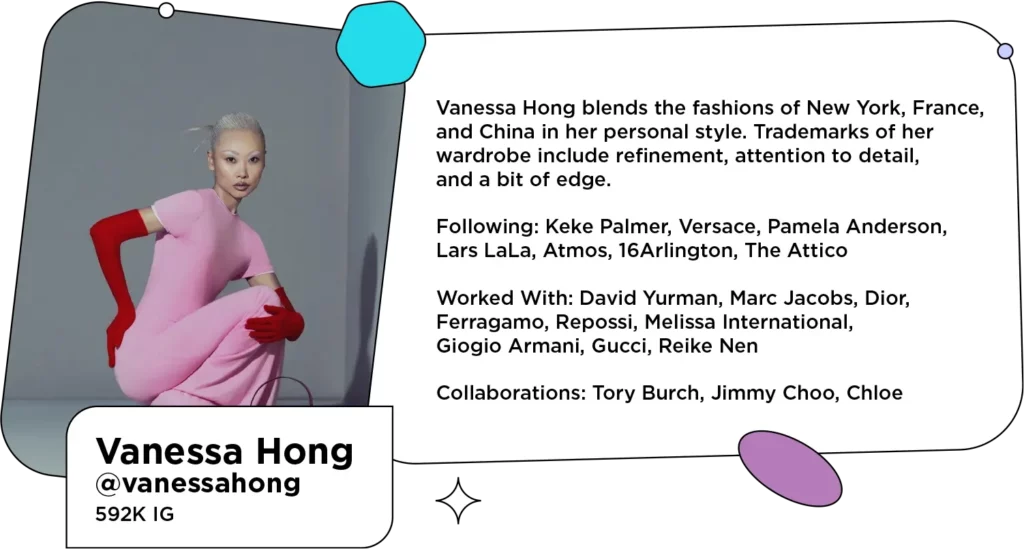 From biochem brainiac to fashion's fiercest influencer, Vanessa Hong swapped test tubes for Jimmy Choos. She's crafting a unique style language that's haute couture, edgy, and definitely has chemistry. With credits from modeling to molding faux fur sensations (Lady Gaga's a fan!), she's also the creative compass for names like Phillip Lim and a voice for AAPI causes. Her Instagram offers wellness inspo sprinkled with star-studded chats on her podcast. Nowadays, she's all about greening the fashion scene. When she's not revolutionizing runways, she's perfecting her downward dog and dishing out plant-based delights.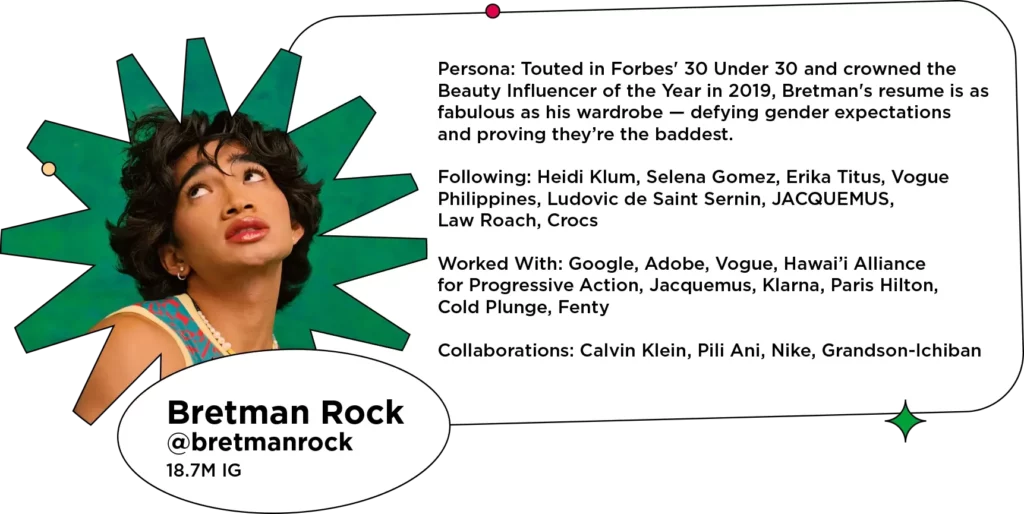 Bretman Rock isn't just a digital diva sporting genderfluid glam and a sense of humor sharper than his contour. With 45 million global followers, you might've caught his antics on MTV's Following or his YouTube stint 30 Days With. Touted in Forbes' 30 Under 30 and crowned the Beauty Influencer of the Year in 2019, Bretman's resume is as fabulous as his wardrobe. Proving you can clinch global stardom and still remain fiercely, fabulously you.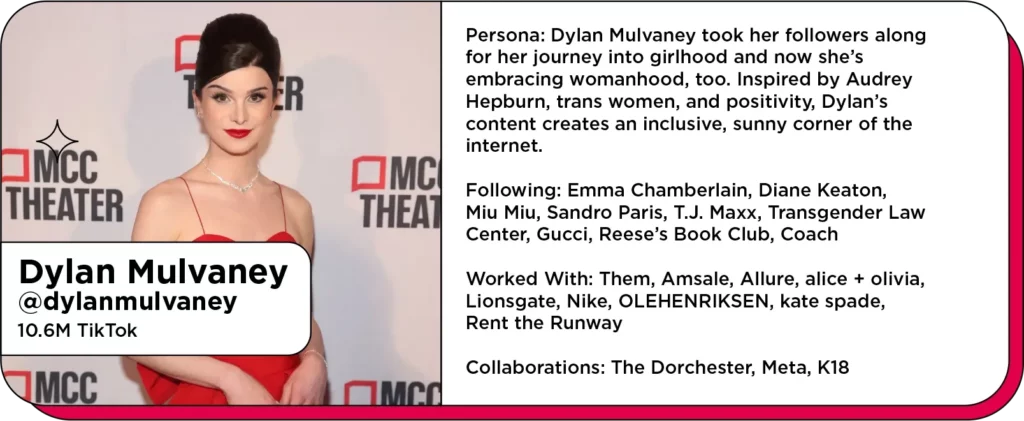 Dylan Mulvaney, TikTok's American sensation, took a pandemic transformation and spun it into a whopping 10 million followers by 2023. Remember when you baked banana bread during quarantine? Dylan chronicled her gender transition with her smash hit series, "Days of Girlhood." Clocking in a billion views, she even had a pow-wow with President Biden about trans rights. From pandemic pastimes to presidential parleys – Dylan's journey is the stuff of TikTok legend!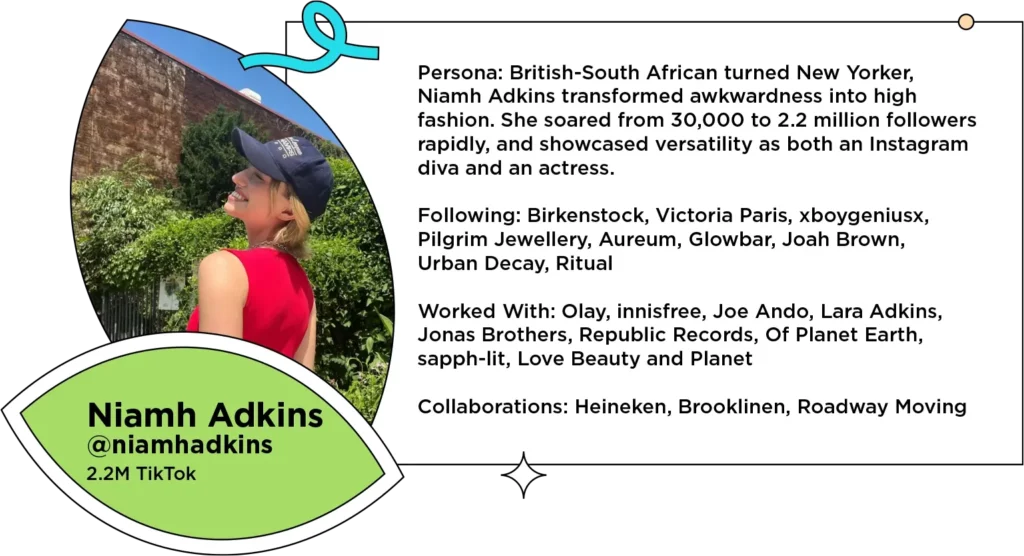 Ever met someone who turns awkward into high fashion? Niamh Adkins, a British-South African TikTok sensation, did just that. She skyrocketed from 30,000 followers to a whopping 2.2 million faster than you can say "double-tap." The Manhattan-based creator is not content with being an Instagram diva. Our model-turned-actress also played royalty in the TV movie Enzo Fast. From catwalks to TV screens, with a twist of odd humor, Niamh's truly the queen of versatility!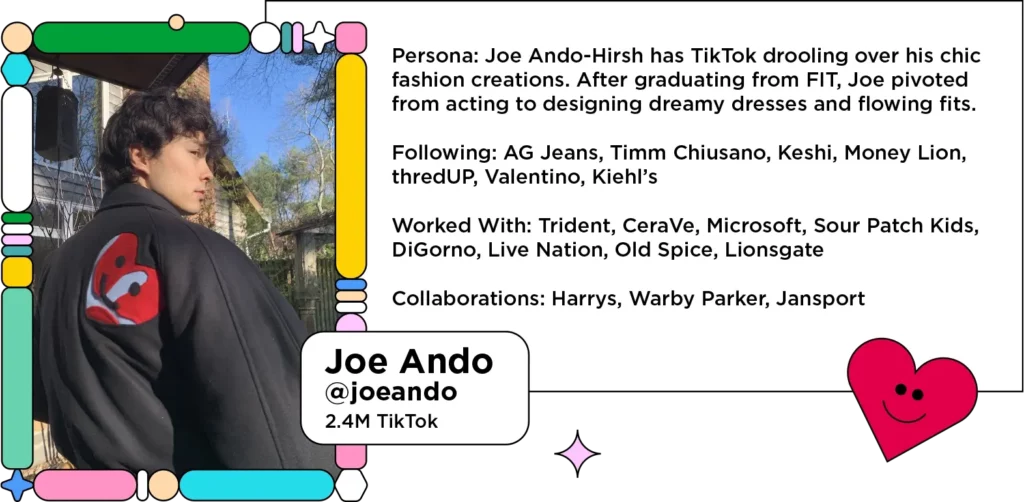 Joe Ando-Hirsh was once known for warding off zombies in The Walking Dead and popping up in movies like The Box With Jacqueline. He now has TikTok drooling over his chic fashion creations. After graduating from FIT, Joe pivoted from acting to design dreamy clothes, like the iconic black jacket with a heart – his signature touch. He started going viral for dressing his fashion influencer girlfriend, Niamh Adkins, with his stunning designs. Joe's mix of acting, design, and content creation is a talent buffet we can't get enough of!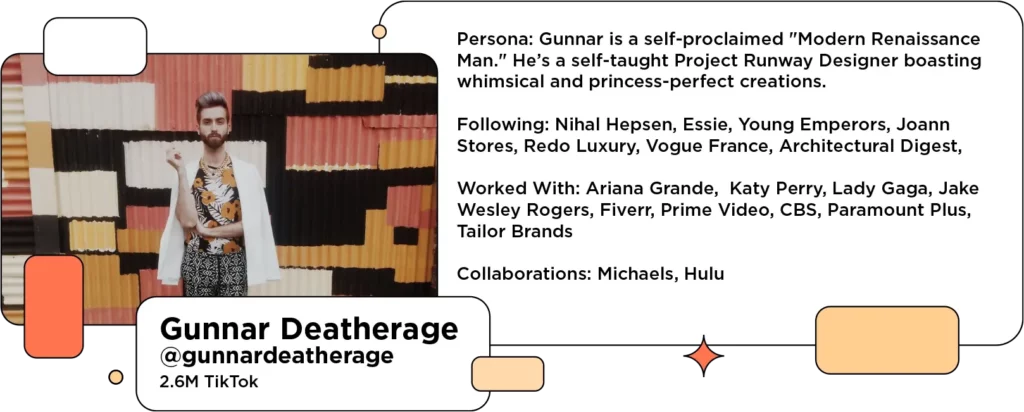 Gunnar, the self-proclaimed "Modern Renaissance Man," has tried on more career hats than he's designed collections, and that's saying something. From flaunting his quirky aesthetic on "Project Runway" (with over 20 collections showcased from New York to Chicago), to weaving art magic as the art director for mags like The Voice of Louisville, it's no wonder Lady Gaga wears his designs. Now LA's newest import, he's crafting sets for bigwigs like Ariana Grande and Katy Perry with Nomad Art and Design.
Finding Fashion Influencers for Your Brand
Each of these fashion influencers demonstrate inspiring creativity and passion. They're revolutionizing our ideas of fashion and empowering their followers to express themselves through personal style. As they continue to redefine norms and break boundaries, we are thrilled to see what they will bring to the table during New York Fashion Week. Keep a close eye on these lifestyle influencers as they continue to reshape the fashion landscape with their innovative ideas and unique perspectives.
Are you looking to run a fashion or lifestyle campaign? Want some guidance on your influencer marketing strategy? We can help! Schedule a strategy call with our experts. We'll help you find the fashion-forward influencers who fit your brand style, vision, and goals.
---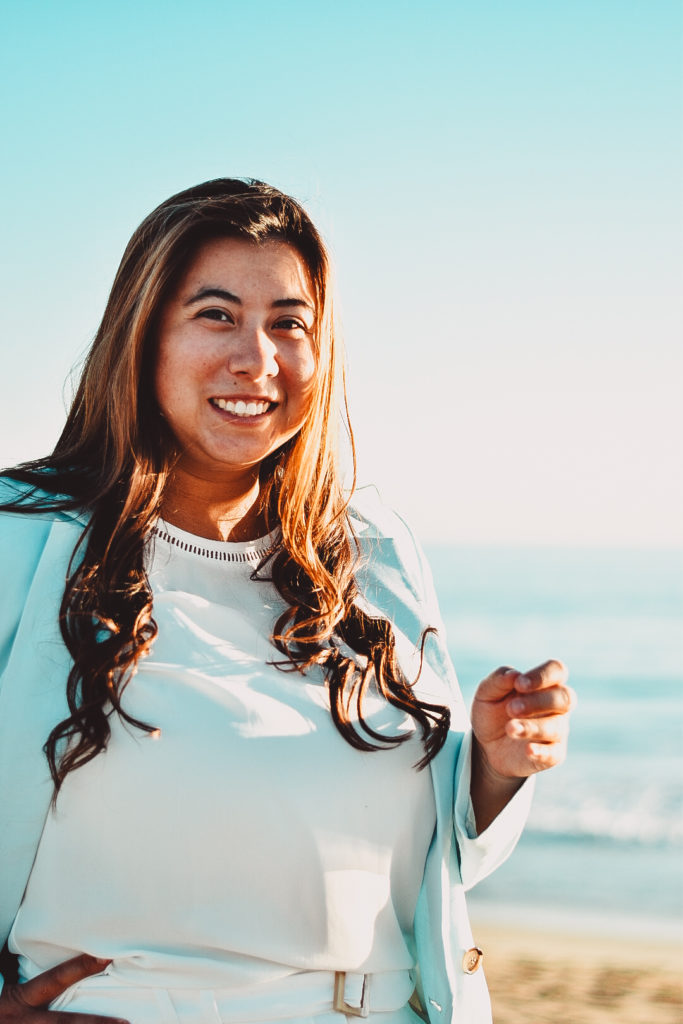 ABOUT THE AUTHOR
Abigail Welcom | Marketing Magician
Abby wins hearts and gains trust as our Brand Marketing & Outreach Coordinator. She puts her Film and Television Production degree to good use dreaming up visual marketing for The Shelf. When she's not dazzling us with out-of-the-box ideas, you can likely find her at The Happiest Place on Earth — Disneyland!
---