14 Great Examples of Holiday Posts from Your Favorite Top Influencers
Influencer marketing is one-part science and perhaps three-parts art. The science of influencer marketing – pairing products with influencers and using campaigns to deliver certain results – is the driving force behind any campaign, but the creativity and artistry of a post is what gets a sponsored post the attention of its target audience.
The challenge with Instagram, Twitter, Facebook and just about any social media platform is the sheer volume of content being created and published to each platform. Check out these numbers:
There are 2 million blog posts published to the web every single day, but 75% of blog posts get fewer than 10 shares and 0 links from other domains
Instagram had one million active advertisers at the end of first quarter 2017, compared to 200,000 advertisers just one year earlier.
Facebook has 2 billion monthly active users, more than 85% of whom live outside the US and Canada.
Facebook users publish 317K status updates, 147K photos, and 54K shared links to the platform every 60 seconds.
Instagram is up to 700 million monthly active users publishing 95 million videos and photos to Instagram every day.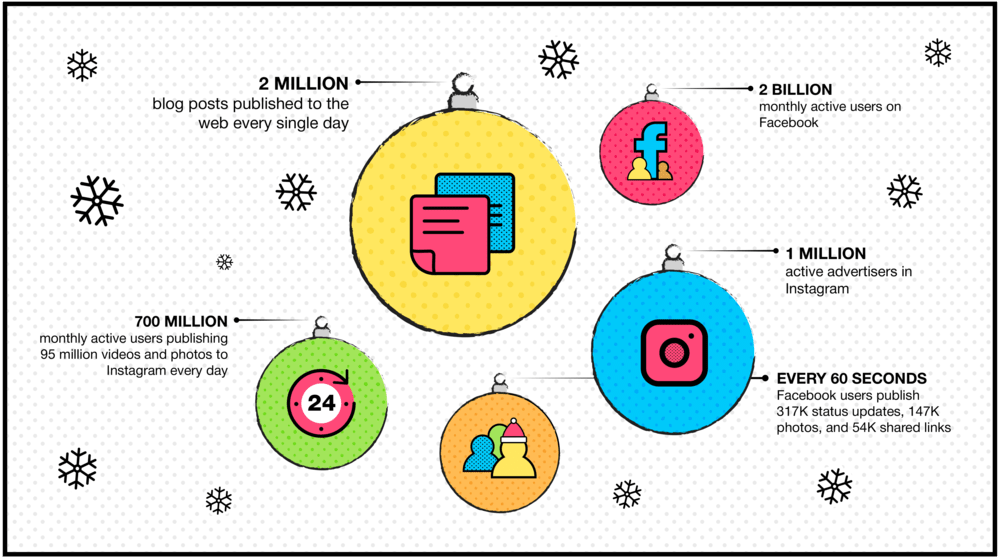 That's a lot of content and it can be easy for a brand to go unheard and unseen in the avalanche of content that comes through their feed every few seconds. The key – and the advantage skilled influencer partners can provide – is knowing how to get the right kind of posts in front of the right followers. Marketers need a way to grab and keep the attention of their prospective customers on Instagram on a platform that's churning out more content than any user can consume. But once you have their attention, you can convert that attention to an action or even a purchase with the right strategy. As it turns out, 75 percent of Instagram users take action, such as visiting website after looking at an Instagram advertising post. Even on Facebook, images account for 75% – 90% of advertising effectiveness. And influencers are influencers, in part because they have a knack for creating and posting the right images.
What to Expect in This Post
So, what is the right image? With 95 million multi-media posts moving through Instagram every day, the figuring out how to post the right type of image isn't always intuitive. In this post, we want to focus strictly on the creative aspect of influencer marketing, and that is creating an image that gets the attention of your potential customers and keeps them from scrolling past your sponsored post or swiping away from it indiscriminately.
So, let's look at 14 well-styled Instagram holiday posts.
5 Fanciful Food Posts
GISELLE R'S CHEESE BALLS
I'm not much for weird, post-holiday foods (I tend to eat left-over sides until just before they start to smell funny), but something about this picture posted by food blogger and micro influencer Giselle R (@Exsloth) caught my eye.
The post, which went out to Giselle's 8K+ followers, garnered 11.5% engagement.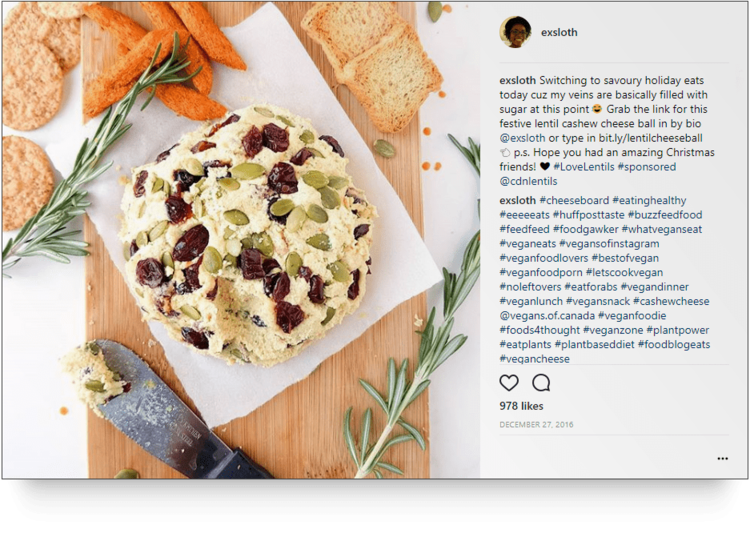 Giselle is the author of Diary of an Ex-Sloth, a health blog with fitness, lifestyle, and recipe content. Giselle's food photography is a virtual photo album of dishes that I feel pretty confident saying, "I could make that!" Giselle's dishes are creative and unusual, but not difficult to make. Ingredients, like the ones included in this cheeseball recipe, are accessible locally. My daughter and I watch the baking shows together and inevitably, someone on the show will turn sugar into sheets of glass, or use fondant to craft an edible scene you have to be a sculptor to create. This is not that, which I believe is one of the reasons her post performed so well.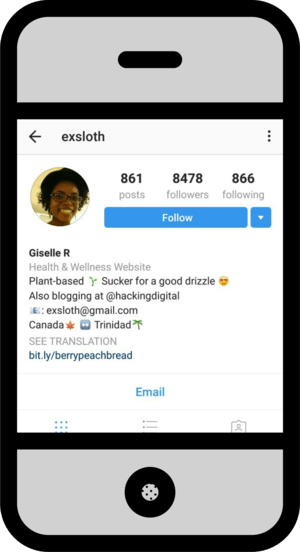 SARGENTO CHEESE AND THE GREAT OUTDOORS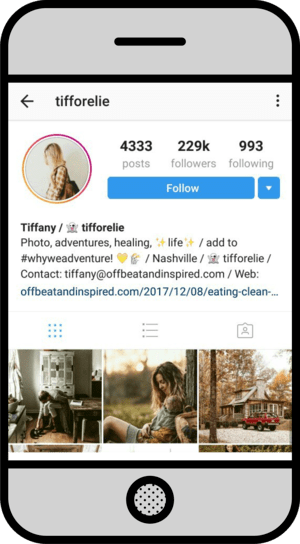 Tiffany Mitchell's Instagram account (@tifforelie) is a beautifully edited layout of natural, rustic images and landscapes. Each picture she posts maintains the same color scheme and filter, re gardless of the image. That kind of consistency with the theme of her posts and the way in which she styles her posts givers followers a glimpse into Tiffany's personality that comes across in both her images and her long-form captions.
Take a look at this post (below) from Tiffany, which is pretty typical of her style of photography.
If you look at Giselle's image then look at Tiffany's image, one stylist trait stands out to me: Giselle keeps her backgrounds simple to focus on the dish being photographed. With Tiffany's images, there is as much detail captured in the background as there is in the foreground.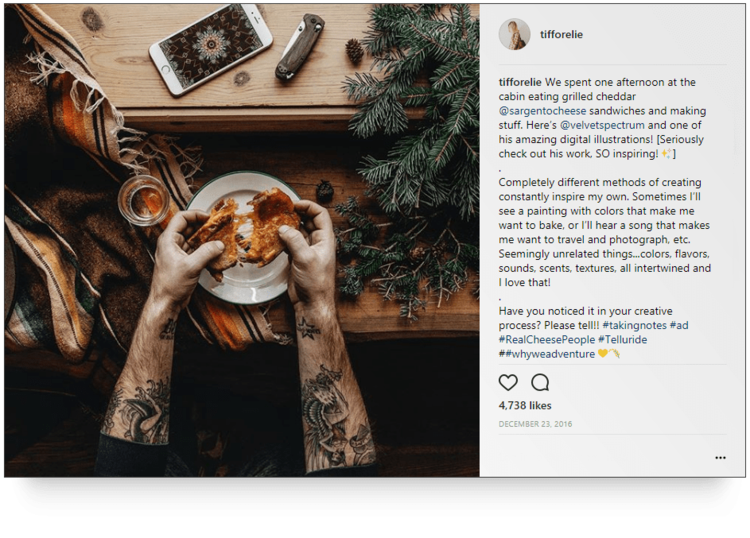 When she's walking in the forest, you can see every leaf. When she's hanging out with a friend and having grilled cheese sandwiches, you pick up every nuance of color and every texture, from the grain of the wood tabletop, to the holiday-inspired branch from an evergreen and pine cones, to the scratch of the blanket, to the shading of the winged woman in the tattoos on her friend's forearm. And the cherry on top are her detailed, long-form captions.
OREO SANTA HATS
I think one of the coolest food posts I've seen for the holidays is this plate of Oreo cookie ball stuffed strawberry Santa hats. These desserts are cute, whimsical, and eye-catching. Granted, I would have to see a recipe to know what's even happening within those cookie balls, but what I like about the post is that it's not your typical "cookies for Santa" holiday plate post. So, it works. And I'm not the only one who thinks so.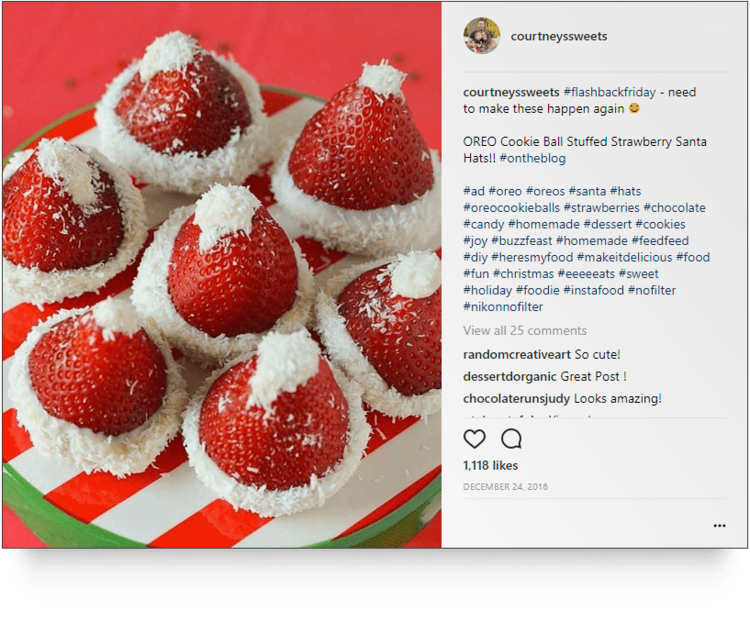 This Oreo-sponsored post was published by mommy blogger Courtney Lopez (@courtneyssweets) a few days before Christmas in 2016. The post got more than 4% engagement. And it's right in line with the colorful, exciting sweets featured on Courtney's page. Courtney's treats look fun, simple, kid-friendly, and delicious. This group of images from Courtney's Instagram page probably convey my message a little better.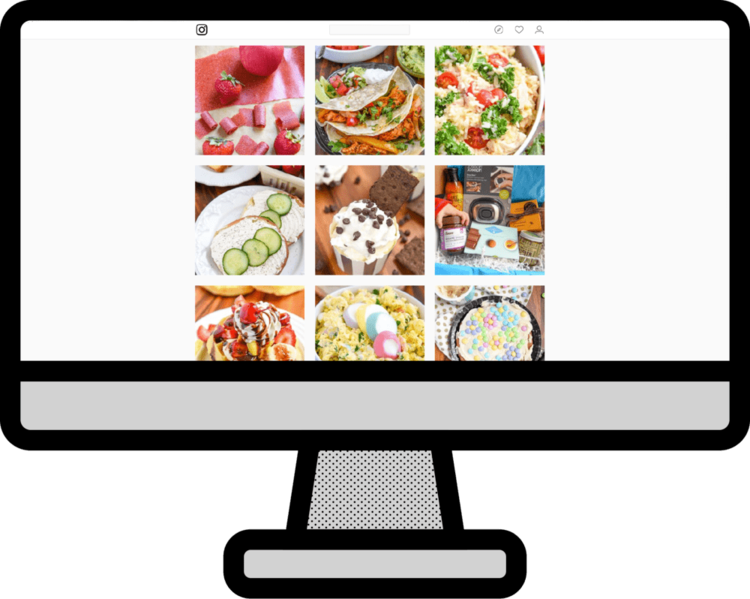 SPIKED (NOT SPICED) COCOA FOR SANTA
Now, we know Santa enjoys the occasional holiday Coca-Cola. Do you ever wonder if Santa's a Vodka kind of man? This post from The Taste SF (@thetastesf) is clearly holiday-inspired. I can almost feel the warmth of the cocoa, fireplace, and Vodka. Published on Christmas Eve of last year, this is actually serving double duty as a beautiful sponsored post for Hangar 1 Vodka as well as a method to drive traffic to their site by including a link in their Instagram profile to where this recipe lives on their site.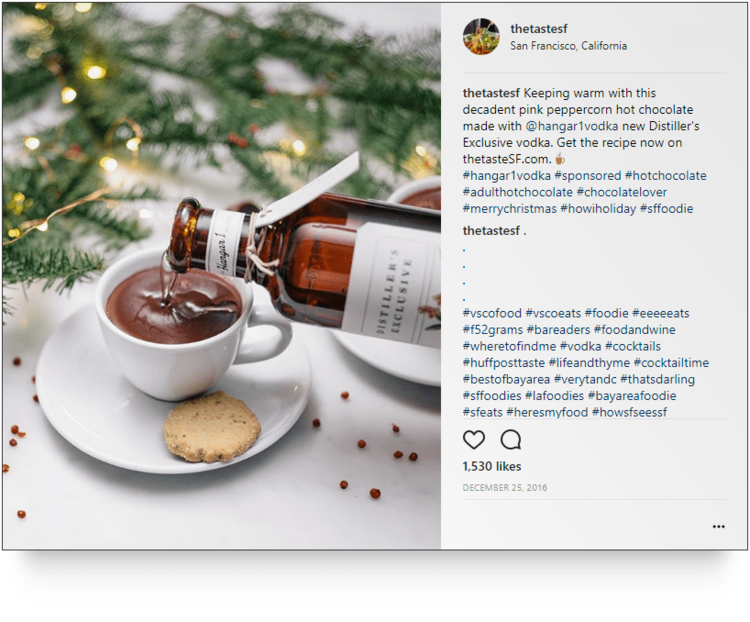 Like the website, the Instagram page for The Taste SF includes professionally-edited photographs (there's a link for photography booking on the website), brand partnerships, and other products for which The Taste SF has an affiliate relationship. This post got more than 1,500 likes, and generated 4.6% engagement from followers.
The bottom line is The Taste SF is a fantastic brand to follow if you want a constant stream of ideas on how to entertain in style. And that includes spiking the cocoa with Vodka.
THAT CHRISTMAS BOTTLE OF MOËT 
Menswear blogger and style influencer Perkens Bien Aimé (@perkensbienaime) has built an impressive Instagram following that now tops 77K by curating an Instagram portfolio that is just shot after shot of perfectly coiffed style and sophistication.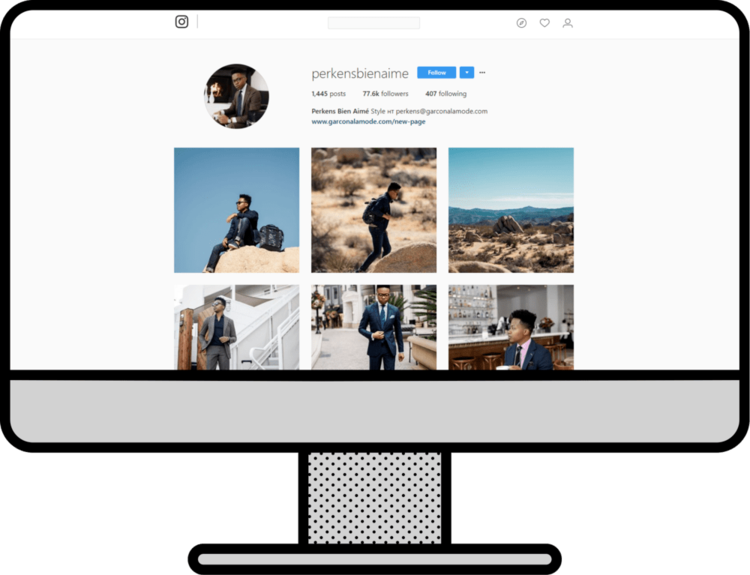 Walking the streets of Beverly Hills in tailored suits, thick-framed spectacles, and a quiet kind of cool, the youthful influencer has partnered with several brands in the past including Uber, Conair, Lab Series, and Peroni.
In this sponsored post for Moët, the Perkens Bien Aimé brand holds its own against the 274 year-old French winery. The product is seamlessly incorporated into the post, so this ad looks like a typical day living the fabulous life as Perkens Bien Aimé. He's got the gift in one hand and the champagne in the other.  What more can party-goers want?
Moët just became just a little bit classier.
5 Fashion and Accessories Posts
TAILOR-MADE CLOTHES FROM FAME AND PARTNERS
Rachel Vogt published a striking post for Fame and Partners. Fame and Partners sells custom, made-to-order women's apparel. The company partnered with photo blogger and fashion influencer Rachel Vogt (@rachelvogttrends) a few days ahead of Black Friday to raise brand awareness and promote a Buy 2, Get 1 discount code.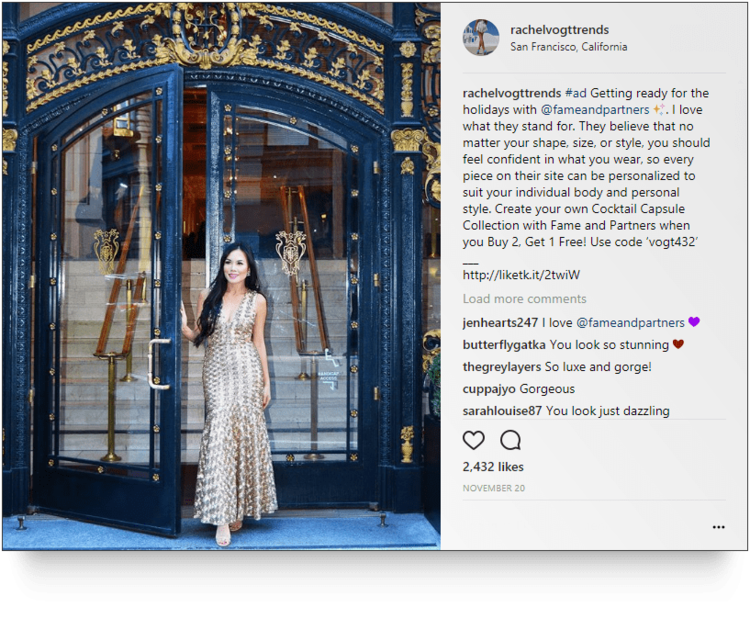 Rachel uses gold and silver detail on the door and on her dress, and the grandeur of the dark blue archway to give communicate a feeling of awe and beauty. It's the perfect way to present an innovative, web-based atelier like Fame and Partners to her followers. The post got more than 2300 Likes, a little more than 3% engagement.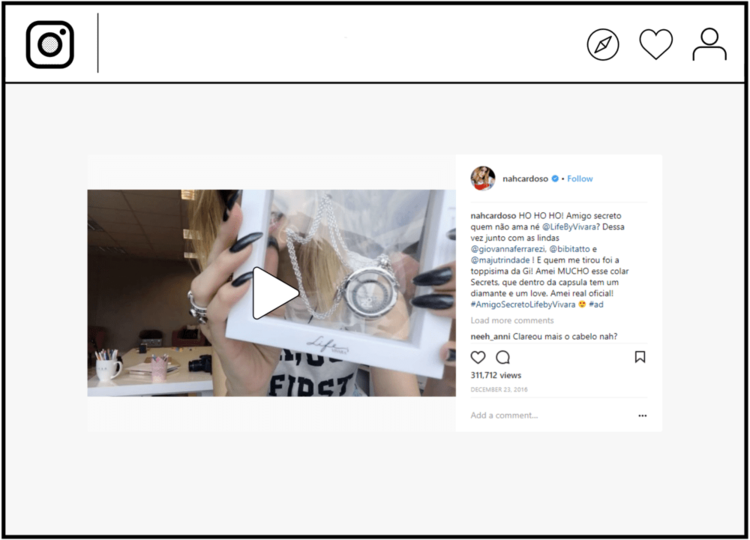 LIFE BY VIVARA LOCKET
Color photos with black and white color schemes do well on Instagram. That's actually what drew me to this post – the white frame, white background and Nah Cardoso's black nail polish. The short video post, which is an ad for a locket from jeweler Life by Vivara, was published two days before Christmas 2016 and got more than 311K video views, or 5% engagement.
Brazilian actress, blogger, and YouTube personality Natalia de Barros Cardoso, or Nah Cardoso as she is more commonly known, is one of the most well-known influencers in Brazil. She has 6.2 million followers on Instagram (@nahcardoso), 2.6 million YouTube subscribers, and has more than 118 million views on her YouTube channel.
Life by Vivara is a line of pendant jewelry. The locket in Nah's sponsored post opens to allow buyers to add more pendants inside the locket. The jewelry is delivered in a showcase about the size of a picture frame, and instead of hiding the contents like most lockets, Life by Vivara lockets showcase the pendants.
That said, a black and white theme for the pictures are the perfect choice to match the lockets and pendants. In photography, a black and white color scheme often communicates clarity, transparency, and definiteness. Nah has created the perfect environment to showcase the product.
THE ELEGANT SHIMMER OF SWAROVSKI
Olivia Rink (@oliviarink) used a similar strategy in this post to promote Swarovski gifts at Macy's. The post is black and white with wide open spaces for clarity, the same kind of clarity Swarovski is world famous for delivering in its sparkling crystal jewelry. Olivia's post went live 10 days before Christmas 2016, and accumulated more than 4,800 Likes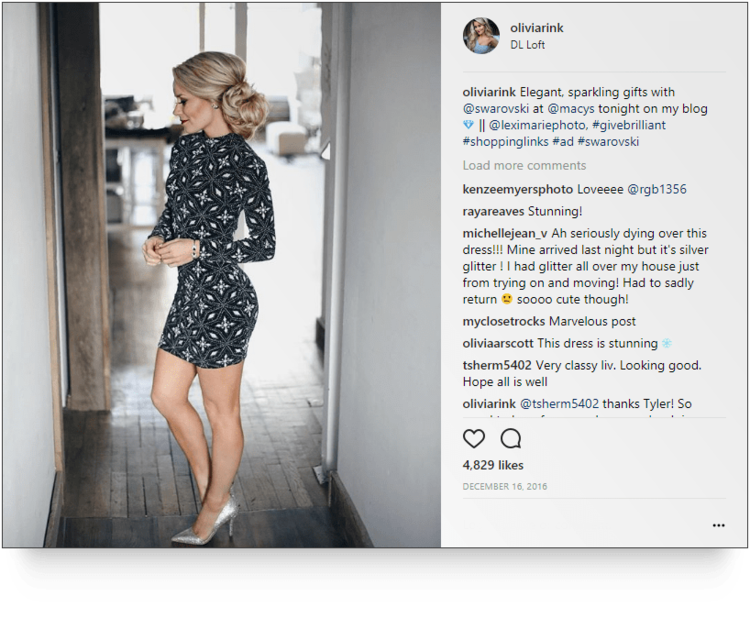 In the picture, Olivia wears a shimmering silver heels, and a fitted, black dress with crystalline designs. Could be snowflakes, could be crystals, but the dress (THE DRESS!) ties the image to the message. She may or may not be wearing a Swarovski bracelet. But it's inconsequential because her flawless presentation effectively captures the Swarovski's world of brilliance, elegance, and design mastery.
A HOLIDAY DRESS FOR DANCING
Instagram influencer Jessamyn Stanley (@mynameisjessamyn) partnered with Lane Bryant to promote holiday dresses Christmas week. Here's a classic case where the post itself is nothing special. Jessamyn wears a black skirt, top and tights from Lane Bryant. But it's a black dress against a black background, which makes the dress harder to see. Jessamyn is twirling in the dress, but then Jessamyn is often mid-action in her pictures.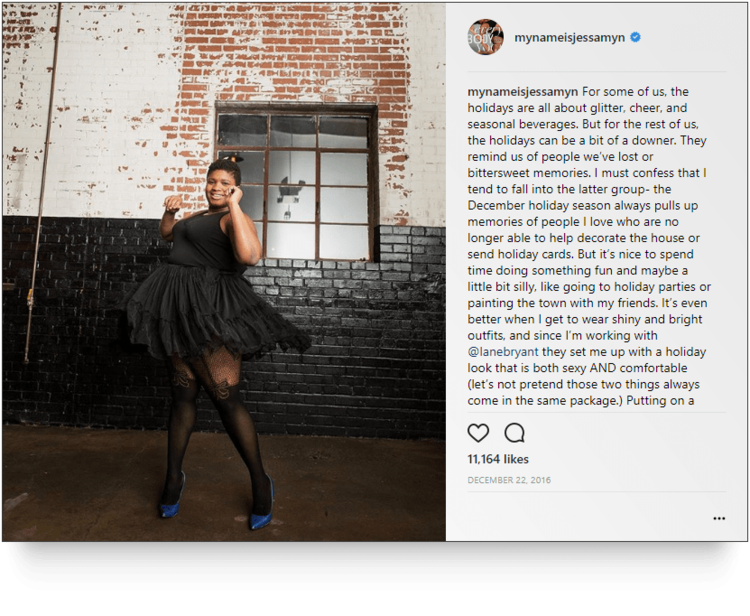 I think people liked this post in large part because they love Jessamyn. Jessamyn is a yoga teacher, author, and Instagram influencer whose message of body positivity resonates with mass audiences. Her Instagram followership tops 340K people. She's been promoting her new book, Every Body Yoga, even sitting down with Arianna Huffington in a recent interview for Thrive Global.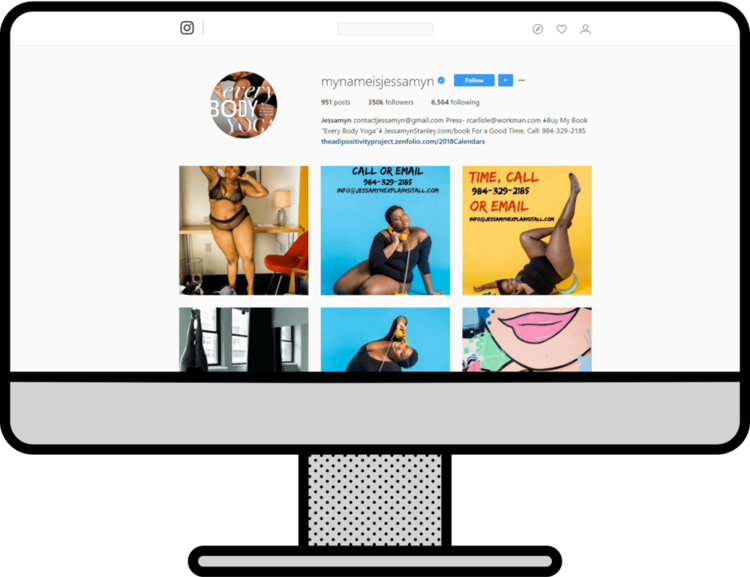 Lane Bryant had the opportunity to leverage Jessamyn's relationship with her followers by creating a holiday look that is distinctly Jessamyn, and suitable for her active style. Jessamyn's sponsored post for Lane Bryant got more than 11.1K Likes, registering 3.25% engagement.
I guess this post simply reinforces the importance of choosing the right influencer partners.
EGO OFFICIAL HEELS
Another great post for the 2016 holiday season was spurred by UK fashion blogger Amy Valentine (@amyvalentinex) for Ego Official, promoting their 30% off Black Friday sale.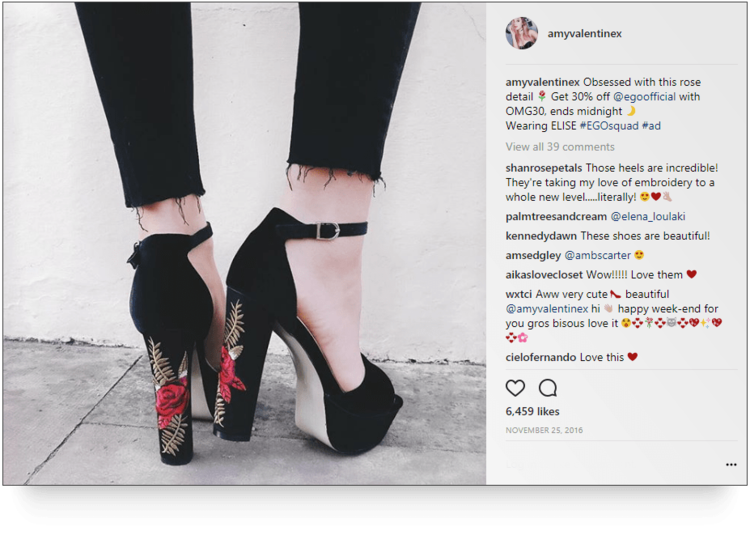 First of all, the picture of the shoes is gorgeous. The filter really helps to play-up the detail of the embroidery on the heels of the shoe. If you notice, the picture looks just a little over-exposed, which is a popular way to filter images, specifically those for fashion.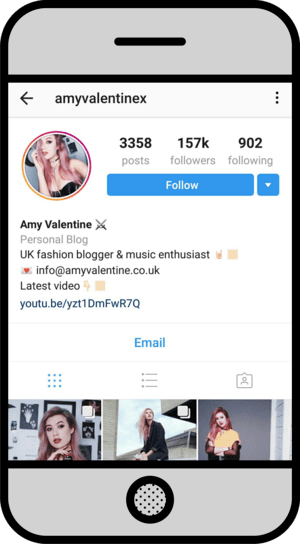 For Amy, this filter (and you can find similar filters in the Instagram app, like Gingham, Aden, and Perpetua that will cause pictures to look slightly overexposed) is used across her entire Instagram account…
as well as her YouTube channel, as you can see in the below screen shot of this video.
Amy's YouTube channel currently has 32K subscribers and 1.5 million total views.
And the sponsored post for Ego Official's holiday campaign got more than 6200 Likes and 4% engagement.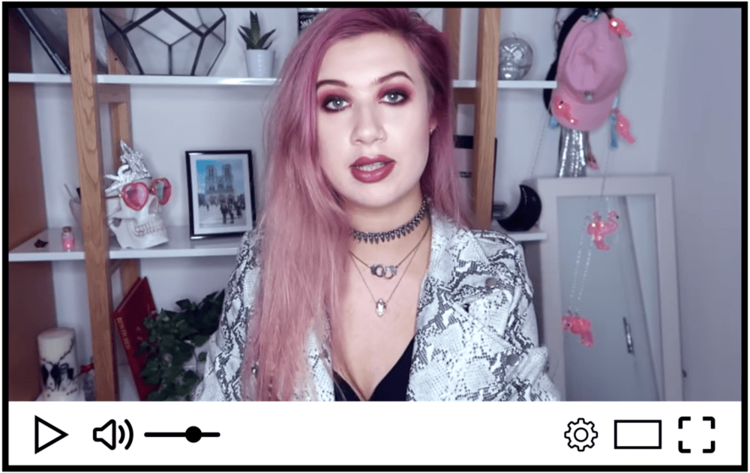 4 Gift Ideas (That Someone Turned into Beautiful IG Posts)
CRACKER BARREL OLD COUNTRY STORE
Sometimes a holiday food post doesn't actually include food like this sponsored post by mommy blogger and fashion influencer Daisy Teh (@theitmom) for Cracker Barrel restaurant.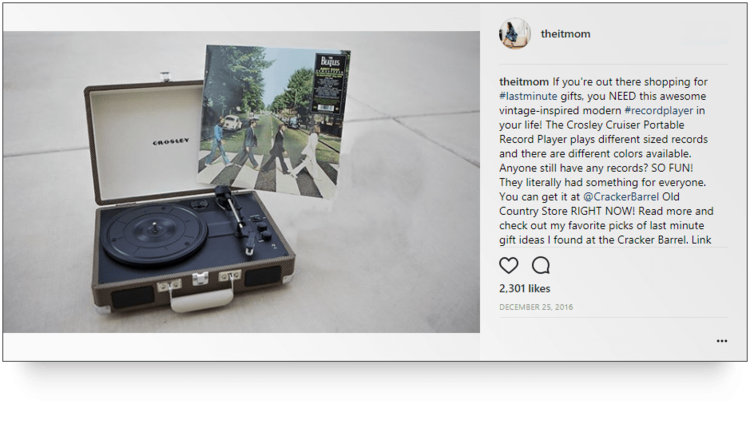 That's a record player. The suitcase kind.  And no matter who you are, seeing a record player is one of those events that naturally gives you pause and almost instantly puts you in a sentimental mood. Music is a powerful emotional trigger for most people, and the old-fashioned record player is Americana at its best.
More than 2300 people liked this post (about 2% engagement) published the day before Christmas. It features the Crosley Cruiser Portable Record Player that's available in Cracker Barrel's Old Country Store as a last-minute gift idea.
If you're old enough to remember when playing music was limited to playing records, or hip enough to already have a few records framed on your wall, just seeing a monochromatic photo (which grammers love) of a vintage record player is going to slow down the swiping action on your phone. And is exactly the impact this post has.
US BANK SAVINGS ACCOUNT
No, seriously. During the last 10 days of the holiday shopping season, Brock + Chris (@yummertime) published this sponsored post for US Bank's #ISaveSoICan campaign.  
Let's forget about the holiday part for a moment and just focus on the sight of a man standing in a short-sleeved shirt in the middle of December, catching rays in front of a pink mansion.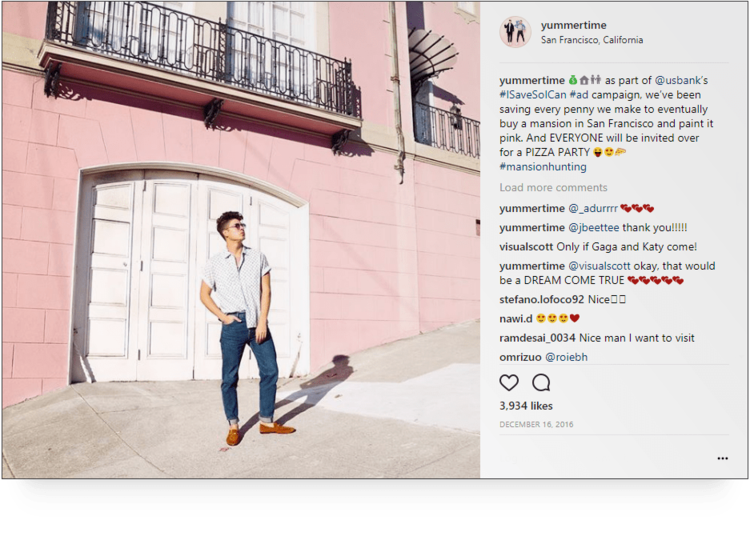 Yes. That imagery all by itself is enough to make you stop and look. Again, a common theme here is the sun-bleached colors of the post, and lots of wide open space to communicate transparency and clarity.
The caption in the post lets us in on why Chris (or Brock) is standing in front of a pink house: He's #mansionhunting.  Apparently Brock (or Chris) saves so he can buy a mansion in San Francisco and paint it pink. Then invite everyone over for a pizza party.
It's cute, idealistic, unassuming, and unexpected. And with 3,934 Likes, the post saw more than 3% engagement.
HUAWEI MOBILE IN PARIS
Leonie Hanne (@Ohhcouture) published this post on Christmas Day of last year from a relative's home in Paris, in partnership with Huawei Mobile. She is holed up in bed, along a stark, white wall, and lying on a pink blanket with a plate of perfectly baked holiday cookies. To the left of her bare, pink legs is a white mug and saucer. Just beyond her white-socked feet are a tray of French breads to the left and the unassuming, but crisp, colorful display of the Huawei Mate Book, which she is using to watch movies.  Beyond a giant pane of clear glass is a black rail, and it only seems like just beyond the rails of the balcony positioned at the foot of her bed, you get a glimpse of the first two levels of the Eiffel Tower.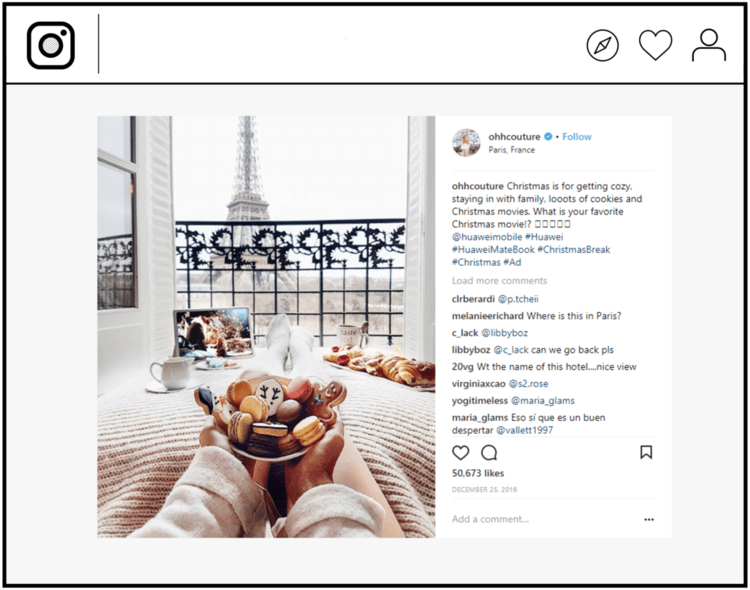 This post had 50,961 likes, as of this writing. And I'm sure I'm not the only person who had no idea Huawei made a tablet. The engagement on this post is 3.4%.
Put very simply, this post works for two reasons: It's aesthetically beautiful, and its triggers the wanderlust in all of us. To think you can go to France, eat cookies while you split your attention between a never-ending virtual catalog of favorite movies and the Eiffel Tower. And still be with family! It's the ultimate vacation daydream.
Leonie is a personal style and travel blogger, and creator of OhhCouture.com, where she and her partner document their travels. Formerly a strategy consultant in the German textile industry (she is from Germany), Leonie is now a social media consultant to large brands. And she has hacked the riddle of Instagram engagement, consistently averaging 5% to 10% engagement per post, and 3% to 5% engagement per sponsored post.
AERA FOR HOME
Let me be honest here. I swiped a screen shot of this post from lifestyle influencer / photographer Paola "Pao Pao" Mathé (@findingpaola) because it looks cool. I thought I read the caption but I'm just now getting to the point where I'm figuring out that Aera does home scenting.  I thought they sold cool furniture. And now I want one because whichever product in this picture is scenting the home looks way cooler than my Air Wick plugins. That I've been using for years and years.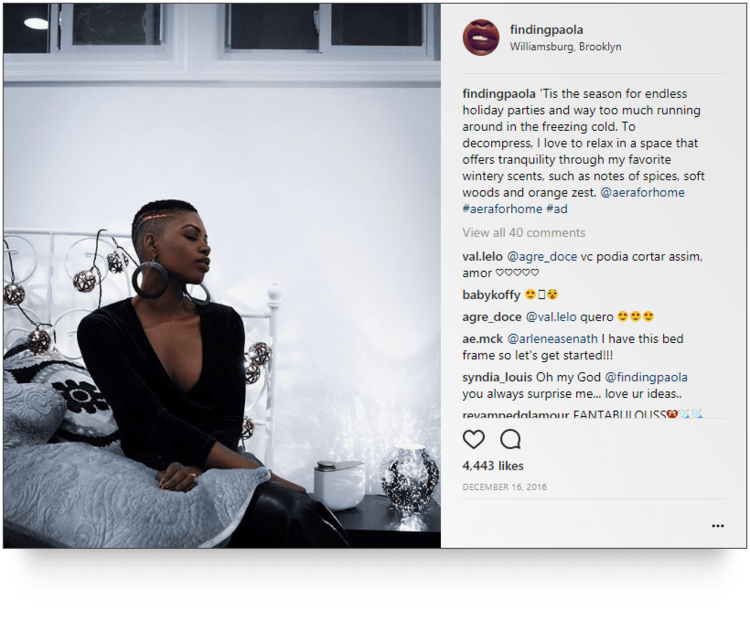 This post got 4,448 Likes. It got more Likes than Aera for Home has followers, which is a huge benefit for Aera's brand, because I and 4400 other people now know how to find their products.
This post intrigues me. It's pretty, and Paola is mesmerizing. The room featured in the post has layers of textures, from the metal bed frame to the mesh around the globe lights, to the detail on Paola's quilt to her wooden earrings, to the smoothness of her skin, and the gentle scratch of the pillows. There's much detail, even in the minimalism of the post.
It's a perfect fit for the Aera home scenting device (that little thing that looks like a wide flask on the night stand next to the lamp). Aera's diffuser is designed to be "missable." It doesn't draw attention to itself.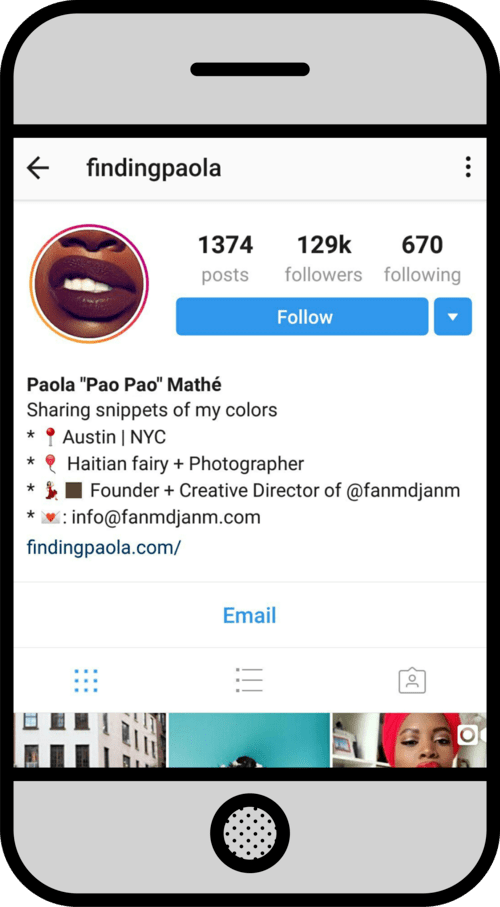 But there are complex processes happening inside the device. Much like Paola's post, there a lot happening in the room, but it's easy to miss it because it's meant to be understated. Which is a far cry from much of Paola's other curated Instagram content.
The Aera-sponsored post saw nearly 3.5% engagement from Paola's followers.
The Wrap-Up
By and large the key takeaway for this particular post is the importance of the art of posting to Instagram. Influencers like Paola, Brock + Chris, and Tiffany have mastered the art of creating and curating engaging content for their Instagram followers. They know what their followers want to see. More importantly, they know how to present their ideas, products, news, and adventures to their audience in pictures.
It's a skill, for sure. And one you certainly want your influencer partner to have. But it's not always easy to find influencers like Jessamyn or Amy Valentine, who can put your product in front of tens of thousands of people in a way that makes them remember and even share your product.
We can help you build relationships with the right influencer partners and create influencer marketing campaigns that impact your target audience. There's no time like the present to start your holiday marketing efforts.