All of social media hinges on the concept of social proof. Your feed is probably brimming with people trying to leverage their knowledge and skills to gain trust and earn attention. Experts share hacks and researchers share stats. There's a very real possibility that a hilariously clever kid in Philly is coming up with a meme right now that's going to make you laugh out loud when you see it in your feed in three days.
Influencer marketing, in particular, is the monetization of social proof. Brands pay social media influencers to serve as social proof for their products and services. The better an influencer is at becoming convincing social proof, the higher the fees he or she can charge.
The tactics influencers use to help brands boost awareness and get people into their funnels can be decoded and replicated. In this post, I will show you five of the BEST types of social proof you can use (that are easiest to implement) to get the word out about your brand, products, and services.
 What is Social Proof?
Social proof deals specifically with how people conform their thoughts, feelings, behaviors, and actions to match the thoughts, feelings, behaviors, and actions of those around them.
Social proof is super-ancient though, right? I mean, consider a mom tasting food first to show her baby the food is okay to eat. That's social proof even though science only gave it a name in the 1930s. Using social proof as a way to sell products is, no doubt, as old as marketing itself.  
Celebrity Endorsements (The Social Proof We're Not Including in This Particular Post)
THE POTTER AND THE QUEEN
Legend has it in 1763, just four years after opening his business, English potter Josiah Wedgwood convinced Queen Charlotte of Mecklenburg-Strelitz to allow him to name the line of pottery he had made for her Queen's Ware.
The Queen agreed, and in so doing, gave Wedgwood permission to publicly align his name to her reputation. His ties to the royal family (the Queen's husband was King George III) and the fact that Queen Charlotte allowed him to publicize the fact that he made pottery for her added to the perceived value and quality of Wedgwood's  pottery.
Fast forward 255 years and the Wedgwood legacy is still going strong.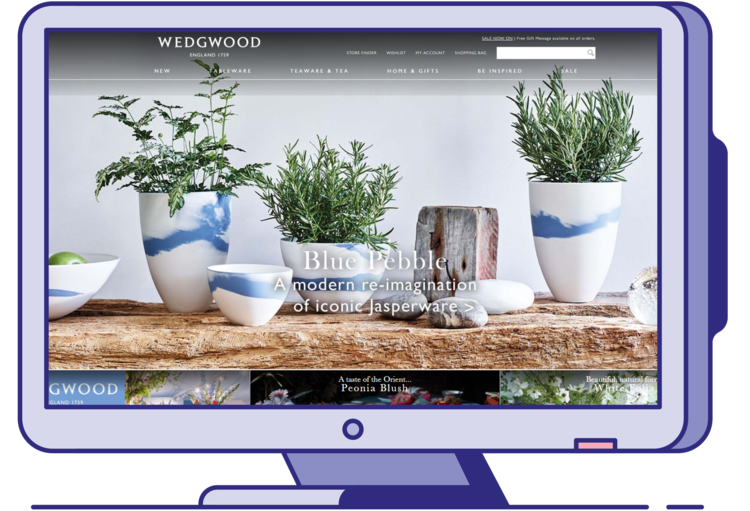 THE SHOWMAN AND THE LOCAL BANK
In 1952, Citizens National Bank was persuaded by a clever salesman (who was also a TV show producer) to sponsor a new 15-minute variety show featuring a cherub-faced pianist by the name of Liberace. Prior to stepping in front of a television camera, Liberace played at piano clubs around Los Angeles. He's was one step above being nobody from nowhere, so maybe… a macro-influencer with a half million followers in today's celebrity cool points (CCPs, and yes, I just made that up).
So, it was 1952 and the U.S. population was about 151 million, and about 34 percent of households had televisions. So you understand why stakeholders of Citizens National was reluctant to foot the bill for this TV show, but they agreed.
During taping, Liberace told his TV audience that anyone who opened a new account at Citizens National Bank with a $10 deposit would receive a free recording of one of Liberace's performances. The next morning, Citizens National employees arrived to find a line of new customers outside the bank, and within two weeks, Citizens National had 2,350 new depositors.
I'm assuming each depositor brought in the required $10 initial deposit, and if so, that means in one televised program, Liberace brought in $23,500 in new deposits (that would be about $224k today) for Citizens National Bank. By 1954, The Liberace Show had generated $1.4 million in new deposits for Citizens National Bank (about $14 million today).
How's that for return on an influencer campaign?
I think the two influencer campaigns above are good examples of how borrowing someone else's celebrity and their reputation and propel a brand forward by leaps and bounds. While we won't talk specifically about TV stars endorsing products in this post, I think it goes without saying that celebrities have been lending their brand equity to brands for centuries.
 Influencers are valuable to brands because influencers have mastered the art of creating content that moves people to act. Going forward, we're going to break down five different types of social proof (besides celebrity endorsements) that can help you build your brand's visibility and credibility. The good news is their techniques aren't a mystery, and you can replicate them to grow your audience and raise awareness of your brand or product. Fair warning: It's going to require some work.
Social Proof Type #1: Experts
Expertise is a powerful motivator. We love experts. Seth Godin nailed it when he said, "Everyone's an expert at something." The current digital landscape provides ample opportunity for people to share their knowledge about anything and everything, and perhaps most important, to find and engage with individuals whose interests match their own.
Influencers like social media expert – turned – media mogul Gary Vaynerchuk, or fitness guru Mike Rashid (whom I started following after seeing him on an episode of #AskGaryVee – see what I mean?) are well-known – in large part – because they know their stuff.
Having an expert, expert panel, or trade organization to back you up as a trusted and  knowledgeable member of your industry's community makes a strong statement in favor of your company or brand. There are multiple ways to use expert social proof. I put together two pretty good examples of using expertise to establish credibility.
THE HONEST COMPANY GETS A COVETED INDUSTRY ENDORSEMENT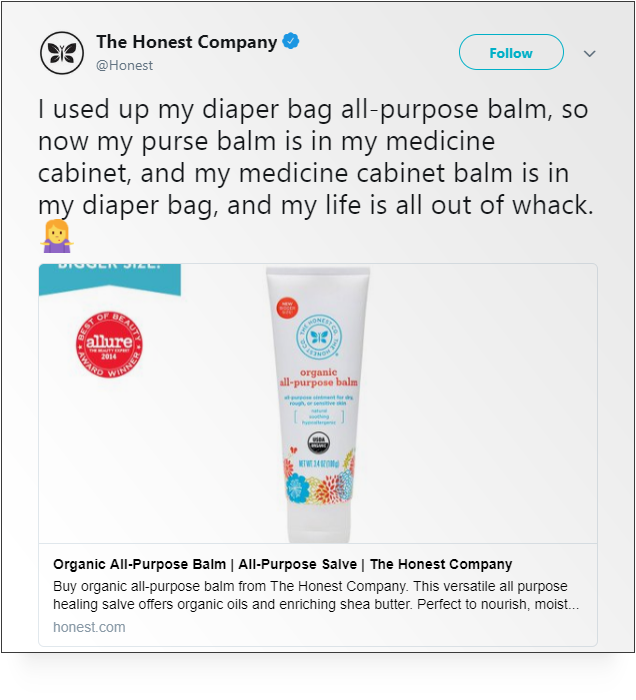 This Tweet  from The Honest Company is a great example of the use of expert social proof. Notice how the Organic All-Purpose Balm contains the black USDA Organic seal, front and center, right on the product. Also, in the upper left corner of the post, a red badge lets you know this product was Allure Magazine's Best of Beauty Award Winner in 2014.
Now, there will be times when you are the expert, and getting say, Tim Ferriss to vouch for you will take way too much time. If you don't have an expert to vouch for you there's another way.
FRANK KERN'S CLAPBACK IS CLASSY AF
My Frank Kern swipe file is getting pretty fat, and this is why.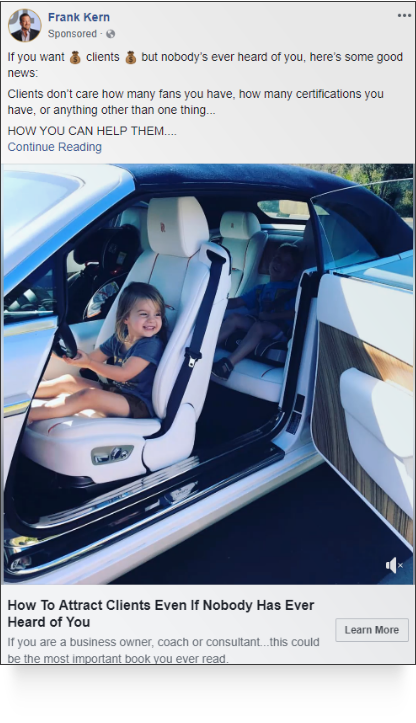 This ad showed up in my Facebook feed, rather unassumingly while I was looking for instances of expert social proof for this piece. I have carefully curated my Facebook feed to only show me the most awesome ads for marketers by marketers, so I get some pretty great stuff in my feed.
Lately, Frank Kern's ads have featured his wife and kids, so I immediately assumed the smiling girl in the fancy car was his daughter, so I stopped scrolling.
If you click the link above the image to Continue Reading it takes you to Kern's Facebook page, where you can read the full, 854-word post that this image is attached to.
Again, typical.
Long-form Facebook ads have been the conversion tool of choice for a select group of copywriting marketers for several years now. And yes, they convert, often times better than short-form posts.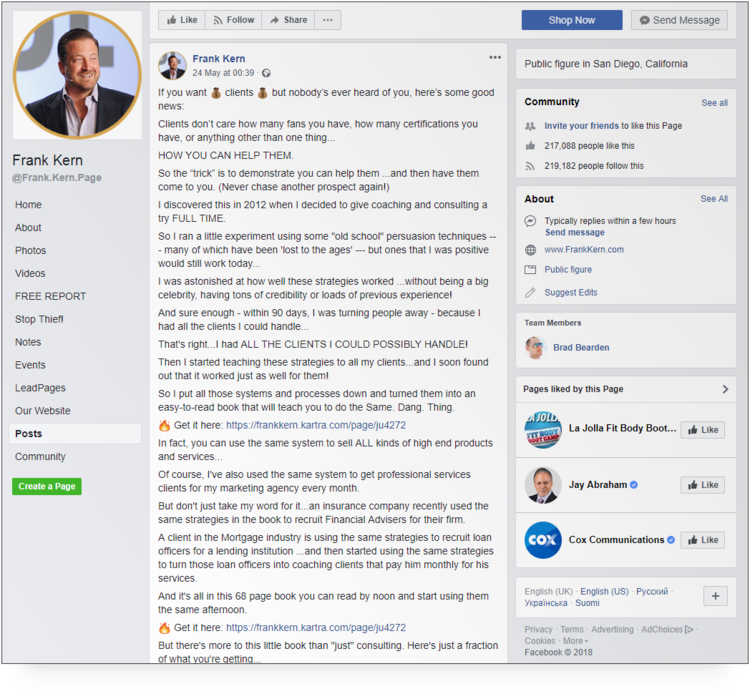 Of course, I wanted to check out the engagement for this post (of course, Sorilbran!). There were 362K video views, 196 Shares, and 78 Comments, one of which was from Frank Kern's account. The comment was in response to people wondering why he was using his daughter to push products. Honestly, I briefly wondered the same thing, so I was interested in his response. When I expanded his response to read more, I wasn't expecting to read another full-length post (that's the screenshot above).
This is an INGENIOUS sales pitch. It's a 584-word explanation DETAILING THE SCIENCE behind why creating marketing collateral using a picture of a toddler – in this case, his daughter – gets a response.
I'm telling you it was a work of art that left me just a little slack-jawed. #Facts
The beauty of this post is that Frank Kern is an OG digital marketer, and a lot of his tactics spring from his understanding of the science behind decision-making and getting people to take certain actions – marketing psychology, neuro-linguistic programming, that sorta thing. Which meant…
His informal Facebook clapback at people who were low-key judging him for using his baby girl in an ad was the MOST ON-BRAND PIECE OF MARKETING COLLATERAL I SAW ALL DAY!
And my response was, "Leave it to Frank Kern to be his own expert social proof. This guy…"
If you have the time, read that piece of sales copy. Here's the link, though you may have to Like his page. But trust, Liking Frank Kern's Facebook page is a good thing for brands and marketers.
THAT TIME SHAQ WENT PLATINUM
One more thing about expert proof. Expertise is a funny thing. When we know, like, and trust someone whom we deem a competent expert in one area, we can inadvertently extend that expertise and trust to other areas – areas in which the expert may not have any expertise at all. This is called the halo effect.
Case in point…    
In 1992, 20 year-old Shaquille O'Neal was the 1st overall pick in the 1992 NBA draft. He went to the Orlando Magic, and he was humongous, both in stature and in fame.
In 1993, Shaquille O'Neal's rap album, Shaq Diesel went platinum. I'll let that marinate for a minute.
Dame-Dash-styled pause.
And a "selah" for the Old Testament fans.
His sophomore release, Shaq Fu, was certified gold. I believe I had both albums, and listened to neither of them. I just bought them because… well… it was Shaq. You're welcome, big guy.
 Social Proof Type #2: Chiming In (Engagement)
Neil Patel has published extensively on how to boost your Instagram following by doing something crazy – spending time every single day chiming in on social. Think of it like contributing to a conversation. Giving thoughtful attention to what shows up in your social feed shows people that you are present and active on social, and that means it may be worth it to them to investigate you further.
If your contributions are productive – meaning, they're helpful when they need to be helpful, funny when humor is appropriate, sincere when sincerity is socially appropriate, and uniquely yours, you'll drum up attention and start accumulating followers.
Liking, commenting, following (and following back), and re-posting content from other users with proper attributions are the fastest ways to grow your following. This is the kind of heavy lifting most small brands and marketers try to skip (or circumvent by paying for followers or commissioning bots) because it takes consistent effort.
This Neil Patel infographic published to CrazyEgg.com says when you consistently comment, people are 401 percent more likely to follow you.
Now, again the thing to remember about engagement is it needs to be targeted. You can grow your following across social by actively engaging, but if you want your social media efforts to also support your business goals, the followers you're trying to woo should be largely made up of your key demographic since 57% of consumers are more likely to buy from a brand they follow on social, according to Sprout Social.
That's a legitimate strategy because more than 60 percent of marketers find tying their social media marketing efforts to their actual business goals an ongoing challenge.
It's also cool to follow thought leaders on social media. Thought leaders produce lots of shareable content and following an established expert can abbreviate your rise to expert status just by you knowing what content to regram and retweet.
If your goal is to grow your following, be selective about which thought leaders you follow. The goal here is to figure out where your targeted followers are hanging out and start engaging with the content they are either seeing or producing.
Make your contributions thoughtful and useful. Simply liking a quote from Tony Robbins, or adding flames under an outfit of the day won't really garner the type of attention you need to recruit new followers.

Related Post
How to Do Blogger Outreach (Includes Templates)
Social Proof Type #3: User Social Proof
User social proof is a helpful tool to grow your audience for both products and services, and for most B2C companies, it's crucial. Seventy percent of consumers say they look at product reviews before making a purchase. For instance, at this point in social media history, I totally expect all hair stylists, nail artists, and makeup artists to have an Instagram-based portfolio. In most cases, Instagram is the best and easiest way to preview the work of a beauty professional before setting an appointment.
COULD BANG THEORY SALON SLAY ANY HARDER?
One of my favorite Instagram accounts is from a salon in Maryland called Bang Theory (@bangtheorysalon).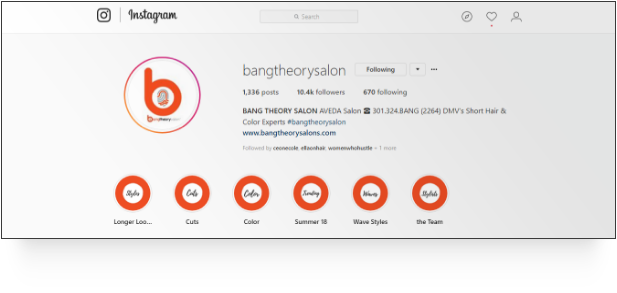 Bang Theory posts frequently, a variety of different hair styles, cuts, colors, and lengths that can appeal to a wide range of women with varying tastes, and from different walks of life. Not only does Bang Theory chronicle the transformations of their existing clientele, but their Instagram account serves as great fodder for putting together your own looks.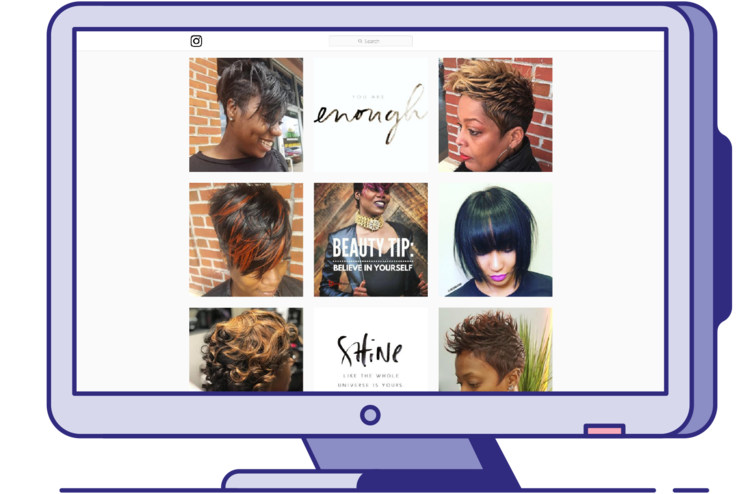 Bang Theory also has a Pinterest account with several aspirational boards of trendy hairstyles from both customers and celebrities.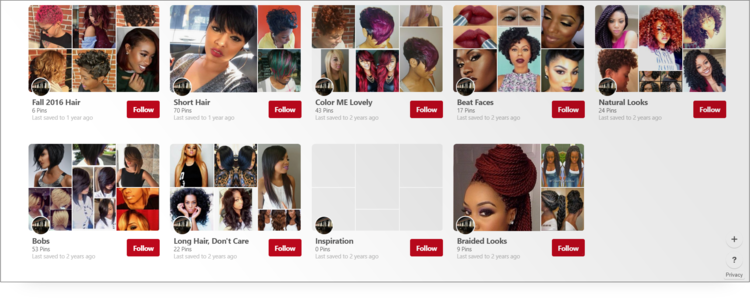 Their Pinterest account doesn't get as much attention from them (or for them) as their Instagram account, though Pinterest would be a fantastic place to post prom looks, wedding styles, summer style (and protective style) ideas, and product recommendations for folks like me who live in areas with sky-high humidity (really, what is 97% humidity doing being a real thing anyway? I mean, what IS that?) OR women who need help protecting their hair from the brutal cold during the winter months.
THERE'S A KID ON CLICKFUNNELS WHOSE CONVERTING LEADS TO SALES
Sales pages usually are ripe with examples of user social proof, and this page promoting ClickFunnels fits the bill nicely. A quick Google search for ClickFunnels turned up a sales page from a ClickFunnels affiliate, and on it two side-by-side videos from users who have been able to reach their business goals using ClickFunnels.
The guy on the left looks like a kid, right! And if a kid can create a funnel that converts, sure I can too! (Just as a heads up, Russell Brunson, the creator of ClickFunnels first started selling online while he was a college student, so it makes sense to me that a teenager would show up on the sales page as a successful user.)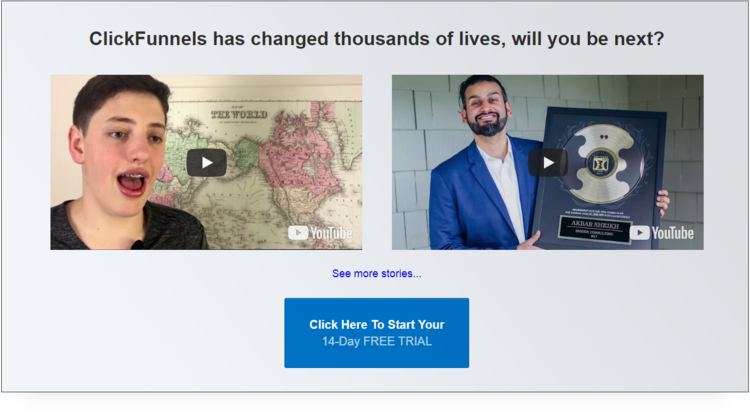 Nevertheless, even without knowing Russell Brunson's story, it's compelling to think someone so young may have a strong enough success story to be featured as a testimonial. I watched his video, then I checked the price of ClickFunnels because I know that by the end of the year, I'm going to need a tool like this one, and if the kid can use it, well…
Social Proof Type #4: Wisdom of Friends
A few years ago, Nielsen published an article entitled "Recommendations from Friends Most Credible Form of Advertising Among Consumers; Branded Websites are the Second-Highest Rated Form". In it, Nielsen reports that 83 percent of survey respondents say they trust the recommendations of their friends and family members, even over branded content put out by a company.  
The most obvious example of this is social media. At this point, Facebook, Instagram, Snapchat, and every one of the big social media platforms now have algorithms that first show you posts from the friends in your network with whom you engage most frequently, even before showing you paid ads. Whatever is happening in the lives of your friends gets priority with the algorithms, which is exactly the way most people like it. 
Except me. I like clever, useful ads as much as (and often more than) the in-network stuff that shows up in my Facebook feed.
FACEBOOK'S ALGORITHM
Facebook makes good use of this type of social proof by showing you at the top of every sponsored post which of your friends have already liked a particular brand, in addition to displaying video views, likes, and comment counts at the bottom of the post. In the post below, you can see nine of my Facebook friends like real estate guru Dean Graziosi.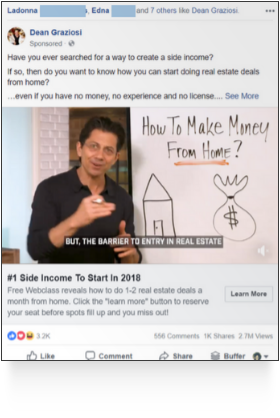 Social Proof Type #5: Wisdom of the Crowds
A big component of social proof is the desire for us to do the right thing at the right time order to gain acceptance and be part of a larger community, even if that community is a community of users. People don't mind being part of a small collective of early adopters, but no one really wants to be that first guy in a Facebook group.
That said, there's immense value in leveraging the rest of your followers, customers, and users as proof-positive that your brand offers something worth having, However, using this type of social proof requires you to already have a sizable crowd… or to partner WITH someone who has a sizable crowd whose demographics mirror your tribe (influencer marketing).
The above screenshots are of good stuff that showed up in my Instagram feed. Each one uses Wisdom of the Crowds social proof in a different way.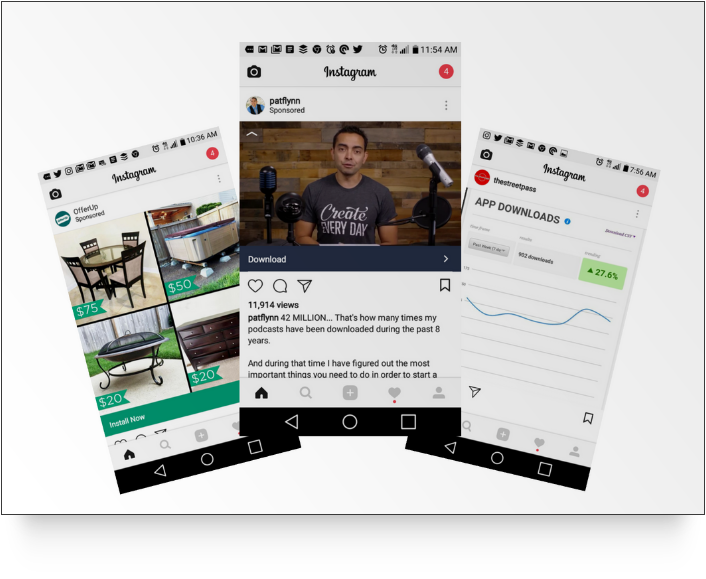 OFFER UP
The image on the left is for the app OfferUp, where sellers can list items and other users can buy them. If you happen to be in the market for a dining room set (like I am) and you're shopping on the cheap, this post may catch your eye. Not only does this sponsored ad feature four pictures of great-looking pieces, but the prices are so low (realistically low), they trigger a sort of anxiety that you may miss out on something you've been looking for if you don't install the app. Fear of Missing Out. It's a real thing.
PAT FLYNN
Pat Flynn is the founder of Smart Passive Income; he's a well-respected digital marketer and thought leader in the digital marketing space. In addition to having nearly 12k video views for this ad, Flynn captions the post by saying his podcasts have been downloaded 42 million times over the last 8 years, and he knows the one thing you need to do to start a podcast that gets heard. He probably knows what he's talking about.
THE STREETPASS
StreetPass is a community in your phone that helps you keep your finger on the pulse of what's happening in your city's small business, arts, and entertainment communities. It keeps you in the loop so you never have to wonder what's going on.
The ad is simple. It just shows there were 907 downloads of the app during a particular seven-day period, which can be compelling enough evidence for early adopters to try out the app.
The Wrap Up
Growing your following and increasing engagement to amplify brand awareness has become a necessary part of the digital marketing ecosystem. With visual and voice search rapidly overtaking manual search, the plain truth is you need search engines to know who you are and what you're about.
A byproduct of boosting your social media visibility is you also strengthen your search engine visibility, as there is a direct connection between your social media marketing strategy and your influencer marketing strategy.  
So, skip the fake followers and the automated messages, and do yourself a favor: Find 30 minutes a day to spend growing your brand online.