This post was originally published Dec 2017. Last updated October 28, 2019
If you've invested any time at all into creating an influencer marketing strategy,hosting Instagram takeovers is probably top-of-mind.
But you're probably thinking: Is an Instagram takeover even still a thing?
Short answer–a resounding yes. And it does a really fantastic job of strengthening a brand's reputation. It also helps target the segment of consumers that live in the space where their and an influencer's audience overlap.
But, I'll do you one better: Instagram and Stories takeovers can also serve as a touchpoint for reaching new audiences. I really want to jump right into this because I have some cool insights. But I feel kinda obligated to lay out that history lesson.
So, if you want a history lesson, keep reading. Feel free to skip and jump straight to the Benefits section if you're curious about what it can do for your brand. But if you're looking for something more action-oriented, check out the Strategy section.
The Instagram Takeover is Born
In 2012, Instagram published a piece on what was then an emerging trend for big brands. This trend involved having Instagram influencers take over their social accounts for a few hours, or even an entire day.
Fast forward a decade (oh my gosh, it's been 10 YEARS!), and takeovers are a tried and true way for brands to get eyes on their products and services.
There'sKim Kardashian West's 2017 Met Gala IG takeover was pretty epic (#MetbyKim).
Then, there are also local businesses that work with local micro-influencers to grow their audiences.
So, what kinds of brands can benefit from Instagram takeovers? That's the beauty of it: All kinds.
We're talking about global brands working with top influencers to grow their audiences and drive real results. We're talking about brands leveraging their employees' networks to share their company culture and boost brand awareness.
I've even seen a case where a college was able to boost its social engagement and its Instagram follower count by hosting a social media takeover. In fact, that particular case study made our list of eight Instagram takeover ideas.
But before you copy strategies from our social media takeover examples, you should first learn its benefits.
The Big, Bold Benefits of an Instagram or Instagram Stories Takeover
Takeovers are an event
Instagram takeovers are an event. It's one of the main advantages marketers have in hosting an IG takeover. An influencer's genuine excitement about partnering with a brandt can help boost the latter's credibility and following.
Takeovers create a sense of urgency
Takeovers, by their very nature, create a sense of urgency around products. They're like the social media marketer's equivalent of a blue light special (that's old school, I know). The brand's followers, and the influencer's followers, have a very short window of time in which to engage with an influencer. This sense of urgency can compel your audience to act.
Takeovers boost brand awareness and introduce your brand to a new audience
Instagram Takeovers are a useful and effective customer acquisition strategy for brands. It's also a powerful method for cross-promoting content on your different social media accounts.
Takeovers aren't limited just to Instagram. They work within the ecosystems of Twitter, Facebook, and YouTube as well.
So, you'll be able to apply some of the strategies listed in this post on other platforms.
Wouldn't it be great to be able to skip over the part of the sales process where you're turning strangers into leads? That's part of the advantage of hosting a properly executed Instagram takeover.
When properly executed, an Instagram takeover can help build brand awareness and push people further into the sales funnels.
A Recap of Some of Influencer Marketing's Finer Points
While I have your attention, let me just rehearse a few of the core reasons why influencer marketing works.
Social media marketing eliminates the ad-block problem
In general, if you're targeting buyers in the mid-30s and younger, social media is a good place to do so. A popular Bustle survey reports that 81 percent of millennial women say social media is THE BEST place for brands to engage with them.
And Gen Zers are okay with getting product recommendations from your regular, everyday social media influencer. Much more than getting tips from celebrities.
Keeping that in mind, social media is a great workaround for the growing number of younger consumers who leverage the power of ad-block software on their laptops, phones and other devices.
Competition is stiff out there in the Internet display ad industry. In addition to the online advertising space getting more crowded every day, Forbes reports nearly half (47 percent) of consumers are blocking ads. And it depends on which report you read, that number could go as low as 27 percent in the U.S. (that stat's from Statista).
Still, that means if you are running ads online, you should know that between 27 and 47 percent of YOUR CUSTOMERS will never see your ad… and they don't even want to see it. Social media marketing is an effective way to circumvent the ad-block problem.
Social influence converts
Social proof still works. Even when that social proof is being demonstrated on Instagram, Facebook, YouTube or another popular influencer platform, social proof is still an effective tactic for reaching and converting audiences.
Let me just pull a few relevant stats from our recent roundup of influencer marketing stats:
One in three social media users defer to social media before making a purchasing decision.
Seventy-four percent of c-level execs use social media to make buying decisions
Consumers are 58 percent more likely to feel positively about an ad on TV, Facebook, or YouTube if they're first exposed to the campaign via an influencer's post.
Influencer recommendations are actually working. Forty percent of consumers purchase something after seeing it on an influencer's social page.
And another 41 percent of consumers say that each week, they find at least one new product or brand mentioned/promoted by an influencer.
Influencers are the olive branch between – and let's just be real here – distrusting consumers and the brands that want so desperately to forge long-lasting relationships with them.
Influencers are the people who step in and say, "Hey, these guys are pretty cool, and their stuff is worth checking out."…
Brands need that.
Social media gets brands in front of targeted, niched-down consumers
One of the primary reasons marketers contact influencers for takeovers is the obvious one – getting their product or brand in front of a new audience.
Hosting a semi or full account takeover also provides a unique opportunity for marketers to get in front of a niched-down version of their target audience.
For instance, let's consider a hypothetical cosmetics company in the process of pushing a new bronzer. The brand wants to start selling it to young women around spring break time. It's a specific goal within a specific timeframe.
It makes sense that the brand would target a beauty influencer for an Instagram takeover. It makes even more sense for the marketer to seek out the handful of beauty influencers who focus on contouring, or influencers who focus on creating great sun-kissed / outdoor looks.
Why? The Instagrammers who follow and engage with such are more likely to be the marketer's target audience for the bronzer product. That's what a niche audience looks like.
Brands and influencers can take advantage of a 50/50 value exchange (most of the time)
Instagram takeovers work well for another reason. They are a near-perfect example of a 50/50 value exchange, according to social media expert and VaynerMedia CEO, Gary Vaynerchuk.
With Instagram Takeovers, the host gets the benefit of getting its brand in front of a new audience, while the influencer gets the social juice that comes from having a big brand choose the influencer as one of its online ambassadors.
Brands get the power of influencer-generated content
Half of all Instagram users follow at least one business, according to James Quarles, Instagram's VP & GM of Monetization. But people follow people more than they follow brands.
A surefire way to get your business in front of more people is to leverage the pull of a popular online personality. You can ask this influencer create the type of powerful content that will seal the deal for their followers. We call it IGC (influencer-created content… just like UGC, but you're paying someone to handle it for ya).
Good influencers produce compelling multimedia content. On Instagram, that's likely in the form of entertaining videos and aesthetically-pleasing images. Playing host to an Instagram takeover means you get an expert creator to create high-value (often evergreen) content for and about your brand, and you can and should push for full rights to that sponsored content so you can do with it what you please when the influencer campaign is done.
Measurable results and room to optimize those results
Every Instagram takeover needs to have a goal, some metric that tells the marketer and the influencer that the campaign was a success.
One of the big hiccups traditional marketers must overcome with marketing on social media is the fact that it's sometimes difficult to measure the ROI of social media advertising. In truth, marketers can measure the return they get on their investment, as long as they understand that the return is not always going to be immediate in-store sales.
Hosting an Instagram takeover is often an exercise in long-term brand awareness. It's more about getting on people's radars than it is about getting 100,000 widgets sold by Saturday. So, it's important to have reliable, realistic metrics in place to track before, during, and after a takeover.
The five big metrics to track are:
Followership – Know how many followers you have before the takeover (and the rate at which you are adding them), track how many followers you gain during the takeover (and a day or two after the takeover), and take a tally of how many followers you have after the takeover.
Post Likes – Monitor the number of likes for each takeover post to determine how the takeover content performed against your regular content.
Post Comments – How responsive was your target audience to the content posted by your influencer partner? Did the posts get authentic comments, or just emojis and canned responses?
Clicks – If you added a link to your bio for Instagrammers to use during the takeover, that's another good way to track the performance of the campaign.
Hashtag use – Branded hashtags that you create specifically for an Instagram takeover is another way to find out who engaged with your campaign.
A representation of five big metrics on Instagram takeovers
Pictures of 4 brochures among others on "How to set goals (Real ones) for your influential marketing campaigns. Instagram takeovers

---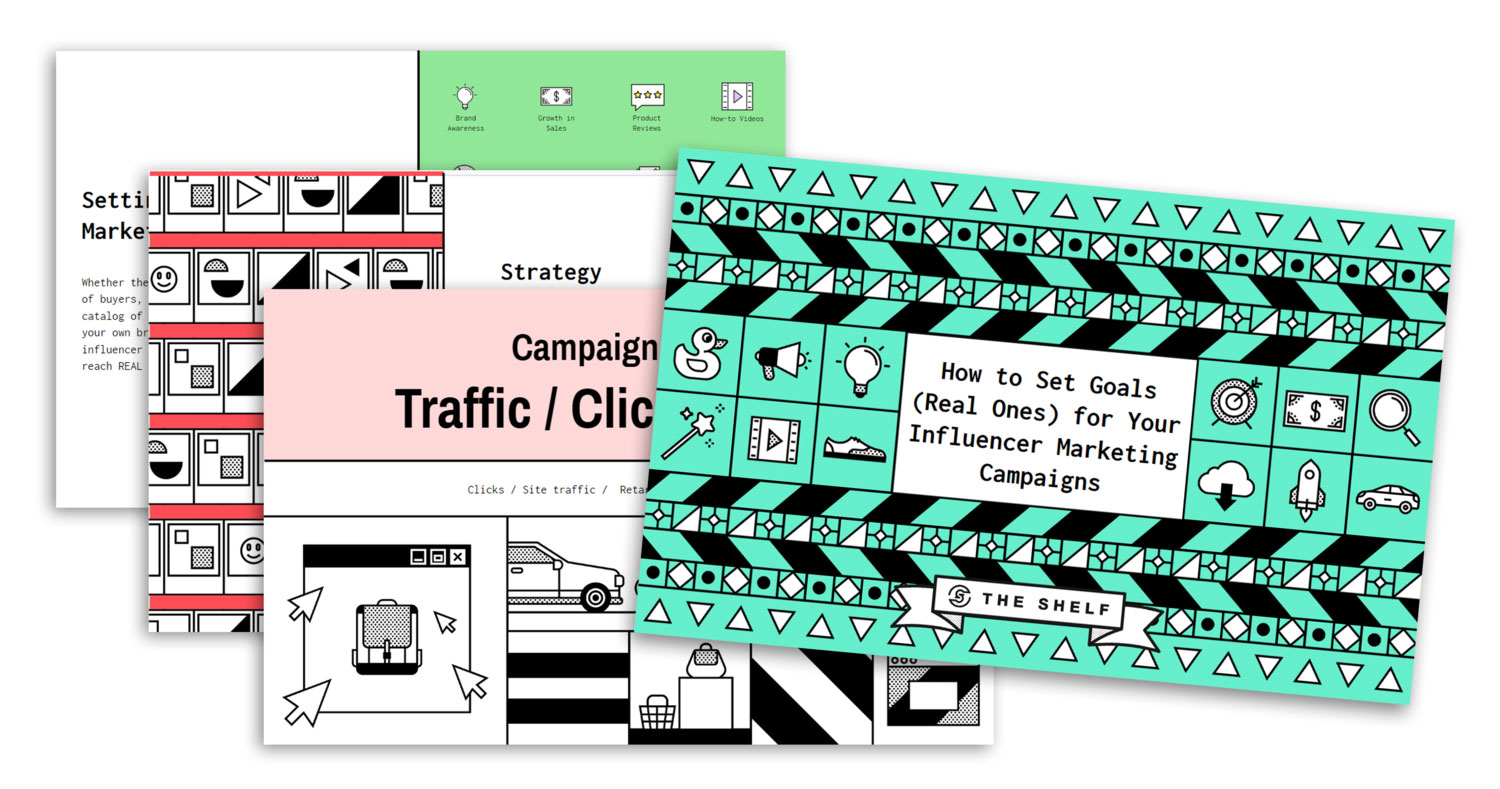 ---
Our Top Picks of Brands That Nailed Their Instagram and Stories Takeovers
Looking for social media takeover ideas? We've listed 8 incredible campaigns you can learn from:
Finnair Gives Itself a Face (actually, 4 really beautiful ones)
Finnair is Finland's largest airline. As part of a brand-building campaign, the company recently published a series of Instagram takeovers from a few of its flight attendants, like Emine Jasmin Meryem (@eminejasmin) and 21 year-old Miika Aitto-oja (@miikaaittooja).
Each team member took over the airline's account for three days sharing images and descriptive captions about the life of a flight attendant, places they've visited, and some personal details about them. A few of the pics included location photos of destinations they saw while working.
What Finnair Got Right
Let's see… beautiful people flying to beautiful destinations and documenting their travels on Instagram. Finnair is clearly targeting young, Western travelers with this campaign, and doing a pretty good job of it.
The most popular posts (those with the most instances of engagement) are the pics featuring close-ups of the flight attendants themselves, and those posts are getting upwards of two percent engagement, a fantastic engagement ratio for a big, faceless corporate brand with more than 200k followers.
But then, that's the entire goal of this particular campaign – to give Finnair a face.
AND if you take a minute to scroll through the screenshots above, you may have also noticed what I noticed – all the captions featured (and all the captions for the rest of the takeover posts) are in English, not Finnish or Swedish, which are the official languages of Finland.
Last, each of the four flight attendants who participated in the campaign are nano-influencers. They each have small followings, which keeps them relatable and real.
---
The City of Calgary Does Some Brand Building
In June 2016, The Calgary Stampede announced a contest to its social communities on Twitter, Facebook and Instagram, inviting members to snap pictures related to the annual city-wide party, The Calgary Stampede.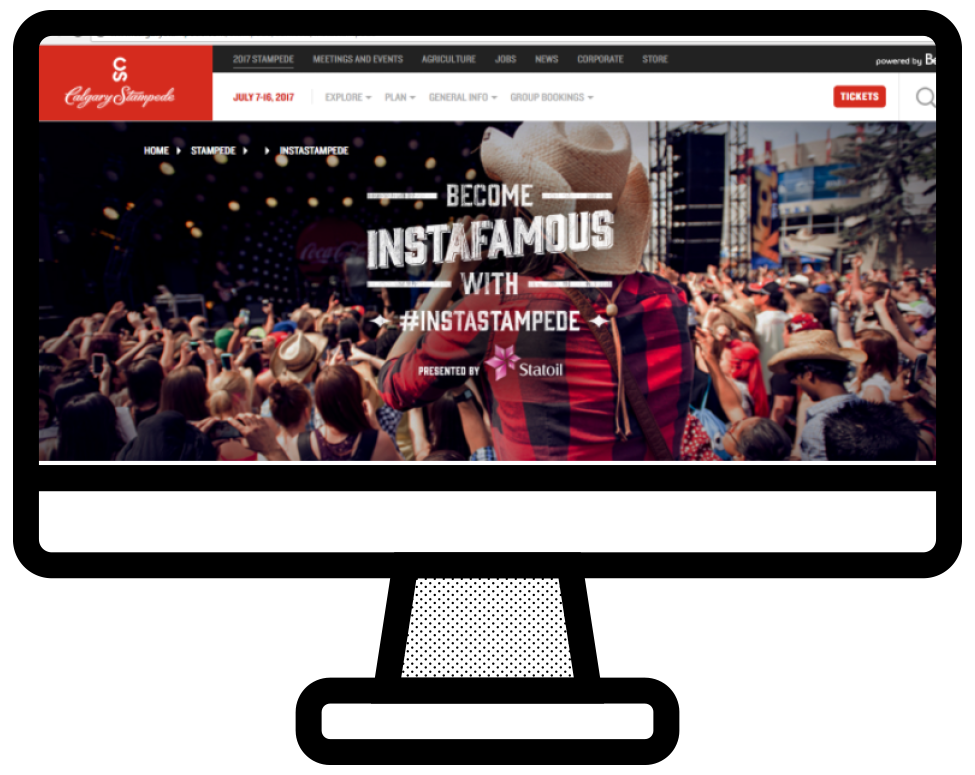 ---
A screengrab of Calgary Stampede's website during their Instagram takeover campaign
Photographers who posted pics to the Instagram, Twitter, or Facebook pages for Calgary Stampede hashtagged #Instastampede would be entered for a chance to participate as one of 9 talented photographers selected to take over Calgary Stampede's Instagram account for an entire day during the annual 10-day event.
On the day of each Instagram takeover, winners got tickets to the Stampede's main events, $100 in food and drink vouchers, a gift card, and $50 in Stampede bucks.
What the City of Calgary Got Right
When I first penned this post back in 2017, the city of Calgary was in the midst of building out its own brand with its Life in Calgary campaign. For that particular campaign, Calgary also invited residents to take over the city's Instagram account.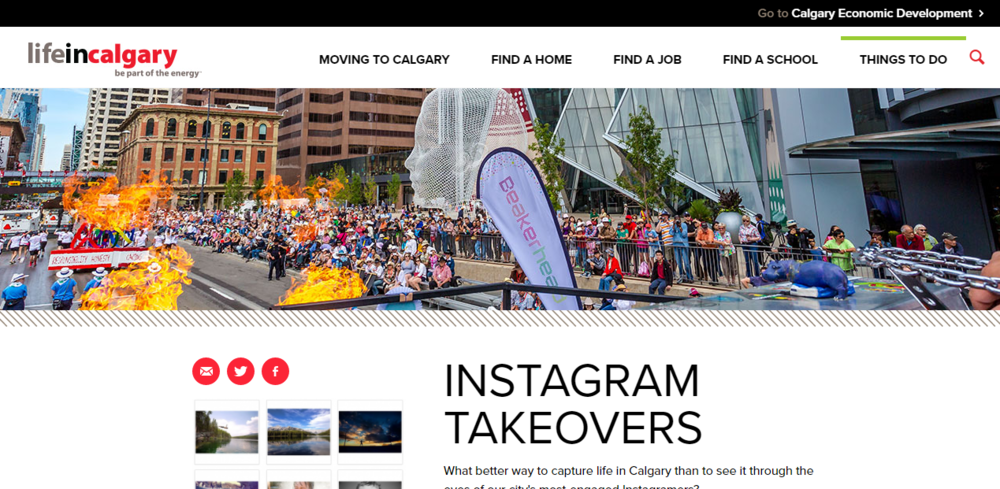 A screengrab of Life in Calgary Instagram Takeovers page on their website.
Running a takeover campaign as part of the promotional strategy for The Calgary Stampede, an important annual event in Calgary life, allowed Stampede visitors to freely document their experiences and, in effect, build up anticipation before the big event by getting hundreds or even thousands of people to keep the Stampede top-of-mind for the month leading up to the event.
---
The Royal Photographic Society Engages
The Royal Photographic Society is a UK-based organization that promotes photographic art and photography education. Its website is a virtual hub where its members and the general public can keep up to date on news, competitions, resources, exhibitions and all things photography.
The Royal Photographic Society has more than 28k followers on Instagram, and posts some of the most striking images I've ever seen.
(I'm always game for a little art. I mean, I write for a living. Admittedly, photography has never been my thing. My daughter had a fancy-ass camera and she took amazing pictures… or at least I think they were amazing.
And back in my days as Detroit hipster, a photography exhibit totally would have been my jam. But that was back before kids, and mortgages, and Frozen lunch boxes, and "another frickin' half day?!?" Now, I'm pretty much like, "Oh, cool pics. How many likes did it get?")
This fall, RPS allowed a few of the photographers who have been shortlisted for its International Photography Exhibition (IPE) 162 to take over the organization's Instagram account to share some of their work. One photographer in particular doubled and even quadrupled the organization's typical engagement with his posts.
Frederic Aranda (@fredericaranda) took over the 'Society's Instagram account and shared some of the most thrilling stuff I've seen in a long time. Not just because he photographs a class of professionals so prolific in their respective disciplines that to shove them to the top of the A-List is a legit downgrade.
Margaret Thatcher, Pharrell, Dina Asher Smith, Vivienne Westwood, Ben Stiller, Sir Ian McKellen (or as we fantasy/action nerds know him, Magneto or Gandalf the Grey… later "the White"). But he creates images that are just so darned pretty…
What The Royal Photographic Society Got Right
There are a couple of real benefits to this particular campaign. First of all, it serves as a great way to spread the word about the upcoming tour for IPE 162. Second, takeovers provide an opportunity for artists to get more exposure for their work AND their affiliations.
I mean, it's not just a picture in Grandma's sitting room anymore. This is the Royal Photographic Society and these artists have been shortlisted.
The third reason, though – and one that will really benefit the RPS going forward – is increased exposure and engagement for RPS. Aranda's photograph of Ian McKellen pulled in more than 1,000 instances of engagement for an account that typically has between 100 – 200 Likes, and very few comments.
Another thing I noticed is since Aranda talked a lot about the technical side of taking great pics (A LOT more goes into taking group pics than I thought. Take a look at the diagrams he included in his Instagram carousel for that group pic of the Vogue editors). Having Arandar talk about the work that goes into his art opens a dialogue with other artists who can chime in intelligently about the equipment he uses and different techniques. So, RPS is indirectly courting future exhibitors.
The Royal Photographic Society has chapters all over the world, and derives its revenue from gallery visitors, donors and membership dues. Doing takeovers gives RPS an almost never-ending pool of touchpoints that are created with new audiences each time one of their finalists does a takeover.
It's brilliant.
---
Sheffield Hallam University Gets Smart About Reach
If you've ever planned an influencer marketing campaign for a public university, you know influencer marketing for higher education can be replete with challenges, regulations, and board meetings. So, a UGC campaign or knowing how to build a takeover campaign can help circumvent some of the more problematic aspects of running campaign for institutions in the public sector.
In March 2016, the administration of Sheffield Hallam University in Sheffield, United Kingdom embarked on a mission to boost the number of followers on its Instagram account, which seemed stalled at 2,747. The university's IG account was adding just a few new followers a day and seemed to have hit a plateau. Sheffield was looking to ramp up engagement.
Screenshot of post from Sheffield Hallam University's Instagram Handle for an Instagram takeover campaign.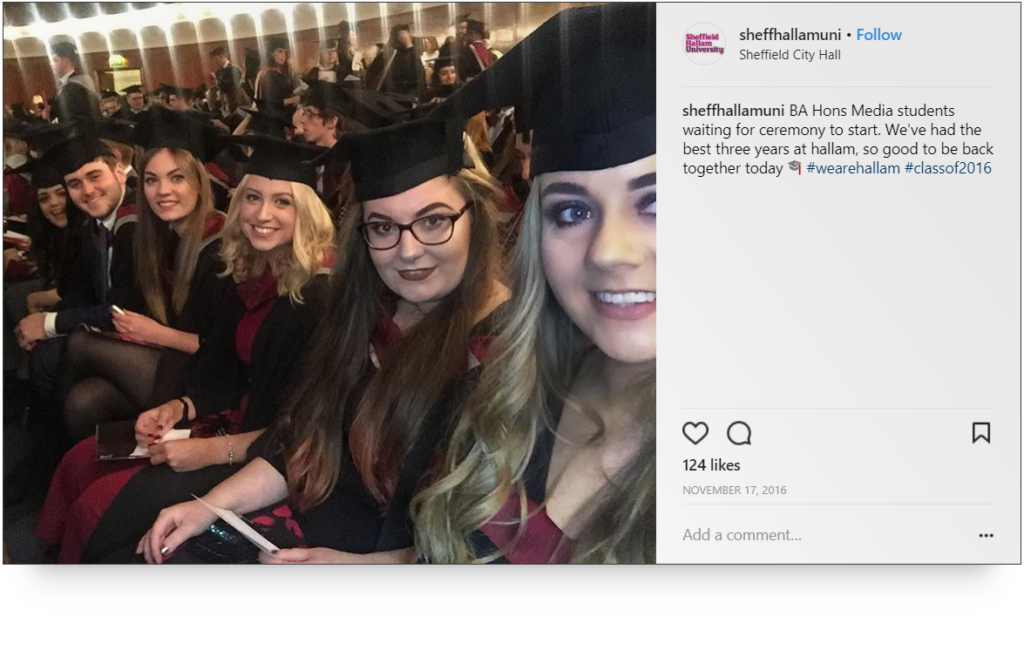 What They Got Right
The first thing Sheffield did was talk to select members of the student body. The administration wanted to know what kind of content would engage students. No assumptions.
Sheffield also created a campaign hashtag, #SHUInsiders, to raise awareness that something new was going on in the university's Instagram account.
Each student was given a day in which he or she would take over the Instagram account. All content planning and activities Sheffield coordinated with students using a private Facebook group, ahead of the takeover. This way, the students knew what to to do and the administration knew what to expect. No surprises.
At the end of the seven-day campaign, Sheffield had 2,833 followers and Instagram users engaged with the #SHUinsiders hashtag more than 800 times. Some of the students even reported the number of followers increasing on their own Instagram accounts.
---
Wilton Cake Decorating Sweetens the Pot for Foodies and Chefs
Wilton Cakes provides cake decorating supplies, recipes, tips and resources to foodies and bakers all over the globe. And the company's website really offers some cool stuff. I mean, if you're into that sort of thing.
With more than 2.2 million followers on Instagram, 690k YouTube subscribers, 53k Twitter followers, and more than 10 million monthly Pinterest viewers, Wilton is something of a social media force of nature. The company's Instagram feed is bright, beautiful, creative, and engaging. But noticeable spikes in engagement happen when the brand host takeovers.
Oh, and Facebook. Don't forget Wilton's 1.9 million Facebook page Likes.
One of the more recent takeovers was by self-taught cake maker Rachel Fujihara (@frostedfujicakes) when she posted a series of videos in a tutorial on making a three-layer, Halloween-inspired cake.
Altogether, Rachel's video series drummed up more than 398k likes and views AND more than 620 comments for the Instagram page of Wilton Cake Decorating.
What Wilton Cakes Got Right
Rachel Fujihara is an influencer in her own right. With 96k followers on Instagram, her style of content is a great fit for Wilton's Instagram feed. What this particular influencer partnership does is it provides Wilton with some pretty great influencer-generated content that will be searchable on Instagram every Halloween using the branded hashtag #wiltoncakes or more targeted hashtags like #halloweencake or #stripedcake.
When done well, influencer-generated content is as valuable as regular user-generated content because even though you may pay for it in one way or another (whether with money, freebies, or exposure for the influencer), IGC is usually going to be better-quality content because influencers are experts at creating the type of content that compels a response from their followers.
So, in addition to getting exponentially better engagement for the five posts Rachel shared, Wilton also got high-quality Halloween-themed content that can be repurposed across other social media channels.
---
Food Republic Sort of Pioneers the Takeover
In 2012, before Instagram takeovers were the thing to do, Food Republic had a "guest Instagrammer," New York City photographer, Sam Horine, to take over its Instagram account.
At the time, Instagram was still very new and Sam Horine was on vacation in Italy. Legend has it, when Food Republic discovered Sam was in Rome, the editors asked Sam to chronicle his trip to publish to Food Republic's Instagram account. So he did.
A screenshot of Sam Horine's Instagram profile from an Instagram takeover campaign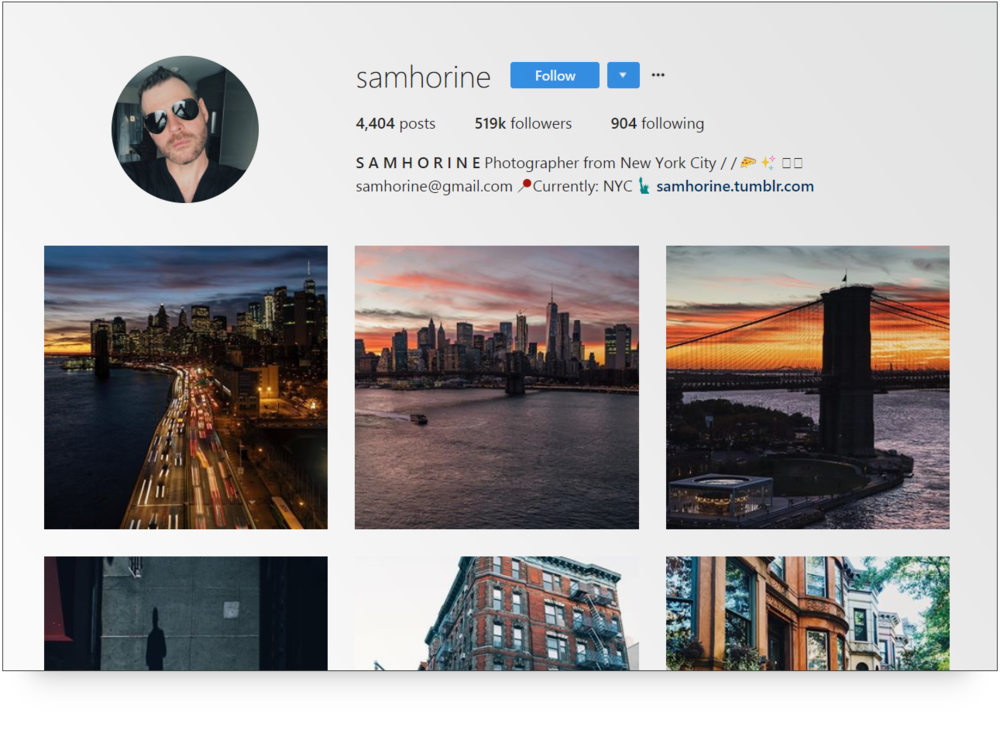 What They Got Right
Before we had a fancy name for it, Food Republic had "guest Instagrammers" providing premium content for its Instagram account. In March 2012, Sam shot dozens of pictures for Food Republic using the hashtag #FRItaly. The images were cross-promoted on FoodRepublic.com in a two-part series on Italian food, and grouped under the category Instagrammed.
Screenshot of post from Food Republic's instagram handle. Instagram takeovers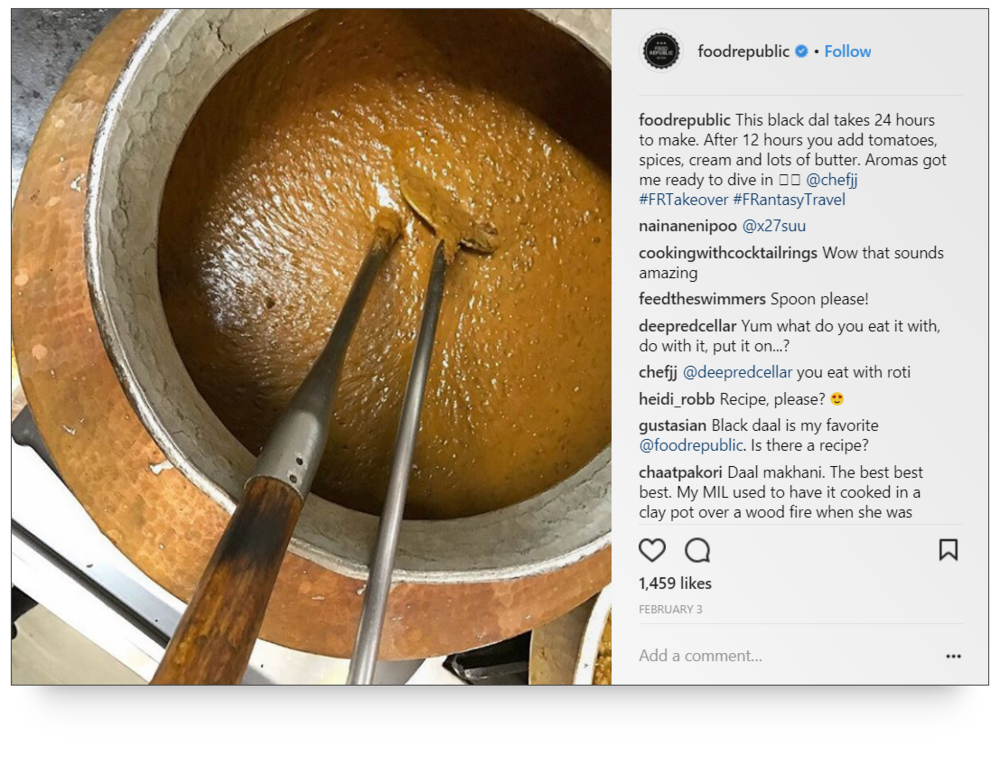 At the time, Sam Horine had 80,000 followers (remember, Instagram was still very new and reportedly had about 30 million users back then), and was considered one of the most prolific photographers on Instagram.
Since that fateful trip to Rome, Sam Horine – who now has 521k followers and is still considered by some to be one of the 15 most influential instagrammers – has created more stellar content for Food Republic's Instagram account and published more than 4,000 images to Instagram.
---
Fenty Beauty Fans Speak #Facts with Stories Takeovers
Another popular way to roll out a takeover on Instagram is with Instagram Stories. Stories are super-short, 15-second videos that show up at the top of your profile. The hitch is they only last for 24 hours from the time you post them.
I'd actually forgotten that small, but important detail when I first started looking for campaign examples, and I couldn't figure out why we couldn't find any Stories takeovers. Haha. Duh…
Anyway, the beauty of Stories is that you can prolong their lives if you add them as a Highlight on your Instagram account. AND it helps if you repurpose the content by posting the original video to YouTube… which is where we found our campaign examples.
I'm just gonna go ahead and say it – for brands, Stories are the tool for a takeover. I say that because the chances are pretty good that the content you post to your Stories will 100% be other people – customers, employees, random people walking by in your shoes or using the phone you manufacture. Takeovers just seem like a natural outgrowth of Stories.
In addition to a pretty elite catalog of Stories Highlights saved to its IG account, Fenty regularly features the Stories of makeup artists, celebrities, and social media influencers as part of its own Highlights archives.
Last year, Fenty published some of its Fenty Family Instagram Takeovers. This particular campaign featured influencers who were given the opportunity to expand their own networks (and no doubt boost their own value as an influencer) by taking over Fenty's IG Stories on Fenty Fridays.
And another I saw with a bit more diversity.
What Fenty Beauty Got Right
One of the MAJOR benefits a campaign like this affords is the opportunity for audiences to "discover" products on their own. Stories saved as Highlights gives you a nice catalog of content that can be as varied as you want it to be.
Another thing I personally appreciate about Fenty's Instagram content is the diversity.
The personalities are diverse. You get a nice mix of women and men, celebs + influencers + Fenty employees + Fenty fans + Rihanna (she's Fenty's founder and one of the most popular music artists on the planet).
The skin types featured are diverse. Oily skin, dry skin, different face shapes, acne scars, freckles, light skin, dark skin, under-eye circles… everything.
Plus, it's not all just one-trick-pony posts. There's diversity in the types of posts shared. There are tutorials, Q&As, takeovers that feature specific products, product demos (and they're just a few seconds long), product reviews, and different people creating makeup looks that you can replicate on your own… with or without Fenty products.
Finally, Fenty Beauty compiled multiple Instagram Stories takeovers to create short(ish) videos that could be posted to YouTube to generate even more views. This is a good idea to implement as well.
Of course, with Fenty, the audience that follows brands on Instagram is likely to watch product reviews and tutorials on YouTube as well. But, for the YouTubers who don't use Instagram (there are more YouTubers than Instagrammers), this is a good way to reach a wider audience (even consumers who are less social-savvy).
---
Two Times Sephora Nailed the Takeover
In the spring of 2015, Sephora recruited Instagram influencer and beauty expert Tamanna Roashan (@dressyourface) for a takeover during what is known as contour month. A celebrity makeup artist with more than 2.6 million followers (she had about half that at the time she did the Sephora Instagram takeover), Tamanna is a well-known expert in contouring. So, she was the perfect fit for Sephora's Contour Month campaign.
A screenshot of a post from @dressyourface on Instagram.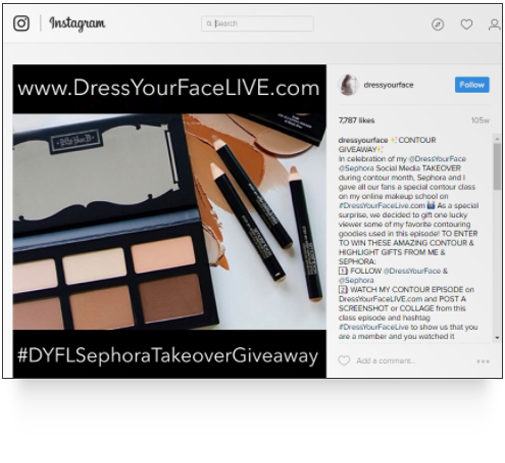 What They Got Right
Tamanna cross-promoted the takeover with her live online makeup school, DressYourFaceLive.com. While her focus was on selling out her course, Sephora wanted to sell its contouring products. I'll bet you can guess what kind of content they created for the Dress Your Face Instagram Takeover.
That's right. Makeup tutorials using Sephora's contouring products, signified by the hashtag #DYFLSephoraTakeoveGiveaway. As part of the campaign, Tamanna offered a free training course in her school for Instagram followers.
Instagrammers who followed both Tamanna and Sephora were entered to win a contouring goodie bag containing some of Tamanna's favorite [Sephora] products. The image announcing the contest garnered 7,787 likes.
A year later, Sephora hit another home run by getting (drumroll…) Mary Kate and Ashley Olsen to post their first ever selfie online and use the Sephora Instagram account to do it.
Genius.
Mary Kate and Ashley Olsen are notoriously reclusive. They may have been wild in their teens, but at the ripe, mature age of 30, these two hardly make a peep in public these days.
And they are NOT social media types.
So, having them show up one day in an early-morning selfie on the Sephora page with a caption that read, "First-ever public selfie" was downright astounding.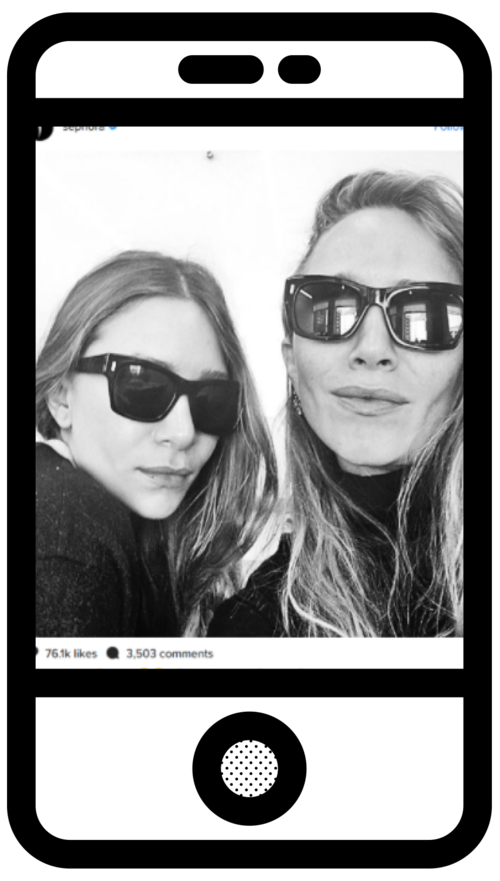 Annnnnd What Sephora Got Right With This One
The Full House alumnae were using the Sephora takeover to promote their fragrance Elizabeth and James, which is available at Sephora locations. The 24-hour takeover included a couple of pictures of the women together, as well as sneak peeks into the development of their line of handbags, their downtime, and a little bit of playful engagement online.
The response was impressive.
Their early-morning selfie garnered a whopping 76.1K likes in the first few hours, which is pretty good. Above average for Sephora. But the selfie also got more than 3,500 comments, which trumps just about every other piece of content posted to Sephora's Instagram page.
---
The Big, Important Takeaway About Instagram and Stories Takeovers
So, here are the big, important takeaways about Instagram and Stories Takeovers. These are the key elements that I think are essential to creating a successful Instagram takeover.
Value exchange – In the above Instagram takeover examples, the common denominator was always the mutual exchange of value between the influencer and the brand hosting the takeover.
Proper planning – Recruit influencers who understand the value of planning takeover activities in advance. These professionals can play a key role in making sure both the brand and the influencer are able to meet campaign goals.
Compelling content – Surprise, delight, educate and entertain. Those are the qualities of stellar content for Instagram and Stories takeovers. Do one or all of these and not only can you meet campaign goals. And bonus: you get some excellent influencer-generated content out of the deal that you can use any way you want.
As brands get better and better at figuring out how to use social media takeovers to support online and offline marketing campaigns, marketers will be able to streamline the process of finding, wooing, and partnering with influencers. These influencers can range from nano-influencers whose 9 to 5s take them all over the world to Hollywood starlets who remind you that you have a binge-watch date coming up one of these Saturday nights.
The most effective takeovers are surprising, memorable, and they produce fantastic content.
Take these three elements as Instagram takeover guidelines.