A Game Plan to Help You Organize and Host an Epic Instagram Takeover
Instagram takeovers first got on our radars five or six years ago when brands began allowing other "Instagrammers" to post social content directly to their feeds, usually over the course of a few hours.
These "guest hosting" opportunities were a way for brands to partner with Instagrammers who could create content for the brand (which is A LOT of work, we know) while simultaneously getting the brand in front of the Instagrammer's audience. In exchange, brands provided some form of consideration to the Instagrammers, whether free products, greater exposure, or money.
As Instagram has added features, the ways in which Instagrammers – and especially influencers – are able to create interesting branded content has increased, along with the platform's reach. So, marketers have multiple free and paid strategies they can use to engage their current audience, and to get their products in front of a wider audience.
In the last post, we used five case studies to show you the results four brands were able to generate with Instagram takeovers (we included two cool wins for the beauty brand Sephora).
Today, I'm going to show you how to host a successful Instagram takeover for your brand. But first…
Is An Instagram Takeover the Right Strategy For You?
Instagram now has more than 600 million registered users, having added 200 million users in just the past 18 months. Not only that, but the social app – which leverages Facebook's unbelievable targeting capabilities – now has a million advertisers, up from 200,000 advertisers in February 2016, according to CNBC. I think we can all agree that Instagram is experiencing amazing growth.
As a marketer, if you are considering running paid ads on Instagram, you have more than one option. Just about any ad you can run on Facebook, you can now run on Instagram. It's important for me to point out that the one thing too many brands skip over when planning their marketing strategy is fit. They don't take the time to determine if their marketing method is really the best use of time, money and other resources to get the results they want to get.
Marketing is not one-size-fits-all. That means, an Instagram takeover may or may not be the right marketing strategy for you. A takeover is not a guarantee that members of your target audience will take the action you want them to take, whether that's making a purchase, downloading a book, or even double-tapping a picture.
Too many marketers try to use an Instagram takeover as a way to sell products. More often than not, a takeover is the first step in introducing another segment of your target audience to your brand, not necessarily making a fast sale. Marketers should understand that long before they begin planning a takeover.
While forming a partnership with an influencer will expedite the process of getting people through your sales funnel, an influencer partnership doesn't eliminate the need for a sales funnel. So, if your goal is to use a well-publicized Instagram takeover to boost sales immediately, this may not be the strategy for you.
The 9 Key Elements of a Successful Instagram Takeover
1. KNOW YOUR STARTING POINT
I'm sure the series of thoughts that preceded your decision to host an Instagram takeover had much to do with where you are now versus where you want your business to be. That's important, because you do need to have a good idea of where you presently are in your marketing efforts and what you would like to see happen.
Knowing your starting point means assessing both your stats and your metrics. Take a snapshot (or screenshot that's what I do) of you current total number of followers, posts, like, comments. But also take note of the rate at which you are adding followers, how frequently you post, and the average number of likes and comments you get per post.
What are your top-performing posts? Are the same people liking your posts over and over again? Which hashtags (or groups of hashtags) seem to work best with your target audience? Are any of the people following you currently part of your target audience, or were they just added from your Facebook contacts when you started your Instagram account?
What is your current rate of engagement? To find out, divide the number of likes per post by your total number of followers. How are you ranking in terms of engagement? For фmicro-influencers with fewer than 1,000 followers, the average engagement per post is somewhere around 8%. Influencers with 1,001 to 10,000 followers have an average engagement rate of about 4%, while top influencers are able to engage about 2% of their audience on a regular basis.
Take your numbers and measure them against the performance of your top competitors. It will sometimes be the case that your competitors are outranking you in one or more areas. Maybe you have more followers, but they have better engagement (likes, comments, views, direct messages). Maybe you have more engagement, but they are outpacing you when it comes to adding content and getting followers.
If any of your competitors have hosted takeovers in the past, review what they did to determine what worked and what didn't work before proceeding to the next step.
2. SET A GOAL
The second step in hosting a successful Instagram takeover is having a clear (and realistic) idea of what you want to accomplish with the takeover.
An Instagram takeover, like any other marketing strategy, should be orchestrated to fulfill a specific marketing goal. Since the launch of Instagram advertising, marketers have been able to get Instagram's 300 million active daily users to take more than a billion actions such as clicking a link, liking an image, following a brand, or adding an item to a shopping cart.
Most brands identify one or more of the following as their campaign goals:
Build a strong online community by boosting the total number of followers, views, and mentions. This method works across social channels, with each channel supporting the others to help build brand awareness.
Get followers more involved and more engaged by giving community members something interesting to talk about. It's not unusual for an Instagram community to grow cool as they get accustomed to your style of online conversation. Perhaps your Instagram takeover can be all about rebooting engagement among your followers, and/or starting a conversation with new followers.
Promote a new product, a hot event, or a great deal to drive traffic to your website, boost the attendance at your event, or generate quality customer leads. When Sephora allowed Mary Kate and Ashley Olsen to take over its Instagram account for one day to promote their fragrance, Elizabeth and James, not only did it get a fantastic response from Sephora's followers (Mary Kate and Ashley aren't public social media users), but it introduced the whole world to Elizabeth and James.
3. SET A BUDGET
After setting a goal, set your budget. Admittedly, partnering with an influencer is not as easy today as it used to be. Influencers have become more attuned to the fact that their social savvy is a business opportunity; they are in demand and can make demands.
Budget is one of those areas that can be difficult to navigate on your own. Most marketers just getting into influencer marketing have no idea how to set a budget for their campaigns, or how to align ROI with their budget. But it's a necessary part of the process.
Though they have sway with small, niched-down audiences, micro-influencers can often provide more bang for your buck. A top influencer has access to more people, but as I said previously, the engagement numbers are low. So, it is possible to spend three or four thousand dollars on an Instagram takeover campaign with a top influencer and see very little engagement, and almost no conversions.
On the other hand, you could probably enlist the services of a micro-influencer for $150 to $1,000 and get better engagement. A current trend is for marketers to secure the services of multiple micro-influencers instead of a top influencer in order to get access to different niches within their target audience.
Whatever your decision, it's a good idea to plan for multiple Instagram takeovers over the course of several months, and not just one big campaign that may or may not produce the results you anticipate.
4. PUT TOOLS IN PLACE TO MEASURE YOUR SUCCESS
When the Sheffield Hallam administration decided to host its Instagram takeover, the goals were to boost followers and increase engagement. As part of the tracking method to determine whether the campaign was successful, Sheffield Hallam created a branded hashtag to track engagement during the takeover.
An important part of hosting an Instagram takeover is having a way to track the campaign's success. That's why it's so important to take a snapshot of where your numbers are before the takeover so you have a way to determine your growth after the campaign.
Most marketers will track a campaign's success through:
Number of times the branded hashtag occurred in a user's post
Number of new followers added during the campaign, and in the day or two after the campaign
Number and frequency of likes and comments during the campaign and in the 36 hours following the campaign
Number of times users took an action like visiting your site or landing page, or downloading a book during the campaign and in the 36 hours following the campaign
Occurrences of your hashtag, or mentions of your brand across other social media channels
5. IDENTIFY YOUR TARGET AUDIENCE
The crux of marketing through Instagram takeovers is getting your brand in front of a segment of your target audience to which you may not otherwise have direct (and somewhat intimate) access. So, you should have a very clear idea of who it is you're targeting.
A common practice in Internet marketing is coming up with what's called an avatar. An avatar of your target audience means creating the personification of your audience's demographic and psychographic profile. While the avatar is not a necessarily a real person, the avatar will embody key qualities of the individual members of your target audience.
This is an important step in your Instagram takeover, because it ultimately determines how you select an influencer (or select influencers) with whom to partner.
6. RESEARCH AND FIND AN INFLUENCER TO HELP YOU REACH YOUR TARGET AUDIENCE
Now it's time to find the influencer, or group of influencers, who will take over your Instagram account. Keeping your budget and your target audience firmly in mind, you can search for an influencer directly if you know of one you think would be a good fit for your campaign. Many influencers keep their direct contact info or booking instructions right in their bio.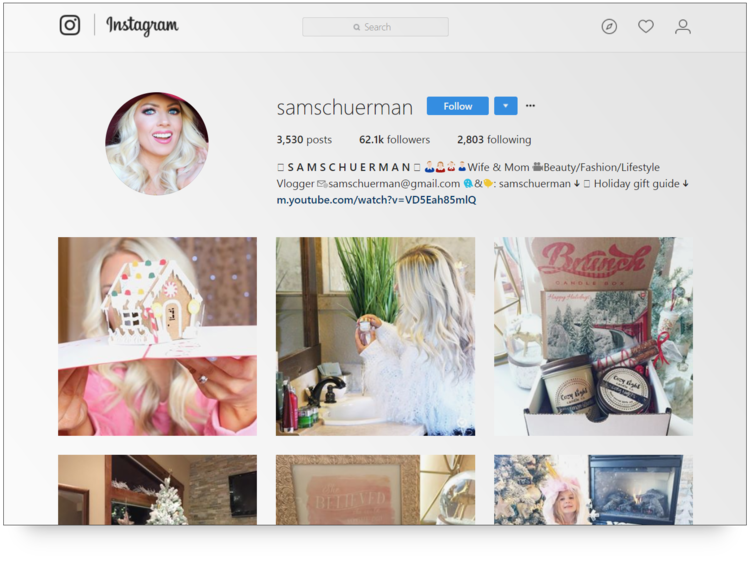 You can also search popular hashtags that are in line with the main interests of your target audience. Then see what the top posts are on that page.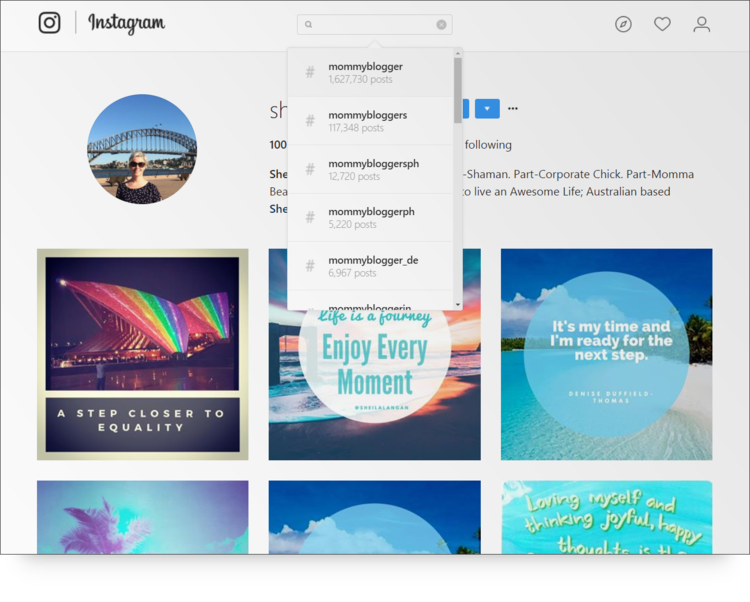 The see what the top posts are for the hashtag.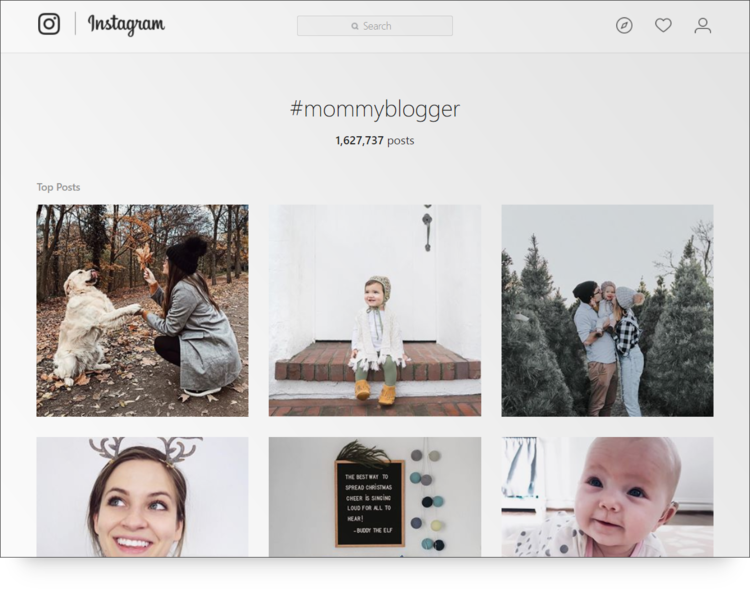 One good thing about conducting these types of "cold" searches is that birds of a feather flock together, meaning top influencers in a specific niche are often followed by micro-influencers, as well as top influencers in related niches. Keep your avatar in mind so you can make educated guesses of what hashtags to search.
Whenever you identify an influencer from a particular niche, go through their posts. See what kind of content he or she posts (for simplicity sake, I'll refer to this theoretical influencer as "they") and which posts have performed best. Do the same thing for multiple influencer or micro-influencer accounts and see if you can find commonalities between the posts and users' responses to the posts.
Partnering for Social Proof
As we saw with the Sheffield Hallam case study, boosting brand awareness doesn't require you to partner with the Kim Kardashian of college life. Depending on your goals, your audience, and your brand, you could get great results by aiming to establish social proof by letting members of your team or even satisfied customers take over your Instagram account, in lieu of a social influencer.
Influence is not limited to people with 10,000+ followers. Your CEO, or the barista who has been witness to your daily hustle, could be the most persuasive voices in your campaign if properly positioned. There are three common types of non-influencer guest posters who are generally very effective at influencer campaigns – employees, peers, and customers
Employees and team members
For businesses that are active on social, the goal is usually to create a branded message that moves seamlessly from one social channel to another. In crafting your perfect message, the human element can get sort of lost in the shuffle. Meaning, your IG community can forget that your company is made up of actual people.
Allowing employees and team members to take over the company Instagram account for a few hours can endear you to followers. They get a day-in-the-life sort of sneak peek at your company's employees and your company culture. This strengthens your brand and makes you more relatable to your target audience.
Customers
No one provides social proof quite like a satisfied customer or community member. Having a customer take over your Instagram account is a fantastic display of mutual trust and respect between you and your customers. Customers can feel free to share the experiences they had working with you, or patronizing your establishment.
It t takes a certain level of professional pride and an immense amount of courage and transparency to give one of your customers full access to your social media account. One of the other benefits here is the opportunity that exists for your customer to supply you with user-generated content the holy grail of social proof.
7. CREATE A TIMELINE FOR YOUR CAMPAIGN
Next, create a timeline for your campaign. Try to plan your campaign at a time when your takeover will be the biggest thing happening in your followers' feeds, or at the very least, your campaign coincides and integrates seamlessly with the conversations already happening online. Use national, cultural, branded, and hashtag holidays to help you map out your campaign strategy.
For instance, if you run a doggie boarding house, National Puppy Day is a great time to promote a spring break doggie hotel sale where owners who book for spring break or summer break receive 30% off. Or, if you're not ready to promote anything, maybe take the day to introduce followers to not just your team, but the current guests in your kennel.
The timeline should also include the length of the takeover – whether one person taking over your account for a few hours, or several people taking over the account for several days.
Promotion
Plan enough time into your campaign's timeline to effectively promote the takeover well ahead of the big day. Announce the takeover across your social media channels as much as two weeks in advance to drum up as much interest as you possibly can – Snapchat, Instagram, Facebook, Twitter, LinkedIn. Encourage your host to do the same. That way when your Instagram takeover begins, you have already built-up some anticipation.
8. OUTLINE THE CONTENT YOU WANT CREATE FOR THE TAKEOVER CAMPAIGN
Next to finding the right influencer to take over your account, content planning is perhaps THE most important part of this entire campaign planning process, and perhaps the most time consuming.
Work with Your Influencer to Develop the Right Content
Influencers know their audience better than you do. So, be sure you work together to create content to which the influencer's audience will respond.
Your goal, budget, and target audience dictate your content. But the influencer is the one who should shape the content. Influencers know their audiences better than anyone. And while you may have a specific message that you want to relay as a brand marketer, you should, in no way, assume you know best when it comes to relaying that message to your influencer's audience.
First, influencers work really hard to grow their audience over time. Most influencers prepare carefully curated content created specifically with their audience in mind.
Think of it like a mother feeding her family. A mom knows exactly how to prepare vegetables to get her toddler son to eat them, which may be different than how she prepares them for her teenage daughter, and spouse. But she knows what works for each member of her family because she's spent years cooking for them and eating with them.
It's the same concept with influencers.
Plan a Visual Story that Makes Sense
If an influencer is posting multiple pieces over the course of an hours-long or days-long Instagram takeover campaign, plan, plan, plan.
Try to build out a visual storyline that makes sense and is aesthetically pleasing. Make sure the captions resonate with the audience reading them. A millennial audience will respond to images and captions differently than older Gen Xers. Craft messages specifically for the audience you're targeting.
Frequency
Determine ahead of time how often the influencer will post to your account. You may find you want them to post multiple times during the campaign; you may arrive at the conclusion that once is enough. If you're going for multiple posts, try to have a mix of pre-planned content as well as candid shots. As well, think about mixing up the type of content – whether images, photo carousels, videos, or boomerangs, or Instagram stories.
Hashtags
Talk about hashtags. You will probably decide to create a hashtag for your campaign as a way of measure its success. But your influencer may not know that a popular hashtag was actually coined by your number one competitors. If you can, agree ahead of time which hashtags will carry the most impact, and which hashtags best support the story you want to tell and the message you want to send to your audience. Leave nothing to chance.
9. WORK OUT THE LOGISTICS
Finally, work out the logistics of the Instagram takeover. Make sure you set clear expectations so your influencer knows your end game and understand exactly how they fit in the picture. Your influencer should know as much about the campaign as you do.
At this point, you also need to decide how your influencer is going to access your account, whether you will give them direct access to your Instagram account, or use a third party app like
Decide if you'd like the influencer to have direct access to your brand's Instagram account or if you'd rather have them upload content to a platform like Buffer or Hootsuite for you to review / sign off on.
Instagram doesn't allow posts from third-party apps, so your influencer won't be able to bypass you and post content directly to Instagram. But if you're going to use a tool like this to queue-up posts for the Instagram takeover, make sure someone is monitoring this account and getting those posts out quickly with as little delay as possible.
Again, think of an Instagram takeover as a way to increase awareness of your brand, and consider planning multiple takeovers throughout the year, perhaps in support of a new product, to promote a live event, or even just to re-ignite engagement within your Instagram community.
Now, you have quite a bit of information to mull over. If you need help connecting with influencers or building out your Instagram takeover campaign, we can help.