CBD is trendy. We hate to classify it that way, but it totally is. It's being positioned as a baking soda-esque type of cure-all for everything from achy feet, to mental health problems, to the antidote for the anxiety your dog feels during Fourth of July fireworks. 
That's great for marketers. 
This kind of be-all, end-all thinking about cannabidiol (CBD) provides brands a natural "in" for marketing CBD by partnering with social media influencers from all sorts of backgrounds.
In our first post, we provided a pretty detailed overview of the CBD market, including some background info on the regulations that are making it tough for brands to implement more targeted marketing campaigns across digital mediums. 
You can read our massive CBD Industry Overview here.
In this post, we want to deliver on our promise to walk you through influencer marketing strategies that will help you get your brand in front of each of the five buyer personas identified by High Yield Insights in its 2019 study, The CBD Consumer Experience: I…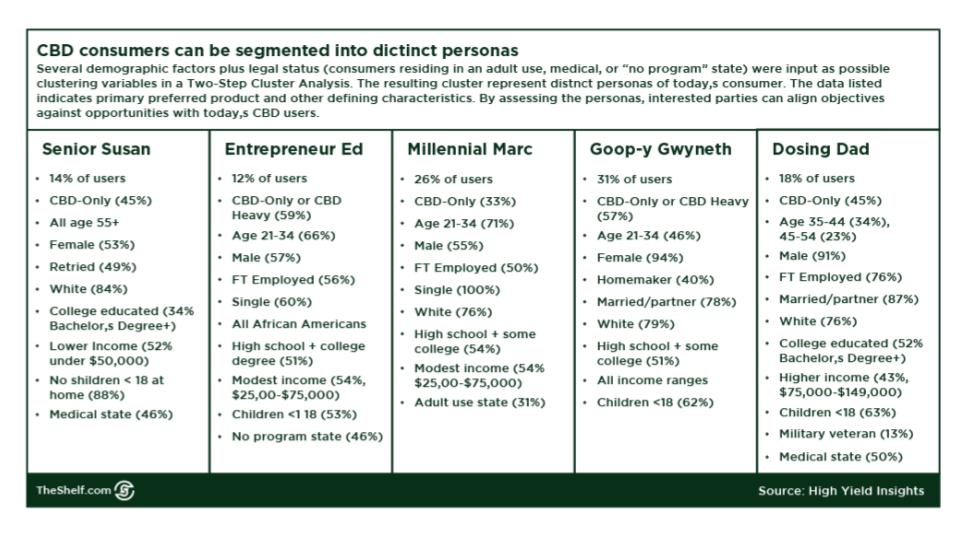 But here's the thing… that post also ended up being massive, so we decided to make this post the 10,000-foot view of marketing CBD with influencers. Then over the next five weeks, we'll post one detailed influencer marketing strategy to target each buyer persona.
This is going to be some really great content that includes strategies that are tailor-made to get certain people in your store or on your site. If you're a CBD brand, don't miss this series. I'm telling you… Make it easy on yourself and just subscribe, so you don't have to try to remember to come back every Thursday. We'll send the info right to your inbox.
Muddy Regulations Give Way to Marketing Challenges for CBD Brands
Cannabis laws are a hot mess… a hot, confusing mess. And that confusion is making it way harder for CBD brands to use traditional digital marketing channels like PPC and boosted posts to achieve important goals like becoming a household name and breaking the Internet with your crazy Amazon Prime-styled website traffic pile-up.
Search engine giant Google doesn't even allow marketers to use its Keyword Planner to search for potential terms to target. Instead, you get back an empty list.  Google Adwords has a prohibited content list, which includes healthcare and medicines. Of course, cannabis makes the list. Because of this, brands that sell CBD products are unable to use PPC ads for advertising. This goes for ads in the display network, YouTube, retargeting platform, Google shopping, and universal app campaigns, too. 
Both Facebook and Instagram have strict policies for CBD content under its  Drugs and Drug-Related Products guidelines. 
Why all the shade? 
Well, not all states are okay with getting on the CBD train, and since these products are still legal-ish, and not legal, you can expect there will continue to be barriers in place for CBD marketers will have to circumvent.
In order for CBD brands to successfully position themselves to do business with the masses, they need a non-ppc strategy that starts by answering this question:
How can you ensure people know about your shop across town? Across the country?
SEO. Duh.
You can (and should) go the SEO route, but be prepared to wait a few weeks or months before you see significant results. Your other option is to go with something that's proven to hasten conversions…social proof and influencer marketing. 
Why Influencer Marketing Should Have Been Your Plan All Along
In our last CBD post, we talked about who uses CBD products, and who wants to use them. More than half of current CBD users are women (46 percent of them millennial women). Interestingly, 64 percent of the people who are interested in trying CBD are also women.
With that in mind, consider the following 10 stats about your target demographic:
74% of people trust social media for guiding purchasing decisions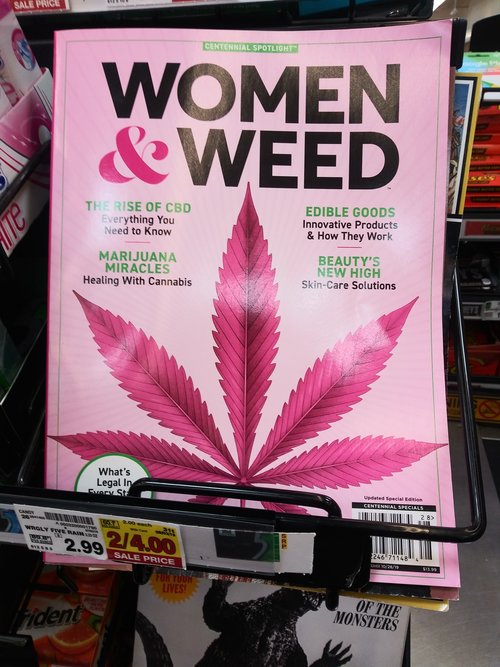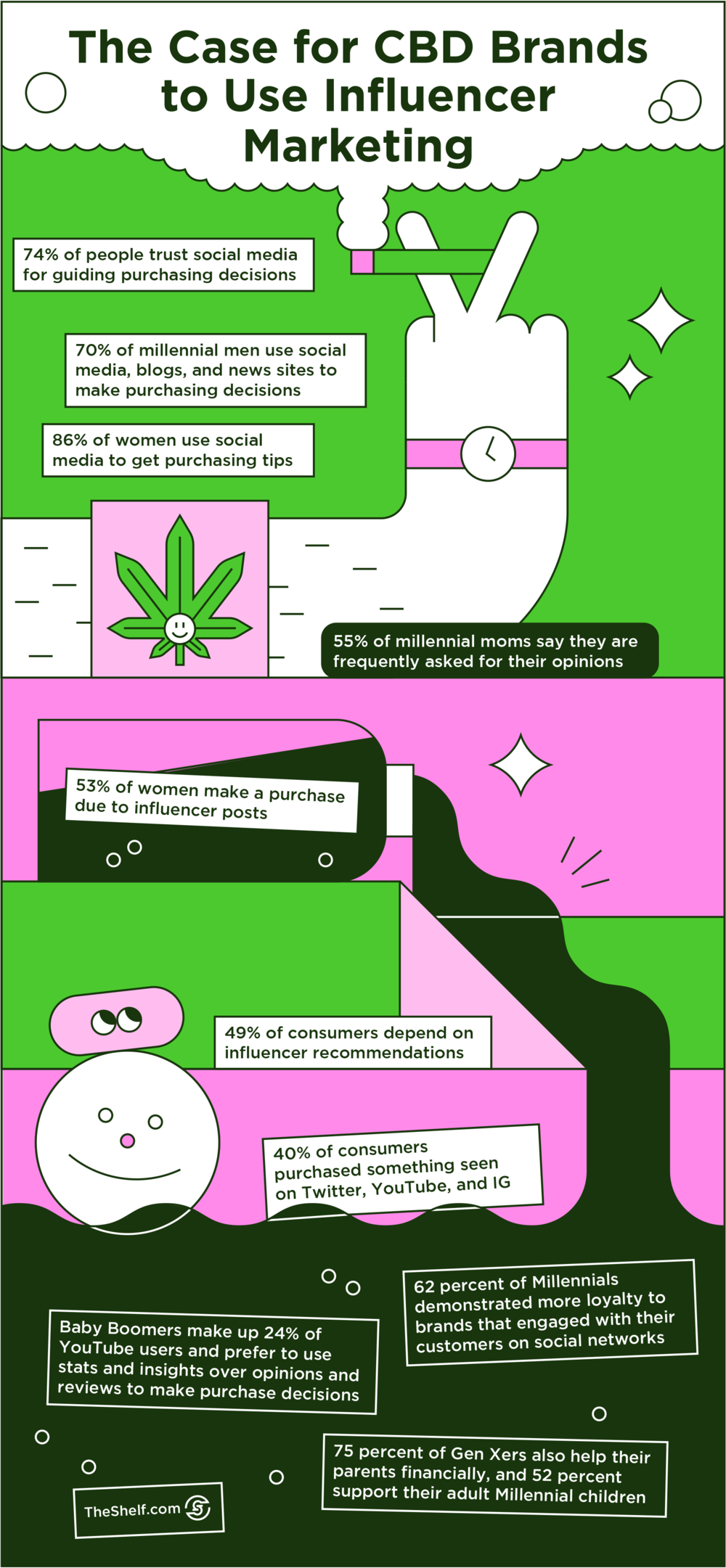 Now, with these stats in-hand let's work out a few campaign ideas. Social media, or more importantly for CBD brands, people who wield influence on social media, can play a significant role in the buyer's journey.
Many social media influencers are regular people who are seen as trusted advisers in verticals like health, food, fitness, lifestyle, and beauty. Luckily, lots of influencers in these categories love CBD. They love it.  
Bridging the CBD Marketing Disconnect with Social Proof and Influencer Marketing
I scanned a few posts containing CBD-related tags from micro- AND macro-influencers and discovered CBD posts actually do pretty well on Instagram. Best guess: People are more curious than dubious. Plus, unlike marijuana, CBD doesn't have THC, so it's seen more as help for the hip rather than a hazardous habit.   
Positive Sentiment Is In Your Favor, My Friend
Admittedly, knowledge about CBD products isn't as widespread as other hot health trends, like keto. We've been living with the keto craze for more than a decade now. That's why this past July, both Newsweek and Prevention magazines released special CBD editions packed with information about CBD legislation, stats on CBD use, and how CBD users use cannabis-derived products to treat different conditions.
As media publications, we're all kind of out here trying to fill in the gaps for those interested in CBD. The Shelf is also all about that influencer marketing life, and we see every trend through our rose-colored marketing strategy glasses. So, our when we share insights, they often come with a huge helping of infuencer strategies. 
Despite the fact that most people still have A LOT of questions about cannabidiol, this kind of curiosity is mostly to your advantage as a CBD brand, because you have a great opportunity here to educate potential buyers and emerge as the authority in your industry. Truth be told, I think a comparable information void in another emerging industry would be a total turn-off for potential customers.
(Like, a few years ago when belly wraps were all the rage, a lot of people secretly (or publicly) thought it all sounded pretty snake-oily. Even people who wanted to believe kinda went into it with their fingers crossed.) 
The Medical Marijuana Folks Have Done Us All a Solid
In this case, the medical marijuana movement has already lain a solid foundation. For years, they have been educating the public and championing the cause of cannabis so that now, CBD brands have the opportunity to leverage their hard work to fast-track a path into mainstream America. 
People who use medical marijuana believe it works and they say so. Current medical marijuana users swear by cannabis, and CBD is a cannabis compound.
Fortunately, CBD users also swear by CBD. According to the High Yield report: 
80% of CBD users agree that cannabis can address physical health conditions.
79% of CBD users agree that cannabis can address mental health conditions. 
83% of CBD users believe cannabis can improve overall health and wellness.
As a result, masses of people also suspect/believe CBD works, even without having firsthand experience with cannabis-derived products.   
Why?
Social proof. The chatter of the crowd.
For many people who are even a little bit interested in CBD, it's not a matter of whether CBD products work, it's a matter of being educated on the best ways to use CBD for overall health or to address specific health conditions.
For them, the difference between wanting to try CBD and actually using CBD is a matter of having easier access to products (42 percent of respondents say this is an issue), availability of unbiased research (44 percent) and a physician's recommendation (34 percent). 
That's where we are.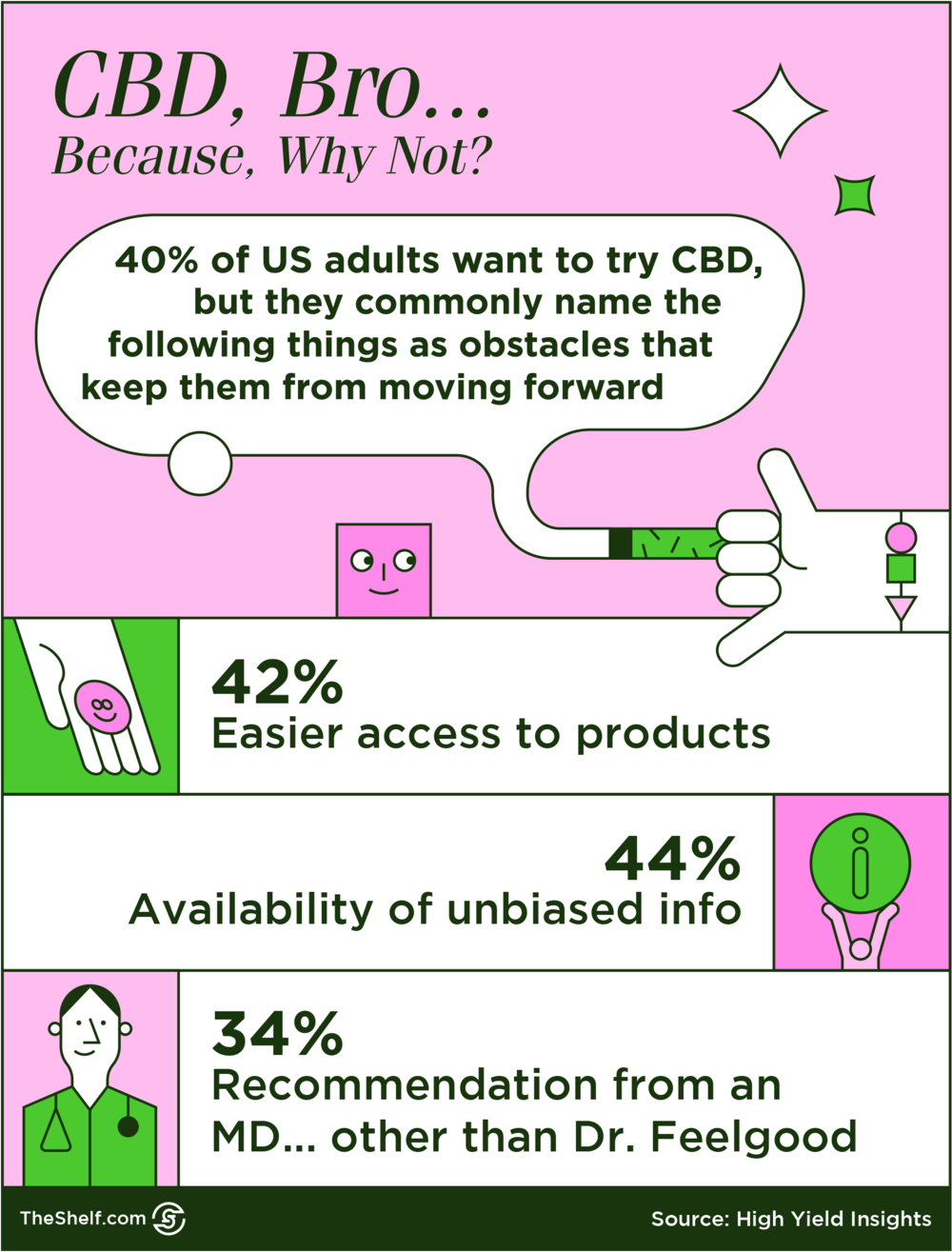 How to Use Influencer Marketing to Reach CBD Buyers
Just as certain types of CBD products outperform the others, there are certain types of CBD products that typically perform best on social media:
CBD oils
CBD-infused beauty products
CBD/hemp-based body creams
Pet products
CBD-infused edibles
We already see CBD brands partnering with influencers. Not only does influencer marketing act as a buffer between your products and the stringent regulations, it also yields a higher engagement and better ROI than traditional ads. 
Besides boosting interactions, you can target the following outcomes with influencer marketing for CBD products:
Grow your brand visibility and reach more prospects
Leverage the user-generated content influencers create
Generate positive reviews from influencers
Find prospects who are interested in health and wellness 
No worries of getting your content removed
Build a network of brand advocates
Grow a list of real followers for your brand pages
Now, let's take the rest of this post to discuss how to build campaigns that will help you get the results you want.
DESIRED OUTCOME: GETTING THE WORD OUT
For new or growing brands, a brand awareness campaign is crucial for getting the word out about your products. Brand Awareness Campaigns
Partnering with macro-influencers is one of the most effective ways to spread the word. Plus, working with one or two macro-influencers can give you three or four times more coverage than working with a half dozen micro-influencers.
Now, for a powerful campaign, focus on influencers who have mastered the art of visual storytelling. These are influencers who can create the type of UGC you actually want to share. Besides, great stories are more engaging than a basic product post. Quick and Dirty Product Review
Speaking of a basic product post… there's a place for that, too – working with someone who reviews products on Instagram. Review accounts exist solely to help followers get their regular dose of new products. For CBD brands, it would be like having a Yellow Pages listing on Instagram. It's not nothing… but you wouldn't be doing it to reach any meaningful marketing goals.
Paying an influencer to spotlight your product solves the problem of getting your product in front of a larger audience, but it does very little to help in the way of drumming up memorable UGC worth reusing across your own branded channels.
In other words, they'll see you but they probably won't remember you.
The models are usually all kinds of gorgeous, which is great. But these types of posts offer social media users no compelling reason to stop scrolling long enough to read the caption that talks about your product.s It's easy to get lost in the crowd.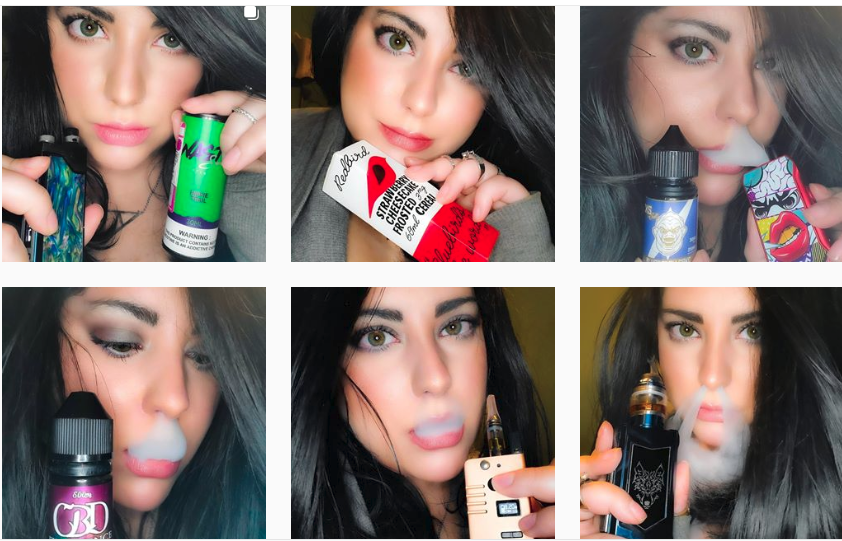 Totally true that @vapingqueen made me click to her account because she's just that darned pretty. I didn't click on any particular picture to see about any products though. Source: On Instagram
Which brings us to the next type of campaign…
DESIRED OUTCOME: COOL CONTENT AND MARKETING ASSETS
UGC Campaigns
Bread and butter, baby. Whereas you would want to use a couple of macro-influencers to get massive reach for a few great pieces of content, you want to use micro-influencers if your goal is to get TONS of great content created to reuse for ads, on your websites, or in your stores as product images.
This picture actually made me stop. The unexpected product placement looks pretty cool AND there's a descriptive caption to go along with.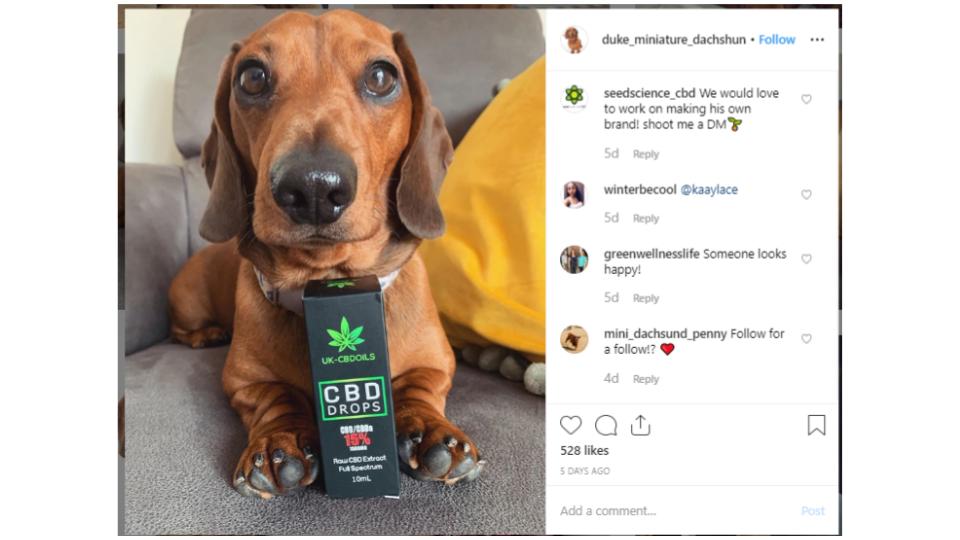 Source: Post from pet influencer, Duke the Sausage Dog (@dukeminiature_dachshund on Instagram
A UGC campaign also widens your net a bit because you can choose influencers who will be able to create content that you can use across multiple campaigns. Also, the focus for these types of campaigns is a little different than the focus of a brand awareness campaign. With these, the goal isn't having the world's most engagement-worthy images… it's typically more about getting inexpensive content with full rights that you can use any way you want.
DESIRED OUTCOME: MORE TRAFFIC TO YOUR WEBSITE
Bloggers and Vloggers
Sales is often a numbers game. The more skilled the salesperson, the better her/his numbers. So, work with macro-influencers who also have popular, well-trafficked blogs. You may not be able to convert visitors the first time, so it's important to continually optimize your campaign and implement a retargeting strategy as well. For Traffic campaigns, we recommend utilizing blogs and YouTube videos pretty heavily (with Instagram Stories worked in).
Stories are good for clicks, but they only live for a day… so they're also great to use when experimenting with messaging. Blogs and YouTube are much more of a long game. But when they perform, they will give you traffic for years to come. Plus, they tend to get passed around Pinterest organically.
For this type of campaign, skip the traditional product placement, and especially the review accounts. If you partner with influencers who can create AMAZING pictures, you can lure people in with aspiration as the carrot, not your product.
In that sense, Traffic Campaigns are like guerrilla warfare – you're trying to strategically embed your CBD products on YouTube and in blogs within the context of larger pieces of the most engaging and invigorating content your audience sees on any given day.
I grabbed this YouTube video posted by popular lifestyle influencer Nikki Phillippi (@NikkiPhillippi), a vlogger who has more than 450k followers on Instagram and 1.3 million subscribers to her YouTube channel. This video in particular has racked up 231k views to date.
The video was a follow-up to this Instagram post from Nikki (which was posted after she got positive response to an Instagram Story). Her post got more than 10k Likes and 160 comments, many of them questions about Nikki's own experiences with CBD and about the CBD products she uses.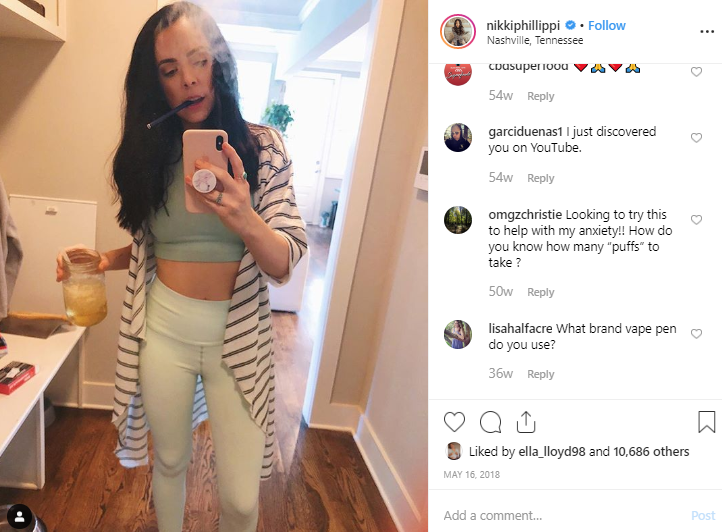 The video runs for 23 minutes and in addition to talking a bit of science about CBD as a compound, she really deals with the personal side of using CBD… things like how much to dose, saturating yourself (she experimented with higher doses and shared her experiences in the video), the cost of CBD to manage her pain vs traditional medicines.
But what may be of most interest to you is the description under the video, which includes a link to the CBD Luxe website where people can buy the CBD oil she used.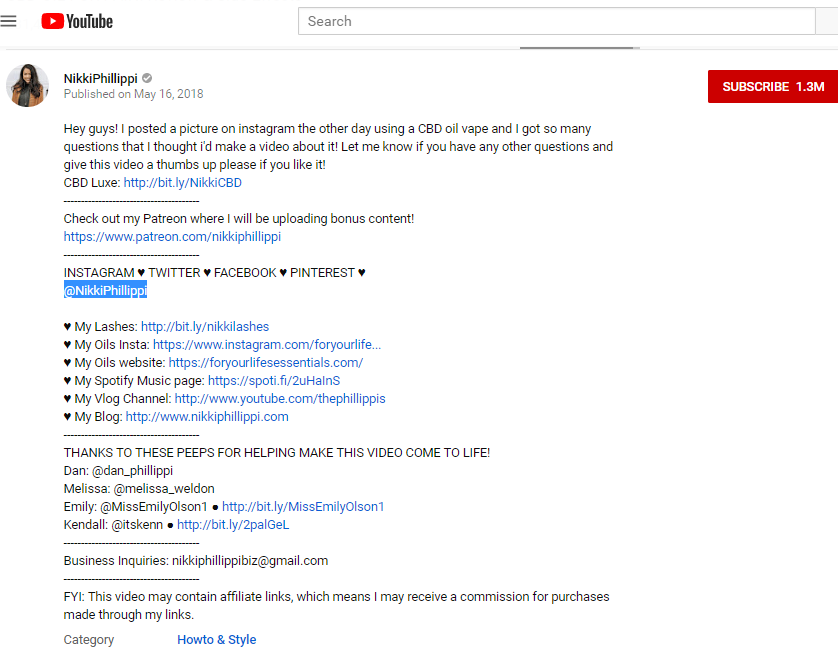 Coupons and Promotions
Coupons and promos are also a good way to not only drive traffic to your site, but also to gain followers. Again, partnering with an influencer who can promote your discounts is going to be the best way to get the most eyes on your campaign. The post below from micro-influencer Mattia Garzetta (on Instagram @mattiagarzetta is promoting a coupon code available for Pacific CBD gummies. Mattia is a vape enthusiast. Almost his entire Instagram account is pretty pictures of vaping and CBD supplies (he's a photographer, too).
This is a great-looking picture even though it didn't perform as well as some of Mattia's other posts. In addition to more than 1300 Likes, this post also got 90 comments.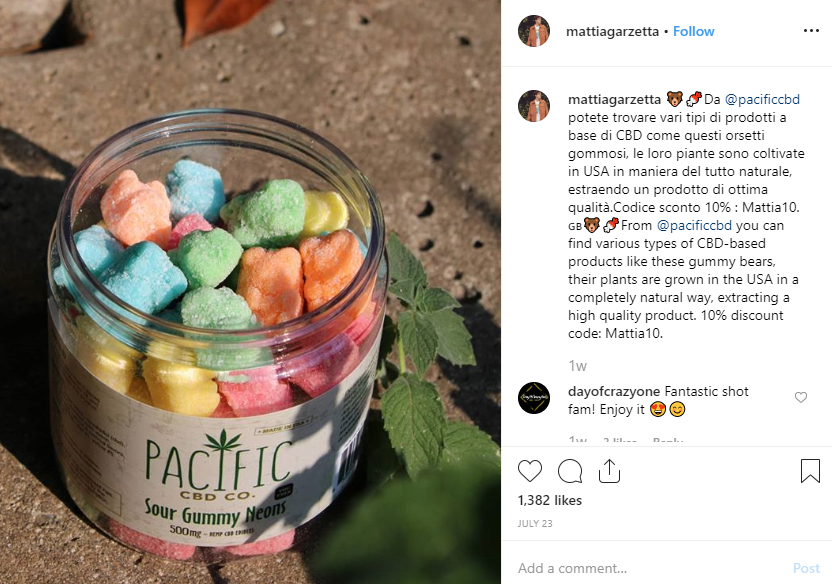 This formula works. When your buyers are still in the research stage of your funnel, providing them with great information from a trusted source will eventually convert.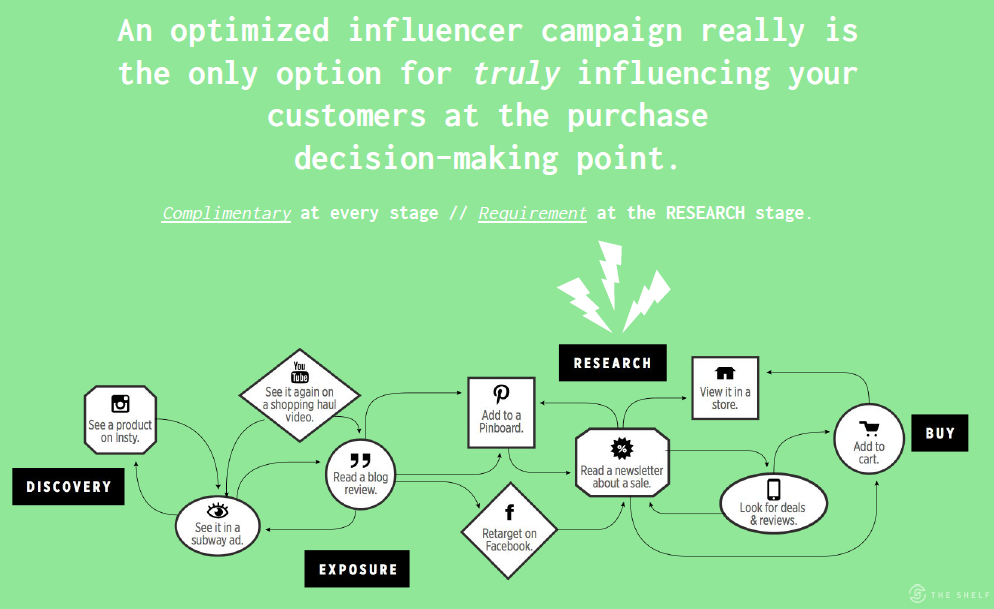 DESIRED OUTCOME: GROW YOUR FOLLOWERS
Just about every active account on Instagram follows other accounts (not including the Kanyes of the world). The typical Instagram user follows other accounts to either keep in touch with family and friends, learn, aspire, or be entertained. Of course, the content strategy created for your influencer campaign should deliver on all of those desires if doing so supports the brand. Often, that means being creative about the type and variety of content posted to your social media feeds. Creative Follow Threads
Okay. I'm not talking about follow-for-follow here. One surefire way to get more followers on Instagram is to create a follow thread by running a promotion or contest that requires followers to create a comment under a specific post that includes your branded hashtag along with at-mentions for one or more of the people in their network, preferably people who are most likely to follow your brand as well. The one thing that will keep this from being a hacky, spammy follow thread is if you find a way to make this creative and specific to the audience you want following you. Here's a creative example…
Coca-Cola South Africa (on Instagram @cocacolaza) recently launched an energy drink (and Instagram account) and did a pretty cool take on creating a follow thread. The company tagged popular, mid-tier influencer Aisha Baker by transposing her face onto a 2D drawing and asking her if she likes what she sees.
The idea is to her to tag more people and eventually have each person's face on a drawing. For this idea, I think partnering with an influencer will be a lot more effective than shouting out an influencer. But it's Coke… so this will definitely grow.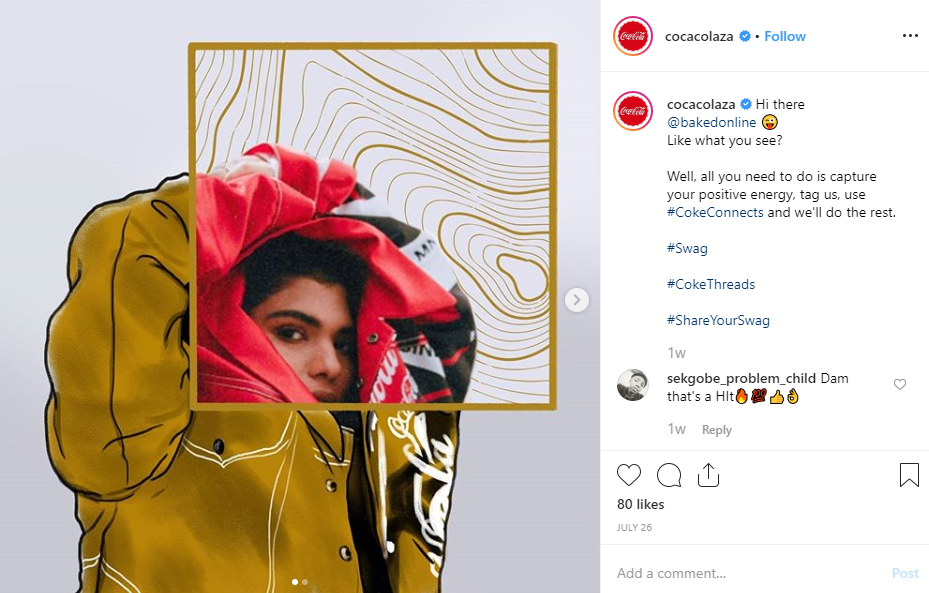 We're Everyday People
I thought this post from the Barney's Beverly Hills Lab to Beauty location was cool because it's one of several "team" posts that humanizes the brand, which is a huge driver of social proof.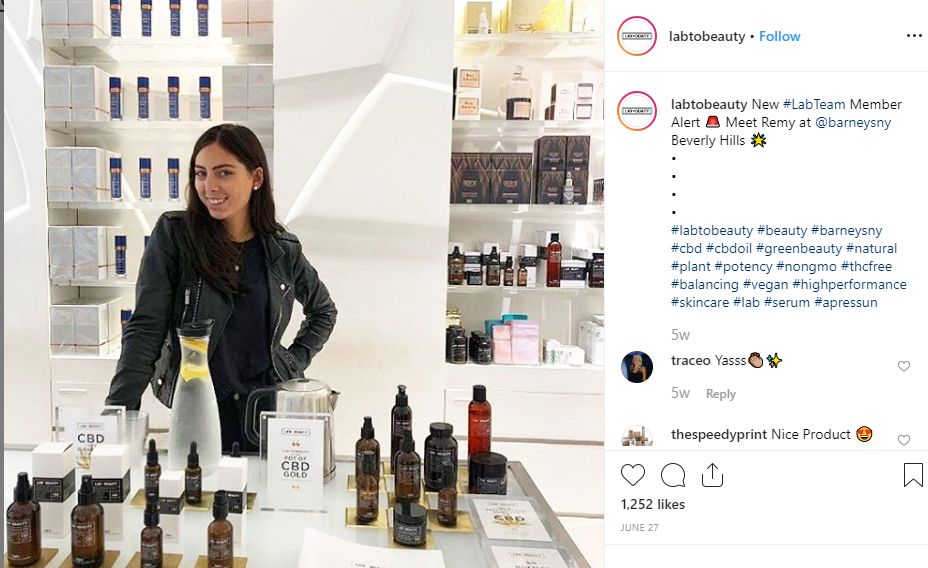 The post includes a branded hashtag (#LabTeam) and an introduction to a new team member named Remy.
Here's why this type of post would work for CBD brands. These types of behind-the-scenes posts can quickly endear you to people in a space where many (if not most) of the companies hawking products on social media are web-based companies that don't have brick-and-mortar locations to visit and meet the featured employees in person. Remember, a few of the barriers that keep would-be CBD users from trying CBD have to do with knowing stuff and feeling confident about what they're getting when they buy from you and having the assurance they'll be able to properly use CBD. A faceless company whose only point of human contact is email is a tough sale for people who aren't sure about the quality or use of your products.
Let them see those pearly whites. Whether you're glued to your computer in your sweat-dampened button-up or automating your marketing so you can hang out at Coachella. Giving people access to the people behind the product usually instills some form of connection.
Conclusion
We get it, marketing your CBD products is tough. At times, it may even seem like the world's against you. But when you take a closer look, you'll find millions of people vouching for the benefits of CBD products — many of whom are already social media celebrities. 
Connect with these influencers and turn them into brand advocates. Focus on telling stories and sharing authentic posts, and you'll find it easier to gain the trust of your audience.
For brands and investors, marketing for CBD products is tough work, especially overcoming restrictions like not being able to advertise using pay-per-click (PPC) ads. Influencers offer a powerful way for you to establish your brand across multiple social media channels.