Most of us have two types of clothes in our wardrobes: the classics and the of-the-moment trendy pieces. Sure, both serve their purposes, but it's the classic ones that never go out of style. They are the foundational pieces that you can use to build any outfit AND a perfect wardrobe. While most of us own at least a few of these – the LBD, the white button-up, the cross-body bag, the black pump – many of us fall short of committing full time to classic style without all the fuss. And trust us, it's this simple aesthetic that speaks louder than any trend.
Ahead, we're sharing 10 personal style bloggers that have mastered classic style and always manage to look effortless and chic no matter what.
Rounding up 10 of our Favorite Personal Style Bloggers with Great Classic Style!
Definitely one of our favorite blogs for gathering outfit inspiration, Jill of The August Diaries is classic and chic to a fault. She constantly provides her readers with styling tips and different ways to wear classic pieces, proving that you don't need to be over-the-top to have stand-out style.
It's all classic vibes on Tine's blog, The Fashion Eaters but, never without a little punch or parisian charm. Classic denim and stripes get paired with a tassel belt, a suit is made casual with a pair of kicks, and a button up sits dangerously low to reveal a little skin. While Tine has a great passion for style, trends tend to frustrate her, so she offers a unique spin that her readers can easily copy too if they want.
Mary's approach to style is casual and cool with a focus on timeless pieces: maxi dresses, button ups, denim jackets, and denim everything else, to name just a few go-to's from her closet. She sticks to a simple color palette: blue, black, white, grey, and nude. With classic pieces and an easy color palette, mixing and matching from foundational pieces always looks easy and elegant.

Related Post
Reusing Influencer-Generated Content (How To + Best Practices)
Monochrome and minimalist are at the heart of Leonie's style and as she says, "A calm confidence where effortless is key" is what makes her stand out. As a result, she's always forgoing trendy pieces in favor of classic ones, like trenches and loafers, that fit seamlessly into her wardrobe season after season, year after year.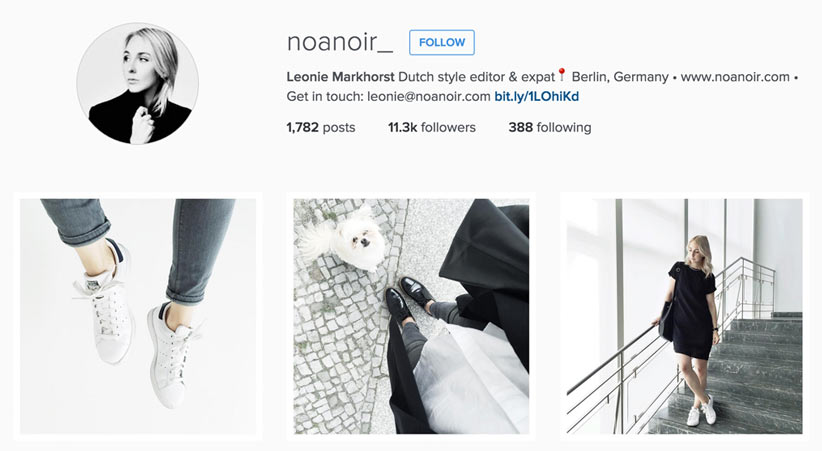 Sietske became well known on Lookbook.nu and ever since has amassed a huge following that follow her for daily outfit inspiration. She consistently gravitates toward a clean palette, and does so with intention, for it's how she wants to leave her mark as a style blogger. Through her clean palette she also gravitates to timeless pieces that forever earn a spot in her closet – pant suits, silk blouses, shirt dresses, and duster coats.
Kimberly of eat.sleep.wear is passionate about modern and clean designs both in life and in her closet. Through her personal style blog, she shows her readers that it's not about what you wear, but how you wear it. Her closet is chock full of classics, which she pairs effortlessly, always offering her readers a new take on how to jazz up something simple.
With a keen eye for modern classics, Christine of Fashion N Chips really embodies that effortless look a lot of women want to cop. She describes her signature style as distinctively classic and minimalist, always comfortable and effortless, and often with a touch of menswear influence. She leaves no space for frills in her wardrobe.
To say we've been coveting Mirjam's style would be an understatement. From denim to kicks to knits to button-downs, she always looks pulled together, chic, and entirely effortless. Instead of rocking over-the-top trends, she goes for small details that shout out loud and make all the difference.
This Blogger, Photographer, and Vogue Paris Contributor is from New Zealand but now calls Paris home. She shoots and collaborates with a ton of publications and brands, but what makes her unique is that she can be found both in front of and behind the lens. Take a minute to peruse her Instagram feed and you'll see classic and polished pieces make up the majority of her wardrobe.
Rosanna of Billie Rose has classic style but always with a twist. She has an uncanny ability to collect a mix of foundational AND fun pieces. Case in point: A blazer gets paired with leather shorts, a duster coat with lace-up flats, a striped blouse and cross-body bag with overalls. In fact, you'll often find her wearing stripes (aka her summer uniform) because it's a super classic go-to with endless outfit combinations.
These are only a few of our favourite classic personal style bloggers. Who are your favorites? Let us know in the comments!