About half of us are planning to celebrate Valentine's Day this year, and we'll be celebrating in some drastically different ways. Some people are more the flowers and candy type. Others feel they're better off watching romcoms with their friends (or with a pint of Ben & Jerry's). Heck, even non-celebrants find a reason to do something for Valentine's Day three percent of the time! Regardless of which of these groups you or I personally choose, your customers have a tried and true strategy for celebrating Valentine's Day. That's where some your Valentine's Day influencer marketing comes in.
There will be lots of opportunities for retailers, brands, and marketers to get in front of consumers with, like, a million and one ideas for celebrating (or not celebrating) Valentine's Day.
Unlike the Christmas season where marketers start courting potential holiday shoppers months before the big day, Valentine's Day purchases are just shy of being impulse buys. Nearly half of these sweethearts don't even start shopping until the big week.
There are brands that have figured out how to leverage Instagram for effective Valentine's Day marketing.
Of course, there are also brands that could use a little help (if you are one such brand, we can help you come up with a stellar influencer marketing plan).  In this post, we're going to tell you how to incorporate influencer marketing into your Valentine's Day campaigns.
Love is in the air, guys. Even if it's just a weird kind of love for marketing.
Don't Worry, Valentine's Day Spending Will Be Steady-ish
Okay, so we're venturing into uncharted waters – our first post-COVID Valentine's Day. Last year, Valentine's Day fell smackdab between the first diagnosed case in the US (mid-January) and the first statewide lockdown (California in mid-March). So, you're probably giving Valentine's Day a close look.
I want to frame V-Day within the context of what we were expecting last year, and the fact that sales were up 8.3 percent during the November – December 2020 holiday season compared to the same period in 2019.
Last year, the annual survey conducted by the National Retail Federation projected Valentine's Day spending would hit $27.4 billion, and the average person would spend $196.31 celebrating.
Best guess: Valentine's Day spending may dip, but not enough to wreck the mood or anything. But we have another post for all the numbers. Right now, let's get into some cool marketing ideas.
Build a Sweetheart of a Valentine's Day Campaign with These Ideas
We combed through a few Valentine's Day campaigns to see who was marketing – and what they were marketing – for Valentine's Day. We found the usual suspects – candy makers, florists, perfume companies. But we also found several companies who were doing some super-smart targeting for Valentine's Day.
Galentines Day Fun
Just likeThanksgiving now has Friendsgiving, where people celebrate Thanksgiving with their friends instead of their families, women now have Galentine's Day, where you celebrate love between friends on Valentine's Day.
Leading up to Valentine's Day 2017, #galentinesday had been used in around 85,000 Instagram posts. As of January 2021, that hashtag and its variations have been used in more than 715,000 posts. 
Galentine's Day is the perfect opportunity to embed products in a ton of creative, nonassuming ways – ways that don't seem like you're peddling ads. Take a look at this post from fitness influencer @juliandaigre. Visually, it drives home the values of Galentine's Day (non-romantic friendship) without seeming like an ad.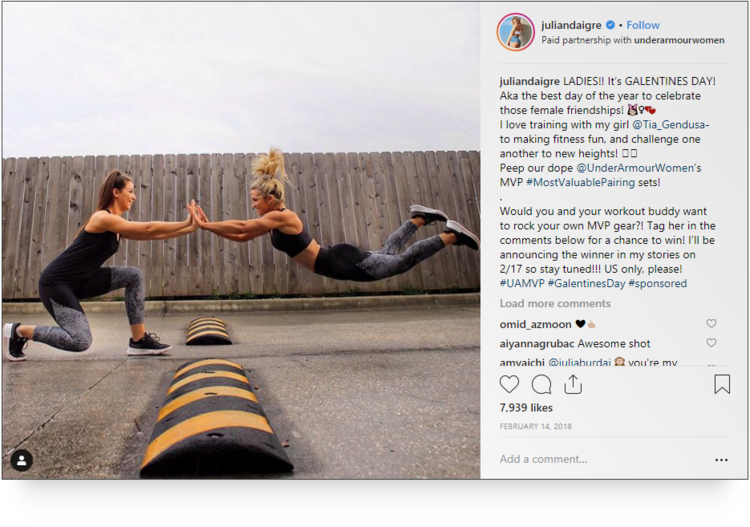 Palentine's Day Buddy-Friendly Activities
Palentine's Day is often referenced alongside Galentine's Day, but it's for for any two people who have a close relationship, but aren't dating or involved. Palentine's Day is really cool because it can be used to identify anyone from your best friend to your puppy.
I snatched up this post below because it shows social media user @_shinything on the aerial straps. I'll admit the quality of the video isn't super great, BUT for those who are interested in this sort of thing, a Palentine's Day post like this one could easily drive traffic to a Groupon offer or a landing page that publicizes your fantastic rates for introductory aerial classes.
Palentine's Day promotions work really well when they're about special activities that aren't your run of the mill bowling trip (although, bowling is my jam). And it's a good way to introduce activities that aren't on everyone's radar. The best Christmas gift my daughter got from me was four introductory aerial straps classes. They weren't on her list. They weren't on my radar. And the closest place that offers them is easily 30 miles from here but they'll do two important things:
let her work on her core strength, which she is all about
provide some great photo opps for her to add to her growing catalog of flexibility and gym posts
If you can couple something like this with retargeting efforts or a promo code for a steep discount, you can bet a percentage of the buyers who take advantage of your offer will buy more classes from you.
Anti-Valentine's Day
Here's a fun one – there are all kinds of crazy ways to show your anti-Valentine's Day spirit, and the movement is growing. Pinterest turns up a few popular anti Valentine's Day search terms.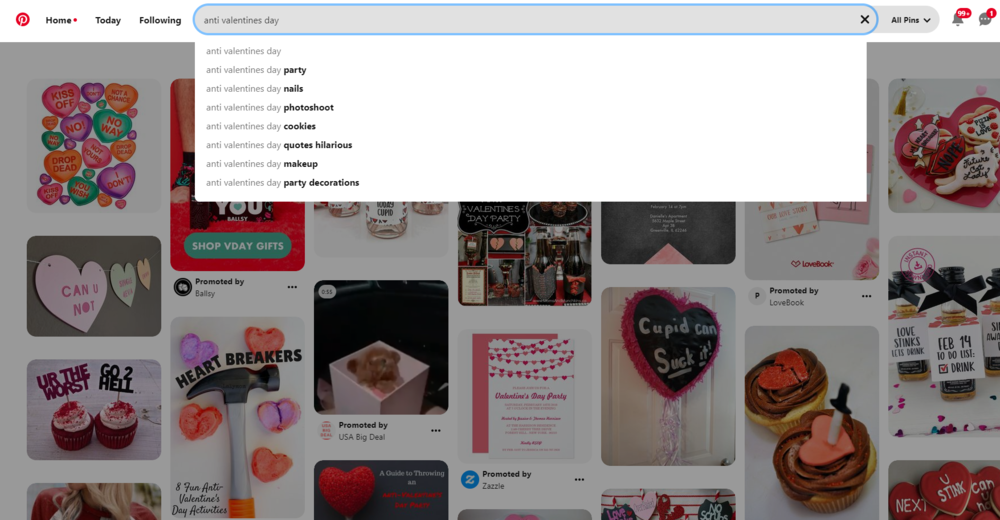 A quick search of the #antivalentinesday hashtag on Instagram turned up similar results: an anti Valentine's Day photoshoot, someone who got a Halloween tattoo for V-Day, backed goods with angry faces. The post on the bottom left is an offer for a $5 discount on $15 purchase if you use the code "ANTI".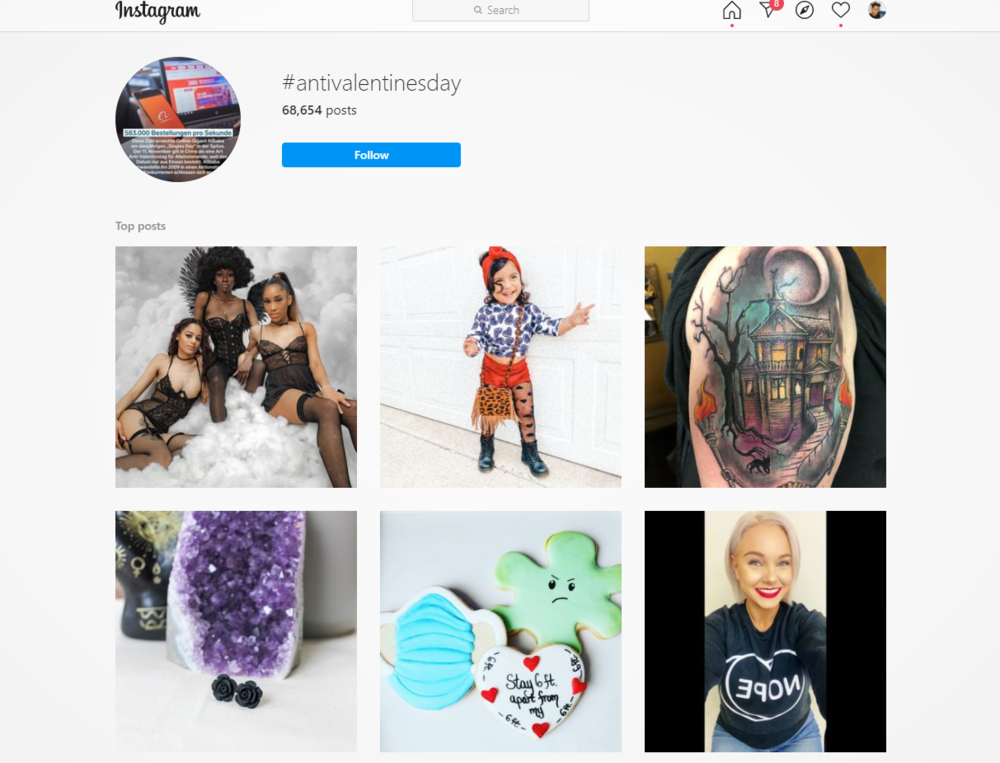 Galentine's Day Gift Ideas
For those whose love language (who's proud of me for using that term in a marketing post?) is more about giving and getting really cool stuff than spending quality time (hello, social distancing), Galentine's Day gift ideas can easily be a scroll-stopper, especially with a color-coordinated spread like the one below.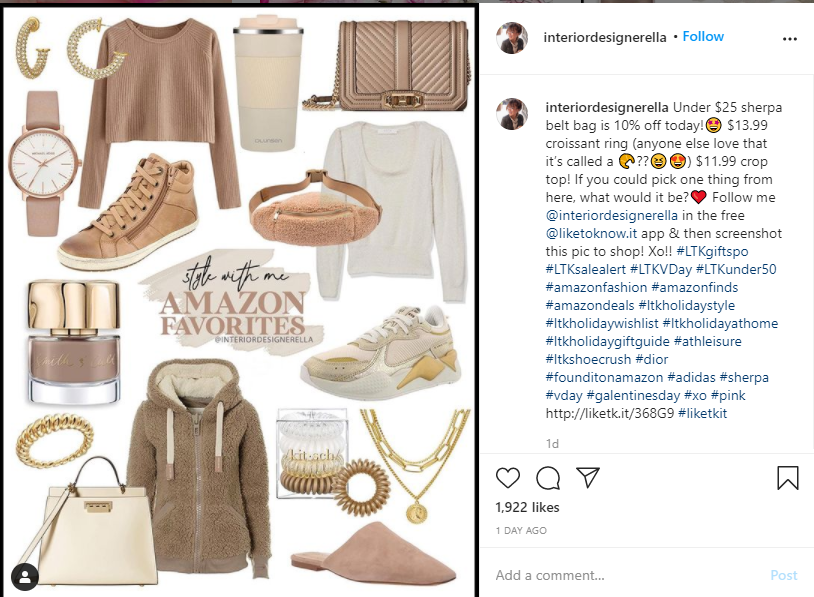 The Gift Box (who doesn't LOVE a gift box?)
Gift boxes are another creative and flexible idea that brands can use to introduce new products. Gift boxes and gift baskets are not only visually appealing (meaning, they're great for platforms like Instagram and Pinterest), but creators can run with the idea and create tutorials on how to design a gift box, "create a gift box" hauls (which means you don't have to be selling candles and chocolates to benefit), finding cool products to stick in gift boxes, ways to personalize them for your friend, partner or pet.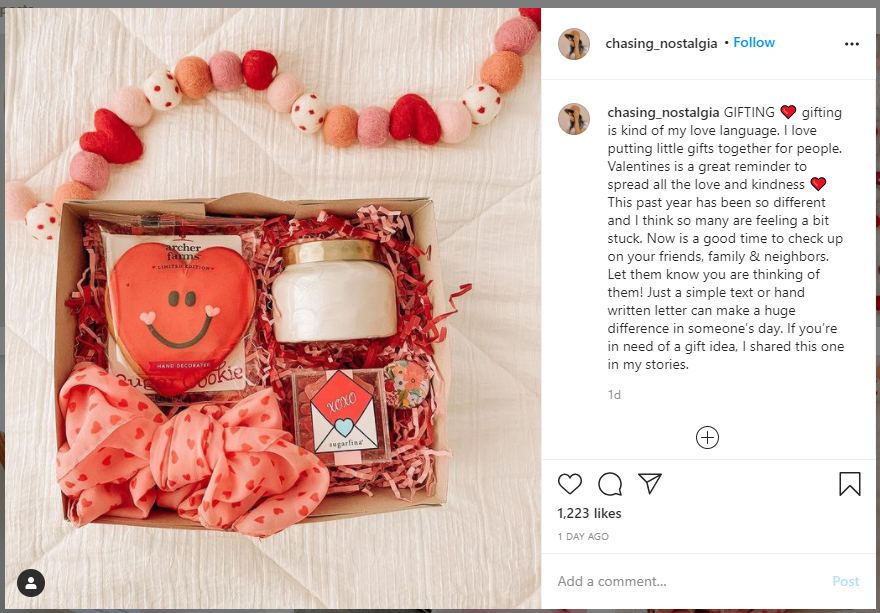 Some #SelfLove Love
One of the most popular non-couple Valentine's Day themes is around the topic of self-care and self-love. The #GalentinesDay hashtag featured in this post from fashion blogger Katie Sands (@honestlykate) has increased in use exponentially since 2015.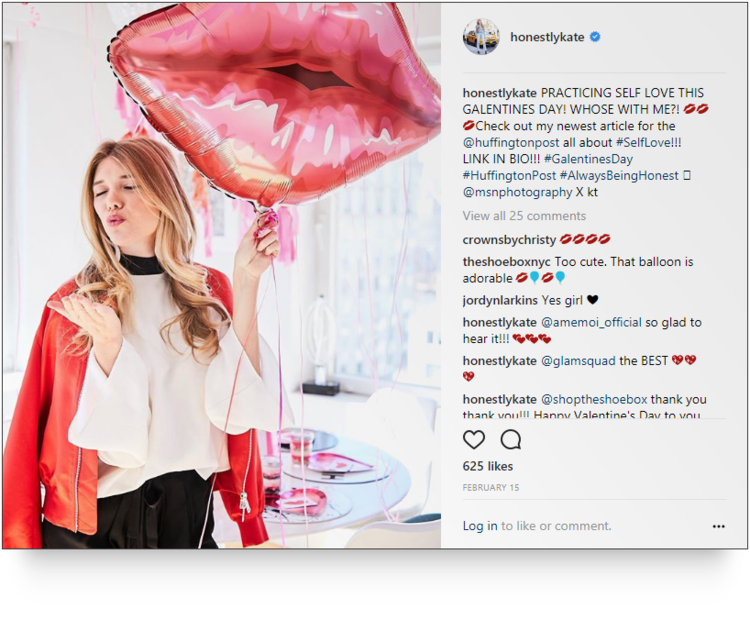 Interactive Valentine's Day Ads
When you think of Valentine's Day chocolates, I'm guessing that the nut-filled Snickers bar by Mars isn't the first thing that comes to mind. But, their Valentine's campaign in 2017 really put them in the forefront of people's minds.
You may be familiar with their "You're not you when you're hungry" campaign, which has featured celebs like Whoopi Goldberg, Willem Dafoe, and even a cameo from Marilyn Monroe.
For the company's 2017 Valentine's campaign, Snickers built on the success of these ads with its "You're forgetful when you're hungry" campaign. A huge billboard like the one below was positioned in the middle of bustling London, UK, the letters of the billboard made up of removable V-Day greeting cards to help out anyone who might have forgotten to pick up their Valentine's Day card.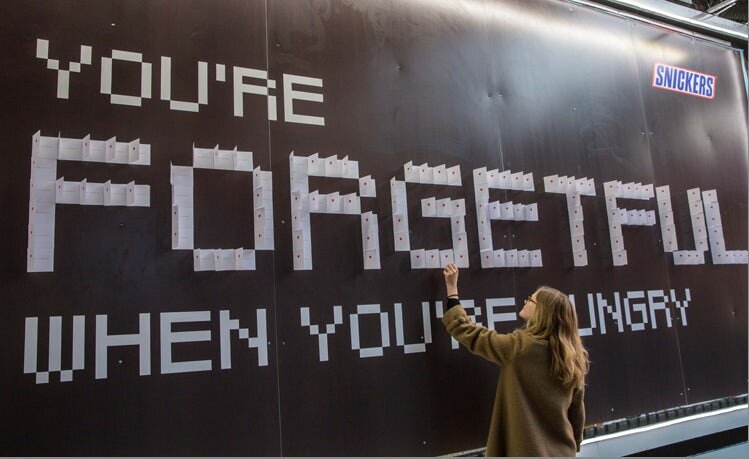 Okay, so no one's exactly walking up to a board to touch some rando public surface anymore. But, Walmart did an interesting take on this interactive idea for Christmas, by mailing out toy catalogs that included stickers that kids could use to identify the toys they wanted. We literally used that little toy catalog as a shopping list.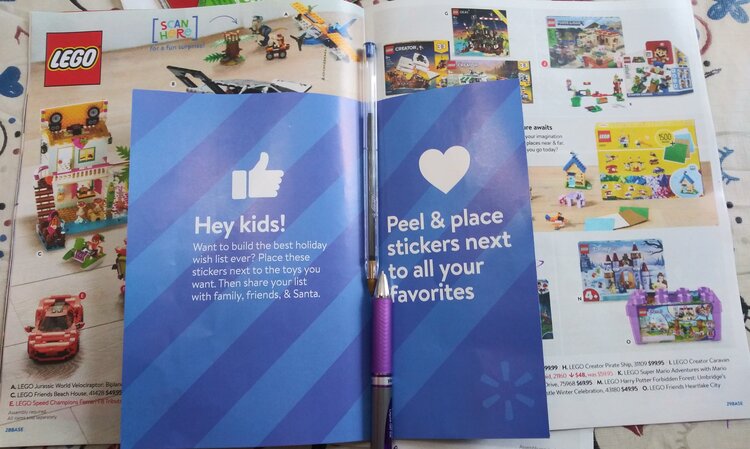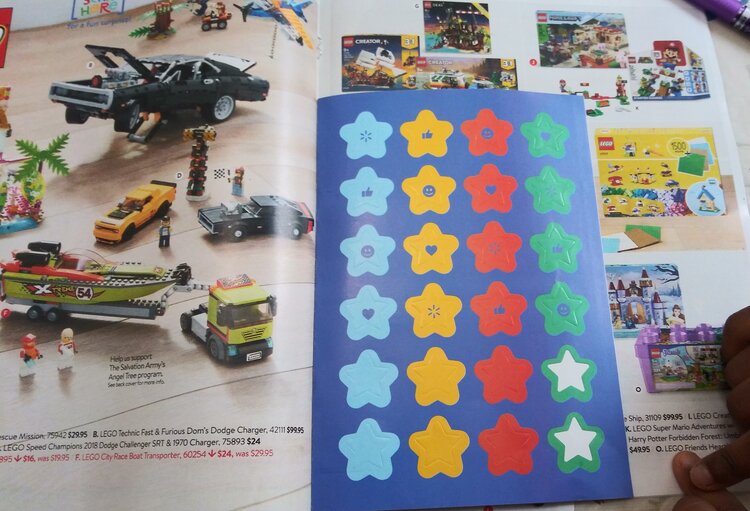 Contests
A brand well known for embracing the holidays with its festive flavors and enticing smells, Dunkin Donuts didn't hold back on Valentine's Day either. The company put its power in the hands of followers this time, and rolled out a UGC campaign on social.
Dunkin' launched a competition in 2018 through their Instagram account for users to share their "Dunkin' love story" on their own Instagram accounts and use the branded hashtag #DDLoveContest. Those who participated were automatically entered for a chance to win a trip for two to any US city with a Dunkin' Donuts.
Wisely, they were careful to make clear that this wasn't just for romantic relationships and love stories. Best friends, self-love, and all manner of love stories were encouraged – nobody was held back from entering. And, of course, they had love-themed goodies in store to help inspire your pictures.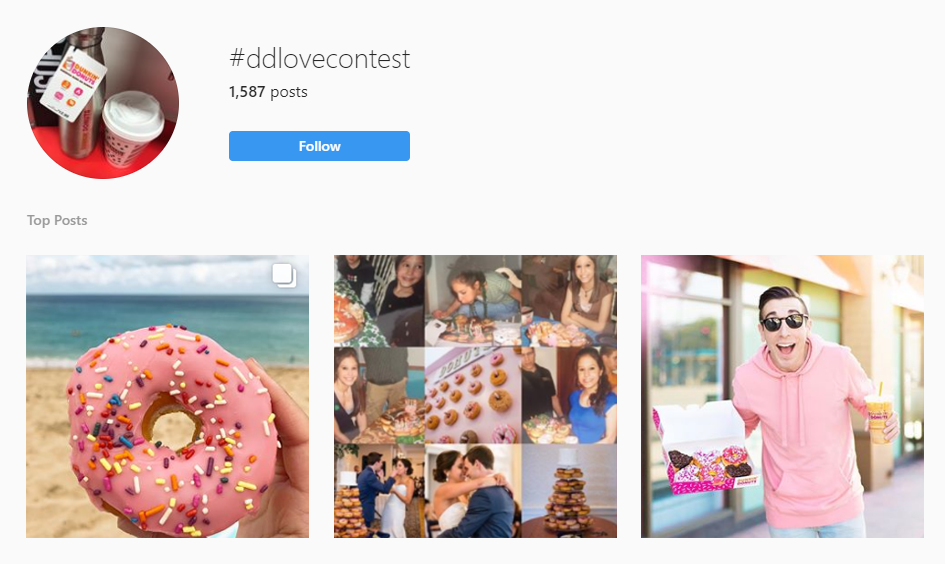 This isn't the first time the brand has relied on UGC to propel its Valentine's Day marketing. In fact, it's become something of a habit for the donut brand. In the past, Dunkin' Donuts has released Snapchat filters, ran Facebook live streams from inside real stores, and always encouraged their followers to share the love around this romantic holiday.

This time around, Dunkin' Donuts spread its V-Day campaign across different platforms to really hit us with an effective multi-channel campaign. While the competition ticked along on Instagram, donut lovers were embracing the love-themed geo-filters over on Snapchat. In a very creative, DD also ran a number of Valentine's Day polls and messages on the infamous dating app – Tinder.
DIYing a Trending Topic
If you've been on Instagram lately, you may have already spotted a few posts featuring #colorchangingcups. Right now, 41K posts include the hashtag #colorchangingcups, and another 30K include the hashtag #colorchangingcup.
In the post above, @kirteeny capitalizes on the same cup trend that Starbucks is building a UGC campaign around. This can be a clever way to get your product swept up in the tide of a trend without to be an exact match or risk having your product become synonymous with everyone else's.
The Heart Strings Approach
Of all the holidays throughout the year, Valentine's Day is probably the most emotionally charged. There may be no better time to lock in to your customer's emotions and really try and tug those heartstrings than February 14th.
And, our heartstrings were definitely yanked with Renault's ad in 2018 to advertise the new ZE model. For many of us, a car is not something we instantly think of as being the vehicle for a great romantic tale (…vehicle…get it?), but somehow, Renault managed to do just that.
Renault's animated video tells the story of a lovelorn postman, who has been long holding a flame for one of the residents on his route. Unfortunately, the love of his life has a rather ferocious dog, who doesn't take too kindly to him. Every time he drives back to her house to talk to her, her dog hears his car rumbling down the street long before he ever reaches her house. His advances are thwarted… that is, until he rolls up in a brand new ZE, which is an electric car that makes "zero noise" as the ad says. The postman rolls up incognito, walks past the sleeping dog, and sparks a romance with the girl.
Super cute.
Renault found a way to work upgrading an old car into a love story, and successfully aligned the brand with Valentine's Day. The tagline "Everything starts with an electric moment" further ties their story line into the theme of the holiday.
The Classic UGC Play (done by the masters of UGC)
We love to call on Starbucks anytime there's a need to talk about a UGC campaign because Starbucks has mastered the art of turning customers into raving fans and making a cup of coffee (or in this case, a cup) a cultural statement.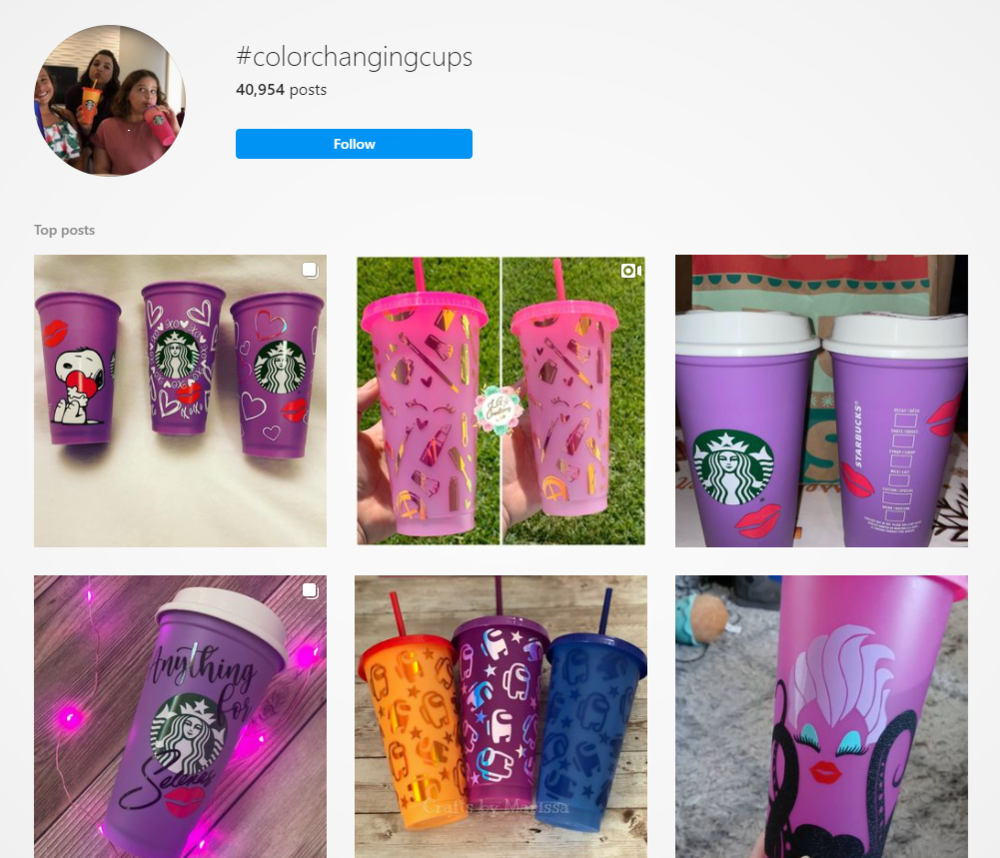 This year, Starbucks customers are raving about the color changing cups. These color-changing cups aren't new, but they do have a distinctly lovey-dovey vibe.
#Lockdownvalentines Date Night
Staying in is the new going out, right? As we're globally trying to stamp out this third wave of the pandemic, the hashtag #lockdownvalentines is gaining traction, which provides yet another "in" for streaming services, meal kit companies, and media companies to grab the spotlight for Valentine's Day.
Seventy-two percent of married couples and those who are in a relationship said staying in and watching Netflix is one of their favorite ways to spend an evening.  And why wouldn't it be?
Movies hit the theatres then are available at home on-demand just a few weeks later. You can now get gourmet meals shipped to your home faster than you can enjoy a reservation at a gourmet restaurant in the city. You can spend nights doing the hit-and-miss thing at the local club, but if you're going to hit and miss anyway, it's easier (and cheaper) to just swipe right. Sporting events, concerts, comedy shows, even church – all streamable. Today, we have all the benefits of going out with the convenience of staying in. So, we do.
Hello Fresh's Valentine's Day campaign was about staying in –established couples with busy lives preparing for a night of delicious home-delivered food.
Hello Fresh used multiple influencers for its Valentine's Day campaign, but still managed to create a uniform look from sponsored post to sponsored post. The look of Hello Fresh's campaign was consistent – white, bright, clean, and fresh.
Husband and wife influencers Robert and Christina (@newdarlings) published this Valentine's Day post to promote celebrating life's experiences – big and small. One such experience is cooking together at home with Hello Fresh.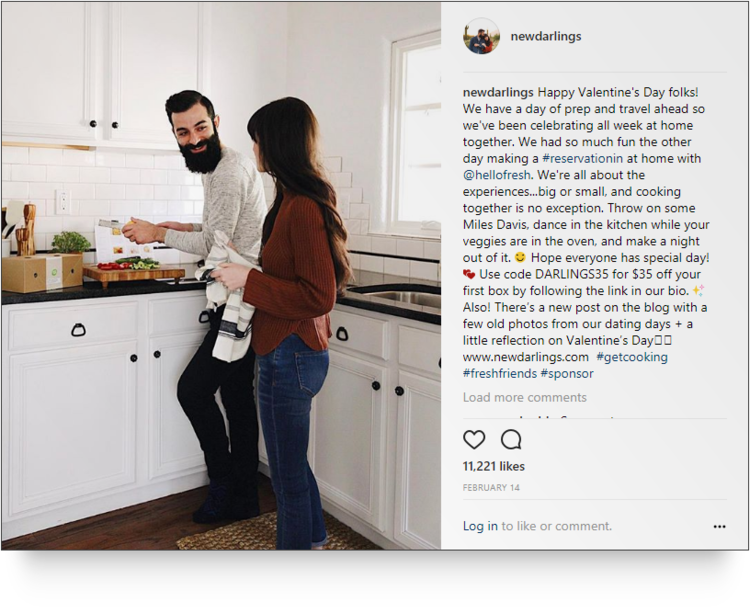 Below is a screenshot of this post from fitness model, Roberto Portales (@rjportales) that went up the day before Valentine's Day. "We decided to make a reservation in the comfort of our own home," the caption says, and includes hashtags promoting eating clean and healthy living. Like the last sponsored post from Hello Fresh, this is a candid shot of the cook in a white kitchen that's clean and well-lit.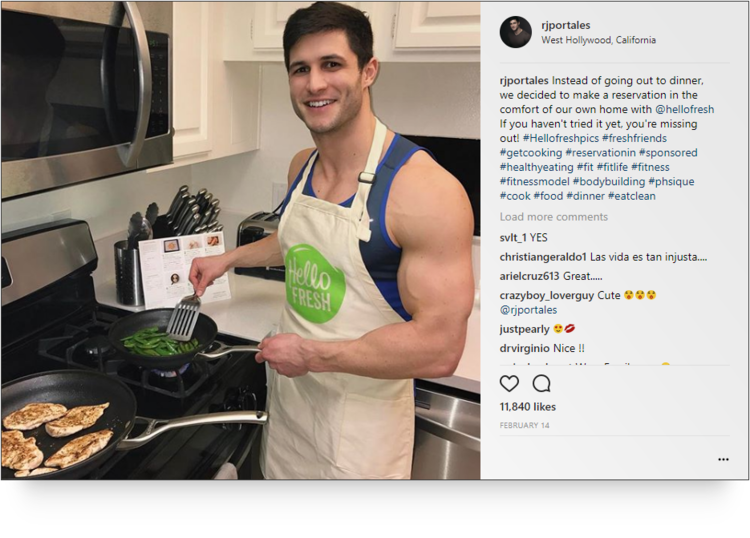 A similarly styled sponsored post was published by Samantha Broderick (@samanthabroderick) the day before Valentine's Day with the same general message – we finally have a night off, so we're staying in.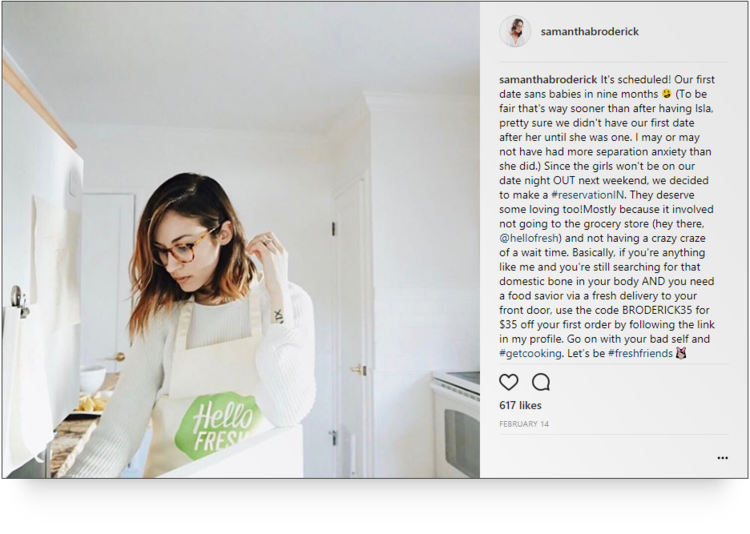 If I had to choose a single winning element that makes this campaign work, it is the consistency – the consistency of the message (we would rather be in that go out) , the consistency of the demographic being targeted (Millennials who are in relationships), and the consistency in the way each picture is styled (candid kitchen shots of influencers cooking). In just the three posts above, Hello Fresh's partnership with these influencers generated 24K Likes, plus at least one new follower – me.
How Trendsetters Socialize for V-Day (plus a tangent about signature scents)
Juicy Couture's 2017 Valentine's Day influencer marketing campaign targeted the Galentine's Day crowd – young, fashion-forward women who are either taking a day for self-love or going out with friends for Valentine's Day. The campaign was specifically for the Viva La Juicy Sucre fragrance and influencers used the hashtag #EatDessertFirst, along with a Juicy Couture at-mention.
As you would probably expect, the posts are feminine, edgy and colorful. And so are the influencers promoting the perfume.
Promoting a fragrance on Instagram is tricky because influencers can't rely on showing the audience "a look" like they can with fashion, or a technique like makeup artists often do. If this were a magazine, there would be a scent strip that readers could open and rub against their wrists. With Instagram, the influencer has one asset (her reputation) and one tool (her creativity).  Still, the engagement for most perfume posts falls below the 2 percent engagement we usually expect to see with successful fashion and beauty posts. I have a handful of facts and one theory about why that's okay.
First, the fragrance market is huge, expected to be worth $52.4 billion by 2025 according to Statista. With the widespread availability of fantastic-smelling knock-off scents and the "If you like A then you'll love B" scents overflowing in the discount bins, you would think more expensive, high-end fragrances would sell less, but sales of high-end brands priced $100 or more are actually up.
Scent, and especially designer fragrance, makes an important statement about who you are. For trendsetters, fragrance is almost as important as your personal style. The argument on whether or not every woman needs a signature scent still comes up in the blogosphere (here's an article on Forbes.com and one on Marie Claire, another on BuzzFeed about finding your signature scent; and this one from Glamour about the signature scents of 29 powerful women). Fact is, the newest fragrance is always trending. Always.
Nearly 60 percent of women and 54 percent of men say they use a fragrance daily. Ninety percent of women who consider themselves trendsetters use perfume.
That said, here is my theory about using Influencer marketing to push perfume. My mom's experience with her signature scent was no anomaly. I think when people find a fragrance they like, one that works with their body chemistry, they stick with it. The bonus is scent is a powerful trigger for memories. Like music, scent can seemingly embody the remnant of not just memories, but decades, eras, movements, and experiences. It's one of the reason the power of a scent can compel someone to keep buying a fragrance for years to come. And the reason Juicy Couture's campaign makes sense. The company isn't just looking to sell perfume (sales), but to create loyal customers (branding).
Caitlyn (@howdoyouwearthat), a fashion blogger from the New York area published this sponsored post for Viva la Juicy Sucré a few days before Valentine's Day. The post, which is likely targeting Millennial women, got more than 1,600 likes.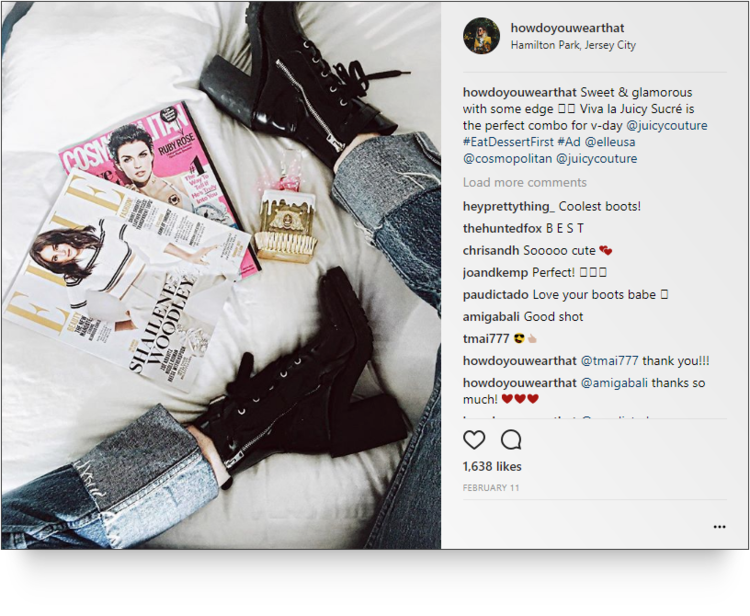 Compared to the campaign Hello Fresh launched, Juicy Couture allowed a bit more flexibility in how posts are styled and the filters used in the post. You can see the contrast in the post below from Ellery Lee (@elleisalwayshere).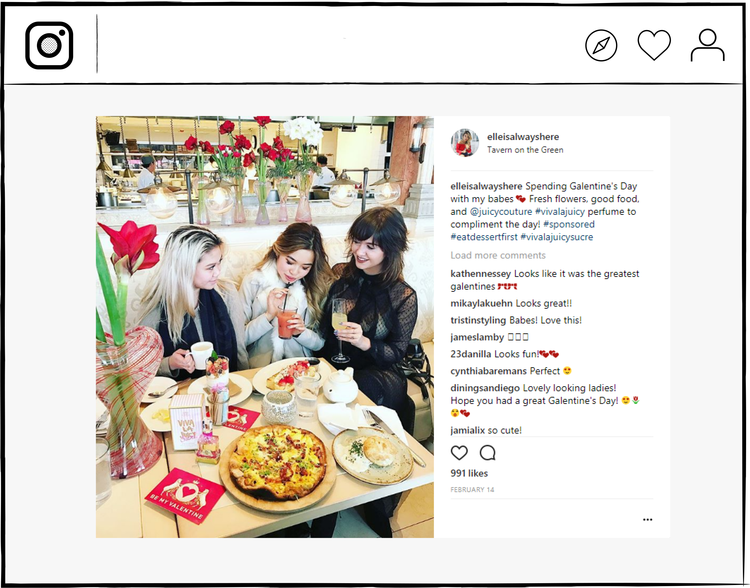 This picture has more to see than the last post, but that may be problematic. This post garnered significantly less engagement than the post above. The strength of the Viva la Juicy brand gets sort of misplaced in the picture. There's food and drinks, and Galentine's Day fun. But I didn't even see the perfume bottle sitting on the table the first few times I look at the picture.
The at-mention helps this post. I went on a Where's Waldo-styled search for the missing brand, trying to tie together the red in the picture with the Juicy brand (it's not red, it's pink). Perhaps shifting the colors in the picture to better match the colors of the brand would make the picture more eye-catching and the concept easier to tie-in with the Viva la Juicy series.
I think a more direct approach that worked well was the one taken by influencer Cheralee Lyle (@cheraleelyle). Cheralee averages about 4 percent engagement per post. This post got 1.75% engagement, a good rate for this type of sponsored post.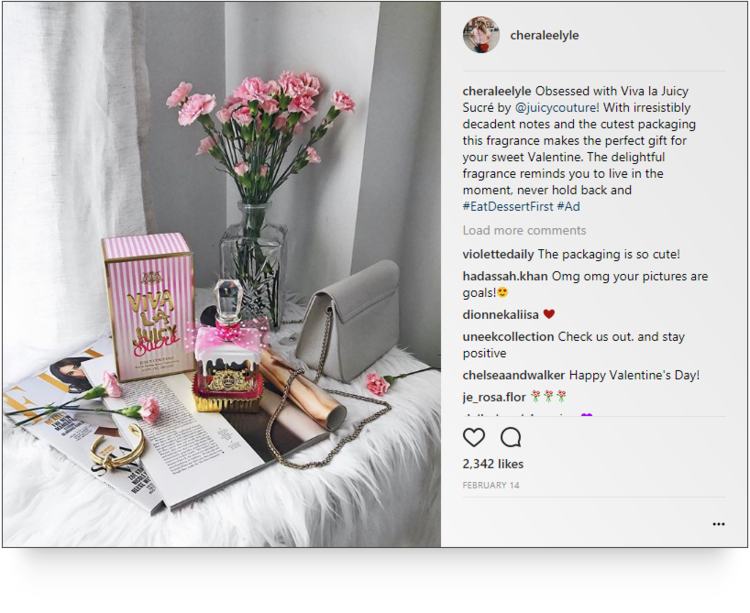 Cheralee used a simple color scheme that was on-brand and used the branded hashtag #EatDessertFirst. She included the brand's Instagram handle and named the product specifically. Plus, the perfume bottle is prominently featured in the post.
Traditional
1-800-Flowers. com is the online florists that ships flowers, candies and gifts to you, or you can have the company ship gifts directly to the person for whom you are buying the gifts. After Mother's Day, Valentine's Day is the company's top-selling event. According to its annual report, 1-800-Flowers. com, Inc. generated $756.3 million in sales in the fiscal year ending June 29, 2014. Two years later, total sales topped $1.17 billion.
I will admit, I was not swayed by their campaign. With the exception of one image (which I'll show you in a sec), the focus of each image was always the same – roses. None of the company's other products made the cut. Influencers seemed to reserve their artistic freedom in how they presented the flowers and captioned their posts. So, the campaign differed stylistically from post to post.
This post  from Pittsburgh blogger Cris (@styleanthropy) got more than 3 percent engagement. The picture pops with color, but it's simple.  The post included a link to a coupon code that gave a 20% discount off your order.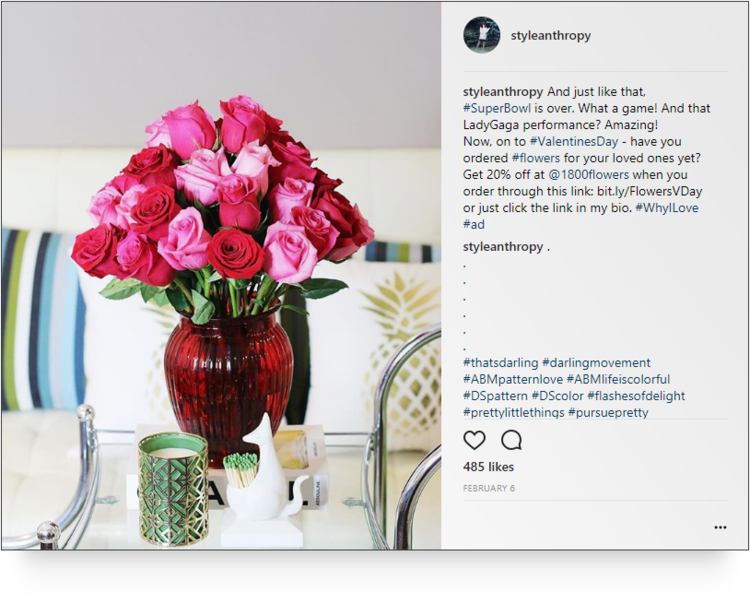 Now, this sponsored post from @manchic is not so cut and dry. I won't go into too much detail because the picture says enough already. But, it's a post about self-love that's targeting singles for Valentine's Day.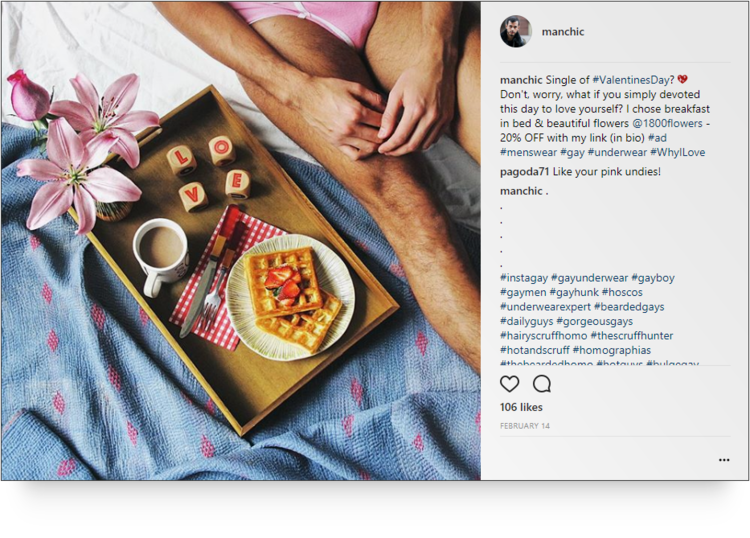 This post (screenshot below) from Kendra Atkins (@withkendra) reached nearly 6% engagement. It's also simple – just Kendra and the bouquet – and it was published the day before Valentine's Day. It's not tagged as a sponsored post, but the caption leads me to believe the post was sponsored by 1-800-Flowers.com.
Netflix and Chill… (or Disney+ and Popcorn with the Kids)
The last thing I did in the moments before I began researching the campaigns for this post was watch Marvel Studios Doctor Strange on Netflix. Lots of magic and astral projection in that movie, so I was only slightly freaked out when Doctor Strange (of all people) started popping up in my Valentine's Day research.
Turns out, Stephen Strange wasn't stalking me. Marvel was just capitalizing on the "Netflix and chill" for Valentine's Day trend by using Instagram influencers to announce the arrival of the movie Doctor Strange on Digital and Disney Movies Anywhere.
Marvel had two types of posts being pushed. In the first type of post, Marvel Studios sent influencers DVDs of Doctor Strange, "delivered" by a life-size cardboard cutout of the Doctor himself, like this one posted by Mitch (@gaynycdad), a travel and review blogger from New York.  Mitch's post actually performed well, though the reach was a little low.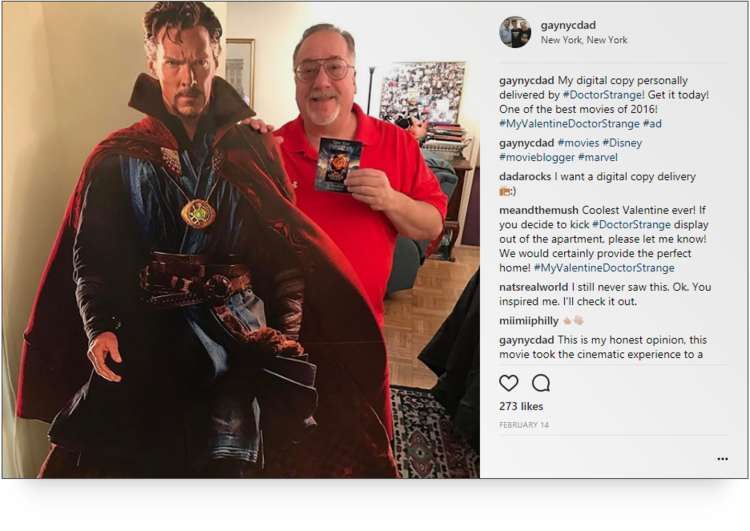 The second type of post was one featuring the influencer in the Doctor Strange costume. In general, those posts generated far more engagement and reached more people.
This post from Curiousjoi (@curiousjoi) of her in Doctor Strange's levitation cloak fared much better, getting nearly 800 likes and generating an impressive 7 percent engagement, the highest engagement from an influencer in this campaign. No doubt a lot of this came from other cosplay fans. This post wasn't tagged as a sponsored post, but Joi captioned the image as her running home to watch Doctor Strange.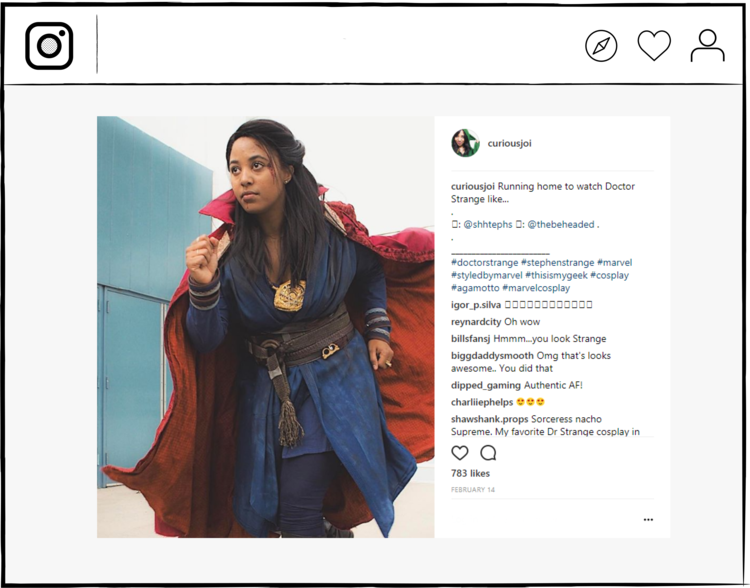 The influencer with the greatest reach for the Doctor Strange campaign – Chloe the Mini Frenchie (@chloetheminifrenchie). Chloe's post grabbed more than 4,500 Likes (mostly from humans) and saw 2.4 percent engagement.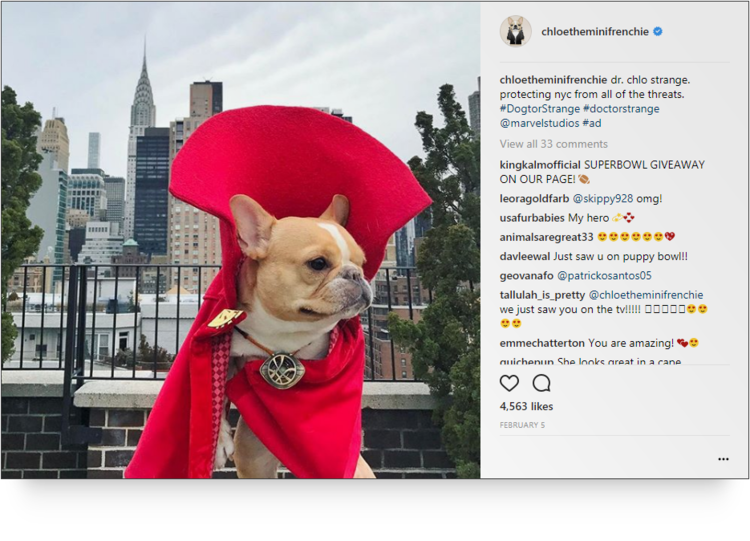 The Wrap Up
Valentine's Day marketing campaigns aren't what they used be, are they? Years ago, Valentine's Day was for couples and brands targeted couples. Today, brands target everyone, from couples, to Marvel movie geeks (proud member of that club), to women celebrating Galentine's Day. The spirit of Valentine's Day is becoming more inclusive. If you're a marketer, that's a good thing.
If you need help putting together an awesome Valentine's Day influencer marketing campaign, we've got you covered. Contact one of our creative, strategic team members and let us help you build your brand and get more Valentine's Day sales.