11 Shining Examples of High-Impact User Generated Content to Inspire Your Next Campaign
Coming up with fresh, and exciting ideas for the content you use in your marketing campaigns can be time consuming. You've run through the standard list of images that businesses should post on Instagram – product images, behind the scenes, and the faces behind the products. Now what?
This is where user generated content (UGC) and influencer marketing come in. Having your consumers and fans create killer content on your behalf is one of THE most effective ways to reach and make an impression on your target audience.
We've talked about how UGC and influencer marketing works so well together, and why it's important to include user generated content as part of your overall content marketing strategy. In this post, we're going to be diving into some awesome examples from across the web.
What Makes Good UGC?
Isn't that the burning question? What are the specific elements that make content good UGC? After all, relying on your followers and customers to create content for you can sound incredibly daunting. Risky. How will they know how to take a good photograph? What if they say something negative? What if it doesn't fit your brand persona?
Chill. That's the beauty of UGC – it's the real deal and it's not manufactured by the brand to look a certain way or sound a certain way or fit into a certain color scheme. It's real, it's raw, and sometimes it doesn't look that way you want it to look. But it resonates with people, and that's what matters. 
People trust word-of-mouth marketing over traditional brand-owned advertising. Influencer marketing tends to be seen as more reliable and honest in nature in large part because if the brand doesn't deliver on its promises, the credibility of the influencer is also  at stake.
Even as people get more and more savvy about influencers being paid to promote certain products, the average person still trusts the word of an influencer whose expertise lies in the vertical of the product being promoted than they do a traditional ad or commercial. Paid or unpaid. Most people are more concerned about the usefulness of sponsored content than the price an influencer was paid to promote it. 
But most user-generated content isn't paid content. The consumers who leave reviews, or post images of themselves enjoying the product are doing so because they want to do it. 
If you combine the two – influencers and UGC – then you get high quality content creators and trusted sources all rolled into one. That's good UGC.
If we're talking specifics though, there are a few things you'll want to keep in mind when generating awesome UGC.
GREAT UGC IS SPECIFIC. HERE'S HOW TO ACCOMPLISH THAT.
When you're asking users to create content for your brand, guidelines are your best friend. Giving users free-reign can easily pave the way for Internet trolls to slide right in there and destroy your campaign from the inside out. But, how do you control what kind of content they create, while still keeping things fun and genuine?
ASK THE RIGHT QUESTIONS
If you want to gather quotes from people who love your products, just ask! Include prompts like, "Tell us what you love most about our product in the comments below!" and  "Three words would you use to describe our product – GO!" will give users a clear indication of what you want from them, while still ensuring they can give their honest opinions.
LEAD BY EXAMPLES
If you want users to contribute images or photography, start by having big influencers, or your in-house team, to create examples others can use as templates. Post your examples first to give your tribe a framework that will help them create dynamite content. The cool thing is it's likely most people will follow the example, which means they will create individual pieces that look like they are one part in a collective or branded content.  
INVOKE A SPIRIT OF FRIENDLY COMPETITION
Creating a competition where consumers can enter their own creations for a chance to win some of your products is a proven way to boost engagement and provide a safe place for people to dig into their creativity buckets. You're likely to see some pretty imaginative content. 
GREAT UGC REVOLVES AROUND A STRONG BRAND 
You know the old saying, "Your reputation precedes you"? It's the same thing as saying, "Yeah, I'm familiar with your brand." Your brand is your reputation, it's how other people experience you. More importantly for UGC, your brand is how other people see you. So, if you've been slow to solidify your brand, you have no aesthetic for your creators to stick to when dreaming up this UGC. If you haven't yet solidified the look and feel of your content, your UGC is going to be all over the place. So, before you consider launching a UGC campaign, think about strengthening your brand identity first. 
PRODUCE CONTENT REGULARLY
One way to strength your brand and make it more recognizable is to produce content regularly. Don't confuse that with producing content frequently, however. With U.S. adults now spending nearly half their day interacting with media, creating and publishing content frequently can really stretch your team and your budget. But creating regularly – that'a s different story.
The easiest way for users to know what kind of content your brand needs is by producing it regularly yourself before starting your UGC campaign. Wherever you're looking to boost brand awareness with UGC, you also need to make sure there's brand-building content available for your tribe to use as the example we talked about a few paragraphs back. Building a strong presence there will help people to know who you are, what you're about, and the kind of content you produce. 
HAVE A CONTENT STRATEGY IN PLACE
You need to have a content strategy. You have to give your content a purpose if you want it to serve that purpose. You need to be able to refer to any piece of content or series of posts and say, "We created these to accomplish X, Y and Z. We were successful."
No matter how consistently you post content, if there's no strategy behind it, your posts will flop. More, you can't measure the effectiveness of a piece of content that has no purpose. With an effective strategy in place, your content is more likely to provide a cohesive brand image that your followers can reference when creating UGC. 
---
 Killer UGC campaigns
Let's take a look at some of the brands that are killing it when it comes to user-generated content. Use these examples to spark your own UGC campaign ideas and start seeing those results roll in!
Travel and Tourism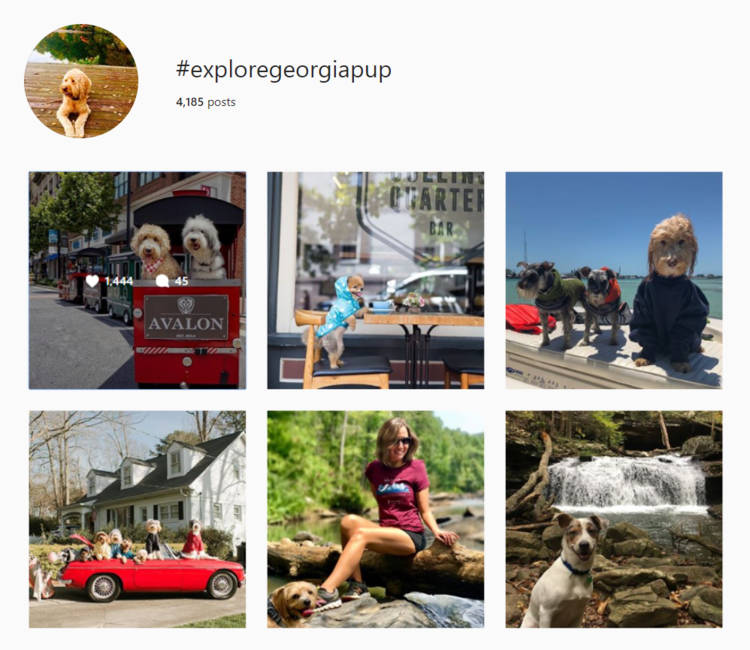 The Peach State came up with a pretty cool idea here with the branded hashtag  #exploregeorgiapup. Georgia's Instagram campaign managed to double-down on both influencer marketing and puppy popularity.
I mean, we know how popular a good pet pic is on social media. The Tourism Board  in Georgia used this smart combo by asking users to share pictures of their adorable pups throughout the state using the #exploreGeorgiapup hashtag. It's a clever way to pupulate (see what I did there?) their feeds with great shots that will get FANTASTIC ENGAGEMENT, and allows users to have fun doing it. 
HOW YOU CAN ADAPT THIS FOR YOUR CAMPAIGN
The main reason this campaign worked so well was because they combined three important things – an active demographic posting about a a trending topic on the best social media platform to reach that demo and run that campaign. 
If this campaign had been run on Twitter, it likely would have flopped. Why? A few reasons. Engagement on Twitter is less than .1 percent, in large part because 500 million tweets are posted per day.
This campaign relies on visual content, which Twitter is great for, but this particular campaign was created to connect Georgia with a sense of endearment with cute pics. Twitter today is more the place people go to find out what's going on in the world, voice opinions, make observations, and post about industry information. It's not really the place to post cute pictures.  
Millennials and Gen Xers LOVE Instagram, and they are still the largest demo on the platform. Nearly two in every three American Internet users between the ages of 18 – 29 and one in three 30 to 49 year-olds use Instagram.
Think about who your target audience is, and where they're hanging out online. Then spend some time on some solid market research. What kind of topics are they engaging with most, and how can you combine these with your own brand?
---
AIRBNB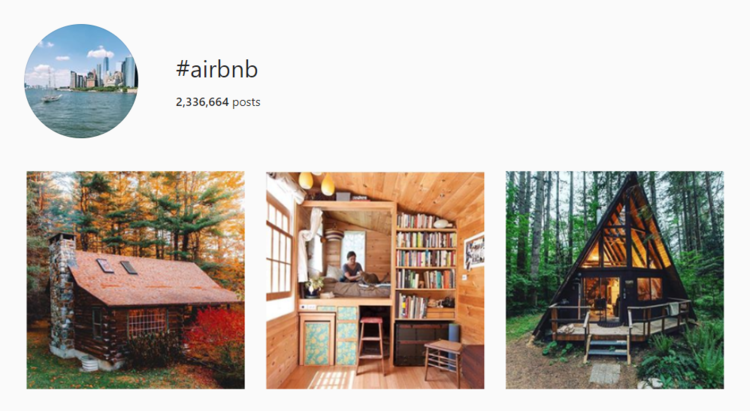 he hospitality marketplace Airbnb has really hit the nail on the head when it comes to using UGC to their advantage. Their main Instagram feed is essentially a portfolio of guests and their unique accommodations – posts from locations all over the world! They are folks staying in log cabins, super-cool tiny spaces. Airbnb doesn't have to ask. They just provide a way for travelers to find cool places to rent and the travelers post cool pics to their own profiles using the #airbnb hashtag. 
---
Business Services (Or service is our business – you choose)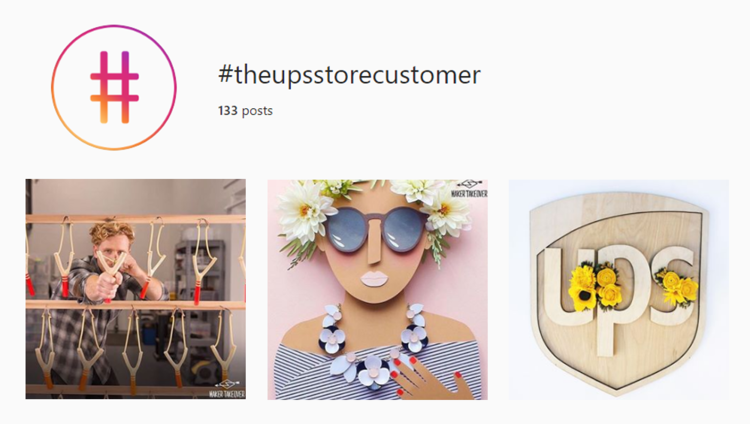 Yes, that UPS. UPS is probably not the first company that springs to mind when thinking of killer Instagram campaigns – and that's why their UGC is so effective. They wanted to showcase how their services benefit small businesses, and they did this by asking their customers to take pictures of the products they're actually shipping via UPS.
Every single image on their Instagram is of something that has been handled and shipped by them.
HOW YOU CAN ADAPT THIS FOR YOUR CAMPAIGN
As we talked about in our post on social proof and some of our other posts on UGC showcasing the customers who use the brand or the team behind the brand behind the brand helps to humanize your company, which makes you more likable and relatable – two qualities you must have to convert passersby into visitors then customers.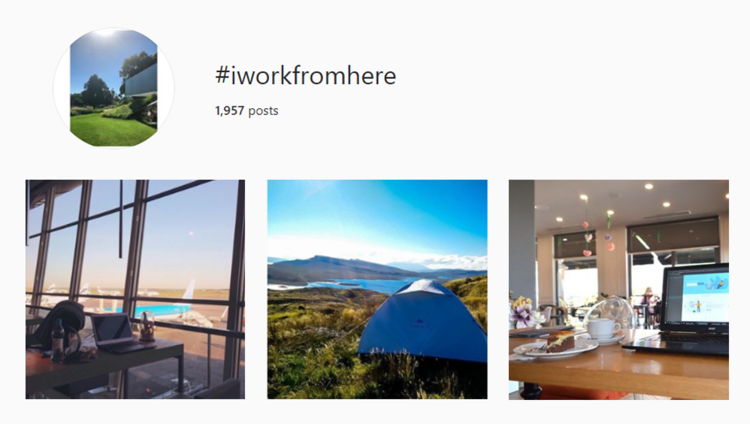 Hootsuite's #iworkfromhere branded hashtag is another great example of a brand that provides business services personalizing and humanizing itself with UGC.
Hootsuite went after the ever-trendy nomadic workers – independent service providers, freelancers, and people whose offices are wherever they happen to be, which creates a great opportunity for what we talked about before -providing users with a framework for their posts but leaving plenty of room for those posts to reflect individual authenticity.  The targets were social media professional who were asked to post images of their work spaces and post them using the hashtage #iworkfromhere. 
The campaign jibes perfectly with Hootsuites value prop of streamlining social media management to make it faster and more convenient – two qualities that afford its users to design their work-life balance to be more fluid and flexible. 
---
Food and Drink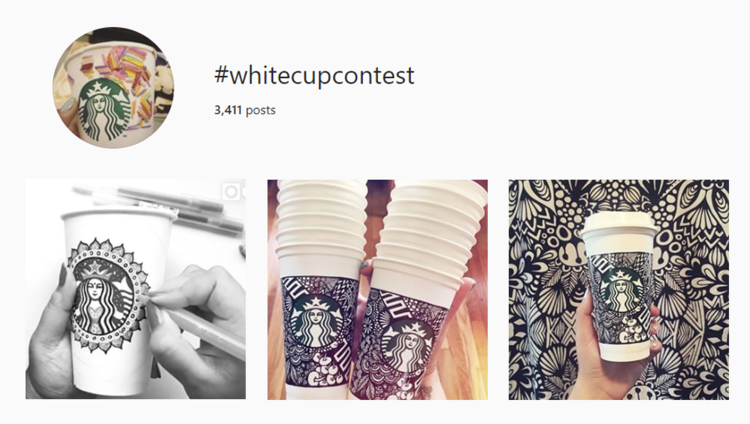 It's hard to talk about UGC and not mention the Godfather of Coffee and Creative. Starbucks is officially a media company. And you may remember their iconic campaign from 2014 – the #WhiteCupContest saw thousands of followers submitting their own cup designs in a bid to have their artwork printed on a run of limited edition Starbucks cups. So, not only were they getting some awesome user generated content for their Instagram page, they were also collecting cool mock-ups for their product design as well!
HOW YOU CAN ADAPT THIS FOR YOUR CAMPAIGN
You may not have a product that so easily lends itself to customer-generated designs per se, but you can always use this contest as a template for other UGC-driven promotions.  Have customers name your new mascot. Have them come up with your new slogan. Let them show the world how they use your product. Any part of your marketing campaign can be customer-designed if you want it to be. Just remember to include plenty of guidelines and examples like we mentioned above.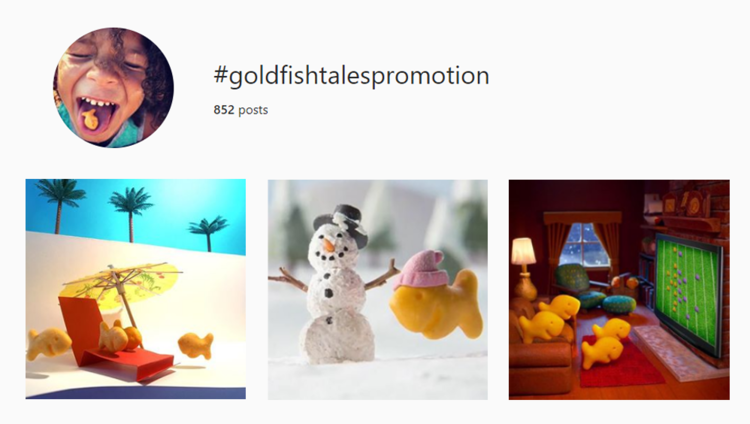 The loveable Goldfish cracker ran a UGC campaign asking consumers to create their own "Goldfish tales" showing their crackers having fun in different situations. They played on the cute nature of their product, as well as the large proportion of their consumers being parents of younger kids. They ran a different theme each month and asked consumers to tag their entries with the #goldfishtalespromotion with the best entry each month winning $1,000.
---
 Technology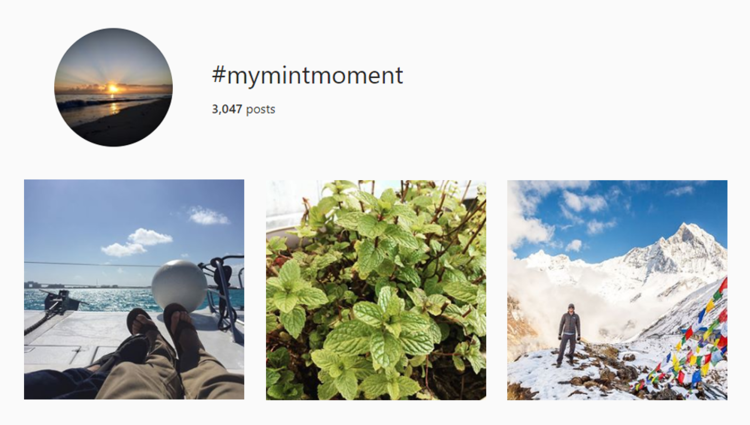 Mint is a personal finance app that used UGC to help connect its customers to their product. They ran a competition, where users were encouraged to share moments in their lives when their goals and finances aligned. Using the hashtag #MyMintMoment, and tagging the brand's Instagram, they would be in the running to win a cool $1,000.
The entries covered everything from buying coffee to college graduation, each image serving as a reminder that there's a direction connection between reaching your goals and successfully managing your finances. Money really does impact every aspect of your life.
HOW YOU CAN ADAPT THIS FOR YOUR BRAND
If you have the means to offer a tangible prize do it. It's a proven method for incentivizing users to create great content. Even if you can't afford a large monetary prize right now, you can be creative. Give away a fitness tracker or tickets to the circus. Offer your product or some swag for free. You can offer to feature the winners on your social media accounts, or in marketing campaigns as a prize instead or tangible items. Who couldn't use a little publicity in this day and age?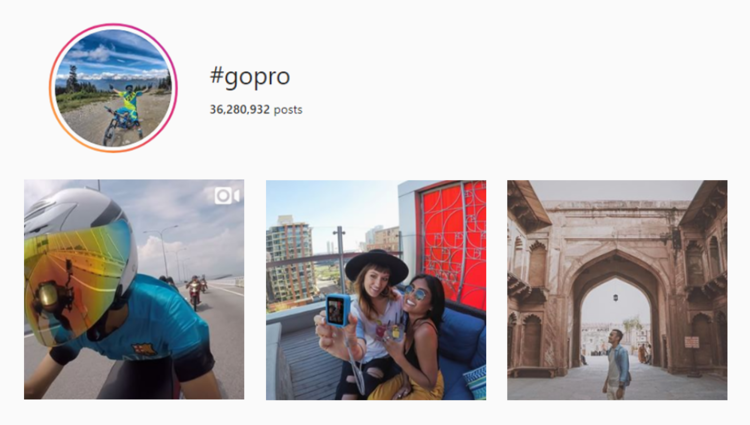 GoPro – the home of great action photography, makes excellent use of UGC by asking followers to post images they take with their GoPro camera using the #GoPro hashtag. They select the best image each day and share it to their own account. Now, that's brilliant. 
---
Fashion & Beauty
Aerie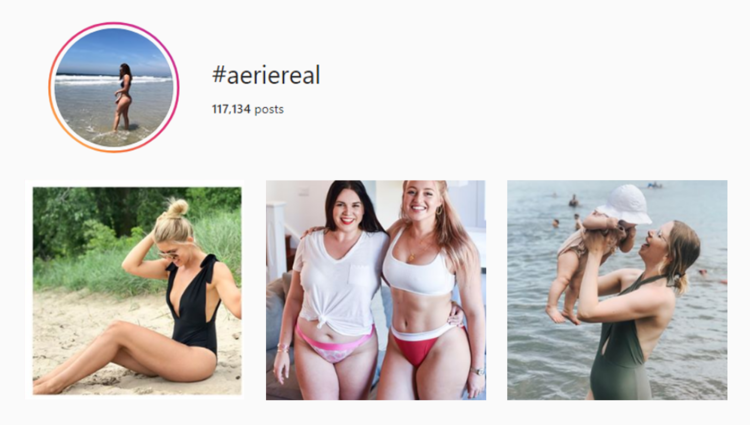 Aerie is a brand we mentioned in our UGC and Influencer Marketing article for having an awesome campaign – so we couldn't leave them out of this round-up! This swimsuit brand is committed to showcasing real women wearing their products, which means they no longer airbrush the pics used in ANY of their ad campaigns.
They took this initiative one step further, by encouraging real customers to post untouched images of themselves in Aerie products. The images their customers post feature women of every shape and size – all looking amazing in their swimsuits.
HOW YOU CAN ADAPT THIS FOR YOUR BRAND
Aerie has tapped into a social issue that is HUGE right now, and used it to their advantage. Not only are they showcasing real customers using and enjoying their product, they're saying a big "Screw you!" to anyone who believes that models should only be one size. Find a social issue that speaks to you, and that works well with your brand. People love to get behind a cause that they feel strongly about – just make sure it's a genuine campaign.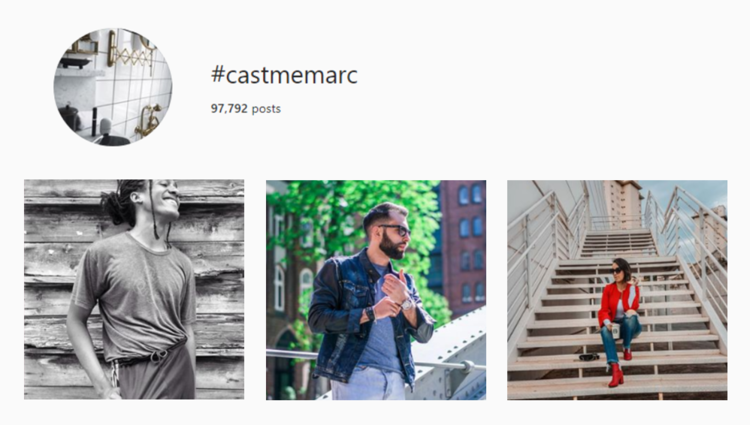 Marc Jacobs' #CastMeMarc campaign asked aspiring models to tag the brand in their images in the hopes of becoming the new face of the fashion label. Using this method, they got a lot of people talking about the fashion house, and engaging with their brand on Instagram.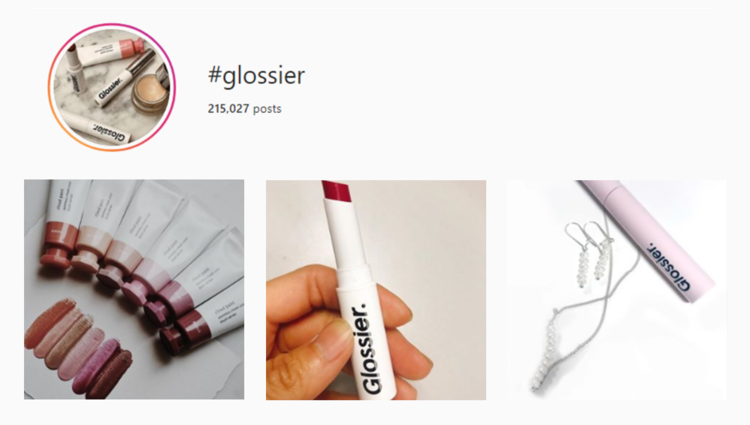 Glossier is a makeup brand that was built on UGC and influencer marketing. Born out of a beauty blog, the brand has grown into one of the coolest brands on the internet. They don't even need to run a specific campaign – consumers are constantly using their hashtag and the account features some of these images on their main feed as well. UGC at it's best – pure, and made by REAL people.
---
Conclusion
A well-planned UGC campaign can not only give you tons of content. It can provide your brand with the kind of creative assets that can set your brand apart and keep your products top-of-mind. If you've done the work to establish your brand, outlining a framework for your fans to follow when generating content is going to help you build a portfolio of content that is authentic, engaging, and high-impact. If you need help mapping out a strategy for generating tons of user-generated content, call us. We know the game.